Cheesy Curried Potato Sliders
As an Amazon Associate and member of other affiliate programs, I earn from qualifying purchases.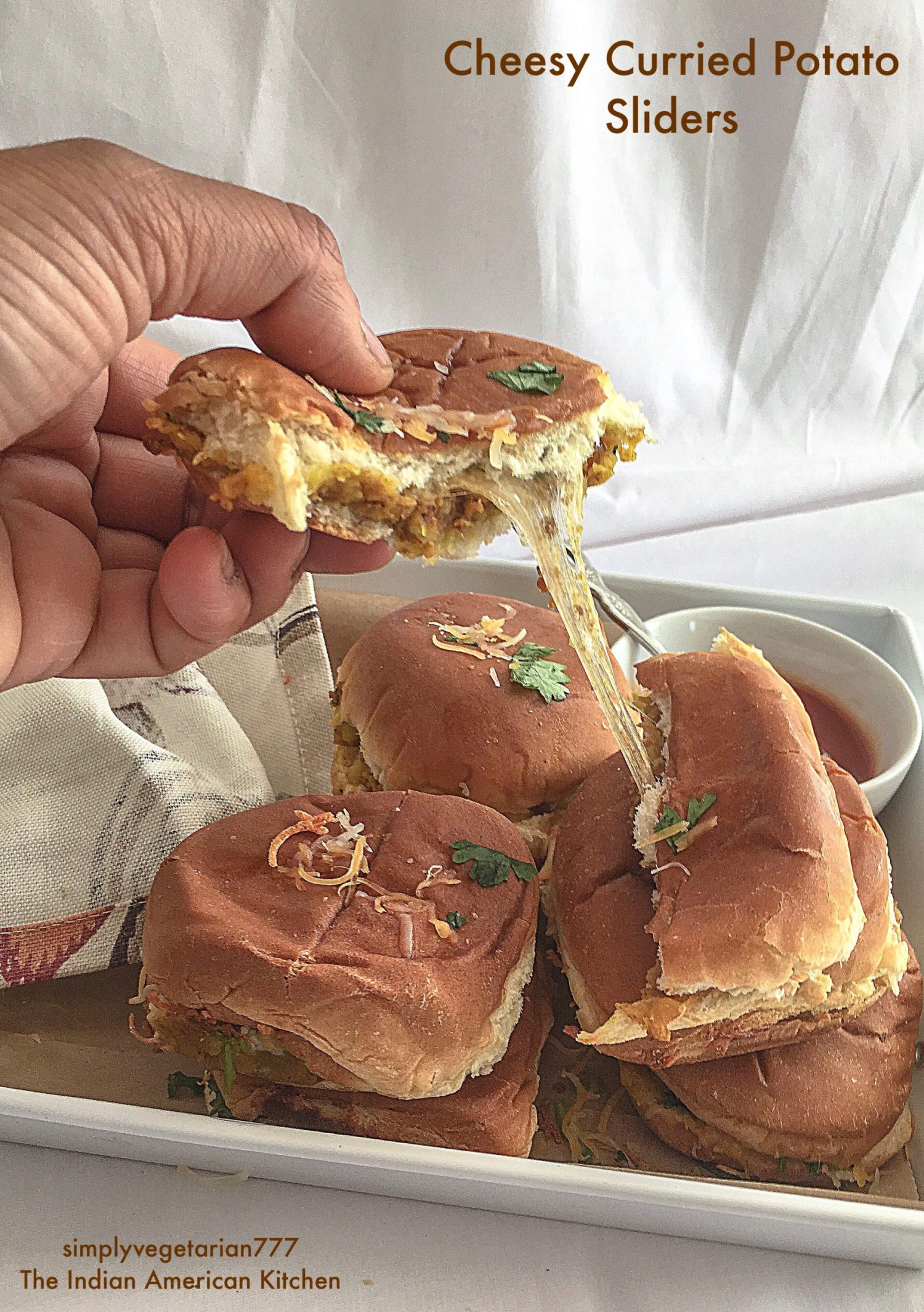 Cheesy Curried Potato Sliders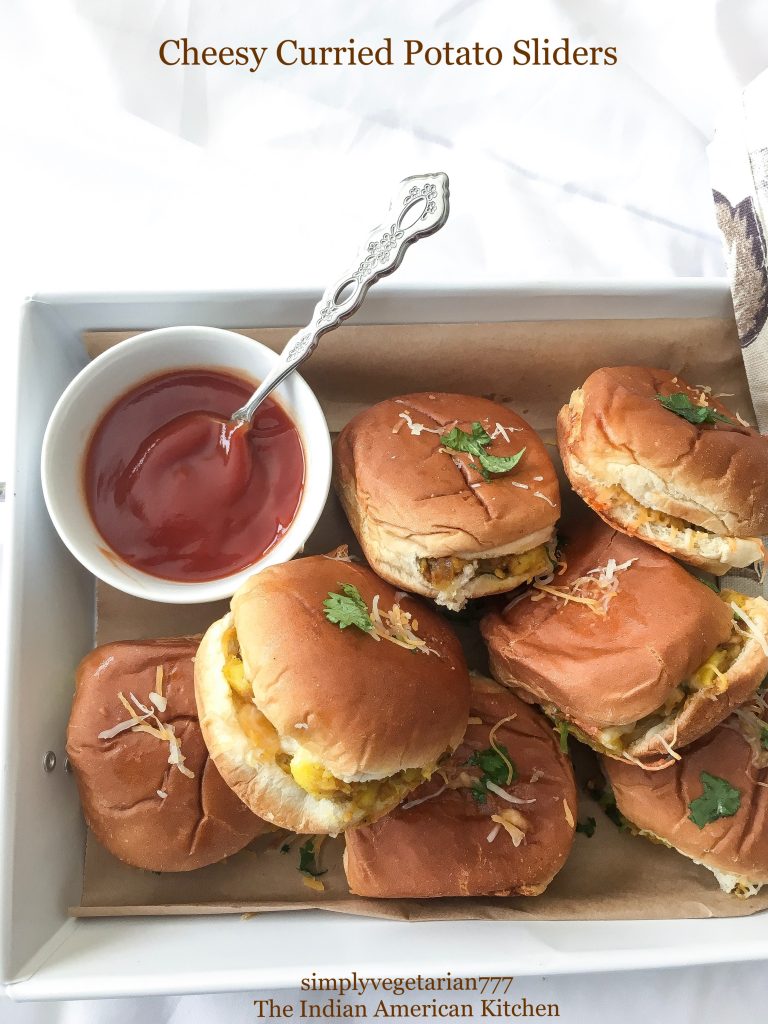 Isn't that a picture that provokes the idea of contentment, desire and lust at the same time? Be honest and say yes! Cheesy Curried Potato Sliders is one such recipe that gives your desire, a real body of taste and sheer melting tranquility.
This recipe is no rocket science but such a simple recipe made with the ingredients that are readily available at home, all the time. I bet every household stocks on potatoes, cheese and buns/dinner rolls/bread. And when you have all these ingredients in place, it is party time anytime.
It became an instant hit with my girls, that they ate it for breakfast, packed for lunch and then had it as an after school snack.
The Bread + The Potato + The Cheese = Recipe for ultimate gluttony
I am sure that there are probably thousands of such recipes floating on the internet, but this one is special. It is special because it came in existence at the demand of my kids.
[SCROLL DOWN TO RECIPE IF YOU DO NOT WANT MY STORY]
I actually bought the slider buns and potatoes to make Pav Bhaji, another favorite dish of my kids but didn't get time to get to the dish. They were lying on the counter since 2 days and then finally I boiled the potatoes in the morning in the pressure cooker. I thought that I will make Pav Bhaji for dinner.
The kids came back home from school, super hungry that day and wanted to attack the slider buns as is with no toasting or butter. I gave them some milk and some sliders with butter in it to ease out their hunger.
Meanwhile, I prepared the potatoes with mild curry spices, preheated the oven and bam the Cheesy Curried Potato Sliders were ready in no time.
You should bookmark this recipe for the basic Curried Potato Stuffing. That stuffing is a keeper. Always have a batch in the refrigerator for those unexpected hunger pangs. Even if you have boiled potatoes at hand, this recipe comes together in no time at all.
This recipe has 2 components –
Making the Curried Potato Stuffing
Baking the Sliders with stuffing and Cheese till done.
The texture of Cheesy Curried Potato Sliders is extremely satisfying. It is crisp from outside with that baking going on and soft, mushy, gooey and cheesy from inside.
This is how you make it!
Cheesy Curried Potato Sliders
A simple and delicious recipe using bun sliders, potatoes and cheese to entertain the kids and guests or even yourself.
Ingredients
Bun Sliders

mini - 1 packet with 12 small buns in it

Potatoes

white - 8 to 10 small (not baby) or 4-5 medium , boiled and mashed

Red Onion - 1 small

chopped fine

Ginger - 1 small piece

grated fine

Garlic - 1 clove small

minced fine

Cilantro - 2 tbsp

chopped fine

Cheese

shredded - 1/2 cup or more (any kind is good - cheddar or mozzarella or mix)

Butter - 1 tbsp

melted
Spices & Oil
Cooking oil - 2 tbsp

Curry powder - 1&1/2 tsp or to taste. DO not use Hot Madras Curry Powder

Salt - 1 tsp or to taste

OR

Turmeric - 1/2 tsp

Coriander powder - 1/2 tbsp

Red chili powder - 1/2 tsp or to taste

Garam Masala - 1/4 tsp

Salt to taste
Instructions
Preparing Curried Potato Stuffing
Take a heavy bottom pan and heat oil in it. Once the oil is hot, reduce the heat to medium and add ginger garlic & onion to the hot oil. Saute on medium heat for 2 minutes till onion turns translucent. Do not brown it.

Now add EITHER the curry spice OR the other spices as mentioned above. Mix the spices and onions well with a spatula and saute for few seconds.

Add boiled and mashed potatoes to the pan. Mix the spices & onion mix well into the potatoes. Give it a good stir. If the potato stuffing looks too dry, then add 1-2 tbsp water to it. We do not want runny stuffing, just slightly wet so that the sliders do not dry out while baking.

Cook for 5 minutes, while stirring in between for even cooking.

Add chopped Coriander / cilantro leaves to it and mix.

The Curried Potato Stuffing is ready to be used. This stuffing comes very handy in many recipes.
Making Cheesy Curried Potato Sliders
Preheat the Oven at 375*F / 190*C. Line a baking tray with parchment paper.

If the slider buns are not pre-sliced, then slice them into halves horizontally.

Place good amount of Curried potato stuffing on the base of the sliders. Sprinkle good amount of cheese on top. Cover with the other halves of the sliders. Brush the top of the sliders with melted butter.

Place these in the baking tray and bake for good 7-8 minutes, till cheese melts.

Take these out, serve these hot with ketchup or dip of your choice.
You can make a batch and warm it up in microwave for 30 seconds when the kids are hungry.
If you don't want to bake in oven, then you can pan grill these as well.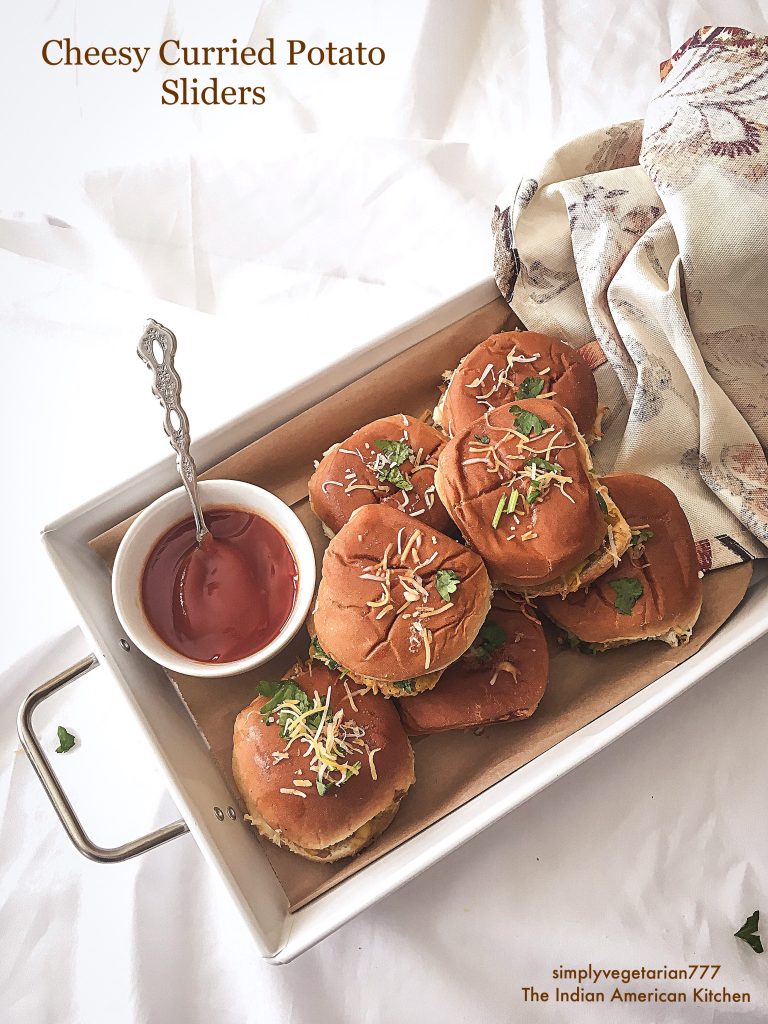 Some other sliders and sandwiches recipes from the blog are – panini , mushroom jalapeno grilled sandwich , vegetable cocktail sandwich and few more .
These are perfect for entertaining, great as an after school snack when your kids come back hungry from school, amazing as a brunch and breakfast when entertaining guests or superb as a weekend family evening indulgence. Make these next time when you have people over to watch the game together.
Some other Potato Slider kind recipes from fellow bloggers are – Baked Wada Poppers , Wada Pav , Paneer Pesto Corn Sandwich .
You can order the following from amazon to make this recipe easily. This will help me earn a small commission to keep the blog running.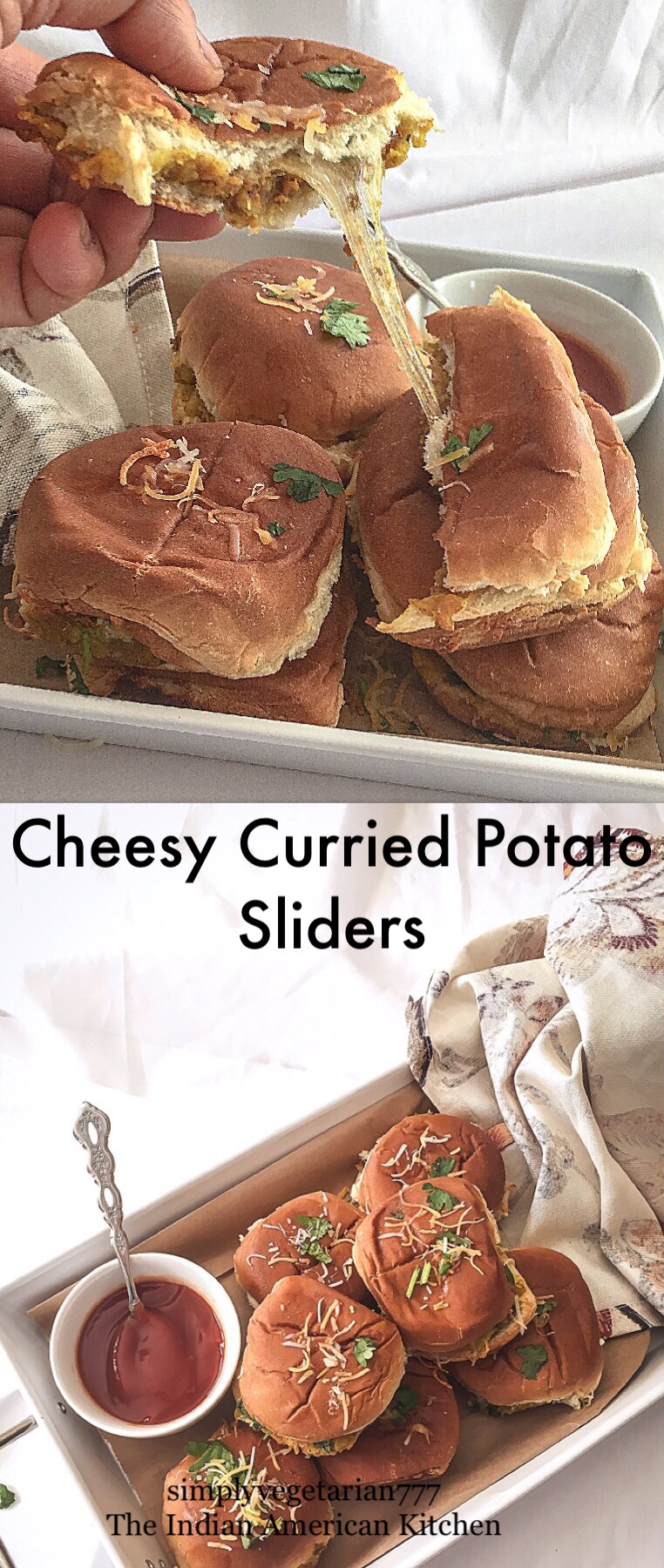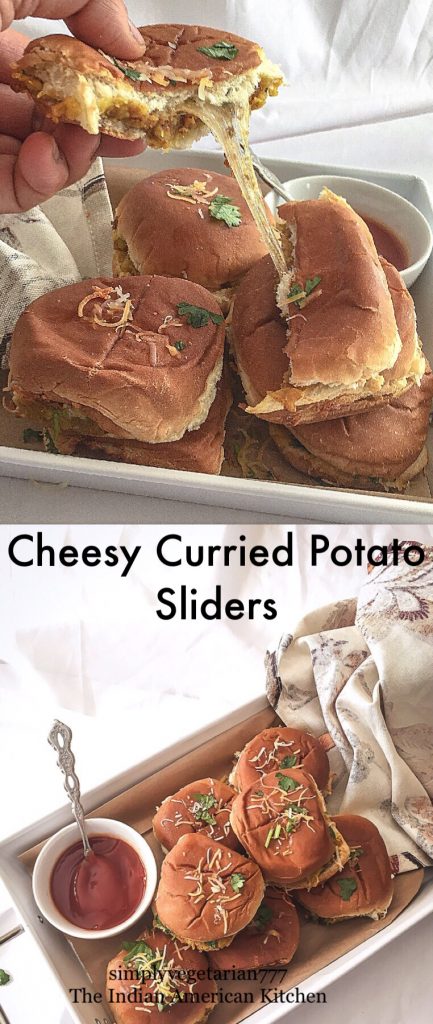 If you try these Cheesy Curried Potato Sliders, do send me your reviews and feedback.
In my Kitchen, you will always EAT HAPPY & STAY HAPPY!
Sonal