Vegetable Cocktail Sandwiches
As an Amazon Associate and member of other affiliate programs, I earn from qualifying purchases.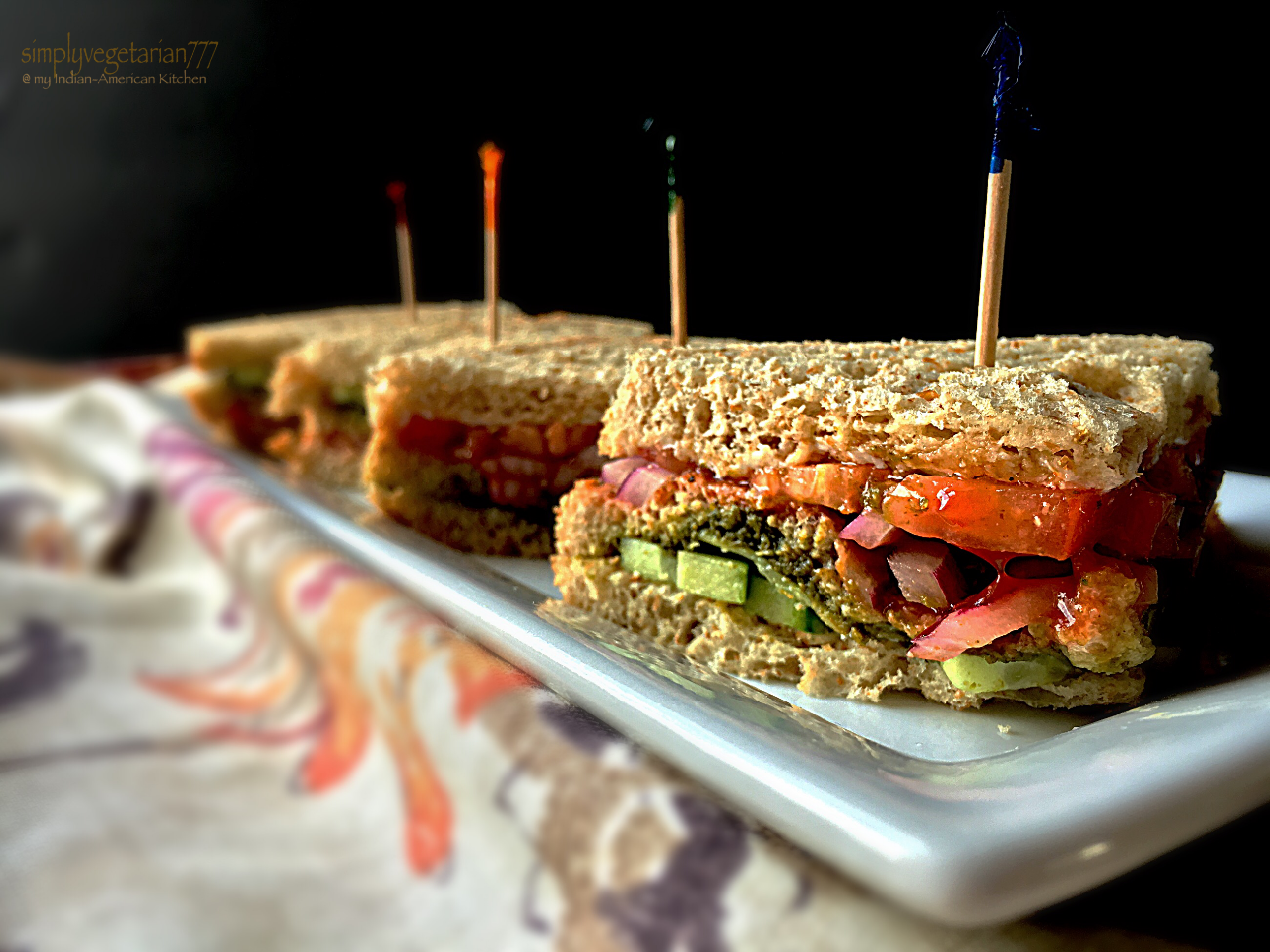 Vegetable Cocktail Sandwiches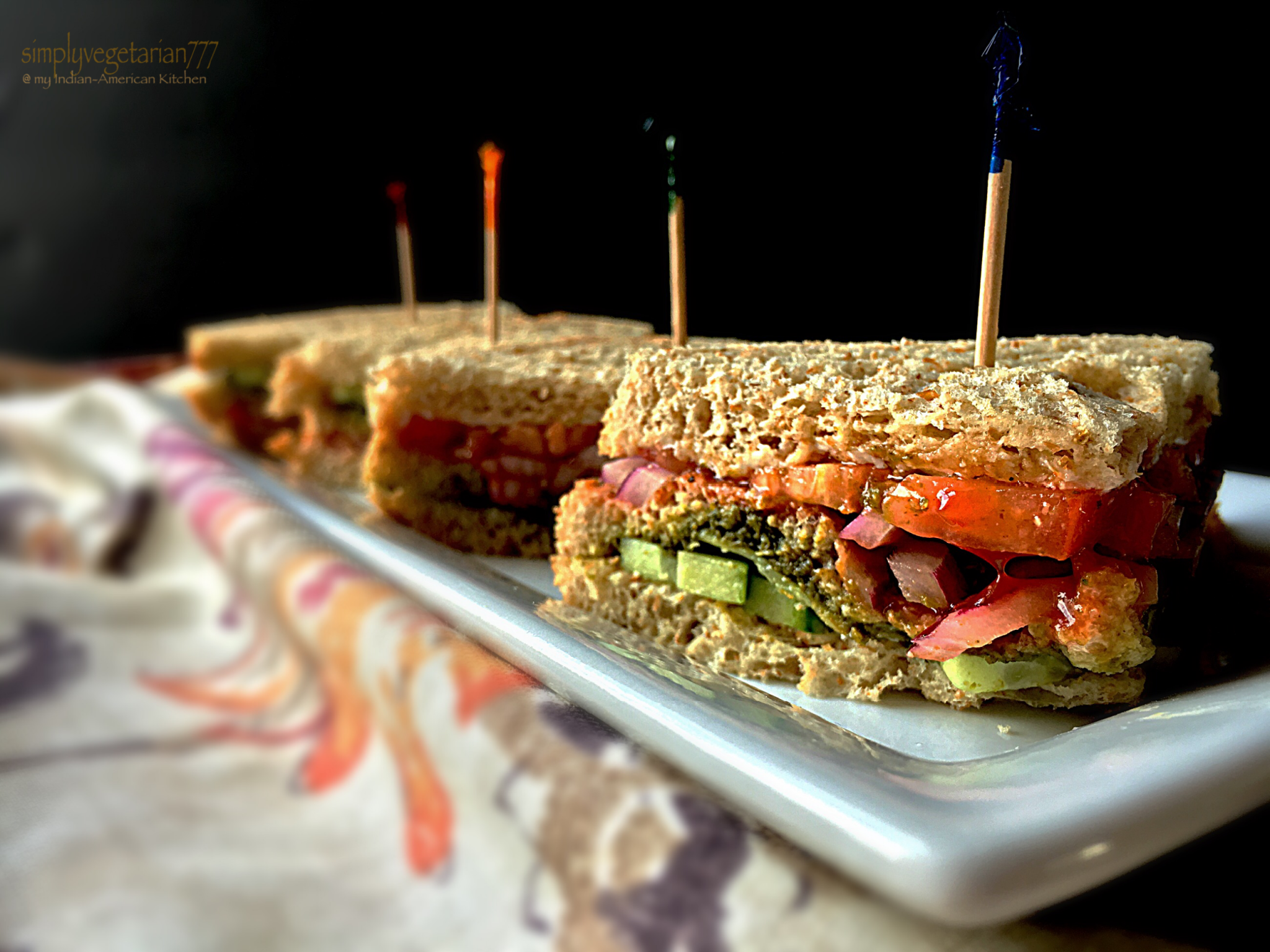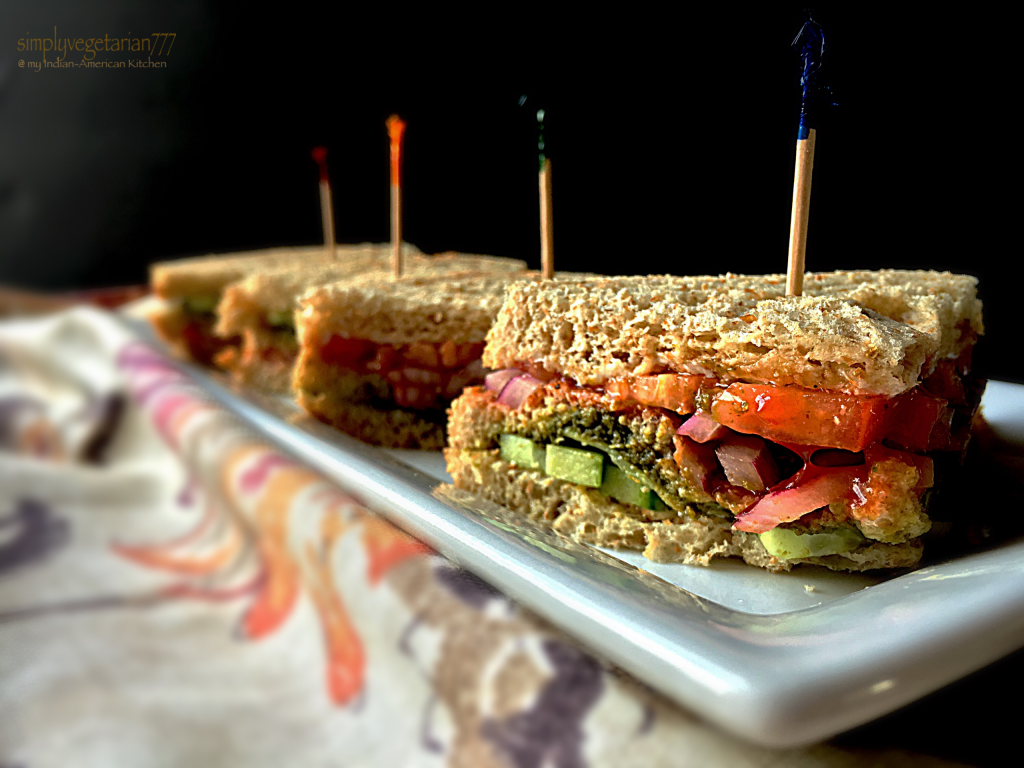 I know that you are smiling with nostalgia looking at these sandwiches. Am I right?
Vegetable Cocktail Sandwiches are the perfect answer to your anytime hunger. When your kids come running and yelling at the top of their lungs "Mumma Bhookh Lagi hai, Kuchh Khane ko do" (Mom I am hungry, give me something to eat)…..this should be your "Bas 2 minutes" (only 2 minutes)….answer.
The Vegetable Cocktail Sandwiches were a regular source of energy and food supply, especially in our teenage years, when the hunger was a constant factor. These sandwiches never failed to bring a happy and content feeling, be it as an after school snack, having a friend over snack, a last minute birthday party filler, weekend brunch, late night cousins gabbing session and many more such occasions.
The soft sandwich bread clubbed with fresh crisp slices of fresh tomatoes, onions, cucumbers and drenched in the layers of Mint Chutney, Ketchup and a good sprinkle of Chaat Masala . This sandwich is simple and tremendously gratifying.
These are perfect for game night, get togethers, not picnics, birthday parties, when you are happy, when you are sad, when you do not want to cook, when you want just one more dish to fill the table setting, when you want to snack, when you want to stay up late, or a quick grab and go breakfast….so many possibilities. Now tell me, are these ultimate sandwiches or not?
I had written a very useful article on SANDWICHES a while ago, about types of sandwiches, the dressings and spreads to use, packing a sandwich, types of breads used for sandwiches etc etc. Read the article here on Some Sandwich Basics from My Kitchen . This article is a good guide for sandwich references. You may want to save it.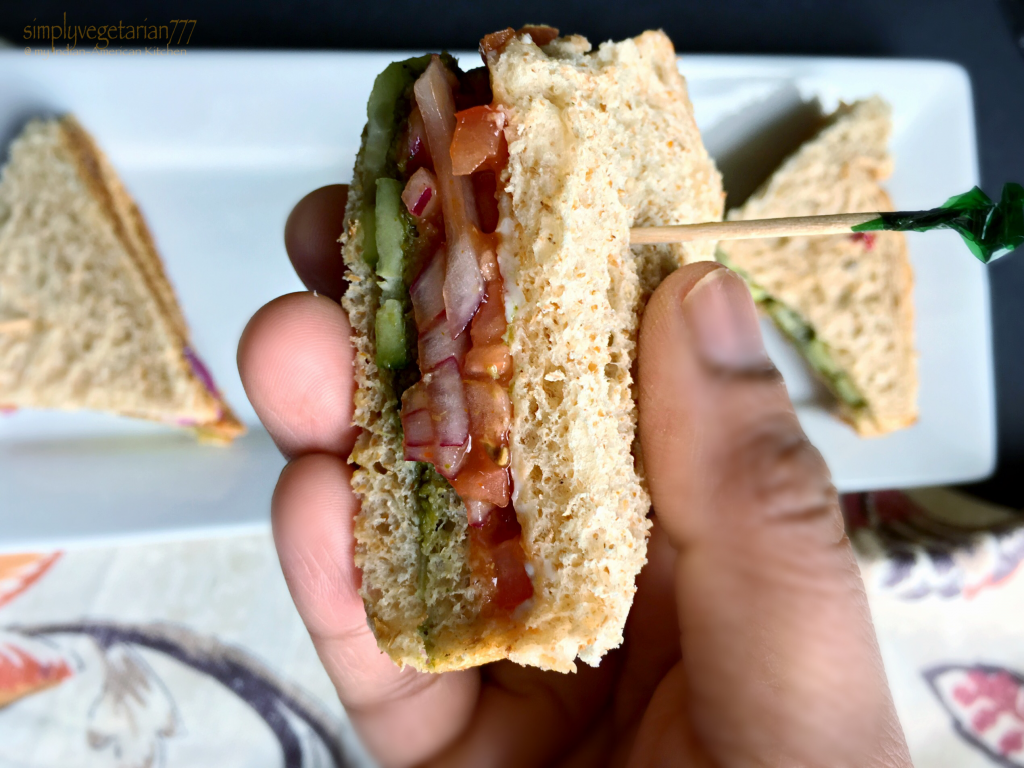 Use this recipe for Mint Chutney .
Some other sandwiches from my blog are 
Mushroom Jalapeno Grilled Cheese Sandwich , Grilled Chipotle Sandwich , Pesto-Grilled Veg-Egg Sandwich and many more.
This is how you assemble the Vegetable Cocktail Sandwich.
Vegetable Cocktail Sandwiches
Easy to make cocktail size sandwiches made with fresh vegetables and mint chutney.
Ingredients
Sandwich Bread Slices - 9

Onions - 1 small

sliced thin, in circles

Cucumbers - 1 medium

sliced thin

Toamtoes - 2 small

sliced thin

Butter - 1 tbsp or as needed

room temperature

Mint Chutney - 3 to 4 tsp or as needed

Ketchup - 3 to 4 tsp or as needed

Chaat Masala - 1 tsp
Instructions
Take the bread slices and stack them over each other, 3-4 at a time. Take a sharp serrated knife and slice the uneven edges of the slices.

Now make 3 stacks of 3 slices each. We are using 3 slices of the bread for each cocktail sandwich for layering.
Layering the Cocktail Sandwich
Take the bottom slice of one stack and apply a layer of butter on it. Top the buttered slice with single layer of thinly sliced tomatoes and onions. Sprinkle a pinch of chaat masala. Apply some tomato ketchup on the top. Now take the 2nd slice of the bread. Stack it on top of tomato and onion layer. Apply Mint chutney on top of the 2nd slice and sprinkle some chaat masala. Top with thinly sliced cucumber slices. Take the 3rd slice and stack on top of it and close the sandwich.

Now cut it into 4 even triangles by cutting diagonally. Secure each piece by a sandwich pick.

Repeat the procedure with remaining 2 stacks of the slices.
Notes
These sandwiches ave to be made fresh. You can not make these in advance, though you can do the prep work in advance.
If you want to make it for parties, use thicker sliceof bread and use lettuce beneath sauces to avoid the sandwich becoming soggy.
For picnics, pack everything separate. Assemble and eat.
I enjoyed making these Vegetable Cocktail Sandwiches in my Indian American Kitchen and ate with a cup of warm Elaichi Chai. I am sure you will make these soon too.
Eat Happy! Stay Happy!
Sonal