Tomato Mozzarella Basil Panini
As an Amazon Associate and member of other affiliate programs, I earn from qualifying purchases.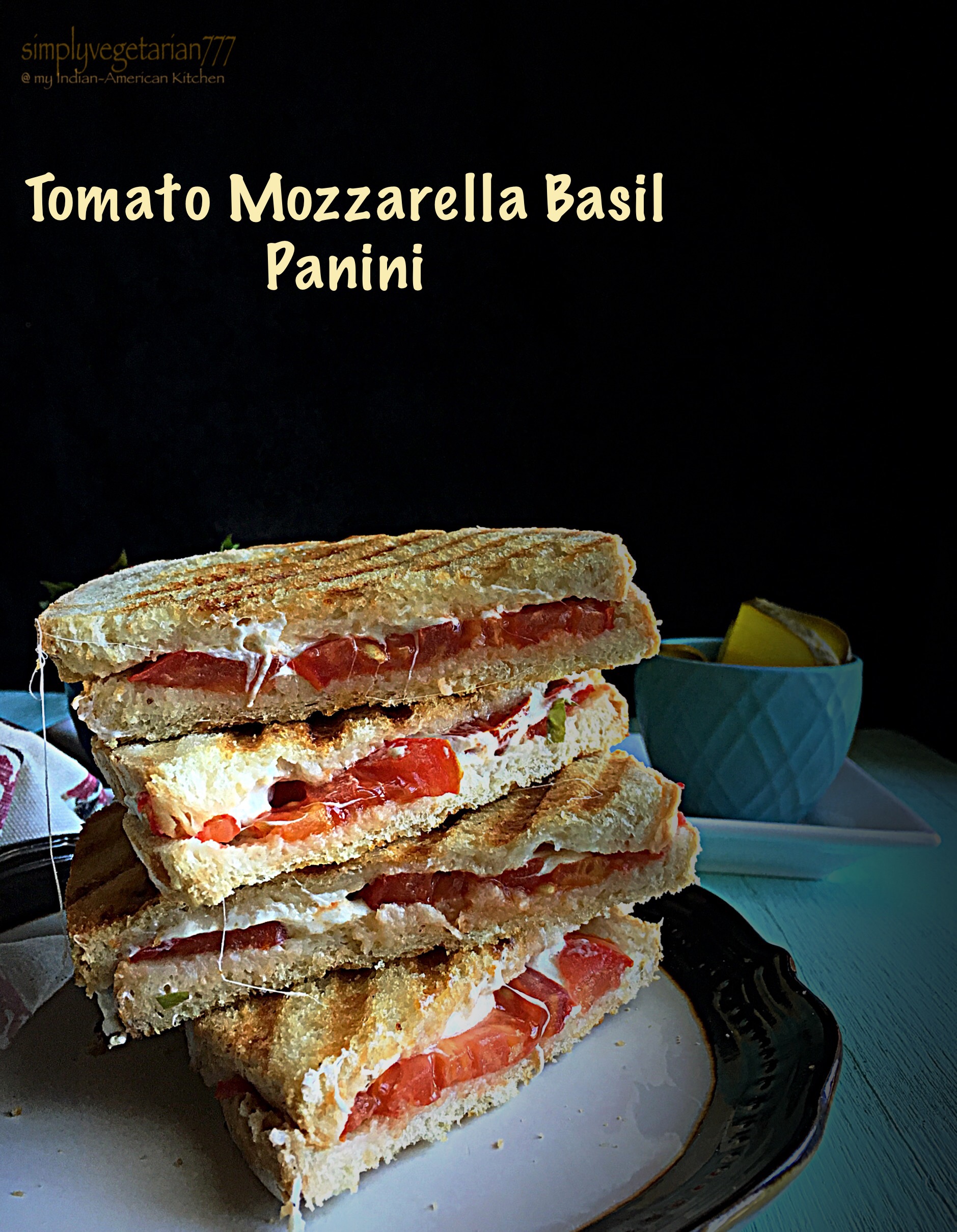 Tomato Mozzarella Basil Panini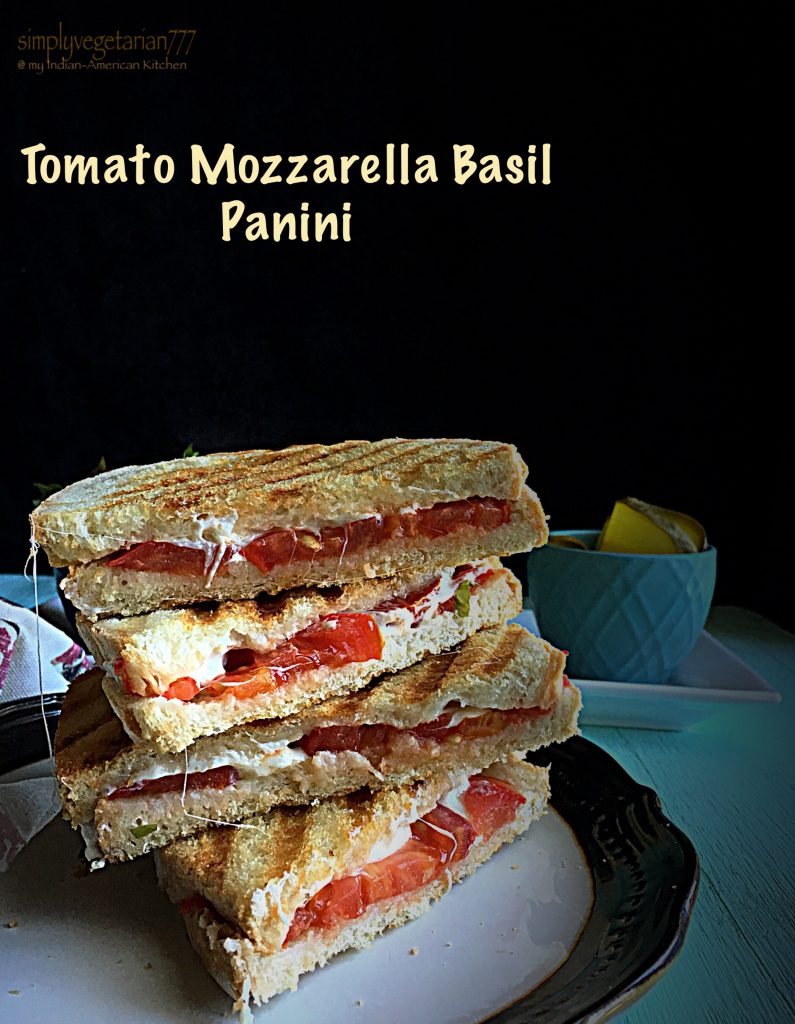 Tomato Mozzarella Basil Panini is my favorite panini. It has tomoatoes. It has mozzarella. It has basil. It is grilled. It is delicious. It is beyond words delectable.
I tried Tomato Mozzarella Basil Panini for the first time in England, UK. We relocated to the country for an year in 2004. Aanya, my oldest daughter was few months old then. UK was beautiful with very unpredictable weather.
I had fallen in love with the country's small cafe culture. These small and warm cafes offered such comfort. In UK's unpredictable weather conditions, one yearns for comfort food and food that can warm one up. Tomato Mozzarella Basil Panini did that for me.
The melted mozzarella and slightly sizzled tomatoes along with the hinted aroma of basil is a true love story to explore.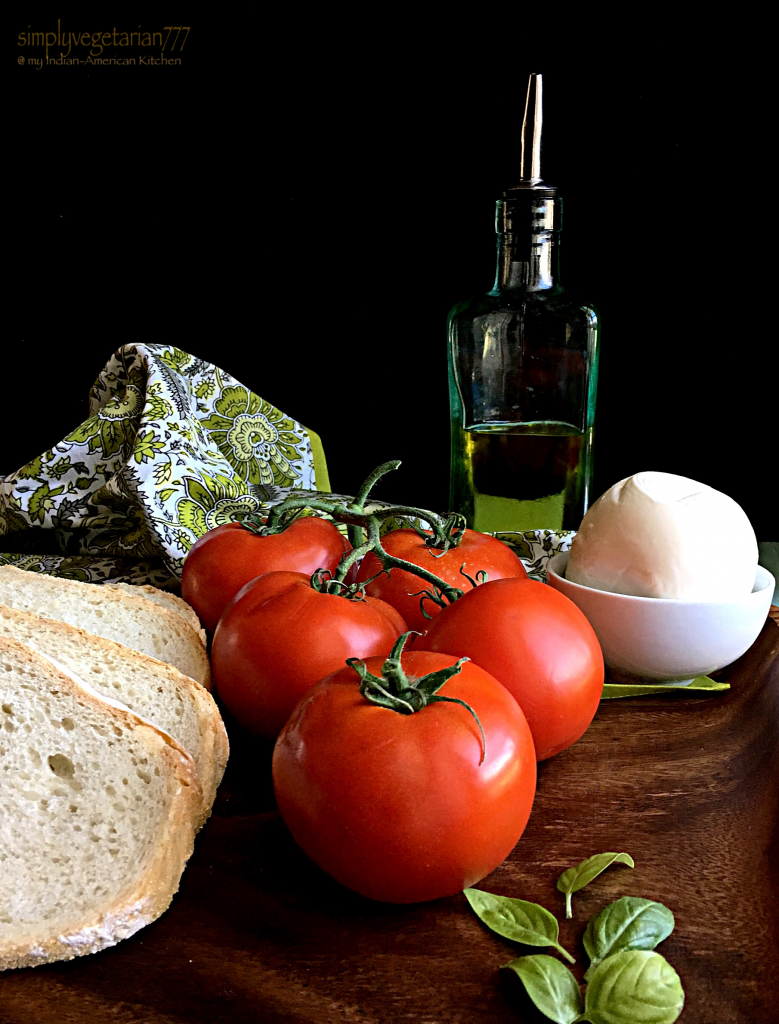 Tomato Mozzarella Basil Panini is a super simple and easy recipe to execute. It is practically made with just 5 ingredients, besides salt and pepper. Isn't that great? I love the recipes where the list of ingredients is short and the recipe is easy to execute.
Panini is an Italian grilled sandwich. Originally, it is made from bread other than sliced bread. It is a derivative of Italian word Pane, which actually means bread roll. Pane later evolved as Panini – stuffed bread roll.
Panini claimed fame in New York, USA in 1980s. Since then, these grilled sandwiches can be seen on many American restaurant and cafe menus. Tomato Mozzarella Basil Panini is one of the most famous kind, available.
Panini Grills have flooded the market. When you go out to shop for one, there is so much that market has to offer these days. Panini grills offer even cooking and beautiful grill marks and grilling in these mean machines, is a breeze.
In case, you do not have a Panini Grill, then please do not go and buy one for this recipe. You may easily use the griddle/tawa or any heavy bottom pan to make these sandwiches.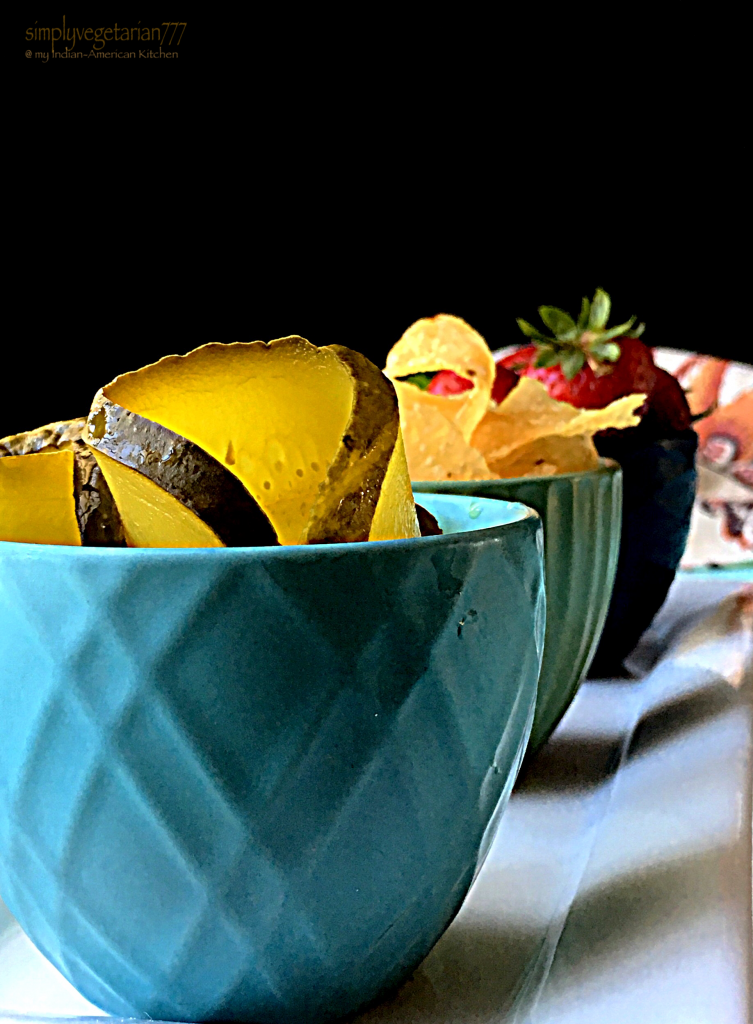 Enjoy a Tomato Mozzarella Basil Panini in the company of some cucumber pickle, crispy potato chips and some fruits on the side. The platter makes for the best summer, winter, fall adn spring meal ever.
It is okay to indulge in some good white bread, lot of cheese, sweet tomatoes and potato chips, once in a while. I say, go for an extra mile walk after you eat but have a hearty meal. It is okay. Heart needs to feel the warmth of good food sometimes. Let the heart sing the glory of a good meal. Let those lips smile with a content. Let the inner child in you, let loose.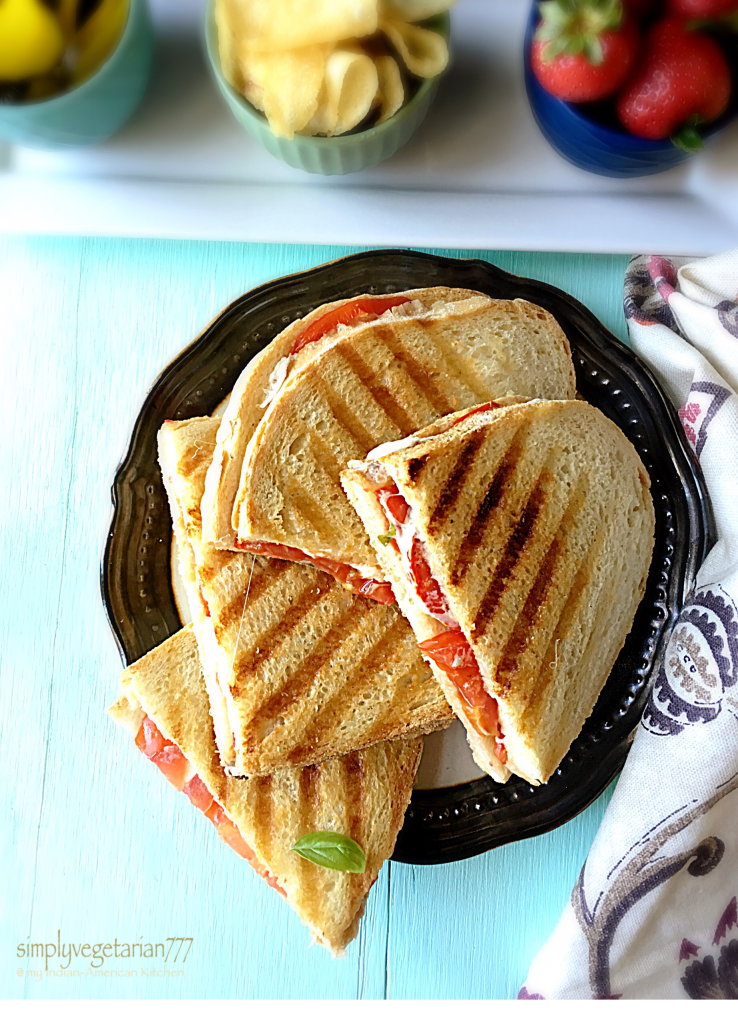 There are various kind of grilled sandwiches or panini offered at cafes and restaurants here. Chefs and cooks keep evolving the recipes and develop new ones all the time. Honestly, there is no particular recipe these days for a Panini. A panini is a grilled sandwich and these days, even sliced bread is used for making panini. Whenever you choose a bread, make sure that it is thick crust. Ciabatta, Artisan Boule, Rustic crusty breads make a good choice for panini. Most of the time, mozzarella is the choice for making a panini but cheddar, muenster, havarti, swiss, american, pepper jack and provolone are some other good choices.
Some other Grilled Sandwiches from my blog are – Mushroom Jalapeno Cheddar Grilled Sandwich , Vegetable Cocktail Sandwich , Grilled Chipotle Sandwich , Vegetable Pizza Sandwich and many more.
This is how I made the Tomato Mozzarella Basil Panini.
Tomato Mozzarella Basil Panini
A super easy recipe of Tomato Mozzarella Basil Panini. Panini is a grilled sandwich from Italy and is very popular in Europe and America.
Ingredients
Bread - 4 large thick & slices from a rustic artisan white bread

OR 2 ciabatta rolls sliced into half horizontally, OR 2 small individual french rolls. Do not use a soft bread for this.

Tomatoes - 1 large

sliced into thick slices or 6-8 thick slices. You can use whatever size available but make sure to cut it into thick slices.

Mozzarella cheese - 7-8 slices. In case you do not find slices

then use shredded mozzarella. It gives a nice stringy texture when grilled. See note for substitutes.

Basil leaves - 5-7 big leaves

fresh and washed. You can use 1/4 tsp of dry basil leaves in case you can not find fresh basil.

Olive Oil - to brush the 4 slices of the bread generously

Salt & Black pepper to taste
Instructions
Kitchen Equipments Required
A Panini Grill or a Heavy bottom pan/griddle like lodge cast iron or hard anodized pan.
Method
Heat the Panini Grlll to high. In case you are using griddle or pan, heat the pan with little oil in it.

Take 4 thick slices of the bread. Brush them liberally with olive oil on one side only. Set 1 slice on the hot grill with the oiled side down, facing the hot grill.

Arrange tomato slices in a single layer and then with mozzarella cheese. Scatter some basil leaves and sprinkle with salt and pepper.

Cover with another slice of the bread, with oiled side facing up.

Close the grill and let the panini grill on medium high till you get the desired golden brown crust on both sides.

In case you are using the griddle, grill by pressing down with a flat spatula and once the bottom is grilled to the desired golden, flip carefully to grill the other side. Press again with the spatula till done.

Repeat the process to make the 2nd panini. In case your grill or pan is big enough, then grill them together.
Serving Suggestion
Serve it hot with some potato chips, cucumber pickles and fruit on the side to make it a complete meal.
Notes
In absence of mozzarella, you may use paneer, or cheddar or muenster cheese.
Please do try this simple and delicious recipe and give me a feedback. Grill some panini for your family and friends this weekend and have a good time. It is a great week night meal. It makes a perfect finger food. Make a big panini and then slice into thin sandwiches for finger food. Make it for your friends over brunch and a cup of latte. Entertain the tail gating crowd. Just have fun!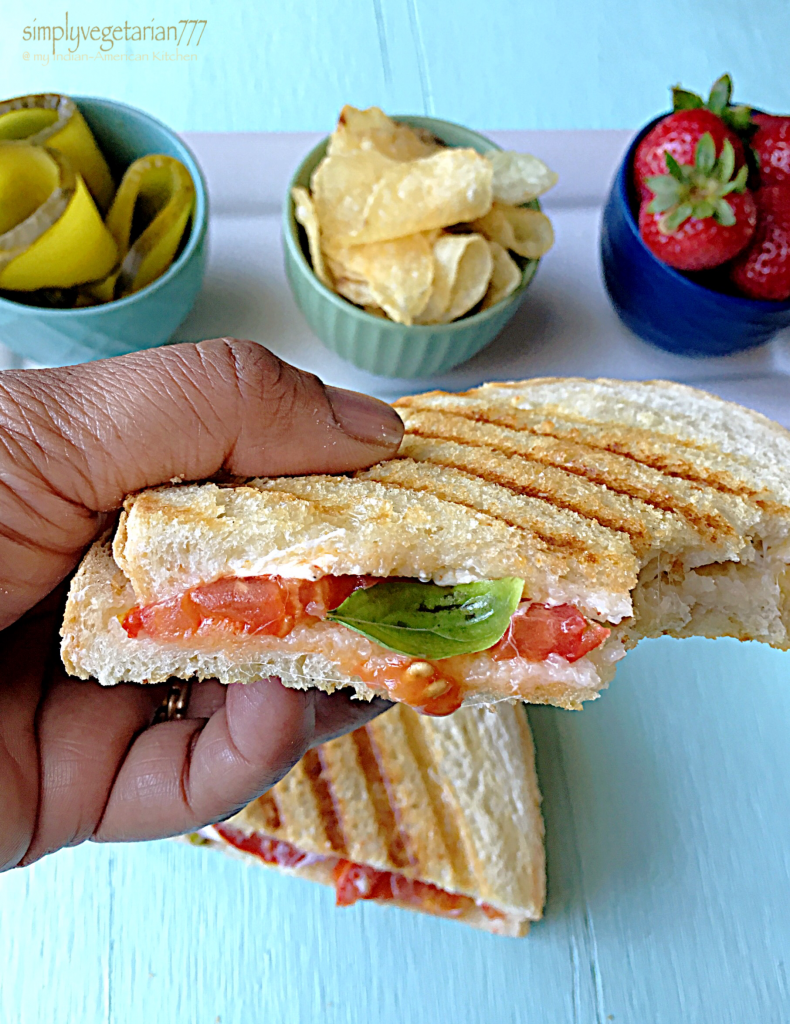 As I always say – Eat Happy! Stay Happy!
Sonal