Chhole Amritsari and Kulcha , a slightly dry chickpeas curry from the region of Punjab in India and an unleavened flat bread from the same region. A match made in heaven.
As an Amazon Associate and member of other affiliate programs, I earn from qualifying purchases.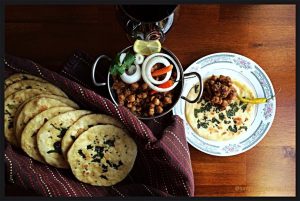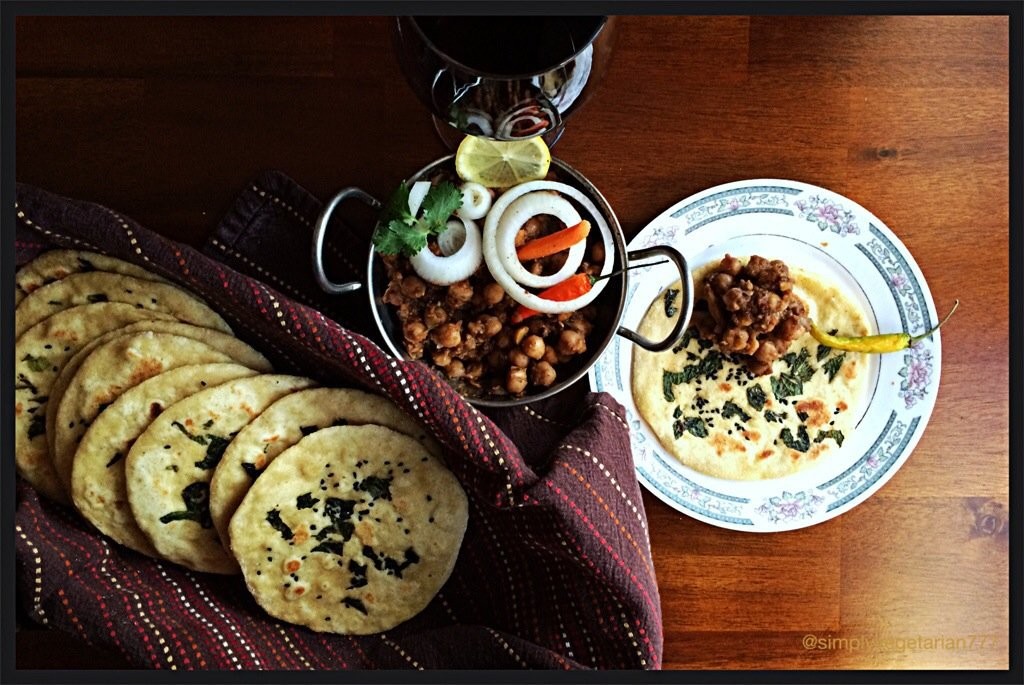 Recently, Namrata of My food tapestry had posted Amritsari Chane. the moment I saw that post, I had fallen in love with it. Amritsar is a beautiful city in the state of Punjab, India. It is famous for The Golden Temple and Food! The Amritsari food is matchless. And today I bring the most famous combination from the region.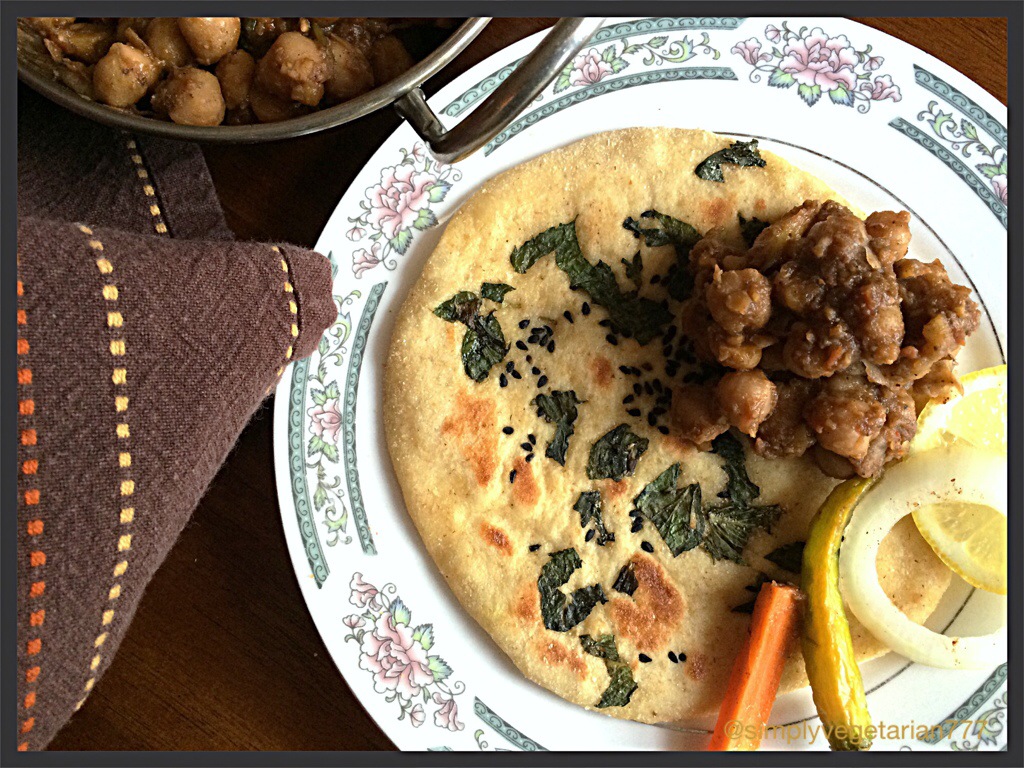 Chhole Amritsari and Kulcha. Chhole is Chickpeas. Amritsari is regional name. Kulcha is an unleavened flat bread made with all purpose flour. I made it with whole wheat :). I was not looking to replicate the taste of this combination since it is impossible. But I could atleast recreate the ambience and joy by makjng this together. Fellas, to your good luck, I cooked the curry in very less oil, 1&1/2 tsp only !
Did I say that this combination makes a fantastic deal for weekend breakfast and brunch or a great meal to offer your guests. Kids would love it too!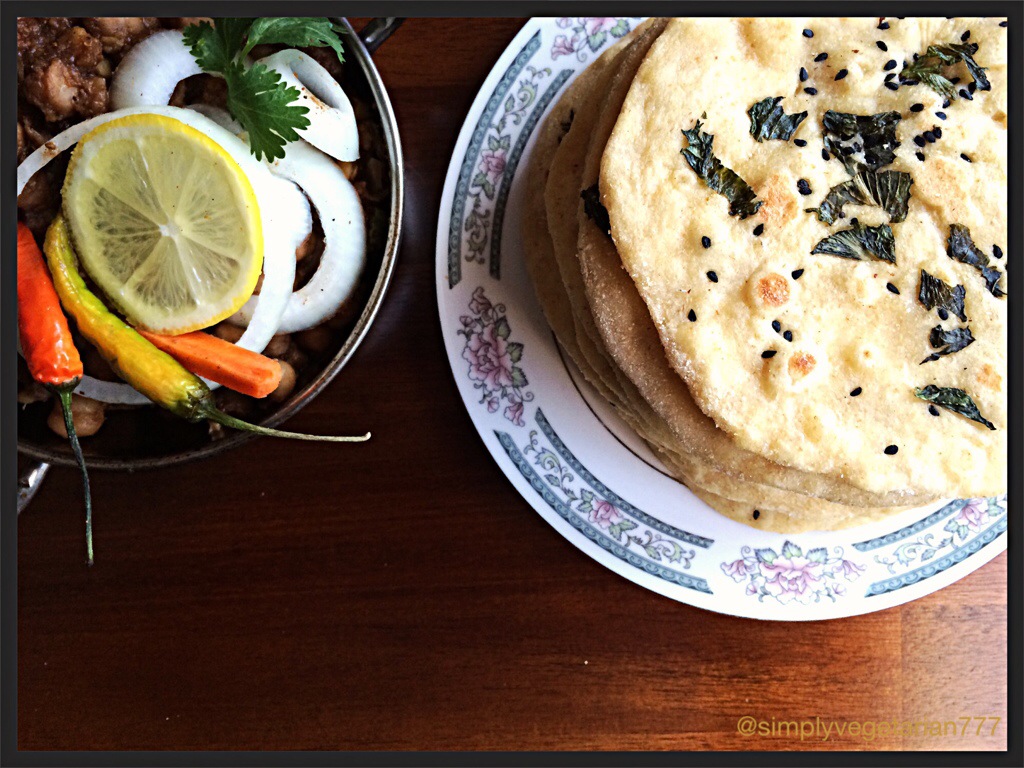 I will not talk much today since I have to write down 2 recipes. Taking this to fiesta friday, co hosted by Jhuls , Selma and Alex. I hope you guys have fun with this dish. I have made it in good quantities ;).
Chhole Amritsari
Chhole Amritsari
Servings: 4-6
Difficulty: easy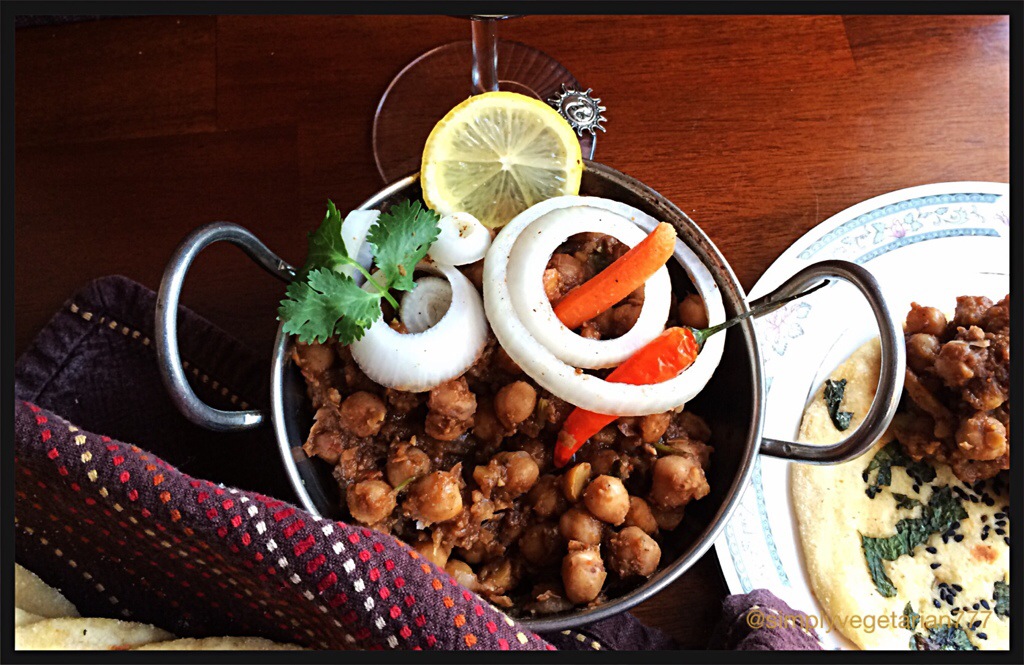 I have almost followed the proportions given by Namrata in her recipe for the ratio of chickpeas and chana dal and then tweaked the recipe to recreate my version of Amritsari Chhole!
Ingredients 
chickpeas : 1&1/2 cups, washed and soaked overnight.
Chana dal : 3 tbsp, soaked along with the chickpeas.
Oil : 1&1/2 tsp
Bay leaf, dry : 1 big
Black cardamom : 1
Dark tea bag : 1
home made tangy tomato curry paste : 1/2 cup
Chhole Masala : 1-3 tbsp, as per taste. I add way too much since I like these spicy. Keep doing the spoon lick taste to judge the heat of the curry.
Salt : to taste
Cilantro leaves : 2-3 tbsp, washed and chopped.
Onions, Ginger, green chillies and lemon for garnish and as accompaniments.
Method :
1. Boil the chickpeas along with chana dal, bay leaf, black cardamom, tea bag and little salt, till soft and tender. If there is too much water after boiling, then drain and collect the water in a cup or bowl and add it later to the curry. Add the Chhole Masala to the boiled chickpeas. Toss well so that all the grains are well coated. If possible, mash them a bit with a potato masher. This will add to the texture and thickness of the curry.
2. Meanwhile prepare the tangy tomato curry paste in 1&1/2 tsp oil or as mentioned in the recipe. I always make it more and then refrigerate the left overs to use whenever needed.
3. Now add this tangy tomato curry paste to the spice coated chickpeas. Mix well. Add little water, chopped cilantro, some julienned ginger and cook the curry covered for 1/2 an hour on simmer. This curry is supposed to be slightly dry. But if you like it thinner and more soupy. Add more water. Adjust the seasoning by adding more chhole masala or salt, as required.
4. The curry is ready. The side of vinegar pickled onions, green chillies is a good accompaniment with this dish.
Kulcha , Whole Wheat and flavored with Mint and Nigella seeds
Kulcha
Servings: 6
Difficulty: medium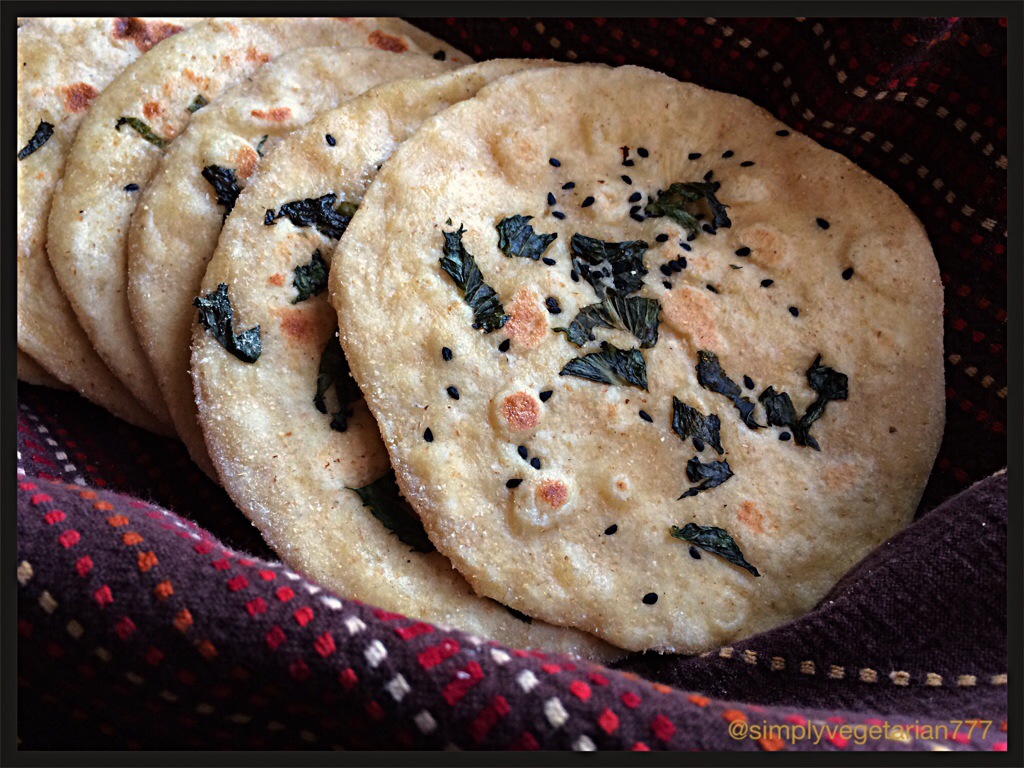 Recipe adapted from Sanjeev Kapoor
Yields : 12-15 Kulchas
Kitchen Equipments Required 
Rolling pin, clean working surface or rolling board, a griddle or tawa, a flat spatula
Ingredients 
Whole wheat flour : 2 cups + more for rolling. The original recipe requires All purpose flour or Maida.
Baking powder : 1/2 tsp
Baking soda : 1/4 tsp
Salt : 1/2 tsp
Sugar : 1/2 tsp
Oil : 1 tbsp
Yogurt, thick : 3/4 cup. I used thick non fat plain Greek yogurt. If you use home set yogurt, then either strain it or use 1/2 cup.
Milk : as required to knead the dough. I used almost 1/2 cup.
Mint leaves : 1 tbsp, washed and chopped fine.
Nigella seeds or Kalonji : 1 tsp
Butter to rub the surface of the kulcha.
Note : if you are using the APF, then the proportion of yogurt and milk will be less since it binds quickly and easily.
Method 
1. Take all the dry ingredients in a big bowl. Add yogurt and oil and start mixing the ingredients. Keep adding the milk to be able to make a pliable dough, which is soft. Cover it with a wet muslin or cheese cloth. Let it rise for 1 to 1&1/2 hour.
2. Take the dough and make 12-15 balls out if it and cover. Keep uncovering as using so that they don't dry out while making others.
3. Heat a griddle. Take one dough ball. Pat it flat with hand and press some mint leaves and kalonji/nigella seeds on the top. Sprinkle some dry flour. Roll in either round or oblong on a well floured surface.
4. Once the griddle or tawa is hot, lower it to medium. Lay your rolled Kulcha on the hot griddle. Once you see the bubbles forming on the surface. Slightly give a peek at the bottom surface to see if the bottom has got some golden spots.
5. Once the bottom layer has golden spots, flip it to roast it on the other side. Press it gently with the flat spatula for even cooking. When the mint and nigella seeds side is slightly golden too, take it off. Apply butter and enjoy with Amritsari Chhole.
Note : These serve as fantastic pizza base for those who are allergic to yeast.
Linking it to simply.food at Cooking with pulses event!.
I had a great time making this in my Indian American kitchen! I hope you will too!
Sonal