Grilled Spicy Paneer Skewers – Diabetes Friendly Thursdays
As an Amazon Associate and member of other affiliate programs, I earn from qualifying purchases.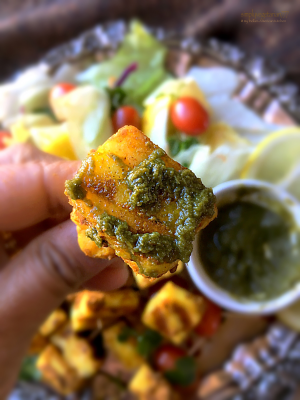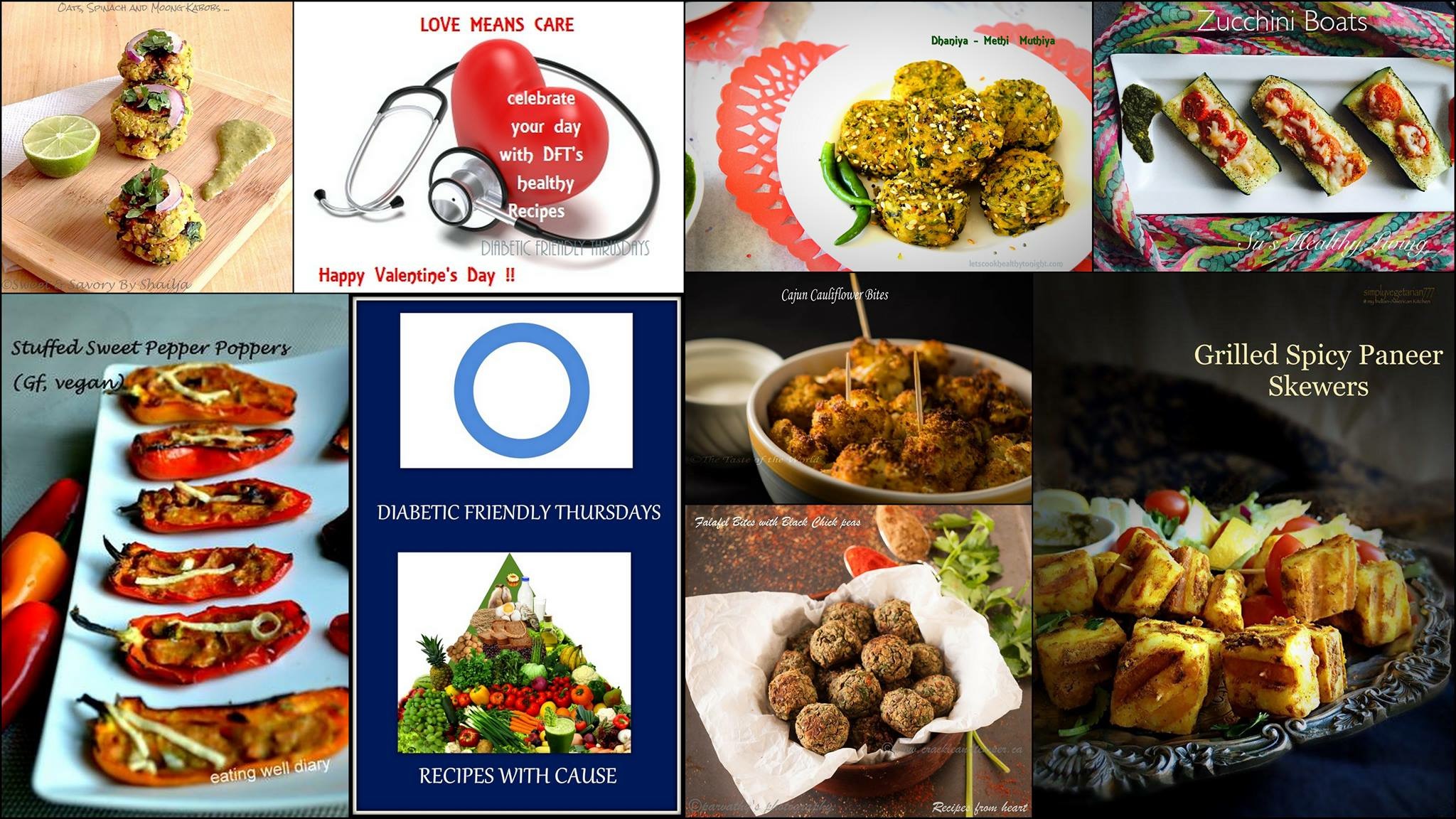 Creating Recipes with a Cause! I am a proud DFT blogger. To learn about DFT, Read here!! view more DFT recipes, Click here!
Grilled Spicy Paneer Skewers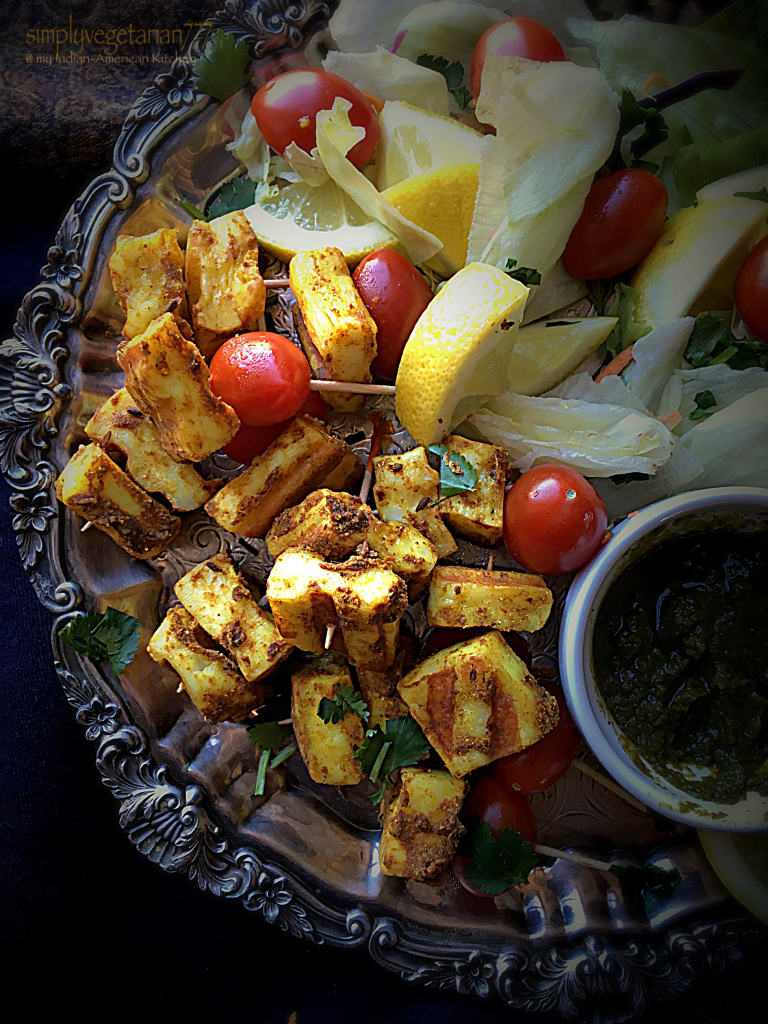 Celebrate the Valentines Day with Team DFT's Weight Watchers and Diabetes Friendly Appetizers.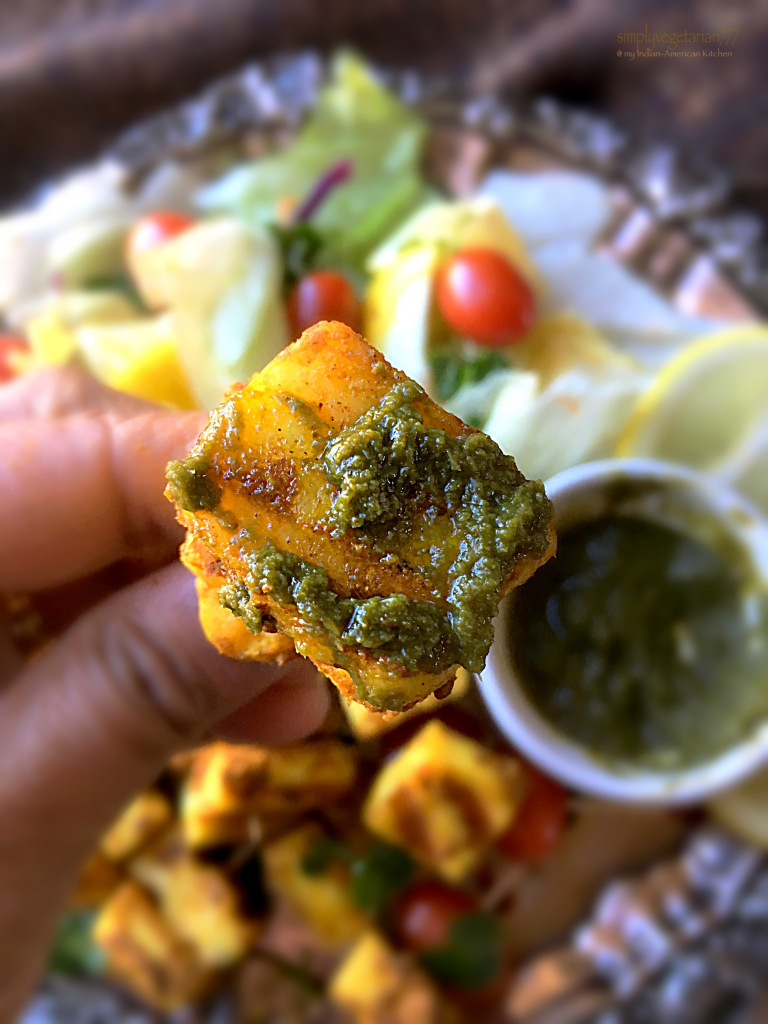 Paneer is such a loved ingredient in Indian Cuisine. It is so easy to cook with and experiment with too. Low fat paneer is a blessing for Diabetics. It is not only low in carb but is also high in protein and potassium & calcium. A controlled portion snack of paneer is a good plan on your menu. For those who do not know what Paneer is, it is an Indian Cottage Cheese, similar to Ricotta.
I always believe that Our lives are anyways complicated..our recipes do not need to be. I follow this mantra most of the time, trying to keep my recipes very simple and pretty straight forward.
Grilled Spicy Paneer Skewers is one such recipe. No marination time required, no fancy ingredients required, just open your masaledani (spice box), mix some basic curry spices and toss paneer in it! Grill! Can it get simpler than this?
I am super sure that this will make a great appetizer or hors d'oeuvres or finger food for a swooning Valentine evening, be it with your partner, or kids, or parents or just friends….Valentine after all is a celebration of love and can extend to who ever is loved in your life!
This is how I made it!
Grilled Spicy Paneer Skewers
Servings: 4
Difficulty: easy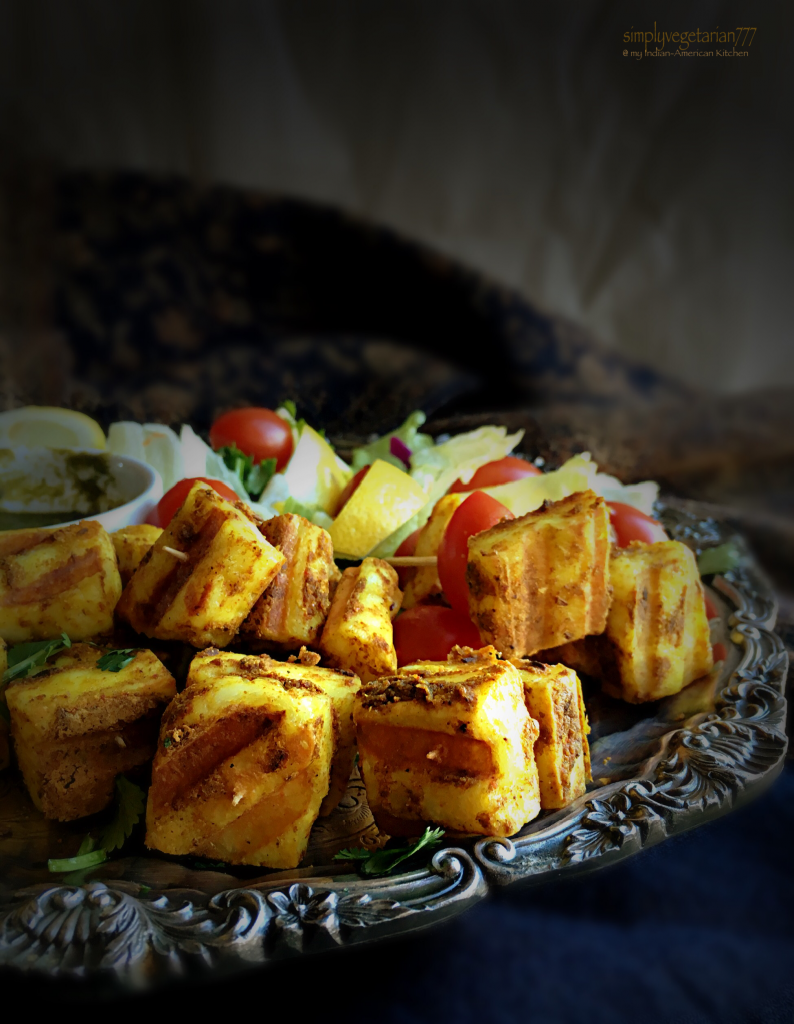 Kitchen Equipments Required 
Chopping board, knife, a mixing bowl, electric grill or panini maker or non stick heavy bottom pan, flipping spatula, serving platter, cocktail picks.
Ingredients
Paneer, low fat – 20 cubes of 1×1 inch. You may use extra firm tofu instead.
Cherry Tomatoes – 20
Lettuce – 1 cup, chopped roughly
Lemon Wedges to serve along
Cilantro leaves – 1 tsp, chopped fine
Oils & Spices 
Oil – 1/2 tsp to grease the grill
Turmeric – a fat pinch
Coriander powder – 1/2 tsp
Cumin powder – 1/4 tsp
Red chili powder – 1/8 tsp
Garam Masala – 1/4 tsp
Amchur/ Dry Mango Powder – 1/4 tsp
Salt to taste
Water – 1/2 tsp to 3/4 tsp
Method
Take the mixing bowl. Add all the above mentioned spices to it. Add little water to make a thick paste of the spices.
Now add the cubed paneer pieces to the spice paste. Toss well to make sure that all the paneer cubes are well coated with spice paste.
Heat the panini grill or any grill that you are using. Grease it lightly with the oil. I normally dip a corner of the kitchen paper in oil and grease to avoid any extra oil. If you are using the non stick pan, grease that and heat it to medium flame.
Place the spice coated paneer pieces on the grill. Close the grill and let cook till the paneer pieces get slightly golden and crisp. It will take about 7-8 minutes. If you are using a pan, toss and grill ok medium flame till paneer becomes slightly golden from all the sides.
The paneer pieces are ready to be skewered and served.
Serving Suggestion
Skewer these spicy paneer pieces on a cocktail stick, alternating with cherry tomatoes, if you wish.
Spread a bed of chopped lettuce on the serving platter. Arrange these tiny cocktail skewers on the lettuce bed.
Squeeze some lemon juice. Sprinkle some chopped coriander leaves.
Serve along side the bowl of Green Cilantro Chutney as a dip.

I had a great time grilling these in my Indian American Kitchen. I hope you will have fun making this in your kitchen as well!
Sonal
---
Foot Notes
Paneer/Tofu – Low fat Paneer is an excellent source of protein for vegetarians and helps regulate the blood sugars better with diabetics. Tofu is another great source of parotein. It keeps you full for longer time. The calcium in both the ingredients help in better diabetes type 2- management.
Tomatoes – Tomatoes are not only Low GI but high in fiber. American Diabetes Association puts this humble fruit, in its list of top 10 Super Foods for Diabetics. It is also rich in nutrients like vitamin C, iron, vitamin E. Go on and include some tomatoes on daily basis in your diet, no matter which form – purée, chopped, blanched or raw.
Lettuce – Dieters often eat plenty of lettuce because it fills you up and provides essential nutrients, such as folate and vitamins A and K, without providing a lot of calories. Likewise, other nonstarchy vegetables, including lettuce, can be a good choice for diabetics due to their low carbohydrate content and minimal effects on blood sugar levels.
——————————————
Disclaimer
I am not a nutritionist or dietician. My knowledge and information is based on my research and reading from different resources. Please consult your doctor or dietician before making any changes to your diet.
——————————————
Other appetizers from the Team DFT!
Black Chickpea Falafel Bites by Parvathy
Oats Spinach Mung Dal Kebabs by Shailja
Dhaniya Methi Muthiya by Swati
Cajun Cauliflower Bites by Sarika