Shahi Paneer
As an Amazon Associate and member of other affiliate programs, I earn from qualifying purchases.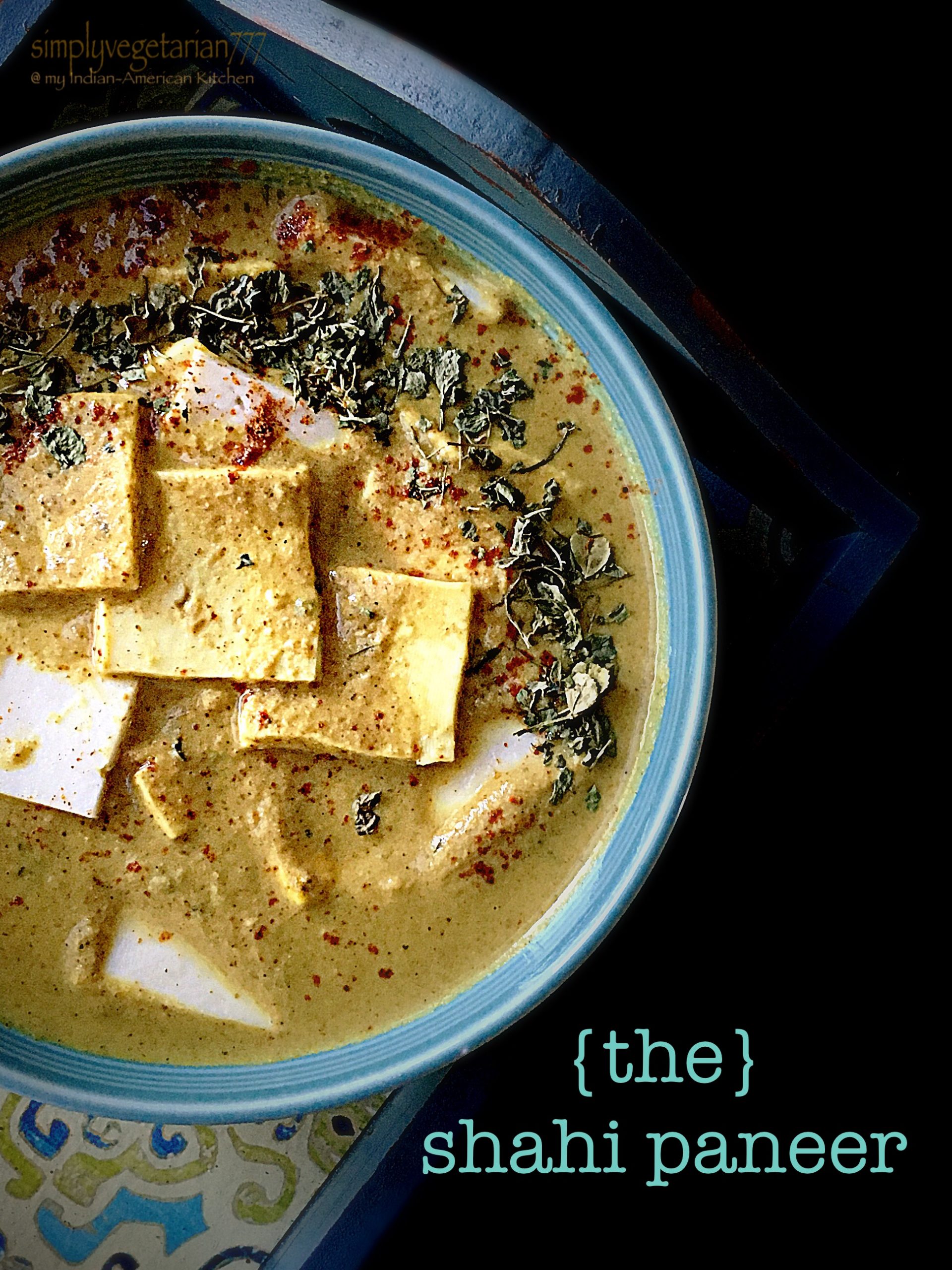 Shahi Paneer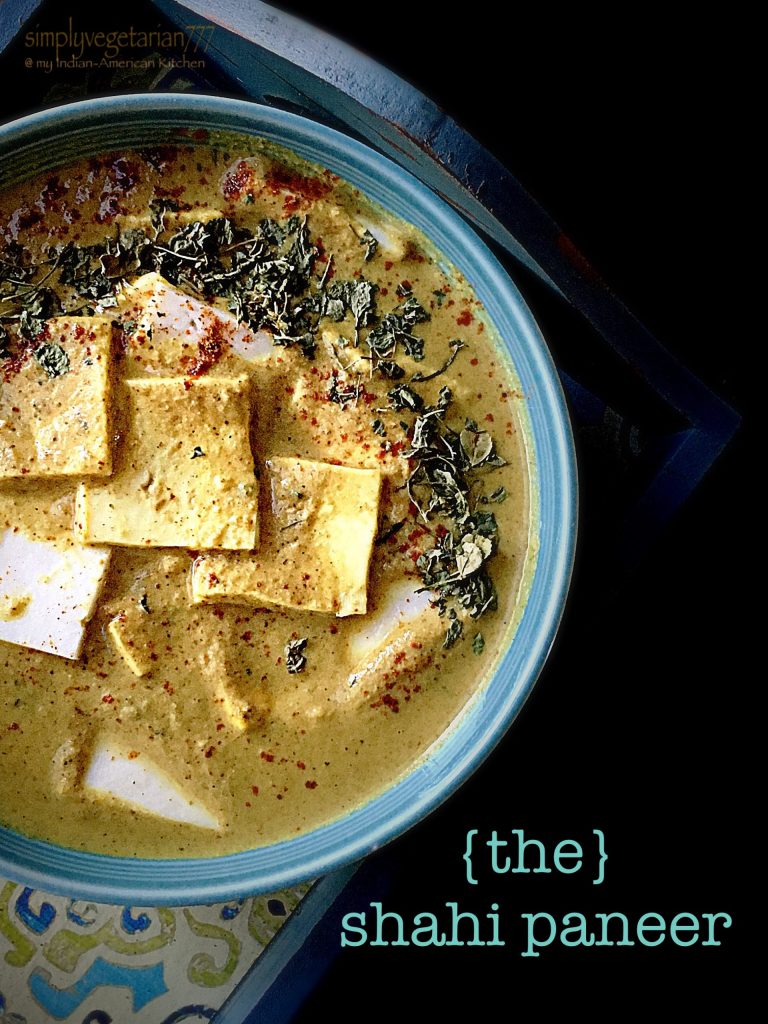 Shahi Paneer is a very popular dish in Indian Cuisine. It has succulent paneer pieces drenched in rich curry made with onions and nuts.
There are many recipes to make Shahi Paneer, floating out there on the Internet and cook books. There is no right or wrong to it. Some call for the curry to be made with tomatoes in it and some add a lot of cream and butter.
Don't we have other Paneer dishes with the addition of the above? To name a few – Paneer Makhani or Paneer Butter Masala resemble the similar preparation.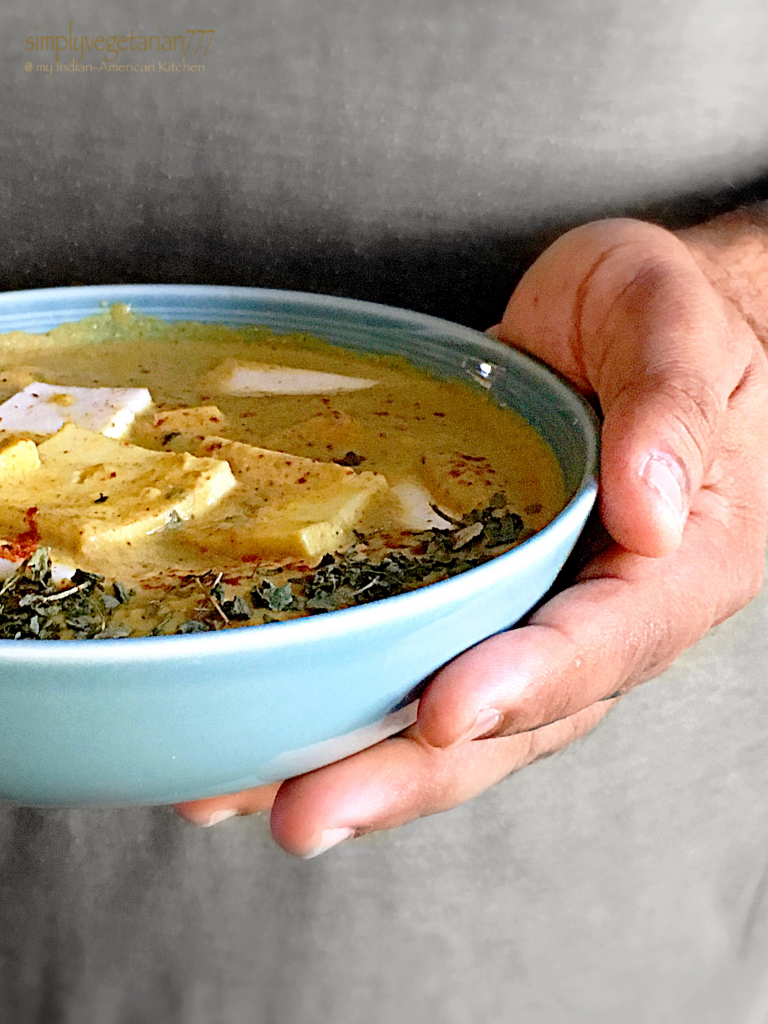 When I was a student of Home Economics in college, our beautiful and young teacher of Food & Nutrition taught us how to make Shahi Paneer in the food lab. It was the best kind that I had ever tasted. It had onions and nuts as main ingredients and it was finger licking delicious.
Honestly, in 1990s, we had much simpler food and paneer dawned the avatar of either paneer ke Pakode, Paneer ka parantha or Matar Paneer most of the time. Mom would make Paneer ki Bhurji at the most to bring the variety. The reason could be that Paneer was not easily available in the market in those days. It was often made at home.
If you want to make Paneer from scratch at home, refer to Ruchi Dua's recipe of making perfect paneer at home – here ! Ruchi is a very talented blogger and a hot mine of perfected recipes. I have immense respect for her work and call her "di" out of affection. Di means elder sister. To check our her work, visit her blog Ruchi's Kitchen . Click here for the blog link.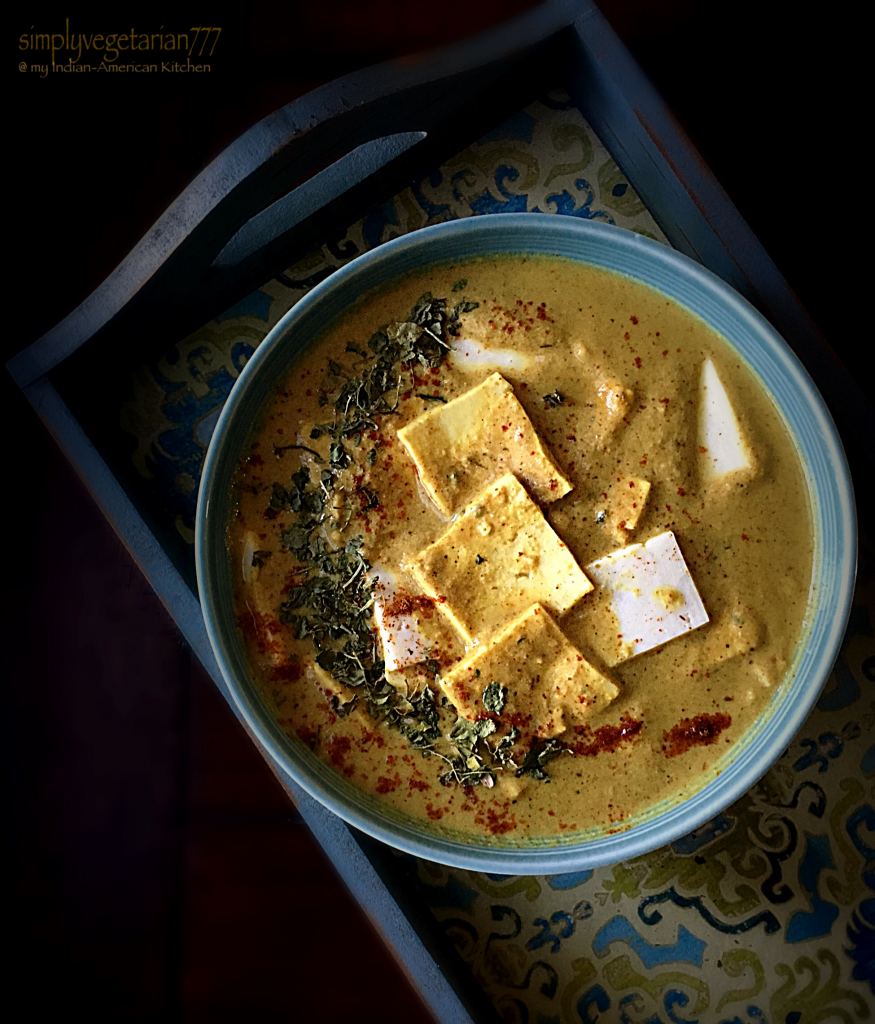 Shahi is Royal and as I mentioned above, it is inspired by Mughlai Cuisine.
Shahi Paneer was for the restaurants and not very commonly found in restaurant menus either. Slowly the Mughlai Cuisine became very popular with 5-Star rating hotels and restaurants and now you find Mughlai Cuisine as the most offered cuisine, almost everywhere.
I tried to find the original information about it but unfortunately couldn't gather much. This curry can be prepared and used to douse to anything edible in it. Try your favorite protein, koftas and vegetables. This curry won't disappoint you.
I had blogged Paneer Mughlai, almost 2 years ago and it was very well received by my readers. It is much more richer than Shahi Paneer.
Have you noticed that when you order Shahi Paneer at different restaurants, you find different kind everywhere. Some are creamy and rich red in color. Others are delicately turmeric-ish in color with nutty flavor.
Bookmark this recipe and I am sure you will make it again and again with a clear distinguish between Paneer Makhani and Shahi Paneer. ☺️
This recipe has 3 steps –
1. The Shahi Paneer masala (whole spices) that need to be roasted and ground separately.
2. The Shahi Curry Paste ingredients that need to be boiled and then ground to paste.
3. The curry paste and spices need to be cooked together and then add paneer pieces in it.
Do read the recipe till end including notes for some suggestions and substitutions.
Some popular Paneer recipes from my blog are – Grilled Spicy Paneer Skewers , kesariya paneer ki kheer , Paneer Keema Lettuce Wraps , Paneer Makhanwala , Paneer Tikka , Restaurant style Palak Paneer and many more. I have more than 30 Paneer recipes on the blog. Just write Paneer in search option of the blog and you will get lot of recipes.
For another good recommended Shahi Paneer Recipe, refer to Veg Recipes of India, authored by Dassana Amit. Click here for her recipe!
This is how I make Shahi Paneer.
Shahi Paneer
A Royal curry from North India, made with nuts and spices and enriched with succulent creamy paneer.
Ingredients
Ingredients for Shahi Paneer
Paneer - 400 gms

cubed or sliced thin into squares or triangles.

Shahi Paneer Masala - see below

Shahi Curry Paste - see below

Oil - 2 tsp

Turmeric / Haldi - 1/2 tspt

Salt to taste

Kashmiri lal mirch / Degi mirch / fancy paprika - 1/2 tsp

Sugar - 1 tsp

Water - 2&1/2 to 3 cups
Ingredients for the Shahi Curry Paste
Onion

red - 1 medium, chopped roughly

Cashews / Kaju - 1/4 cup

Melon seeds / Magaj - 1/4 cup

Garlic - 3 pods

chopped roughly

Water - 2 cups

Milk - 1/2 cup
Ingredients for the Shahi Paneer Masala
Bay leaf - 1

Cinnamon stick - 1 small piece

Cumin seeds - 1/2 tsp

Coriander powder - 2 tsp

Fennel seeds - 1/4 tsp

Cloves

- 3

Black pepper pods - 3

Black cardamom - 1

Green cardamom - 3

Red chili

whole dry - 1

Kasuri methi - 1/2 tsp
Garnish (optional)
Kasuri Methi

Kashmiri Lal Mirch or Degi Mirch or Fancy Paprika

Saffron - few strands
Instructions
Method to make Shahi Paneer Masala with whole dry spices
Take a heavy bottom pan. Add bay leaf, green and black cardamom, cinnamon, cloves, black pepper corn, fennel seeds, red chili powder, kasuri methi, coriander seeds, cumin seeds and whole red chili dry to it.

Toss these spices in the pan on medium heat for about 3-4 minutes till they are slightly roasted and not brown. Please do not brown the spices.

Switch off the flame. Let the spices cool down to room temperature.

Grind these spices into a fine spice powder.

You can do this step in advance.

Set aside.
Method to make Shahi Curry Paste
Take a medium size sauce pot. Add onions, garlic, cashews, magaj/melon seeds to it along with 2 cups of water. Bring it to a boil and let it cook on medium heat for about 7-8 minutes till onions become soft and pinkish.

Switch off the flame. Let it rest for 5 minutes. Strain the leftover water in the pan and add to the curry later while cooking.

Take a blender. Add the boiled and strained onions, garlic and nuts along with 1/2 cup milk to the blender and make a smooth paste. Be careful while running the blender since the paste ingredients might still be slightly hot.

The milk will remain fine without curdling since there are no tomatoes in it.

Make a fine paste out of the ingredients and set aside.

You may make this paste in advance and keep to use for later.
Making the Curry
Heat 2 tsp oil in a heavy bottom pan. Add the curry paste and curry masala powder along with sugar, salt, turmeric and kashmiri red chili powder to the pan.

Stir all the ingredients well. Cook on medium low heat for about 6-7 minutes, till the paste leaves the sides.

Once the paste becomes thick, the yellow color from turmeric will become magical and deepen.

Add 2&1/2 to 3 cups of water and the water saved from the boiled onion. Stir and mix it well. Bring it to a boil and then put it on simmer.

Add the cut pieces of paneer to it and simmer with the curry for about 6-7 minutes until thick.

Garnish with some dry kasuri methi, some kashmiri lal mirch and few saffron threads. This step is optional but beautifully presented dish increases the appetitte 4 times.
Serving the Curry
Shahi Paneer is best served with Naan and Jeera Pulav (Cumin Rice) or Lachcha Parantha.
Notes
In case you do not find magaj or melon seeds, use 2 tbsp almonds. To make it vegan, use extra firm tofu in place of paneer, almond or soy milk in place of regular milk. In case you like your curries reddish, you may use 1 medium tomato along with onions etc to bring a little color.
Here is how you make – whole wheat naan , Cumin rice or Jeera Pulav and lachcha parantha .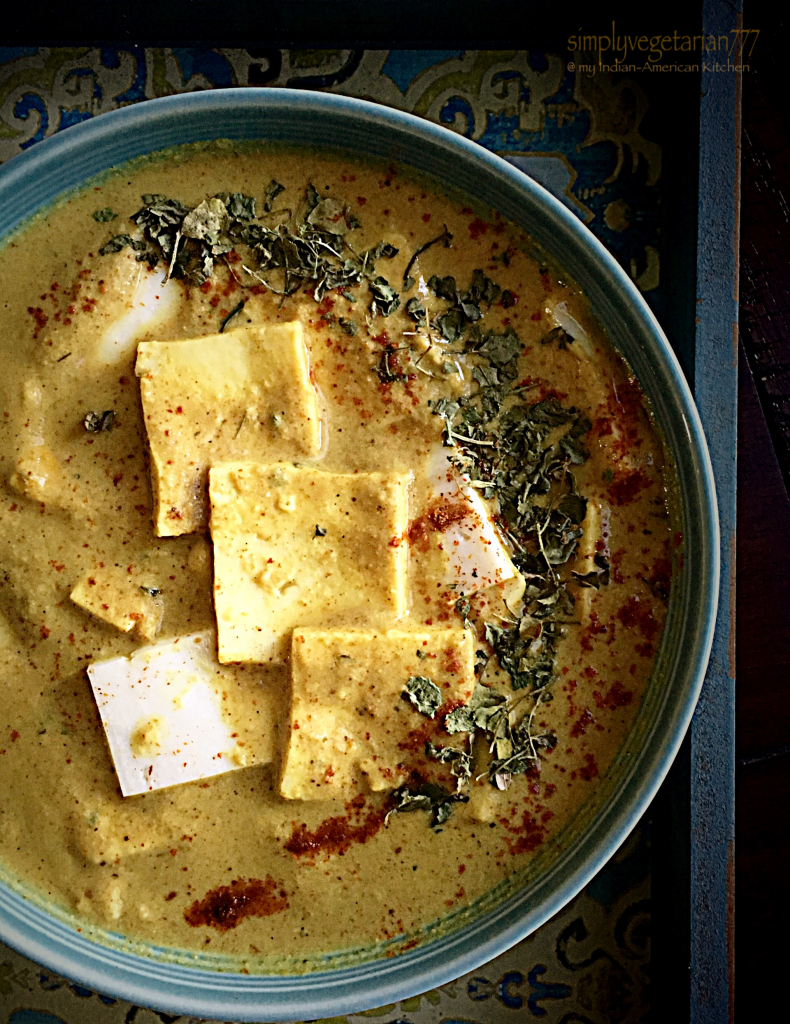 Try making this curry this week and re-win the hearts of your family and friends over the dinner table. I promise that they won't stop licking their hands and kissing yours. 🙂
As I always say – Eat Happy! Stay Happy!
Sonal