Paneer / Tofu Keema Lettuce Wraps – DFT
As an Amazon Associate and member of other affiliate programs, I earn from qualifying purchases.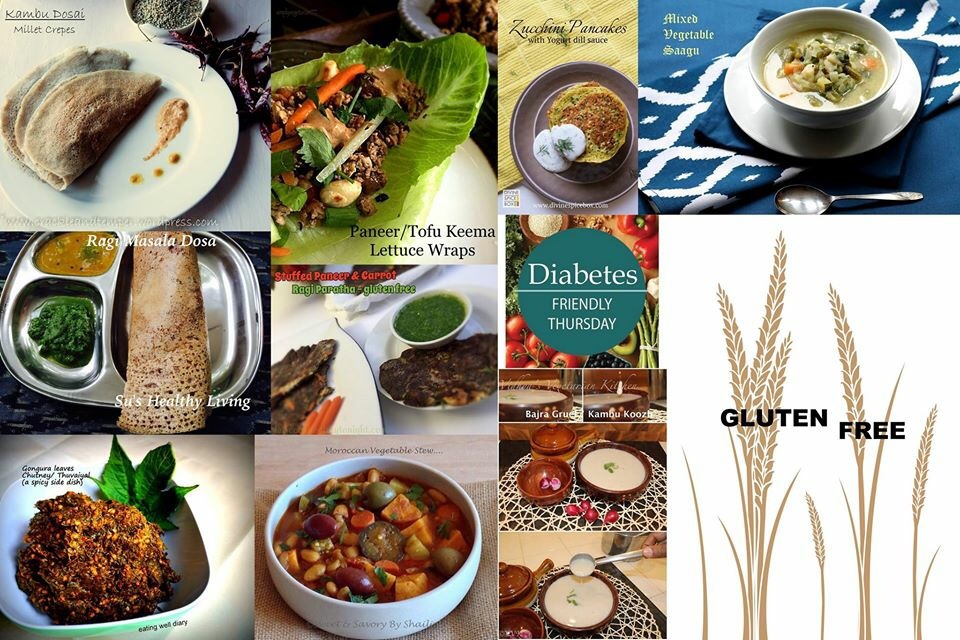 Creating Recipes with a Cause! I am a proud DFT blogger. To learn about DFT, Read it here!! view more DFT recipes, Click here!
Paneer / Tofu Keema Lettuce Wraps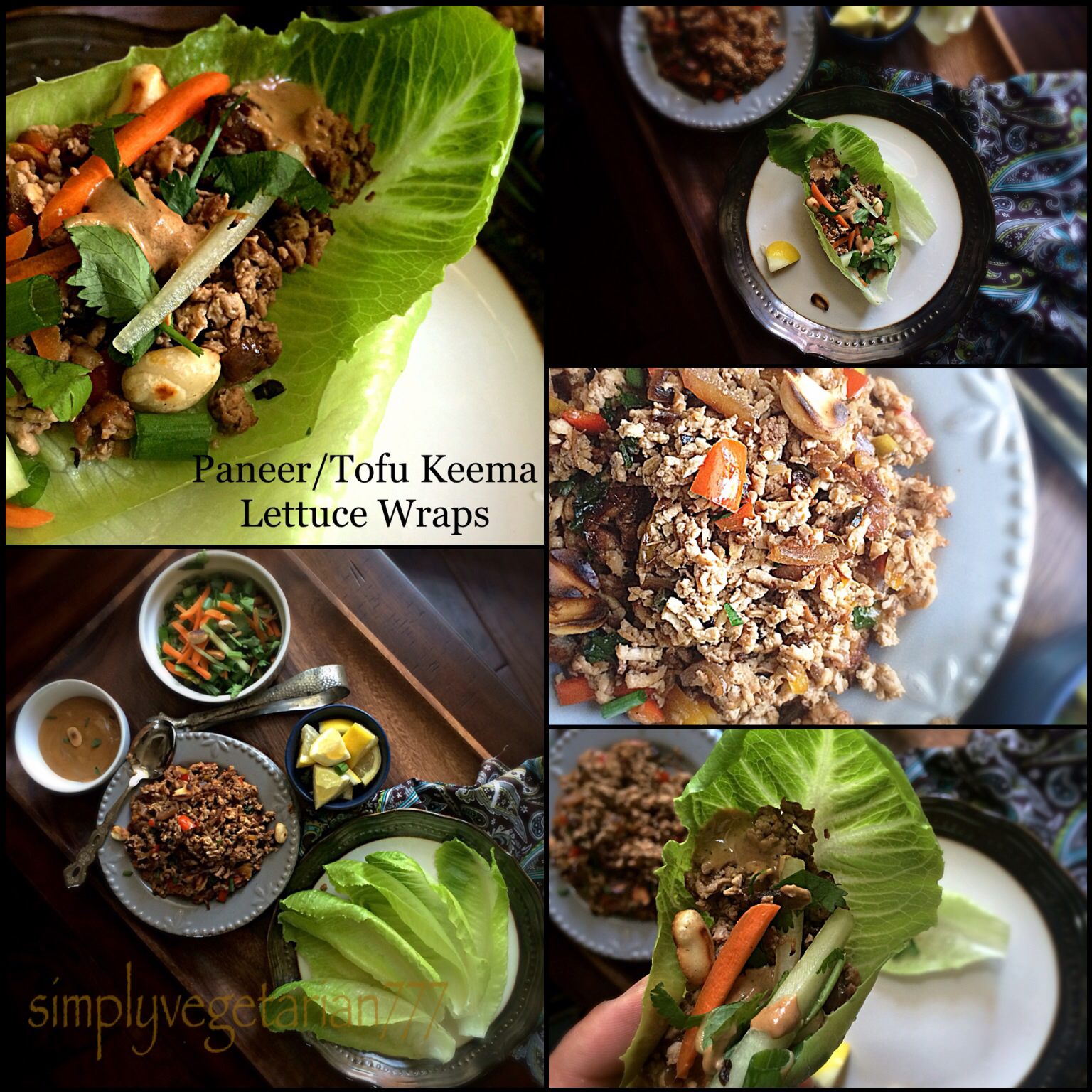 DFT is not only diabetic friendly but has stepped up to go "GLUTEN FREE" also this time! Enjoy the Gluten free diabetic friendly recipes from the DFT Bunch!!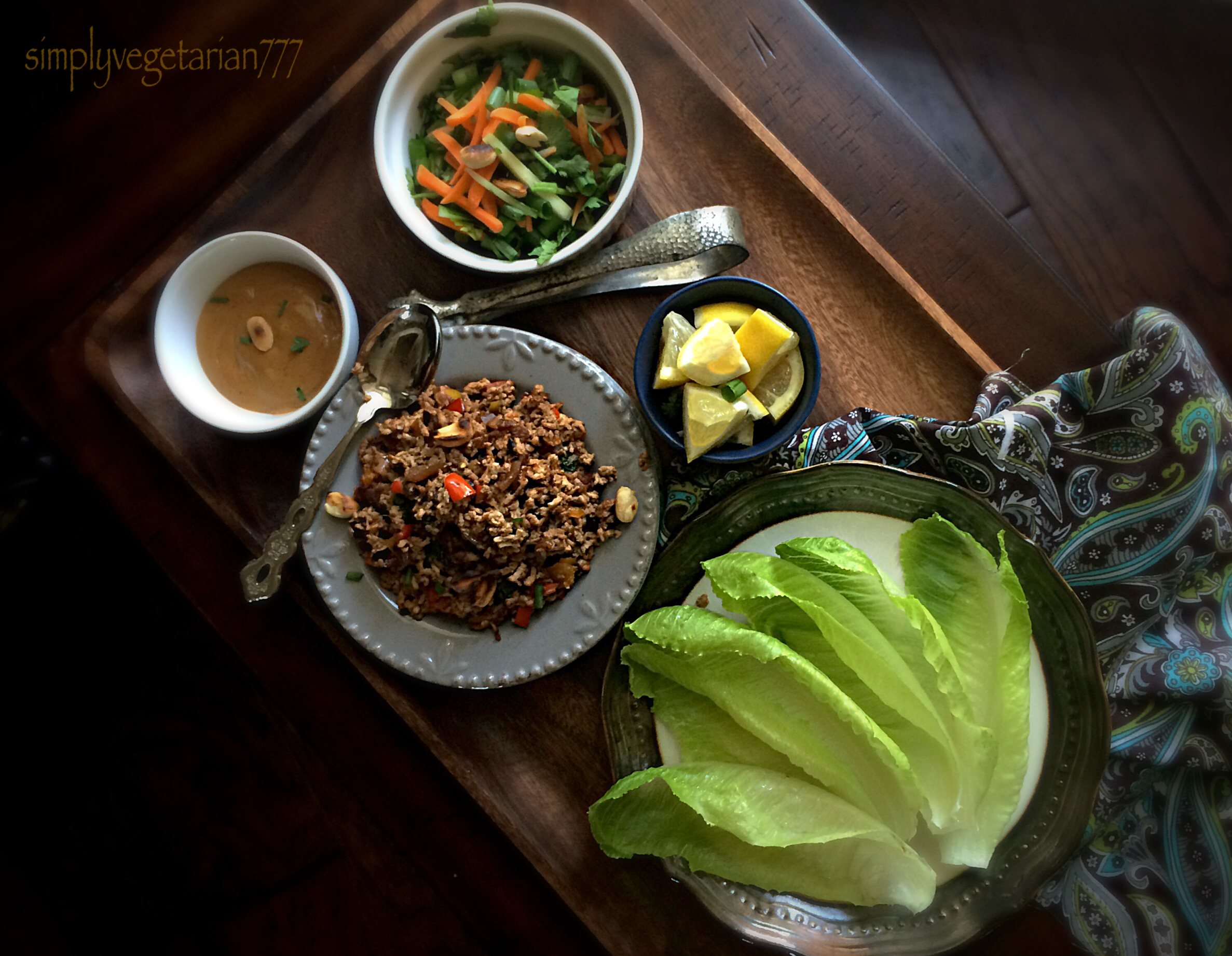 It's a double whammy for us at DFT this week. The DFT bloggers have not only mastered the art of creating Diabetic conscious recipes this week, they have doubled up with GLUTEN FREE as well!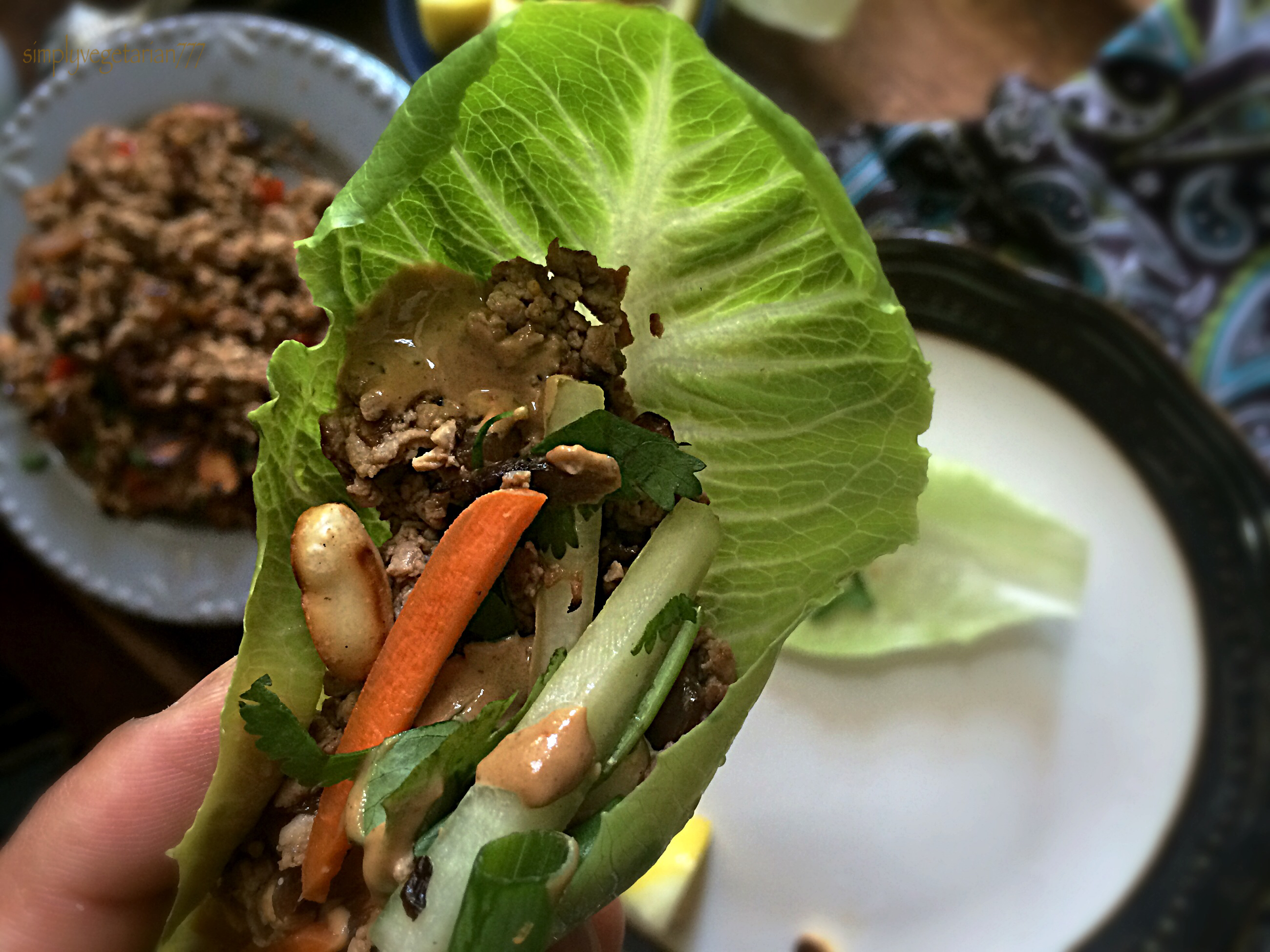 Gluten free is a diet that is free of GLUTEN, which is a protein composite found in wheat and related grains, including barley and rye. Gluten causes health problems in sufferers of celiac disease (CD) and some cases of wheat allergy. (Information Source – Wiki)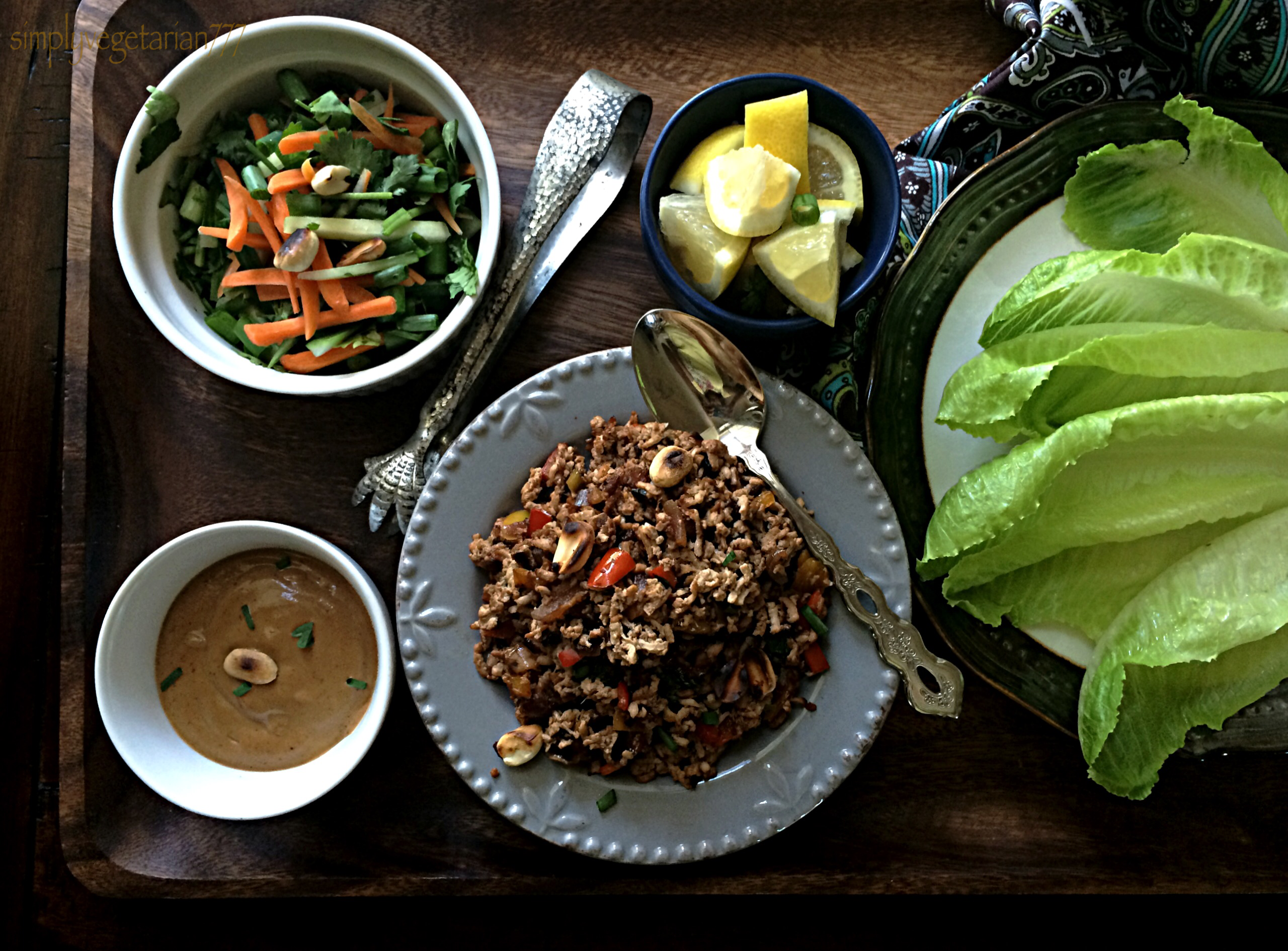 The recipe that I created for this challenge is inspired by Asian flavors. It is filled with fibers and good protein and no traces of gluten. The indulging part is Peanut Chili Jaggery Sauce. Only few dipping dots and it's bursting with flavors. The dish is crunchy and mouthful with complex textures and heart warming flavors.
Keema is called Mince in English!
For the benefits of main ingredients on diabetes, used in the dish, please refer to the Foot Notes!
This is how I made it!
Paneer/Tofu Keema Lettuce Wraps
Servings: 6
Difficulty: easy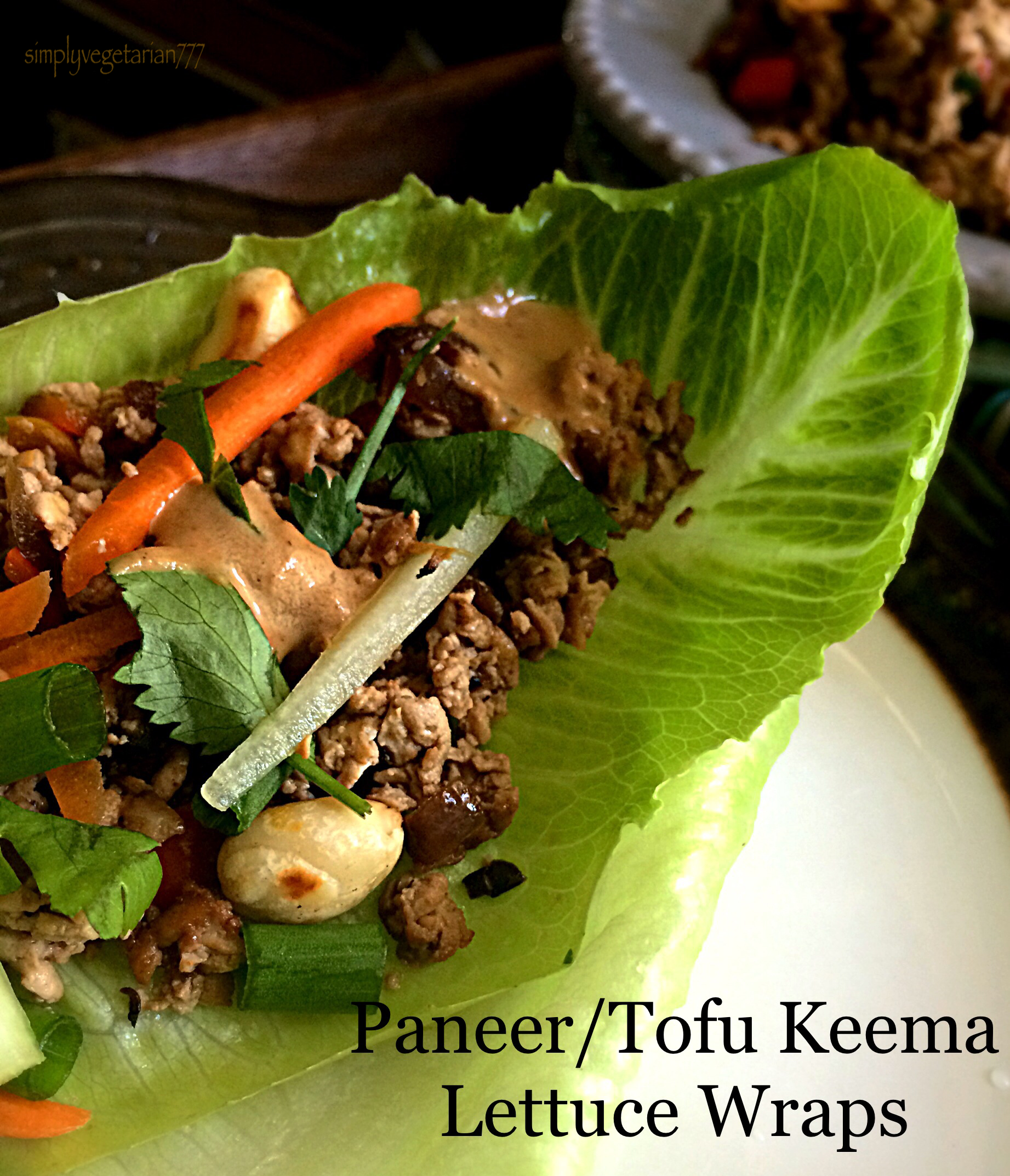 Kitchen Equipments Required
Chopping board, knife, non stick stir fry pan, stirring spoon, grater and blender, 2 bowls
Ingredients
Lettuce Leaves – 12
Paneer / Tofu – 1/2 cup crumbled or grated
Ginger – 1 tsp, grated
Garlic – 1 tsp, grated
Green chili – 2 small finely chopped
Onions – 2 tbsp, finely chopped
Bell peppers – 2 tbsp, julienned
Side salad
Carrot – 2 tbsp, julienned match stick size
Cucumber – 2 tbsp, julienned match stick size
Scallions / Green onions – 2 tbsp, chopped fine
Cilantro – 1 tbsp, chopped fine
Lemon Juice – 1 tsp
Salt – a pinch
Oil & Spices
Oil – 1 tsp
Soy sauce – 1 tsp, gluten free
Vinegar – 1 tsp
Salt – a fat pinch
Peanut & Jaggery Spice Sauce
Peanuts – 2 tbsp, dry roasted
Jaggery – 1 tsp
Dry red chilli – 1 dry roasted
Soy sauce – a dash
Vinegar – a dash
Water – 2 tbsp
Method
1. Making Peanut & Jaggery Dipping Sauce – Take the blender and add all the ingredients under sauce and blend to a smooth purée or paste. The sauce is ready. Pour in a bowl and set aside.
2. Making Salad – Take a bowl. Add all the ingredients mentioned under the salad and toss well. Set aside.
3. Making the Tofu/Paneer Keema
a. Heat oil in the non stick pan. Add grated ginger, garlic, green chili and onions to it. Stir fry on medium heat for a minute.
b. Now add grated paneer or tofu in it. Add soy sauce, vinegar and salt to it. Stir fry it for 3-4 minutes on high till all the water is evaporated and it is dry. Your super spicy, lip smacking delicious keema is ready.
4. Serving Suggestion
a. Wash and pat dry the lettuce leaves of your choice. Make sure that they are not bruised. You may use Iceberg Lettuce or Romaine, endive, redichhio…any kind. Take the whole and crispier leaves.
b. When serving, put the whole platter out of Peanuts Sauce, Tossed Salad, Tofu or Paneer Keema/Mince and washed & dry lettuce leaves.
c. Take a leaf, top with a spoon ful of keema/mince mix. Add a spoonful of salad and dot with some peanut hot sauce.
d. Immediately bite on it :). That's it! It is such a satisfying experience in the mouth and a great Glutenfree Recipe to indulge upon!
Notes
1. You may use Soy Mince instead of paneer or tofu.
2. You may use soaked 1 date or 1/2 fig instead of jaggery. Or with serious conditions, skip any sweet or use a small pinch of sweetner.
3. This recipe of mince goes well as a dumpling or pot sticker stuffing, a stir fry rice, summer rice paper rolls.
————————————–—-
Foot Notes
Tofu / Paneer – Tofu is an excellent source of protein for vegans and vegetarians and helps regulate the blood sugars better with diabetics. Low fat paneer is another great source of parotein. It keeps you full for longer time. The calcium in both the ingredients help in better diabetes type 2 management.
Non Starchy Vegetables – Onions, Bell peppers, cucumbers, carrots, cilantro, green onions & ginger garlic are non starchy Veges and are considered excellent for Diabetics. 1/2 cup cooked or 1 cup raw is an ideal portion size per person.
Lettuce – Dieters often eat plenty of lettuce because it fills you up and provides essential nutrients, such as folate and vitamins A and K, without providing a lot of calories. Likewise, other nonstarchy vegetables, including lettuce, can be a good choice for diabetics due to their low carbohydrate content and minimal effects on blood sugar levels. Source of Information – Livestrong
Peanuts – Peanuts have a low glycemic index, just 13, making it appropriate for the diabetic diet. Foods with a low glycemic index do not trigger a spike in blood sugar, which helps people with diabetes maintain normal blood glucose. They offer a variety of benefits to those with this condition, but speak to your health care provider before adding peanuts to your diet as a treatment for diabetes. Source of Information – Livestrong
Jaggery – I will be honest that jaggery is not a better alternative for diabetics since GI value of jaggery and refined sugar is same. The fact that jaggery is much richer in minerals and other nutrients and sugar is empty calories, I will pick jaggery any time. Only 1 tsp is used for 6 servings might make it a thoughtful input. You may choose 1 date or 1/2 the fig instead. Ask your doctor before making any changes.
A good article to read on dos and donts of Diabetics!

——————————————
Disclaimer



I am not a nutritionist or dietician. My knowledge and information is based on my research and reading from different resources. Please consult your doctor or dietician before making any changes to your diet.
——————————————
Other Gluten Free DFT recipes from the Team DFT!