Palak Paneer, Restaurant Style and Lachcha Parantha, a flaky unleavened flat bread! Wishing everybody a very happy and peaceful 2015!
As an Amazon Associate and member of other affiliate programs, I earn from qualifying purchases.

Wishing all my dear family, friends and readers a very peaceful, happy and beautiful 2015! My resolution for 2015 would be to find peace with myself. Stop complaining! Conquer my own evils!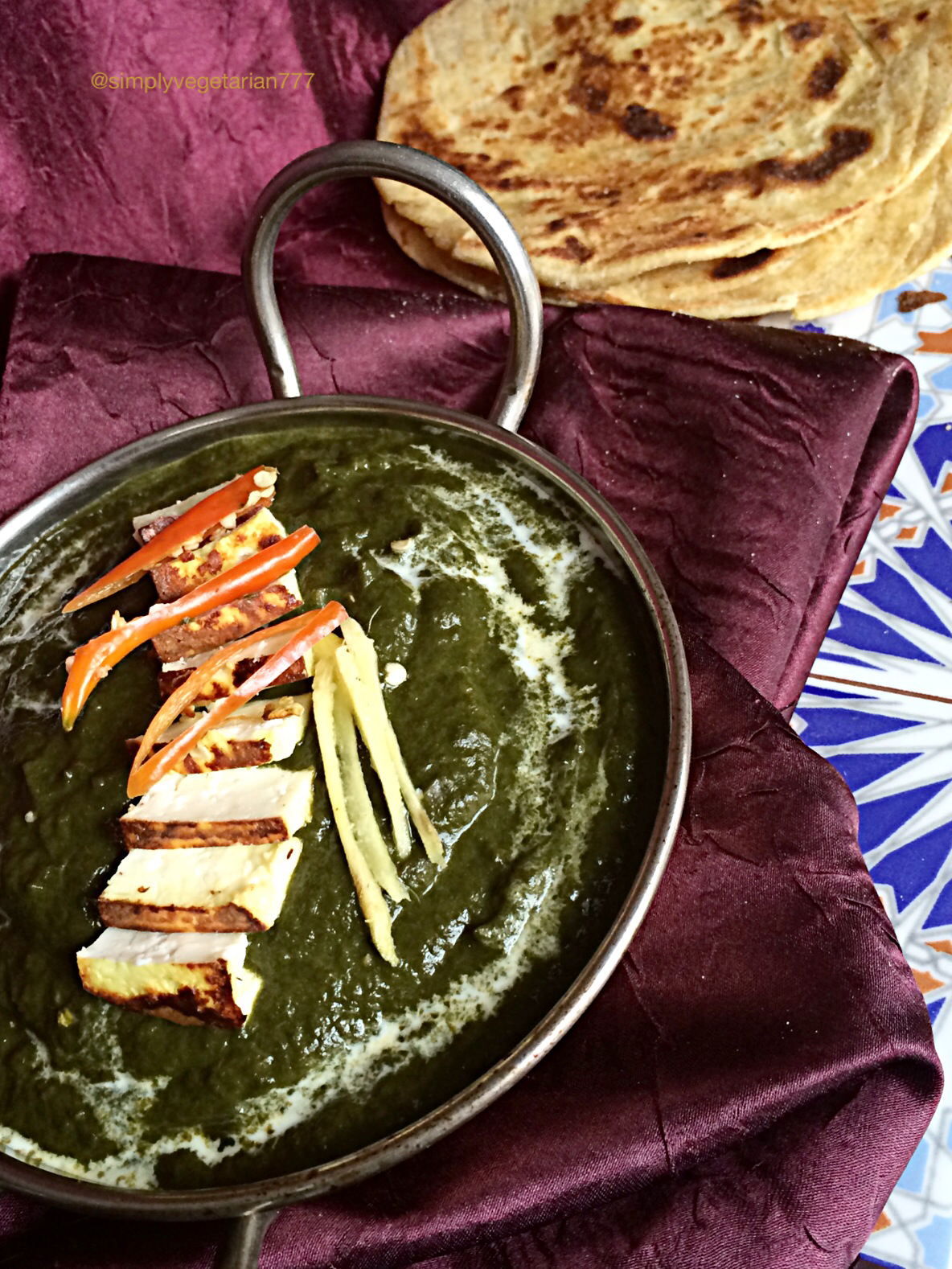 Okay now, raise your hands if you like Palak Paneer! Palak is Spinach and Paneer is Indian cottage cheese, very similar to ricotta and Queso blanco in texture. I have seen my friends, just gorging over palak paneer at the restaurants. It is pretty popular. This time, I am not cutting down on any calories. It's loaded. WTH, it's New Year! Eat, Live and Be Happy today!

We enjoyed it with flakey, almost pastry like Flat bread called Lachcha Parantha. Lachcha is circular ring pattern on the flat bread, which is achieved with a technique. I have given pictograms underneath for easy follow up.
Taking it to Angie's Fiesta Friday, co-hosted by Mr. Fitz and Kaila. Hope all the lovely people enjoy the dish as much as my family!
Palak Paneer
Whenever I have invited my American friends over, they always make sure if I am making Palak Paneer. I remember one time when Jo and Eric came over for dinner, we cooked the dish together. Eric loves Indian spices and making curries. Jo is just fantastic. An excellent cook and super excellent host! Miss you guys! This one is for both of you :).
Kitchen Equipments Required : chopping board, knife, blender and/or food processor, heavy bottom pan with lid, stirring spoon, a heavy bottom pan, microwave safe bowl.
Ingredients :
Butter : 1&1/2 tbsp
Spinach : 1.2 lbs / 500 gms, washed and cleaned
Onion : 1/4 cup, finely chopped
Tomato : 1/4 cup, finely chopped
Ginger : 1/2 tbsp
Garlic : 1/2 tbsp
Green chili (small Thai variety) : 1
Cornflour / cornstarch : 1/2 tbsp dissolved in 1 tbsp water
Fresh Cream : 3 tbsp
Garam masala : 1/2 to 1 tsp, as per taste
Salt to taste
Lemon juice : 1 tsp
Paneer : 250 gms, cut into 1 inch cubes.
Oil : 1/2 tbsp, optional
Method :
Take the microwave safe bowl. Add washed, cleaned and roughly chopped spinach leaves. Microwave the spinach with 2-3 tbsp water for 8-10 minutes. Cool it to room temperature. Purée it into a fine paste in the blender. Set aside.

Take the food processor. Add onion, ginger, garlic, chili and tomato to it. Make it a thick paste. Set aside.

Take the heavy bottom pan. Heat butter in it. Add tomato onion paste to it. Sauté and roast it on medium flame for 6-7 minutes till onion tomato paste brown a little.

Add the spinach purée, Cornflour paste, salt and Garam Masala to the pan. Cornflour paste helps in stabilizing the purée and controls the watery consistency. Stir with a stirring spoon.

Cover with lid. Reduce the flame to lower medium. Cook on lower flame for 10-15 minutes. Keep stirring in between. The purée is done. This purée is fantastic to be used with corn kernels, veg balls, koftas etc.
Warning :The spinach purée splatters a lot even on lower flame. When you will open the lid, the purée will splatter out. Be careful and keep your face away.

Meanwhile, take another heavy bottom pan. Heat 1/2 tbsp oil. Add paneer cubes to it and brown them slightly over medium high flame for couple of minutes. This step is optional. You may add plain paneer cubes instead.

Add the slightly grilled paneer cubes and lemon juice to the spinach purée. Cook for another 5 minutes.

Before serving, add cream to the purée and mix well.
Serving Suggestion :It is best served with naans, rotis, paranthas and rice. I served it with Lachcha Paranthas!
Lachcha Parantha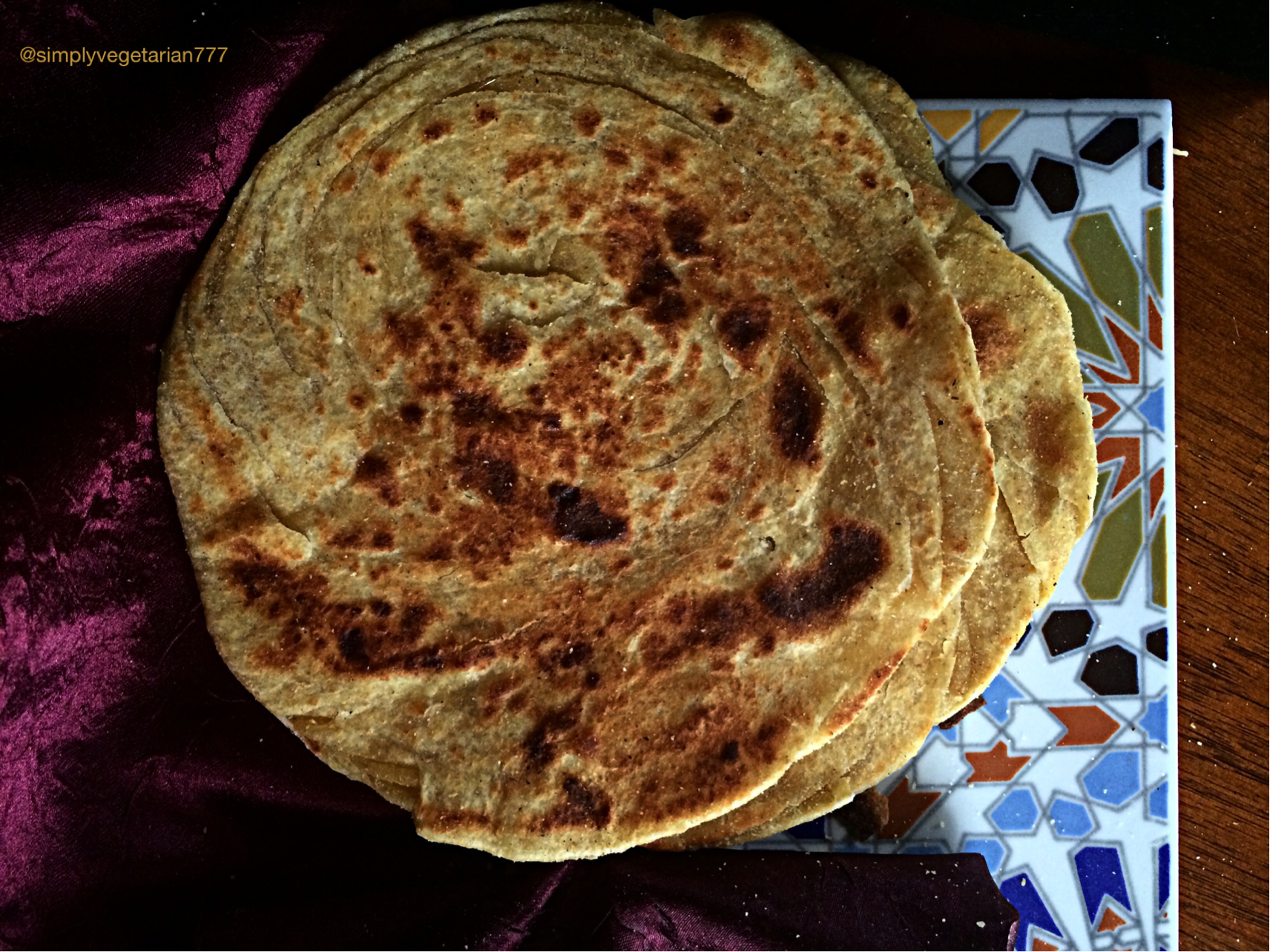 Makes : 8 to 9 Lachcha Paranthas
Kitchen Equipments Required : big bowl to knead dough, Rolling pin, rolling board (optional), a flat bowl with dry flour, a small bowl with oil, pastry brush or spoon, flat spatula, a plate with kitchen towel to take out the paranthas.
Ingredients :
Whole wheat flour : 2 cups + more for rolling
Salt : 1/2 tsp
Oil : 2 tbsp + more for roasting
Luke Warm Water : 1 cup + 1 tbsp
Method :
Making the Dough :
Take a big bowl. Add flour and salt to it. Mix well. Create a well in the middle. Add 2 tbsp oil and rub it in the flour. Add 1 cup of warm water to the flour. Start kneading into a dough. Add 1 tbsp of water more at a time to make a pliable soft dough (not loose).
Rolling the Dough : Refer to the pictogram below.
Divide the dough in 8 to 9 equal portions and roll them into balls. Pic 1.

Roll the dough ball in dry flour. Refer to Pic 2.

Refer pic 3, roll it out into 4″ to 5″ disc.

As in pic 4, apply little oil with party brush or fingers.

Refer to pic 5, sprinkle good amount of dry flour on top of the oiled disc.
Rolling Lachcha Parantha Technique
Refer to pic 1,2,3 as given below in the pictogram. After cutting the thin strips, layer them on the top of each other.

As shown in pic 4, hold the two ends of the layered strips and twist them
lightly into a loose rope.

As in pic 5, roll the twisted rope into a tape roll, with a light hand. Don't press too hard. Once the tape is rolled, tuck the loose side under and press the center gently.

Sprinkle little dry flour on top and roll it out with rolling pin with very light pressure into a disc measuring 4″ to 5″.

Heat the pan or griddle. Pick up the rolled out Lachcha Parantha and as in pic 1 below, put it flat on the hot griddle. Bring the flame to medium.

Roast the parantha for 1 minute and then flip. The flipped side should have reddish specks on top. Refer to pic 2.

Apply little or more oil (to your choice), on the specked surface, either with a pastry brush or drizzle with spoon and spread. Refer pic 3. Let it roast like that for another 45 seconds to 1 minute.