Paneer Tikka Haven – A curry, An appetizer & a Soft Taco Wrap!
As an Amazon Associate and member of other affiliate programs, I earn from qualifying purchases.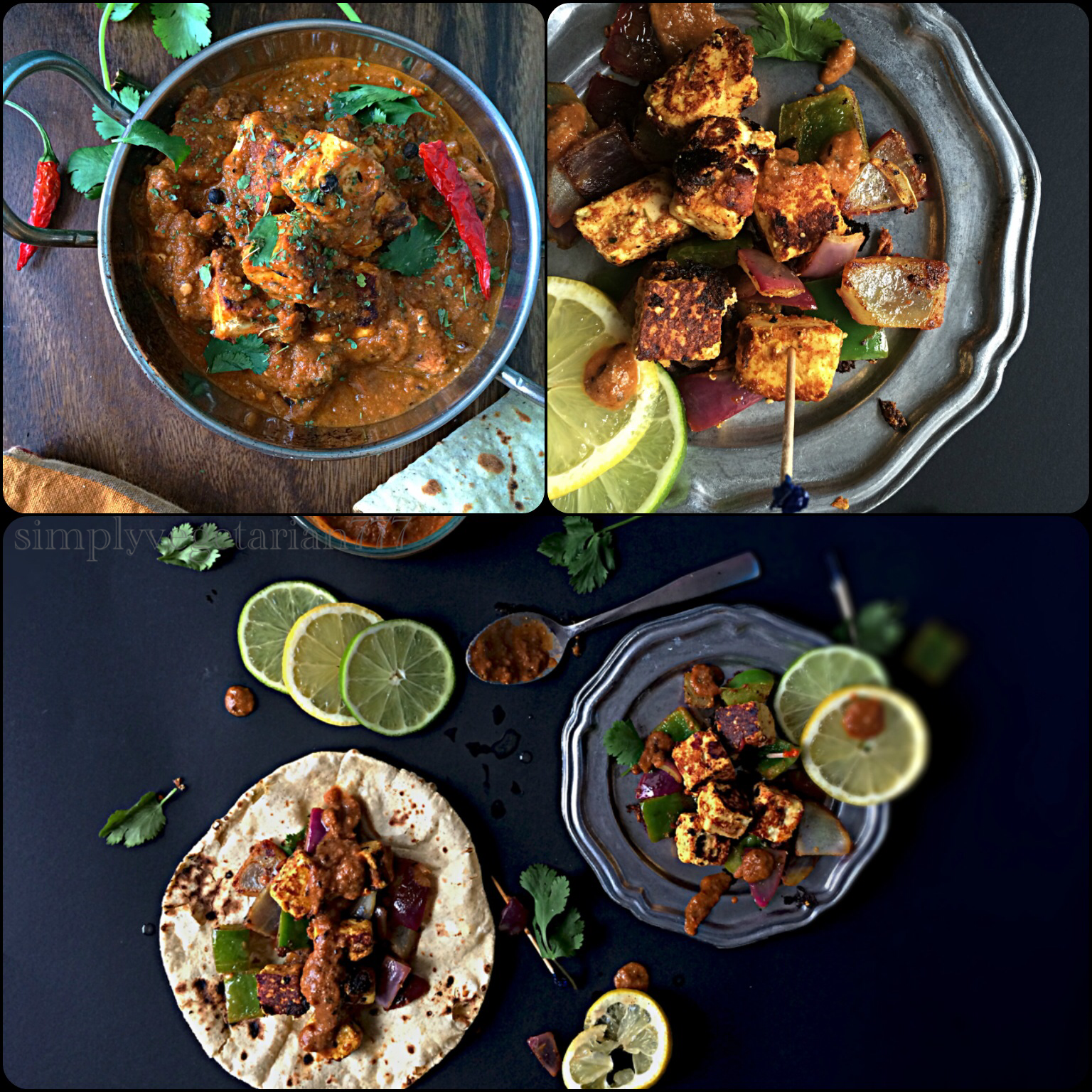 You are in for a treat today. Just to warn you that it is going to be a long post with 2 basic recipes and 3 assemblies. So have patience and do read it till the end. This might generate ideas in terms of other ingredients like firm tofu and cauliflower for vegans and others! I will be less chatty in this post and keep it to the point but with lot of pictures like the ones below! I had to create the collages and adjust pictures in 1 scene so that I can focus on my recipe! If I didn't have to choose, this one could have been flooded with clicks.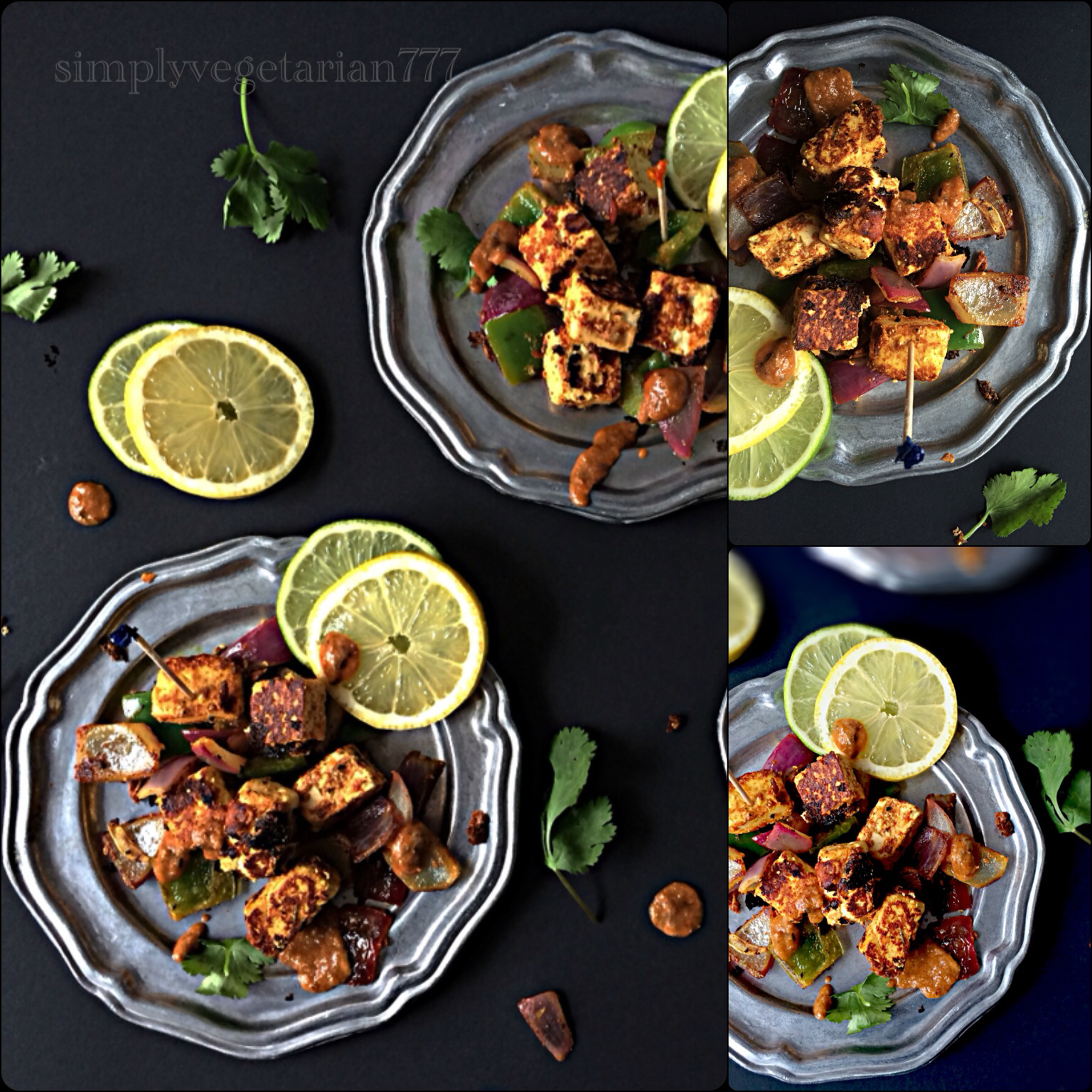 Paneer Tikka is quintessentially a punjabi dish, so popular in Delhi region of India. I say "Delhi Region", since Delhi is a cult in itself when it comes to food, culture and lifestyle. A statement making region of India besides being the capital of the country.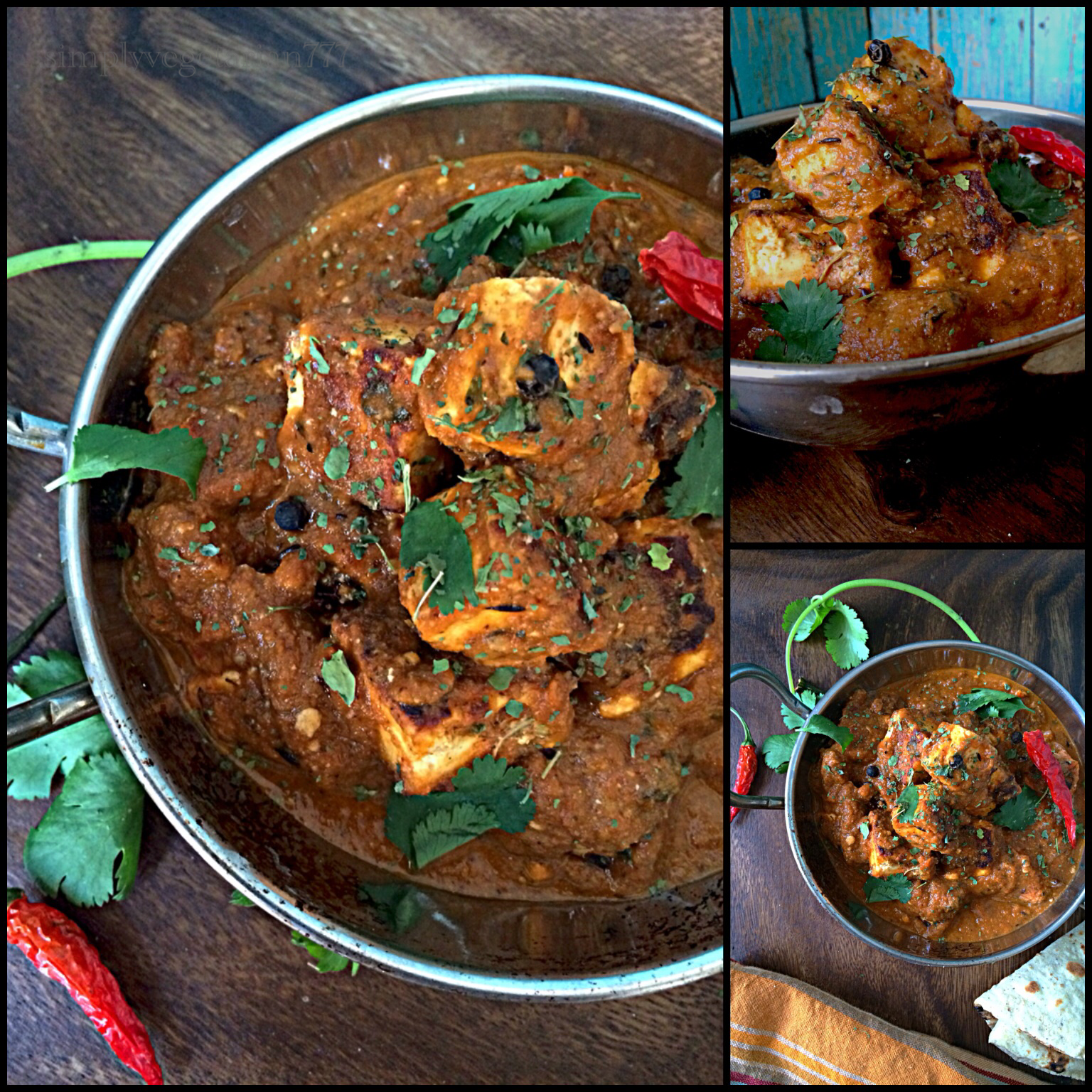 A lip smacking curry with balanced flavors of tang, spice and slightly sweet along with pan grilled marinated paneer tikka, which adds to the depth of the flavors. A curry that is absolutely perfect in itself to go with koftas, eggs, mixed vegetables etc. And if you want to think outside the box, serve it as a dipping sauce along the side of bite sized naans and other varieties of grilled and Barbequed food, just like your marinara! It's that versatile.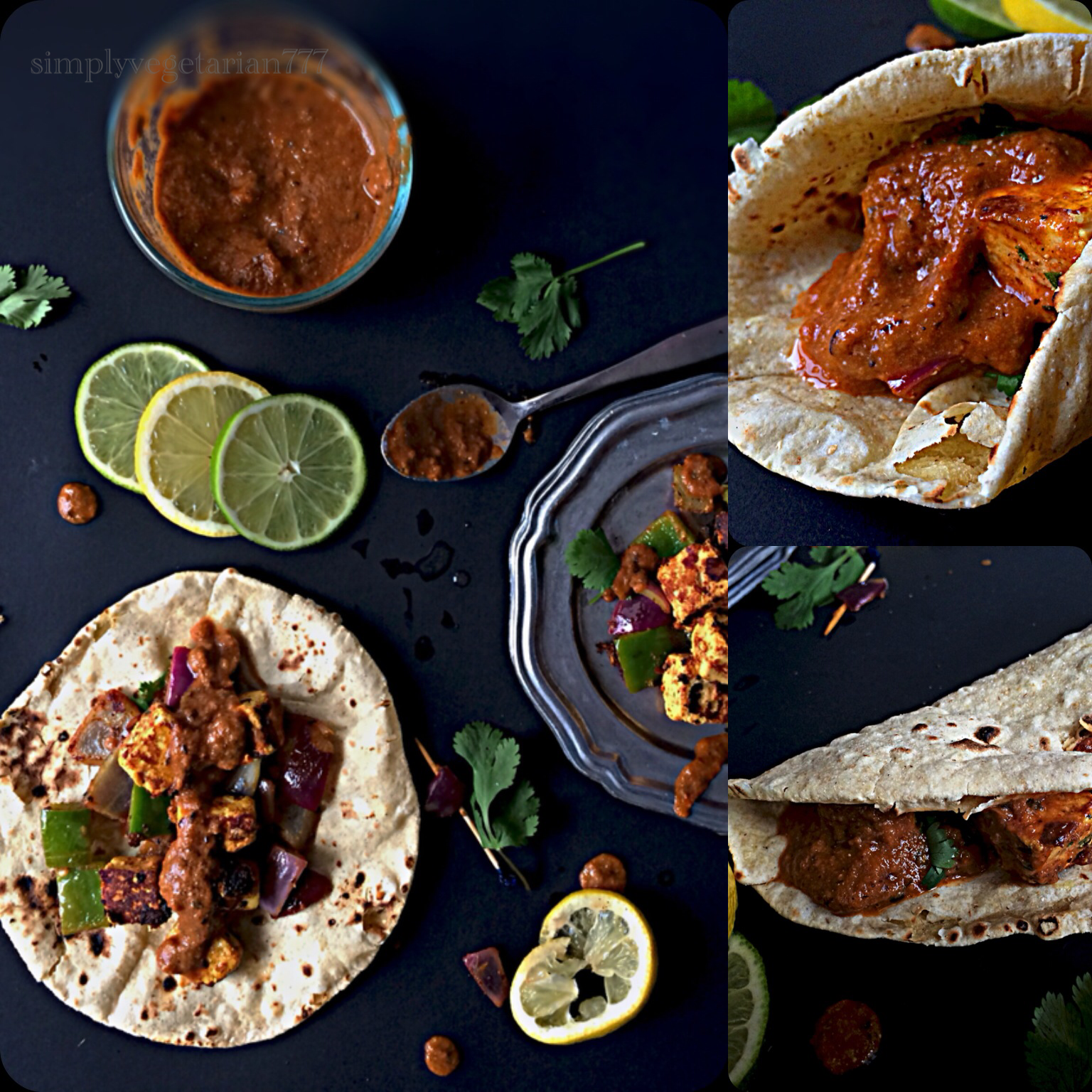 Wrap or Kathi Roll or Soft Taco or a Gyro ! So many names to pick from! The result is the ultimate pleasure of wrapping it up in a soft naan/roti (or pick your bread), drench with some curry sauce, squeeze some lemon juice. Biting through it with dripping sauces, splattering all over the face. A mouthful slurpy bite – hitting the spot right in the mouth and just yummy.
See I did talk :(. Sorry! Starlight to te business now . Promise.
Paneer Tikka Masala as an Appetizer

Paneer Tikka Masala Appetizer
Servings: 6-8
Difficulty: easy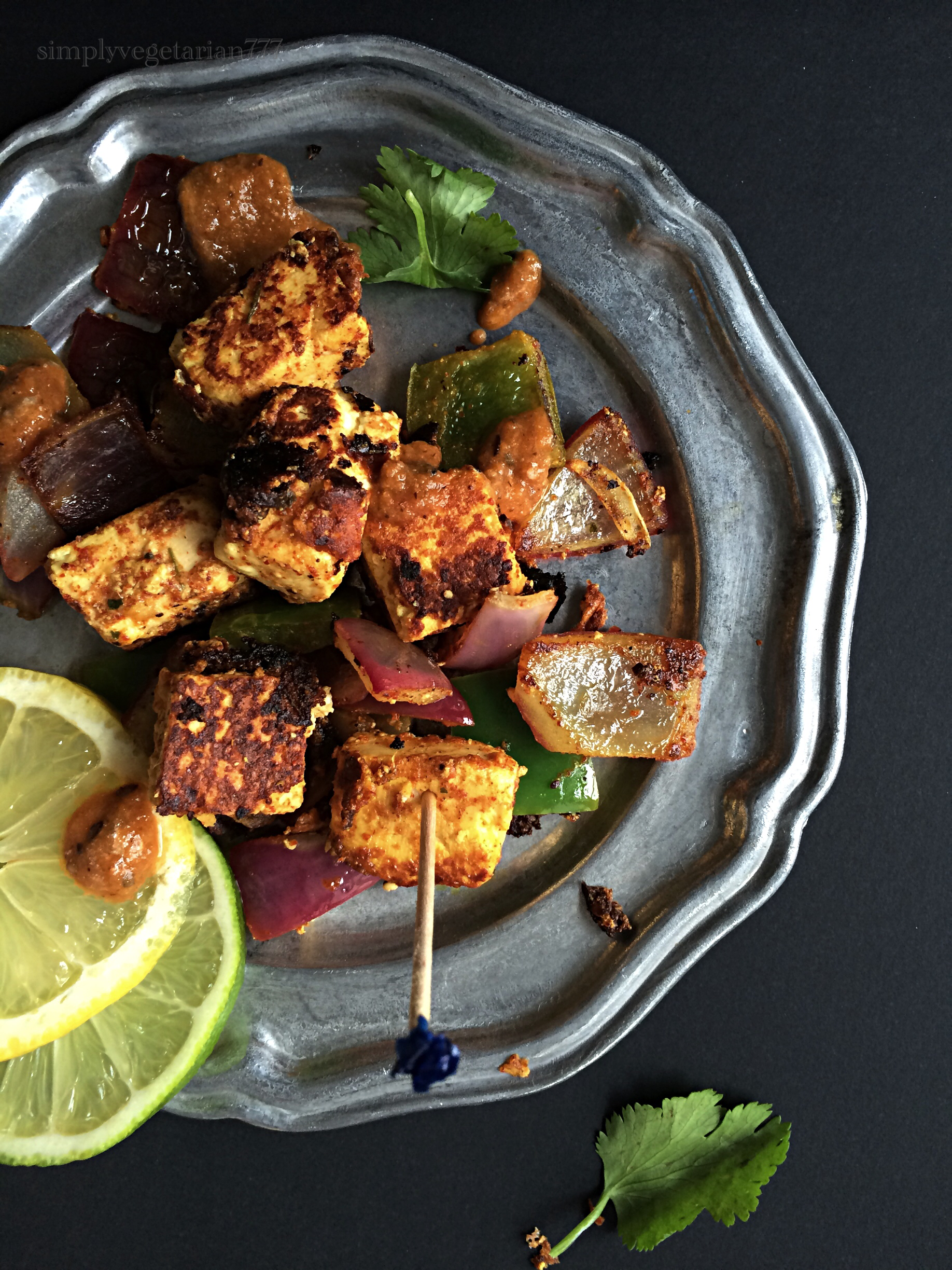 Kitchen Equipments Required
Chopping board, knife, a bowl with lid for marination, heavy bottom pan (hard anodized preferred), a stirring spoon.
Ingredients
Oil – 1 tbsp
Marinade
Paneer – 400 gms
Green Bell pepper – 1 big
Onion, Red – 1 big
Yogurt – 1/3cup
Besan / chickpea flour – 1&1/2 tbsp
Kashmiri red chilli or Fancy Paprika – 2 to 3 tbsp, it adds nice color without much heat.
Garam Masala – 1 tsp
Kasuri Methi – 1 tsp
Lemon juice – 2 tbsp
Ginger – 1 tsp, freshly grated
Garlic – 1/2 tbsp, freshly grated
Salt to taste
Note – You may use 1 tbsp of Tandoori Masala in place of kashmiri mirch, garam masala and Kasuri methi. Also, spice levels can be adjusted to perinatal taste. This dish is particularly enjoyed, bit on high spice notes. Tone the spices down if you like moderate heat.
Method
1. Chop and cut Paneer, bell pepper and onion into similar size. You may keep them big if you want to do a barbeque style and skewer them. Or you may keep them small like I have done, if it is served dry and in a platter.
2. Take a big bowl. Add yogurt, besan and spices to it including lemon juice and ginger garlic. Mix well.
3. Add chopped paneer, bell pepper and onion. Toss well to coat uniformly. Cover and refrigerate for 4-6 hours. You may keep it marinated overnight also.
4. When ready to grill or pan fry, heat the heavy bottom pan with oil in it. Coat the sides of the pan well with oil. I use minimum amount. If you like more, add more oil.
5. Once the oil is hot, add the marinated paneer, onions and bell peppers to the pan along with the extra yogurt etc.
6. Pan grill /fry them on medium low flame for 8 to 10 minutes while tossing ocassionally for even browning and cooking.
7. A lip smacking tikka masala is ready. You can skewer them and oven grill at 425 F / 210 C or on the electric hot plate. Make sure that your bamboo skewers are drenched in water for few hours before they go in the oven or you will have fire hazard.
8. Serve them with party picks along with some lemon wedges, Green Coriander/ Cilantro Chutney. I am telling you that this is the best food that could happen to you. I topped mine a bit with curry sauce.
Enjoy as is or in further recipe follow ups, as mentioned below.
Paneer Tikka Masala Curry
Paneer Tikka Masala Curry
Servings: 6-8
Difficulty: easy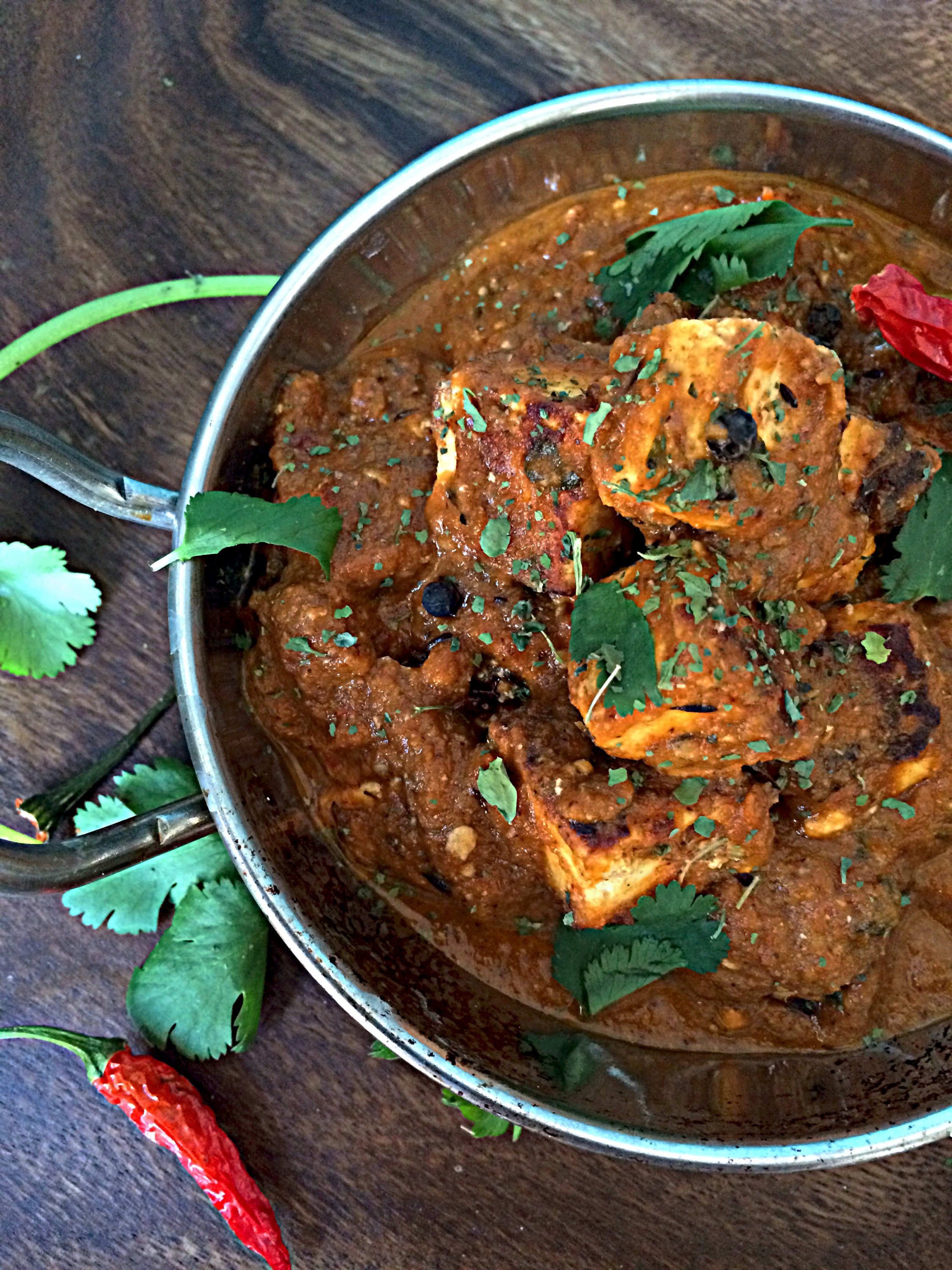 Kitchen Equipments Required

Heavy bottom pan with lid (hard anodized or non stick preferred), stirring spoon, blender, chopping board, knife.
Ingredients
Oil – 1&1/2 tsp
Onion – 1 small, chopped roughly
Tomatoes – 3 medium, chopped roughly
Ginger – 1/2 tsp, chopped
Garlic – 1 pod, chopped
Cumin seeds – 1 tsp
Coriander powder – 1 tbsp
Red chili powder – 1/4 to 1/2 tsp
Garam Masala – 1/2 tsp
Kasuri Methi – 1/2 tsp
Salt to taste
H
oney – 1tsp
Milk powder – 2 tsp. You may use heavy cream instead, but towards the end. Vegan followers can use 2 tsp of cashew or almond meal/ paste.
Method
1. Heat oil in the pan. Add cumin seeds and reduce the flame. Once the seeds crackle add ginger and garlic and sauté for few seconds on low flame. Now add onions. Sauté the onions on medium flame till they are reddish golden.
2. Add chopped tomatoes, coriander powder, red chili powder and salt to it. Stir well. Cover and cook on medium flame for about 8-10 minutes till onions and tomatoes are married well and become one.
3. Switch off the flame and let the curry paste come down to the room temperature. Once cooled, transfer the paste to the blender with 1 cup water. Purée it smooth.
4. Transfer the purée back to the pan. Add Kasuri methi, garam masala, honey and milk powder to the curry. Of the curry is still very thick, add 1/2 cup water more. It thickens whole cooking anyways.
5. Bring the curry to boil. Lower the heat and let it simmer for another 5-7 minutes. Do the spoon lick taste, adjust salt, honey and garam masala, oy if required. We bet family has different taste so go with your family's choice.
6. Your curry is ready. Add the pan grilled paneer tikka and stir well. Cook for another 2-3 minutes.
7. It's done! A lip smacking delicious curry is ready to be devoured with rice or naan or roti or parantha. Just about anything.
Note – This is Gluten free recipe. To make it diabetic friendly, skip the honey and if required use a tiny amount of sugar free.
Paneer Tikka Masala Wrap / Soft Taco / Kathi Roll
Paneer Tikka Wraps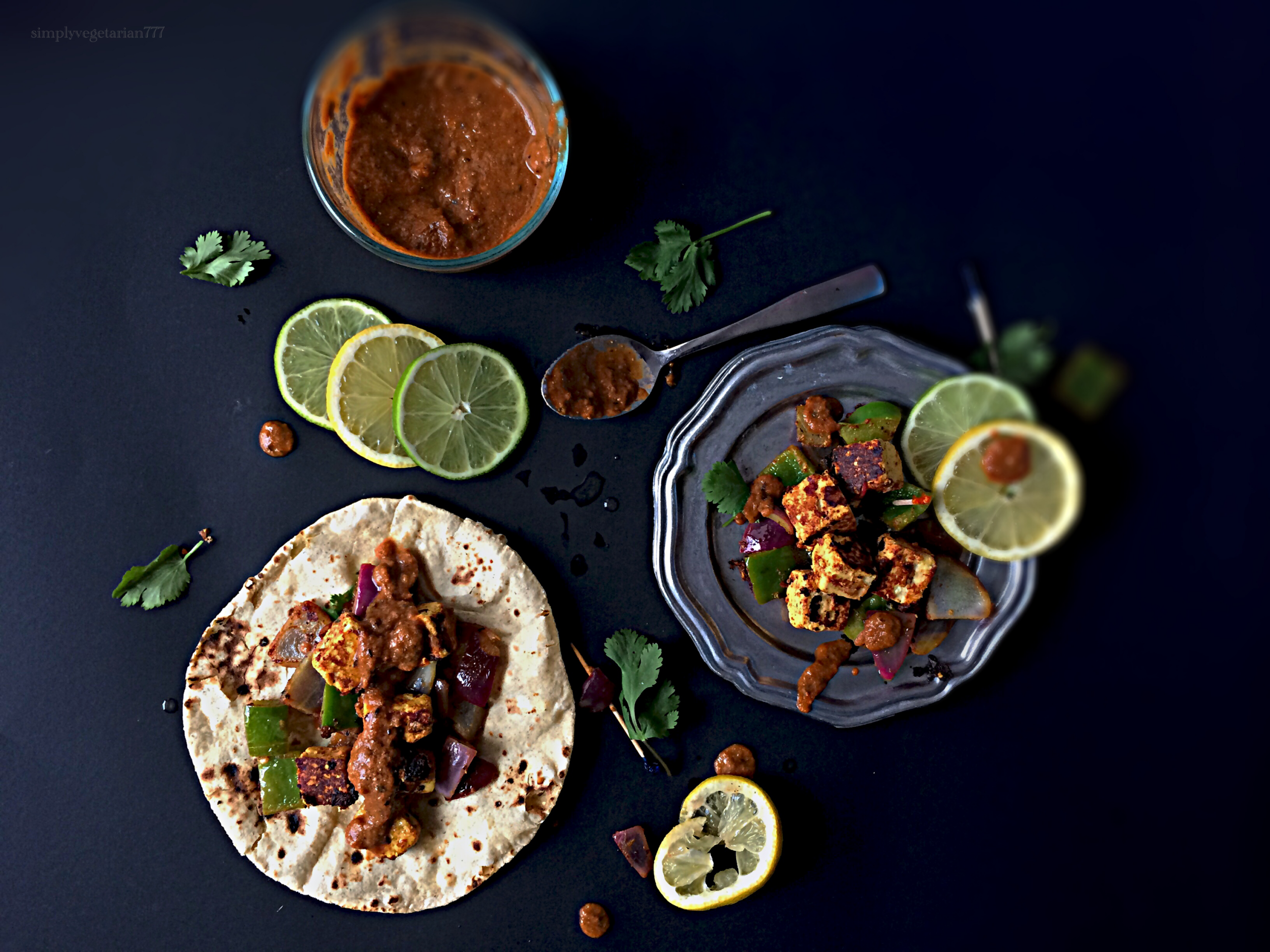 I am going to throw a general idea here to personalize your wraps or soft Tacos or Kathi Rolls! No fixed measurements.
Ingredients
1. Roti or Soft Taco or Paranthas or Roomali Roti or Pitas or Naan
2. Paneer tikka
3. Curry
4. Pickled onions
5. Cilantro Chutney
6. Lemon wedges
7. Cilantro leaves
Assembly
1. Take a wrap. Arrange some grilled onions and peppers at the bottom. Top with grilled paneer cubes.
2. Add a layer of curry or Green Chutney (your choice). Top with some pickled onions and cilantro leaves. Squeeze some lemon juice.
3. Fold and bite into the heavenly wrap.
Note – To make it gluten free use corn tortillas.
Enjoy this weekend with these amazingly delicious recipes.
I am taking my platter to share at Angie's Fiesta Friday, co-hosted by lovely ladies Jhuls and Mila . I am sure that the lovely crowd there is going to drool over it!! I hope I have made enough for the whole gang or else, I have to give very small portions to everybody!!
Sonal