Teriyaki Grilled Tofu Skewers – Diabetes Friendly Thursdays
As an Amazon Associate and member of other affiliate programs, I earn from qualifying purchases.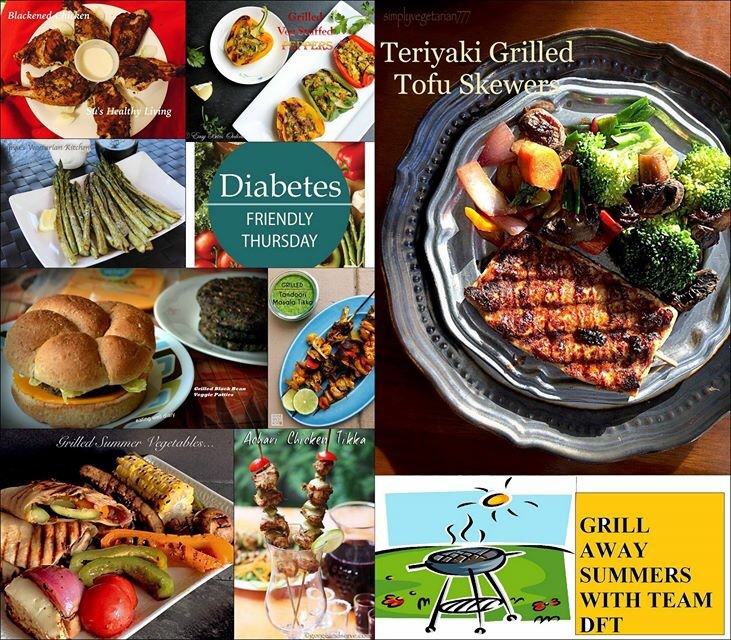 Creating Recipes with a Cause! I am a proud DFT blogger. To learn about DFT, Read this link! To view more DFT recipes, Click here !
Teriyaki Grilled Tofu Skewers
Grill away the summers with team DFT!
I love south East Asian flavors in my food. Lately I have been reading about Hibachi style cooking. It is actually a style of grilling on an indoor small hibachi grill where the food is grilled with teriyaki sauce and is basted with it couple of times.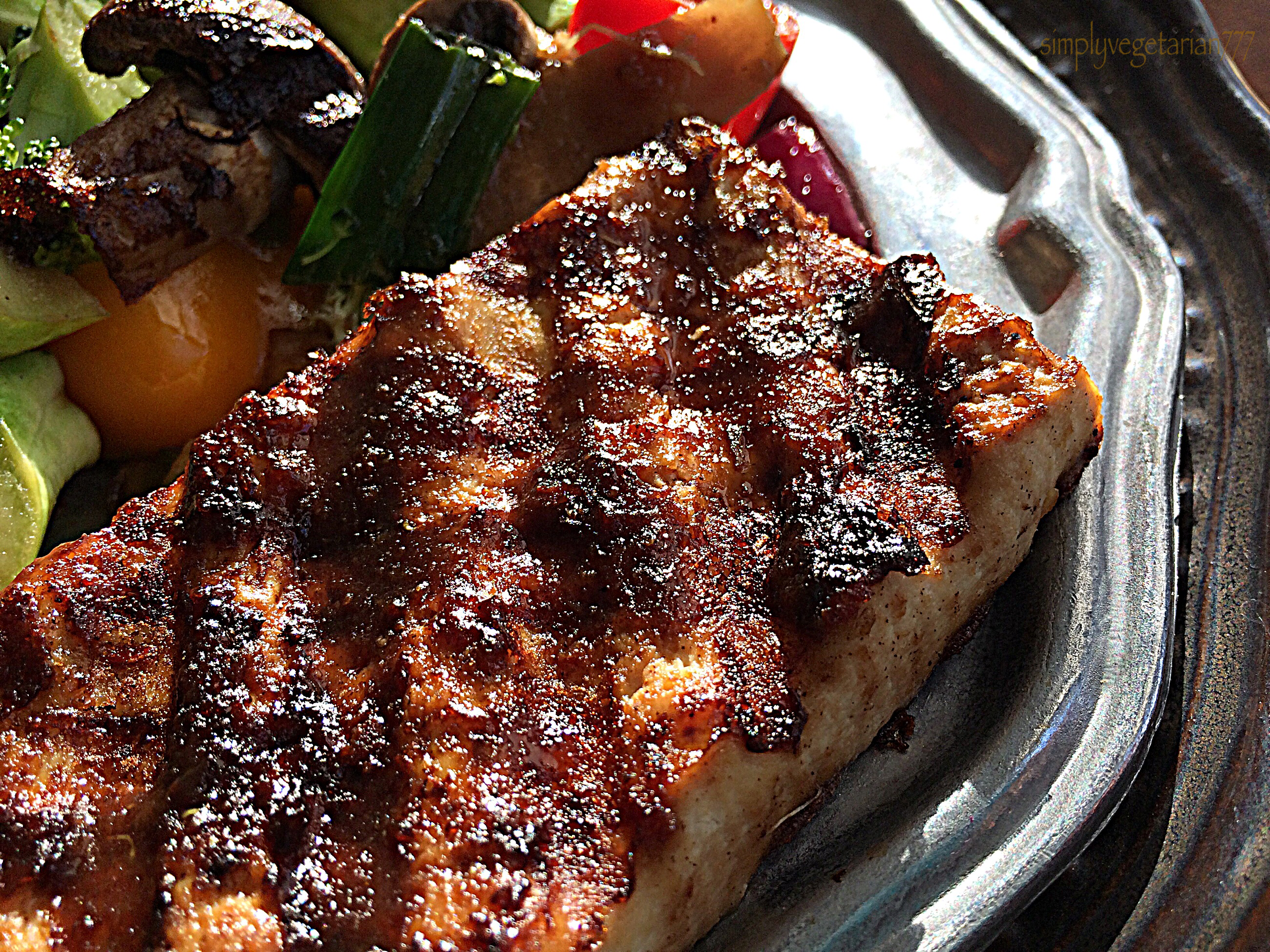 When we decided about barbeque and grilling theme for this week, which is actually perfect, since 4th of July is the biggest Barbeque Weekend in America, I had to grill these tofu skewers in my small electric grill.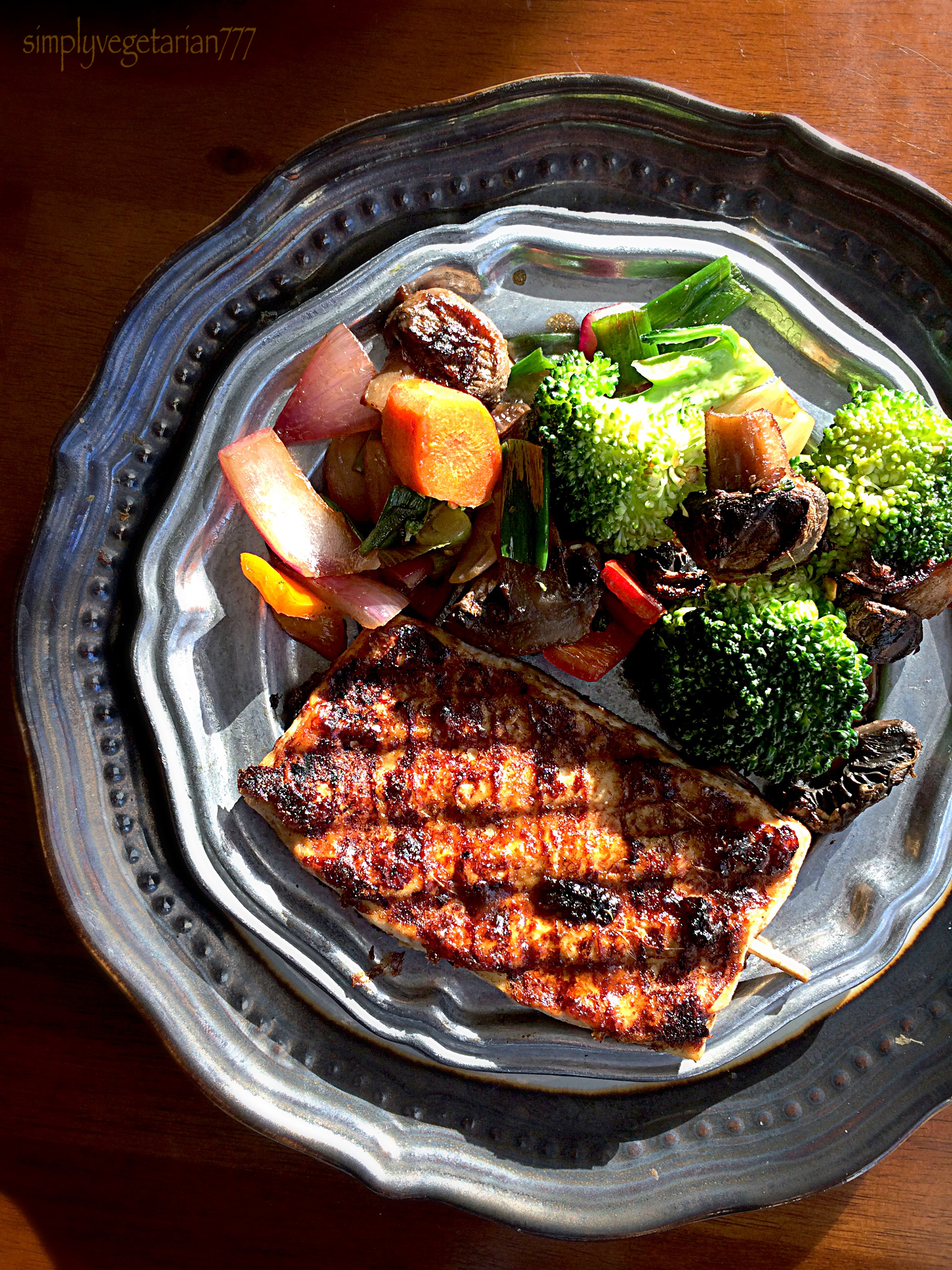 This came out so delicious that my kids snatched these hot and finished in no time. That was least expected since kids can be picky but that made my day. So this is not only diabetic friendly but non diabetics and kids can enjoy it as well!
For the benefits of main ingredients on diabetes, used in the dish, please refer to the Foot Notes!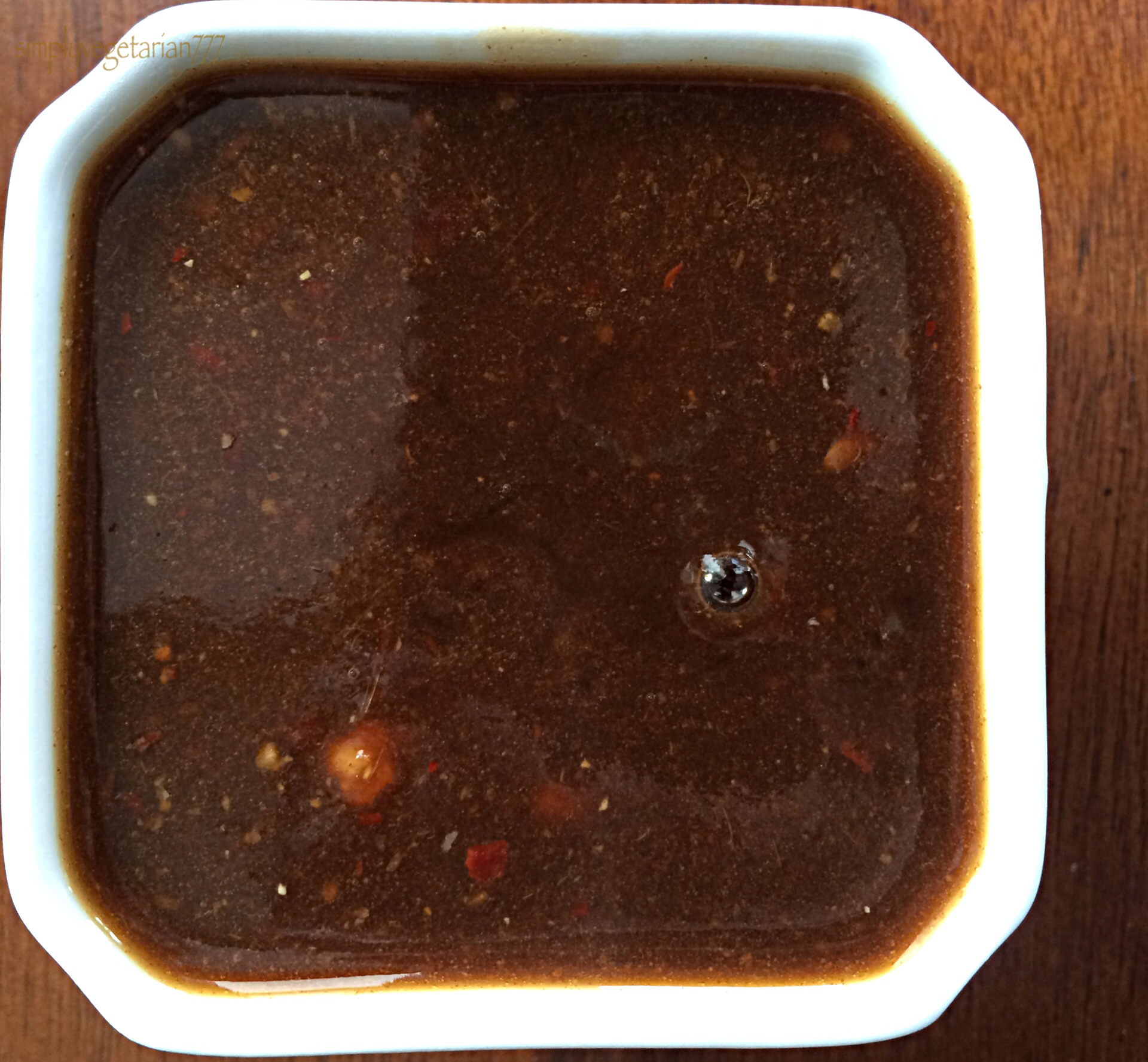 Diabetic friendly Teriyaki sauce
Teriyaki sauce is otherwise loaded with sugars but the use of 1 date for almost 1/2 a cup of teriyaki sauce, was such an awesome idea. You can grill almost 8-10 skewers with that amount.
This is how I made it!
Teriyaki Grilled Tofu Skewers
Servings: 2
Difficulty: easy
Chopping board, knife, electric grill or heavy bottom pan, a pastry brush, small skewers (optional), blender, mixing bowl, a small sauce pan and stirring spoon.
Ingredients
Oil – very little to grease the grill slightly
Tofu, extra firm – 4, 3/4th inch thick big rectangular slices
Diabetic Friendly Teriyaki Sauce – 3 to 4 tbsp
Ingredients for Teriyaki Sauce
Soy Sauce – 1 tbsp, low sodium
Ginger – 1 tsp
Garlic – 2 cloves
Rice Vinegar – 1 tsp. may use regular Distilled white vinegar
Red Chili flakes – 1/4 tsp
Date – 1, dry and soaked in warm water for 15 minutes.
Corn flour/starch – 1&1/2 tsp
Water – 1/2 cup
Salt to taste. I didn't use any.
Method
Diabetic Friendly Teriyaki Sauce
1. Take the blender and add all the ingredients mentioned under sauce except corn flour/starch, to it. Blend till it becomes a fine purée.
2. Take the sauce pan and add the purée and corn flour to it. Stir well to avoid lumps. Bring to a boil and then cook on slow for 2 minutes. Teriyaki sauce is ready.
Teriyaki Grilled Tofu Skewers
1. Heat the electric grill to medium high.
2. Take the pastry brush and slather the tofu slices with teriyaki sauce lightly, from both the sides.
3. Place these slices on hot grill. Close and grill on both the sides while pressed down for 4-5 minutes each. Baste the tofu slices with more sauce if required. The Teriyaki Grilled Tofu Skewers are ready!
Note – You may use Tofu in big cubes as well on skewers.
Serving Suggestion
Serve these Skewers on the bed of pan tossed Mixed Vegetabkes like Broccoli, baby corn, carrots, Bell Peppers and onions.
Sharing this DFT for more awareness, at Angie's Fiesta Friday, co-hosted by J & J team aka Josette and Julie !
—————————————————–
Foot Notes
Tofu – Tofu has an excellent balance of the nutrients required to lower blood sugar levels in type 2 diabetics. CalorieKing.com states that a fourth of a block of firm tofu only has 117 calories, but also 7 g of fat, 12.8 g of protein and almost 1.9 g of fiber. Tofu may be especially beneficial for diabetics, because it is a complete protein that enables better regulation of sugar levels.
Warning – It is not advisable for men to consume Soy products on regular basis since it has proven to decrease testosterone levels in men. Ocassionally consumption should be fine.
—————————————————
Disclaimer
I am not a nutritionist or dietician. My knowledge and information is based on my research and reading from different resources. Please consult your doctor or dietician before making any changes to your diet.
—————————————————
Other Grills and Barbeques by DFT Team!