Instant Sooji Dhokla
As an Amazon Associate and member of other affiliate programs, I earn from qualifying purchases.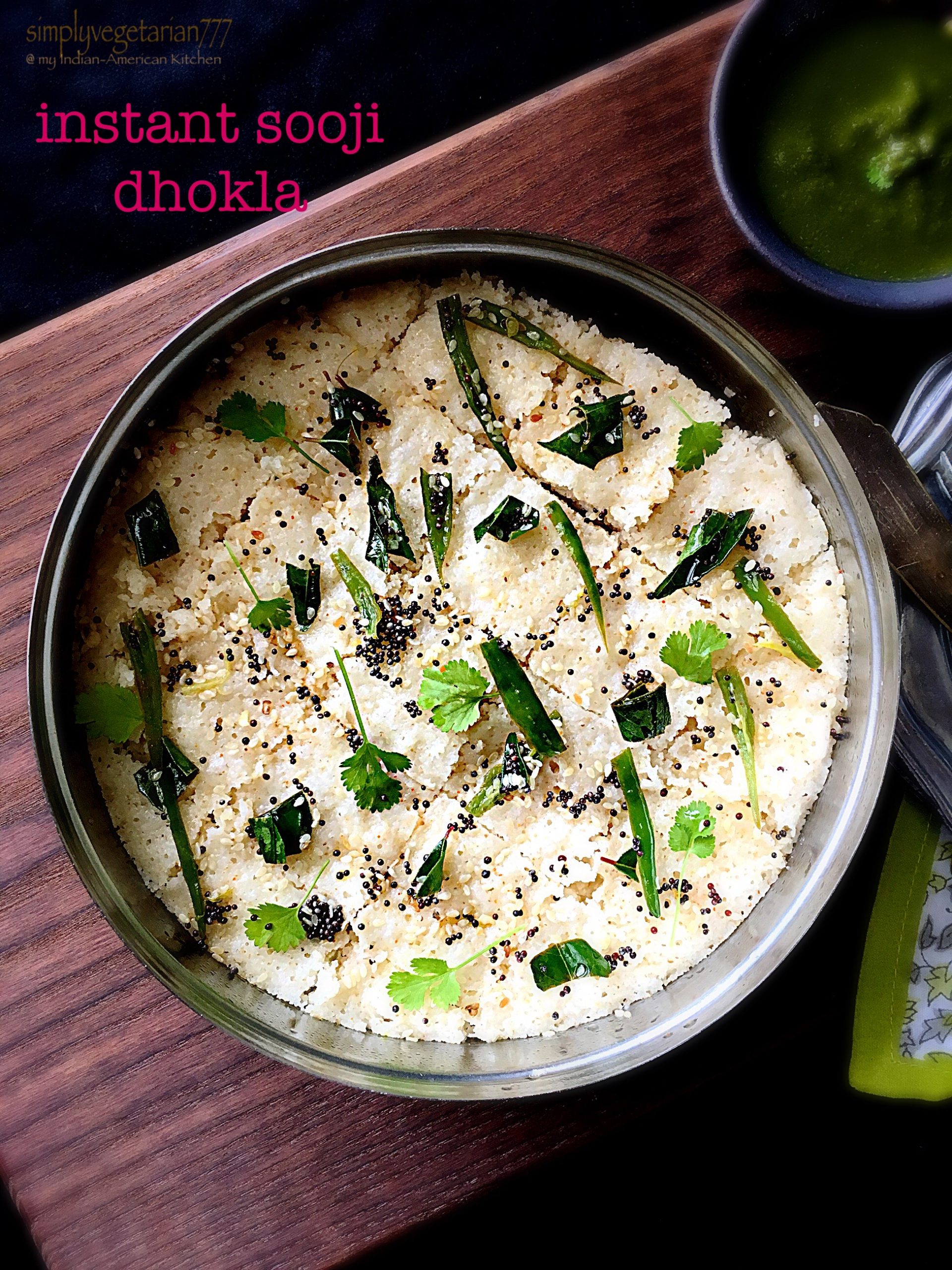 Instant Sooji Dhokla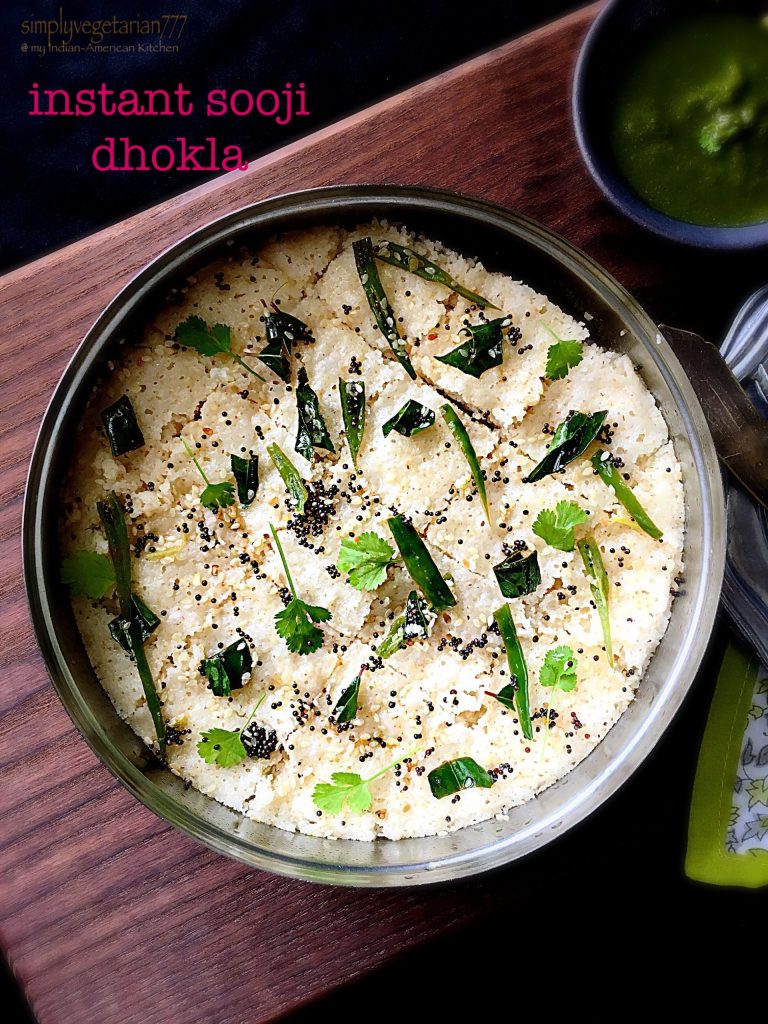 Instant Sooji Dhokla has been on my radar for the longest time. I want to admit today – I am a DHOKLA – FREAK and so is my Older daughter. Another confession for today is – I SUCK at making Dhoklas, well till date. Never say never…right?
Instant Sooji Dhokla is one of the easiest recipes ever, believe me. I wonder why it took me this long to master it. With many trials and errors of goofing up with the Sooji and yogurt ratio, I finally found my right balance, I mean the right balance for the Instant Sooji Dhokla.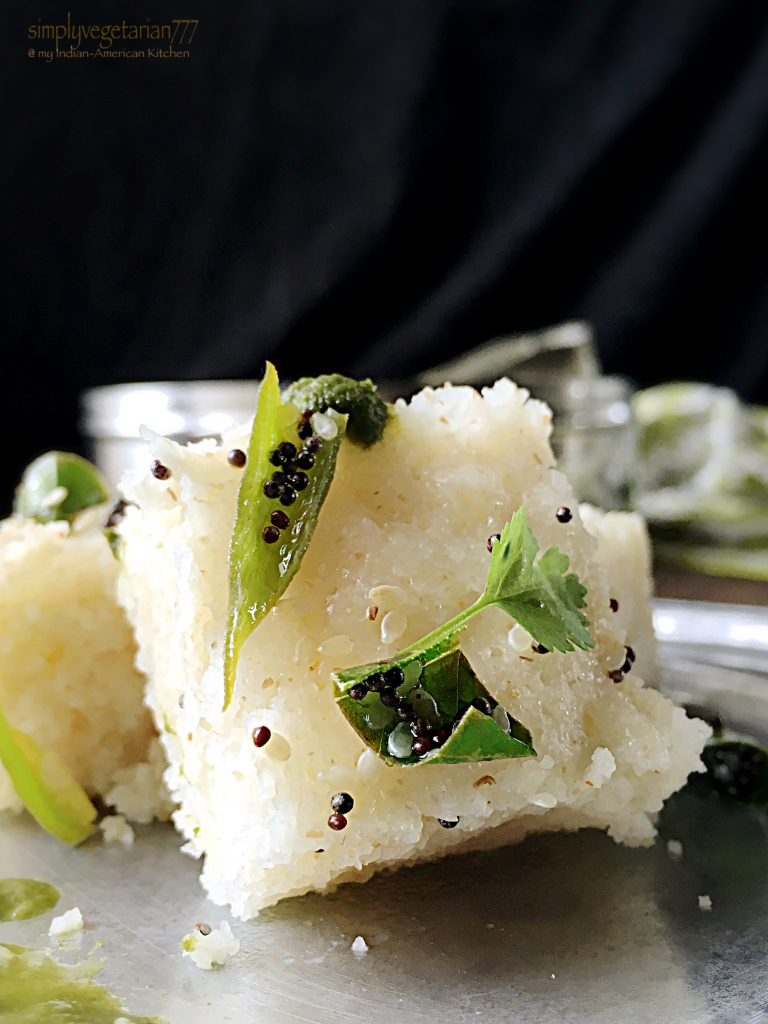 This Dhokla is perfect to beat the rainy day blues, or to perk up any boring day, or a good companion to have a heart to heart with your bestie, to feed you family and friends for breakfast or brunch, or kabhi kabhi Bas aise hi  (sometimes for the heck of it)…
Sooji is also known as Semolina in English and is a wheat derivative, where wheat is ground coarsely. There is Rice semolina also available in the market, but for this recipe, we are using the regular durum wheat Sooji. Sooji is also known as Rawa in many parts of the country.
Dhokla is a dish staple to the state of Gujarat in India. It can be made with various dals like Chana, Urad, Mung, which are first soaked and then ground to be fermented further to bed teamed later to make the Dhoklas. Dhokla is a well balanced dish which has all the elements of taste and texture. It is sweet, spicy, hot, tart and quite umami in its taste. Whereas in texture, it is soft and spongy.
Some other recipes made with Sooji or Rawa or Semolina are –
Sooji ka Halwa , Upma , Potato Semolina Cutlets etc.
This is how I made it and am always going to make it!
Instant Sooji Dhokla
A steamed cake, made with sooji/semolina. Perfect as a snack with tea for brunch/breakfast or to entertain the guests.
Ingredients
Ingredients for Instant Sooji Dhokla
Sooji/Rawa/Semolina - 1 cup

medium grain

Yogurt - 1 cup

Ginger - 1 small piece

minced fine

Green Chili - 1 small

minced fine

Oil - 1 tbsp

Sugar - 1/2 tbsp

Salt - 1 tsp

Lemon Juice - 1 tbsp

Eno fruit salt

original - 1 tsp
Ingredients for Tempering
Oil - 1/2 tbsp

Mustard seeds - 1/2 tsp

Sesame seeds

white - 1/2 tsp

Asafetida/Hing - a pinch

Green chillies - 2

slit fine lengthwise, seeds removed for less heat

Sugar - 1&1/2 tsp

Lemon juice - 1 tsp

Cilantro/Coriander leaves - 1/2 tbsp

chopped fine

Water - 1/4 cup
Instructions
Making & Steaming the Instant Sooji Dhokla
Take a bowl and add all the ingredients, except Eno fruit salt, as mentioned under Dhokla ingredients.

Take a wire whisk and mix well into a smooth batter. It is a thick batter.

Cover and Set the batter aside for 12-15 minutes for resting.

Now take the idli or Dhokla steamer or a big pressure cooker or a deep pot with lid.

Set the steamer stand in the middle of the cooker/steamer. Fill the pan with water till the top of the steamer stand. Bring the water in the steamer to a boil.

Meanwhile grease a Dhokla plate or a 7 inch wide steel contained (katordaan) with oil. Grease the sides also.

Now add 1 tsp Eno fruit salt to the Dhokla batter. Whisk quickly and pour the batter into the greased container.

Set the batter container on the steamer stand inside the pot.

Cover with pot/cooker/steamer with its lid. If using pressure cooker, do not use the weight on top of it.

Steam the batter on high for 2 minutes and then steam for another 13 minutes on medium. Steam for total 15 minutes. Switch off the gas stove. Once the steam escapes, open the lid. Take out the container and Let the Dhokla sit there. Meanwhile, work on the tempering.
Making the Tempering
Heat oil in a pan and add hing/asafetida, black mustard seeds and sesame seeds to it. Reduce the heat to medium. Add curry leaves, green chillies and red chili powder. Once the seeds start cracking, add water, sugar and lemon juice. Bring it to a good boil and switch off yeh flame.

Your Dhokla Tadka is ready.
Cutting, Tempring & Serving
Take a sharp knife and slice the Dhokla steamed cake into squares or diamonds.

Pour the tempering over the cut Dhokla, evenly.

Let it sit for 2 minutes. Now take a flat spatula or a butter knife and carefully take out the sliced pieces of the Dhokla.

Sprinkle some fresh coriander or cilantro leaves and serve warm with Green coriander chutney.
Please bookmark this recipe for instant reference. This is a fool proof recipe, where the ratios are perfect and as a result you get the perfectly tasting and perfectly textured Sooji Dhokla.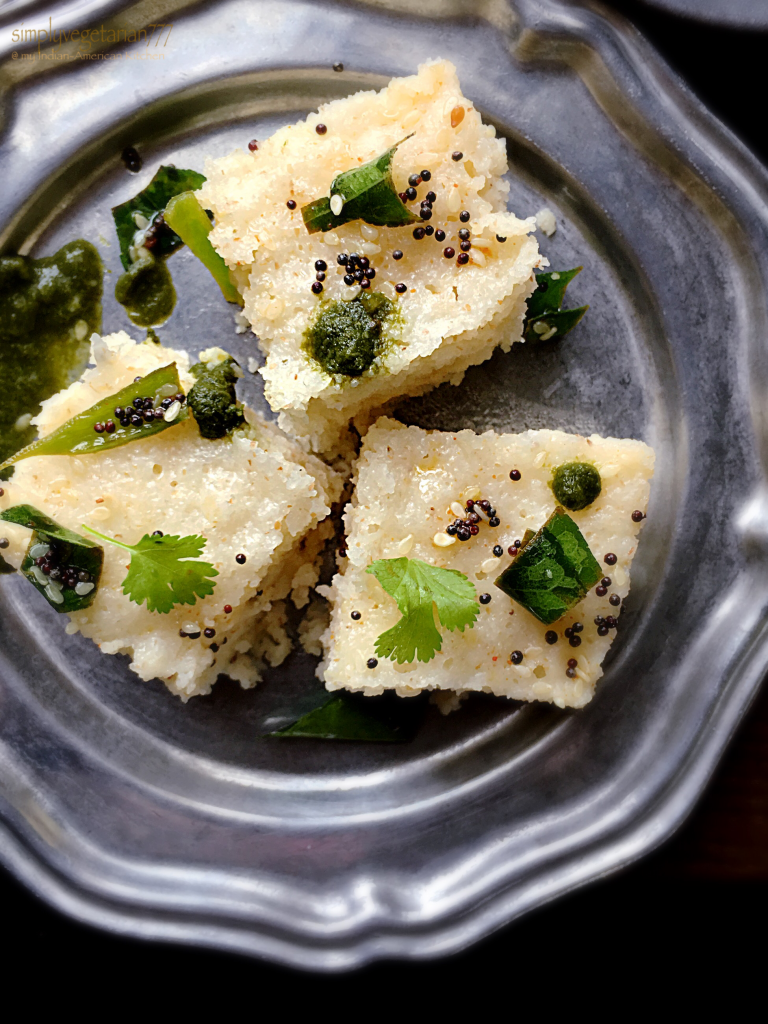 Treat your family with this Dhokla tomorrow itself and see the happy faces shine brighter on the snack table.
Can't make it now? PIN it for later!

As I always say – EAT HAPPY! STAY HAPPY!
Sonal