Lauki Palak Pakoda (Bottle Gourd Spinach Fritters – Diabetes Friendly Thursdays
As an Amazon Associate and member of other affiliate programs, I earn from qualifying purchases.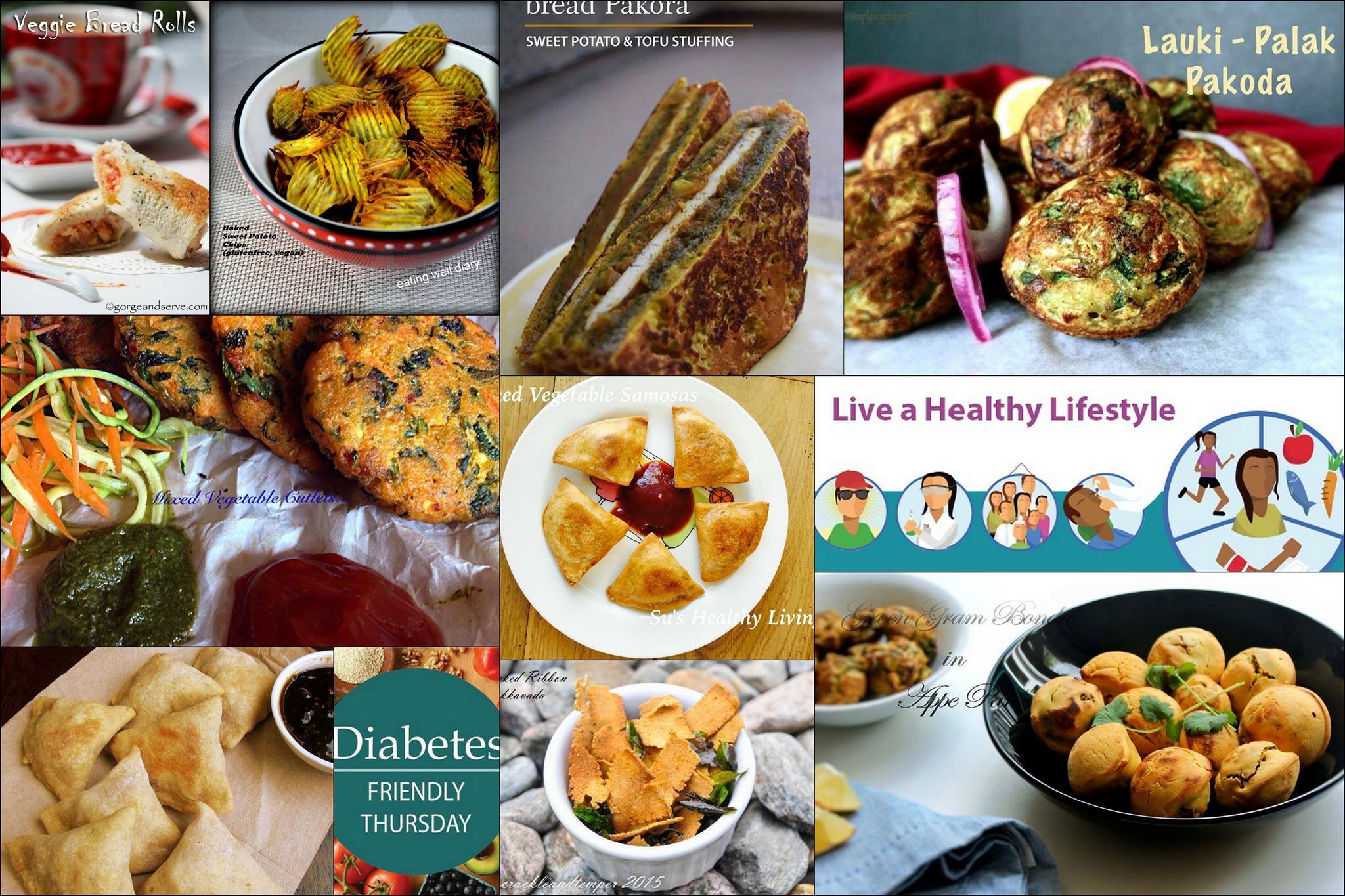 Creating Recipes with a Cause! I am a proud DFT blogger. To learn about DFT, read this link! To view more DFT recipes, click here!
Lauki Palak Pakoda (Bottle Gourd Spinach Fritters)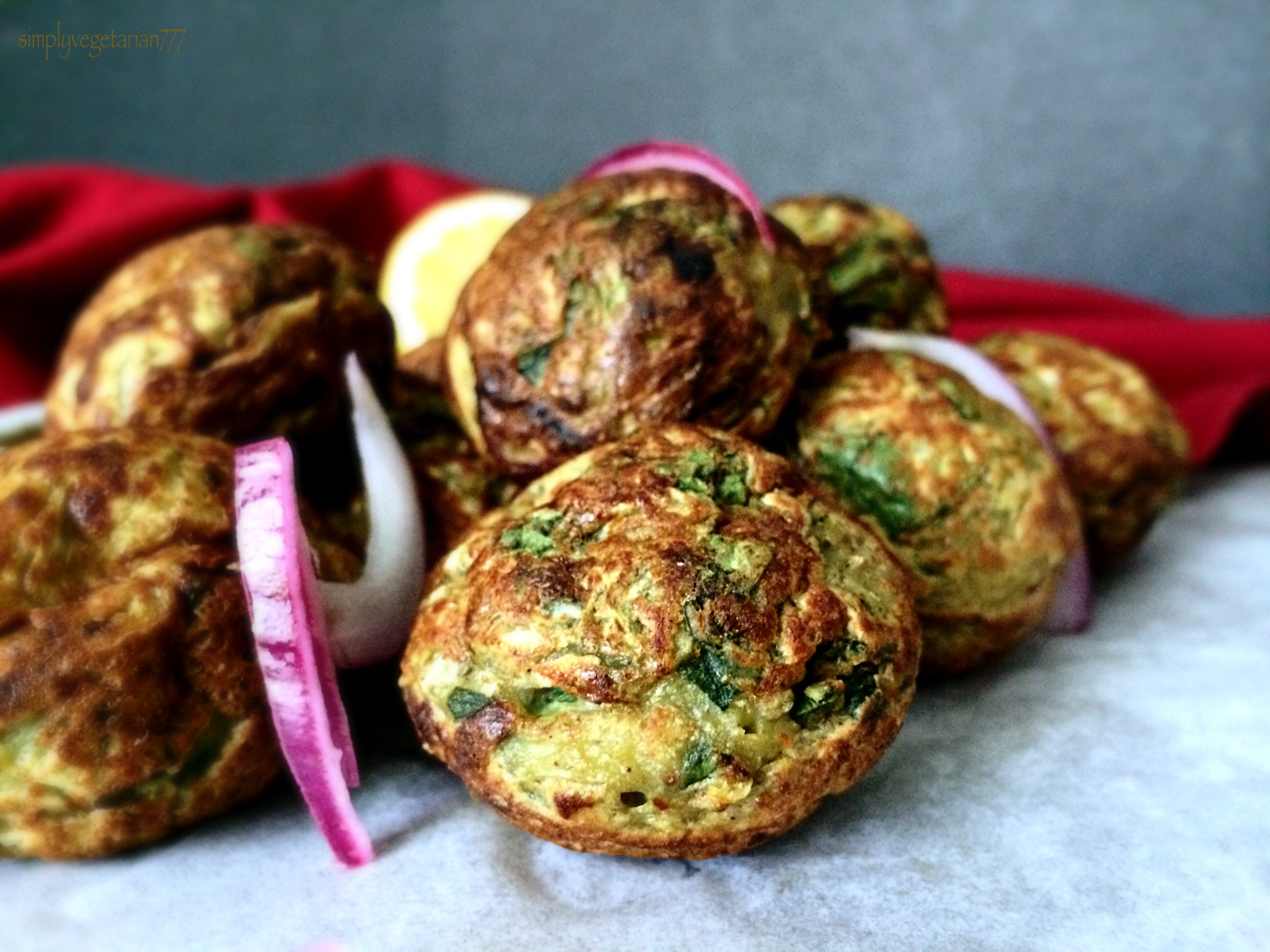 Team DFT created magic this week. "Unfrying the Fried Snacks" was the challenge and it was well received!
Lauki is bottle gourd and belongs to the family of squash. Also available as Opo Squash in USA. Palak is Spinach.
Indians eat so many savory snacks and sadly, most of them are deep fried. You feel like eating something, fire up the gas stove, heat some oil and fry away!! It is scrumptious, it's satisfying, you over eat and end up with empty calories. No good! So team DFT decided to create some most fried snacks in their un-fried version. I am bringing pakodas or fritters in healthier form and with some healthier ingredients. Easy and very approachable recipe and endless benefits.
Remember, eating healthy is mindful eating and is a state of mind. I have used appe /abelskiver pan to make these, but you can oven bake these too.
For the benefits of main ingredients on diabetes, used in the dish, please refer to the Foot Notes!
This is how I made it!
Lauki Palak ke Pakode (Not Fried)
Servings: 6
Difficulty: easy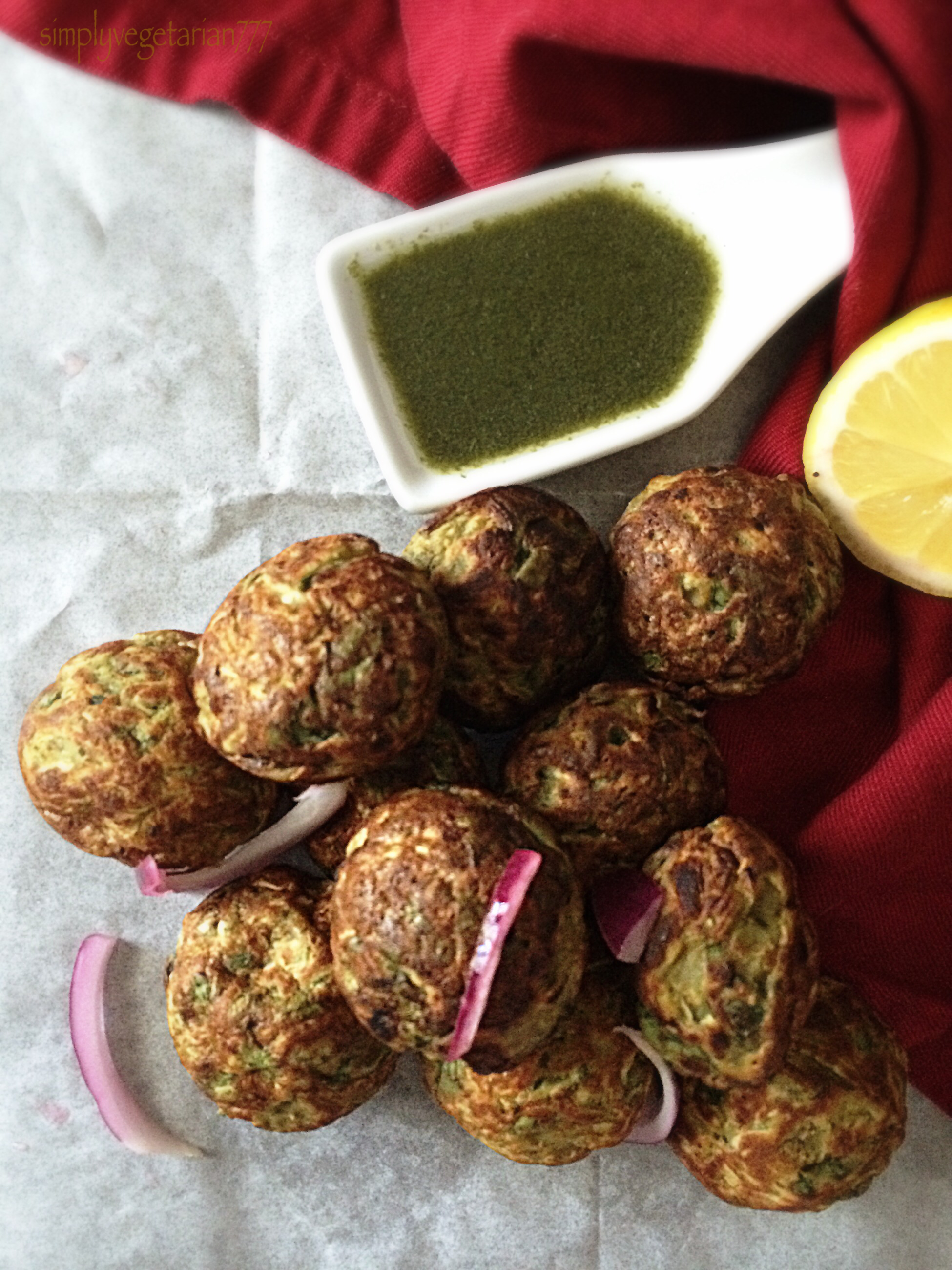 Yields – 16-18 pakodas/fritters ( 3 per person)
Kitchen Equipments Required
Grater, chopping board, knife, appe/abelskiever pan with lid, a wooden stick to flip these.
Ingredients
Lauki – 2 cups, grated. Keep the water in it.
Spinach – 1 cup, finely chopped
Chickpea flour / Besan – 3/4 cup or enough to bind the ingredients.
Red chili powder – 1/2 tsp
Garam masala – 1/2 tsp
Ajwain seeds – 1/4 tsp
Salt to taste
Oil to grease the pan
Method
1. Mix all the ingredients together to bind into a thick batter.
2. Heat the appe / abelskiver pan and grease it lightly with brush or wipe with a corner of paper kitchen towel.
3. Lower the heat to low. Drop table spoonful of batter in each hole. Cover with lid. Cook on low flame for 3-4 minutes.
4. Remove the lid. Flip them carefully with wooden stick and cook them on the other side, uncovered for another 4 odd minutes.
5. Serve them with Corinader chutney.
Notes
1. These can be oven baked at 375*F for 18-20 minutes till browned. Flip at 10 minutes for even cooking.
—————————————————–
Foot Notes
Bottle Gourd/Lauki/Calabash/ Opo Squash – A single serving (1 cup cooked) of bottle gourd has 5.39 g of carbs. This low-carb value makes bottle gourd a good choice for reducing carbs in your diet. About 1.25 g of fiber contributes to the total carb content of bottle gourd. The fiber content in the fruit helps regulate your digestive system and control blood sugar levels.
Spinach/Palak – Spinach is exceptionally low in calories. One cup of raw spinach contains only 7 calories. The fact that spinach contains so few calories is a major benefit to persons with diabetes. This is because one of the goals of a healthy diabetes diet is to promote a healthy weight. Your diabetes diet should include at least three to five servings of non-starchy vegetables per day, A serving size equals 1-cup raw or 1/2-cup cooked. Spinach is one of the only foods on a diabetes diet where more is better. Because spinach contains so few calories and carbohydrates, it is almost like a "free" food.
Chickpea flour/Besan – The researches show that a single chickpea-based meal led to reductions in blood sugar and insulin concentrations, compared to a wheat meal. Besan flour contains 387 calories per cup. It also has 22 milligrams of protein, 11 grams of sugar, 7 grams of fat, 11 grams of fiber and 58 grams of carbohydrates. A third of the starch in besan is amylose, a slowly digested starch that helps you feel full longer. A 1-cup serving of besan is rich in the minerals calcium, magnesium, potassium, zinc, iron, phosphorus, manganese, selenium and copper. Although not a rich source of most vitamins, besan does contain vitamin A, niacin, pantothenic acid, vitamin K and folate. In the recipe, total carb distribution of besan per person is approximately 8 gms.
—————————————————
Disclaimer
I am not a nutritionist or dietician. My knowledge and information is based on my research and reading from different resources. Please consult your doctor or dietician before making any changes to your diet.
—————————————————Other Unfrying the Fried Snacks by DFT Team!