Maandhia
As an Amazon Associate and member of other affiliate programs, I earn from qualifying purchases.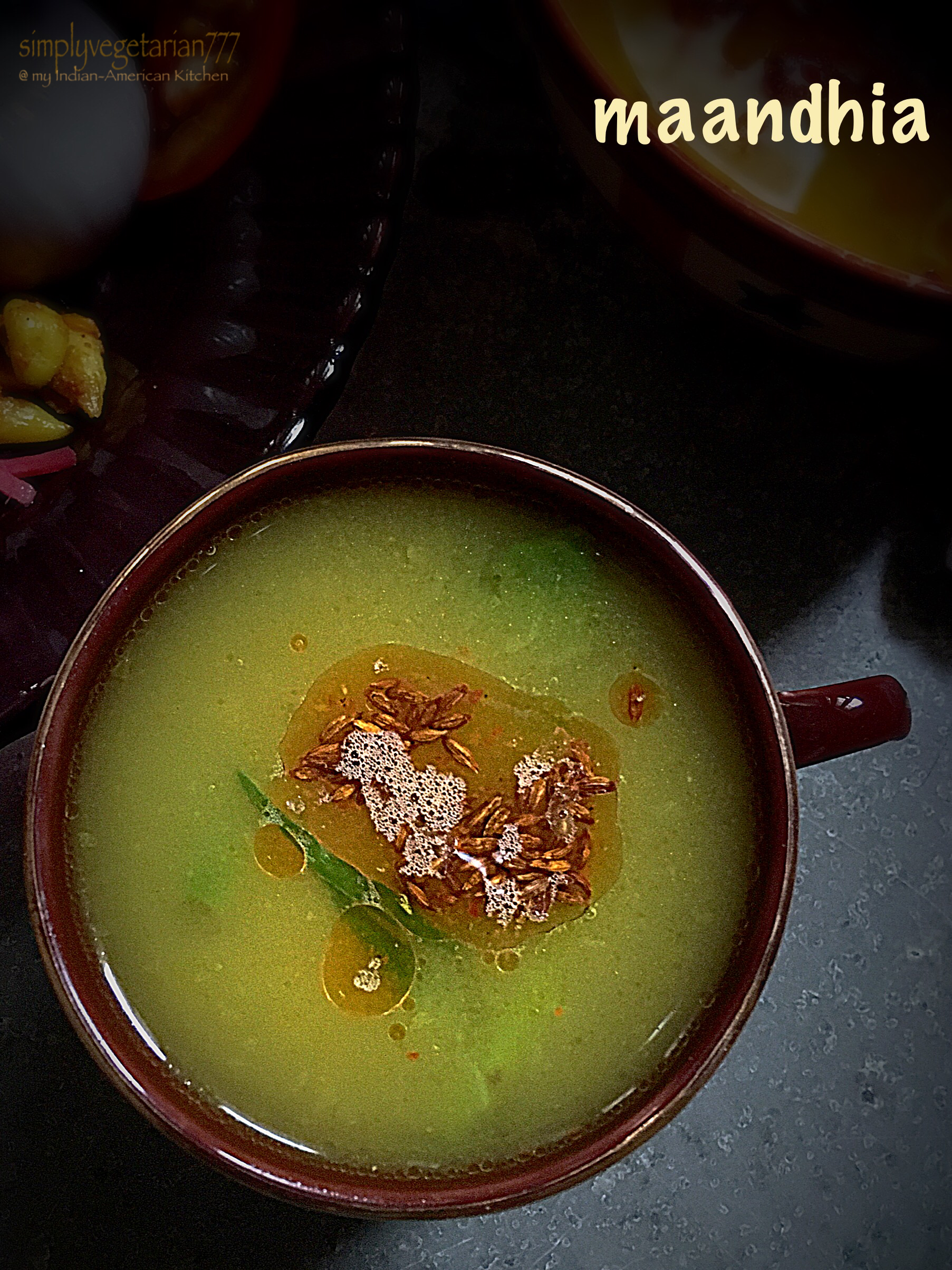 Maandhia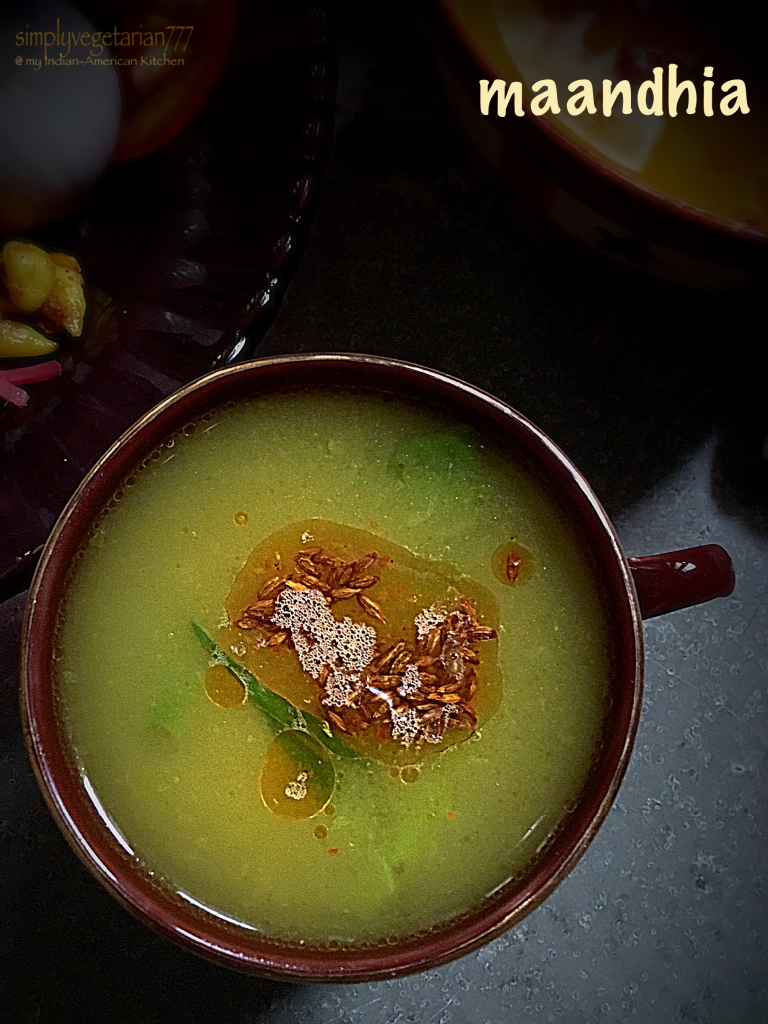 Maandhia is also known as Maandh. It is a quintessential side dish prepared especially during summer season in Northern India. Maandhia is another heirloom recipe from my family. My grandmother made it. My mom makes it. I love it.
I was visiting home (India) this summer, meeting my family this after 4 long years. The visit was very promising with everybody's love and attention. My visit was quite enriching in terms of food discovery and food mania. I ate and I ate like a hog. The food indulgence is pretty visible around my waistline. Now that is a sign of a content foodie! Isn't it?
I have always wondered why Maandhia is cooked during summers. My mother answered my curiosity. She said that rice water is cold in nature. People consume it during summer to maintain the body temperature. That makes complete sense.
It reminded me of the mention of Kanji somewhere, a dish which is often made in South Indian households during summer. It is also made with rice water and is a popular side dish. There are many recipes available online, to make Kanji.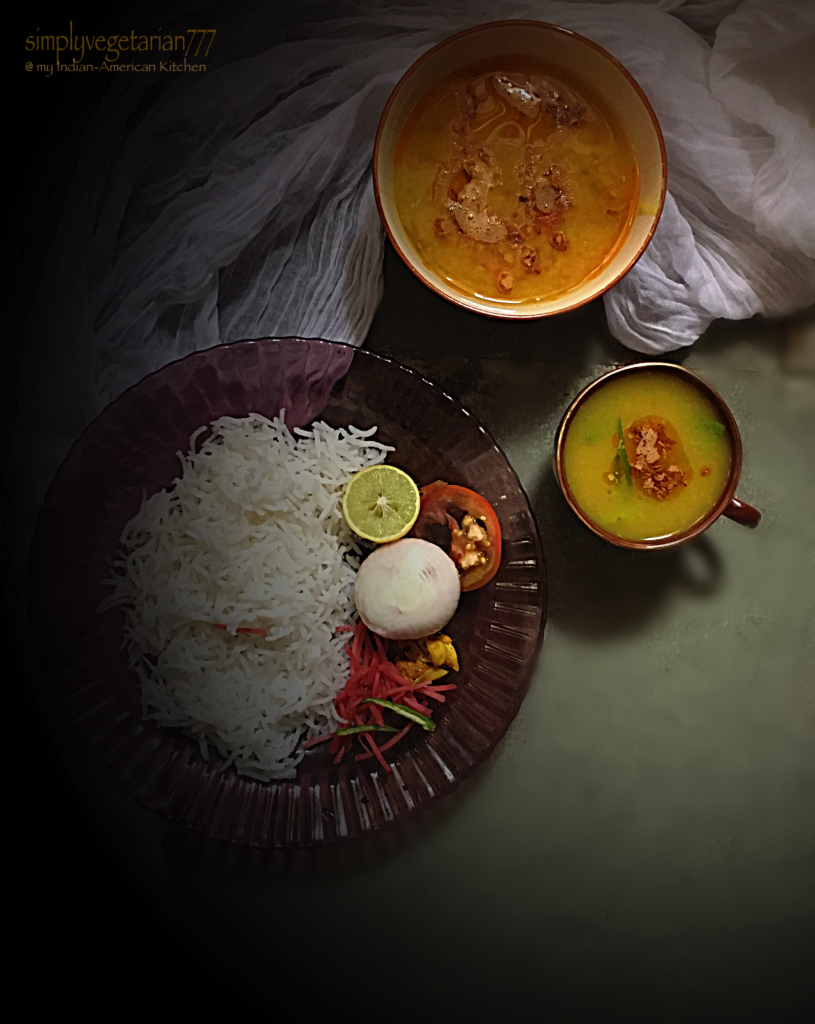 The best way to serve Maandhia is along with Arhar/Toor Dal and Rice. This is "the" combination to die for. My baba (grandfather) often asked my mother to prepare it, whenever she cooked Arhar ki Dal.
Mother would cook rice with more water, than actually required to cook the rice. Once the rice was cooked, she would strain the rice through sieve and store the rice water separately.
To cook maandhia, oil is heated in the pan with cumin seeds and asafetida. Green chillies are tossed in it along with raw mango pieces. The saved rice water is poured inside the pan and is boiled for few minutes. Gas is switched off. It is then tempered with Tadka or Chhaunk. Nothing to beat the charm of some old rustic dishes – the aroma, the texture, the nostalgia – all woven together in a magic ball.
Do you have any such heirloom recipe to share with? Do you also make Maandhia or Maandh at home? How do you make it? Please feel free to share your recipe in the comments. It would be fun to known the variations.
Life is good with simple recipes and some magical touch of my mom's cooking.
Yes I am still dwelling in my India trip. This heart wants more! My husband advised me today to blog some non-Indian dishes to entertain other visitors on the blog too. That does ring a bell to me since it has been ages that I blogged any non-Indian recipe. Well, I promise on that note – soon.
Some other soups from my blog are – Tomato soup , Black Bean Soup and many more.
This is how I made it.
Maandhia
Maandhia is a warm Indian soup, made with rice water. It is best served as a side along with Arhar ki Dal and Rice.
Ingredients
Rice Water - 1&1/2 cups

Raw Mango - 1/2 small

cut into small pieces or approximately 1&1/2 tbsp (Look for options in notes)

Green Chili - 2

split into 4s
Oils & Spices
Ghee - 1 tsp

Jeera /Cumin seeds - 1/4 tsp

Asafetida/Hing - a small pinch

Haldi/Turmeric - a fat pinch

Lal Mirch/Red chili powder - a pinch

Salt to taste
Ingredients for Tadka / Tempering
Ghee - 1 tsp

Jeera / Cumin seeds - 1/4 tsp

Lal mirch / Red chili powder - a small pinch
Instructions
Heat ghee in a heavy bottom sauce pan. Add asafetida and cumin seeds to it.

Once the seeds crackle, lower the heat to medium and add raw mango and green chillies to the pan.

Give the ingredients a good stir and add all the spices to the pan. Saute on low heat for few seconds.

Now pour the rice water carefully to the sauce pan. Bring it to a boil and then simmer for 1 minute.

Switch off the gas stove. Maandhia is ready. Now prepare the tempering/tadka.
Preparing Tadka/ Tempering
Heat Ghee in a small pan and add cumin seeds to it. Once the seeds crackle, add red chili powder and switch off the flame. Add this Tadka on top of the ready Maandhia and serve it warm along with Arhar ki Dal and Rice for a perfect meal.
Notes
In case you can not find raw mango because it is not in the season, use 1/2 tsp of khatai or Amchur or Dry mango powder. You may use it to taste. I sometimes use frozen raw mango also.
Be honest now, isn't this the simplest recipe ever? You get to recycle the rice water and enjoy a hearty warm soupy side along with Arhar Dal and Rice. That reminds me that I haven't posted a simple recipe of Arhar Ki Dal yet on the blog. Yikes!! I literally had my hand inside my mouth, biting my fingers, when I yelled Yikes on that. Ugh! So many recipes and dishes and one poor me! Actually, I would rather have it that way…something to think and plan about all the time instead of an empty head. If I have to be a devil then I rather be a Genie on the go… My mum always called me a Ginie, who couldn't sit still. I always had that "What Next?" at the tip of my tongue. God punishes you for being notorious with your parents and He did it with me by granting my second child with the same itch – WHAT NEXT?…. LOL.. I think she beats me up in that challenge of "WHAT NEXT", when I was her age. My Myraa is handful and glorious. While my oldest is calmer and a beautiful girl, the little one gives me a good check with the life….that life is happening and life is good!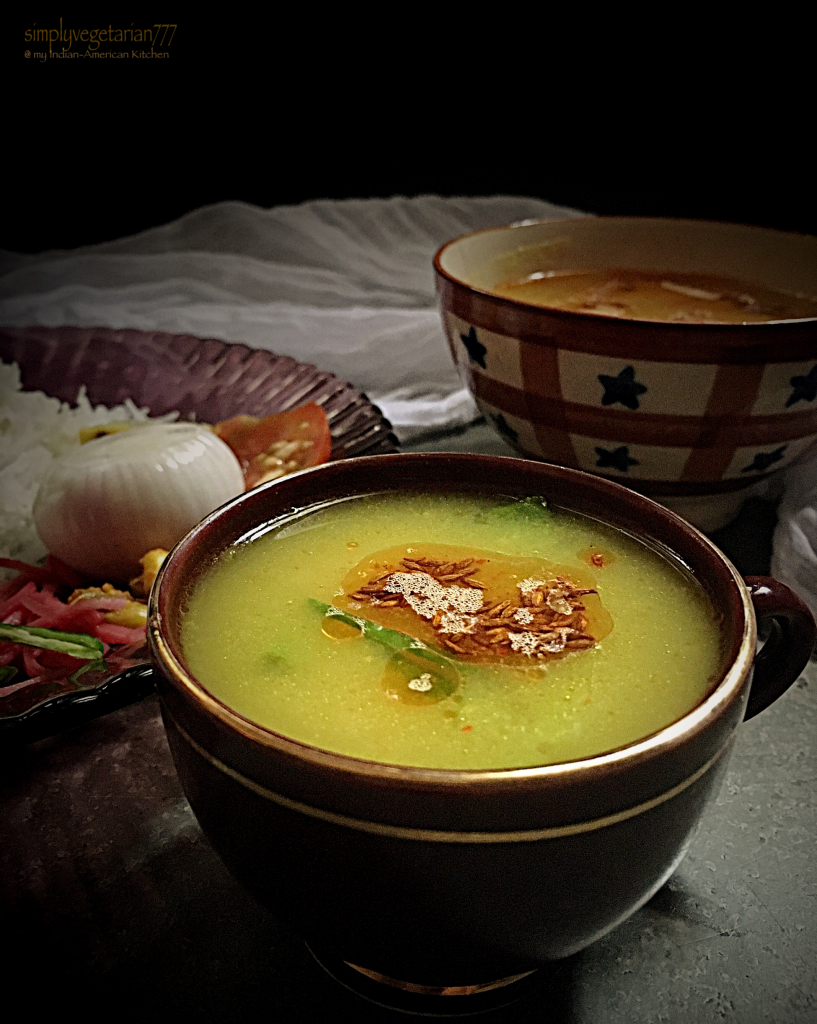 Enjoy a simple meal this week and do not forget to mention Maandhia for the family and you when you make Arhar ki Dal and Rice this time.
As I always mention – Eat Happy! Stay Happy!
Have a great week people and keep rocking.
Sonal