Manchow Soup – Meatless Monday
As an Amazon Associate and member of other affiliate programs, I earn from qualifying purchases.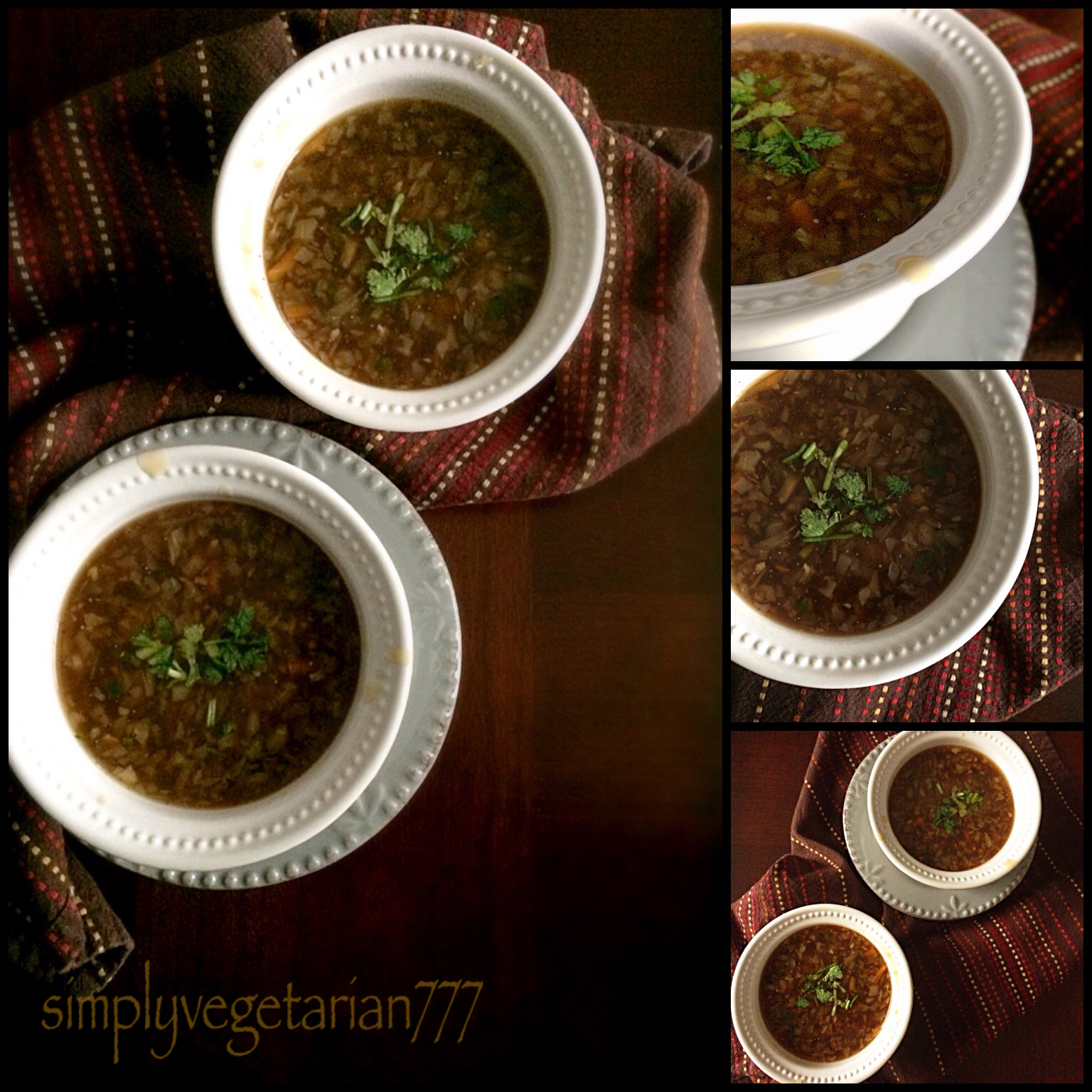 Some pictures do not do the justice to the actual beauty of the dish, i.e., it's flavors and textures. This is one such dish! One of my favorite soups from Indo-Chinese Cuisine.
Manchow Soup
https://simplyvegetarian777.com/2015/07/05/manchow-soup-meatless-monday/
How many of you remember drinking this soup outside the "nukkad" (corner) Chinese food vans? Sticky hot summers, P.G and boarding housing students on campuses, those Chinese vans were like saviors. Cheap food and filling food! We didn't care about the "health" quotient then! Always hungry 😀.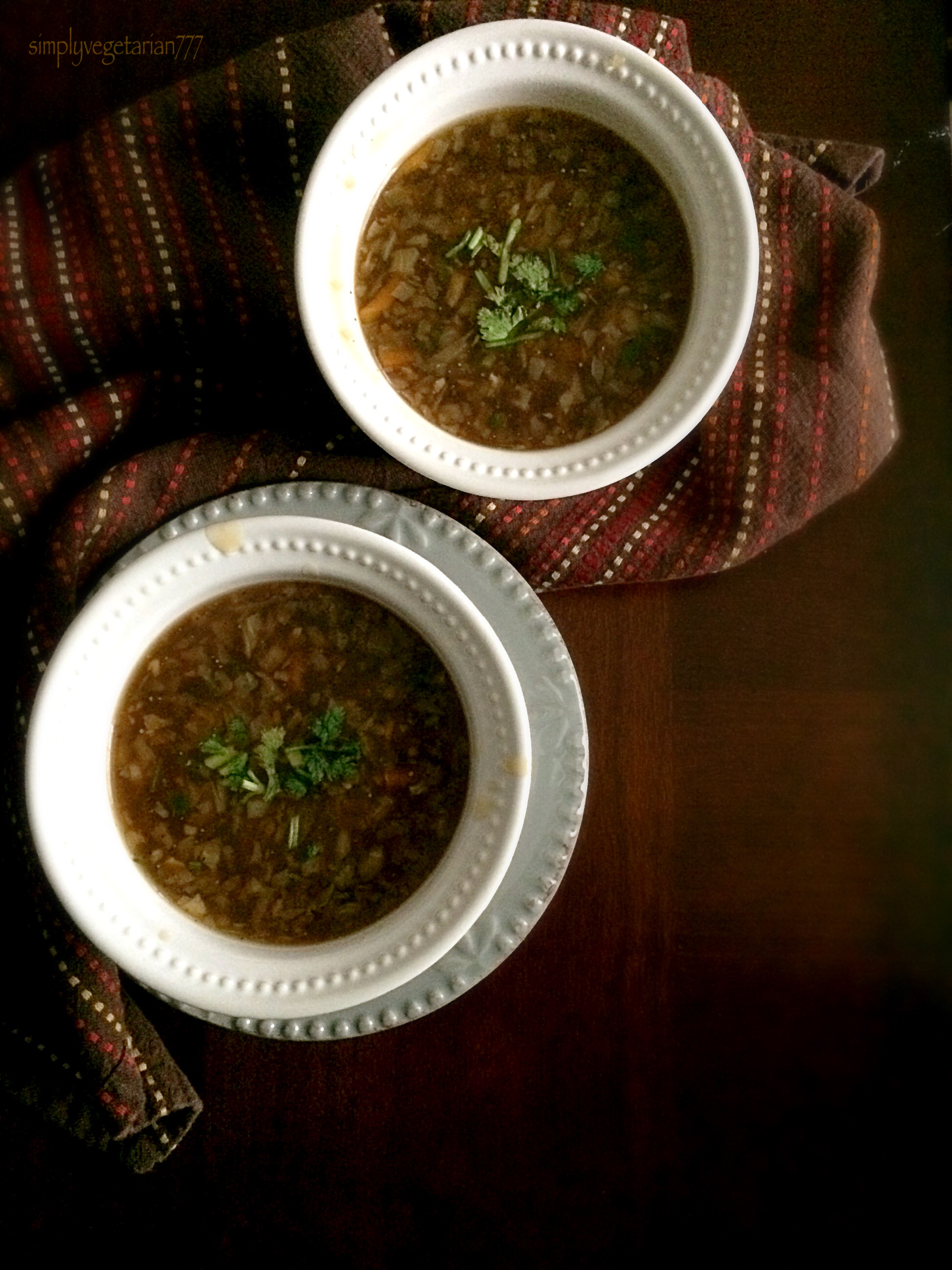 Manchow Soup is such a basic yet flavorful and aromatic soup that whenever I make it, a bowl is not enough. Another beauty of this soup is that it can be served as a starter and also, when thickened more, makes an awesome Indo-Chinese sauce base like that of Manchurian and hot & sour. A big bowl of it on a rainy day or a cozy evening of a cold winter, this suffices the moment and cravings!
This is how I made it!
Manchow Soup
Servings: 4-6
Difficulty: easy
Chopping board, knife, food processor or shredder, a deep sauce pan, stirring spoon, stirrer and a cup.
Ingredients
Oil – 1 tsp
Ginger – 1 small piece
Garlic – 2 cloves
Green Chili – 1 small,
Onion – 1/4 cup, finely chopped
Cabbage – 1&1/2cup, finely shredded
Carrot – 1/2 cup, finely shredded
Corn flour/starch – 2 tbsp dissolved in 1/2 cup water
Water – 3 cups
Soy sauce – 1&1/2 tbsp
Tomato ketchup – 1&1/2 tbsp
Distilled white vinegar – 1/2 tbsp
Salt & Black pepper to taste
Method
Prepping the Vegetables
Take the food processor and finely shred the ginger, garlic and chili together. Take it out and keep aside. Similarly, shred the cabbage and carrots in the processor. You may use a vegetable grater or shredder as well. Take it out and set aside.
Prepping the thickening agent
Dissolve the 2 tbsp corn starch in 1/2 cup water with a stirrer. Add soy sauce, vinegar and tomato ketchup to the cup and stir again. Make sure there are no lumps formed. Set aside.
Cooking the Soup
1. Heat oil in the sauce pan. Add finely shredded ginger, garlic, Chilli and onions to the pan. Reduce the heat and sauté for 2 minutes on medium flame.
2. Now add friendly shredded cabbage and carrots to the pan. Sauté for another 2 minutes:
3. Add the ingredients of the cup with corn starch/flour and soy sauce etc. to the sauce pan. Add 3 cups water, salt and black pepper. Stir with a spoon.
4. Bring the soup to a rolling boil. Now reduce the flame and let cook for another 5 minutes till the corn starch cooks nicely thickening the soup.
5. Serve it hot with some chopped cilantro/coriander leaves garnish. You may add a bit of hot sauce for more heat.
Nothing better to enjoy a good bowl of Veg Manchow soup on Mealtless Monday !
Sonal