Meatless Mondays : Aloo Gobhi or Potato and Cauliflower Fry
As an Amazon Associate and member of other affiliate programs, I earn from qualifying purchases.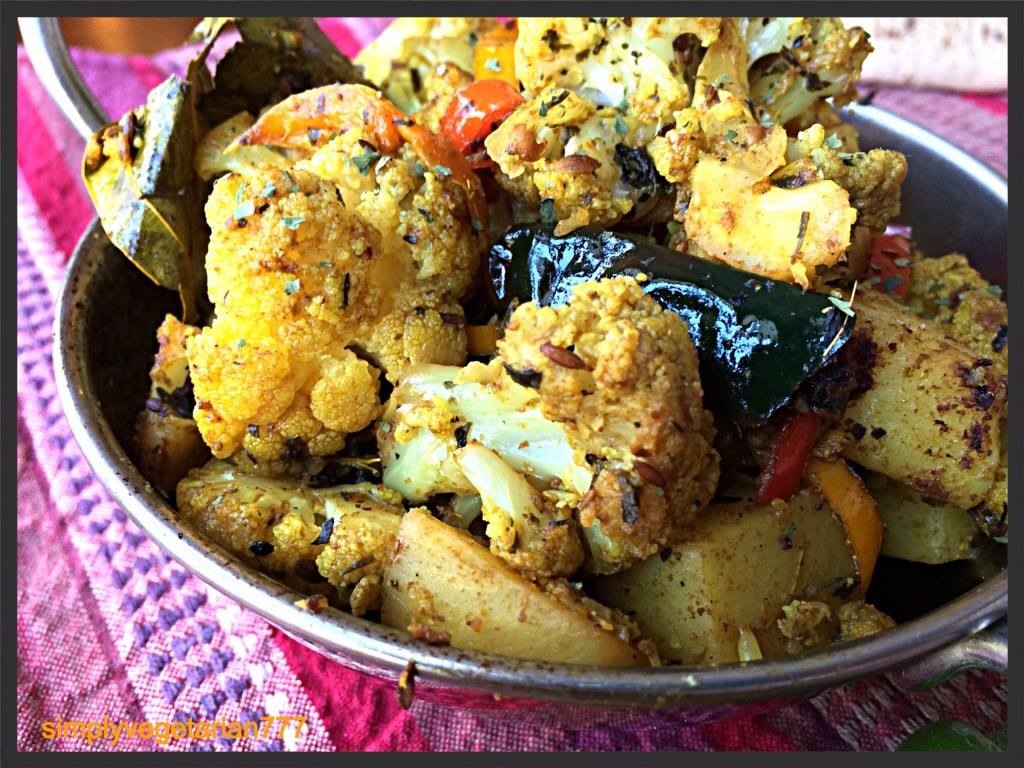 Aloo is Potato and Gobhi is Cauliflower. This is another vegetable mix prepared in Indian households quite often and in different ways. A "must" listed dish on the menu of most of the Indian restaurants in USA as well. A very bold combination of vegetables along with spices makes it a champion of all the vegetable mix fries. The main ingredient to spice this champ up is Garam masala. You probably have hear me saying Garam Masala, Garam Masala umpteen number of times, by now :). What to do? I am a Garam Masala kind of girl ;). It's hot and it's spicy and it's bold! Period.. Nothing less…Nothing more.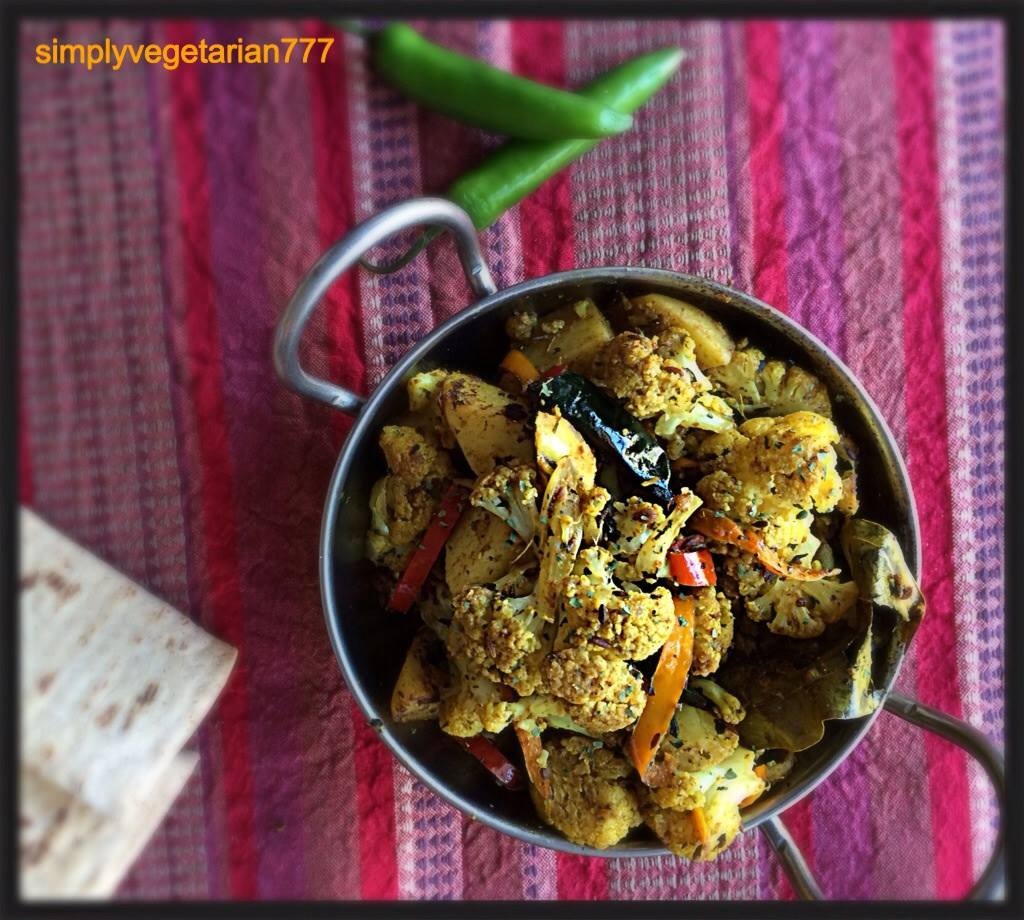 I am actually surprised that I haven't done any post yet, using cauliflower which is supposed to be my another all time favorite vegetable. And Aloo Gobhi is my ultimate comfort food. I can actually eat it as is with no bread :). Yes, call me crazy!
I think Meatless Mondays is the ultimate way to introduce this bomb of a dish to the world. No more blabbering, promise! Get your ready glasses on and zoom in now !
Serves : 4-6
Ingredients :
Potatoes : 1 big, cut into 1″ cubes
Cauliflower : 1 small head or approximately 3 cups florets
Bell peppers : 1/4 cup, julienned (sliced very thinly). I used colorful but you can use any. Also this is optional.
Ginger : 1 tsp, julienned
Cilantro : 1/4 cup chopped fine
Oil : 1&1/2 tbsp
Asafetida : a pinch
Coriander seeds : 2 tsp, crushed
Cumin seeds : 1 tsp
Bay leaf : 1, optional
Dry Red chilli : 1, optional
Turmeric : 1/2 tsp
Coriander powder : 1 tbsp
Red chili powder : 1/8 – 1/4 tsp
Garam masala : 1 to 1&1/2 tsp, as per tatse. You may use Curry Powder also. In case you do use curry powder, then skip the turmeric above. Please make sure that you are not using Madras Curry Masala since it is super spicy and will alter the taste.
Salt to taste
Method :
Heat oil in pan and add asafetida, coriander seeds, cumin seeds and bay leaf. Bring the flame to low and let the seeds crackle a bit. Now add julienned ginger and bell pepper. Sauté for 1 minute on low flame. Now add all the above spices. Roast them for few seconds till they combine well.
Now add cauliflower florets and potato to the spice base. Mix well. Cover the pan with lid and cook for 8-10 minutes. Keep the flame on low medium and stir in between.
Now take the lid off. Let the vegetable mix cook on higher flame for another 5-7 minutes. Keep tossing it in between. This will give the vegetable a nice crisp texture and richer color.
Take it off the flame. Add chopped cilantro and toss well.
Serve with hot rotis and paranthas and enjoy. You may use it in the wrap. You may make the grilled sandwich with this filling along with cheese, tastes awesome .
One way is to make a wrap in any available tortillas and top with some onions and lemon juice. Roll it up and gobble :).
Another fun way is to stuff pita pockets and eat.
Few Foot Notes and Links :
Garam masala Recipe :
1 tbsp, Coriander seeds
1 tbsp, Cumin seeds
1 inch piece, Cinnamon stick
1/2 tbsp, Cloves
1/2 tbsp, Black pepper corns
2 black cardamom
2 black cardamom
2, Dry red chili
1 big, Bay leaf dried
Method : Dry roast all of them together on low flame till you can smell aroma, say for 2-3 minutes.
They will be slightly browned. Don't burn and blacken them.
Cool them and grind them fine in a coffee grinder.
Store in air tight container. Goes long way. Use as desired.
Roti, recipe is here!