Mediterranean Cracker Party Platter
As an Amazon Associate and member of other affiliate programs, I earn from qualifying purchases.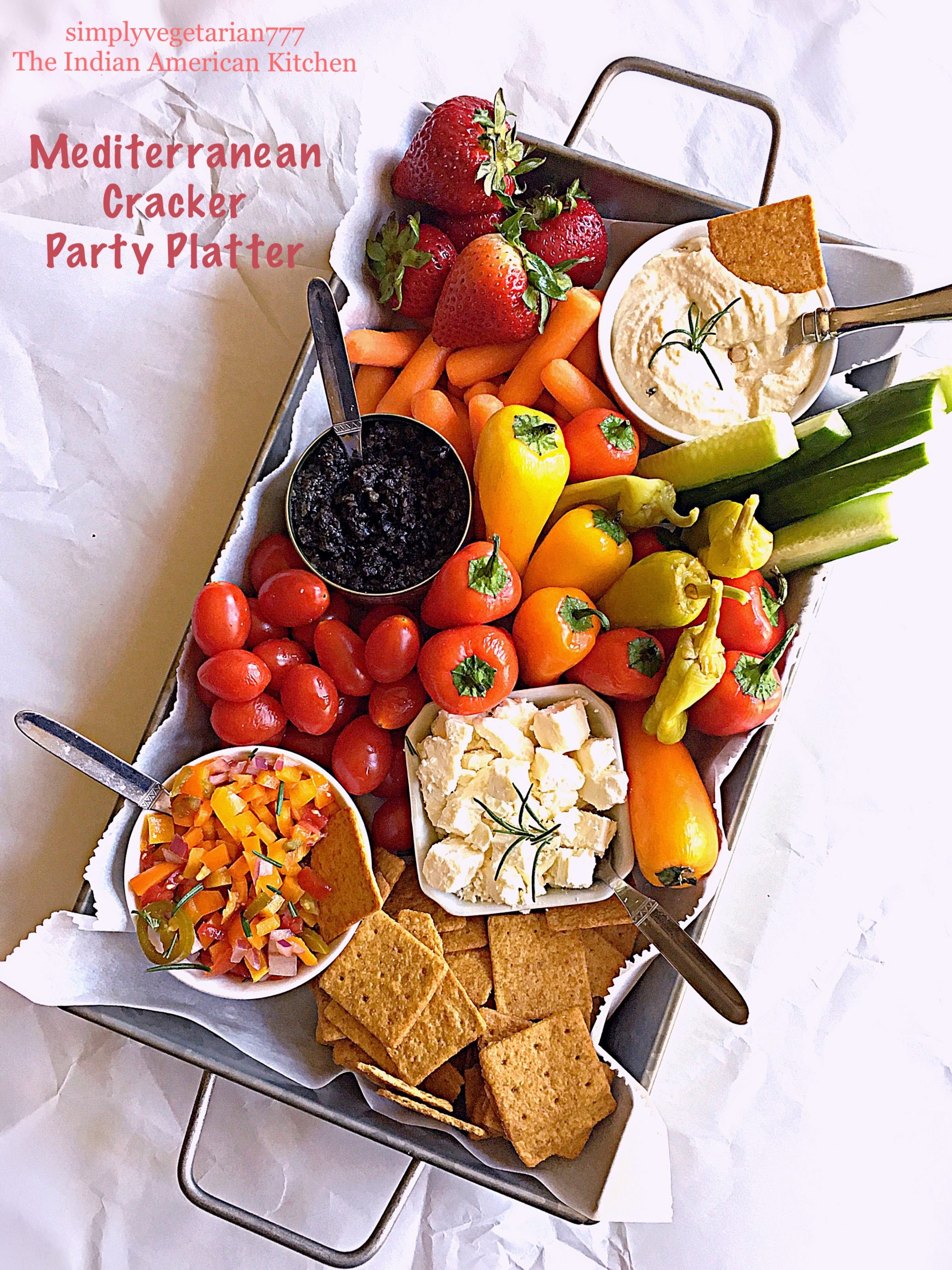 Mediterranean Cracker Party Platter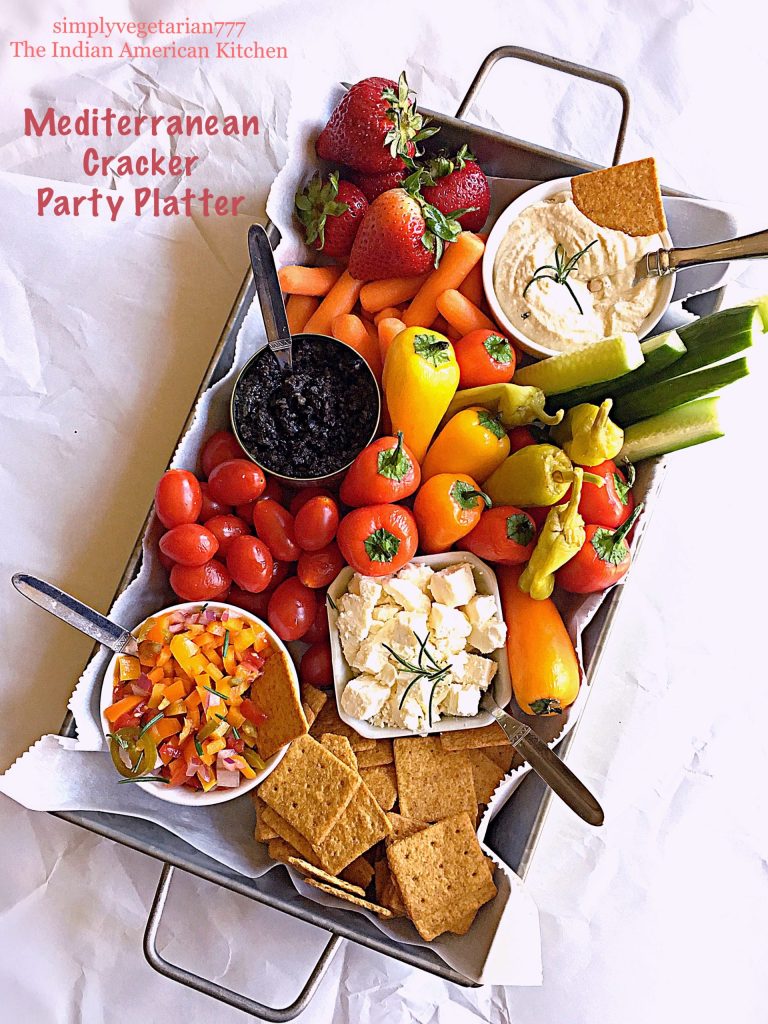 My memory is becoming a collection of weekend after weekend activities. I think the culprit is the month of May, that is over stuffed with activities and commitments being the end of the SCHOOL YEAR & beginning of SUMMER BREAK. In the busy times like this, Mediterranean Cracker Party Platter is such a fresh breeze of appetizer/meal that has the power of soothing and rejuvenating your mind, body and soul.
It is the perfect way to welcome summer and celebrate food and the vibrant colors of the bounty. Don't you think so? For the matter of the fact, I had a big platter of this for my lunch yesterday and served this to my girls as an after school snack as well. Psst….packed this for my older one's lunch for school too, since she had fallen in love with it, head over heals.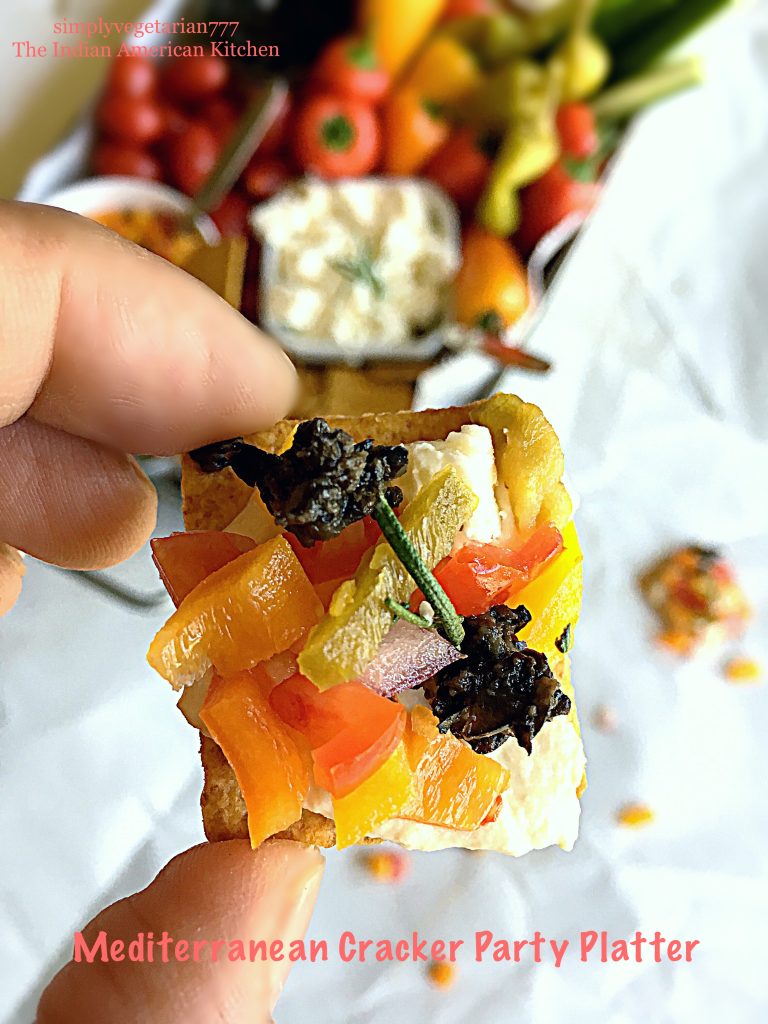 Can I quote something by Mark Twain here?  It its so well in context with this Mediterranean Cracker Party Platter.  He has very well quoted –
When one has tasted it he knows what the angels eat.
It actually is so refreshing and the flavors & textures feel like the FOOD FOR THE GODS AND ANGELS.
Summer temperatures can kill anybody's mojo easily with heat, lethargy and sweat. Mediterranean Cracker Party Platter is such a booster as it is not only vibrant and delicious but also a very healthy and nutritious treat.
It comes together in no time and makes a great piece of conversation and devouring. Few ingredients and you have a beautiful platter for any gatherings or a lazy meal.
I shopped at walmart and Kroger for the ingredients and it was very well budgeted. There, that is a bonus point. I am not being paid by either stores to mention them but it makes any party planning or gathering easier.
Here is what you need for this Mediterranean Cracker Party Platter.
Mediterranean Cracker Party Platter
A fabulous party platter put together for any summer party or gatherings. Few ingredients and a delicious spread is ready.
Ingredients
Hummus

original - 1 pack of 10 oz or larger. You may use home made or any flavored hummus

Wheat thins

Baked - 1 box of 8.5 ounce. I used Reduced Fat of Great Value brand. You may use any cracker of your choice.

Black Olives

Chopped - 1 can of 4.25 oz. Use sliced or whole black/green olives instead

Bell Peppers

Mini - 1 small bag

Pepperoncini pickled peppers - few

optional

Cucumber sticks or Baby Cucumbers - 2 large

washed and cut into sticks or a small bag of baby cucumbers

Baby Carrots or Carrot sticks - 12 or 16 oz bag. Or use few large carrots and wash+peel+cut into sticks

Cherry Tomatoes - 1 small box

washed

Strawberries or Grapes - few

optional

Feta cheese - 1/2 cup

crumbled. Use goat cheese or paneer cubes instead

Chopped Vegetables- 1/2 cup of combined bell peppers + jalapeños + olives + red onions + tomatoes - 1/2 cup as a garnish in case anybody wants to top their crackers with this.
Instructions
Take a large tray or platter of any shape.

In 4 separate small bowls, pour hummus, chopped olives, mix vegetable garnish and crumbled feta. Place them artistically on the tray or platter.

Arrange, crackers, vegetables and fruits aesthetically on the platter around the bowls.

Serve.
Isn't the simplest appetizer ever for any party. Sometimes you got to think outside the regular chip and dip scenario and bring some freshness on your kitchen table.
Some other party snacks from my blog are – Pineapple Agua Fresca , Olives Jalapenos Cheese Rolls , Chickpeas masala and more.
I bought that platter from Kroger for about $4.99 plus tax. This tray makes an absolute gorgeous serve-ware. I lined it with a parchment/butter paper and a beautiful and budget friendly spread was ready in no time.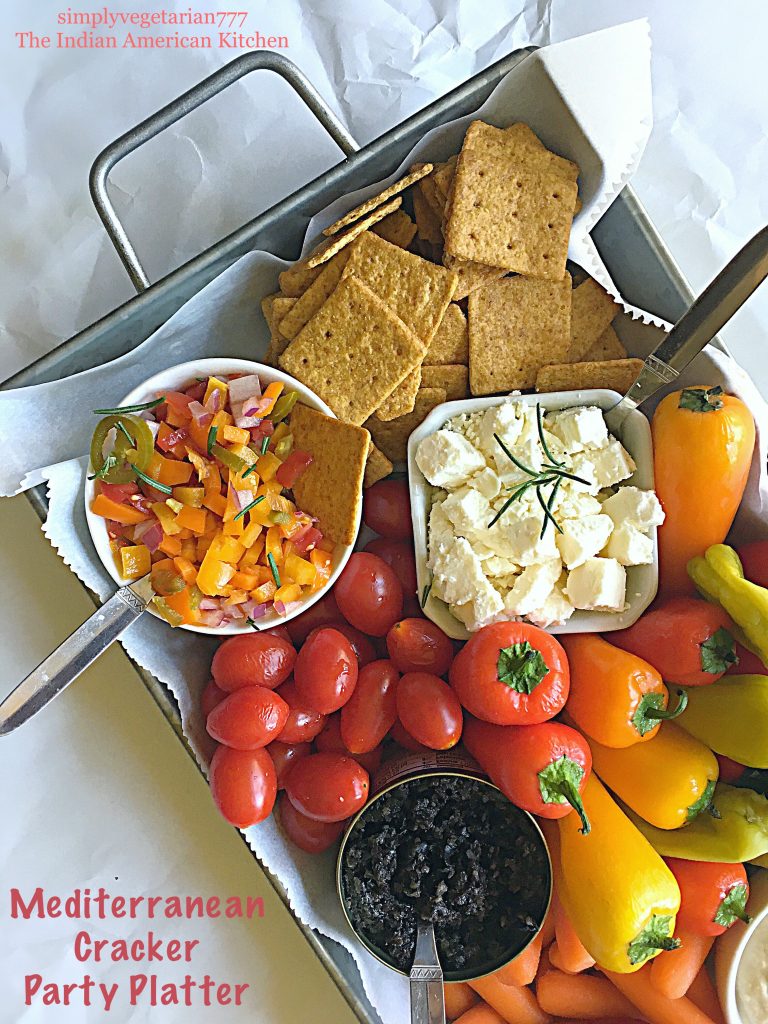 Can I share a secret with you? You do not have to be born or raised in Mediterranean region, to enjoy a good meal. I am Indian and I love Mediterranean Vegetarian platters.
In my humble opinion, the best memories are made when we are sharing food with family and friends and in the kitchen. People who say, eh…not really….then I would say…go check your facts right. YES THE BEST MEMORIES ARE MADE AROUND GOOD FOOD.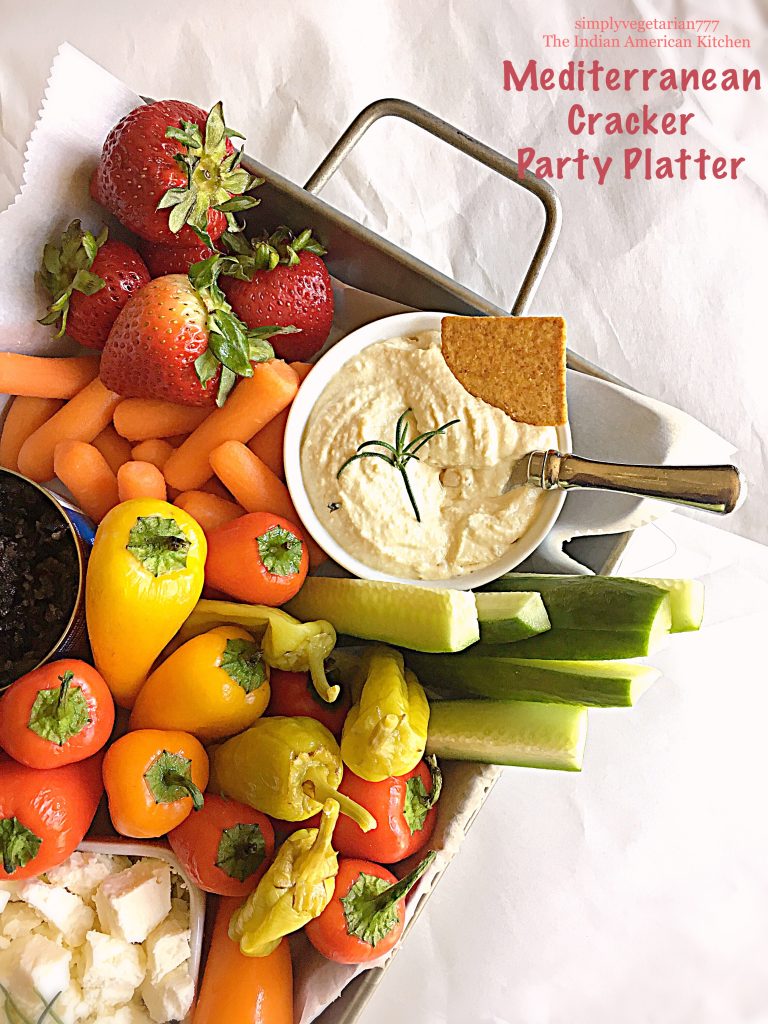 Food is versatile. You need to approach it with welcoming heart and a little sass. It can totally bowl you over. I promise.
Can't make it now? PIN IT FOR LATER!


In my kitchen, you will always EAT HAPPY & STAY HAPPY!
Sonal