Pineapple Agua Fresca
As an Amazon Associate and member of other affiliate programs, I earn from qualifying purchases.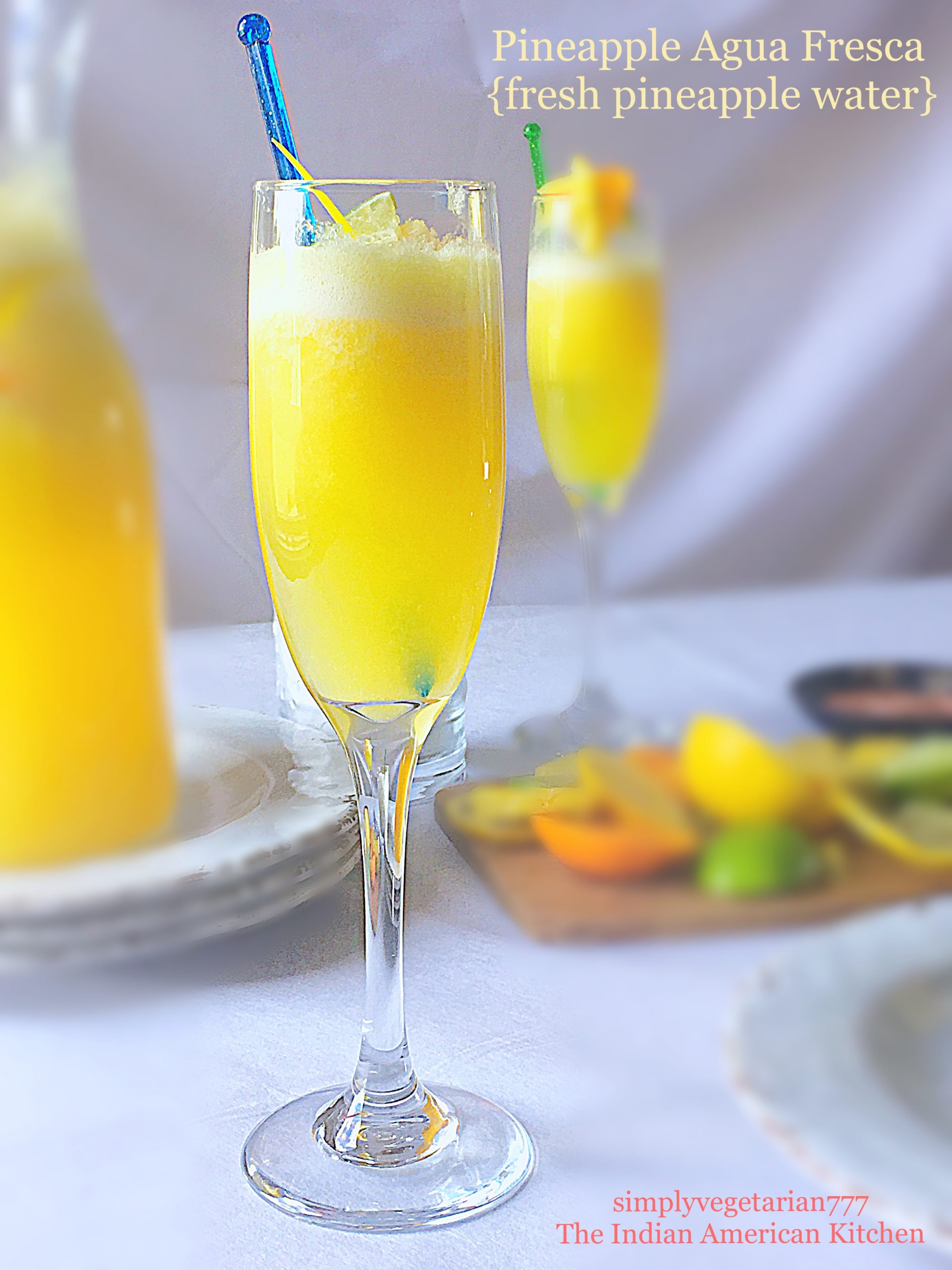 Pineapple Agua Fresca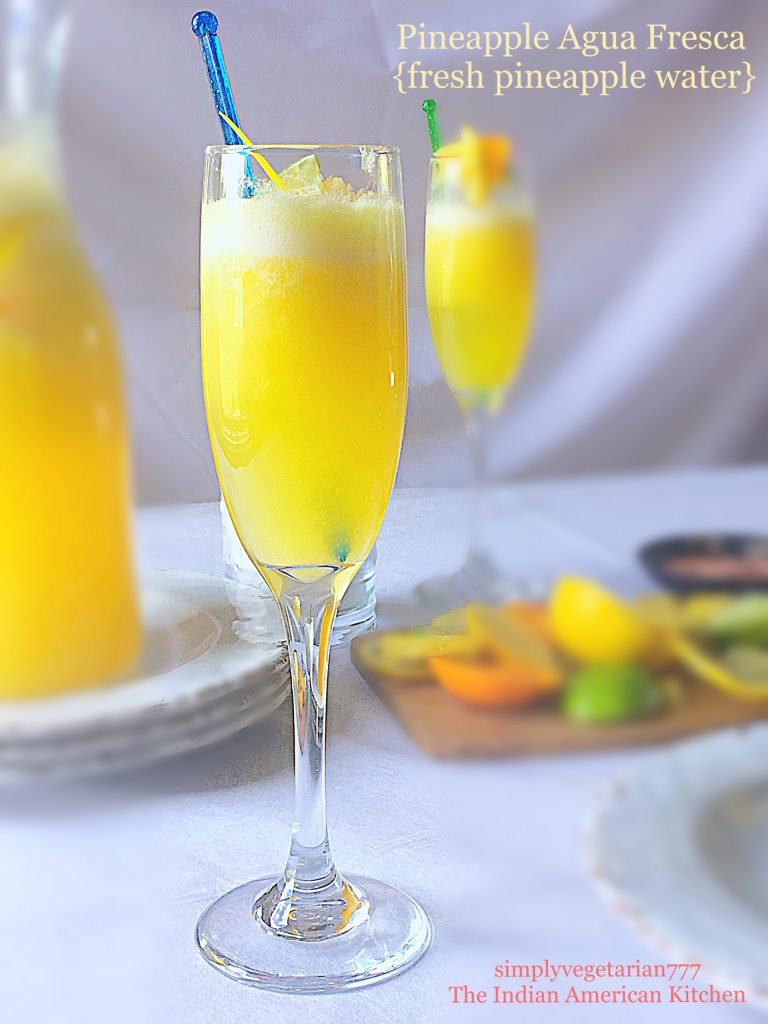 Agua Fresca literally means fresh water, where Agua = Water and Fresca = Fresh. Simple? Isn't it?  The most popular Aguas Frescas are made with Tamarind (coming up soon), Hibiscus and Agua de Horchata and popularly sold by the street vendors in Mexico and South America. Pineapple Agua Fresca is another adored variety of the Agua Fresca family. It is so tropical and soothing that one serving is just not enough.
You know what this whole backdrop of agua fresca reminds me of? The Desi Indian Juice Wala Bhaiyas who would set up their small juice corers and booths where-ever on streets, to quench the thirst of burnt out travelers, in scorching hot summers.
The similarity between Mexican and Indian food cultures, always leaves me pleasantly surprised. The spices used, the complexities and the ease to adapt in both the cuisines is just incredible.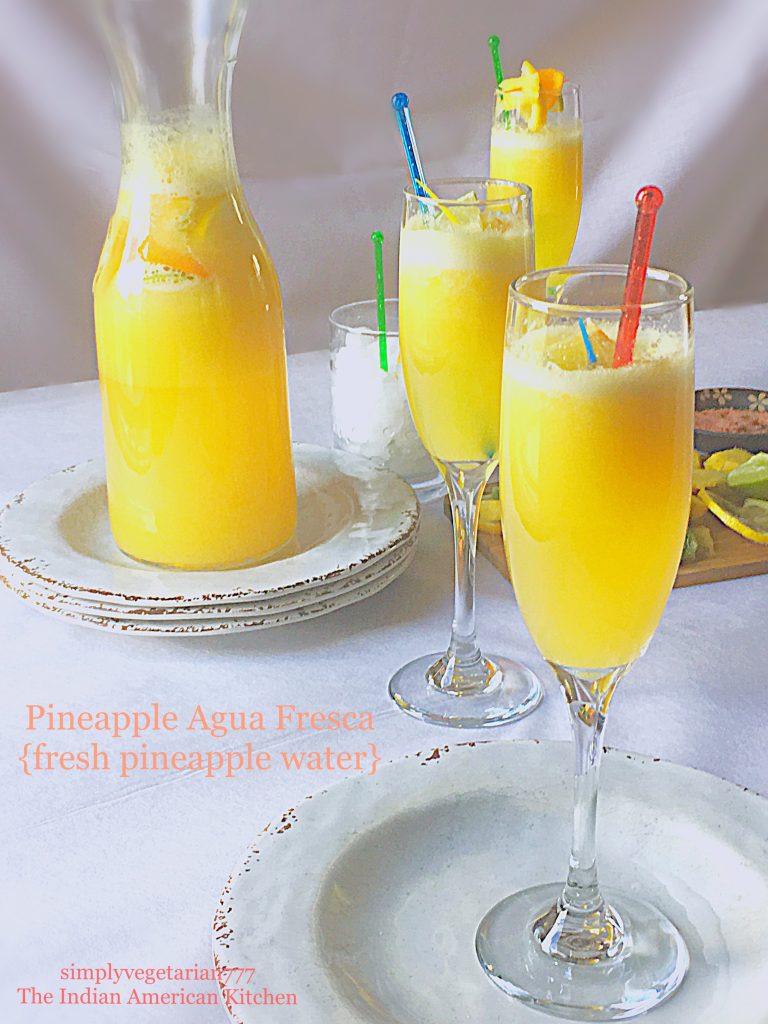 I made Pineapple Agua Fresca yesterday and it was pleasantly warm then. I drank more than I should have had. As I am typing my words, it is chilly here in Dallas today and I am so not happy with Mother Nature. She had been wayyyy offfff the charts this past winter and spring.
It is hard to dress your kids and yourelf too. It is pretty darn cold in the mornings and then it becomes extremely warm by afternoon. As my little M chirrups – NOT FAIR with a thump of foot and a huh on the face…I feel like doing the same.
All of that weather mess is not going to keep me away from downing 2-3 servings of that Pineapple Agua Fresca. If I had to savor it in the evening, I would happily splash it with some TEQUILLA!!! Oh..that makes me so happy!
I have to tell you that Pineapple Agua Fresca is so refreshing and soothing that it immediately transfers you to the warm beach and honestly you do not miss the hard stuff in it. It is one of the easiest drinks that you can ever put together and it will look as exotic as any the one that needs lot of work.
The best part is that you do not need any fancy blender for this juice.
I used my Oster Blender for making this Pineapple Agua Fresca.
A fine sieve was used to filter the juice.
To sweeten my drink, I used Organic Coconut Nectar .
Wine Decanter is used for the Agua Fresca.
Flute Glasses are used here for serving.
Stirrers and Fruit Picks are used for stirring and presentation.
It is perfect home made juice to entertain your girl friends, make it for your tween or teen girl's party, a spa party, for picnics and sometimes make it for no particular reason.
LIFE IS GOING BY FAST! PAMPER YOURSELF SOMETIMES FOR NO PARTICULAR REASON!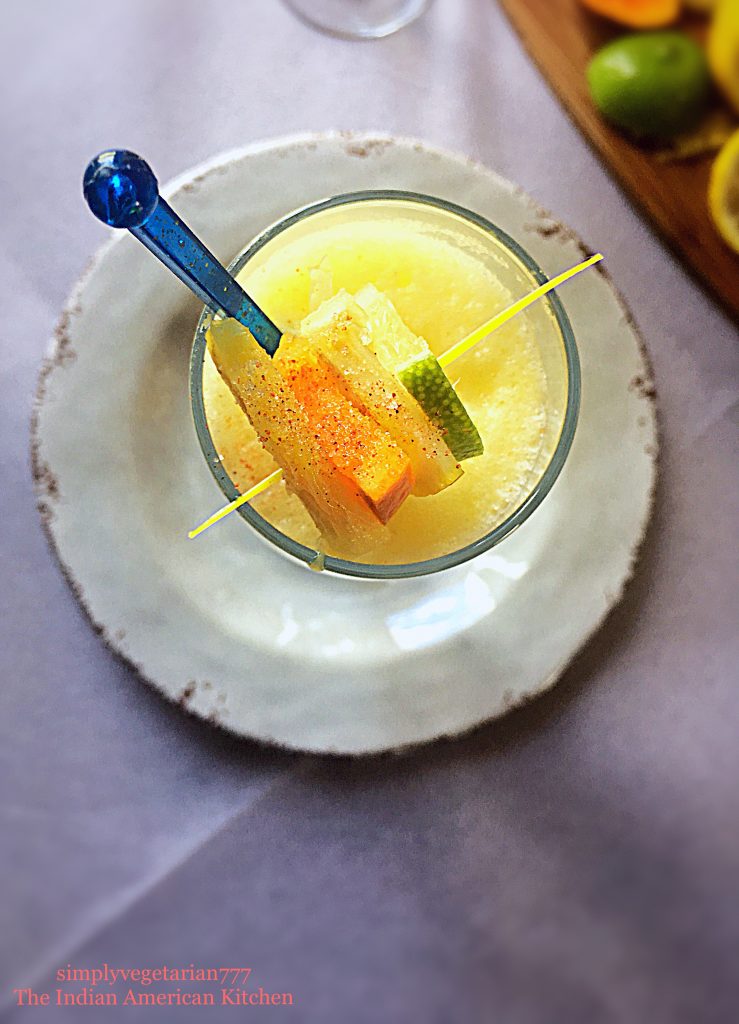 Here are some other drinks from my blog – Iced Coffee , Aam Panna (Raw Mango Drink) , Mathura ki Lassi , Jal Jeera (Mint Cooler) , Jamun Amla Panna and many more.
Here is how you make Pineapple Agua Fresca.
Pineapple Agua Fresca
A popular chilled drink made from fresh fruits and water, from the land of Mexico.
Ingredients
Pineapple

ripe and fresh - 4 cups, cubed or 1 average size pineapple peeled, cored and cubed

Lime Juice - 1/3 cup. You may use lemon juice instead. Use fresh or bottled juice.

Water

chilled - 6 cups

Sugar - 1/3 cup or to taste. i used organic coconut nectar. You may use agave nectar or honey or jaggery

for that matter any un processed or less processed sweetner, if you want
Garnish 1 - some slices of lemon, lime, pineapple and orange. You can use all or any combination.
Garnish 2 - a mix of salt and red chili powder
Instructions
Take a good speed blender. Add cubed pineapple and 3 cups of water to it and blend it to a smooth puree.

Now pass this puree through a sieve into a larger container. This step will separate the fiber from the juice. While passing it through the sieve, press it hard to extract all the juice.

Now add the sugar, lime juice and remaining 3 cups of chilled water to the container.

Stir well till the sugar dissolves.

Take a pouring jug or decanter and add few slices of lime, lemon, orange and pineapple to it. Add pineppale juice to it.

Let it sit for 5 -10 minutes before serving.

You may also chill it more in the refrigerator.

When serving, pour into glasses, thread a party pick with slices of lime, lemon, orange and pineapple, and drop it in the glass. Pour juice over it. Add the stirrer and serve.

I added a pinch of salt and red chili powder in mine to jazz it up a bit more.

IT WAS SIMPLY OUT OF THIS WORLD!!
Can't make it now? PIN IT FOR LATER!


In my kitchen, you will always DRINK HAPPY AND STAY HAPPY!
Sonal