Mushroom Kadhai or Mushrooms cooked in simple spices and served dry!
As an Amazon Associate and member of other affiliate programs, I earn from qualifying purchases.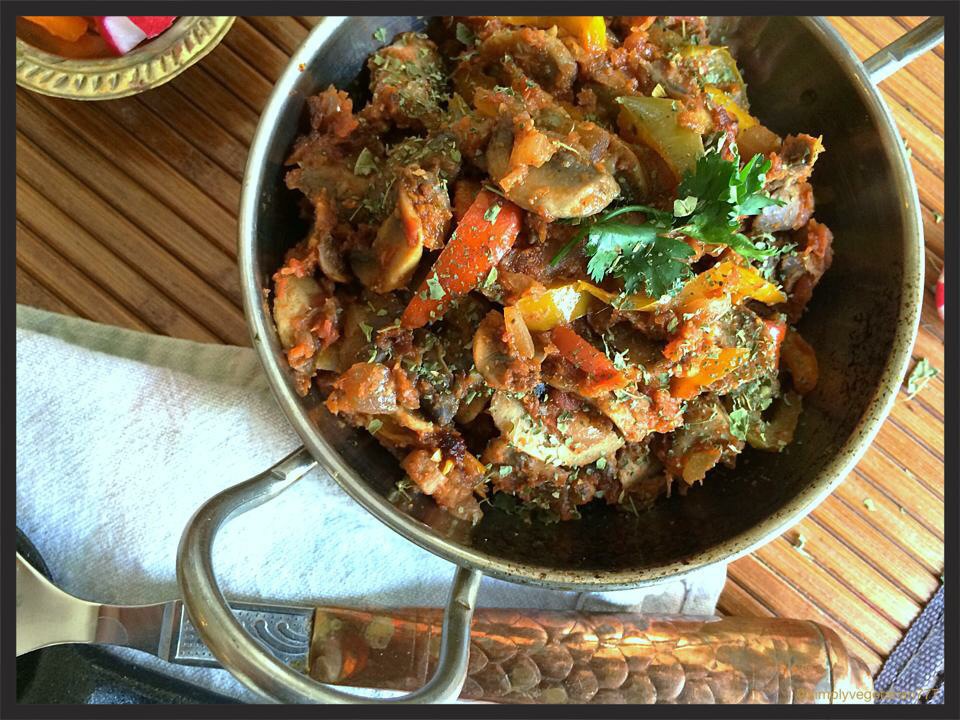 It's been so happening lately that whenever I buy the mushrooms, they end up in the trash without being used since they cross the expiry date. That just kills me! This time I made it to use these beautiful mushrooms before they crossed their "limit" :). Now that sounds silly. Ain't it? Bad English?? Eh!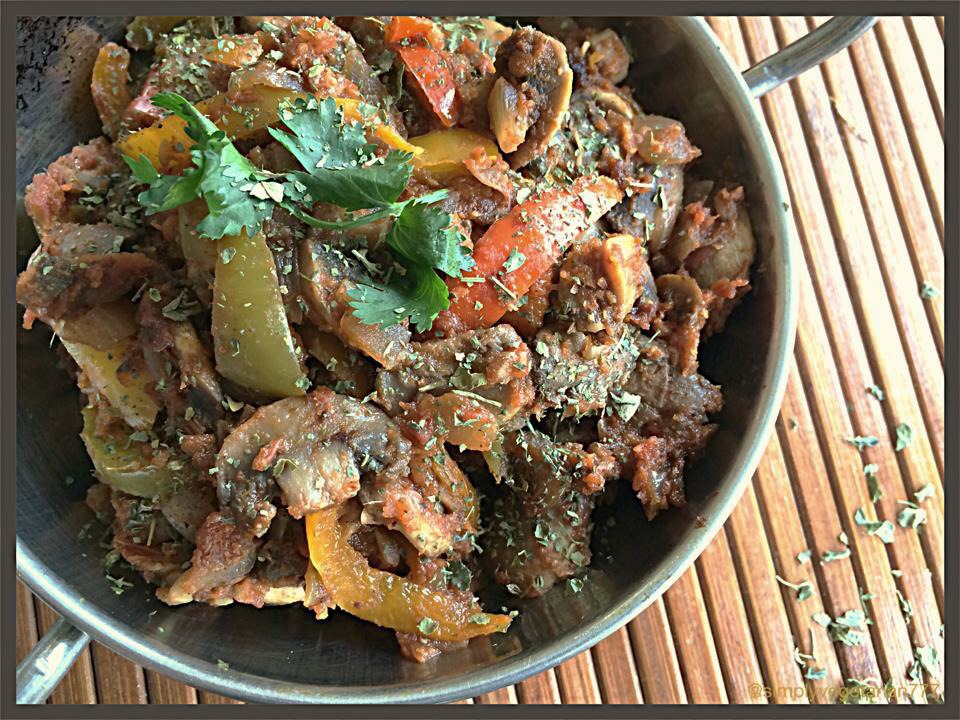 I was scratching my head as to what can I make with the mushrooms this time…had already done Mushroom Garlic Fried Rice, Khumb Matar Smarty ( mushrooms and peas cooked in nutty gravy), Mushroom and Cilantro Soup in coconut milk, Mushroom Crostini, Mushroom and Cheese Patte Bread Bowls and Baked Mushroom Tofu Baby Corn in Honey Ginger Sauce.
This time, I was looking to try some new Indian recipe with mushrooms. I knew about Mushroom Kadhai, but wasn't sure about the whole spices that go into preparing it. In times like this, I always refer to Dassana of Veg Recipes of India, blindly! I know if she has done that, it won't go wrong. The link has the original recipe. I have followed it to the "T", well almost. Adjusted the spices a bit to suit my family and tada a tasty and yumm dish was ready :). Thanks Dassana!

Are you wondering what is Kadhai ? Kadhai is an Indian wok. Originally people used iron Kadhai but these days, all Kind of materials are used like non stick and hard anodized. It is called Kadhai since the dish is dry not a curry.
I think this is a perfect dish to take to Angie's Fiesta Friday. I missed it last week since was unable to catch up with a self inflicted deadline.Thanks to Prudy and Indira for cohosting the event.
Without much delay, here is the recipe!
Serves : 2-4
Kitchen Equipments : thick bottom pan, small pan,flat spatula, cutting board, knife, a spice/coffee grinder or morsel and pestle
Ingredients :
Oil : 1 tbsp
Button mushrooms : 2 to 2&1/2 cups, washed and sliced or quartered.
Bell peppers/Capsicums : 1 cup julienned
Onion : 1 medium finely chopped
Tomatoes : 2 large puréed
Garlic : 1 tsp
Ginger : 1/2 tsp
Kasuri Methi : 1 tbsp
Red chili dry, whole : 1-2, as per the heat that you can take
Coriander seeds, whole : 2 tbsp
Garam Masala : 1 to 1&1/2 tsp as per taste
Salt to taste
Cilantro/coriander leaves : 2 tbsp, chopped, for garnish
Method :
Take the small pan. Add red v idli whole and coriander seeds. Roast them dry on lower flame till they become aromatic, for about 3-4 minutes.

Cool this and ground it coarse in spice/coffee grinder or morsel and pestle. Set aside.

Heat oil in thick bottomed pan. Add onion, ginger and garlic. Sauté on lower flame for about 8 minutes till the onions are nicely browned.

Add puréed tomatoes, the freshly ground spices, garam masala and salt. Mix well and cook for further 7-8 minutes till all the water evaporated and tomatoes are nicely roasted with onions.

Now toss the julienned bell peppers and mushrooms along with Kasuri methi. Mix well. The mushrooms will leave some water but it will dry up in a while. Cover and cook for another 5-7 minutes on medium flame till everything is married well together. Stir ocassionally.

Serve in the bowl. Garnish with fresh cilantro leaves. Enjoy with naan or plain roti/chapati
I hope you enjoy it when you make it in the premed is of your home.
Note : Paneer, Cauliflower, Potatoes can be easily substituted in this dish!