Rose Lassi & Simple Rose Syrup Recipe
As an Amazon Associate and member of other affiliate programs, I earn from qualifying purchases.
Rose Lassi + Simple Rose Syrup Recipe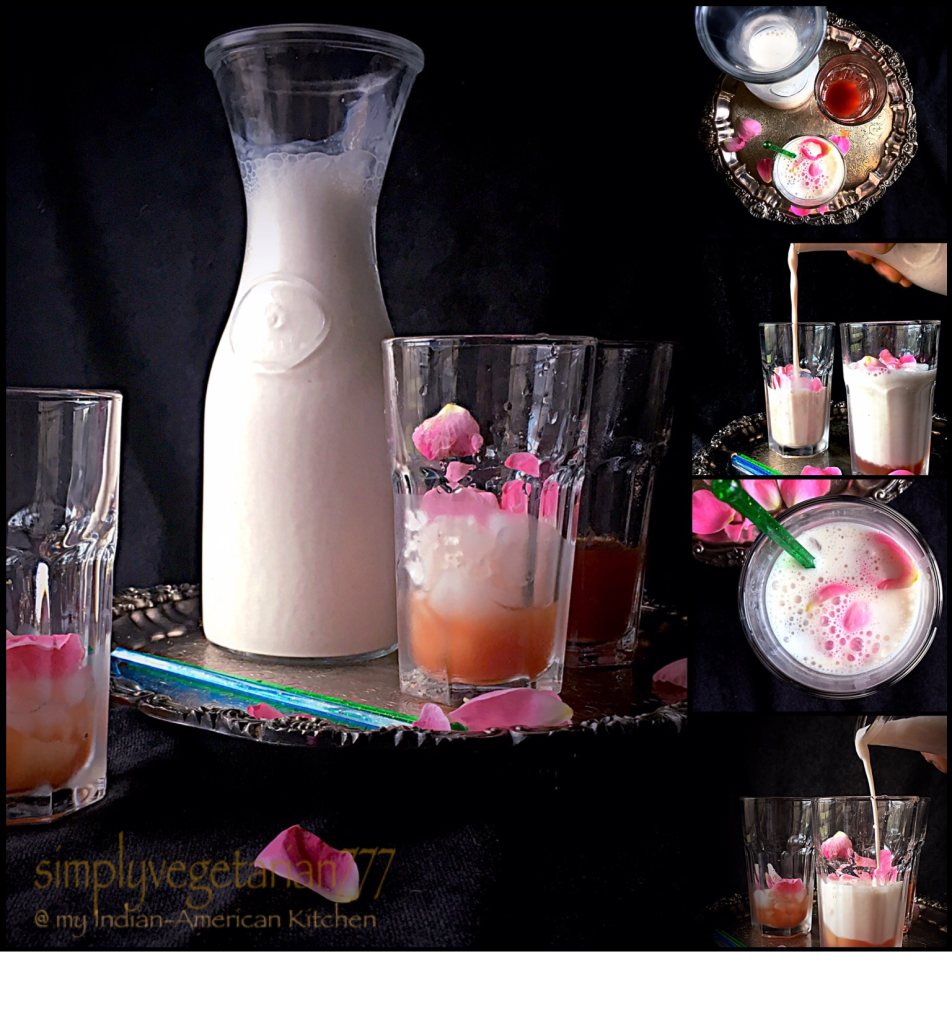 Rose Lassi + Simple Rose Syrup Recipe is a perfect recipe to feel Royal and soothe the heat this summer. I bet that your jaws are dropped looking at the pictures here and you must be thinking, really?..is this real?….like real real? LOL…I know went overboard with that surreal emotion of mine ;). Yes, that happens to me once in a while, when I go overboard with the Lassi Spilling Good Emotions of mine.. I think I need to stop my madness with the words here and directly come to the point.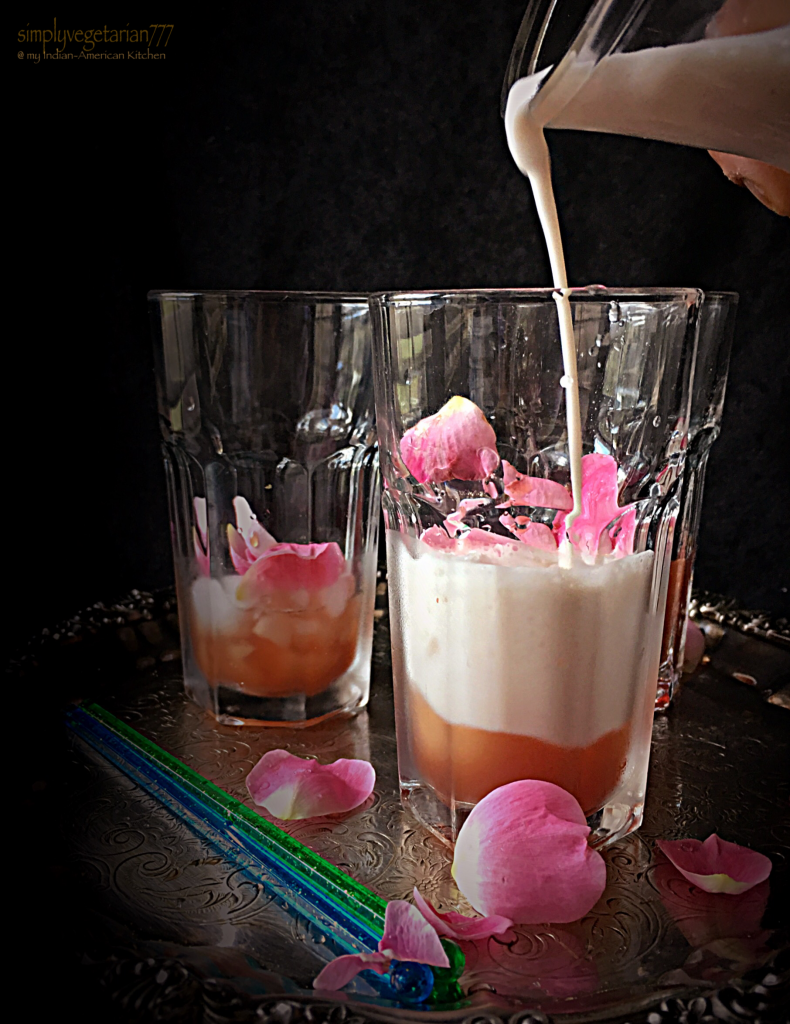 The point is that Rose Lassi + Simple Rose Syrup Recipe is a must try drink this summer. The fresh roses add to the intoxication of the drink and when you will hold a glass of chilled rose lassi, you will feel no less than a Moghul Badshah.
Moreover, you are in luck today since in this post, I have shared a home made rose syrup recipe too. Isn't that a great deal. You can ofcourse use a ready made rose syrup but home made rose syrup has that pious and pure feeling that adds the old school charm to the lassi. It is one of the kind that you will offer to your Gods and consume as an offering.
Rose is a flower which brings the romance and the prayer together. It is offered to show your love to your beloved as well as to your God. Isn't that amazing? What I am trying to say is that Rose Lassi has to be savored in every sip, inhaling the aromas and feeling the depth of it. You can not finish it in one gulp. SAVOR IT!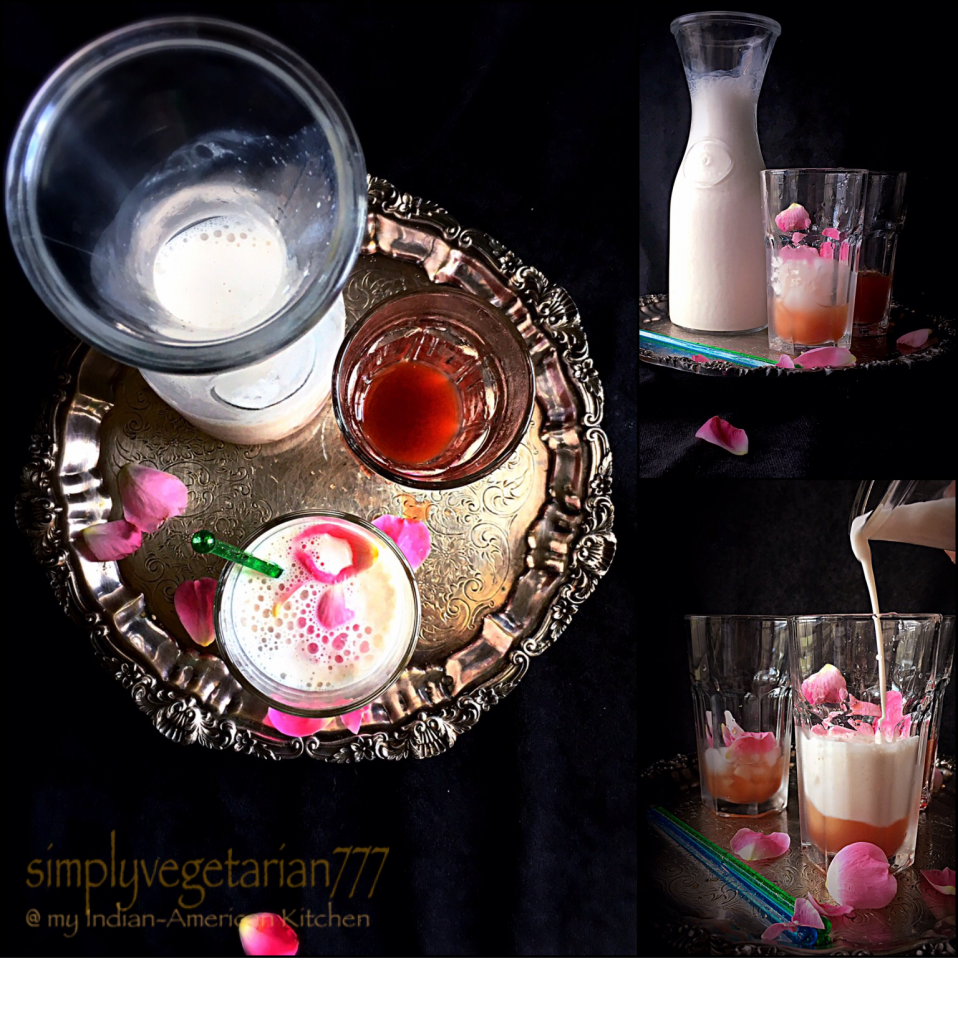 Some other Summer Drinks from my blog are – Cucumber Cilantro Yogurt Smoothie , Saffron Mango Shake , Jamun Amla Panna , Tropical Margarita .
This is how I made it!
Rose Lassi + Simple Rose Syrup Recipe
A summer perfect yogurt smoothie, made with fresh rose petals.
Ingredients
Rose Syrup Ingredients
Rose petals - 1 cup dry

Sugar - 1/4 cup

Water - 1/4 cup

Cardamom powder - a fat pinch
Rose Lassi Ingredients
Yogurt - 1 cup

Ice

crushed - 1/2 cup

Water

chilled - 1 cup

Sugar to taste

Rose petals

fresh - 2 to 3 tbsp. I used pink roses.

Rose essence/water - 1 tsp
Instructions
Rose Syrup Recipe
Soak dry rose petals in water, overnight or 10-12 hrs. After soaking, you will see that water turns deep red in color.

Put the soaked petals along with water in the blender and make a fine paste.

Take a heavy bottom sauce pan and add sugar, rose paste and cardamom powder to it. Bring it to a boil and then cook on simmer till the liquid thickens into syrup. Keep stirring often to avoid burning. It will take about 20-22 minutes. We want simple syrup and not string consistency. The simple Rose Syrup is ready. You may use it to make milk shakes, ice creams, kulfi etc. Bring it to the room temperature and then store in a clean bottle and refrigerate for longer shelf life.
Note - Some people choose to sieve the rose petals separately from the liquid for more clear syrup but I did not. You may choose to do however you like.
Rose Lassi Recipe
Wash and Soak the fresh rose petals in little water for about 2-3 hrs. Make a paste in blender with 1 tbsp sugar and the water it was soaked in.

Now add crushed ice + water + yogurt + rose water/essence and blend well.

Fill 4 glasses (half way) with crushed ice. Pour 1&1/2 tbsp or as desired Rose syrup in each glass. Add some fresh rose petals. Muddle a bit with the back of the spoon.

Pour the yogurt mix on top of the syrup. Stir well with stirrer. Serve chilled.
Notes
Please use organic rose petals, if using fresh, which are free from any pesticide spray. When using fresh rose petals, wash them and dry them either in direct sun for 2-3 days till they are dry or dry them on the kitchen counter top. Once they crumble to powdery texture, they are good to be used.
You may use ready made Rose syrup also.
You may use real Rooh-afza.
You may make thicker syrup by cooking till 1 thread consistency and use accordingly.
The added sugar quantity depends upon how tart your yogurt is.
Please do not use vanilla flavored yogurt.
The time mentioned (12 hrs 20 minutes) includes the rose petal soaking time. If you are using a ready made rose syrup, then putting this lassi together is a breeze.
Once you will make this lassi, especially with home made rose syrup, you will be addicted to it. It was so refreshingly good that my girls went for their seconds :).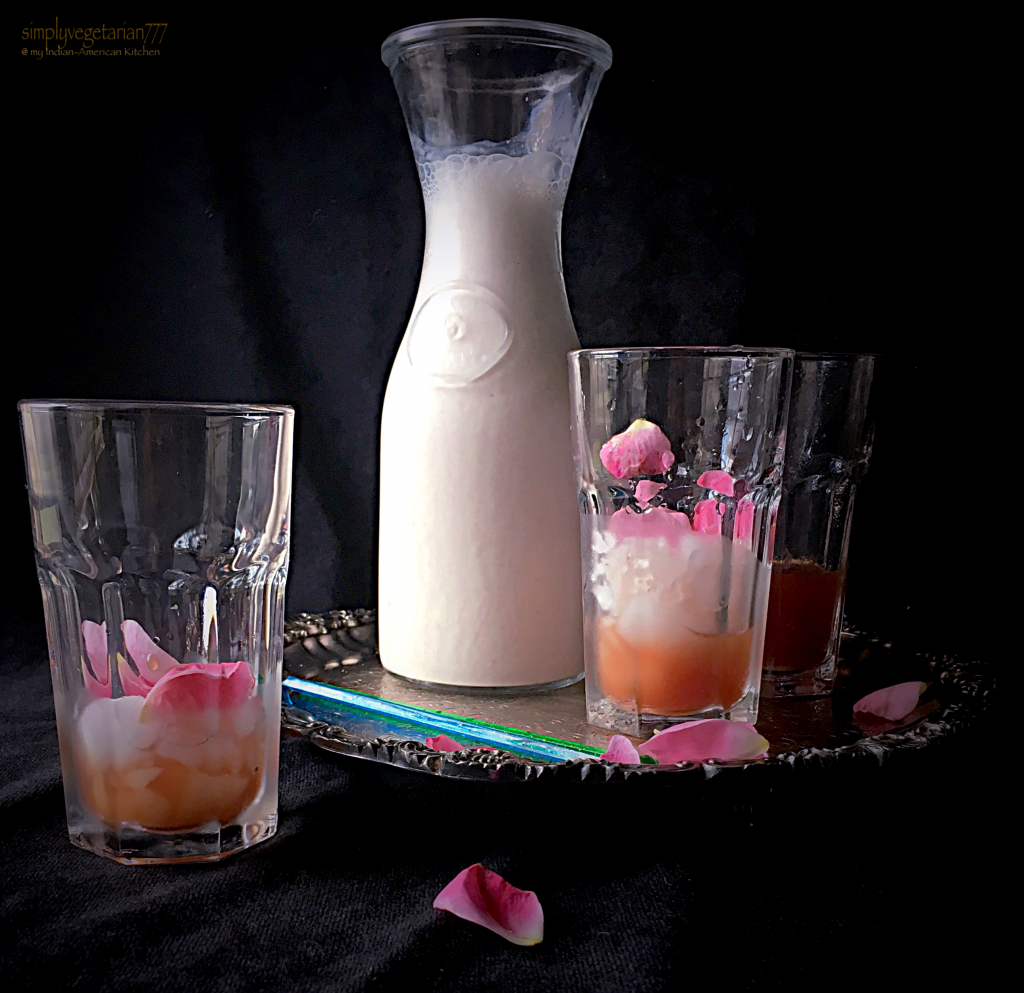 As I always say – EAT  DRINK HAPPY! STAY HAPPY!
Sonal