Cucumber Cilantro Yogurt Smoothie
As an Amazon Associate and member of other affiliate programs, I earn from qualifying purchases.
Cucumber Cilantro Yogurt Smoothie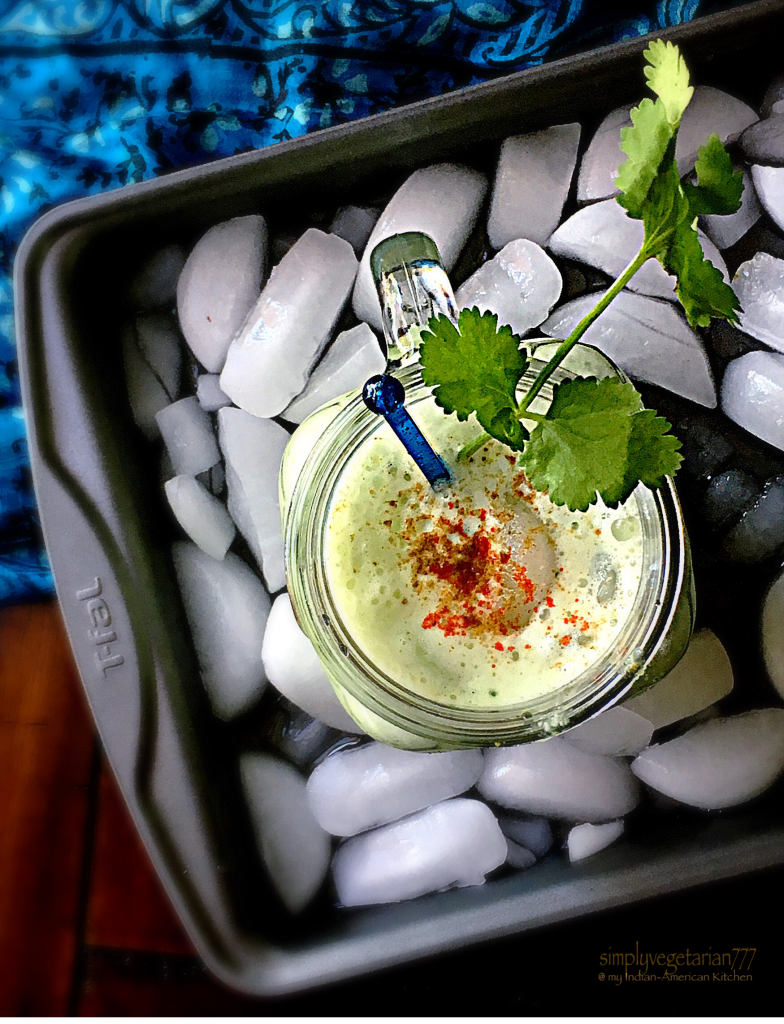 Cucumber Cilantro Yogurt Smoothie is absolutely a thirst quenching and a very cooling summer drink. The coolant cucumber and cilantro makes perfect combination to beat the summer heat. Yogurt being a pro-biotic is excellent for consumptioon to keep the stomach issue at bay, that summer heat can cause.
Cucumber is also called as Kheera or Kakdi in India. Yogurt is commonly recognized as Dahi or Curd and Cilantro is Coriander leaves.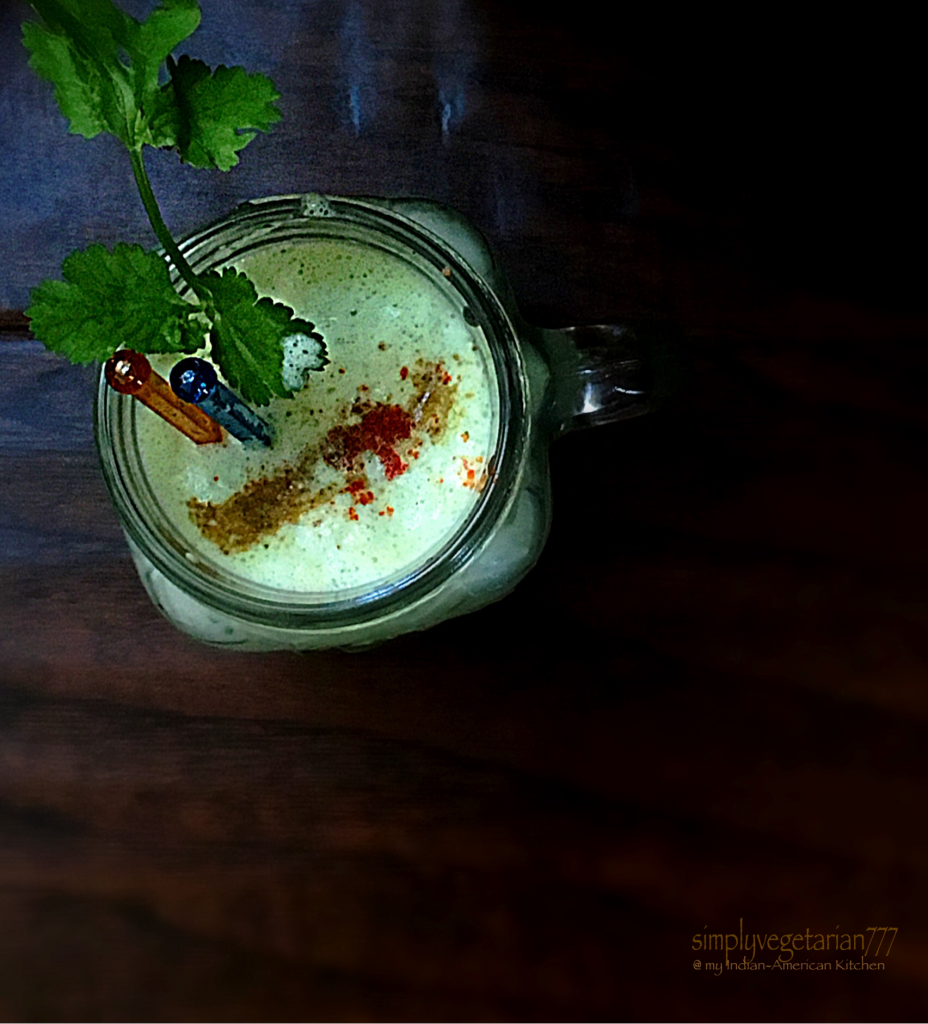 Do you know that Cucumber keeps you hydrated, fights heat both inside and outside, flushes out toxins, supplies you with required skin friendly vitamins and minerals, aids in weight loss. revives the eyes and much more. Cilantro is rich in fiber and anti-oxidants plus essential minerals and vitamins. Yogurt aids in good digestion and helps in weight loss. Like cucumber, yogurt is very beneficial for our body inside and outside. It is recommended as the top diet food for summers. Now imagine that when the 3 nutritionally rich ingredients are combined together in a smoothie, the benefits will be triple fold.
Cucumber Cilantro Yogurt Smoothie is perfect to entertain your guests as well over a lunch party or even a dinner get together. It is so easy and quick that no prior prep is required and can be made instantly.
A chilled glass of this divine cooling drink, and you can actually feel the heat escaping away from your body. I am not exaggerating, I promise.
Some other Summer Coolers from my blog are
This is how it is made. Get the recipe for Chaat Masala – here .
Cucumber Cilantro Yogurt Smoothie
A savory smoothie prepared with fresh cucumber and cilantro/coriander to beat the heat.
Ingredients
Yogurt - 1 cup

Cucumber - 1 medium size

washed, peeled and roughly chopped

Cilantro / Coriander leaves - handful

washed and roughly chopped

Ginger - 1 very small piece

Green chili - a very small piece

optional
Spices
Rock salt - to taste

Cumin powder

roasted - 1 tsp

Chaat Masala - 1/2 tsp

optional
Instructions
Take the blender. Add everything and blend it fine.

Fill four 8 oz glasses with ice cubes. Pour the blended yogurt smoothie evenly in 4 glasses. Adjust the salt accordingly. Stir and drink chilled.
Notes
This drink should not be made in way advance.
I would recommend to make it fresh, or an hour before at the most.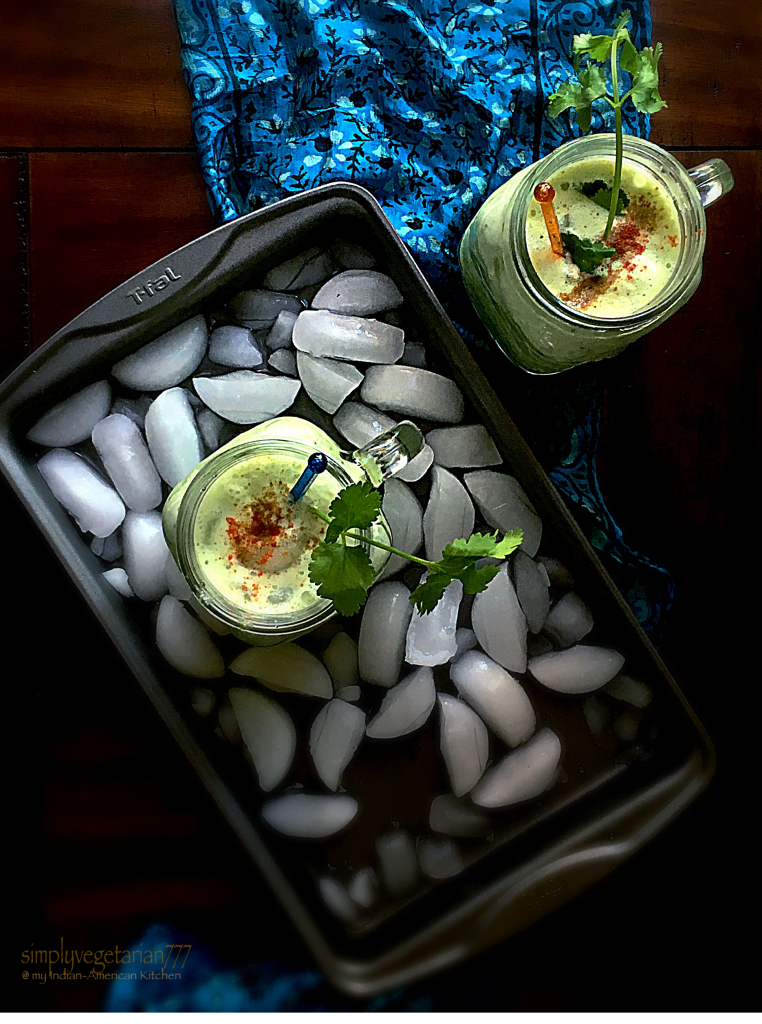 I had a great time blending this Cucumber Cilantro Yogurt Smoothie in my Indian American Kitchen. My family and I enjoyed this deliciousness. I bet you will churn the same in your blender and enjoy a good chilled drink.
Eat Happy! Stay Happy!
Sonal