Soy Tandoori Curry : Soy Nuggets marinated and then cooked in a curry
As an Amazon Associate and member of other affiliate programs, I earn from qualifying purchases.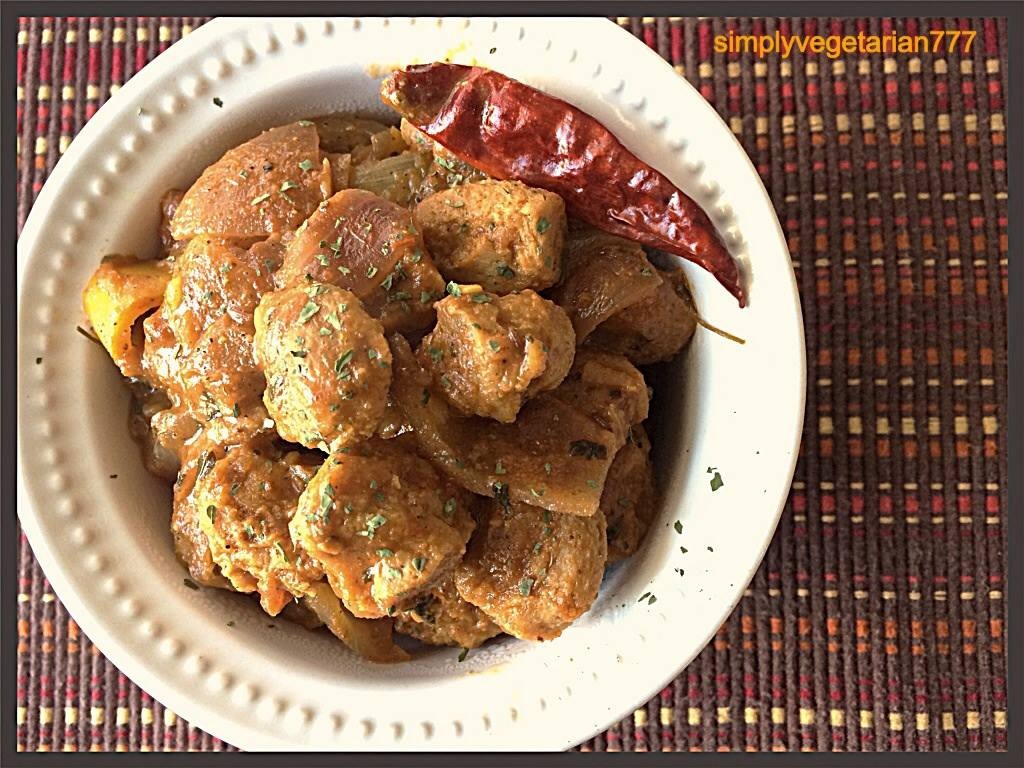 I use a lot of Soy nuggets in cooking. Soy nuggets are dried nuggets made with soy and when rehydrated are spongy in texture. The chewy and soft spongy texture is perfect for absorbing all kinds of flavors when marinated. This was the first time, I experimented the soy chunks with marination and can't tell you how glad I am that I did :). Just out of this world.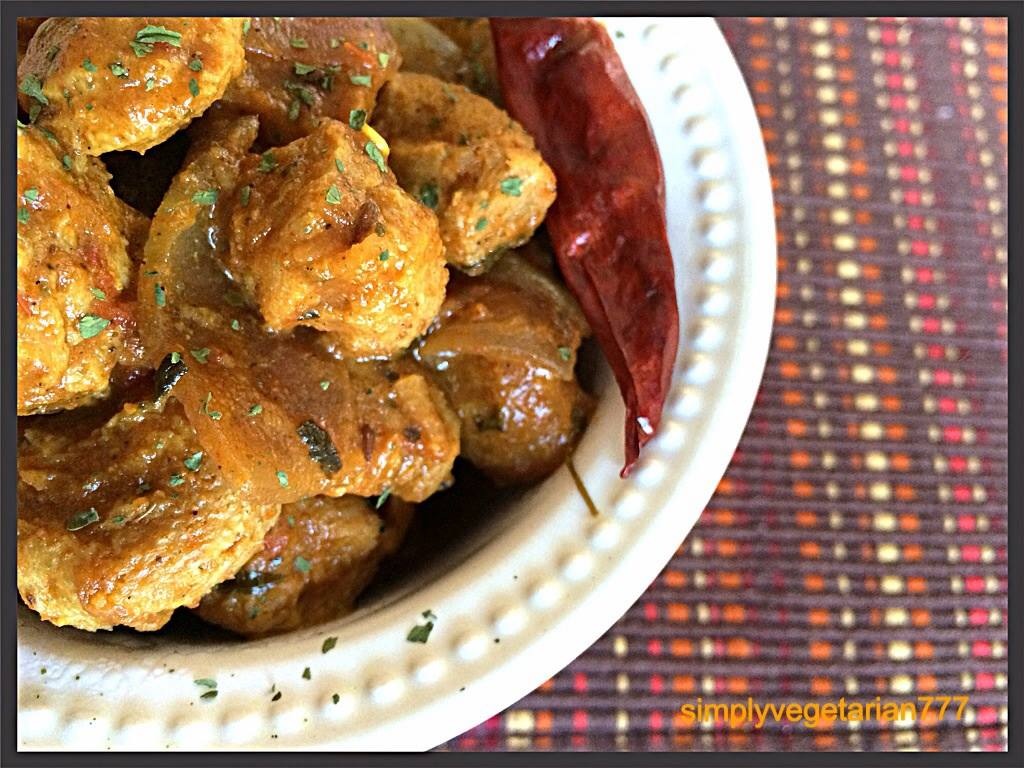 I believe that there are other recipes with such name but I promise this was my experiment in the kitchen. And till late I thought it was my invention till somebody said that they make it often, naive me :)..lol! Here, I resonate with my "original" thought again that "what exactly is original these days?" Sigh ….ha never mind. Great minds can think alike…right ? 🙂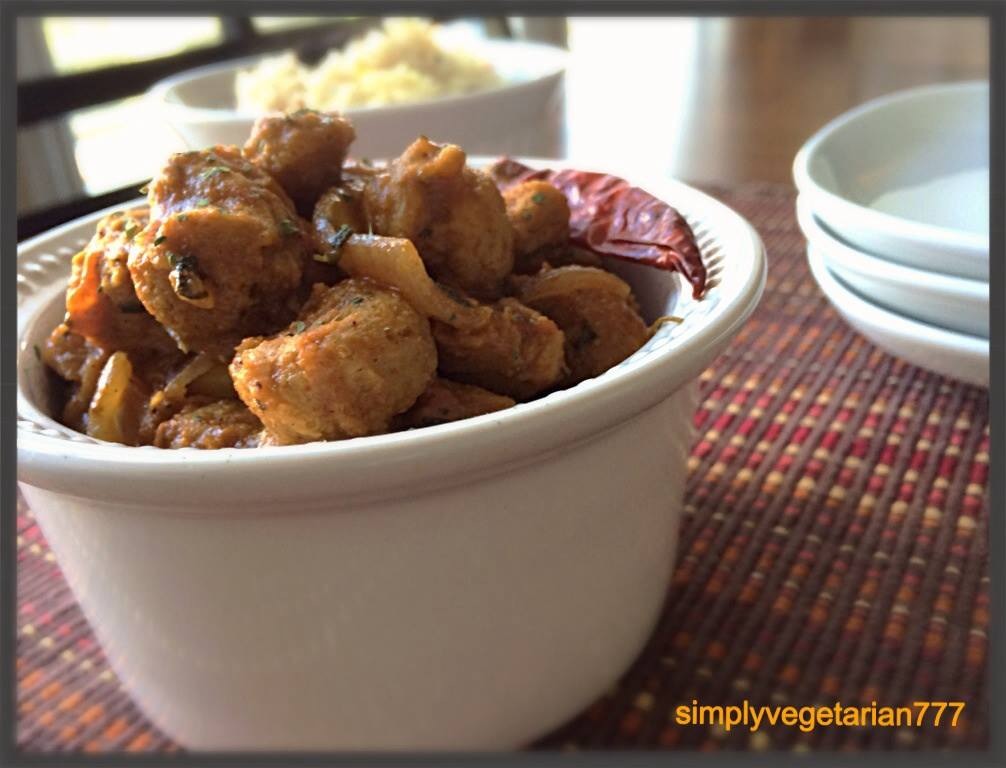 I am bringing this dish for all my readers on blog as well as on my Facebook to enjoy over the weekend with some delicious Naan or some Pulav/Pilaf. I just realized that I haven't posted a simple vegetable pilaf yet. That's the next on my "to post" list for sure.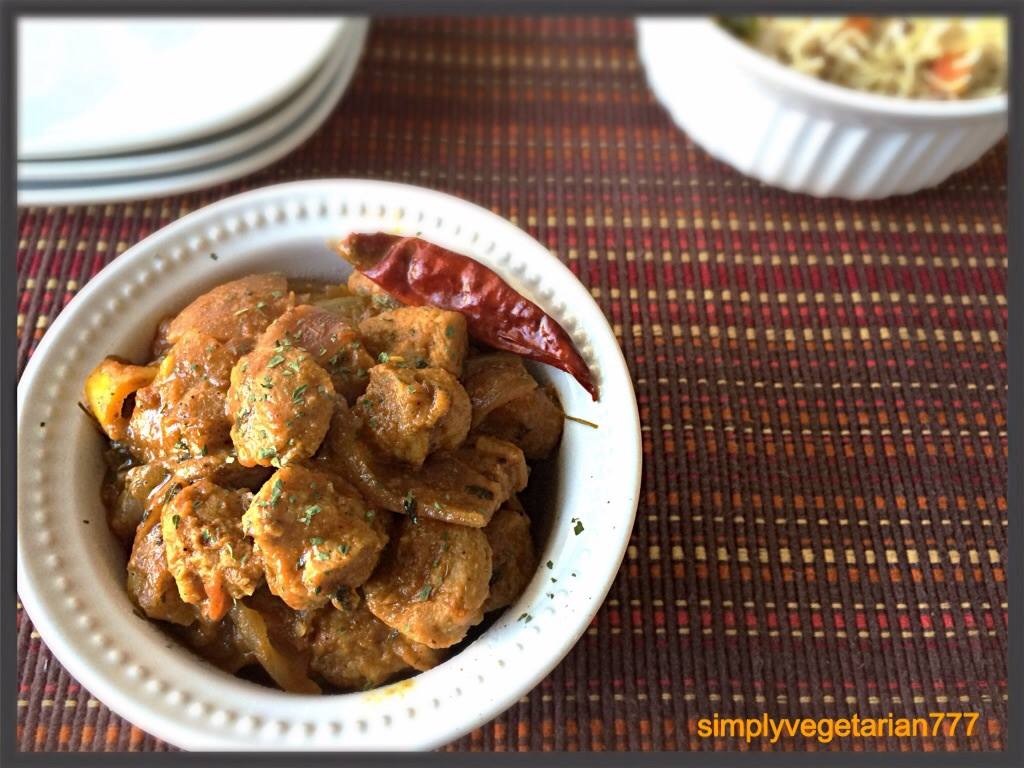 This is a little long recipe but not complicated at all. I am going to break this recipe in steps for convenience. Let's get straight to the recipe now. Are you ready?
Soy Tandoori Curry
Servings: 4
Difficulty: medium
Ingredients :
Soy Nuggets, dry : 1 cup approximately
Oil : 1&1/2 tbsp
Onion : 1/2 cup chopped in small squares
Bell pepper/Capsicum : 1/2 cup chopped in small squares
Tomato Onion Paste : 3 tbsp. I normally make a good batch and store in fridge for use as required.
Red chili powder : 1/4 tsp or to taste
Garam Masala : 1&1/2 tsp or to taste. You may use curry powder in absence of garam masala. For recipe, click here
Kasuri Methi : 1 tsp crushed, optional
Salt to taste
Marinade
Marinade Ingredients :
Yogurt : 1/4 cup, thick and low fat preferred or you may use any that is handy.
Tandoori Masala : 1&1/2 tsp heap full or as per taste. It is spicier than curry masala. Here is Namrata's recipe for Tandoori Masala. I use MDH or Shaan brand. Or you may use Garam Masala instead.
Ginger : 1&1/2 tsp grated
Garlic : 1&1/2 tsp grated
Salt : 1/2 tsp
Method :
Soaking and Marinating the Soy Nuggets :
1. Soak the dry soy nuggets in warm water for 1/2 an hour.
2. Prepare the marinade by combining all the marinade Ingredients together and mix them well.
3. Drain the soy nuggets from water. They must have doubled by now in size and must have become soft and spongy in texture.
4. Add the drained soy nuggets to the prepared marinade. Mix well so that the marinade covers the nuggets. Cover and let sit at room temperature for 2 odd hours.
Preparing the Tomato Onion Paste and Assembling the other ingredients :
1. Meanwhile you can prepare the Tomato onion paste as given in the link above. You can prepare it in good quantity and use in different curries. It is a basic curry paste use in lot of dishes.
2. If you plan to make the home made spice mixes for Tandoori and Garam Masala, then prep for that. It won't take more than 15 odd minutes.
Preparing the Curry :
1. Once the soy nuggets are marinated for 2 odd hours, start the process.
2. Heat the oil in a broad pan. Add onions and bell peppers to the hot oil and sauté for 5 minutes on medium flame. The onions will be soft and pink.
3. Add the Tomato Onion Paste to the sauté along with the other spices and mix well. Cook for 2-3 minutes on medium flame.
4. Now add the marinated soy nuggets along with the marinade leftover. Mix well. If the yogurt has left water and the curry looks enough watery then no need to add any extra water. But if the curry looks dry, then add 1/2 cup water and adjust the seasoning with salt and Garam Masala.
5. Cover and cook on medium low flame for 10-15 minutes, till everything looks happily married.
6. Take it off the flame, garnish with fresh cilantro if you want or add more Kasuri Methi for more aroma. The curry is ready.
Note : The curries like this taste better in the next meal :), since they keep absorbing more flavors and juices for as long as they can sit in their spices and juices.
Taking this dish to Angie's fiesta Friday .