13 Year Old Girls' Birthday Party Idea at Home, in the Budget
As an Amazon Associate and member of other affiliate programs, I earn from qualifying purchases.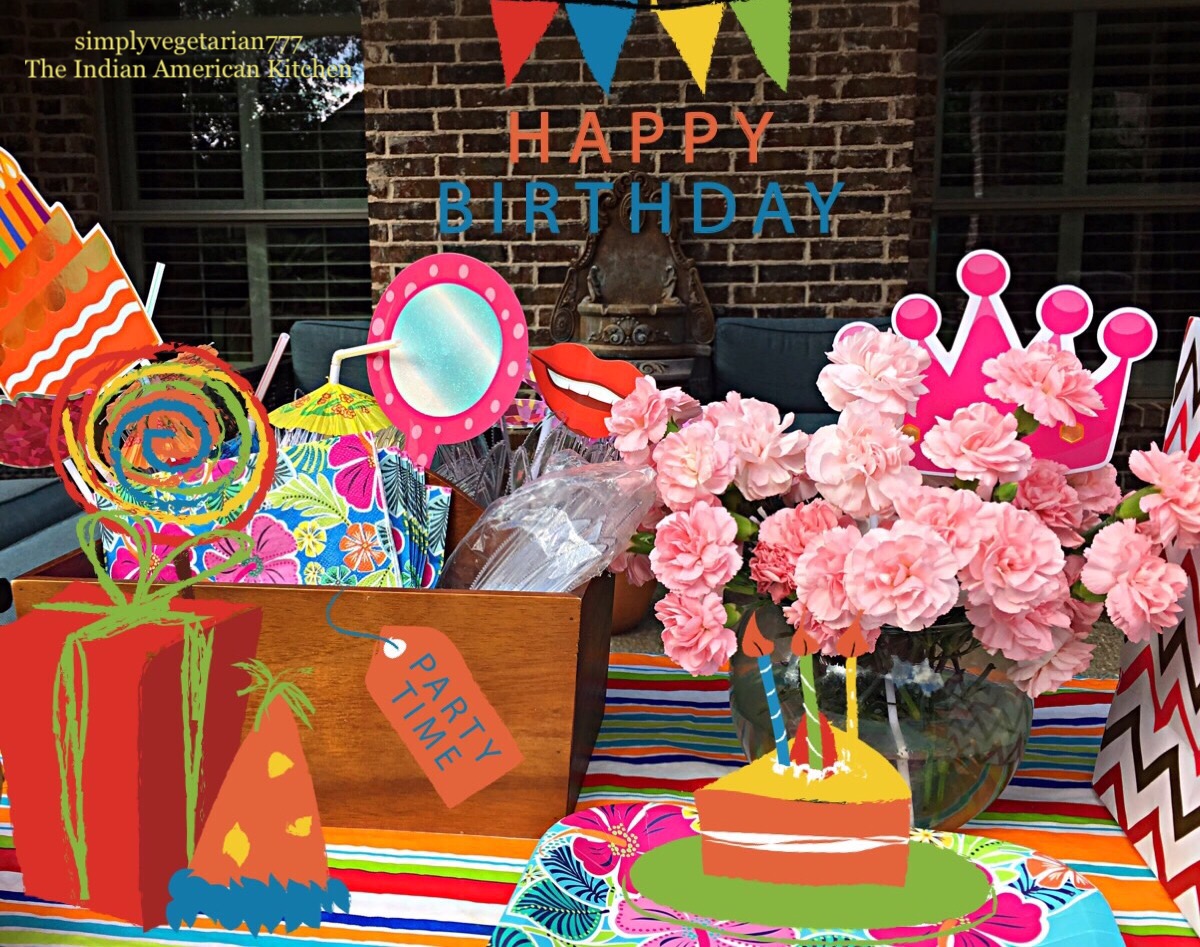 This post about 13 Year Old Girls' Birthday Party Idea at Home, in the Budget talks about the planning, execution and complete budgeting for  a birthday party. You can take this post as a base and elaborate your ideas on that.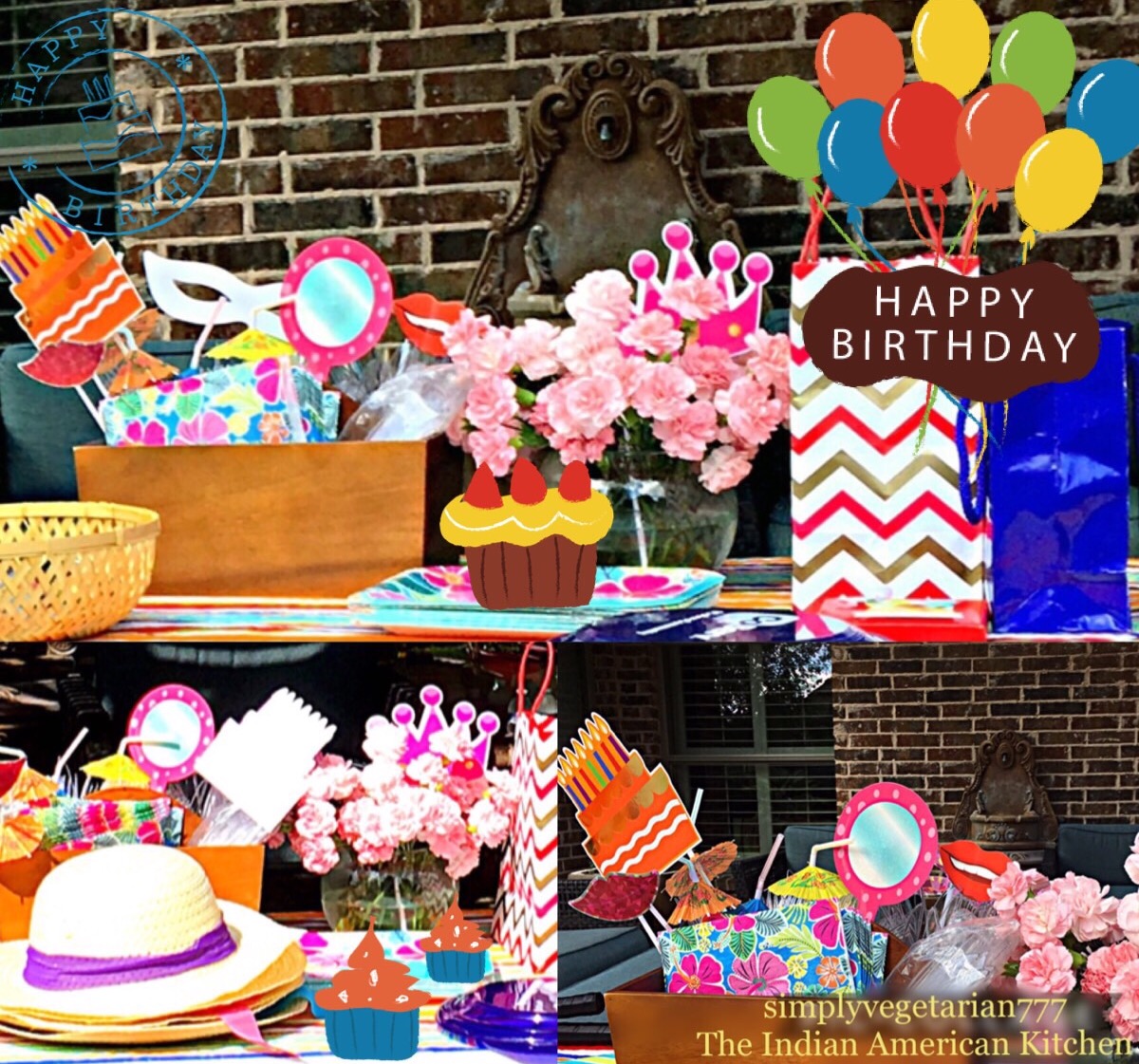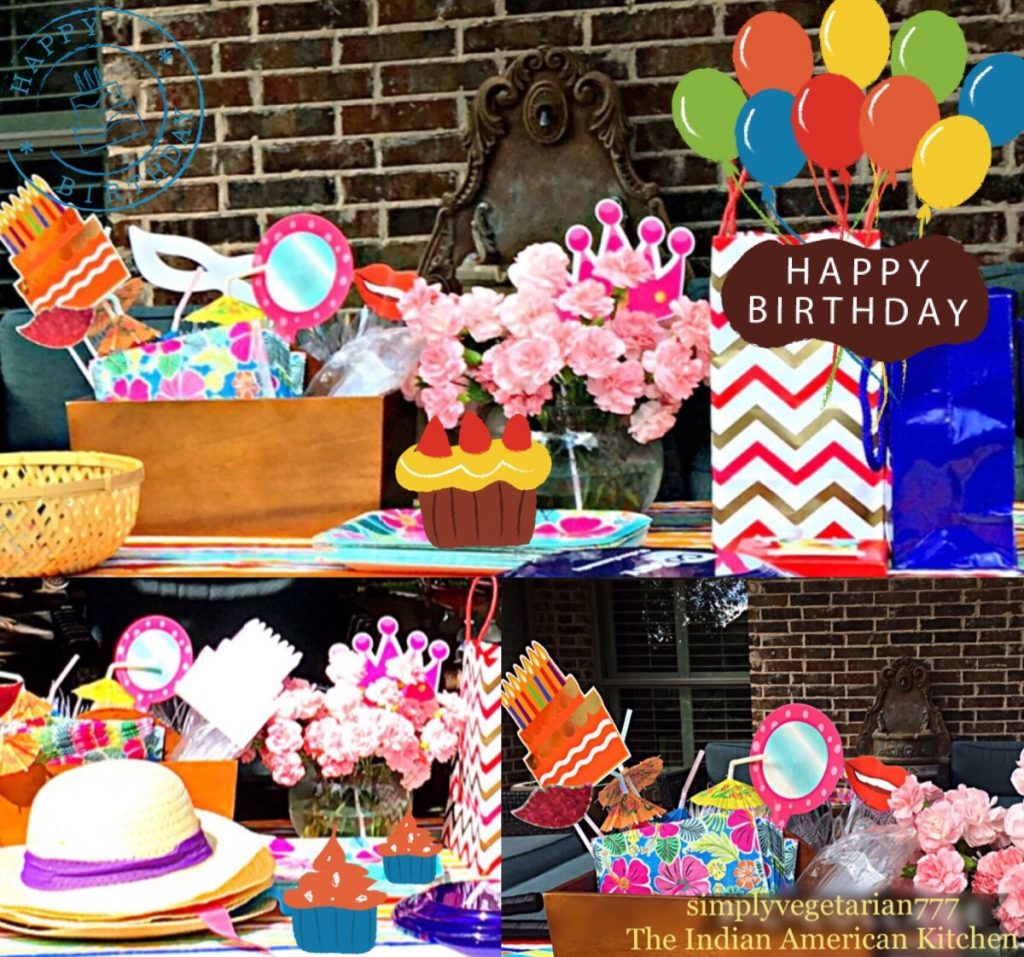 The Best 13 Year Old Girls' Birthday

Party Idea at Home,

 in the Budget
Last week, my older daughter Aanya turned 13. Yes, she is a TEENAGER now. She is a great kid with a little bit of sass, a lot of wits, good amount of wisdom for her age, high self-esteem and for her petite frame, she stands very tall for herself.
And here I am posting "13 Year Old Girls' Birthday Party Idea at Home, in the Budget" like a rookie. So just bear with me. It might not be the best-written planning post but would come handy when you have beginner's jitters to plan a simple yet fun party for your young lady!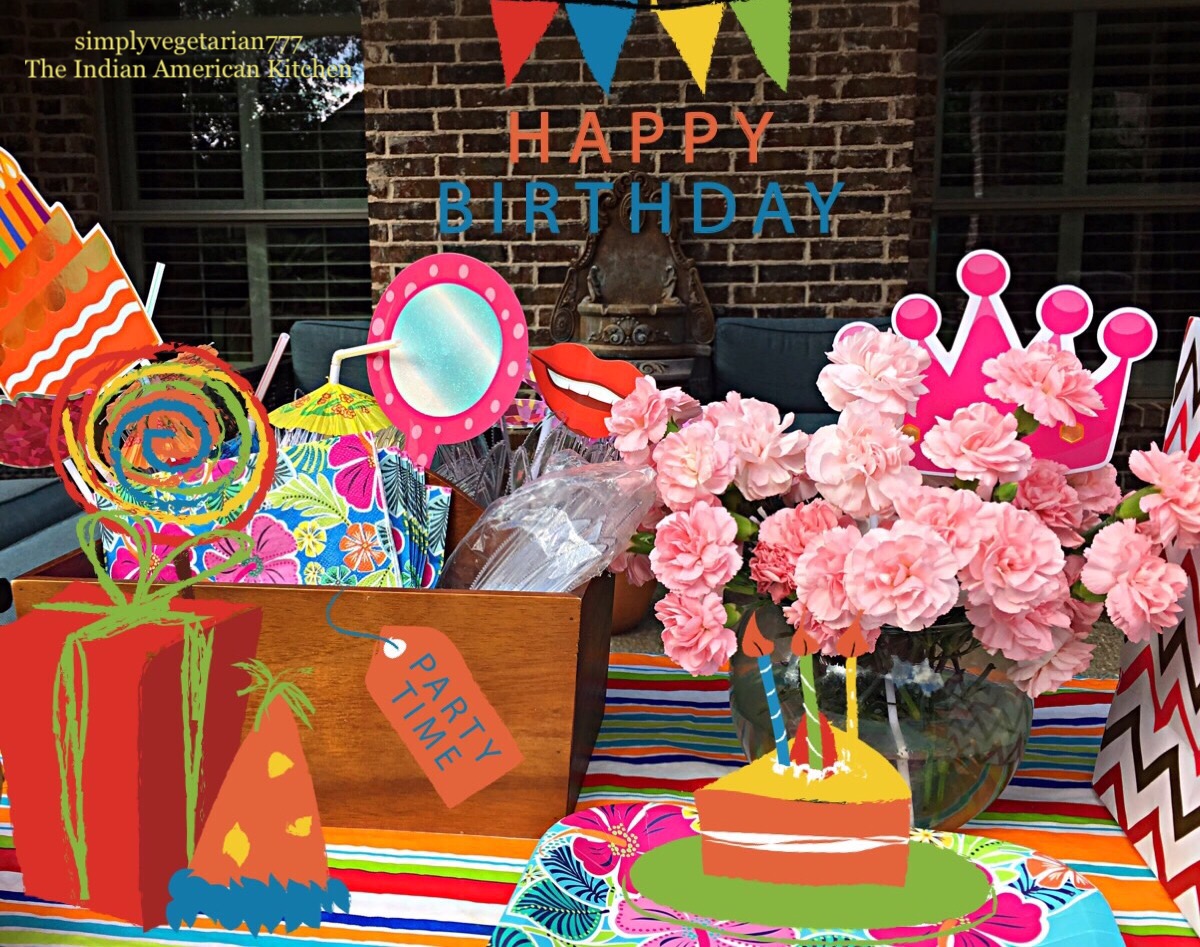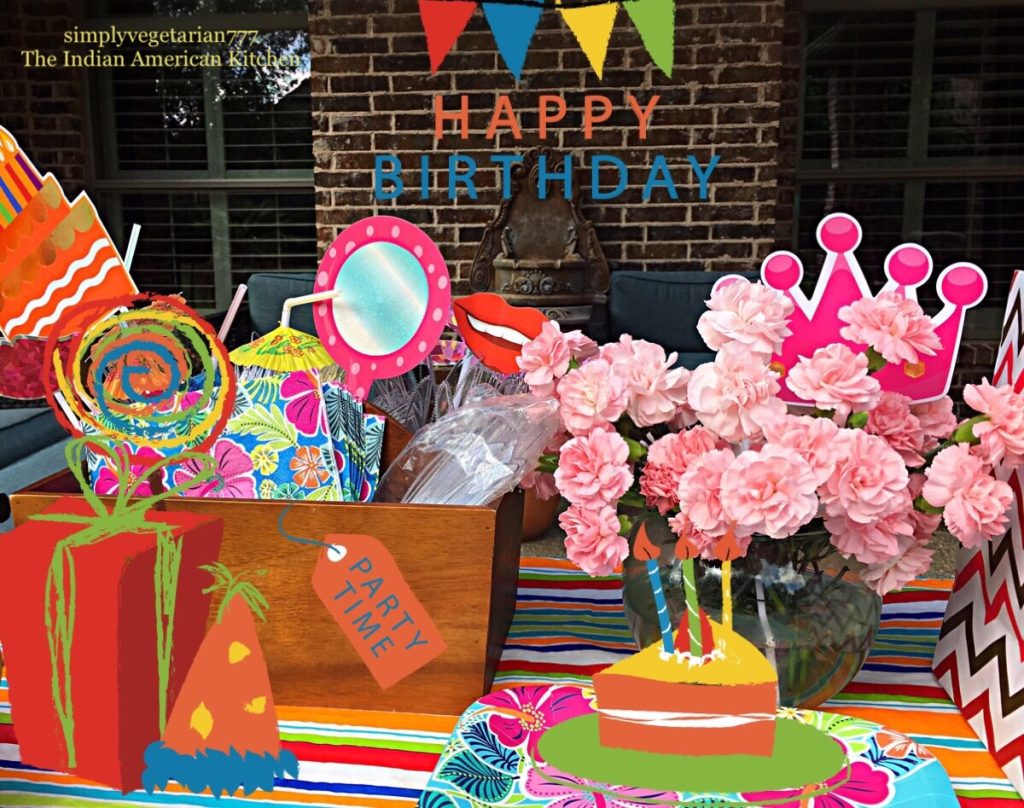 Aanya makes me so proud of the young lady she is turning into. Being an Indian American, she speaks HINDI fluently with no foreign accent. As American as she is, she flaunts her Indian genes effortlessly and with pride. Her smiling eyes brighten up my day.


For her 13th birthday, I wanted to do something special and something that is personal too. For the longest time, we have had her birthdays celebrated outside, since she was 3, or one time at home when she turned 9. I had petting zoo at home and we ordered PIzza!
And I did it. I planned a party of 17 kids and 4 adults at home. 13 of those guests were 12-13 year old Girls. If you ask me, I was nervous and very apprehensive to begin with the idea.
The thought of 13 teenagers at home was kind of bit scary. But thank GOD, the kids were so well behaved and had an awesome time at the birthday party.


Here is what I did to make this party a Teenager Girls' happy and successful party at home and that too in the budget of approximately under $10.00 per person.
GROUND RULE – I did lay some ground rules with the Middle Schoolers with their phones. There is so much that happens, which we as parents would deny admitting that our kids can be a part of. Therefore it is always better to be a slightly BAD POLICE than the one who regrets later.
I think that was the only PARTY RULE that I requested. When all the girls had arrived, I requested them to USE THEIR PHONES RESPONSIBLY. No texting from each other' phones and no sending anybody's pictures to anybody without the consent. You may call me crazy but I honestly do not want any melodrama later on and dealing with the moms later.
The 3 stores that I shopped for the party supplies and food are – WALMART, DOLLAR TREE and our Local TOM THUMB , to keep my party under budget.
If you are making a face at the name of the stores, then I would like to throw some light here – there is no better place to shop for party supplies than DOLLAR TREE, unless your game is very ambitious with extra ordinary theme.
My daughter's party was Outdoors and relaxed party with some fun stations going on. You can completely plan this party indoors. Most important part is that keep it low key and let the kids have fun.
Though the post is talking about 13 years old girls but it can be adapted for the birthday party for any age group. It is kind of a ROOKIE POST but I thought it would help out few moms if not many to get the party started.
The Generic brands of the local store have no ingredients difference, whatsoever, especially for the Chips and drinks. To tell you the truth, the Ingredients list is much simpler in the generic store brand than the high end brand chips and drinks!
Don't believe me? Next time when you go, just pick 2 packs of one generic brand and the other "branded one and compare!
---
ENTERTAINMENT & ACTIVITIES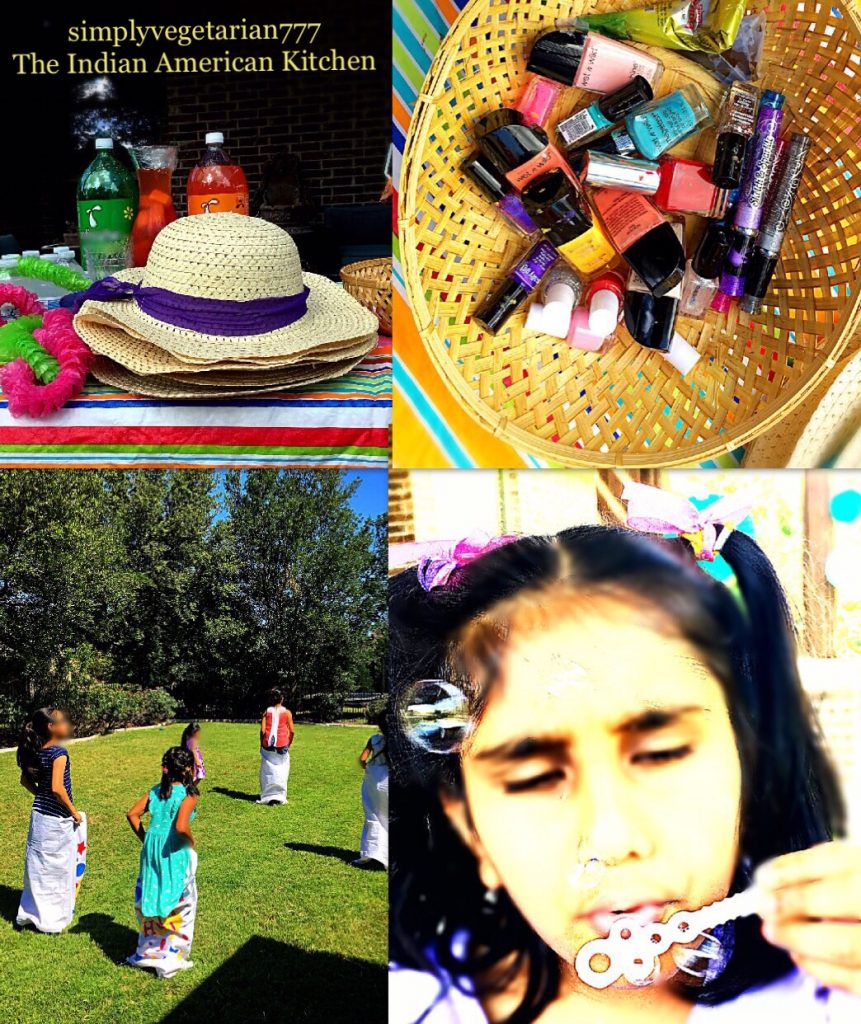 These were the different activities that I included in a span of 4 hours of entertainment. I had kept the arty open ended with no particular agenda. I wanted the girls to feel relaxed and have fun and not looking into what next. It was like extended Hanging Out, but at home.
NAIL & HENNA center – Got few summer shades of Wet & Wild nail paints for 0.99 cents each. Girls had a blast coloring each others' nails. I could see some nail paint got transferred to water bottle lids in exaggertaion. 😀 .. Henna cone costs approximately $2.99 and it runs a mile long. Thanks to Ruchita for entertainig the girls with Henna.
DESIGN YOUR OWN T-SHIRT center was another hit. I picked up the T shirts from WALMART from clearance (Woman Xsmall sizes for 13 year olds). Most of the Tsirts costed $1.00 each at clearance. The fabric markers were $12.99 at walmart for a pack of 12. There were cheaper colors too. So you can pick per your budget.
Miscellaneous fun activities included – Sack Race, Blowing Bubbles, Hula Hoop, Frizbee, Badminton, Volley Ball. Dollar Tree was that stop where I picked most the miscellaneous things. In case you do not have the sack race kit, use large trash bags for the race. Girls had so much fun doing that with giggles all the way. Blow Bubbles were another hit. You would think that these are teenagers but there is a toddler hidden in all of us, even these young adults.
I got some straw hats + Lei Garlands + Party sun glasses  + Photo booth props from Dollar Tree. These were so handy with the girls. Girls love props and dressing up and goofing around. It was just perfect. You can not beat the Dollar Tree prices for open ended summer parties. When you pay $1.00 per pack, it is such a good feeling. These became the take away gifts also, in case anybody wanted to. The beautiful Paper Lanterns form Dollar Tree added to the color. The aqua in these, brought a little bit of beach at home.
The blasting party Music was the hot favorite with the girls singing and dancing to the rhythm. We played a mix of Hollywood and Bollywood Songs. Later, I accepted the song requests from whoever wanted their song to be played.
For Cupcake Decorating Party Idea for little girls, Click here!
HERE IS THE ITEMIZED BREAK DOWN OF THE COST OF ENTERTAINMENT AND FUN ACTIVITIES.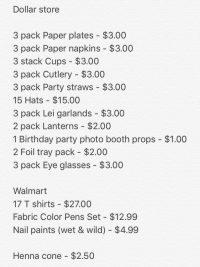 ---
ALL VEGETARIAN BUFFET MENU, MADE AT HOME AND UNDER BUDGET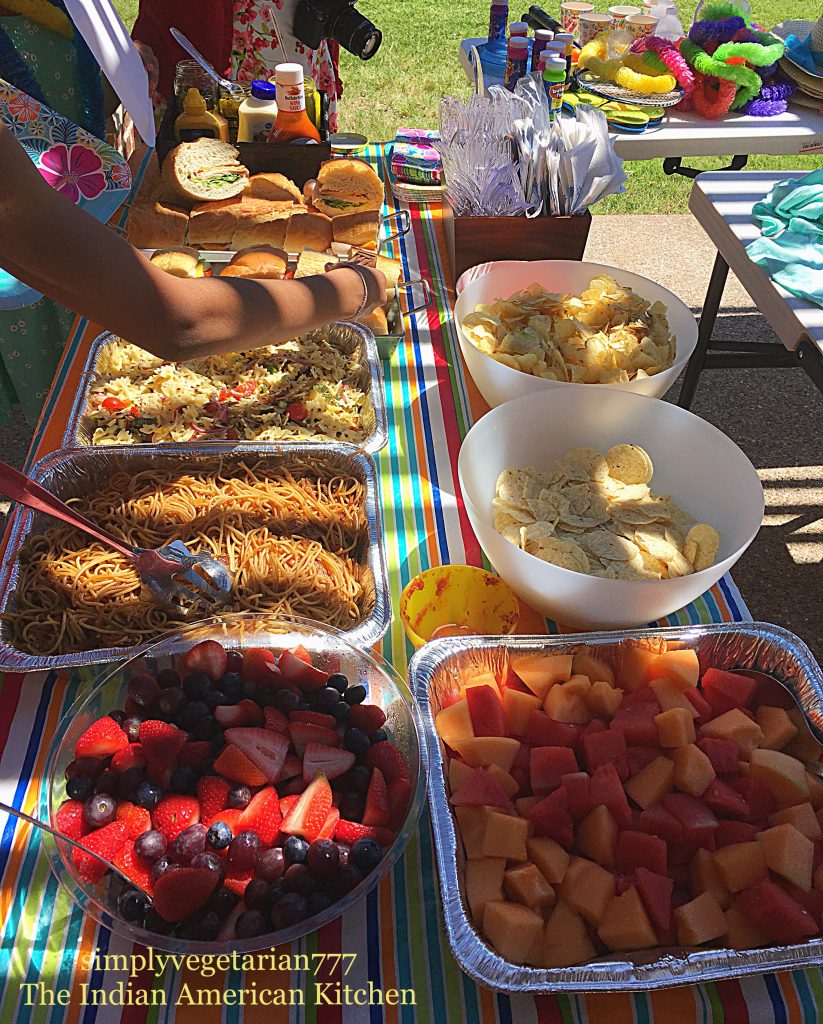 I had kept the menu very simple with limited entries. MY husband had suggested pizza but I denied it completely. If the kids are partying at home, then the food is going to be home style too. So, this was the menu for the party.
Deli Style Vegetarian Baguette Sandwiches
Cold Pasta Salad
Veg Hakka Noodles
Potato Chips
Tortilla chips and Salsa
Carrot sticks
Fruit Salad
Fruit Punch
If you are looking for Menu details, then here it is with the amount that it costed me for 20-25 people versus if you order these from the restaurants or deli. You will be surprised at how much you will save at the end, with little planning in advance. I prepped most of the things a night before besides the sandwiches.
Deli Style Vegetarian Baguette Sandwiches
I prepared these sandwiches on the day of the party in the morning and cut them into individual portions before serving.
Ingredients – 7 Italian large (12″) Baguettes + 1 Lettuce head + 15 Cheese slices cut into triangles, 2 red onions, 4 medium tomatoes, 3 large cucumbers + 2 Cream cheese tubs (whipped and at room temperature) + Italian seasoning. [Optional Garnish – jalapenos, pickles, bell peppers etc.]
Method – Slice the full baguettes into halves horizontally, leaving them intact at one end. Do not cut them through. Spread Cream cheese on both the sides. Layer with Lettuce, onions, tomatoes and cucumbers and cheese triangles on the top. Sprinkle with Italian seasoning. Cling wrap them tight and refrigerate the foot long. Cut each baguette sandwich into 5 portions before serving.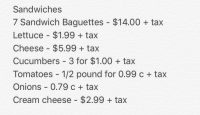 Cost for me – $27.75 for 35 sandwiches.
Cost from Deli / Super Market / Restaurant – $29.99 approximately for 9-10 people serving.
Cold Pasta Salad
Ingredients – Mini Bow tie pasta (you may use mini penne or shells), cherry tomatoes, onion, celery, olives chopped (canned), Home Made Dressing.
Method – Summer Pasta Salad <——– Refer to this recipe by clicking on it.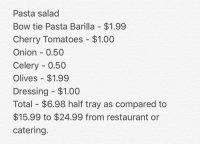 Cost for me – $6.98 for 1/2 tray.
Cost from Deli / Super Market / Restaurant – $15.99 to $24.99 for half tray.
Hakka Noodles
I cooked the vegetables and noodles separately, a night before. I added oil in the drained noodles to avoid the sticky texture. Kept them in the refrigerator over night. On the day of the party, I heated a large non stick pan and mixed the vegetables and noodles before serving. Heated them up together and tossed well. Served it warm.
Ingredients – Thin Spaghetti (it gives the best texture for any noodle dish and easier to handle too), Cabbage coleslaw packet, onions, soy sauce, hot sauce, vinegar, ketchup.
Method – Hakka Noodles <——– Refer to this recipe by clicking on it. Instead of individual vegetables, I have used a bag of Coleslaw for efficient and quick cooking.
Option – In case you want to serve COLD NOODLE SALAD, here is the recipe for that —–> Cold Noodle Salad.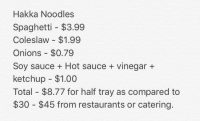 Cost for me – $8.77 for half tray.
Cost from Deli / Super Market / Restaurant – $30-$45 for half tray.
Punch 
This is the easiest thing that you can ever make for your parties and takes absolutely no time. I mixed the ingredients at the party and the girls loved it.
Ingredients – Tom Thumb brand (Refresh) Lime Soda and Orange Soda + Frozen MIxed Fruits.
Method – Take a huge jar and add all the 3 ingredients and SERVE! No need to add ice since the fruits are frozen.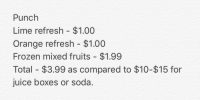 Fruit Salad
This I prepared a day before and refrigerated till ready too serve. It was gone in no time, given the warm day outside.
Ingredients – Personal Size Watermelon and Cantaloupe or melon, strawberry, blueberry, grapes.
Method – Peel and slice the watermelon and cantaloupe into smaller pieces. Take a large bowl or aluminium tray and add the melon slices and halved strawberries with leaves removed, blueberries and grapes. Toss well. Cover and Chill.
Cost for me – $10.97 for 20 people.
Cost from Deli / Super Market / Restaurant – $30-$40 for that many servings.
Potato Chips – Walmart Great Value Brand Party SIze 16 ounce bag for $2.98 as compared to $2.50 for 13 ounce bag of premium brand like Lays etc. The ingredients listed at the back of Great Value are much lesser than premium brand and natural.
Tortilla Chips – Walmart Great Value Brand Party SIze 32 ounce bag for $2.98 as compared to $2.50 for 13 ounce bag of premium brand like Lays etc. The ingredients listed at the back of Great Value are much lesser than premium brand and natural.
Salsa – Walmart Great Value Brand is $1.98 as compared to $3.98 for any branded salsa.
Baby Carrot sticks – $1.99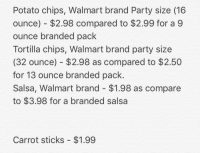 I spent approximtely $170 including 8.25% tax for the party. I have not included the cake price here since I indulged in Custom cake for my new TEENAGER! Cake possibilities are endless and will vary as per your budget.
I really hope that this post was helpful and not too dragging! Feel free to ask questions. If you are not tied to the budget, then you can certainly take this idea to any level and personalize it. It can provide the basic sketch for your party to jump start your planning.
Sonal