Arbi ki Chaat / Colacasia Fry
As an Amazon Associate and member of other affiliate programs, I earn from qualifying purchases.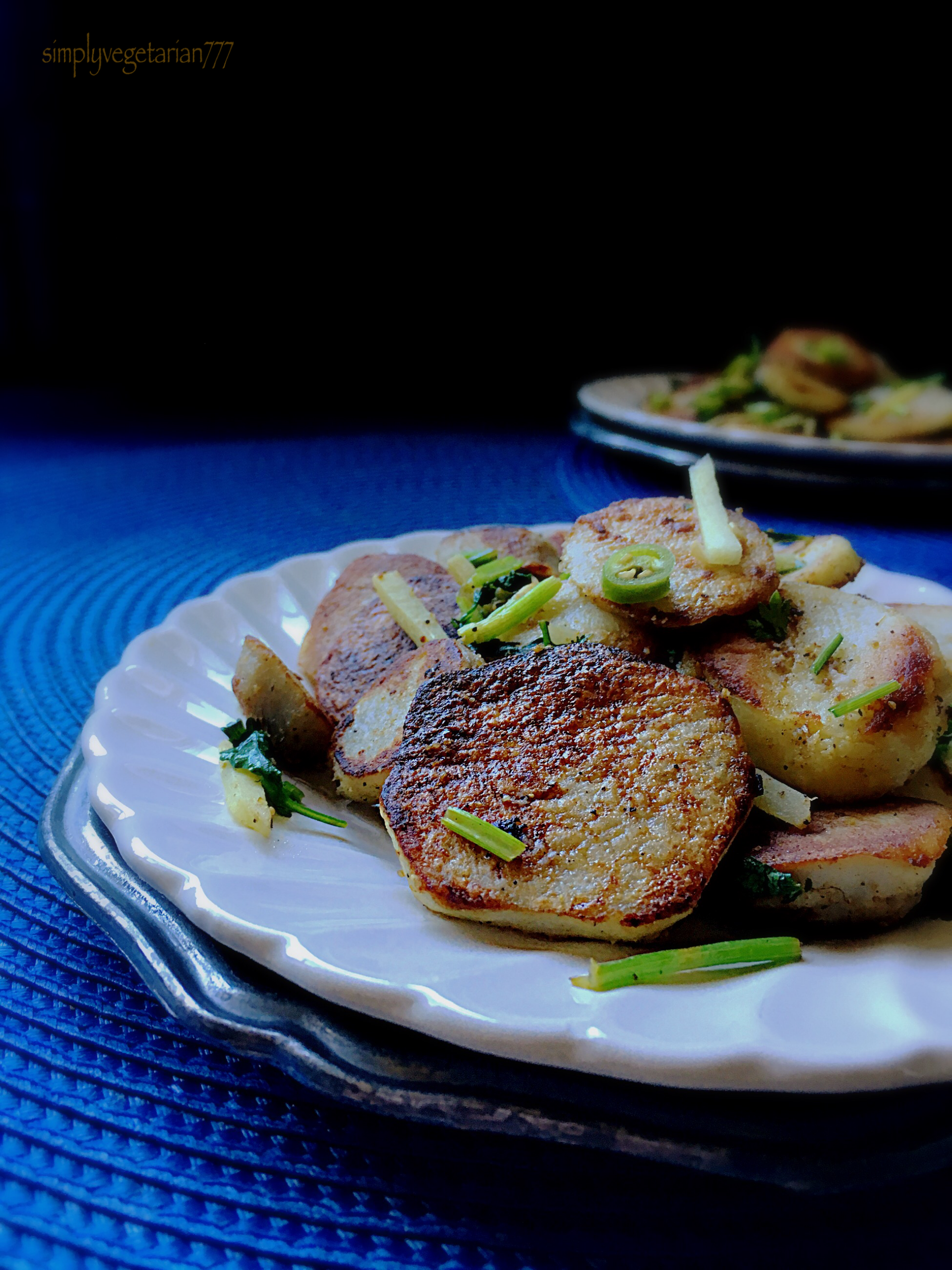 Arbi ki Chaat / Colacasia Fry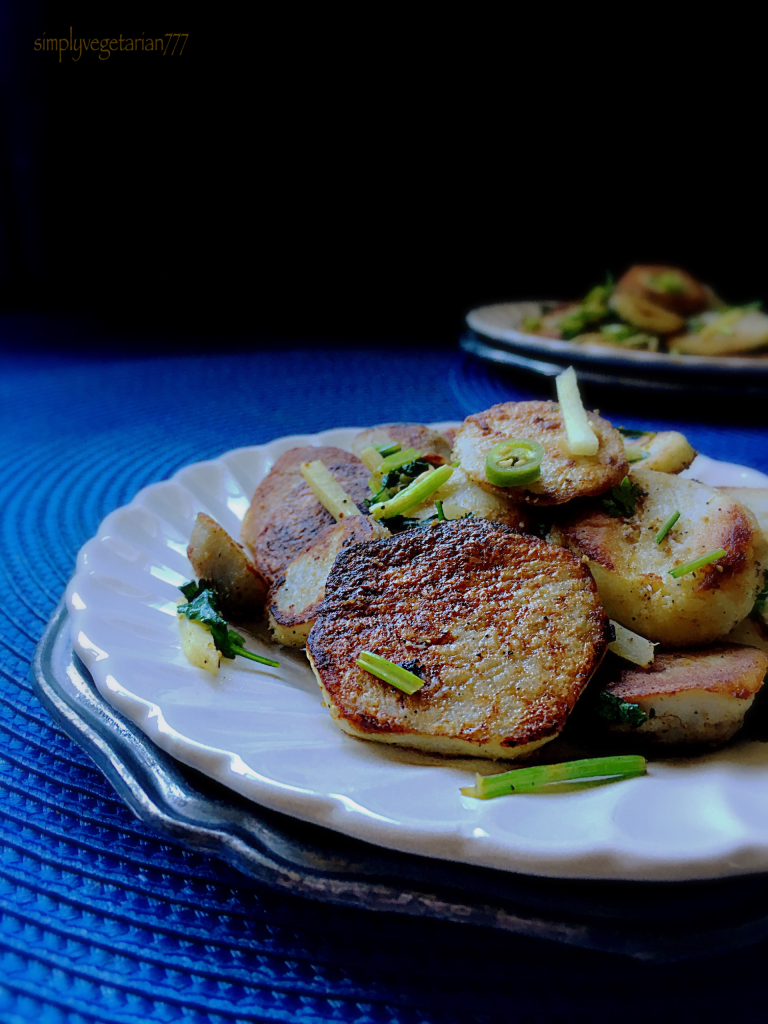 Arbi or ghuiya is a hit and miss root vegetable with many people. Some people like me adore it and can eat it in any form and there are people like my husband, who won't touch it. But I cook for myself too. Yes! And I admit it with pride.
It is commonly known as Colacasia and Taro root in other parts of the world. It has huge leaves which resemble elephant's ears and are used for culinary purpose too. South Asian and African countries use this root vegetable a lot in their cooking.
Chaat is local street food! Spicy! Salty! Delicious! Filling! Comforting!
Arbi or taro root is signifcantly high in dietary fibre as well as carbs. It also contains high levels of Vitamin A, C, E, B6 and Folate as well as magnesium, iron, zinc, phosphorus, potassium, manganese and copper. It is a complete vegetable in a way, though not a good source of protein. No wonder, it is advised to be consumed during Fasting Season. 
"Life is already complicated, Recipes need to be simple.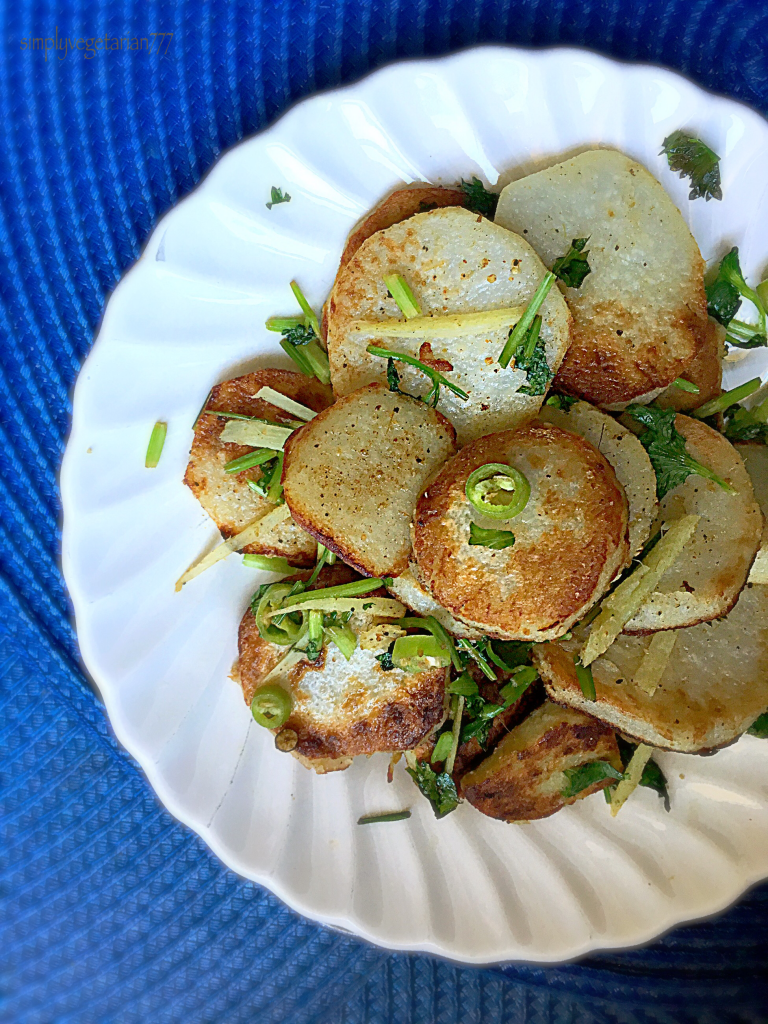 Some other Fasting recipes from my blog are – Navratri dos and donts , sabudane ki khichdi , Lauki kuttu ke kofte , kuttu ke paranthe and many more.
This is how I made it!
Kitchen Equipments Required
pressure cooker or pot with lid, a big heavy bottom pan or non stick pan, stirring spoon, chopping board and knife, mixing bowl.
Arbi ki Chaat / Colacasia Fry
Easy recipe using colacasia / arbi.
Ingredients
Arbi / Taro - 6 to 7 medium

Oil - 1 tbsp

Cumin powder

dry roasted - 1/2 tsp. Refer notes on how to make it at home.

Black pepper powder - 2 fat pinches

Cloves

powder - a small pinch

Salt to taste. I used Sendha namak or rock salt.

Green chili - 1 small

chopped fine

Ginger - 1 small piece

sliced thin

Cilantro / Coriander leaves - 2 tbsp

chopped fine

Lemon juice of a small lemon
Instructions
Wash the Arbi / Taro Roots. Pressure cook them with their peel in little water for 1&1/2 whistle. Switch off the flame. Once the pressure is released, open the cooker, drain water. Set the boiled Arbi aside. Cool them for 10 minutes. Peel them. We are looking for partially boiled taro roots. They should not be mushy after pressure cooking. We want a sturdy texture at touch.

Heat the oil in pan. Meanwhile cut the boiled and peeled Arbi into thin discs. You may slice these like potato fries as well.

Lower the flame to medium high and place the cut Arbi pieces in the pan. Space them out evenly. Cook them from both the sides till they crisp up. Look at the pictures below. It will take good 6-7 minutes.

Place these crisp slices of Arbi in the mixing bowl.

Add all the above ingredients as mentioned above to the bowl. Toss them together.

Serve warm. You may add a little bit of green cilantro chutney and pomogrenate pearls as well.
Notes
Use of pressure cooker is a good practice. It saves time, energy and is more efficient.
How to make Roasted Cumin Powder - Dry roast the cumin seeds on low flame till toasted. Cool them to room temperature. Grind into fine powder and store in air tight container. It is a great addition to fruits salad and vegetable salad.
You may use potatoes in place of taro in this recipe.
Pictures showing how to cook Arbi in the pan.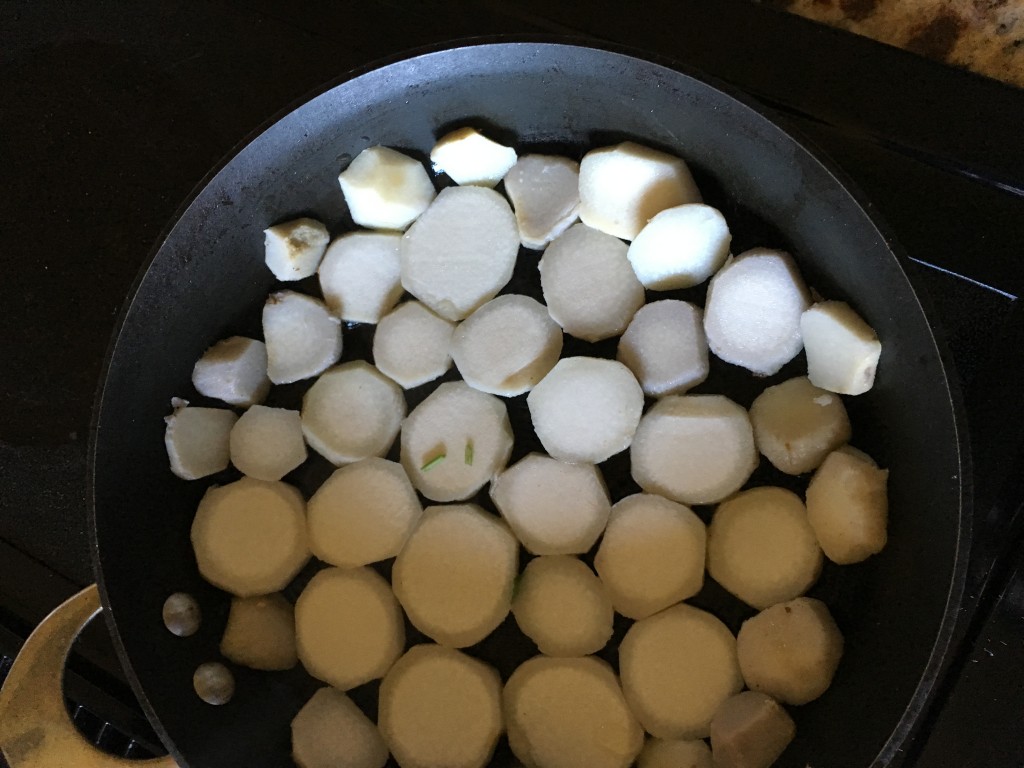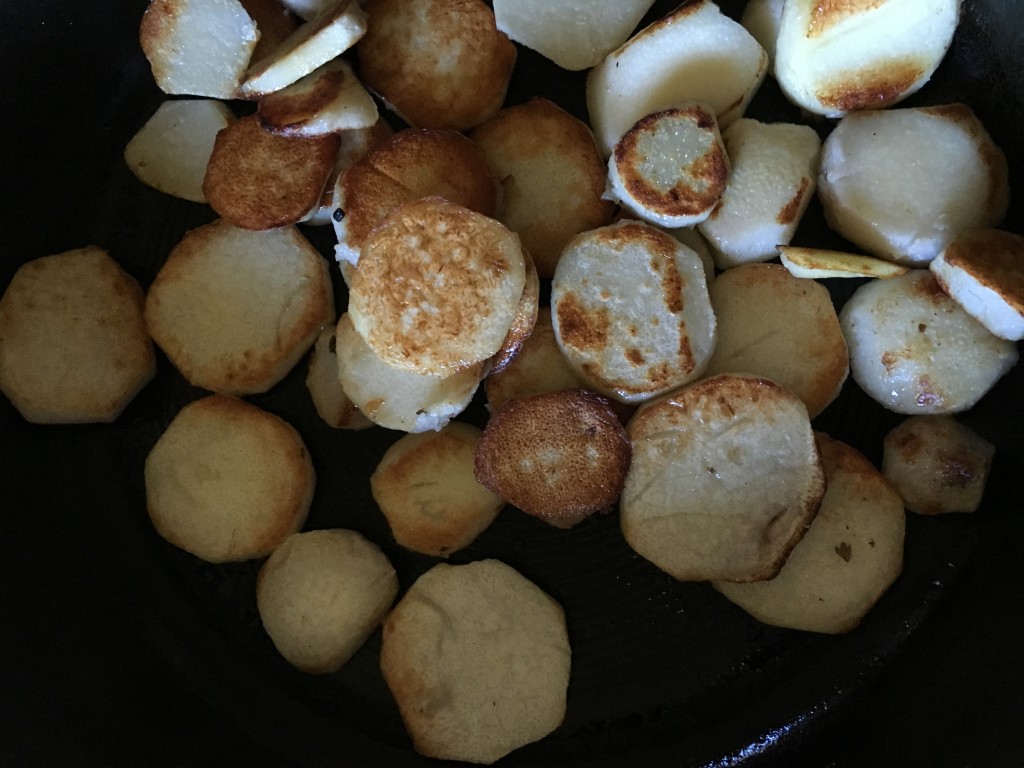 Enjoy these during fast or otherwise. Have a great Sunday!
Sonal