Cambodian Vegetable Stir Fry with Peanut Sauce – A Budddha Curry
As an Amazon Associate and member of other affiliate programs, I earn from qualifying purchases.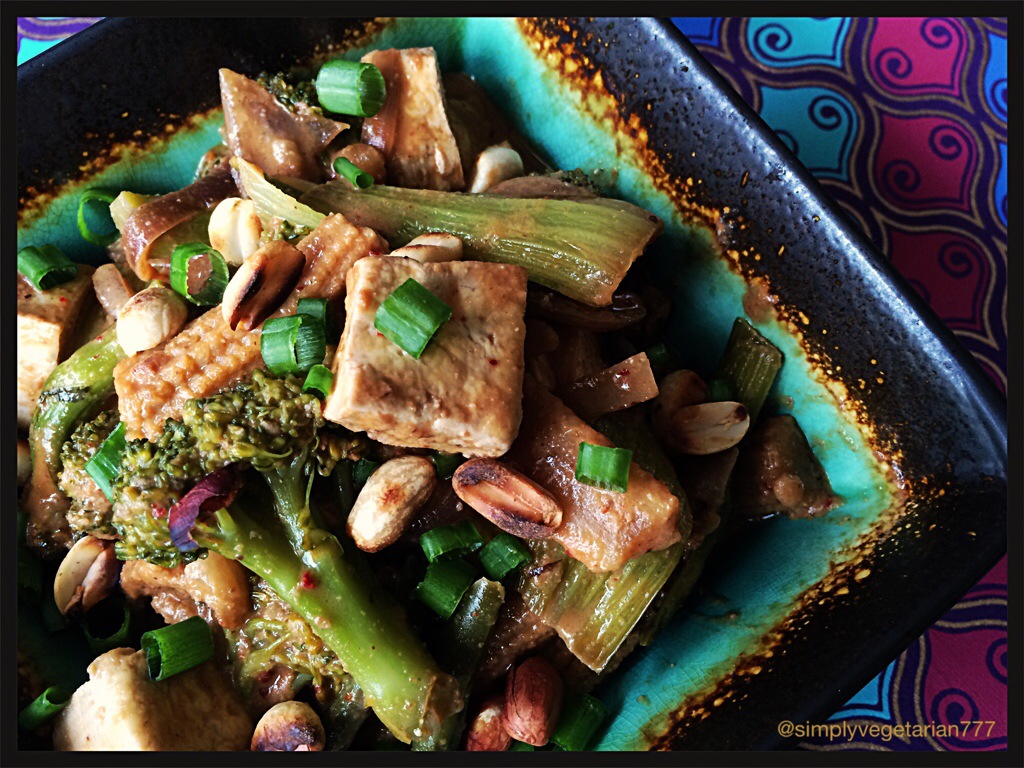 Cambodian Vegetable Stir Fry with Peanut Sauce – A Budddha Curry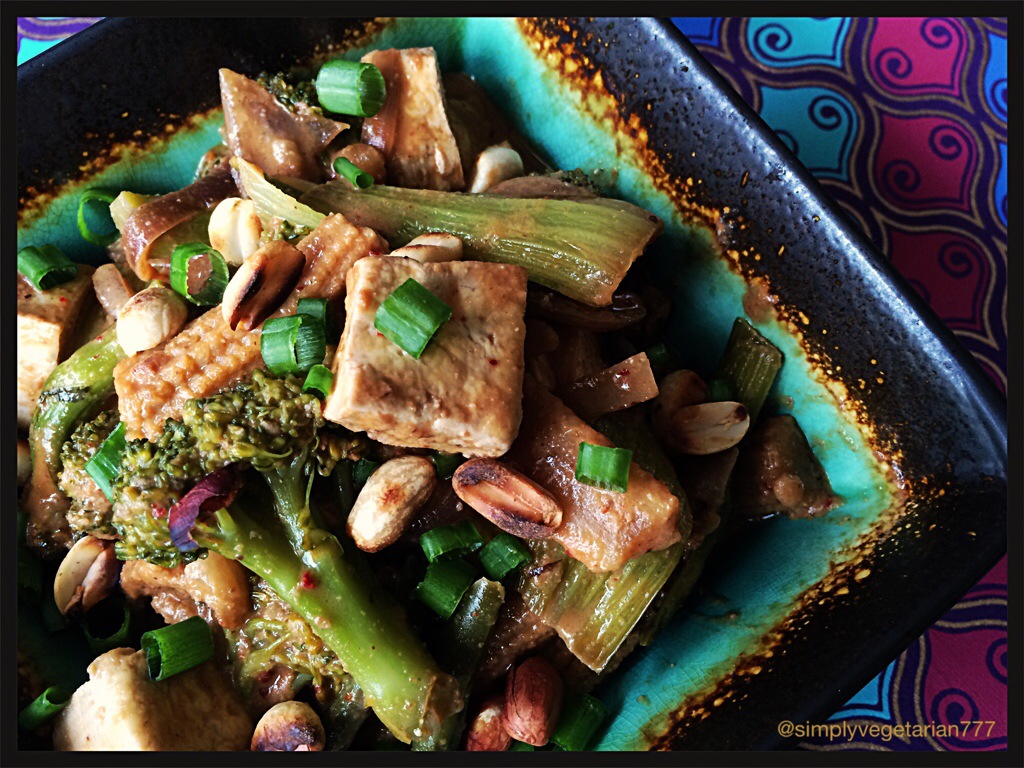 Cambodian Vegetable Stir Fry with Peanut Sauce – A Budddha Curry is a delicious way to savor the East Asian Curries. The textures and the flavors of the dish are so comforting and calming that you actually feel at peace after eating it.
When I had the opportunity to Guest Blog for my dearest blogging friend Nancy at Feasting with Friends,  I wanted to contribute something different but doable and interesting for her blog. I always am looking to try different Asian Recipes, so Thai Cuisine was at the top of my mind. To be exact, Thai Fresh ginger curry was on my mind but due to the lack of finding a good recipe, I gave up and rescued to a book that I have, called 400 Chinese & Thai Healthy Recipes for Modern Living! Amit had bought that book for me and it's a fantastic book. I love collecting books but rarely I refer them for cooking. Once in a while, when I do rescue to a cook book, it is for generating ideas and getting inspired.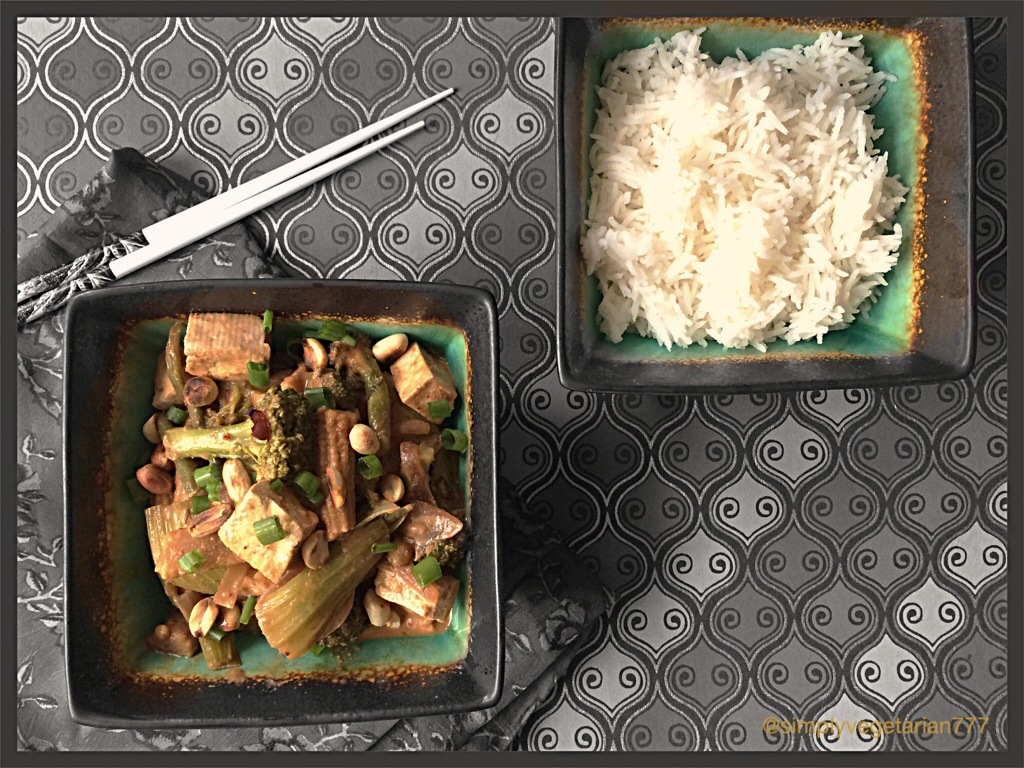 The text on the recipe says that the Buddhist Community in Cambodia often eats stir fry vegetables topped with peanut sauce, therefore I am calling this as Cambodian Vegetable Stir Fry with Peanut Sauce – A Budddha Curry. Though, do not get mislead by the title of the dish and assume that the Buddhist Monks are vegetarians. They are not. As per their belief, they eat whatever is offered to them so they can not pick and choose their food. Having said that, Cambodid does offer a good array of Vegetarian Food. If you are traveling to that part of the world, refer to this – A Vegetarian's Guide to Cambodia as your survival guide.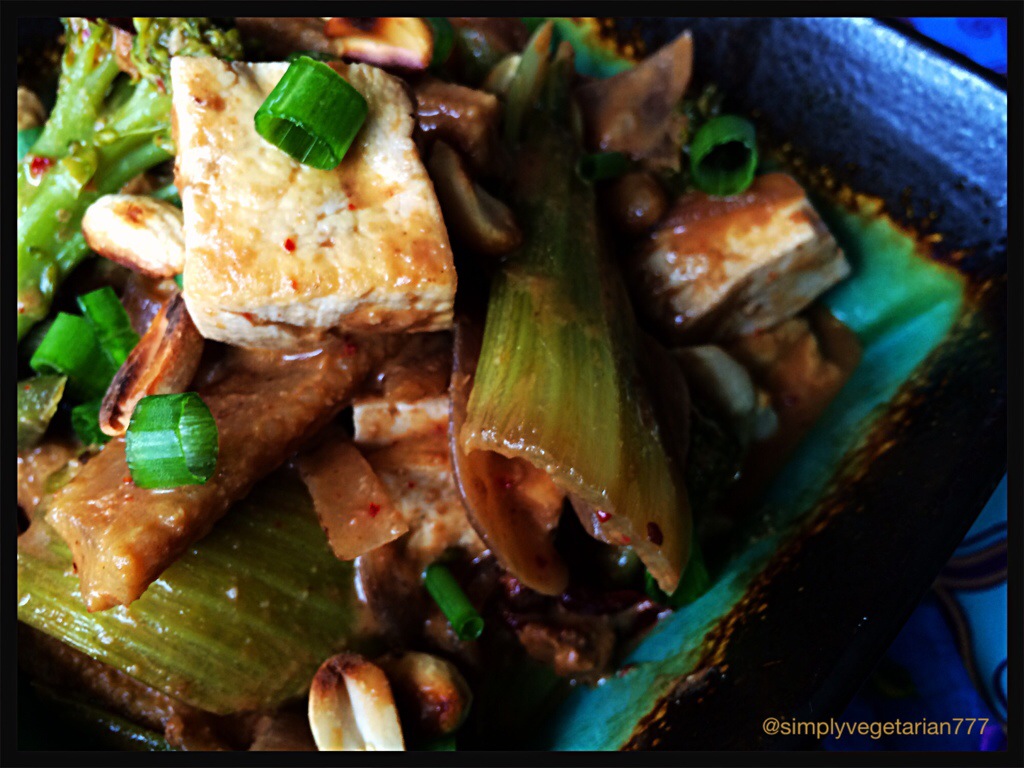 Some other Asian Recipes from my blog are – Asian Stir fry in Sweet & Sour Sauce , Tofu/Paneer Keema Wraps , Manchow Soup and many more.
This is how I made it!
Cambodian Vegetable Stir Fry with Peanut Sauce - A Budddha Curry
A Buddha Curry from the land of Monks - Cambodia. A hearty and delicious recipe.
Ingredients
Ingredients for stir fry
Peanut oil or sesame oil : 1tsp + 1tsp

may use canola oil

Broccoli florets : 1 cup

Green Beans : 10-12

sliced into three pieces diagonally

*Tofu : 1 pack / 16 oz / 450 gms

drained and cut in cubes.

Large onion : 1

halved and sliced thin

Baby Corn : 10

quartered

*Baby bokchoy : 1 cup

washed and chopped

Soy sauce : 3 tbsp. I used low

sodium.

Sugar : 1 tsp
Ingredients for Peanut sauce :
Peanut or Sesame or canola Oil : 1 tsp

Peanuts : 1/2 cup

unsalted

Red chillies

dry : 2. I used kashmiri red chillies which are mild in heat context. The original recipe asks for fresh red chillies. Use as per your choice.

Garlic cloves : 2 big

chopped

Coconut milk : 2/3 cup or almost 150 ml. I used light coconut milk.

Soy sauce : 2 tbsp

Sugar : 1 tbsp
Instructions
Method to make Peanut Sauce
Dry roast the peanuts and de-seeded dry red chillies together on low heat till peanuts are slightly golden. Set aside to cool lightly. If you are using fresh red chillies, then these don't need to be roasted.

Put 1 tbsp of roasted peanut aside for topping. Take a blender, grind the rest of the roasted peanuts, red chillies and garlic together with 1/4 cup water into coarse paste.

Heat 1 tsp oil in pan. Add the peanut mixture and cook on low flame for 1-2 minutes till the water evaporates and it thickens a bit.

Now add coconut milk, soy sauce and sugar and cook further for 3-4 minutes till it becomes thick. Switch it off and set aside.
Method to make the Stir Fry
Heat 1 tsp of oil. Sauté tofu cubes in oil, browning them slightly. Take them out on a paper towel. You may bake the tofu cubes in oven at 400*F for 8-10 minutes to crisp them.

Now add 1 tsp oil more to the pan. Sauté onions and beans for 2 minutes till slightly tender. Add baby corn and bokchoy. Sauté for 2 more minutes. Now add broccoli and browned tofu to the sauté. Add soy sauce and sugar to the stir fry. Cover and cook for 2 minutes.
Putting the curry together
Warm up the peanut sauce and pour over the stir fry. Mix well and serve.
Serving Suggestions
They are fantastic on the side of some white steamed rice.

You may absolutely go pad Thai style with this stir fry with flat noodles.

The peanut sauce alone is a star. Cool it and store it. It is perfect to be served on the side of crisp vegetables, satays, spring rolls or even dumplings.
Notes
*Note on Vegetables : This is such a good curry that any vegetables can be incorporated in it. For example, cabbage in place of Bok Choy, baby eggplants, carrots, celery, potatoes etc would work excellent in this dish. You may also use paneer in place of Tofu.
Wouldn't you love a restaurant style gorgeous dinner that can be done in budget, at home and under 30 minutes. Please say yes. Eating good food and trying something new should always be in everybody's radar to create interest in life. Mundane regular is boring. Don't you agree? 🙂
Eat Happy! Stay Happy!
Sonal