Marigold Saffron Butter Cookies
As an Amazon Associate and member of other affiliate programs, I earn from qualifying purchases.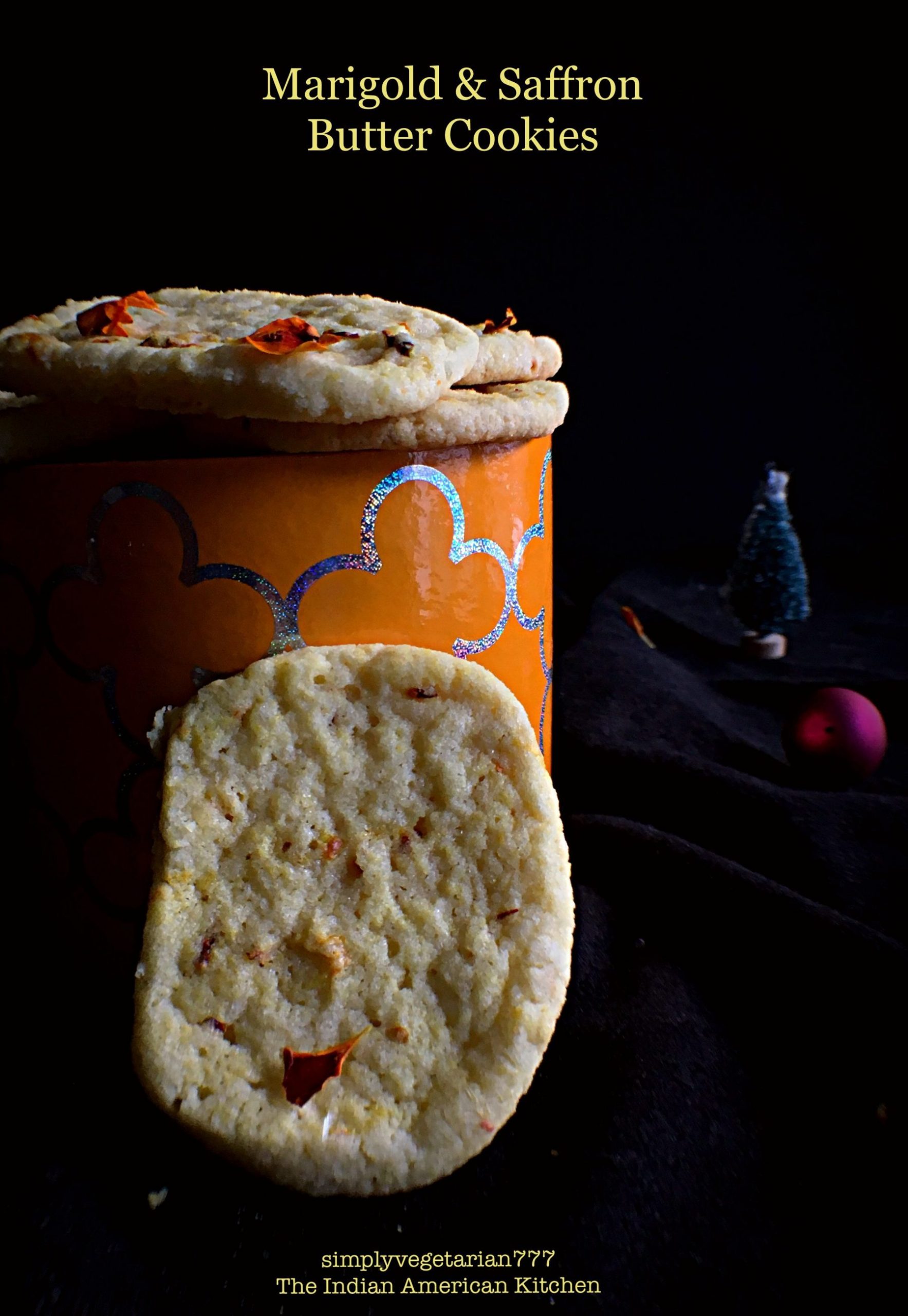 Marigold Saffron Butter Cookies are easy and simple cookies to bake with Edible Flower Marigold and Exotic Saffron. It is a welcoming flavor profile to bake on either special occasions or Holidays.
Marigold Saffron Butter Cookies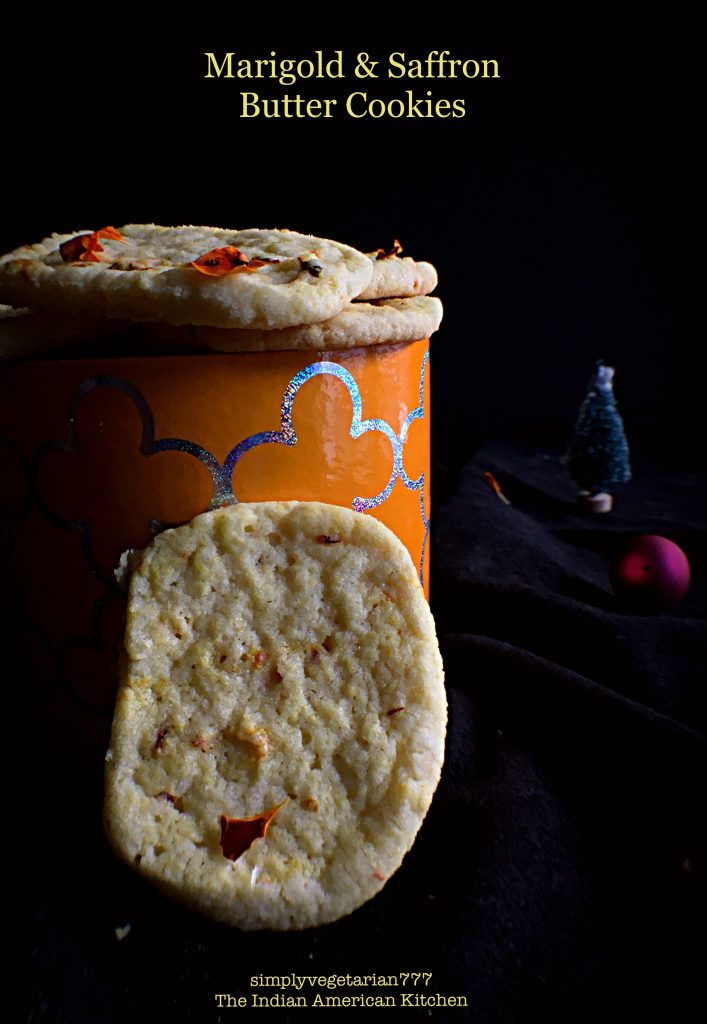 I am not much of a baker who experiments out of the box, but I like to stick with one basic baking recipe and develop the flavor profiles on based of that.
The basic Egg-less Cookie Recipe that I used in Jelly Thumbprint Cookies is phenomenal. It can be adapted with different flavor profiles and ingredients. I have used the same recipe and baked Kesar Pista Elaichi Biscuits , Crispy Walnut Chocolate Cookies and more. This recipe has never failed me.
Now coming to the 2 main ingredients of the cookie, Marigold and Saffron create a magical flavor profile together.
Marigold is an edible flower and is commonly known as Gendha in Hindi. This gold like beautiful flower has many important uses varying from medicine, food, dyeing clothes, religious celebrations and more. I have fond memories of childhood where we would pluck small marigolds from the garden, pinch the petals to color our hands with beautiful color and eat the base of the flower. It might sound puzzling to many but this is true.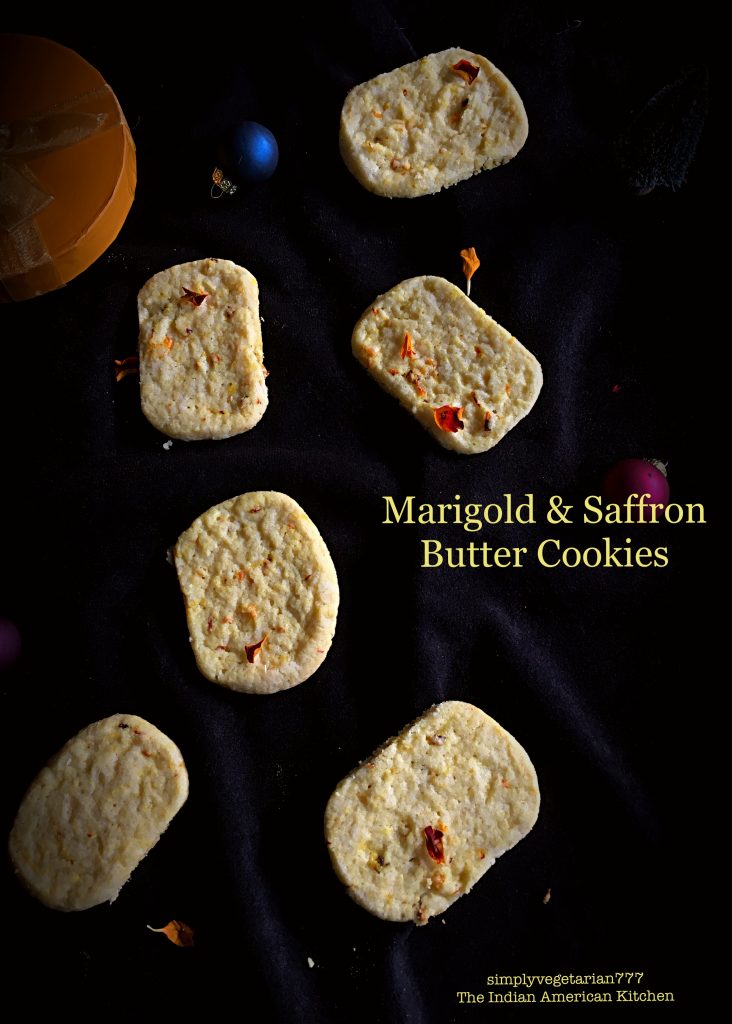 Like Marigold, Saffron has its own place in the society for its multiple beneficial uses, again from medicinal, food coloring & flavoring, religious and more.
Well, I combined the 2 beautiful ingredients for the plain joy of food. It is like an Indian Dessert wrapped in a Cookie. So that is a double happiness for me – bringing in a little bit of my Indian heritage and mixing it with my American whereabouts.
This is how to make the Marigold Saffron Butter Cookies.
Before we go forward, I need to make sure that when you try this recipe, you know the following IMPORTANT INFORMATION –
Marigold and Saffron, both

lend warm flavor

to the cookie.

BUY ORGANIC EDIBLE MARIGOLD FLOWERS

. These are normally available in the grocery stores like Giant, Kroger, Sprouts, Whole Foods for not more than $2.99 a box. These are placed where the boxed herbs are in the fresh produce area. Or ask the attendant to avoid any extra running around.
If you are plucking the flowers from your flower beds, then make sure that these do not have any garden bugs and such. Pluck the fresh young flowers and not the old dying ones.
Always Always Always,

wash these flowers thoroughly, couple of times in COLD RUNNING WATER

.

If you have asthma or Pollen Allergies

, do not eat these cookies.
Marigold Saffron Butter Cookies
Marigold Saffron Butter Cookies are easy and simple cookies to bake with Edible Flower Marigold and Exotic Saffron. It is a welcoming flavor profile to bake on either special occasions or Holidays.
Ingredients
1

cup

All Purpose Flour

1/2

cup

Butter, unsalted

at room temperature

1/3

cup

Sugar

Make it 1/3 cup +1 tbsp for perfect sweetness

1

small pinch

Salt

1

small pinch

Baking Soda

3

small flowers

Marigold /Gendha

Use Petals only and remove the stem and bottom of the flower.

1

fat pinch

Saffron flakes

1

tbsp

Milk, warm
Instructions
Soak the Saffron in warm milk and set aside. Also, chop the marigold petals roughly with kitchen scissors. Make sure that you do not bruise these, just cut delicately.

Take a Mixing Bowl and add Butter + Sugar to it. Beat it with electric beater for full 3 minutes till it is light, fluffy and pale in color.

Now add All purpose flour, salt, baking soda, roughly chopped marigold petals and saffron soaked in warm milk to the sugar butter mix.

Take a small dinner fork and work your fork through the bowl, mixing all the ingredients gently. Mix only till all the ingredients come together in a dough.

DO NOT KNEAD THE DOUGH. WE JUST NEED TO BRING THE INGREDIENTS TOGETHER. It is important for good texture or it will make a tough cookie.

Now transfer this dough onto a parchment / butter paper and shape into either rectangular or circular log. Wrap it up from all the sides tightly and refrigerate it for at least 40-50 minutes.

Alternatively, you can leave the dough in the bowl. Cover it with plastic cling wrap and refrigerate for 40-50 minutes.

Take out the cookie dough or cookie dough log. Let rest for few minutes. Meanwhile PREHEAT the OVEN at 350*F / 180*C. Line a baking tray with parchment/butter paper. Set aside. If you plan to bake all the cookies together, then you might need 2 BAKING TRAYS.

If you made a log then, cut cookies about 1/3rd of an inch in thickness. If you refrigerated the dough as is, then spoon out 1/2 tbsp cookie dough, roll it gently into smooth ball and flatten a bit on your palm.

Place the cookies 2 inches apart from each other. These spread out so keep good distance between cookies.

Bake for exact 10 minutes. Take these out of the oven. Let sit on the tray for 2-3 minutes. Now carefully transfer these on cooling racks.

You can store these in air tight container when they are cooled to the room temperature.
I am sure that you are tempted to try these cookies soon. Aren't you? I promise that you won't be disappointed, rather you will try it again and again.
These are perfect for Hostess Gift or bake these to celebrate any Indian Holiday. Or make these to treat yourself for no particular reason.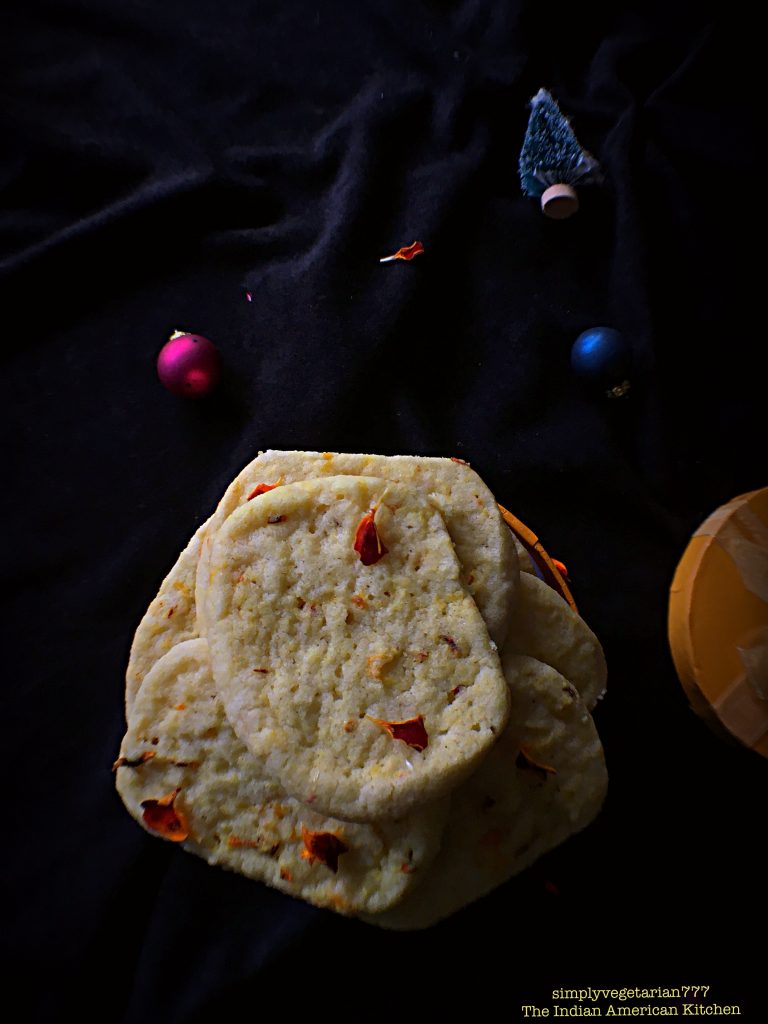 My girls loved these and couldn't stop at one. I can see that happening at your place. These are so easy to bake with simple every day ingredients that these will be regular in the kitchen.
You may order the following from amazon to bake these cookies.
Can't Bake it now? PIN IT FOR LATER!


When  you try these Marigold Saffron Butter Cookies this holiday season then do send me the feedback. I would love to know how you liked it. 🙂
In my Kitchen you will always EAT HAPPY & STAY HAPPY!
Sonal