One Pot Mix Veg Green Biryani – Meatless Monday
As an Amazon Associate and member of other affiliate programs, I earn from qualifying purchases.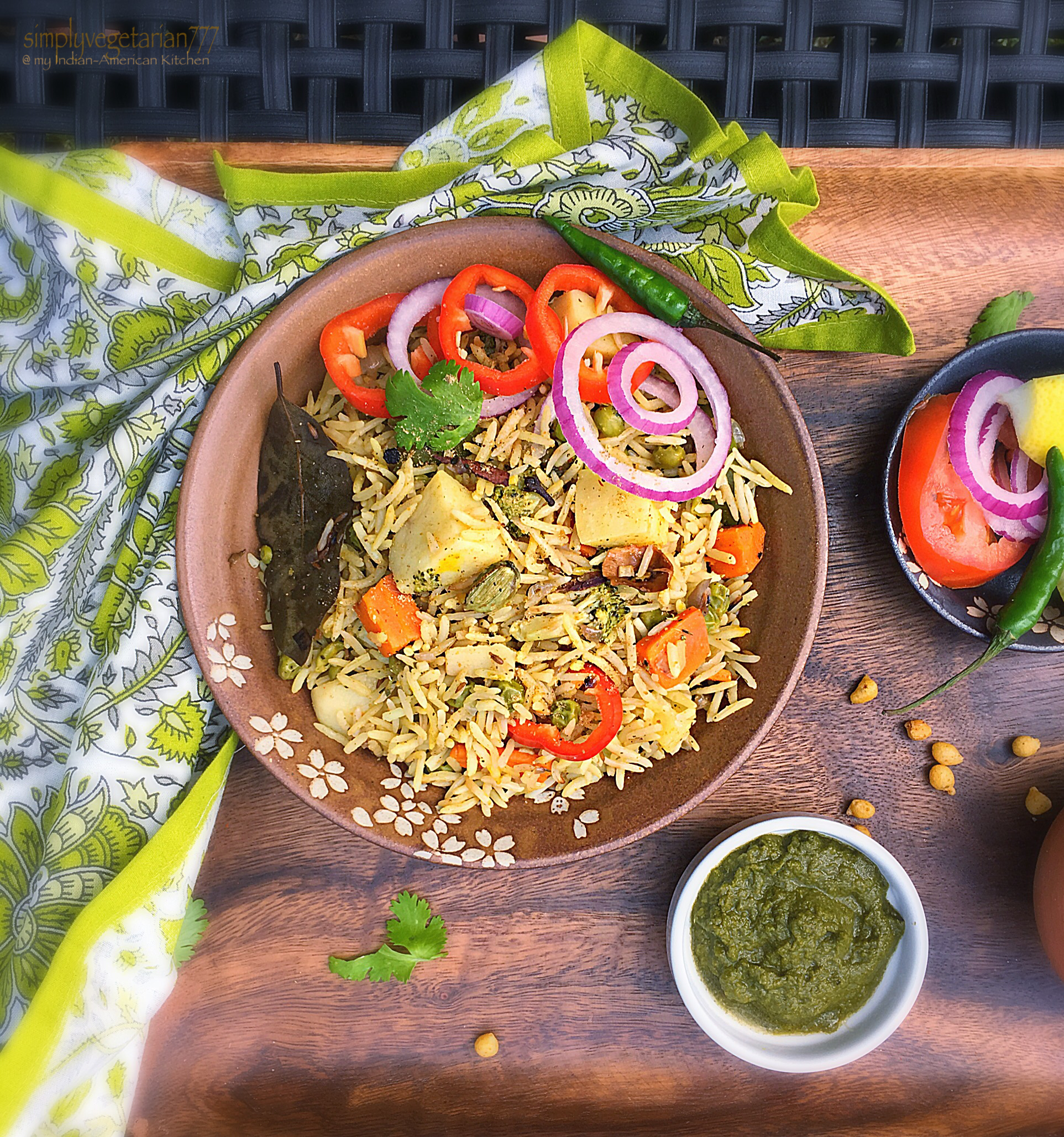 One Pot Mix Veg Green Biryani – Meatless Monday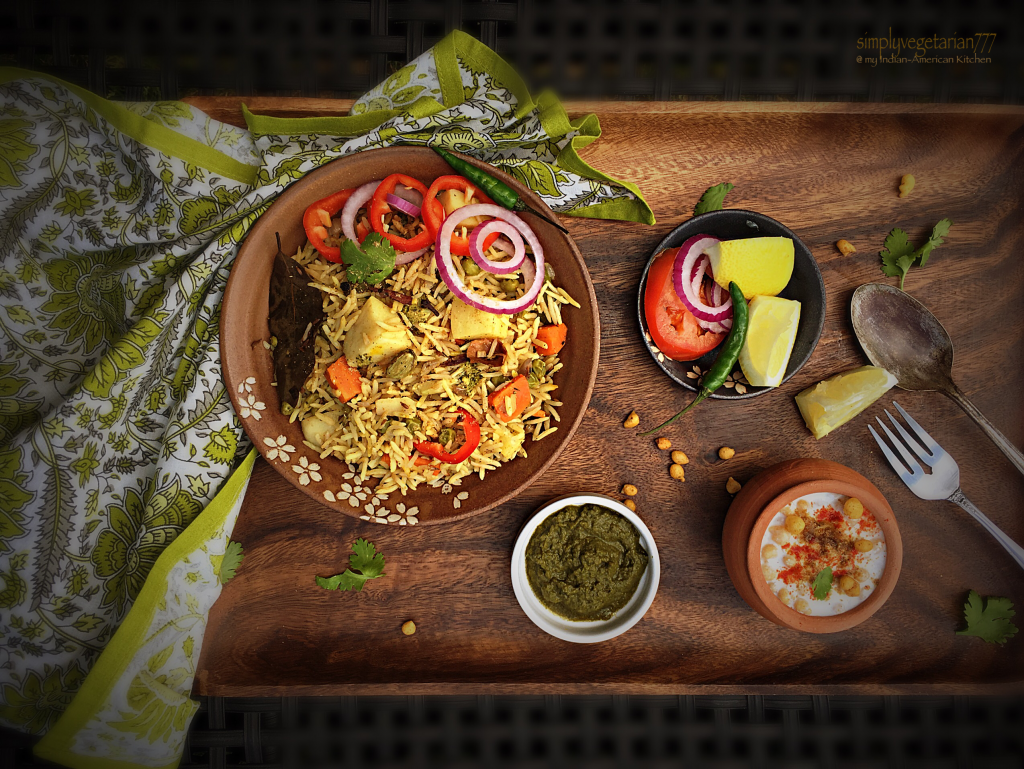 One Pot Mix Veg Green Biryani is an excellent recipe for Meatless Monday. The aroma of the One Pot Mix Veg Green Biryani fills the air with lust….the lust for good food which is elegant and delicately flavored. This Biryani is very unconventional, as compared to the Original Biryani recipe. If you are wondering about the GREEN part of the biryani, then yes that is the USP of this rice preparation. It is not recycled….lol…it is delicately flavored with mint, dry & fresh and cooked till done. Each and every grain of the rice is separated and drenched in the essence of mint and the warmth of whole spices. It is a delectable experience. It is royal and rustic at the same time….quite enigmatic in my humble opinion.
The origin of the word Biryani is believed to be from Persia and Turkish region. Though the origin of the dish is uncertain, but certain historical theories say that it was introduced by Mughal and Turk Rulers, while they reigned the Indian sub continent. However, few other theories state that Biryani has no mention in the Mughal history, and it already existed in Indian subcontinent. It was just another name for Pilaf or Pulav. There is a very interesting discussion on the theories behind the origin of Biryani, described here. Do read it if you have time.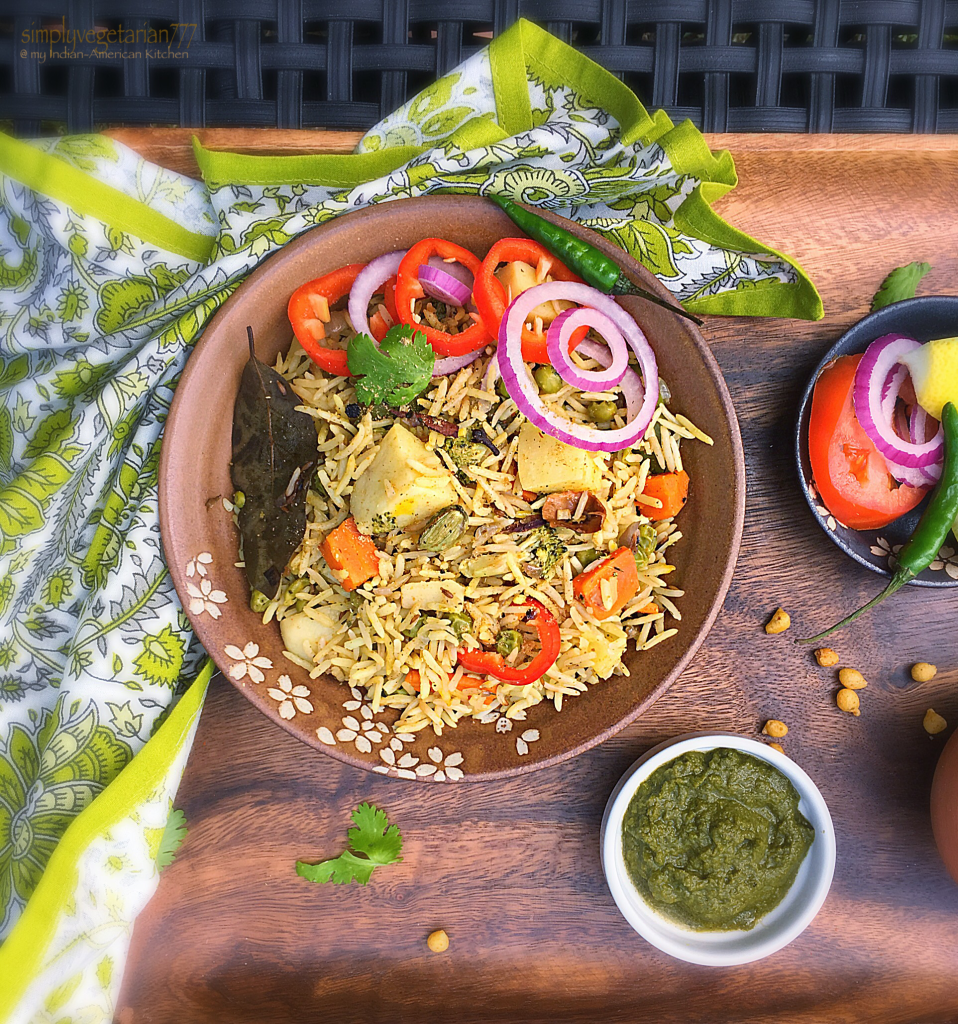 I have always had a hard time distinguishing between a Pulav/Pilaf and Biryani. Honestly, they are very similar in their use of ingredients and in taste too….atleast for me. I have to admit that I do not have a very refined taste. My tongue Can't distinguish much amongst the absent ingredients. In due course of time, I understood that it is a technique that defines the individual preps. Biryani is preppared by layering the rice with vegetables or meat, whereas the Pulav is an absolute One pot Meal.
This is my humble attempt to create Biryani in Pulav style, where as following the basic technique of layering and keeping One pot concept of pulav as a highlight. Before anybody from my readers jumps at me and start a war, I would like to repeat that it is my attempt to create Biryani in my style and I am not claiming this dish to be authentic. Cooking a dish is all about adapting a recipe and re-creating to suit your personal taste and pace. Agree?
This Biryani is best enjoyed with Raita (Yogurt Dip) and Mint Coriander Chutney with a good squeeze of lemon juice and some crunchy salad on the side.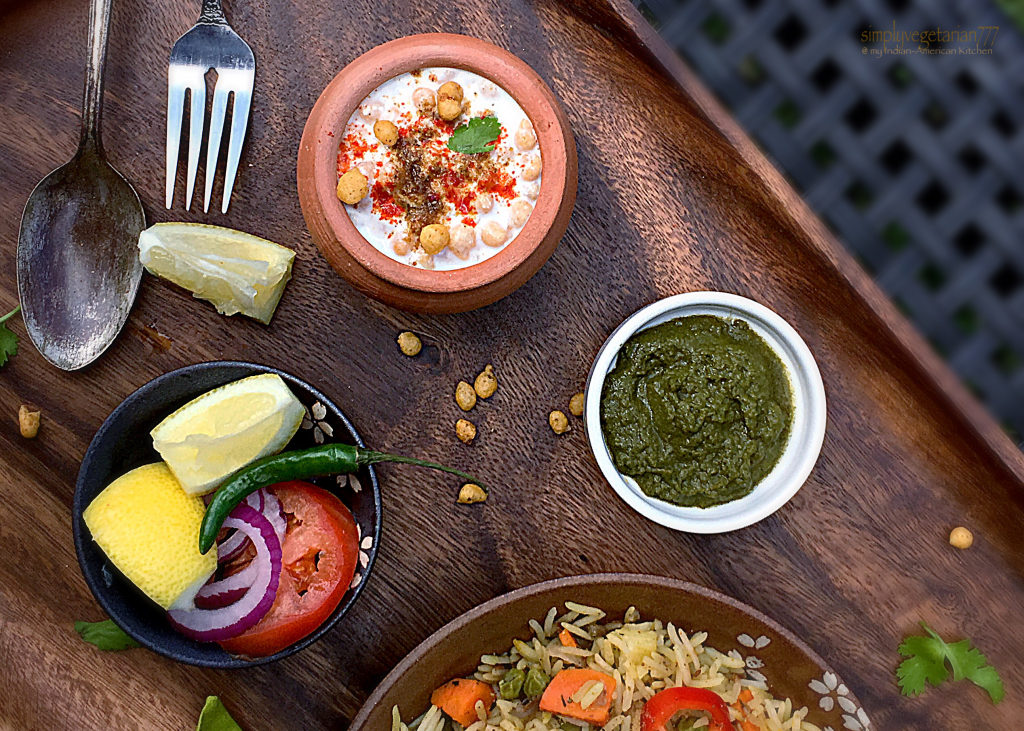 Some other Rice preparations from my blog are
Wadi Matar Pulav , Gobhi Anar Pulav , Onion Pulav and many more.
Let us get to the recipe.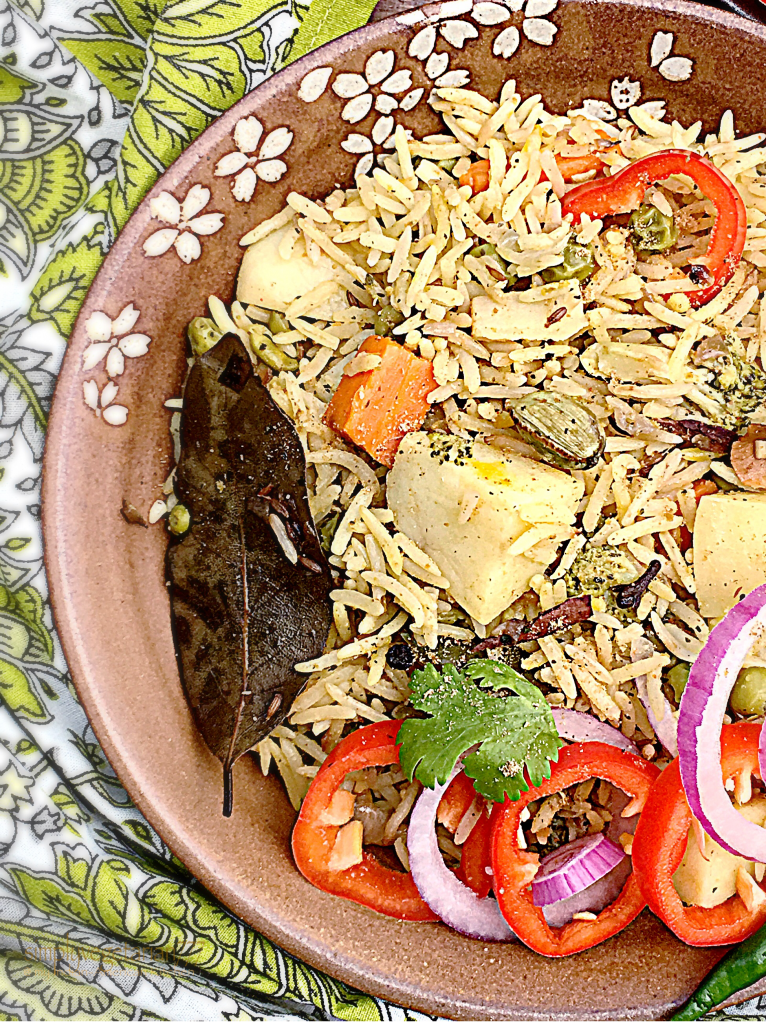 One Pot Mix Veg Green Biryani - Meatless Monday
Quick & Easy Biryani Recipe, made with Low GI basmati rice, mint, mix veg and whole spices. An unconventional Biryani Recipe from Indian Cuisine.
Ingredients
Basmati Rice - 2&1/2 cups. I used the low GI Basmati. You may use regular Basmati Rice

Onions - 1 cup

chopped fine or lengthwise

Ginger - 1 small piece

chopped fine

Garlic - 2 small pods

chopped fine

Green Chili - 1

chopped fine

Mix Vegetables - 4 cups

chopped into big cubes. I used a combination of Green Bell Peppers (Capsicum), Carrots, Broccoli, Green Peas, Potatoes. You may use the vegetables of your choice.

Mint - handful

chopped roughly

Coriander/Cilantro leaves - handful

chopped roughly

Yogurt - 1 cup

Water - 2&1/2 cups
Oils & Spices
Ghee - 2&1/2 tbsp. I used Olive Oil.

Bay leaf - 1

Cumin seeds - 1 tsp

Pepper corns - 5

Cloves

- 5

Green Cardamom - 2 small

opened up a bit

Red chili powder - 1/2 tsp + more

Garam Masala - 1 tsp + more

Salt - 2&1/2 tsp or to taste

yes it needs to be seasoned nicely

Turmeric - 1/4 tsp

Saffron - a fat pinch soaked in 1/4 cup want milk

Mint powder

dry - 1&1/2 tsp
Instructions
Wash the rice thoroughly and soak in enough water till everything else if ready for layering. Set aside.
Prepping the Onions
Heat 1 tbsp ghee/oil in a big sauce pan. Once hot, lower the flame and add cumin seeds, bay leaf, cardamom, cloves and pepper corns to the pan. When the cumin seeds crackle, add ginger, garlic, chili and onions to the pan. Sprinkle a fat pinch of salt and cook the onions on medium high flame, till they are golden pink, for about 4-5 minute. Once done, set them aside in another bowl.
Prepping the Mix Vegetables
Heat 1 tbsp of oil/ghee in the same pan. Add Red chili powder, turmeric, Salt and 1 tsp Garam Masala to the pan and sauté for few seconds on medium flame. Now add all the other chopped vegetables in the pan. Cook and sauté till potatoes and carrots are partly cooked. Now add 1 tsp dry mint powder and yogurt in the pan. Stir and cook on medium flame for another 3 minutes. Switch off the flame and empty the vegetables cooked in yogurt in another bowl. Set aside.
Layering and Cooking One Pot Mix Veg Green Biryani
Drain the water off the soaked rice. Divide the rice in 3 equal parts.

Add 1/2 tbsp oil/ghee in the same big sauce pan. Keep the flame really low, almost on simmer. Start Layering.

Layer 1 - Spread one part of the soaked rice at the bottom. Layer it with 1/3rd of the Mix Vegetable in Yogurt Sauce. Top it with 1/3rd of the sautéed onion mix. Pour 1 tbsp of saffron milk on top. Sprinkle with 1 tsp each of chopped mint and cilantro leaves, a pinch of dry mint powder, Garam masala and red chili powder.

Repeat the above process for 2 more times. You will have 3 layers in total. Pour any leftover saffron milk and yogurt from the vegetables on the top.

Slowly add 2 &1/2 cups of water to the pan, from the sides.

Bring it to a boil. Now put the gas stove to simmer. Cover the pan with foil first and then put the lid on. Cook on simmer till all the liquid is absorbed. It takes good18-20 minutes. Keep checking in between from the side, to avoid burning.

Switch off the gas stove. Let it rest like that for about another 10-15 minutes.

Carefully remove the foil. Take a fork and gently work through the Biryani, forking and separating the rice grains with gentle hand.

Serve it warm with Cucumber Raita, Pickles and Mint Coriander Chutney.
Notes
If you use any other kind of rice, you have to adjust the water accordingly. The low GI Basmati gets cooked in lesser water. If you are using regular basmati, then use 3 cups of water or accordingly.
You may use any seasonal vegetable including above and cauliflower, green beans, corn etc.
The vegetables have to be chopped in larger pieces.
You may skip the dry mint powder and make it a regular Biryani.
You may also use partly cooked rice and layer and simmer accordingly till rice is cooked.
Conceiving the idea for this One Pot Mix Veg Green Biryani and executing it to create a perfect One Pot meal, was so much fun in my Indian American Kitchen. Do try it and I am sure it will be a regular meal at your home too. My family loved it. The flavors were delicate and subtle, not over powering at all. This BIryani makes a perfect dish for lunch or dinner or entertaining the guests. Make extra and pack for lunch for kids and work. That is what I am going to pack for my kids lunch box tomorrow.
Eat Happy! Stay Happy!
Sonal