Tandoori Tofu / Paneer Chops
As an Amazon Associate and member of other affiliate programs, I earn from qualifying purchases.
Tandoori Tofu / Paneer Chops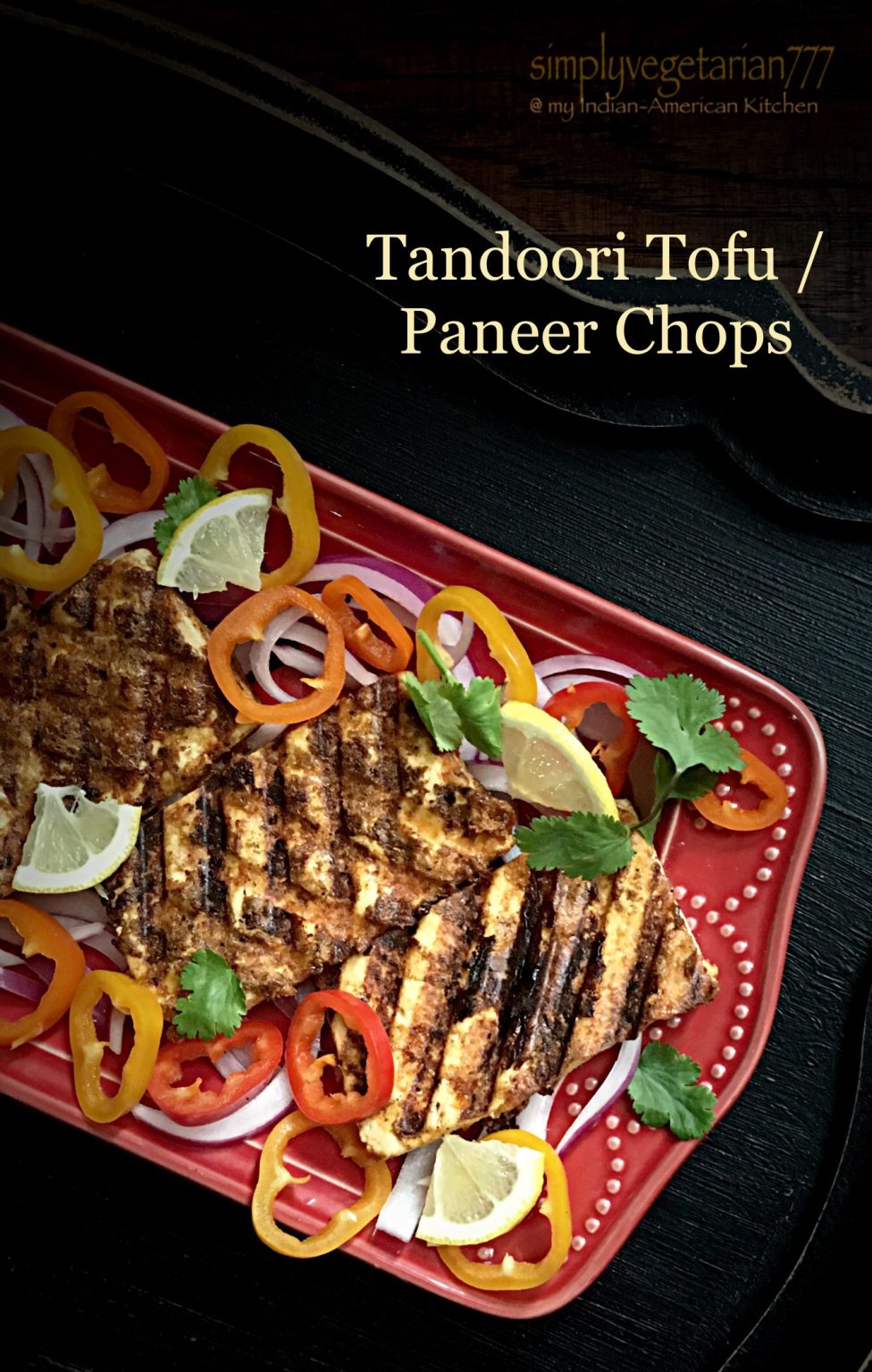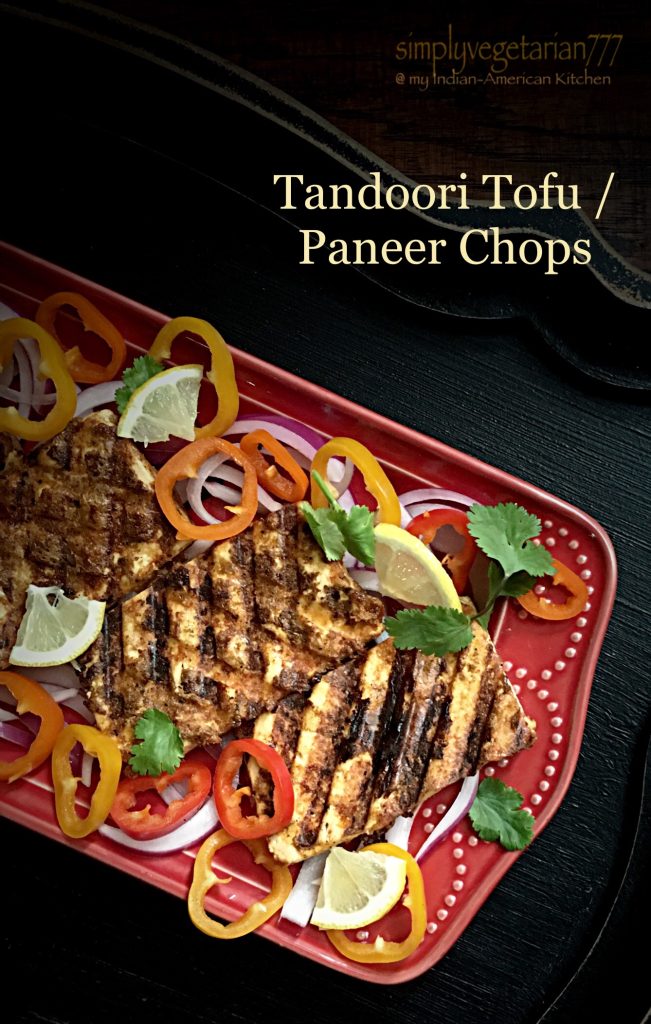 Are you a vegetarian like me, who wants to celebrate Thanksgiving, as much as any body who enjoys a succulent slice of the big bird? Or are you a host who has few vegetarian guests coming up for the big Dinner? Tandoori Tofu / Paneer Chops is the perfect, simple and easy recipe to your rescue then.
November is the month of gratitude and being thankful. The month marks Thanksgiving day every year, on the 3rd Thursday. Families and Friends get together over the "extended" dining table being thankful for the warmth, love and support in each other's presence and then they indulge in the food.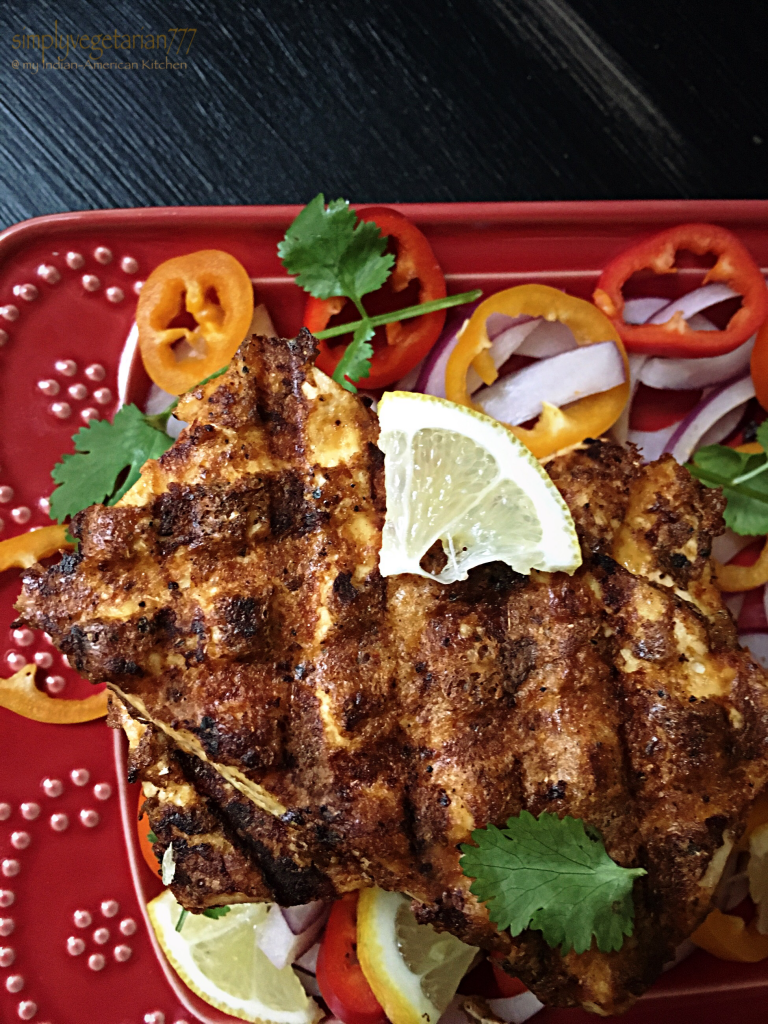 I often wonder what would the festivals and holidays be, if it wasn't for food… What is your take on that? After all, that dining table laden with scrumptious food brings us all together.
Life is busy these days. I started working part time, days have become shorter and more chores to be done single handedly and hence my blogging is slightly sluggish now. I am working on it to make my life more organized and be on top of each thing but hey this is life….few things tend to slip down the road. But I am trying.
I am thankful to all of you, who are reading my blog right now and follow my recipes religiously, no matter what. If it was't you, this blog would have been left stranded long before. SO A HUGE THANK YOU TO ALL OF YOU!
I will be bringing a lot of Indian American Fusion Dishes this month to keep my Indian American tradition alive. American Ingredient and Indian Tempering – believe me, it would not leave you disappointed. This might actually help you in planning your menu right for a MEATLESS TURKEY DAY! Sounds like a fun plan.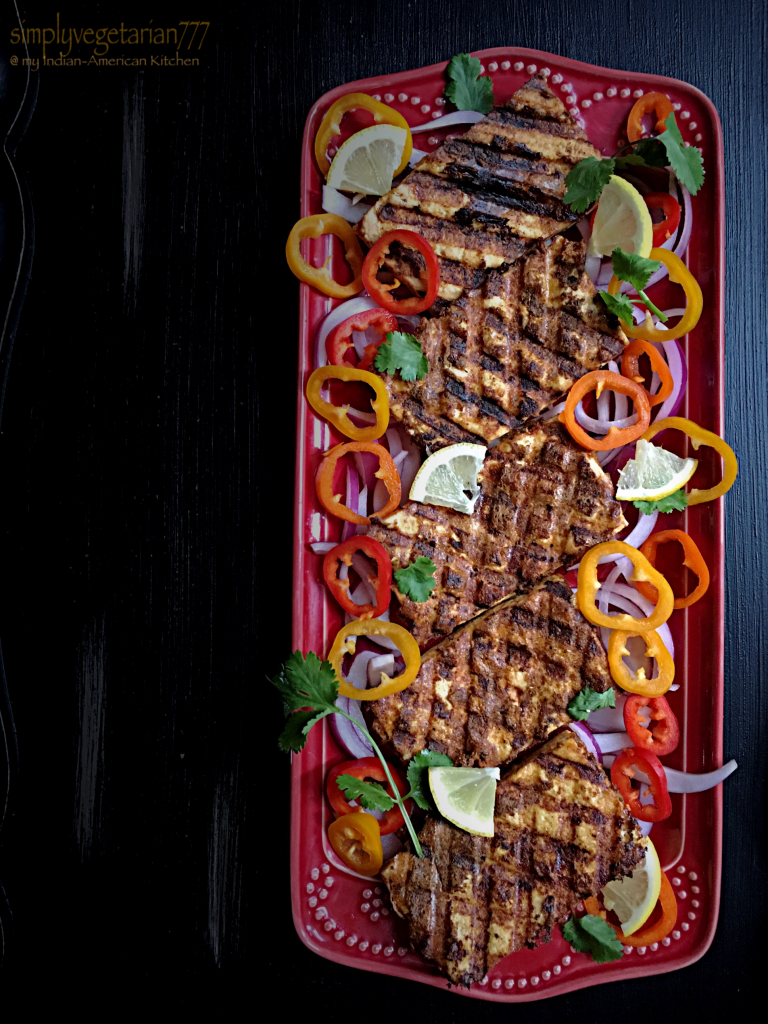 I have never enjoyed Tofu more. The marination and leaving it for few hours to absorb flavors, made this Tofu super flavorful and scrumptious. My family enjoys tofu in Thai and Asian dishes, but this was the first time, I infused it with Indian flavors. Oh boy, I am glad that I did.
If you are not a fan of Tofu, please use Paneer instead. It will be equally good. Tofu is definitely lighter on metabolism than Paneer. Make your choice and pick the protein of your choice. This recipe is a hit, no matter Tofu or Paneer.
This Recipe is divided into 2 main parts –
Marinating the Tofu chops (thick slices) in Tandoori Spice mix, Yogurt and few other things.
Grilling the marinated Tofu chops on an electric grill or a heavy bottom pan.
Some Tofu and Paneer and Tandoori recipes from the blog are – Kung Pao Tofu , Tofu Keema (mince) Lettuce wraps , grilled spicy paneer skewers , Soy Tandoori Curry and many more.
Here is how you make it!
Tandoori Tofu / Paneer Chops
Marinated Tofu in Tandoori spice mix and grilled to perfection for vegetarian option on thanksgiving
Ingredients
Tofu

extra firm / Paneer - 14 oz / 397 gm whole block. I used Nasoya brand Tofu.

Tandoori Spice mix - 2 tsp or to taste

Yogurt

plain and thick - 3 tbsp. You may use Greek yogurt instead.

Ginger Garlic Paste - 1 tsp

Corn flour or Corn Starch - 1 tsp

Salt - 1 tsp or to taste

Lemon juice - 1 tsp

Butter for grilling
Garnish - Bell peppers or capsicums (colored), red onion, lemon slices and some cilantro or coriander leaves.
Instructions
Prepping the Tofu or Paneer
Take the Tofu block out of its packaging and drain all the water. Keep it wrapped further, in few sheets of paper towels for 10-15 minutes in a strainer. It is a necessary step to ensure that the tofu is very dry before marination.

If you are using paneer, this step may not be required unless it is fresh paneer bought from the market which is sitting in water.

Once the Tofu or Paneer is dry, it is ready for further marination.

Slice the block of Tofu or Paneer into 2 cm thick big slices for chops. You may slice it smaller to the desired shape.

Set aside.
Marinating Tofu or Paneer
Take a glass or plastic bowl with lid. Add thick yogurt (with no water content), ginger garlic paste, tandoori spice mix, corn flour /starch, lemon juice and salt to the bowl. Mix well with a fork. Corn starch keeps the marination together.

Take 1 slice of Tofu at a time and gently coat with the marination and set aside. Coat all the Tofu slices like wise and set aside. Tofu is much softer than paneer so handle it gently.

Add these fully coated Tofu slices back to the container in the leftover marinade. Do not toss these.

Close the lid and let it marinade in the refrigerator for about 2 hrs at least.
Grilling the Tofu or Paneer Chops
Heat the Electric Grill at maximum and grease it with butter on both the sides. If you are using heavy bottom hard anodized pan or flat griddle, grease it with butter too.

Meanwhile, take out the marinated Tofu /Paneer and drain off all the extra water, if any, from the side.

Once the grill is hot, carefully place the Tofu or Paneer chops on the hot grill. Reduce the temperature to medium heat. Press it down and grill from both the sides till it is perfectly reddish golden.

It takes about 5 minutes from both the sides.
Serving
Slice the bell peppers and onions into thin slices. Spread them on a serving platter. Place the beautifully grilled Tofu or Paneer Chops on it. Garnish with some cilantro or coriander leaves and thin slices of lemon.
Notes
In case, you can not find Tandoori spice blend, you may use curry powder or garam masala also.
To make it vegan, use oil instead of butter and use soy curd instead of regular yogurt. You may skip the yogurt completely and marinade directly in the spices and ginger garlic paste.
These Tofu chops came out so delicious that my girls ate these happily. I served these along side Vegetable Pulav and these 2 paired very well together.
If you try this recipe, do keep me informed. It is perfect for weight watchers when you grill these minus the butter in electric grill. This is protein rich and filling dish, perfect for any get together as an appetizer or a side.
Can't make it now? Pin it for Thanksgiving Later!


This Thanksgiving, you will EAT HAPPY & STAY HAPPY in my Indian American Kitchen.