Thandai Pudding Holi dessert, eggless!
As an Amazon Associate and member of other affiliate programs, I earn from qualifying purchases.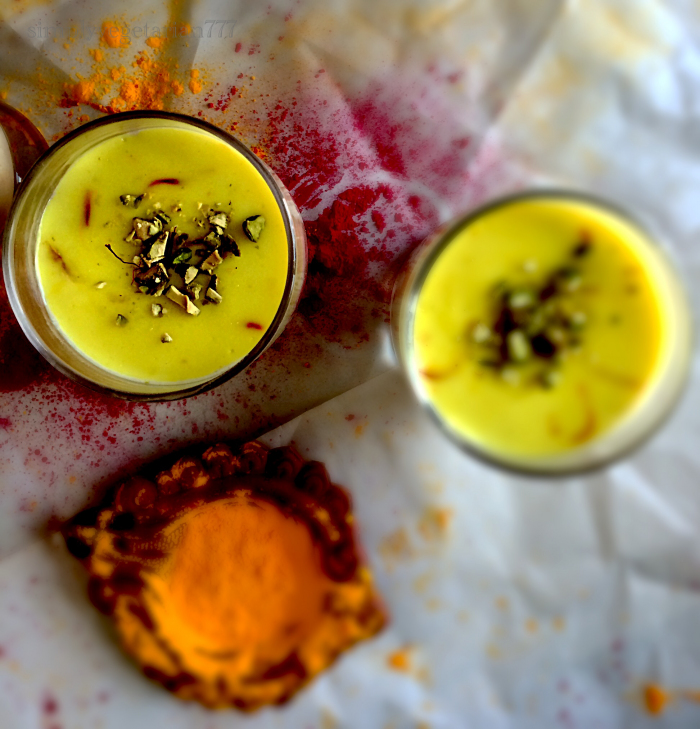 Thandai Pudding is a delicious and easy Fusion Dessert from Indian cuisine. It combines Thandai Spice MIx with Pudding and layered with delicate Saffron Sauce. This is a perfect Dessert for your Holi Party.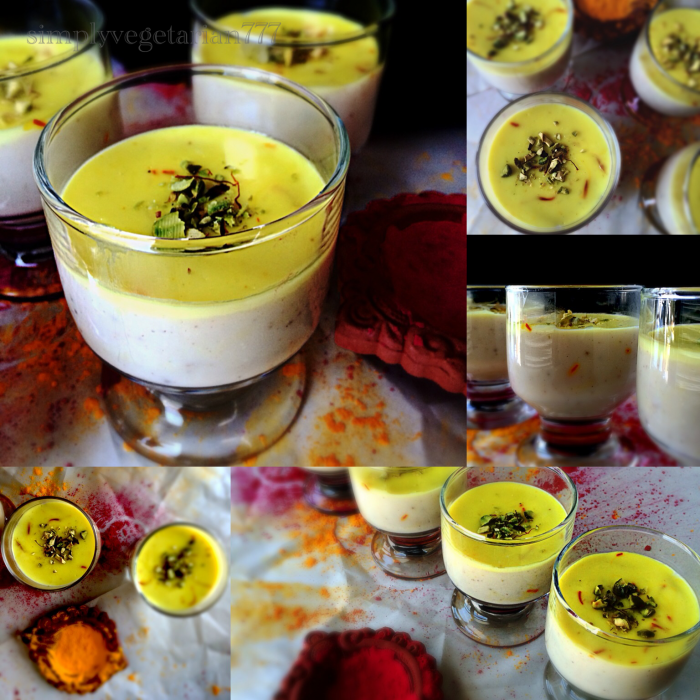 Thandai Pudding
Holi is my favorite festival. It onsets spring officially in India. A true symbol of secular India. It is a festival celebrated by Hindus but I have seen, lot of other communities taking part in the festival with equal enthusiasm. The streets are covered with abeer and gulal. People are drenched in colors. Lot of laughter! Lot of zest! Children, Youth and Elderly……it seems that they all get their spirits a new spark with the brightness of Holi.
I tried to create the zest and color of Holi in my pictures. Give me colors and I can play with them endlessly, arranging and re-arranging them. Bright, Beautiful Colors!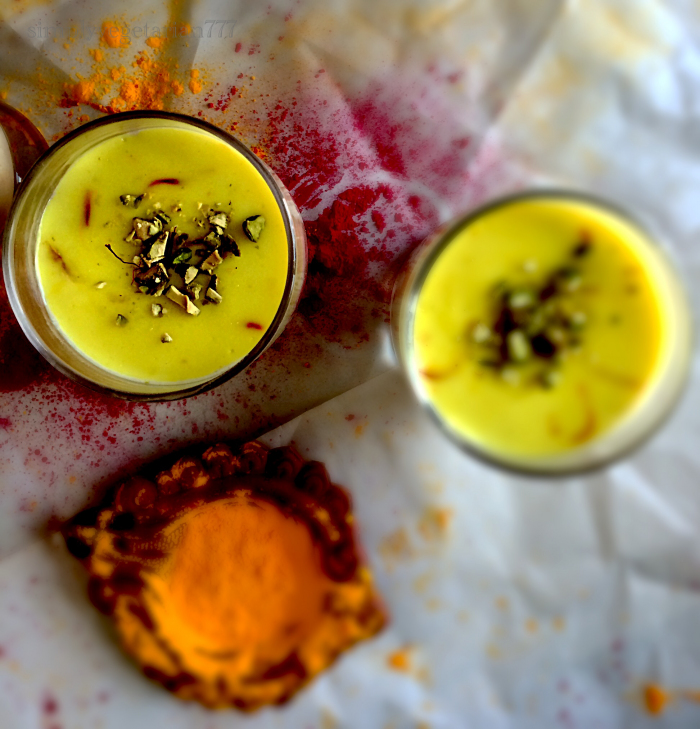 The Thandai Facts
Thandai is an Indian drink which is often served on the ocassion of the festivals like Maha-Shivratri and Holi.
2 common variations of Thandai are Badaam and Nuts Thandai and the other popular version is BHAANG Thandai.
It is a popular drink during festivals in the states of Rajasthan and Uttar Pradesh.
Thandai masala is made with a paste of different nuts and spices and then boiled with milk and rose or saffron. A delightful drink.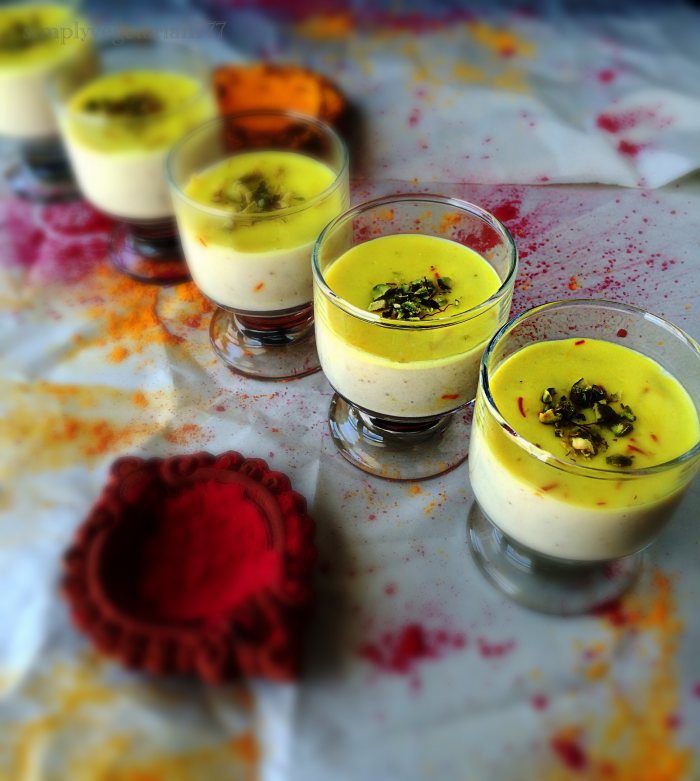 3 Components of Thandai Pudding
Thandai Spice Mix
Pudding
Saffron Sauce
You are actually in treat today since I am going to share 3 recipes today. One for Thandai mixture and another for this gorgeous pudding. Thandai proportions vary from maker to maker. I have adapted it to my family's taste.
Making Thandai mix
Yields – 1/4 cup or more.
Kitchen equipment required – coffee grinder or spice grinder
Ingredients 
Almonds – 10
Pistachio – 10
Magaj (melon seeds) – 2 tbsp
Chironji – 1/2 tbsp
Khus khus ( poppy seeds) – 1 tsp
Fennel seeds – 1/2 tsp
Green Cardamom – 2
Black pepper corns – 6
Rose petals, dry – 1 tbsp, optional.
Method
Grind everything together in a fine powder. Store it in an air tight jar in refrigerator. Because of the nuts, it will not be a very dry powder. It will be slightly damp.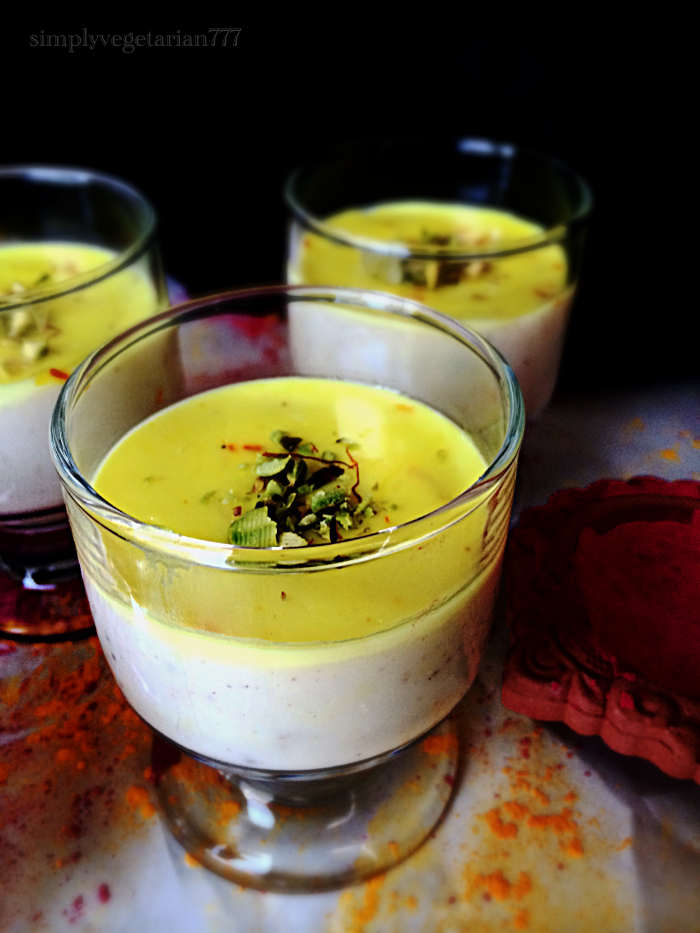 Making the Pudding
I have created a fusion here, combining egg-less basic pudding with thandai in it. The result is awesome.
Serves – 5
Kitchen Equipments Required – heavy bottom sauce pan, stirrer, spoons, dessert or  pudding bowls., plastic cling wrap.
Ingredients
Milk – 2 cups, I used skimmed.
Cornflour – 2 tbsp
Sugar – 2 tbsp. Use more if you like more sweet. My desserts are on the lower end of the sweetness.
Salt – a small pinch
Thandai mixture – 1 tbsp
Saffron – a pinch
Method
Take the heavy bottom pan. Add Cornflour, sugar, salt and thandai mixture to it. Make sure to break the damp thandai mixture as much, so that it doesn't make lump.

Add milk and saffron to it. Stir with a stirrer/whisk vigorously. Mix everything well.

Put on the gas stove and cook on medium flame. Do not boil it at all. Keep cooking on lower medium flame, while stirring with whisk continuously.

In 7-8 minutes, it will thicken. Dip the back of the spoon in the pudding. If it sticks, pudding is ready. Switch off the gas. Pour in dessert bowls, equally.
Making Saffron Sauce
Ingredients
Heavy cream – 1/4 cup
Cornflour – 1 tsp
Sugar – 1 to 2 tsp, as per taste
Turmeric – a small pinch. I prefer using natural coloring agents. You may use yellow food color too but I donot recommend it. Turmeric is not adding any flavor to it but is acting like a coloring agent only.
Method
Mix all the ingredients together. Cook on low flame while stirring continuously like the pudding, for 2-3 minutes. It will thicken. Switch off the gas.

Layer a tea spoon of it on top of each pudding bowl and spread gently with the back of the spoon.

Cover with plastic cling wrap and Chill for 2-3 hrs before serving.
Notes
You may make more sauce for thicker layer by increasing the ingredients in double.

Garnish with chopped pistachio and saffron.
I promise you that your family and friends are going to love it and kiss your hands!! It's royal, elegant and just out of this world!
Order these Ingredients and other items from amazon to make this recipe. This will not cost you anything extra but help in running this blog.
I love this Cuisinart Grinder to grind all my spices. it is just amazing.
Can't make it Now? Pin it for Later!

In my kitchen, you will always EAT HAPPY & STAY HAPPY!
Happy Holi !!
Sonal