Wadi Matar Pulav
As an Amazon Associate and member of other affiliate programs, I earn from qualifying purchases.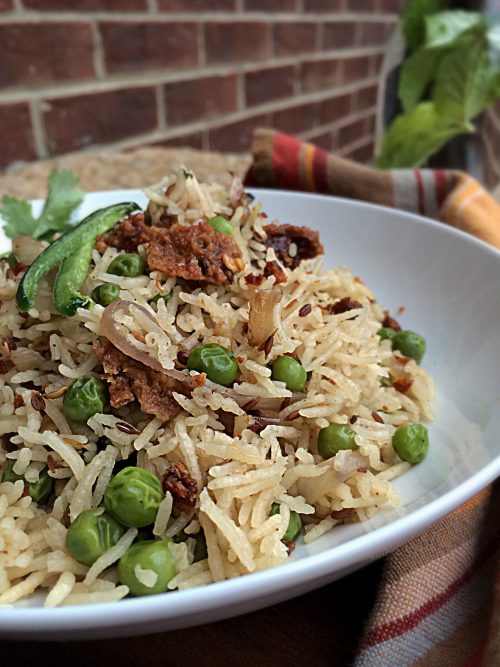 Wadi Matar Pulav is made with spicy dried Urad (lentil) nuggets and peas. It is a popular rice preparation from Punjab households, India. The pulav is a complete meal in itself. I have served it with raita (yogurt dip).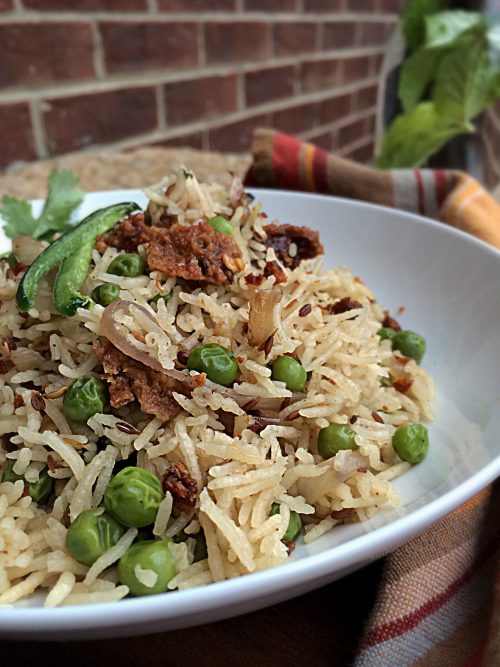 Wadi Matar Pulav
A pulav is a complete one pot meal which is relished with some raita (yogurt dip), chutney and pickles. Though you can eat it all by itself but a little company is always appreciated. Wadi is one of my favorite protein choice form Indian flavor profile. Matar is Peas which adds more fiber and protein to the recipe.
Wadi is native to the region of Punjab and Rajasthan and is used through out the year for good protein rich meals. My mother hails from a family with roots from Punjab (now in Pakistan) and she introduced me to Wadi. I remember my naani making some simple and authentic recipes which tasted heavenly. This wadi combination was one among them.
Punjabi Wadi Facts
Punjabi Wadi is a dried nugget made with Urad dal and spices like cumin. Fennel, red chili etc. Dal is soaked and ground, then shaped and finally sun dried to achieve a crisp texture and just like any sundried ingredient, has a longer shelf life! There are lot of preparations that are made in combination with it like that with potatoes, lauki or opo squash etc. My favorite still is with potatoes and rice. A spicy sturdy nugget full of texture and flavors. Amazing! Isn't it? It tastes like any minced meat when cooked.
My mum often used it in combination with lauki and I loved it. I probably will be bringing out more recipes using wadi, filled with protein and delicious.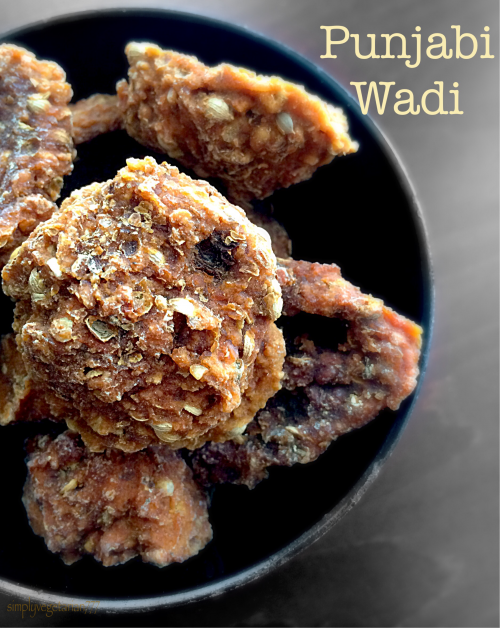 It is a very simple  preparation. Some similar recipe from blog are – Wadi Chholiya, Matar Pulav, One Pot Green Biryani and more.
This is how I made it!
 Kitchen Equipments Required 
Chopping board, knife, mallet or rolling pin for crushing, heavy bottom sauce pan with lid (non stick preferred), stirring spoon, fork.
Ingredients
Rice, Basmati – 1&1/2 cups
Punjabi wadi – 2 to 3, crushed roughly
Peas – 1 cup
Onions – 1 cup, thinly sliced
Ghee / Oil – 1/2 tbsp + 1 tbsp
Cumin seeds – 1&1/2 tsp
Bay leaf – 1 small
Black pepper corns – 4
Cloves – 4
Garam Masala – 3/4 to 1 tsp. Use good quality Garam masala.
Salt to tatste
Water – 2&1/2 cups
Method
Wash and soak the basmati rice for 20 minutes.

Meanwhile prep the other ingredients to make the pulav.

Heat 1/2 tbsp ghee/oil in a heavy bottom sauce pan. Lower the flame and add the roughly crushed punjabi wadi to the pan. Sauté these on the lowest flame till they turn golden and crisp. Set these aside.

Heat 1 tbsp of ghee/oil in the same pan. Lower the flame and add cumin seeds, bay leaf, black pepper corns and cloves. Sauté on lowest flame till cumin seeds start spluttering and spices give nice aroma.

Add onions to it and sauté on medium flame for 5-7 minutes till they are slightly golden.

Once onions are golden as required, add peas, roasted wadi and soaked & drained basmati to it. Sauté on medium flame for another minute.

Add salt and garam masala along with water. Bring it to a boil. Lower the flame. Cover and cook till the water is all absorbed.

Switch off the gas stove. Do not open the lid yet. Let the pulav sit untouched for another 10 minutes. Now open the lid and gently fork it through to fluff and mix. Do not use pressure.

Serve it hot with some Cucumber Raita and Green coriander Chutney.
Tip for Salt in Rice – I always do a lick taste test for checking my salt. After I add water, I spoon some out to see if my salt is okay. I keep my salt slightly higher than required before cooking, since rice and other ingredients absorbs salt while cooking.
Tip for Red chili powder – I have skipped adding red chili powder here since punabi wadi is usually high in heat quotient. Also a good quality garam masala doesn't need any other thing. It seasons a dish beautifully.
Enjoy a great simple meal with your family and friends! It's a one pot rustic meal which doesn't need anything else.
Sonal