American Breakfast Hash
As an Amazon Associate and member of other affiliate programs, I earn from qualifying purchases.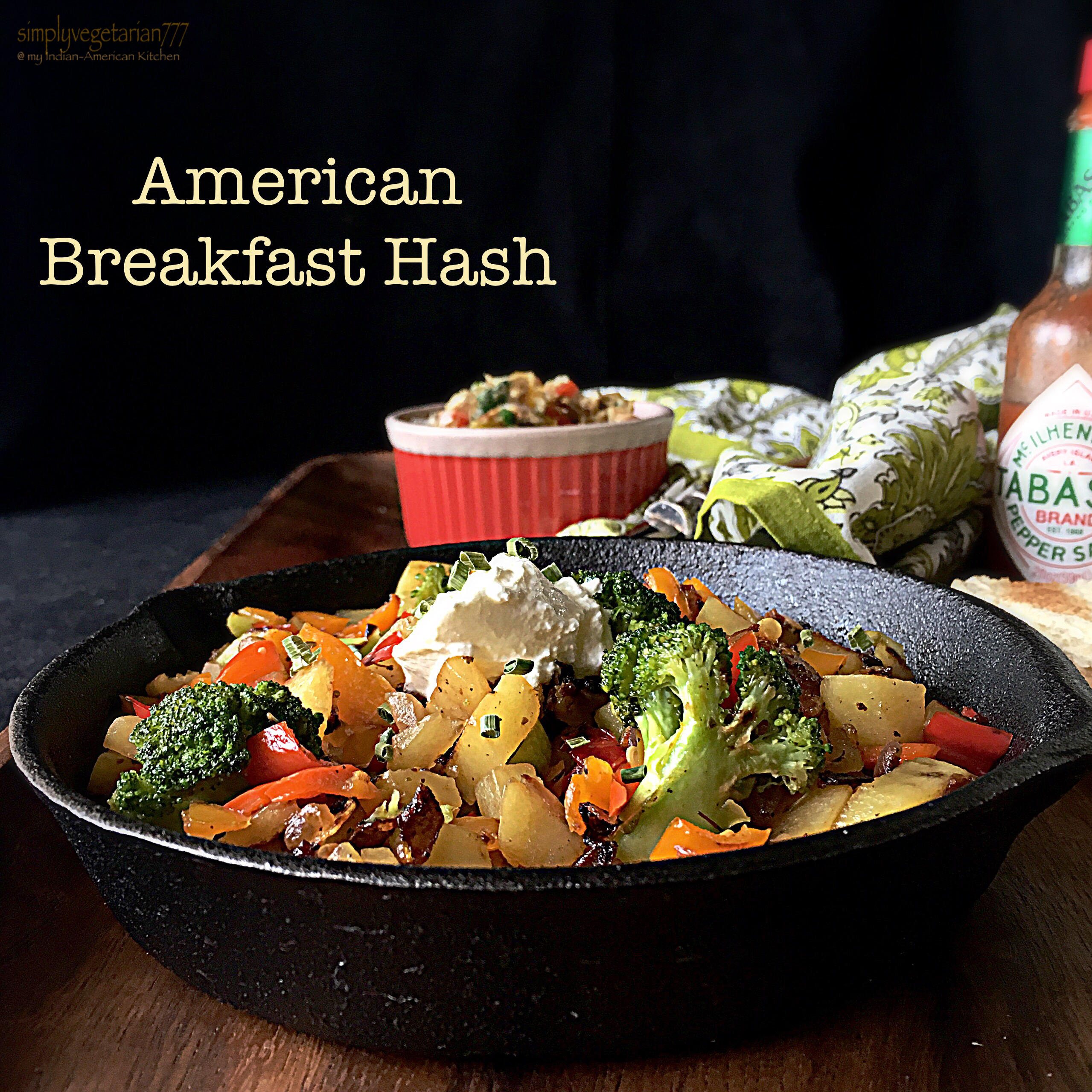 American Breakfast Hash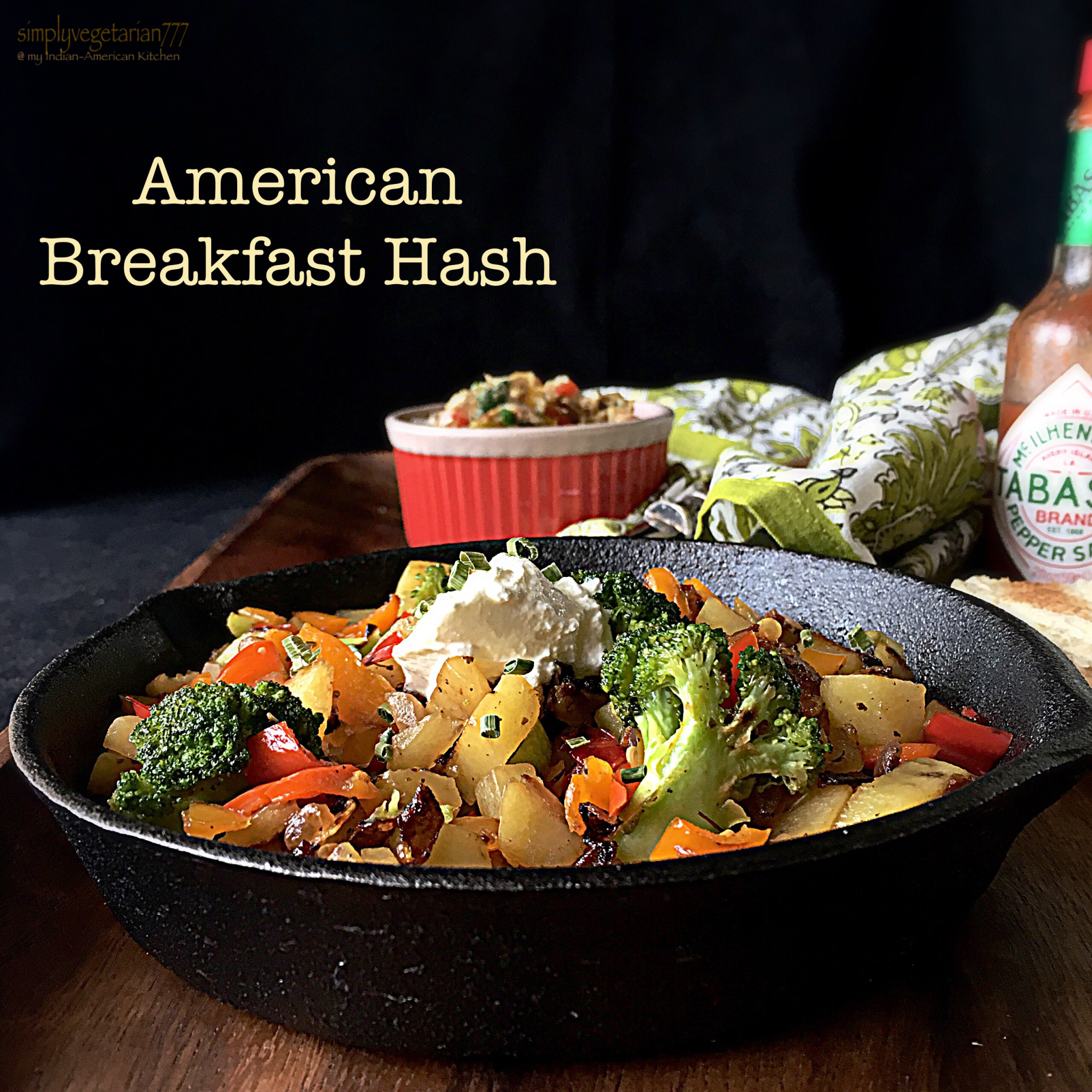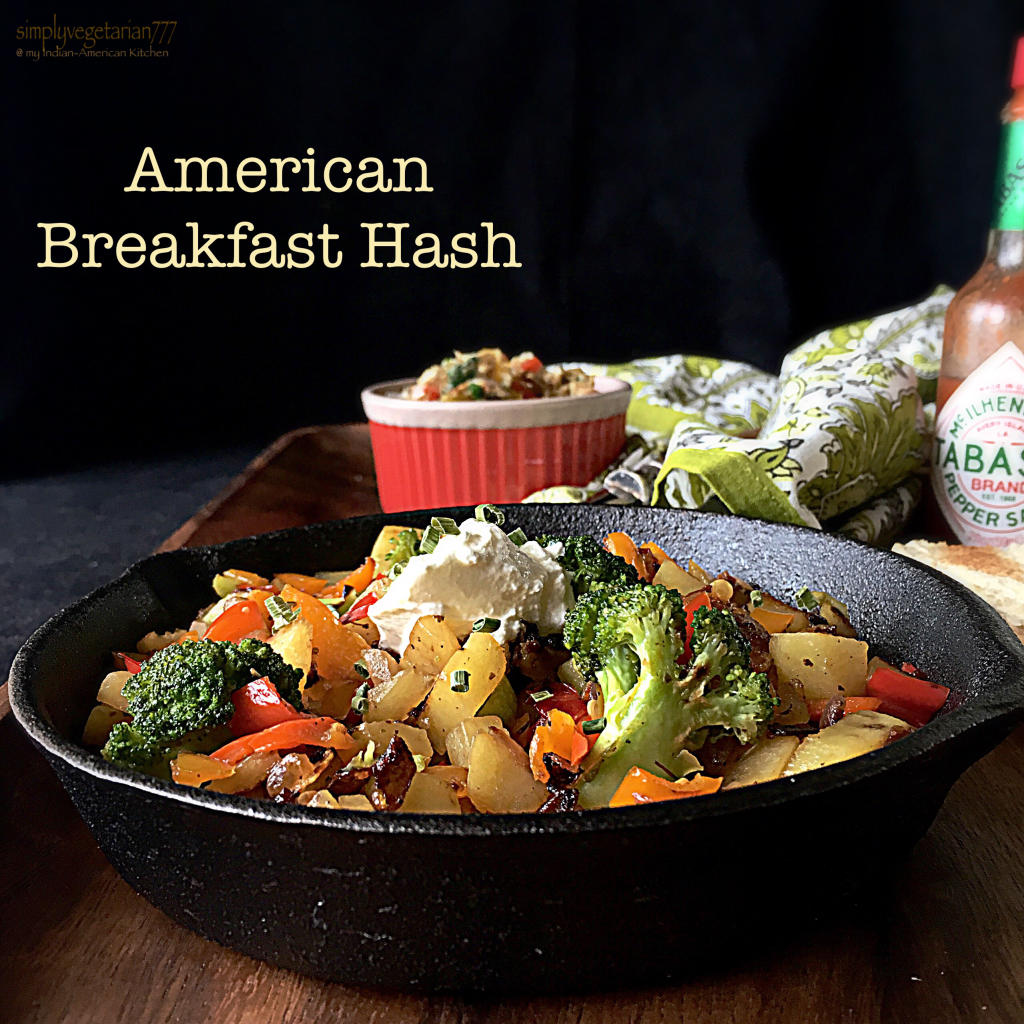 American Breakfast Hash is the way to indulge for brunch over the weekend, especially when looking for some comfort. The hero of this dish is Potato. Potato and comfort are synonym of each other. Don't you agree with that?
American Breakfast Hash is not only hearty and comforting, it has the colors of fiesta and so pleasant to look at, that it can brighten up anybody's dull and boring morning. A warm mouthful bite of hash can make you swoon in the morning, I promise. I say, I want all my weekend mornings like that – happening, swooning, comforting and bright.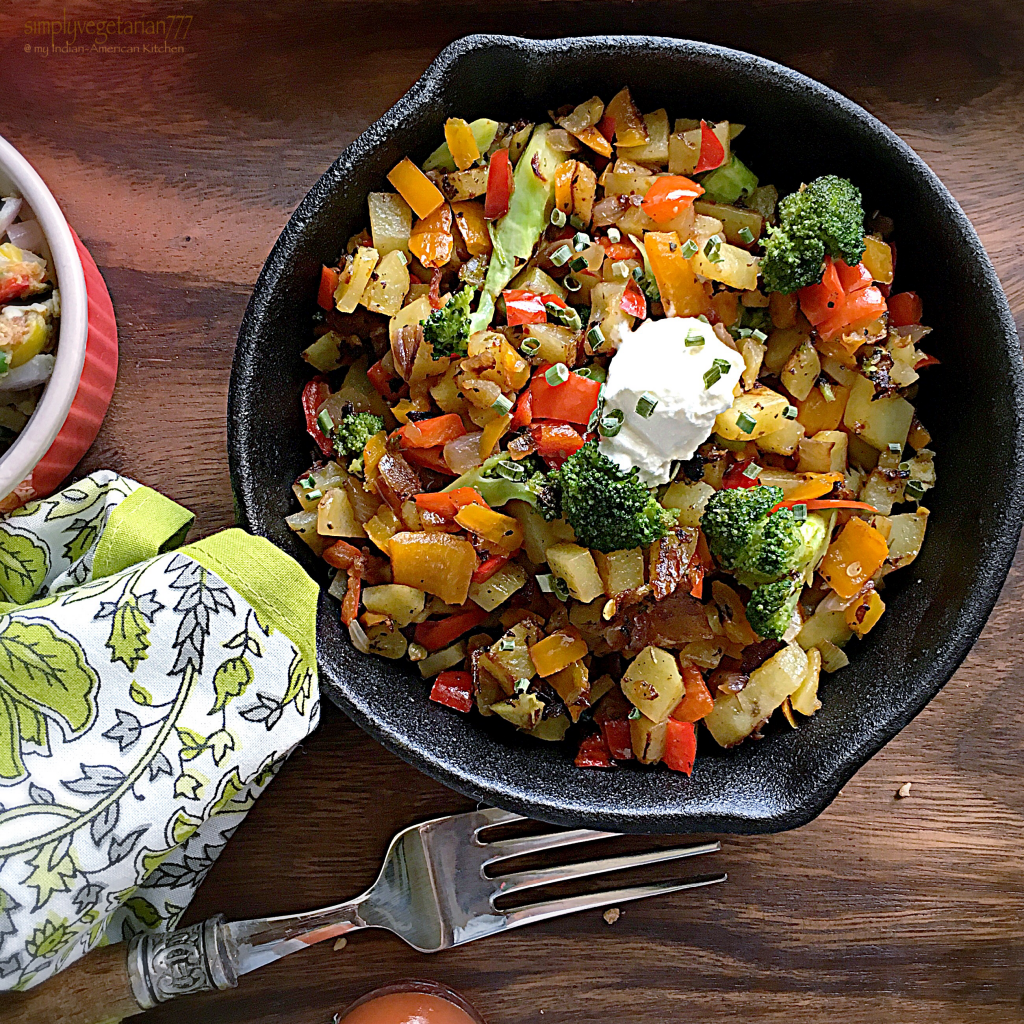 Wiki states that – Hash is a dish consisting of diced or chopped meat, potatoes, and spices that are mixed together and then cooked either alone or with other ingredients such as onions. The name is derived from the French verb hacher (to chop).  
Hash is served primarily as a breakfast food on restaurant menus and as home cuisine, often served with eggs and toast in USA. 
I love a good vegetarian Hash, topped with eggs, buttered toast on the side and a good strong coffee, whenever we go out for the weekend brunch. I am so glad that restaurants in USA, serve vegetarian Hash more common now than before. It wasn't the case, few years ago. The kind of hash that I like is loaded with vegetables, served with sour cream and pico de gallo on top with extra dash of tobasco. The servers bring this out sizzling in a hot iron griddle and the aroma just fills the table. I pick up my fork and dig straight in the hash. The quality of a good hash is that potatoes are cooked soft but not mushy. They are cooked perfectly and slightly crispy at the edges, while other vegetables are also firm and not wilted.
Some other breakfast recipes from the blog are – Bread Poha/Upma , Almonds & Oats Chocolate Cookie , Mini Chocolate Pancakes , Quinoa Mini Uthapams and more.
This is how I made American Breakfast Hash that is all vegetarian and super easy to put together.
Kitchen Equipments Required – A heavy bottom wide pan with a lid, stirring spoon, chopping board and knife.
American Breakfast Hash
A vegetarian breakfast / brunch recipe made with potatoes.
Ingredients
Potatoes - 3 small

peeled and cut into very small cubes

Onions - 1/4 cup

chopped fine

Bell peppers/Capsicum - 1/2 cup

chopped into small squares, as big as the size of potato pieces

Broccoli - 1/4 cup

cut into florets

Mushrooms - 1/4 cup

chopped into pieces

Sour cream - on the side

Parsley & Scallions/Green onions for garnish
Oils & Spices
Olive Oil - 1&1/2 tbsp

Oregano - 1/4 tsp

dry

Black pepper powder - 1/4 tsp

Red chili flakes - a fat pinch

optional

Salt - to taste
Instructions
Heat the oil in a big heavy bottom pan and add onions and saute for a minute on medium heat till slightly soft.

Now add Potatoes and bell peppers and saute on medium heat till potatoes are cooked from the sides and slightly golden at the edges, for about 5 minutes.

Add broccoli and mushrooms, oregano, chili flakes, black pepper powder and salt and give it a good toss. Cover the pan with the lid and let steam for about 3-4 minutes till the potatoes are cooked from the inside.

Uncover and saute and toss everything for about 1 minute like a stir fry on high heat and the hash is done.
Serving Suggestion
Serve it on a platter, topped with sour cream, pico de gallo and a dash of tobasco, with a side of buttered toast.
Notes
To speed up the procedure, you may use parboiled potatoes, that are not boiled till tender.
You may use any seasonal vegetables.
You may top it with salsa and guacamole.
You may spice it up to your liking.
I am sure that this American sweetheart will soon win over your hearts as well and will become a regular weekend brunch at your home too. Treat your family and friends with the American Breakfast Hash this weekend and have a great time, laughing and making memories together.
Did I tell you that you can make this for a quick dinner also on a busy weeknight, when nothing comes to the mind to feed the family. Breakfast for Dinner sounds exciting to me, does it to you? Well I say, why not? When we can eat Aloo Parantha for breakfast as well as dinner, then why not the Hash? 😉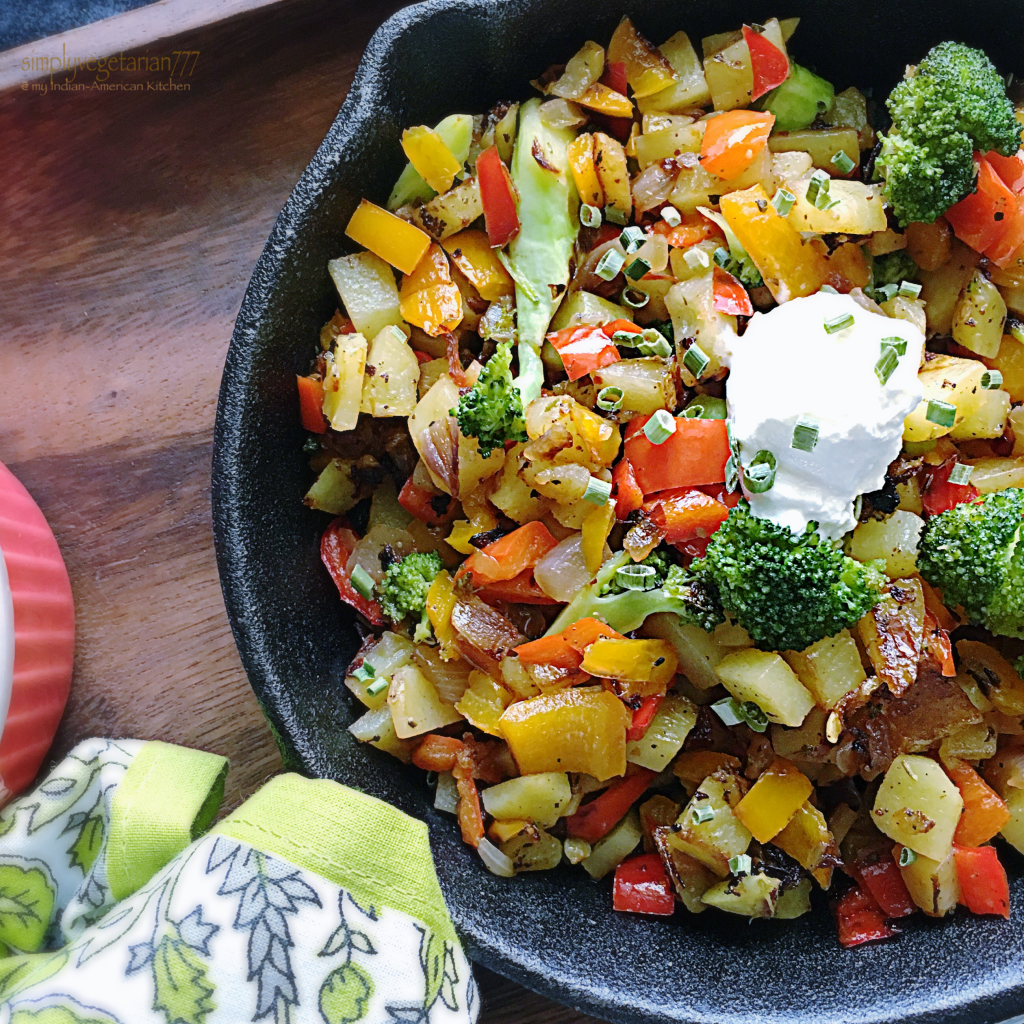 Eat Happy! Stay Happy!
Sonal