Best Vegetable Pulav Recipes
As an Amazon Associate and member of other affiliate programs, I earn from qualifying purchases.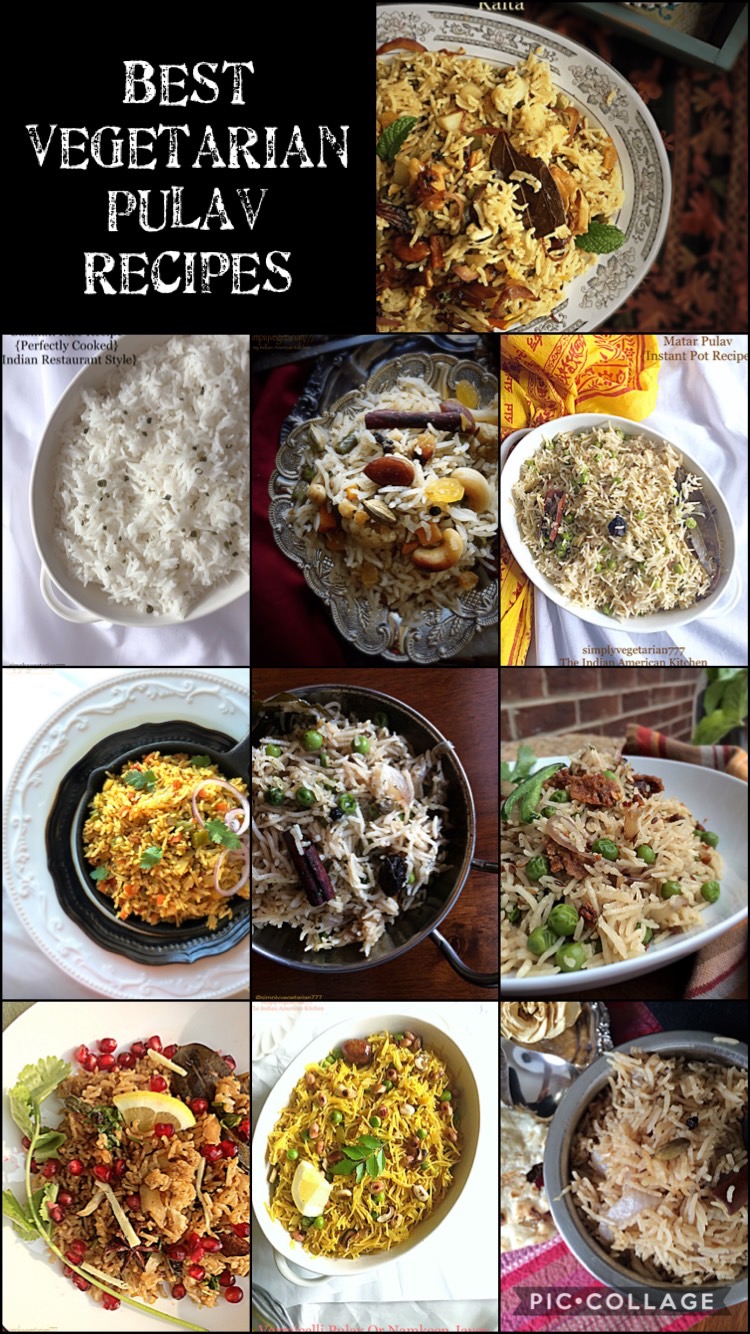 Vegetable Pulav is a complete meal that is delicious, nourishing and a One Pot Preparation. It is a rice dish that has a combination of vegetables, Basmati Rice, whole spices and some other flavoring agents. The Pulav is best served with Pickles, Raita (yogurt dip) and Papad (papadoms). It tastes the best when served hot.
PIN THIS⇓ POST TO SHARE SOME PULAV LOVE!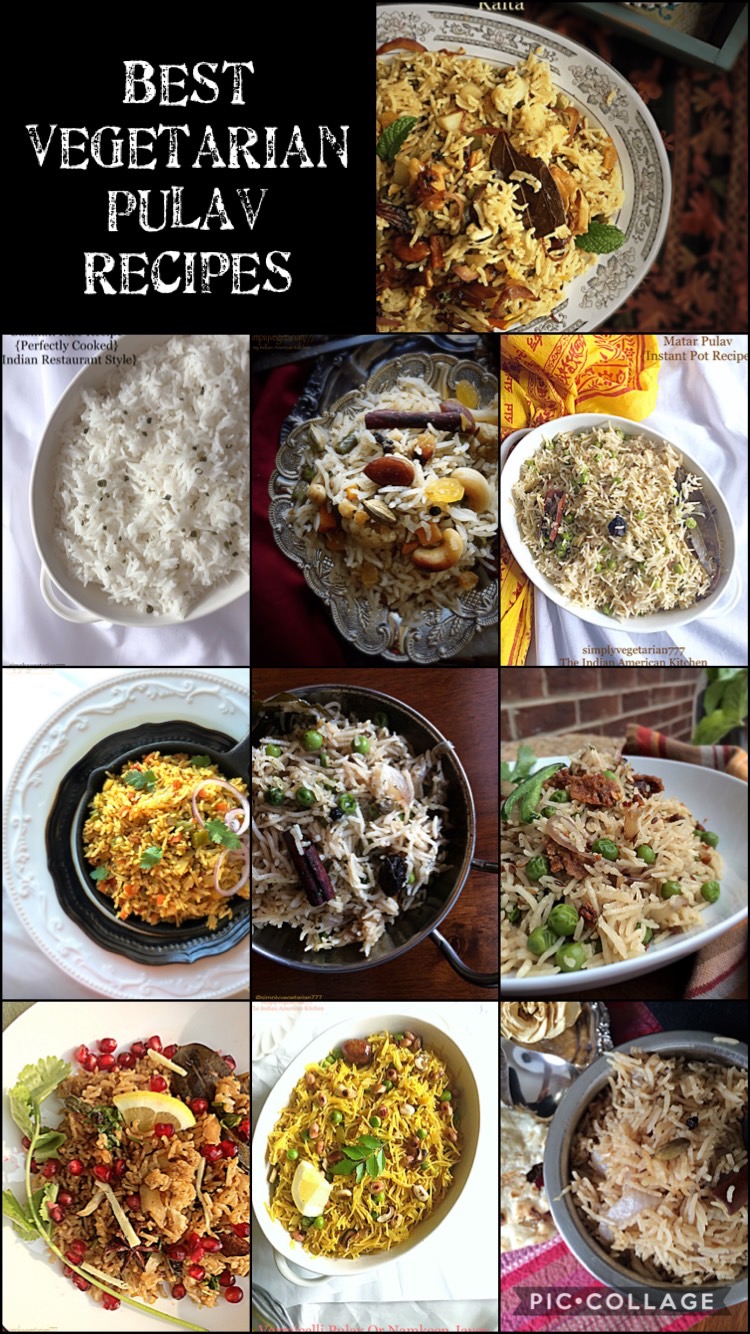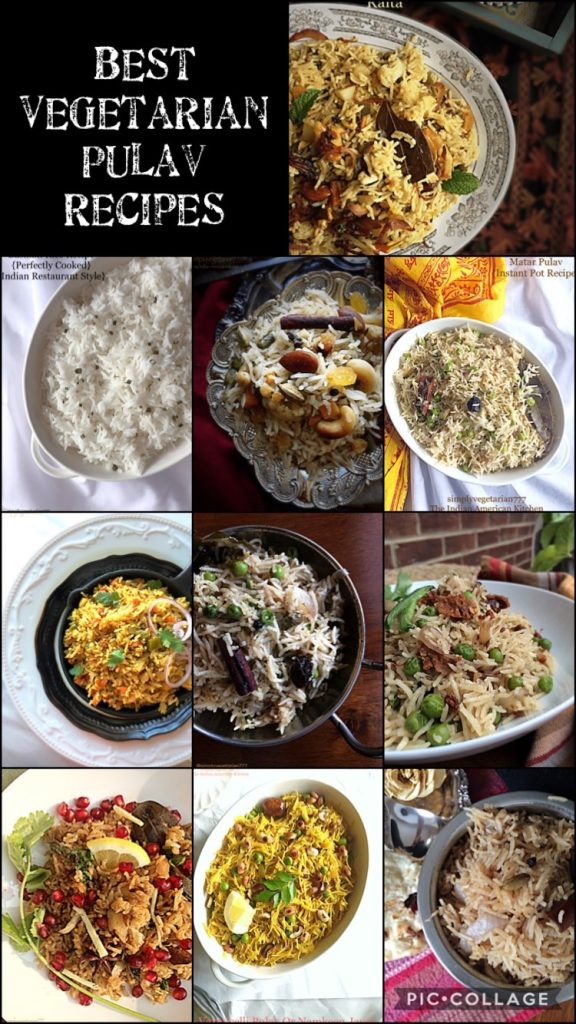 BEST VEGETABLE PULAV RECIPES
Pulav is commonly spelled and known as Pilaf or Pulao in many other cuisines. It is a popular dish in Middle East, South Asia and Central Asia. Though, it is a rich dish prepared with good amount of ghee or oil, but it can be prepared easily with less amount of fat .
Pulao or Pulav is naturally gluten-free. You may use brown rice to substitute Basmati Rice.
All of these recipes can be made in PRESSURE COOKER and INSTANT POT.
This is a collection that is worth bookmarking for reference purpose, when planning the weekly menu or a party.
VEGAN OPTIONS TO MAKE PULAV
Replace Ghee with Cooking Oil or Olive Oil
If a recipe calls for the use of Yogurt, then it can be skipped and adapted accordingly.
When the recipe calls for milk, either substitute with equal amount of water or use plant based milk like almond milk or soy milk or may be coconut milk.
For people, who are not aware of Indian Whole spices and still want to make Pulav at home, then they may use 1/2 tsp of GARAM MASALA more or MARKET BOUGHT PULAV MASALA or BIRYANI MASALA.
IMPORTANT – PLEASE CLICK ON THE PICTURES OR TITLES FOR THE RECIPE.
---
Rice recipes are incomplete without learning how to prepare the basic BASMATI RICE perfectly. This recipe is worth learning in order to obtain perfect looking and tasting Basmati every-time.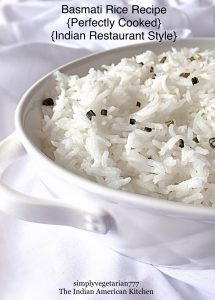 ---
This recipe is inspired by popular Kashmiri flavors. A must try for sure. You can make it for week day or weekend or for your parties as well.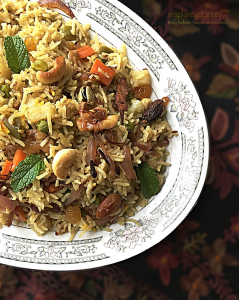 ---
This is an amazing Pulav with nuts and a Royal touch. You have to try this one to know what ROYAL is.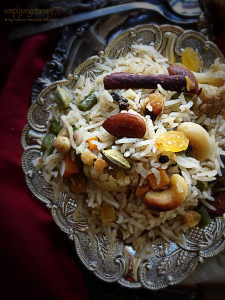 ---
This Pulav is for my weight conscious and figure friendly friends, created by me under the DIABETES FRIENDLY THURSDAYS.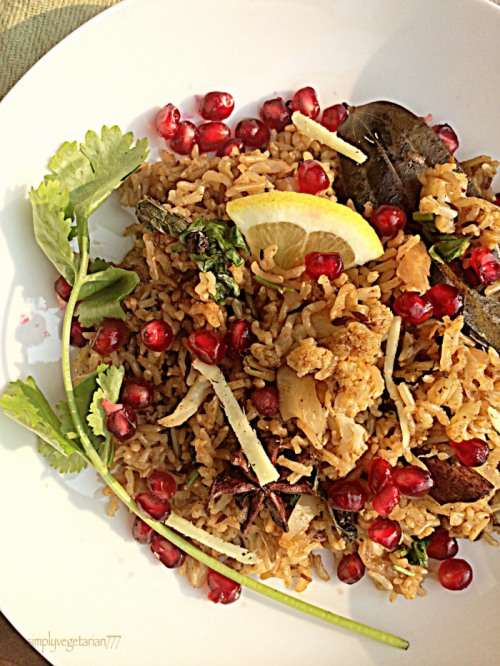 ---
This is one of my favorite pulao from the collection. The recipe has Vegetable Korma recipe included as well and a must try for sure.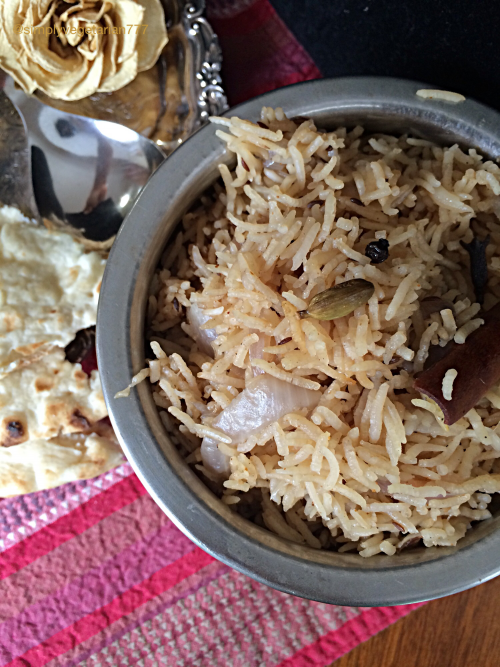 ---
You can not go wrong with this pulav. This is one recipe that is loved by all. It is an easy and simple recipe. The recipe has Instant Pot and Stove Top instructions.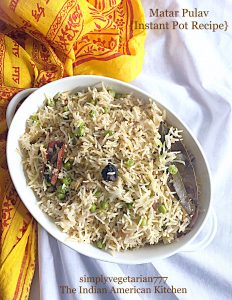 ---
Griddle or Flat Pan is Tawa in Hindi. The left over Pav-haji is used and mixed with rice to create this super delicious Rice meal.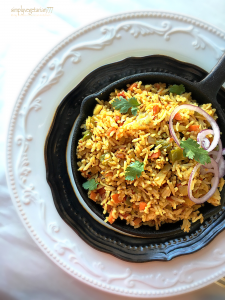 ---
Famous Punjabi Wadi is a dried Urad Dal Nugget and is a great way to preserve protein and use it as desired. This is my mother's favorite Pulao. Do try it.
---
This is another great recipe for pulav with hints of mint along with peas to make PULAV. A good recipe for SABZ KADHAI which means pan cooked mix vegetables is also included.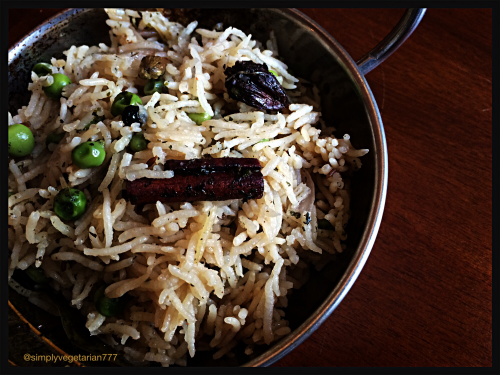 ---
A very different kind of pulao using small thick dry vermicelli made of refined flour/maida. It is a great recipe for meals or snack and even weekend brunch. You may pack it for lunch box also.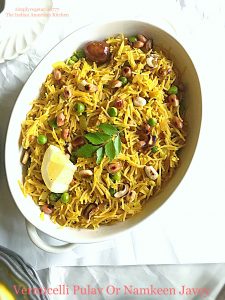 ---
I am sure you will keep this post bookmarjed for reference. Do not forget to pin and share it with your loved ones.
In my kitchen you will always EAT HAPPY & STAY HAPPY!
Sonal