Carrot Ginger Soup – Gluten-free & Vegan Soup
As an Amazon Associate and member of other affiliate programs, I earn from qualifying purchases.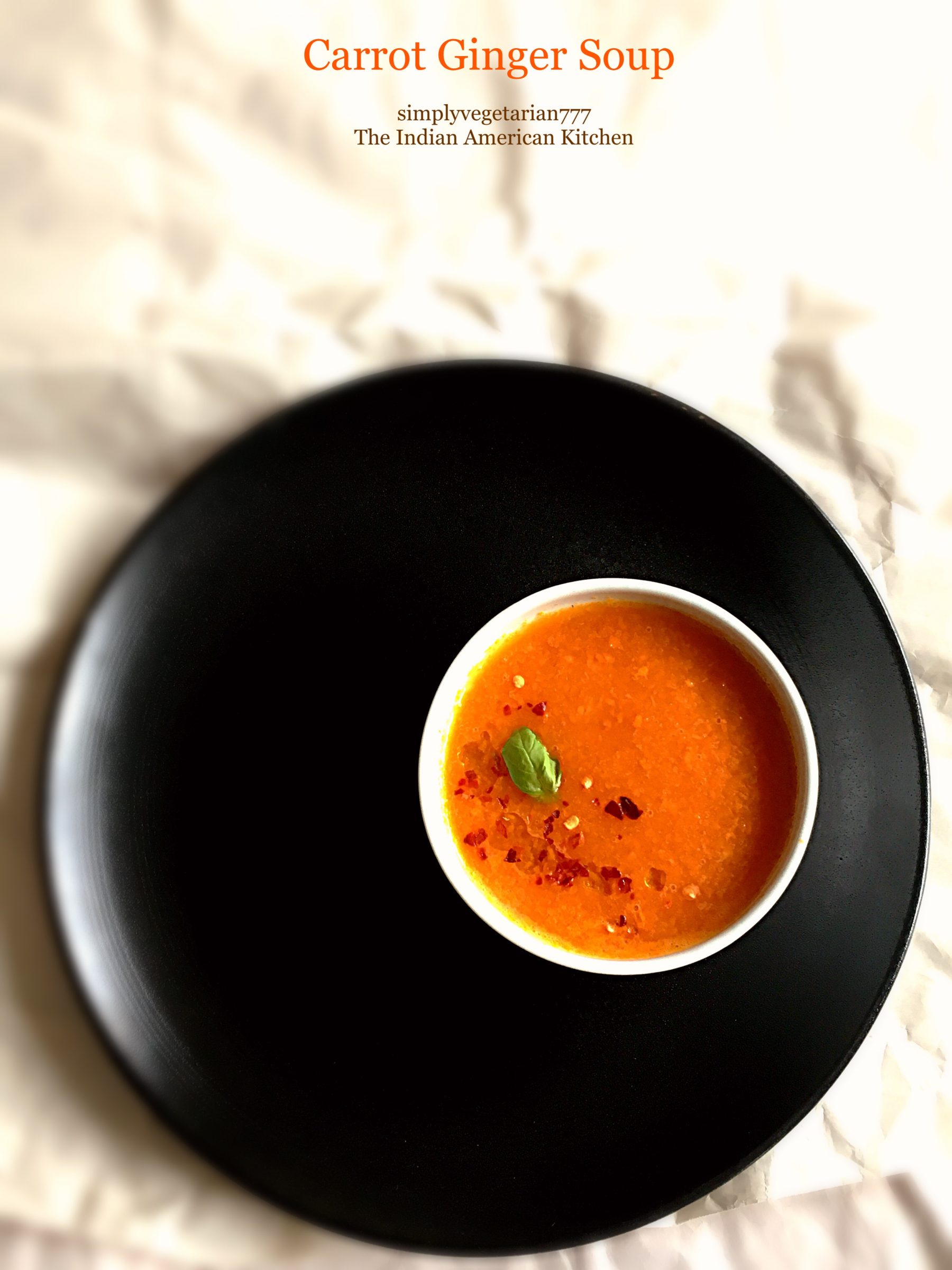 Carrot Ginger Soup is a Gluten-free & Vegan Soup that is perfect for the days when you want to eat light and detox your body. It is nutritious and heals your system.
Carrot Ginger Soup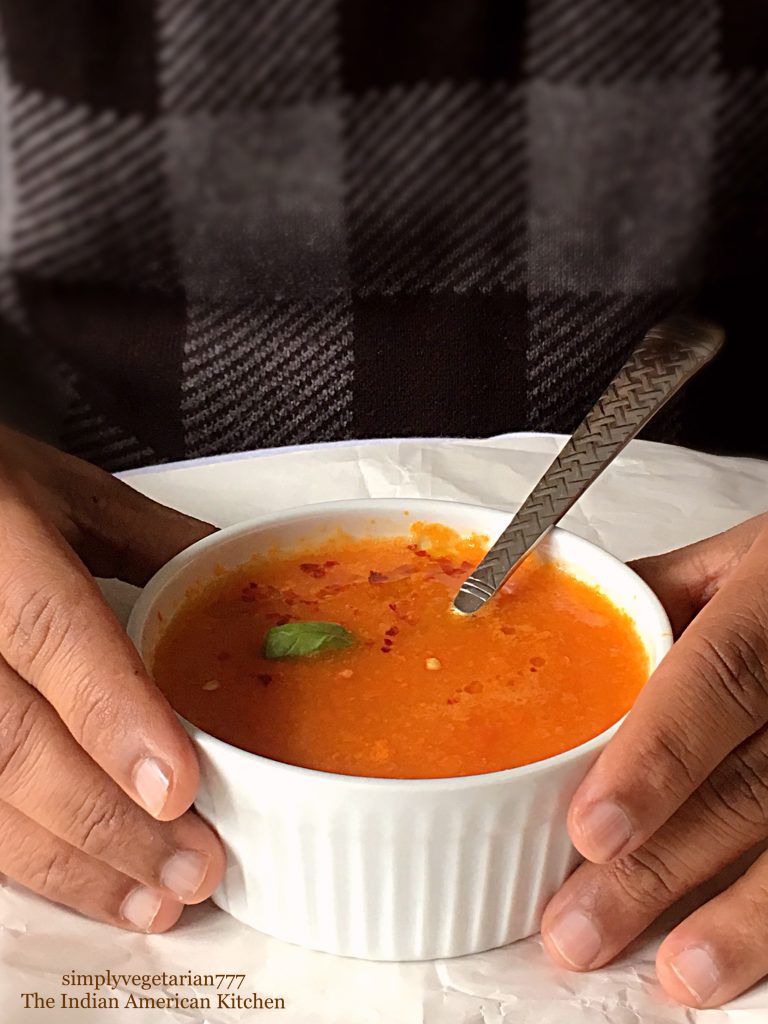 While the whole world is going crazy over Cookies and Cake Recipes at this time of the year, here I am pitching my Detox-ish soup to you all. Crazy? Huh! But truth to be told, amidst all the holiday madness, we all crave for something light, easy and detox-ish in between to keep us going. Right?
Having said that, I promise that I will be bringing the much awaited cookies and cakes for the season soon, but till then I need to get myself riding on the cleaner eating.
You ask me why? Well, because I just got back from this amazing vacation from Jamaica and now cursing myself that why did I come back from a paradise like Jamaica.
With a week long vacation and few inches expansion and couple of pounds added, it is a much desired demand of the time, before I binge again in the holiday goodies.
Why is this soup Detox-ish? Carrots and Ginger are 2 very healing ingredients.
Carrots are known for their rich dietary fiber content and richness in vital vitamins as A, K, Folate and B6. Also, The vegetable has minerals which promote bone health like Manganese, Potassium, Copper and Iron. It is advisable to consume carrots daily for good Digestive and Immune System. It promotes good Eye Sight and prevents Mascular degeneration.
Researches have shown that carrot is one of those vegetables, whose health benefits increase when cooked. Go ahead and include a bit of Carrot Love in your life.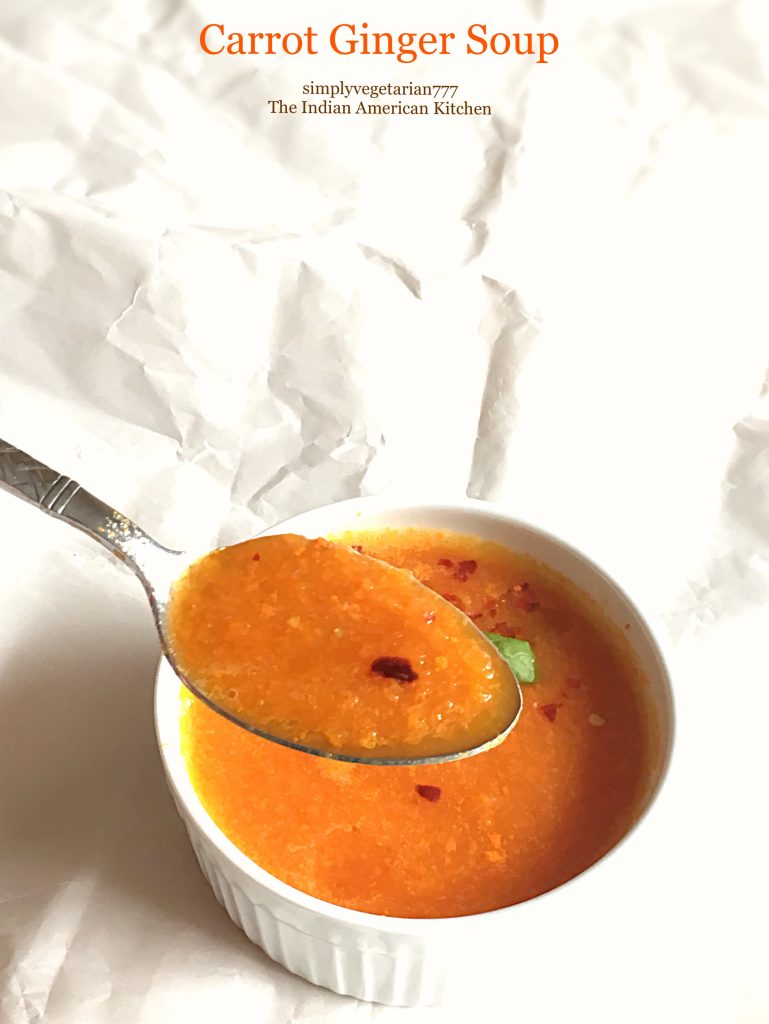 Ginger has amazing benefits for GUT & DIGESTIVE HEALTH. Little bit of ginger in your food everyday, can take care of you in the long run. It is known to help relieve IBS symptoms (Irritable Bowel Syndrome). Ginger helps relieve gas and heart burn and also boosts Nutrient absorption in the food and helps ease motion sickness. The root can help treat chronic indigestion.
Now you see, how ginger in this soup can be beneficial.. Though, ginger has to be taken daily in small quantities.
For that matter, my mornings are incomplete without a Hot cup of GINGER TEA.
You can make this recipe in Instant Pot also. It would be quick and a breeze. Did I tell you that I am a Live Example who turned into Insta Pot Lover from Insta Pot Hater? Story coming up soon on that, meanwhile, I am going to order my mini Insta Pot soon. Are you?
This is how to make the Carrot Ginger Soup.
Carrot Ginger Soup
Carrot Ginger Soup is a Gluten-free & Vegan Soup that is perfect for the days when you want to eat light and detox your body. It is nutritious and heals your system.
Ingredients
4

Large

Carrots

washed, peeled and chopped roughly

1

tsp

Ginger

grated or chopped fine

1

Small

Tomato

chopped roughly

1

Small

Onion

peeled and chopped roughly

2

Black Pepper Corns

To Taste

Salt

4

Cups

Water
Garnish
4-5

Basil Leaves

1

tsp

Olive Oil

optional

Small

Pinch

Chili Flakes

optional
Instructions
Take the pressure cooker. Add all the given ingredients in the cooker with 1/2 cup of water. Cook till one whistle. Let the pressure release on its own.

If you are using a sauce pan, then boil and cook all the ingredients with 2 cups of water, till carrots have become soft. Close the pan with lid and cook.

Once the pressure is released from the cooker, add 2 cups of cold water and blend the vegetables in a smooth puree either by using a hand blender or a high power blender. Same steps to be followed if cooking in a sauce pan.

Bring this soup to a good boil and cook for 2 more minutes. Serve it hot, garnished with some olive oil, basil leaves and chili flakes. It is light, delicious, nutritious and amazingly refreshing.
Some other popular soups from the blog are – Harira soup , Restaurant style Tomato Soup, Mushroom soup , French Onion Soup and many more.
If you try any of these soups from my blog, do keep me posted.
Follow me on Instagram , Twitter and Facebook for current updates and more tips and twists on good food.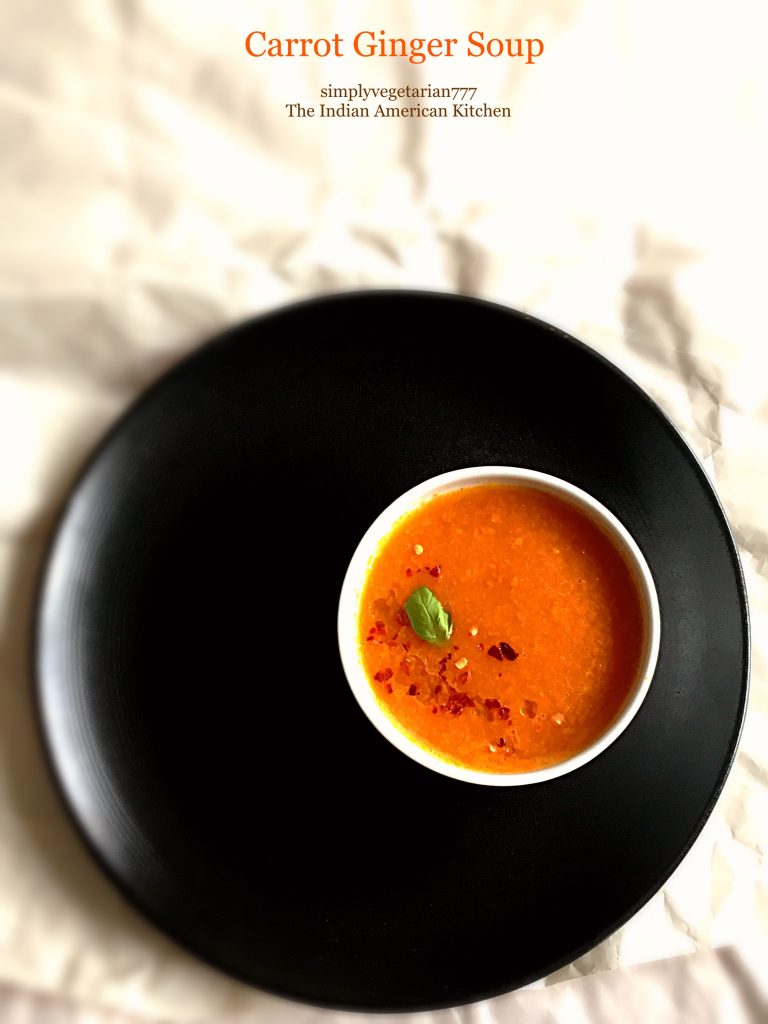 You can order the following from amazon to make this recipe. It will help me earn a small revenue to keep the blog running. Also, these can be fabulous Holiday Gift Ideas for someone who loves cooking.
Sauce pan with lid — great deal
If you can't make this now, then PIN Carrot Ginger Soup for Later!

I am sure that you are going to try the Carrot Ginger Soup soon. If you do try it, then send me back some review and suggestions. Would love to hear back from you.
In my Kitchen, You will always EAT HAPPY & STAY HAPPY!!
Sonal