Cheesy Vegetable Grilled Flatbread
As an Amazon Associate and member of other affiliate programs, I earn from qualifying purchases.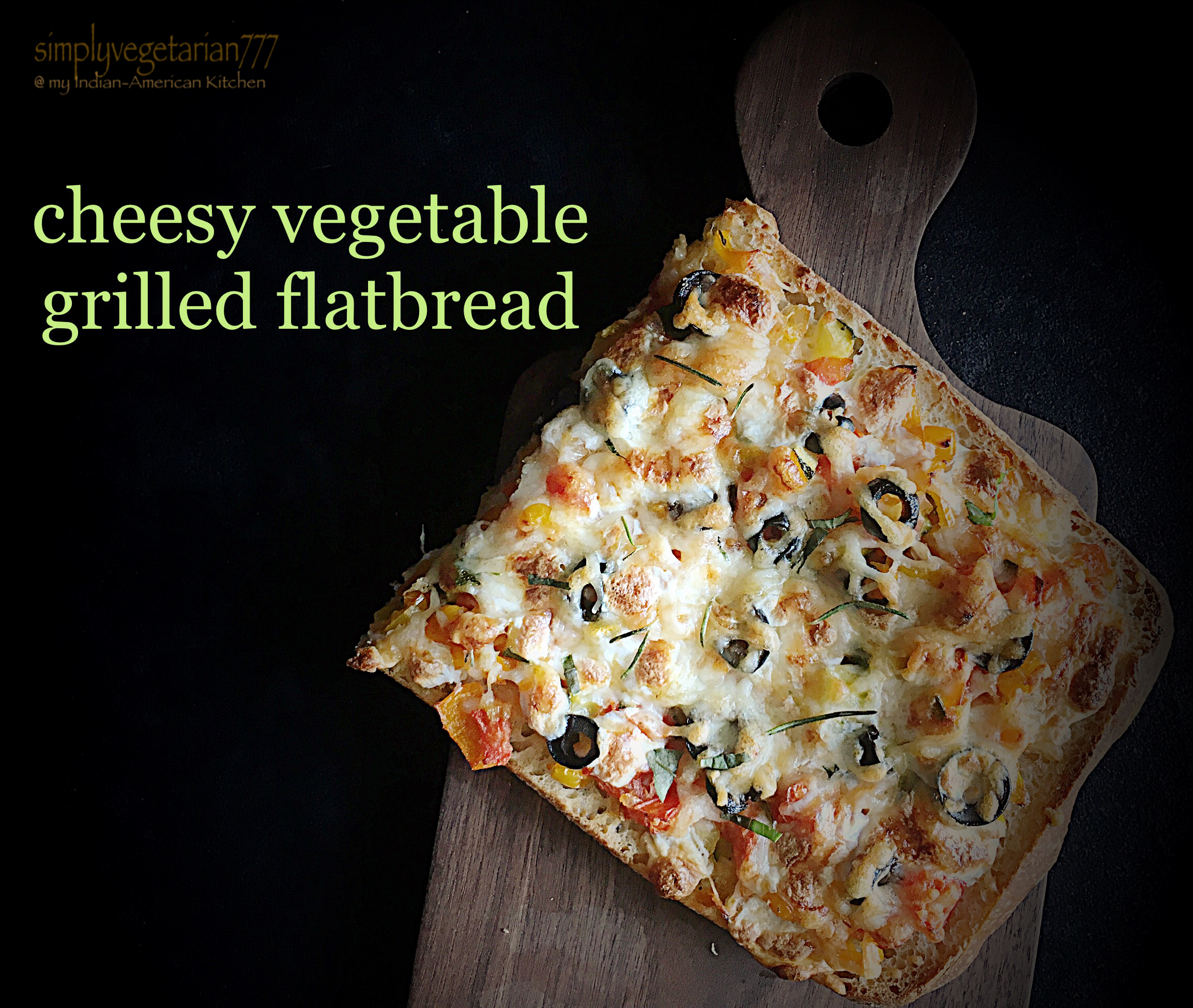 Cheesy Vegetable Grilled Flatbread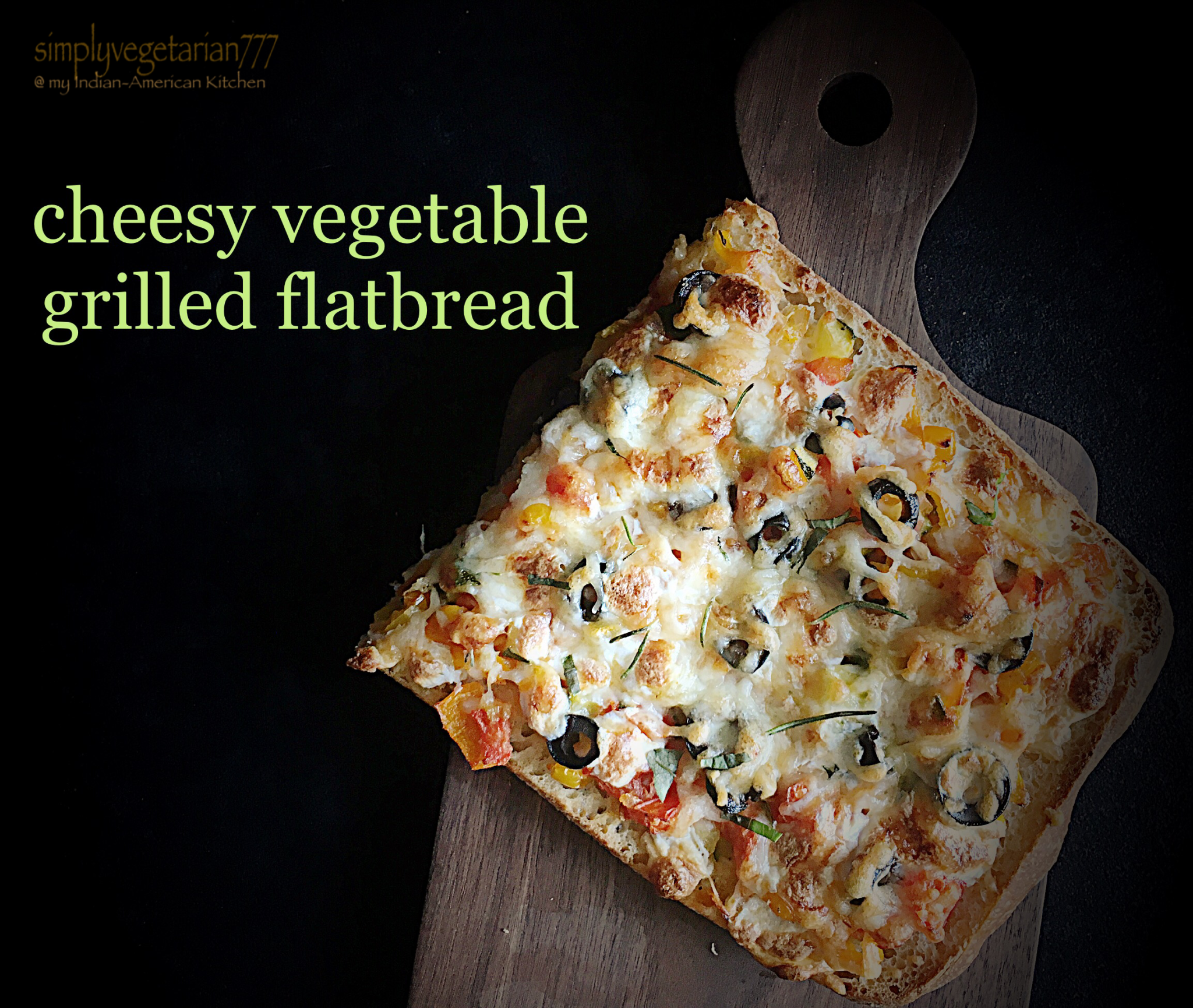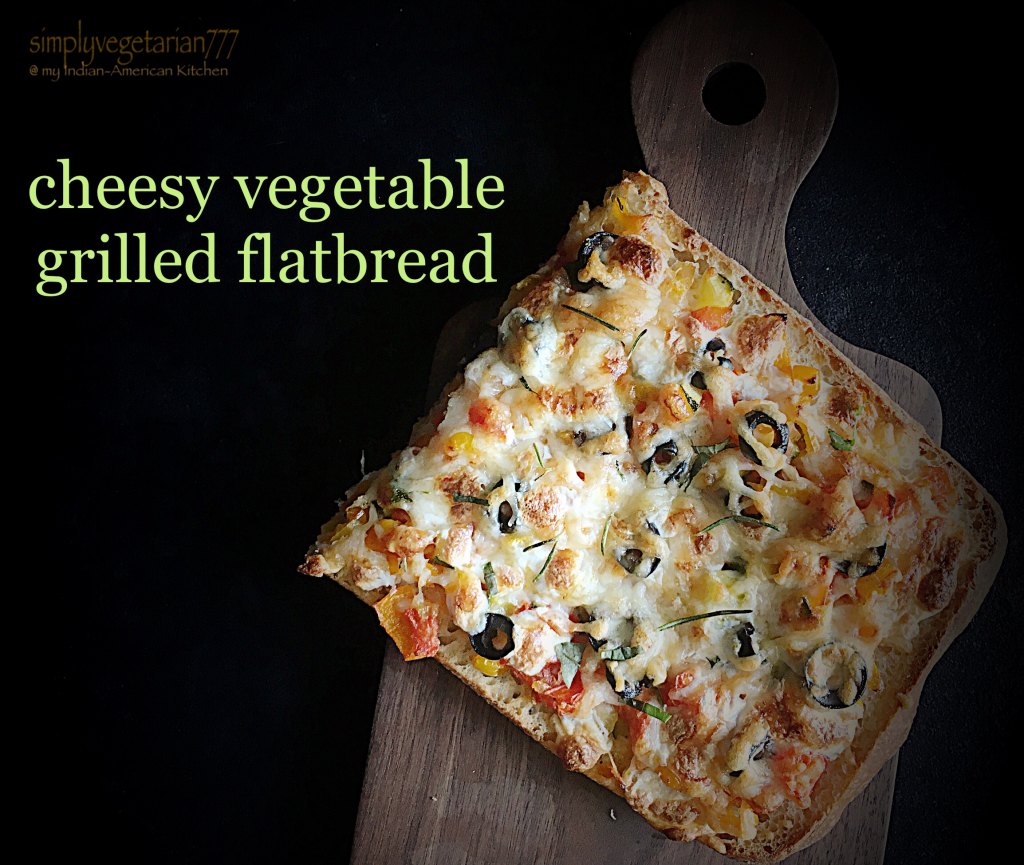 Cheesy Vegetable Grilled Flatbread is the answer to your children's unplanned hunger pangs. Mom I am hungry. What is there to eat? Does this sound familiar? I know, I repeat this sentence every time when I have a dish that is Children friendly. The summer vacation has cemented this phrase strongly in my ears. Are you laughing? I am serious.
Mom I am hungry! This sentence rings in my ears every hour. Arghhh! The break and the kids and the way the hunger strikes often, is a normal scene in my house. I bet that many of you are nodding your head in approval with me. Am I right? Am I? 😀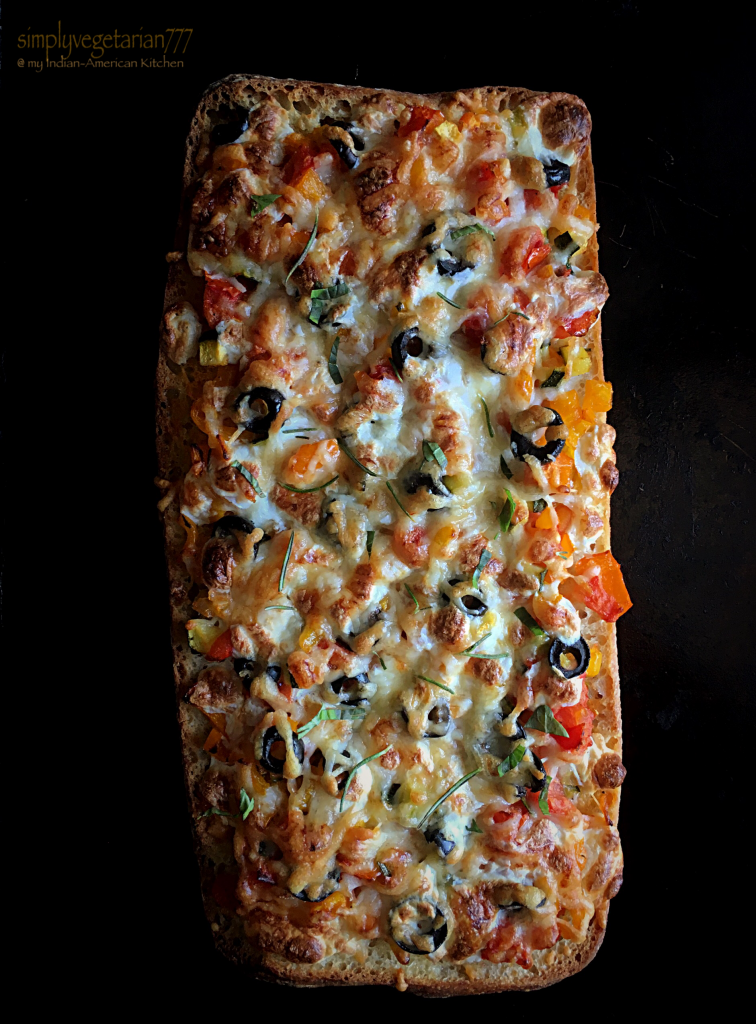 I found the perfect way to appease my daughters' non stop demand of something new and delectable. Cheesy Vegetable Grilled Flatbread is crusty. It is cheesy and is loaded with the goodness of vegetables. This bread is laced with Italian flavors of basil and rosemary. Parmesan, Cheddar, Mozzarella make the bread more palatable by adding the right amount of sass and attitude. You can clearly see that I am in the good company of a middle schooler. 😀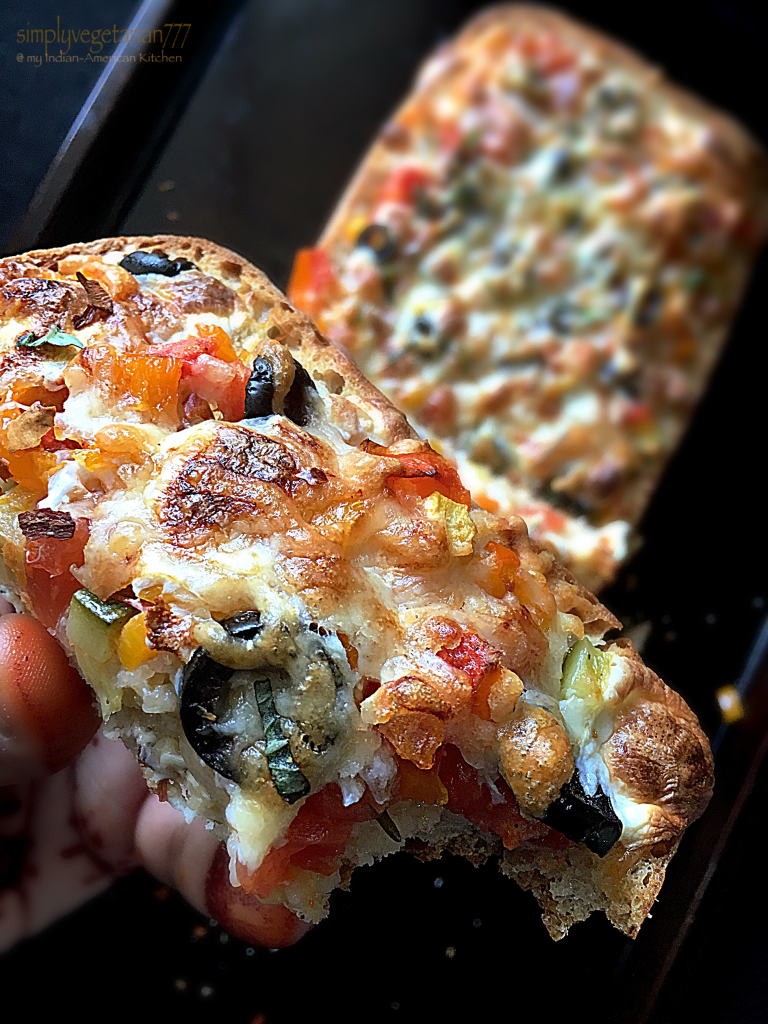 Oh my swoon, one bite into this crusty cheesy bread and you hit the food coma in an instant. I should also mention that here the food coma accompanies the carb coma also. Now that does not mean that you can not eat it at all. My dear friend, I have to re-iterate my thought here on eating habits, that is,
EAT IN MODERATION!!
Yes, you heard me right. Moderation is the key dear people. Work Hard! Eat!  Exercise!  Stay Happy! and Enjoy life like a Grand Party!
Some other happening appetizers and snacks from my blog are – Bun Snack Pizza , Veg Pizza Puffs , Cinnamon Sugar Bites with Chocolate Drizzle , Chilli & Cheese Rangoons and many more. These are perfect to entertain children, friends over tea/coffee, your game night buddies, ladies' only brunches and however you want to use these recipes. To your delight, it can come handy as an after school snack also. Keep the vegetables ready and just layer the bread and sprinkle with cheese and bake.
Cheesy Vegetable Grilled Flatbread is the easiest thing ever that you can put together with very little effort and less time. All you need is – a thick crust bread like ciabatta, or sour dough, or french baguette or any rustic boule ; few chopped vegetables like onions, zucchini, broccoli, tomatoes, olives etc. ; some italian seasoning and a good amount of cheese. That's it! These ingredients create a magic potion and voila, you have this most amazing crusty and cheesy bread, ready in the oven.
Now that the breads that I have mentioned above are the preferred ones, but in case you can not find either of these, you are free to pick and choose the kind that is available. Or, you can bake one at home, from the scratch like this one – here .
All you have to do to make this delicious Cheesy Vegetable Grilled Flatbread is slice the bread into half (horizontally) to have 2 halves. Take one half of the bread and oil it generously to make it crusty. Lay it on the baking sheet and layer with lightly cooked vegetables. Sprinkle the top of the bread with cheese. Bake for few minutes. Take it out off the oven. Slice and Enjoy chomping on it.
This is how I made it!
Cheesy Vegetable Grilled Flatbread
A crusty cheesy bread that is so easy to make.
Ingredients
Bread - a loaf of ciabatta or french baguette or any artisan bread. You may also use whole loaf of home baked bread.

Onions - 1/4 cup

chopped fine

Tomato - 1

large and firm, chopped into small pieces

Vegetables - 2 cups

finely chopped. The vegetables may include - broccoli, zucchini, bell peppers/capsicum, olives (sliced) etc.

Cheese - 1 cup

shredded. It can be a mix of cheddar, mozzarella and parmesan. You can also use any 1 kind of cheese or Pizza Cheese.
Oils & Spices
Olive Oil - 1&1/2 tbsp

Salt & Black pepper to taste

Basil - 1/4 tsp dry or 7-8 leaves fresh

chopped fine

Rosemary - fat pinch dry or a small twig fresh
You can also use 1/2 tsp Italian seasoning mix in place of basil and rosemary.
Instructions
Preheat the oven at 425*F / 215*C.
Preparing the vegetables
Take a saute pan and heat 1/2 tbsp olive oil in it. Add onions and sweat them for about 1 minute till soft on medium high heat.

Now add all the other vegetables except Tomatoes. Add salt and other spices. Stir.

Cook the vegetables on high heat for about 2 minutes. Switch off the heat. Add tomatoes and mix.

Take off the gas stove and let cool for few minutes.

You may do this step in advance also and keep it handy in the fridge.
Making Cheesy vegetable grilled flatbread
Take the loaf of bread. Slice it into 2 halves horizontally so that we have 2 long halves and each half has crust.

Now oil the 2 halves of the loaves from the bottom crust side and top with olive oil. For crustier bread, oil the bottom part generously.

Lay them on the baking sheet with crust side down.

Now take the rested cooked vegetables and spread a layer of them on top of each bread.

Sprinkle the top with cheese.

Bake for about 8-10 minutes till the cheese turns slightly golden at the top.

Take it out. Slice the bread either into thin slices or big slices and serve it hot.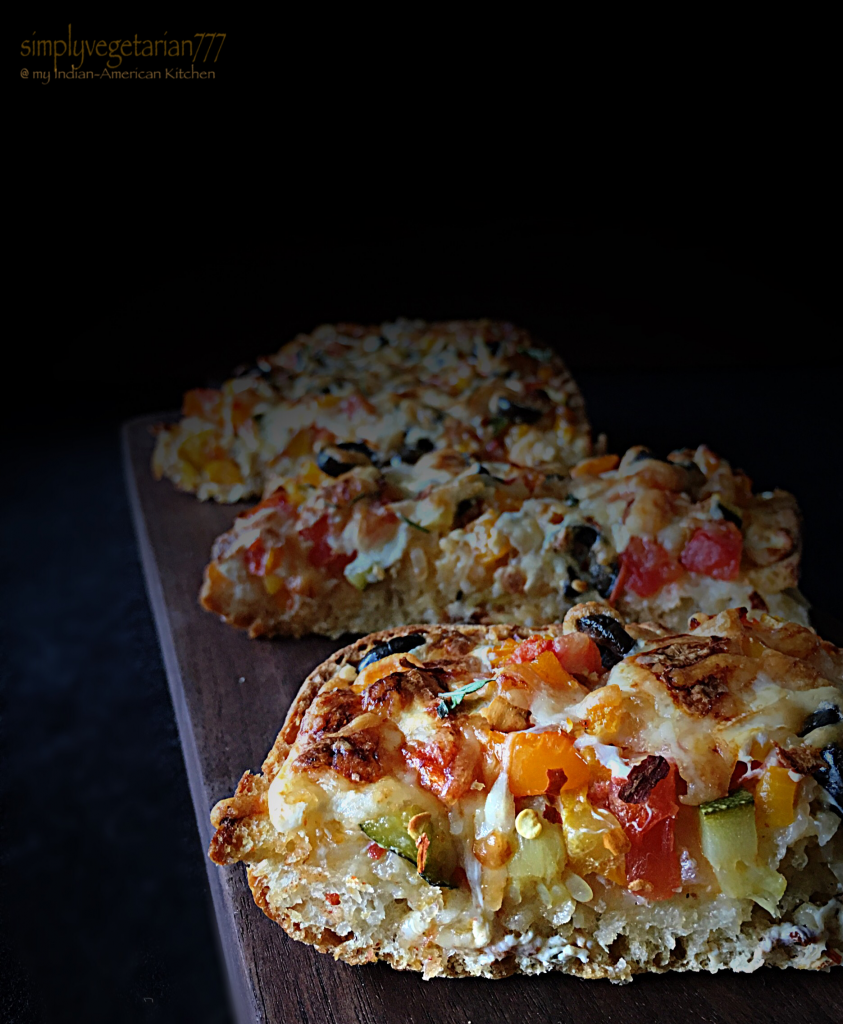 I am sure that you are soon going to try this Cheesy Vegetable Grilled Flatbread and bring a broad smile on the face of your children and other family members. Make this bread next time when you are entertaining guests at home. I promise that you will be the rock star of the gathering. People will ask for the recipe and applaud your effort. Only you will know that how easy it is to put this bread together.
As I always say – Eat Happy! Stay Happy!
Sonal