Chipotle Salad Bowl Recipe
As an Amazon Associate and member of other affiliate programs, I earn from qualifying purchases.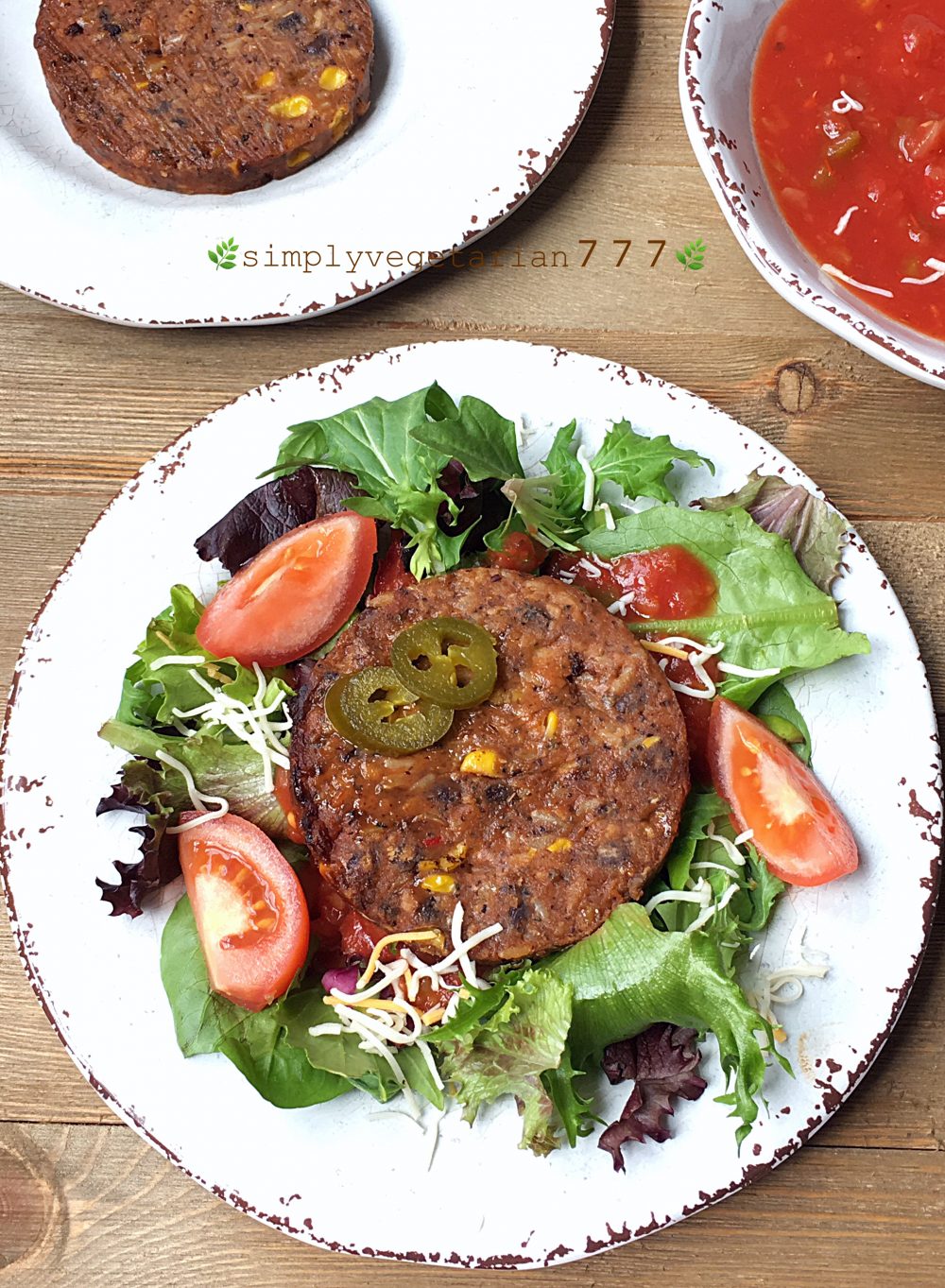 This Chipotle Salad Bowl Recipe is a keeper for your summer cookouts and barbeque get-togethers. These are super easy, super efficient and super delicious. Not only that, these Summer Salad Bowls are Healthy and completely Gluten Free. The burger patties added to this salad bowl make it wholesome and more fun. It is a perfect Meatless Monday Meal.
Disclosure – This post is sponsored by Gardein via Meatless Monday. All the opinions and reviews are my own.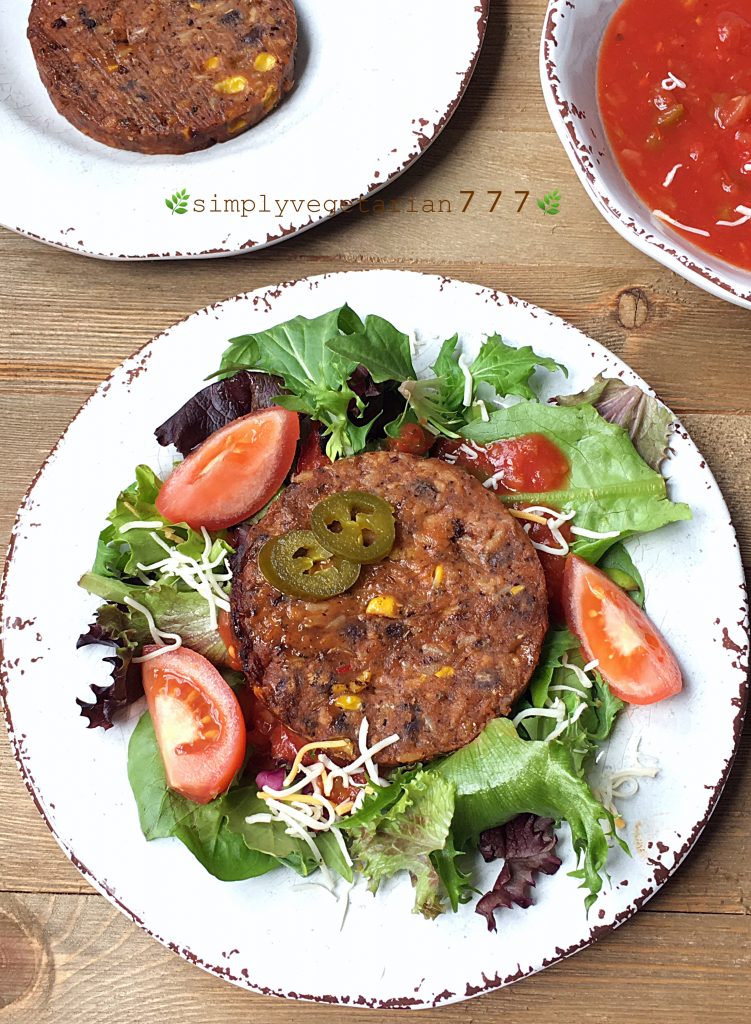 Chipotle Salad Bowl Recipe – Perfect Summer Barbeque Meal
Summer is turning out to be gorgeous with lush green, crisp air and grill outs. Weekend calendars are filled with either hosting a barbeque or going to one. I just love the smell of all that grilled and smoked food that lingers in the air. You can actually trace the aroma of food from far away. For some reason, it brings a comfort to my heart and a smile on my face.
Now that Grilling Season is Officially on and summer break is right around the corner, I am working on my summer party menus and all day "I am hungry" calls from the girls. Therefore when Meatless Monday contacted me to review the Gardein, I was thrilled.
I am the only vegetarian in my family and my husband and daughters do consume meat. Having said that, almost 99.9% meals cooked at home are pure vegetarian. With the busy school and after-school schedules, we do eat out a lot more than it is required.
When I am ordering a salad or a coffee for myself from fast food chains, kids are always ordering their chicken nuggets and chicken burgers. As much as I insist on eating more vegetarian, I do not force them. I strongly believe that what you eat is a very personal choice and we all make particular choices at any given time of our lives.
Why use Gardein products?
I received a lot of Gardein products to try from. You can see from below the amazing choices I had. Also, do make a note that all of them mention –
Always Vegan
Dairy free
Kosher
Made with Plant Protein
Non GMO
The Gardein FAQ says that their products are made purely with PLANT BASED PROTEINS and have all the 9 ESSENTIAL AMINO ACIDS required in any complete Protein meal. Also these are free of cholesterol, trans and saturated fats.
I am completely sold on the Gardein Products. These will be regular in my Freezer either as a Summer Barbeque side or meal to entertain or as an after-school snack for my kids.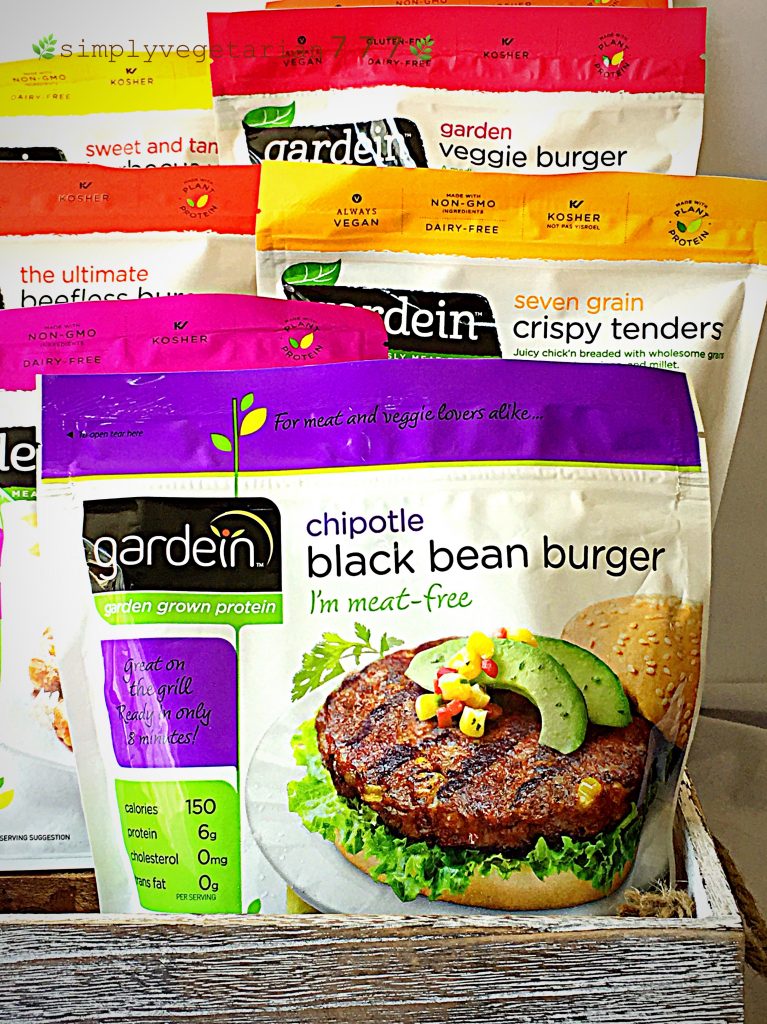 REVIEW of Gardein Products
When taste trying for Gardein products, my family was the best guinea-pig. I prepared their 7 Grain Crispy Tenders, and Crispy Chick'n Patty for the kids and of course my favorite Chipotle Black Bean Burger for myself.
I didn't tell my kids that their snack and meal was vegetarian. Once they finished eating, I asked them if they liked their tenders and burger? They were confused why am I even asking them. My oldest said, yes that was just a chicken burger, why do you ask? I started laughing and blurted that IT WAS NOT CHICKEN BUT PLANT BASED CHICK'N. She was surprised and said, well I couldn't tell the difference. So that is a 5 STAR RATING right there. If my oldest who is the picky carnivore of the hosue, couldn't tell the difference, it is an ABSOLUTE YAY!
RECOMMENDATION to use Gardein products
If you are that person who is newly turning a VEGETARIAN or VEGAN, and still craving meat then Gardein is for you.
When you are that vegetarian in the house who is surrounded by all carnivores in the family (like me), then Gardein is for your family.
If you are that parent who is trying to incorporate ONE MEATLESS MEAL in your week, then Gardein is surely for you.
When you are that HOST who has a mix of guests at your SUMMER BARBEQUE or GRILL OUT, then GARDEIN is definitely for you to keep it simple and keep your Vegetarian/Vegan & Carnivore friends equally happy.
Some Tips on Hosting a Vegan Summer Barbeque Get together
I did host some girlfriends over past weekend for a QUICK SUMMER INDOOR BARBEQUE. So it was a kind of GRILL-IN and I made these CHIPOTLE SALAD BOWLS. These were served in a very Healthy Fashion and were devoured with Style. Lol.. REAL WOMEN DO EAT! I tried to keep it very simple and easy going. Sometimes more is overwhelming and a mess. It worked out Perfect. This is how I planned it.
Prepared these Chipotle Black Bean Burgers in my AIR FRYER
Served along side of GREEN SPRING MIX
Added Tex Mex Condiments
Paired with simple Drink like Pineapple Agua Fresca (not in picture)
Served Fresh cut Watermelon for the Dessert topped with some maple syrup and nuts (not in picture)
Always remember that Less is More sometimes and gives you a good quality time to spend with your guests when hosting.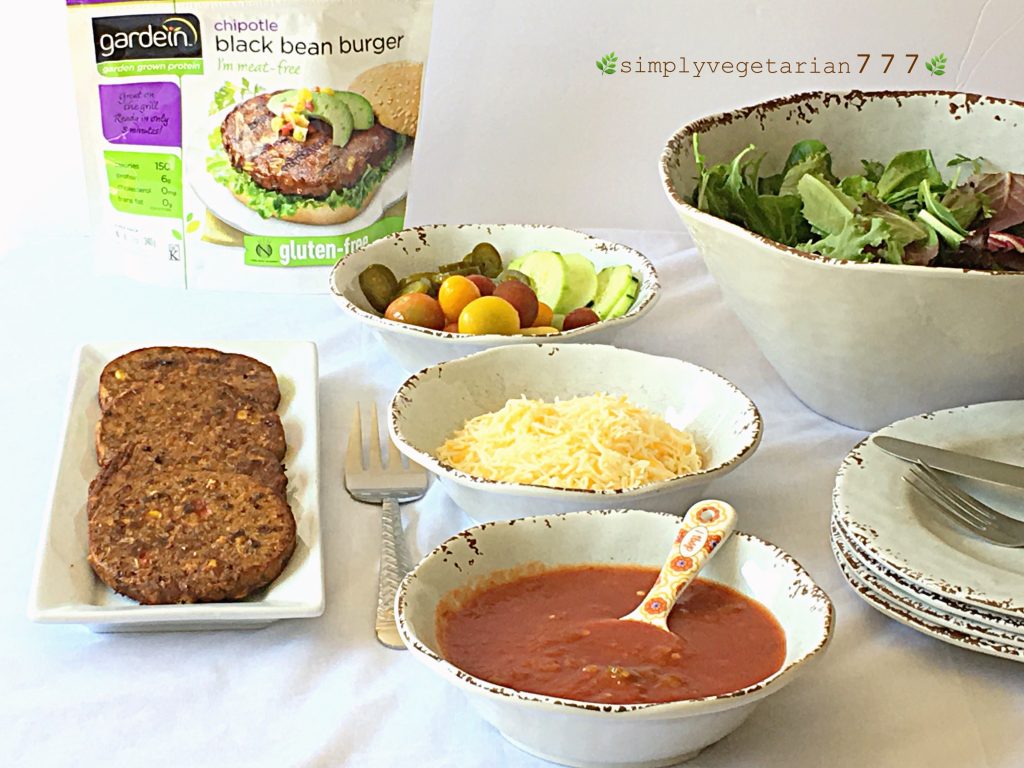 Other Salads from the blog are –
Olive Garden Copy Cat Garden Salad, Mexican Fiesta Salad, Crispy Thai Salad, Cold Noodle Salad and more. You can pair these salads with either of the products from Gardein when hosting a party.
This is how to make Chipotle Salad Bowl Recipe at Home.
Chipotle Salad Bowl Recipe
This Chipotle Salad Bowl Recipe is a keeper for your summer cookouts and barbeque get-togethers. These are super easy, super efficient and super delicious. Not only that, these Summer Salad Bowls are Healthy and completely Gluten Free. It is a perfect Meatless Monday Meal.
Ingredients
4

Chipotle Black Bean Burgers

Gardein 4 Pack

1

packet

Green Spring Mix Salad Bag

1

cup

Salsa

I used HOT, you can pick mild or medium

1

cup

Cherry Tomatoes

washed

1

large

Avocado

chopped

1/2

cup

Vegan Cheese shreds

optional

Few

Jalapeno Slices

optional
Instructions
Grill the Chipotle Black Bean Burgers, as per the instructions given in the back. I grilled mine in AIR FRYER at 390*F/180*C for about 12 minutes.
SERVING SUGGESTION
I served these as complete SALAD BOWLS to keep them healthy and light with just 150 calories per burger. These were served on the bed of Spring greens, topped with salsa and vegan cheese. I served cherry tomatoes, chopped avocado and jalapeno slices on the side to get more flavors.

It is this easy and simple to entertain and have a good time over quality food and great company.

If you try Gardein products and make my recipe, then give a shout out and post in comments about your experience.
Can't make it now? ⇓PIN⇓ IT FOR LATER!

In my kitchen, you will always EAT HAPPY & STAY HAPPY!
Sonal