Jimikand Curry
As an Amazon Associate and member of other affiliate programs, I earn from qualifying purchases.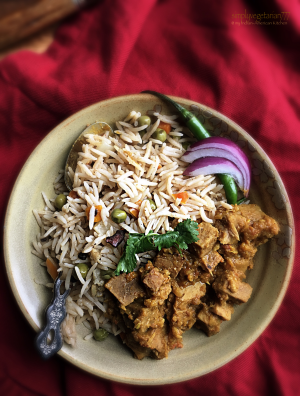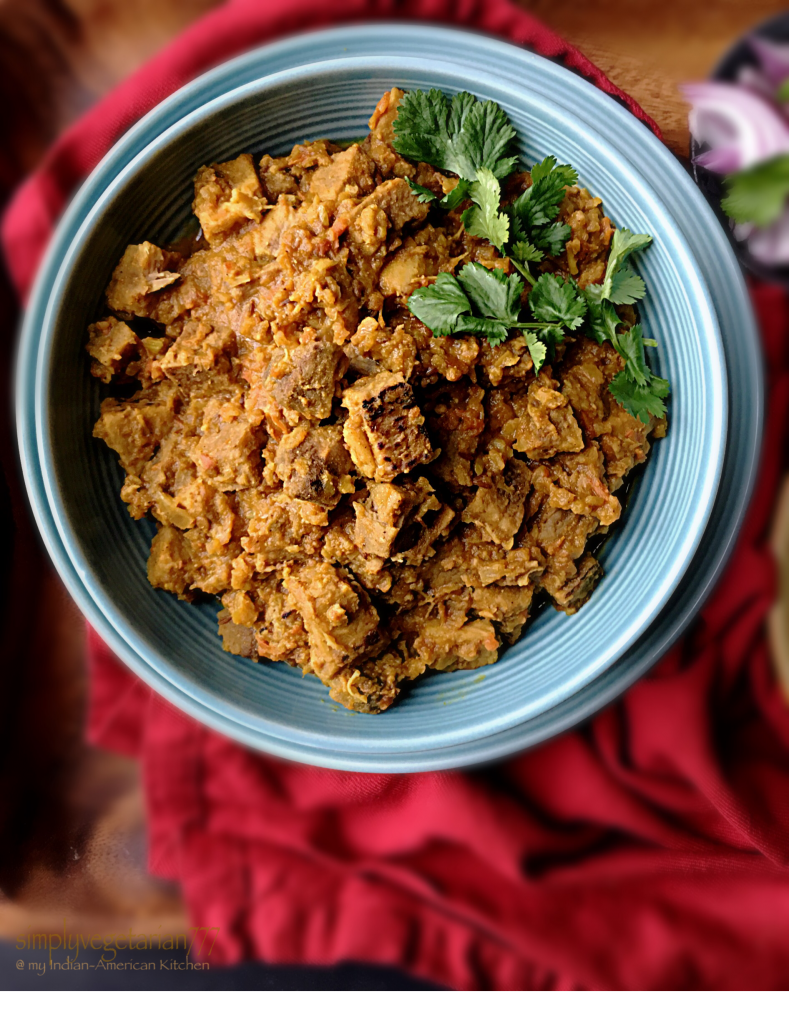 Jimikand Curry is another heirloom recipe from my mum's kitchen, passed onto her by my Nani (maternal grandmother). My mother didn't cook it often when we were growing up. I am not sure why, may be because jimikand was not readily available in our town or may be because the other family members didn't appreciate it much. But she often mentioned that her mother, that is my Nani, made the best Jimikand ki sabzi ever.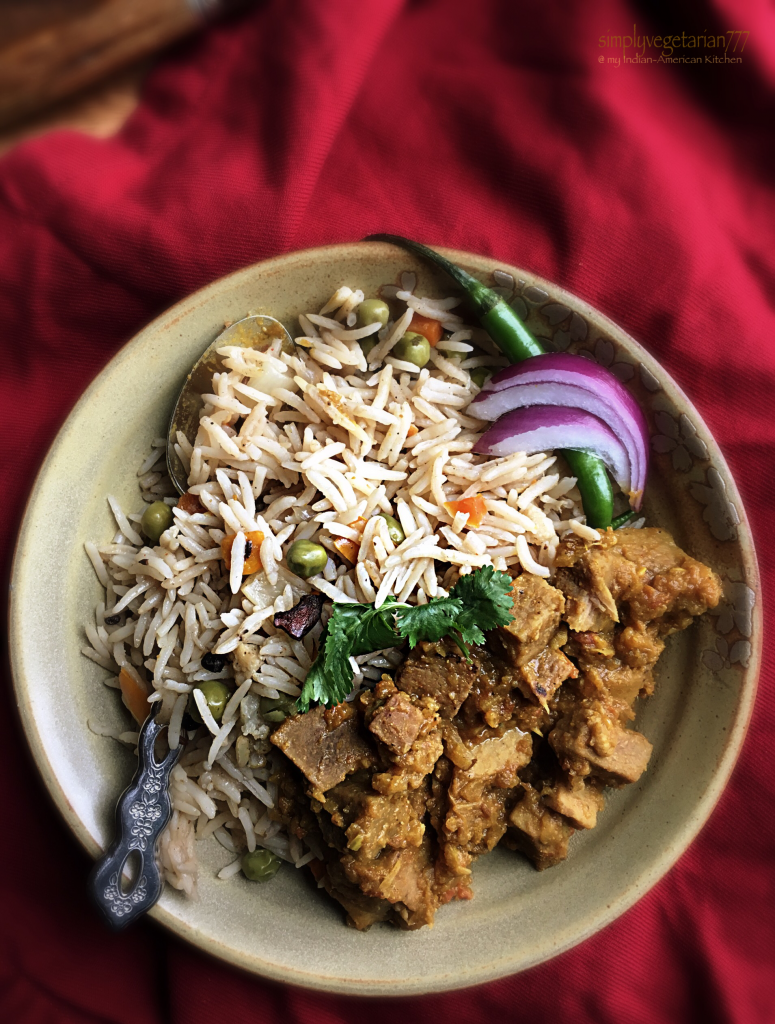 The other day, when I called up mum and told her that I have a bag of frozen jimikand and do not know what to do with it, she recommended to make this curry. I relented and then agreed. Asked her how and when she told me the recipe, I blured, that's it..this is super easy. And I was off to the kitchen, preppig for this curry.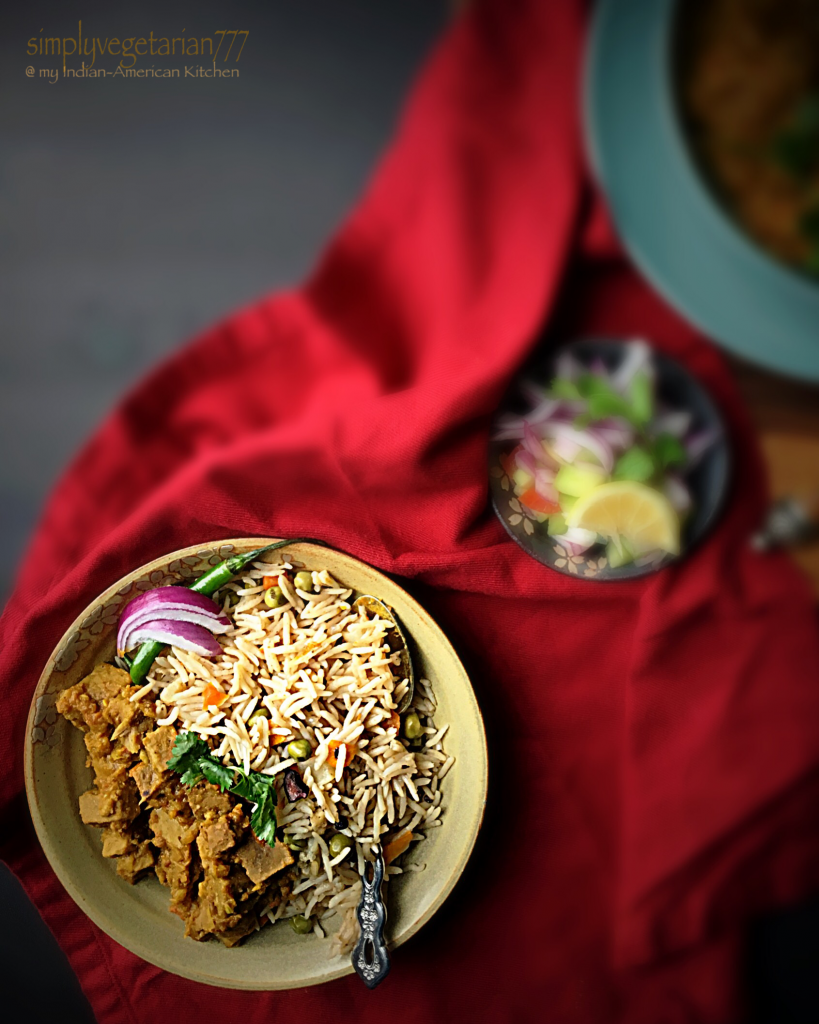 Jimikand is also known as Suran in many parts of the country. It is commonly known as Elephant Foot Yam in English. Jimikand belongs to the tuber family and is widely cultivated in tropical countries. It is a staple crop in India, Sri Lanka, Malaysia, Nigeria, Philippines and Indonesia etc. It is a nutritionally dense vegetable, that supports heart health, reduces bad cholesterol, promotes good digestion and is also a low GI vegetable making it a good choice for diabetics.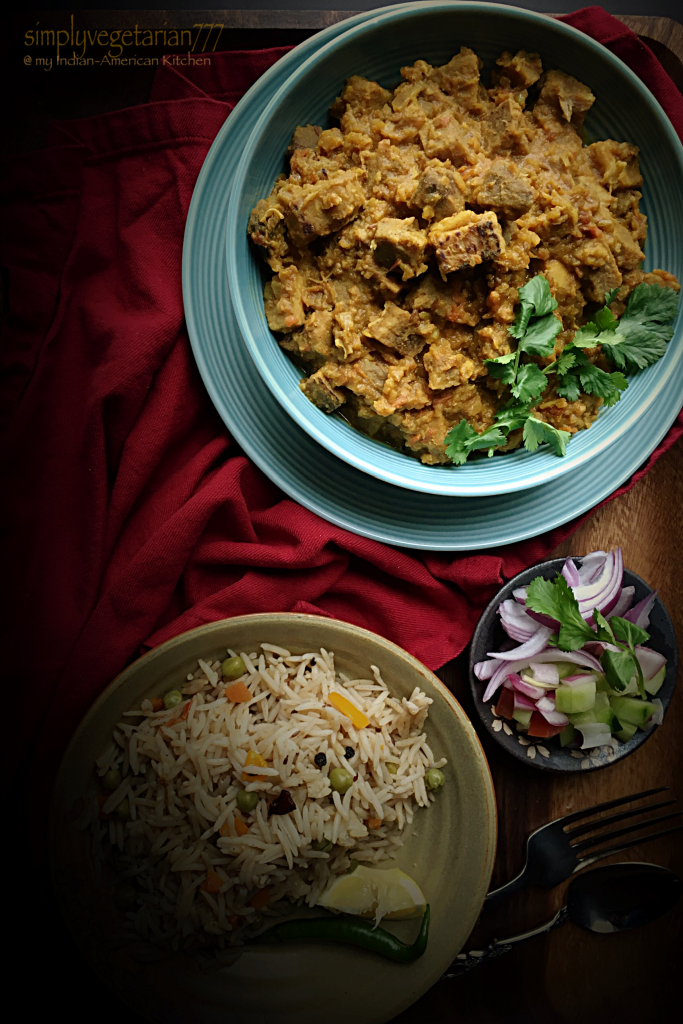 When a regular curry is this delicious, the credit goes more to the vegetable. Jimikand is fibrous and very rustic in taste. My mother says, that it tastes like a vegetarian meat and often compared with fried paneer. Though the curry doesn't look much in its looks but the taste is just out of this world. You have to trust me on this.
Since this is a heirloom recipe from my mom's kitchen, I am submitting this recipe for MOTHER's DAY COLLECTION on very talented Sreelatha's blog, called Framed Recipes. Do visit her blog to check out some amazing food pictures and recipes…brilliant work I must say…
This is how to make this curry.
Jimikand Curry
Servings: 4-6
Difficulty: easy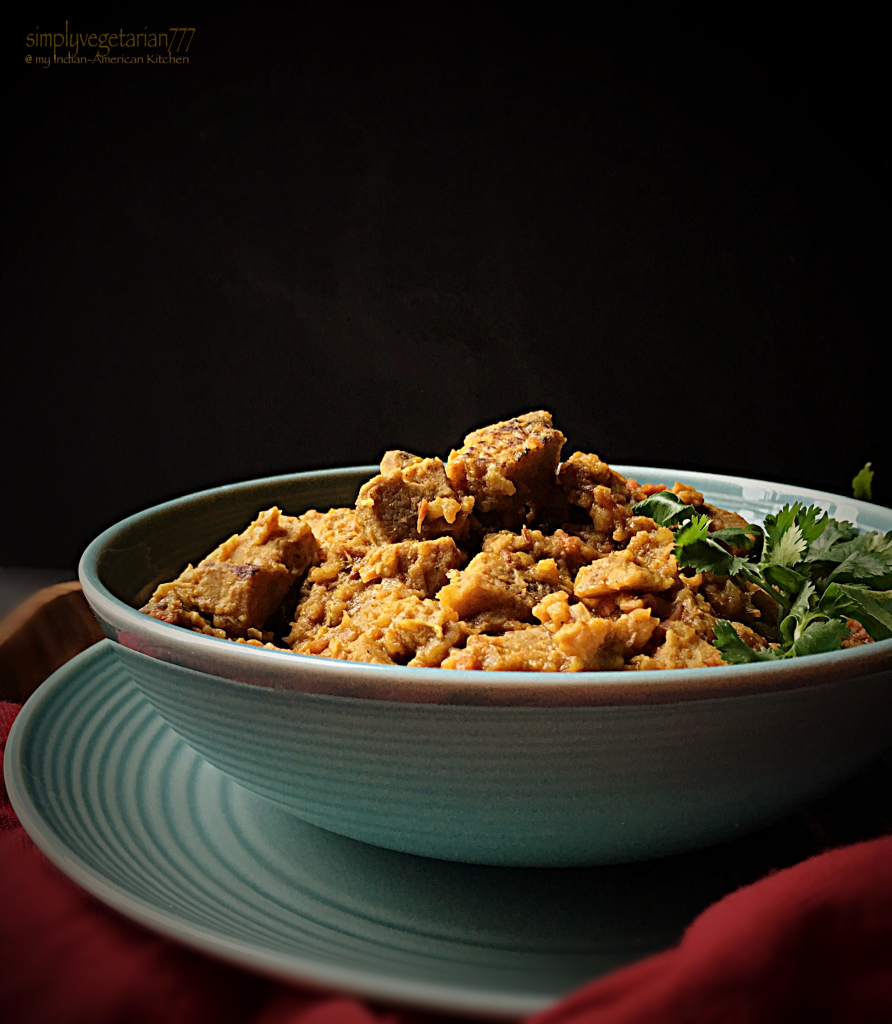 Kitchen Equipments Required 
A heavy bottom hard anodized pan or non stick pan with lid, stirring spoon, chopping board, knife, food processor.
Ingredients
Jimikand / Suran – 350 gms
Onion – 1 medium
Tomatoes – 2 medium
Ginger – 1 small piece
Garlic – 2 small pods, optional
Green Chili – 1 small
Cilantro/Coriander leaves – handful to garnish
Water – 1&1/2 to 2 cups
Oil & Spices
Oil – 1/2 tbsp + 1 tsp
Cumin seeds – 1/2 tsp
Coriander powder – 1 tbsp
Turmeric powder – 1/2 tsp
Red Chili powder – 1/4 tsp
Garam Masala – 1/2 tsp
Salt to taste
Method
Prepping the Jimikand 
You may cut the Jimikand in desirable size and shape. I used frozen which already comes cubed.
Boil some water and blanch Jimikand for 5-7 minutes. We don't want mushy Jimikand, just slightly softened. Alternately, you may pressure cook Jimikand pieces for 1/2 whistle. Switch off the gas, before the whistle blows off. Immediately release the pressure manually and open the cooker and drain in a sieve.
Dry it out completely.
Heat 1/2 tbsp oil in a heavy bottom pan. Add the dried pieces of Jimikand in the hot oil and pan fry on medium high heat for about 5-7 minutes, till slightly crispy from outside.
Set these aside in a plate lined with paper towel.
Making the Curry
Roughly chop the onions, green chili, ginger and garlic and then add it to the food processor. Grind it fine. Set this aside.
Now add roughly chopped Toamtoes to the food processor and purée fine. Set this aside too.
In the same pan, heat 1 tsp oil and add cumin seeds to it. Lower the heat to medium and add the onion paste to it. Sauté on lower medium flame, till it becomes reddish golden.
Add puréed tomatoes to the pan along with all the spices as mentioned above. Stir with a spoon. Cover with lid and let it cook on slow for about 7-8 minutes till the curry paste becomes one. Stir few times in the middle.
Remove the lid, add the shallow fried Jimikand pieces and water to it. Stir well. Cover again with lid and let cook for another 7-8 minutes on medium heat till the curry comes together.
Garnish with coriander leaves and serve it hot with rotis or any kind of pulav or rice.
Notes
If you are not conscious of the oil intake, then you may deep fry the Jimikand pieces.
For richer curry, you may add 2 tbsp cream towards the end to it and use more oil in cooking of not using the non stick or hard anodized pan.
The spices can be adjusted to your own taste.
This curry can be made as thick or as runny, to your choice.
I had a great time making Jimikamd Curry in my Indian American Kitchen. I am sure you would too :).
Sonal
Taking this curry for taste testing to Throwback Thursday and Fiesta Friday, co-hosted by my 2 favorite blogger friends – Suzanne @ A pug in the kitchen and Zeba @ Food for the Soul !