Parwal Aloo ki Sabzi
As an Amazon Associate and member of other affiliate programs, I earn from qualifying purchases.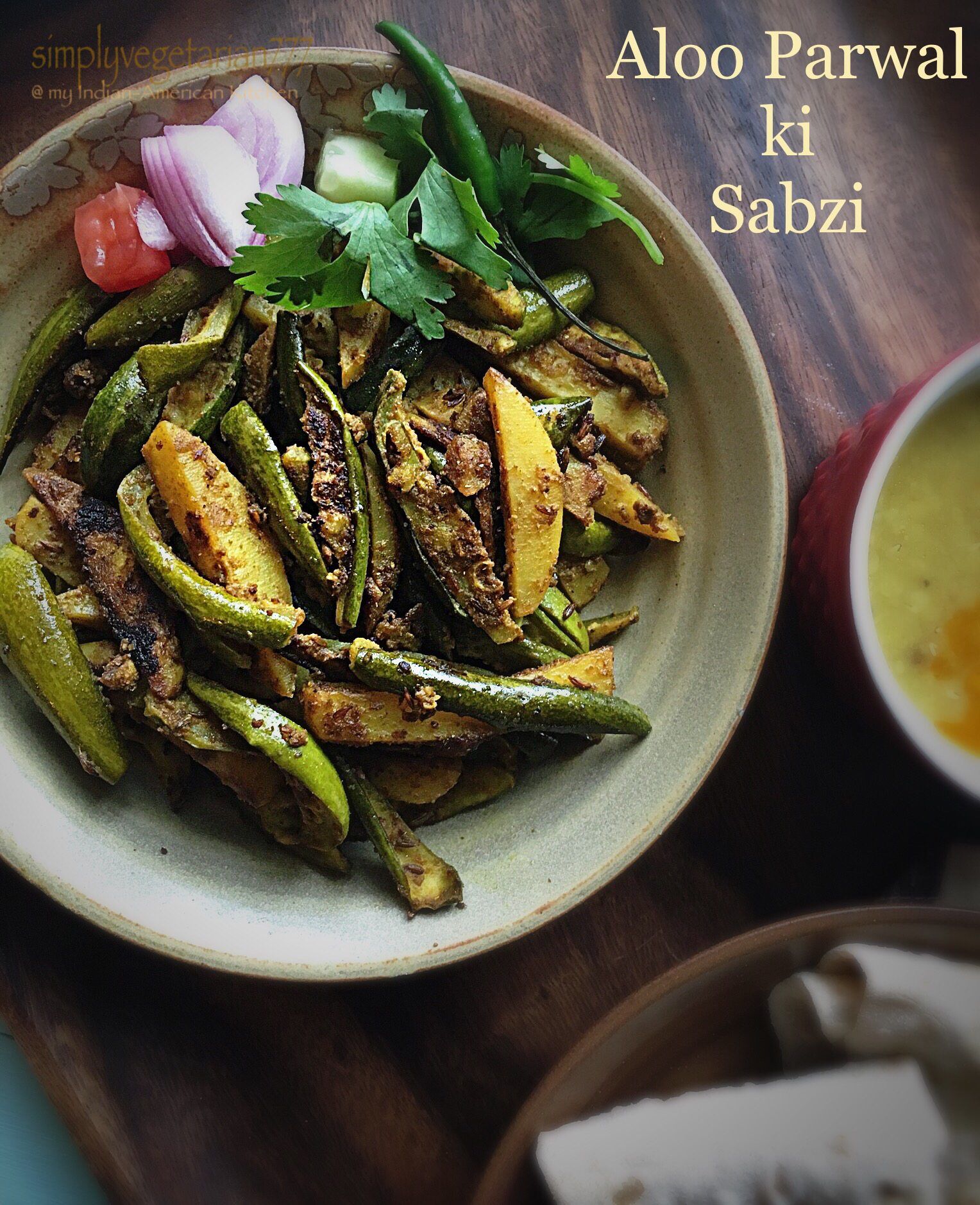 Parwal Aloo ki Sabzi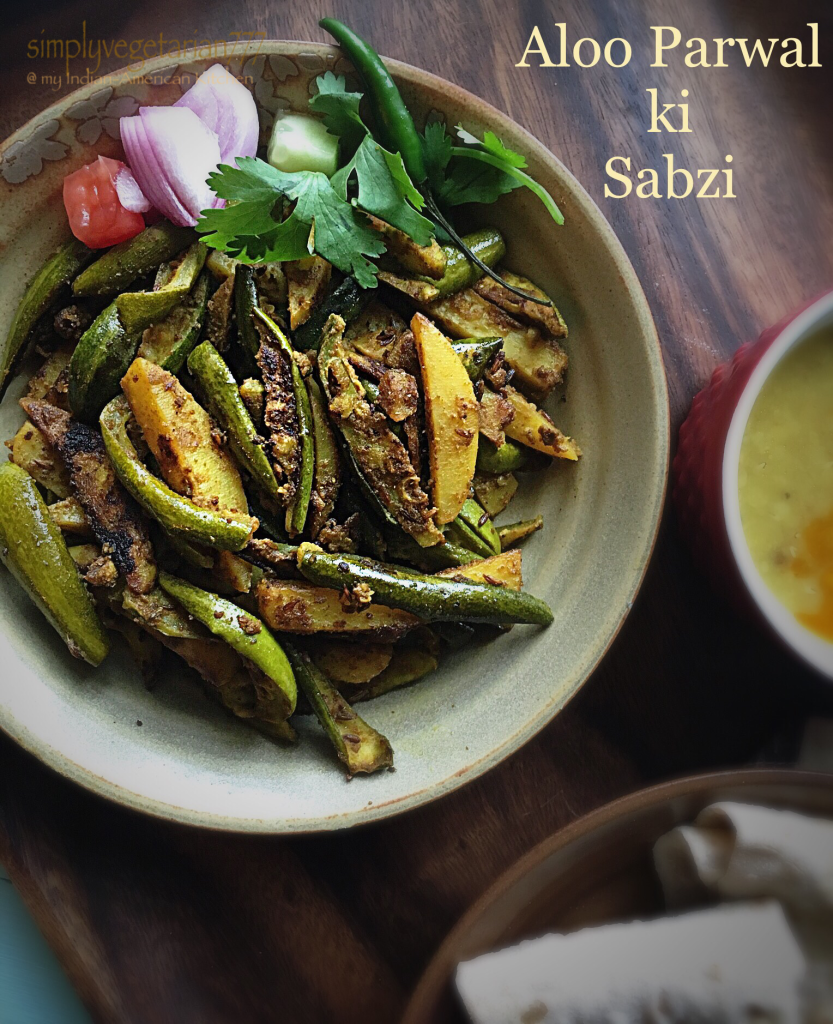 Parwal Aloo ki Sabzi adds so much more flavor to a simple humble meal. India is known for its vegetarian meals and not just any meal, these are so varied and full of nutrition.
People and especially doctors ask me how do I get my complete nutrition by eating "just" a vegetarian diet. The big question is "protein, how do I get my protein?" For many, my vegetarian diet is a big question of wholesome and healthy living in America.
Earlier, I used to get defensive and would come up with all kind of explanations to showcase my vegetarian diet in the best light. Now? I listen. I smile and say – I am happy eating how I eat. So many people are turning vegetarian or vegan for that matter.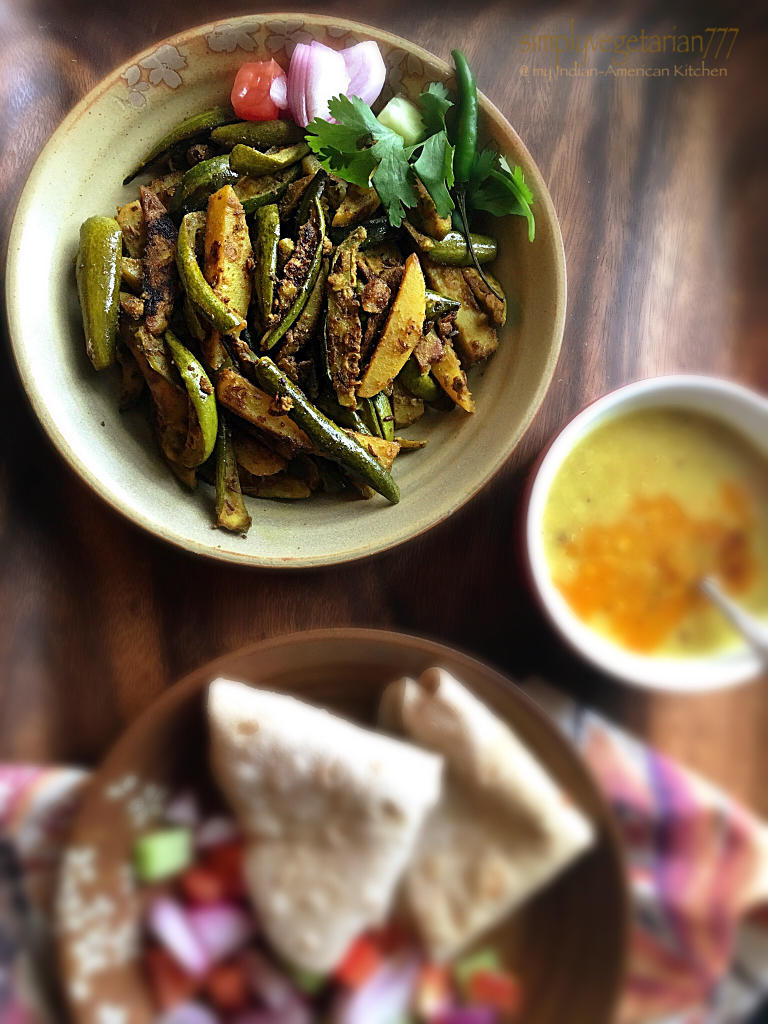 I think this topic should not be debated upon. Each to its own! We do so many things just to fit in the society or to please others. Food should be connected to heart. It should make you feel happy. A bite of your food should make you feel "belong". When you chew on it, every bite should evoke emotions. Your food should define who you are. If you want to put green chillies in your chai and drink it, then go ahead. Let people think whatever. Be yourself around food.
Having said that, I do not mean to eat unhealthy or to ignore your health at all.
Do you think I was ranting above? I was not. I was just getting carried away. 😀
Let us get back to Parwal Aloo ki Sabzi.  Parwal is called Pointed Gourd and belongs to the family of cucumber and squash. It grows on vine. The fruit is green with white or no stripes on it. It can be small and round to longer and thick, with size varying from 2 inches to 6 inches. This fruit is rich in Vitamin A & C along with a good source of trace minerals. It is popular by many names in India – Potol , Kaadu, Kommu Potla are few to name.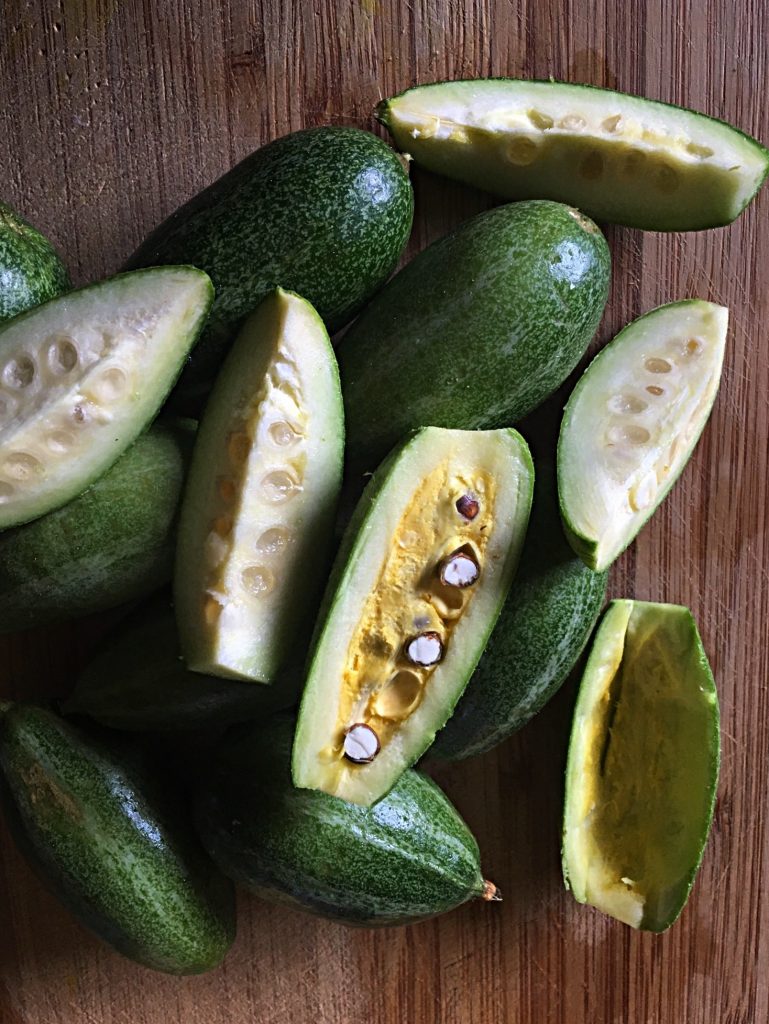 When Parwal reaches the market, it becomes over ripe sometimes and turn yellow. It has seeds inside, in the middle. A ready to cook parwal is young and tender. The flesh inside is soft with seeds which are tender and ready to be used in cooking. A ripe parwal has seeds which are hard and you should remove these before cooking. When you are cutting the parwal and come across a ripe parwal with yellow inside and hard seeds, simply take a spoon and scrape the portion out. It is good to use. You can find all that I have described in the picture above – the over ripe, the fresh and tender, the scraped and the one with hard seeds.
You can cut the parwal in desired size and shape. Many a times, we stuff it with spices or other ingredients and cook it like Bharwaan Baingan or Bharwaan Karela . Either way, it is delicious.
For this vegetable preparation, I washed them and cooked these with potatoes. Both of the vegetables were sliced thin like french fries. Why? Because it makes the preparation more crunchy. That is my simple answer. 🙂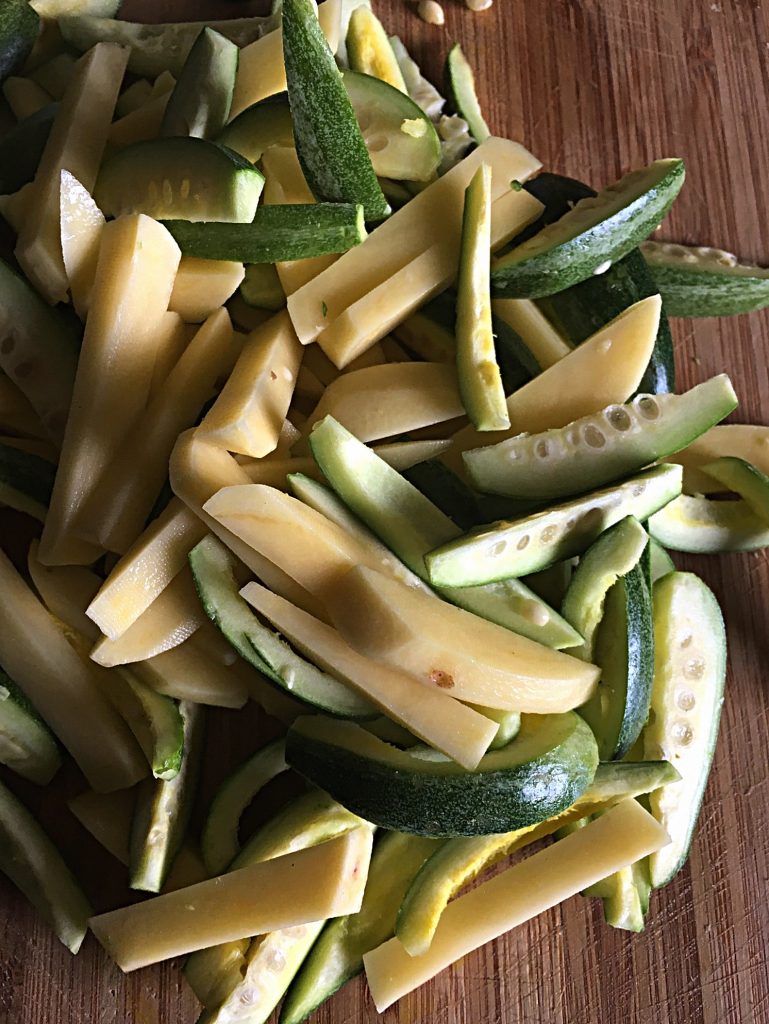 The best part about this recipe is that it does not need any fancy ingredients or spices, other than the mundane ones as stored in your spice box. I love the recipes, that are easy and have fewer ingredients that are easily availbale. I bet we all do.
I will repeat my cliche' statement that I always mention –
Life is already complicated, therefore our recipes need not be !!
Some other dry vegetable preparations from my blog are – Bharwaan Bhindi , Aami Mirchi ki Sabzi , Kathal ki sabzi , Mooli ke patte ki sabzi and many more.
This is how I made it!
Parwal Aloo ki Sabzi
An easy dry vegetable preparation to accompany any Indian Meal!
Ingredients
Ingredients
Parwal / Pointed Gourd - 7 to 8

medium size

Potato - 2

medium size
Oil & Spices
Mustard oil - 1 tbsp

Asafetida/Hing - fat pinch

Cumin seeds/Jeera - 1/2 tsp

Coriander powder/ Dhaniya powder - 1 tbsp

Fennel powder / Saunf - 1 tsp

Turmeric / Haldi - 1/2 tsp

Red chili powder / Lal mirch - 1/2 tsp

Salt to taste
Instructions
Preparing the Vegetables
Make sure that the Parwal and Potatoes are of the similar size.

Wash and wipe all the Parwal or pointed gourd. Wash and peel the potatoes.

Slice the Parwal into thin long slices. Slice the potatoes also into thin long slices.

Potato and Parwal slices should be of similar length and thickness.

Set aside.
Heat mustard oil in the hard anodized pan or heavy bottom pan. Smoke the oil and then reduce the flame to medium. It is very important to smoke the mustard oil before use g it in cooking.
Add asafetida/hing, cumin seeds, turmeric, coriander powder, fennel powder, red chili powder and salt to it. Stir all the spices in mustard oil for few seconds on low flame. Do not burn the spices.

Add the sliced potatoes and Parwal/Pointed Gourd to the spices. Stir it well. Make sure that the spice mix coats the vegetables well enough.

Now increase the flame to medium hot. Sprinkle 1 tbsp of water. Cover and cook for about 6-7 minutes. Stir 2-3 times in between. Steaming the vegetables under covered lid is important. It is to make sure that the vegetable gets cooked from inside, in case there is any over ripe or hard piece of Vegatable. It softens the potatoes also.

Open the lid after 6-7 minutes. Check for the finesse of potatoes with a fork prick. They should be soft. Now cook the mix of potato and Parwal in open flame over medium heat. Cook for about another 5-6 minutes till the Vegatable becomes crisp.

Switch off the flame. Serve it warm with your meal or any lentils and rice or chapati.
Notes
Fennel powder is optional but it adds to the flavor. If you noticed that I mentioned 2 steps in preparing of this sabzi - first is steaming in covered pan and then crisping them in open pan, then it is required for many Indian dry vegetable preparations. It is to make sure that firstly the vegetable is cooked from inside and second step is to add the texture and flavor to any sabzi. Many people make their sabzi over crisp to the extent of over browning them. I do not recommend that since the nutritional value of the Vegatable is reduced and it develops more carbon particles which are harmful for health.
Isn't the dish simple and easy? I am sure you loved it! My kids got introduced to this combination for the first time and were not sure if they would like it. I served them as this is a house rule – everybody eats what is cooked. And that actually liked it :).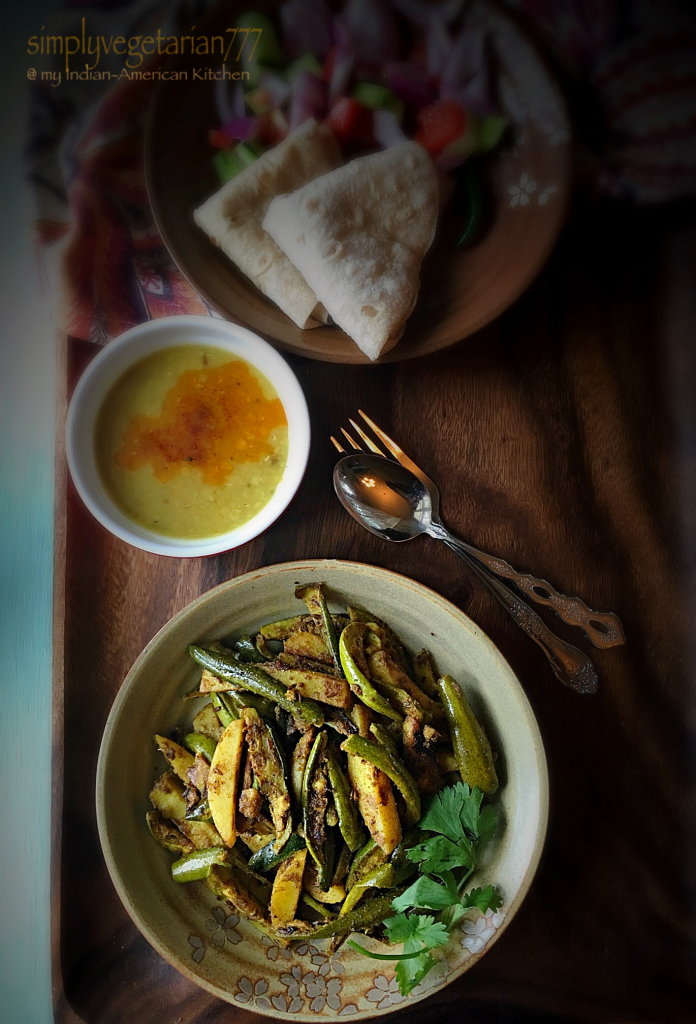 If you find the parwal in the market next time, get some and cook this for your family. I served it with Dal Lehsuni , chapati / roti and some salad.
As I say – Eat Happy! Stay Happy!
Sonal