Instant Pot Aloo Matar Recipe Vegan Indian Curry
As an Amazon Associate and member of other affiliate programs, I earn from qualifying purchases.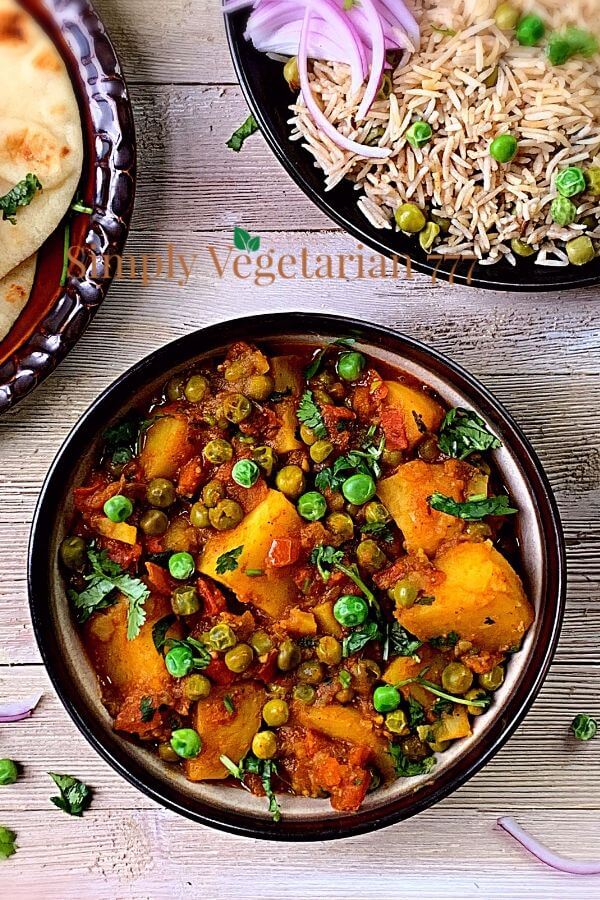 Instant Pot Aloo Matar is a delicious Indian Curry Recipe. Since it is so easy to put together, it is a typical weeknight recipe.
You can easily make it in any Electric Pressure Cooker like Mini Instant Pot, or MEALTHY MULTIPOT. Also you can make this curry on Gas Top, or a Traditional Pressure Cooker as well. I have included Detailed Instructional Video for the better understanding.
Important – The DETAILED RECIPE OF ALOO MATAR is given towards the end of the post. Please scroll down for that. I have included some tips and other recipe related instructions in between.
You can follow us on Facebook, Instagram, Pinterest & Twitter for regular updates.
Can't make it now? PIN Potato & Peas Curry for Later.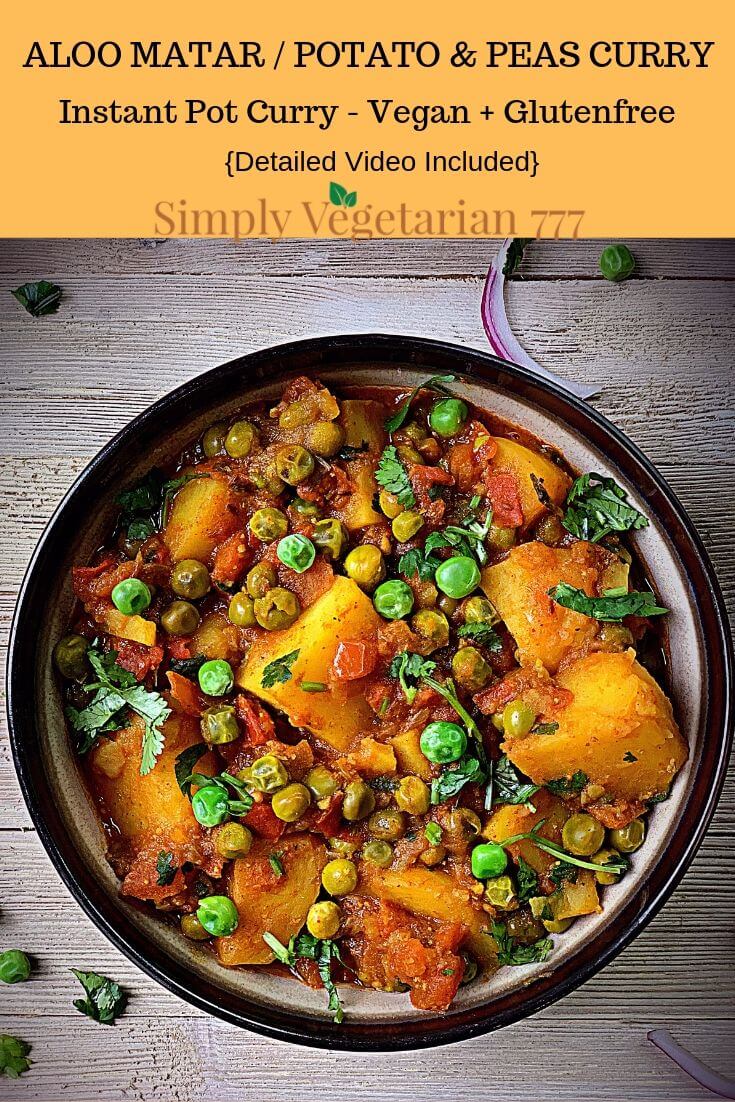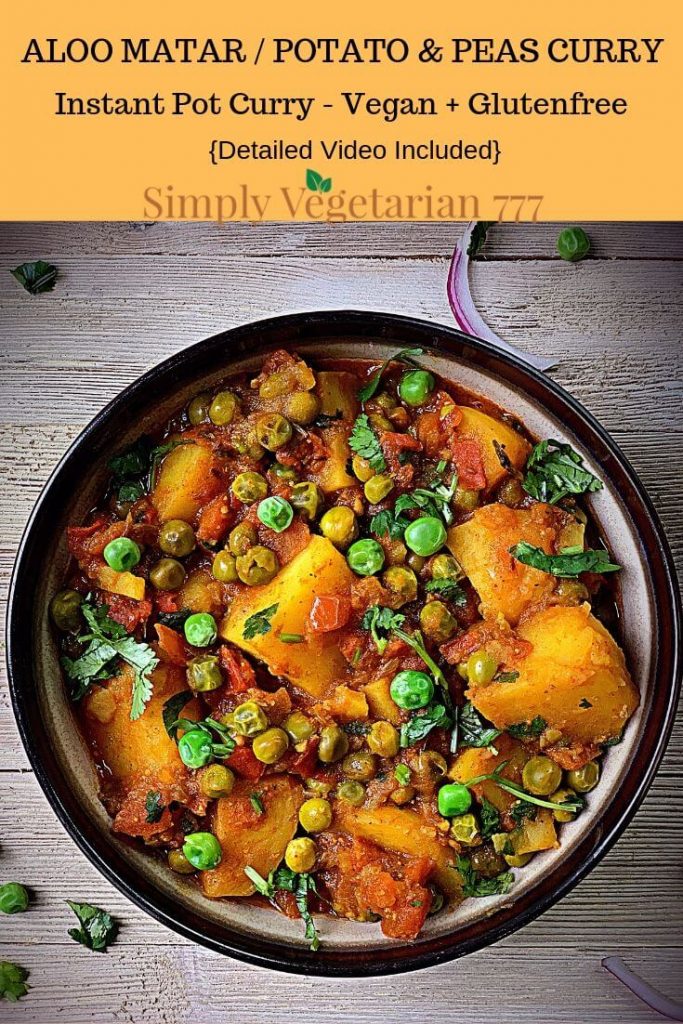 Easy & Delicious Instant Pot Aloo Matar Curry
I am sure many of you are aware – what is ALOO MATAR..
For those who aren't, here is the deal – ALOO = POTATO & MATAR = PEAS. So basically it is a Potato & Peas Curry cooked in Indian Onion Tomato Sauce.
Since Potatoes are staple of Indian Diet, these are included on daily basis in the home cooked meals.
I have fond memories of this curry while growing up. It was my mom's GO TO CURRY. She would just whip it up out of nowhere.
This curry comes very handy-
Since it is SUPER EASY TO MAKE
It is VEGAN & GLUTENFREE
Can be easily done for a busy weeknight meal or a lazy weekend lunch
It is SUPER QUICK to make
The Curry is very addictive
I love making this Aloo Matar Curry with Poori and Parantha. It goes very well with Matar Pulao (Peas Pilaf).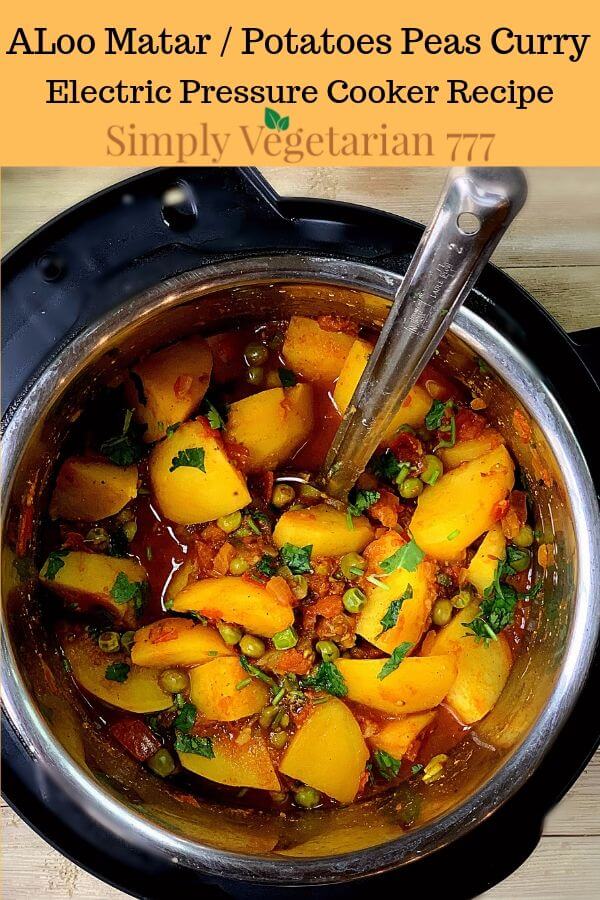 Tasty Bites Punjabi Aloo Recipe
Recently Aloo Matar has gained popularity in America. Thanks to all the restaurants' buffets and Tasty Bites packaged meals. Yes, you got it right. It is your favorite TASTY BITES PUNJABI ALOO recipe. But guess what? It is better than that. Super, right?
My recipe is more Punjabi Aloo Matar. It is typical North-Indian style with more tomatoes.
All the instructions are given below in the recipe card. And do not forget to WATCH ALOO MATAR VIDEO.
Whole Foods Aloo Matar Recipe
Have you noticed that WHOLE FOODS also offer Indian Menu at their HOT BAR during summer? Their Aloo Matar is my dentist's favorite. He is smitten by it and told me that always gets double helping of it from there.
Therefore if you were digging for WHOLE FOODS ALOO MATAR recipe, then this is your bet.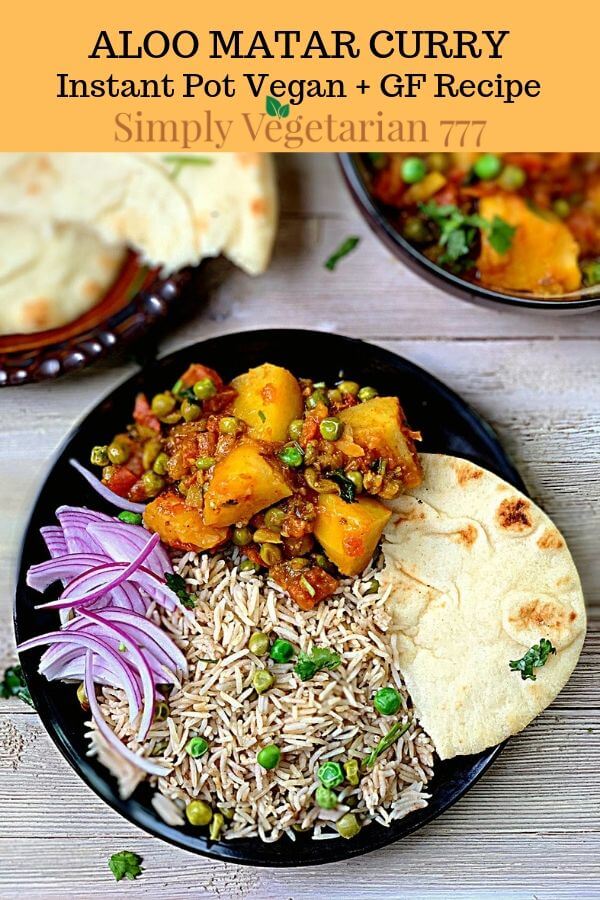 Aloo Matar Curry Ingredients
Disclosure – We recommend Amazon links to purchase. These are our personal favorites. You may choose to purchase from here or not. It will not cost you anything extra. Please read our Privacy Policy for further details.
To make this recipe, you will need –
Fresh Produce – Potatoes, Peas, Onion, Ginger, Tomatoes, Green Chili (Indian), Cilantro
What can I use if I do not find Indian Green Chili?
When I do not have Indian Green chili handy, I use either jalapeno or serrano chili. Use half of either to compensate the heat factor from Indian Green Chili. Or use whole to make it more spicy.
SPICES – Cumin Seeds, Coriander powder, Turmeric, Red Chili Powder or Cayenne powder, Garam Masala and Salt.
What can I use to make Indian Curry if I do not have all the Indian spices?
I would definitely recommend buying all those spices and keep handy if you like Indian food. These are basic spices used in making any North Indian Curry.
If you do not want to store so many spices, then buy a good CURRY POWDER from either AMAZON or Indian Grocery Store.
My favorites are MDH KITCHEN KING MASALA or SHAAN VEGTABLE CURRY MIX.
Kitchen Gadgets Needed to make ASIAN INSTANT POT QUINOA SALAD
You will need these Kitchen Equipment to make Asian Quinoa Salad in Electric Pressure Cooker –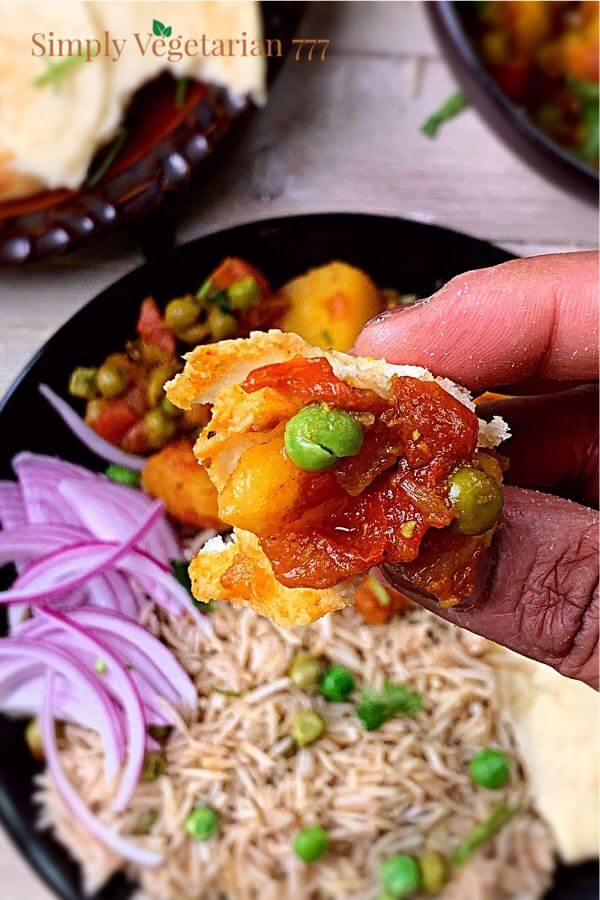 How to make Aloo Matar on Gas Top?
These are pretty basic steps common to cooking any Indian Curry.
Chop all the vegetables as suggested in the main recipe below.
Heat oil in a heavy bottom pan. Add cumin seeds. When cumin seeds starts spluttering, add chopped onions. Saute the onions on medium heat till they are pinkish golden…about 3-4 minutes.
Now add Tomatoes, Ginger and Green chili. Stir. Add all the spices. Stir again. Cover and cook for about 7-8 minutes till tomatoes are soft & mushy.
Now add large cubed potatoes and peas to the curry base. Stir well. Add about 2 cups water. Stir. Bring it to a boil.
Lower the heat to medium low. Cover and cook till potatoes are done. The potatoes should still have a bite and not mushy.
Aloo Matar is ready. Garnish with cilantro leaves.
Serving Suggestions – It tastes really good with Naan, Raita (yogurt dip) and Rice. Make it a complete meal with all of it or 1.
Simplyvegetarian777 Vegan Instant Pot Recipes
Chana Masala, Saag Aloo, Rajma Masala (red kidney beans curry), Aloo Baingan ( potato eggplant curry), Lobiya (Black eye Peas curry) and more.
Simplyvegetarian777 INSTANT POT VEGAN ASIAN RECIPES
Red Thai Curry, Green Thai Curry, Kung Pao Noodles, Thai Curry Noodles, Tom Yum
Simplyvegetarian777 INSTANT POT CAKES
Mason Jar Cakes, Red Velvet Cake, Banana Bread,Confetti Cake, Chocolate Cake
Aloo Matar Instructional Video
How to Make Aloo Matar / Potato & Peas Curry in Instant Pot?
Instant Pot Aloo Matar - Vegan Indian Curry
This Aloo Matar made in Instant Pot is delicious and very easy to put together. It is perfect for your weekday meal or weekend indulgence.
Equipment
Instant Pot 3 quart Mini ( can use 6 quart or Mealthy Multipot)
Ingredients
Fresh Produce
5

medium/regular size

Potatoes, Golden

Each potato cut into 8 equal pieces

1

cup

Green Peas

frozen or fresh

1/2

cup

Red Onions

finely chopped

3

large

Tomatoes

ripe and finely chopped

1

large piece

Ginger

finely chopped

1

small

Green Chili

finely chopped

2

tbsp

Cilantro leaves

finely chopped
Oils & Spices
1/2

tbsp

Cooking Oil

1/2

tsp

Cumin Seeds

1

tbsp

Coriander powder

1/2

tsp

Turmeric powder

1/4 - 1/2

tsp

Red chili powder or Cayenne powder

to taste

1/2

tsp

Garam Masala

2

tsp or to taste

Salt

1

cup

Water
Instructions
WATCH THE DETAILED VIDEO ABOVE THE RECIPE CARD.

Place the inner pot inside the Instant Pot. Plug it in. Press Saute Mode and set it on HIGH for 20 minutes.

Once the screen displays HOT, add oil to it. Add Cumin seeds and saute for 30 seconds.

Now add finely chopped onions to the pot. Cook for about 3 minutes till onions are pinish golden in color. TIP - Cover the onions while cooking to speed up the process. It helps the onions sweat bit faster. Do saute in between to avoid burning at the bottom.

Once the onions are done, add tomatoes + ginger + green chili to the pot. Stir well. Now add all the spices as mentioned. Give it a good stir again. Cover with a lid and cook for about 7-8 minutes till tomatoes are soft and cooked.

Now add potatoes and peas and coat well with the tomato onion base. Add 1 cup water to the pot. Stir again. Place lid and close it. Make sure the valve is on SEALING. Press Pressure cook mode and set for 2 minutes.

Once the timer goes off, do QPR (quick pressure release). Add chopped cilantro and stir it delicately.

Aloo Matar is done and you can serve it with Naan or Rice.
Notes
To cut down the heat, skip the green chili or use less amount of red chili powder and garam masala.
You can also add some fresh heavy cream or whipped yogurt to make it creamy.
Also, this curry is more rustic. To make it a smooth curry, you may blend the onion tomato paste with an immersion blender before adding potatoes and peas.
I am sure you are going to try this soon. If you do, then please leave your feedback under comments. Or share your feedback on Facebook, Instagram, Pinterest, Twitter.


In my kitchen you will always EAT HAPPY & STAY HAPPY.
Sonal