Methi Masala Poori & Hing Wale Aloo
As an Amazon Associate and member of other affiliate programs, I earn from qualifying purchases.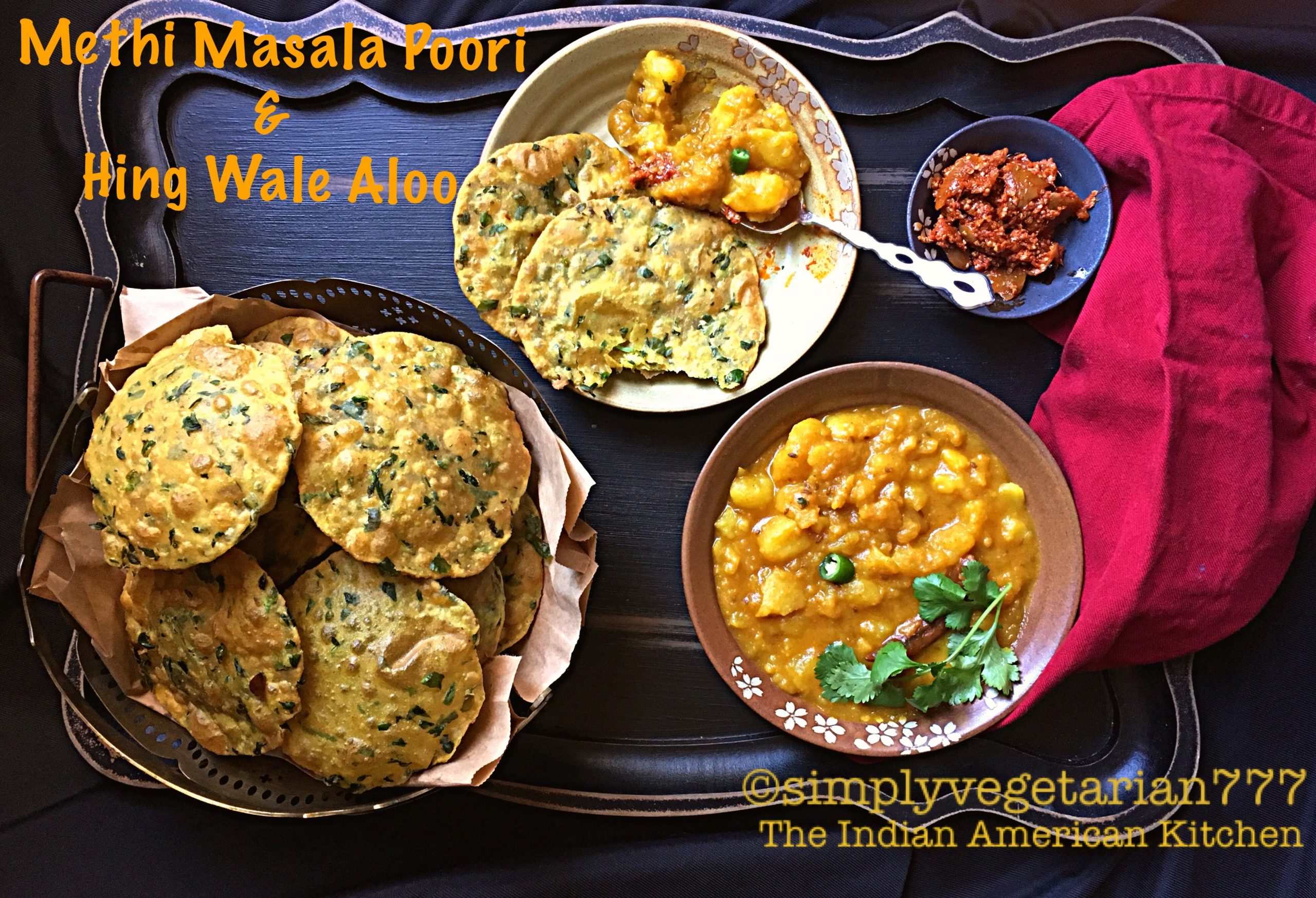 Methi Masala Poori & Hing Wale Aloo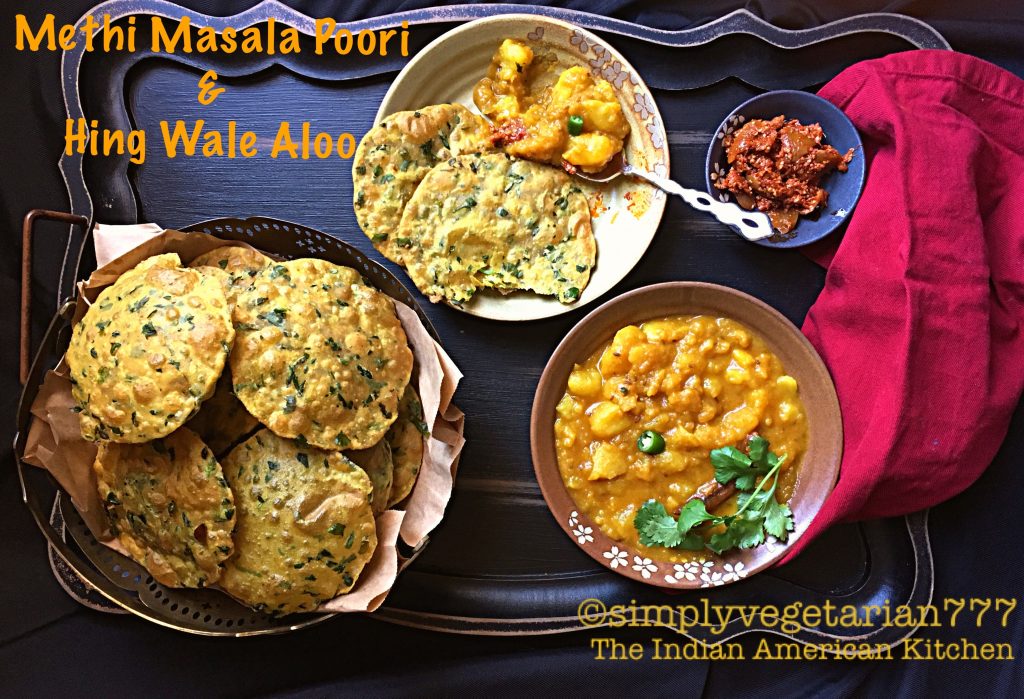 Methi Masala Poori & Hing Wale Aloo was our brunch, few Sundays ago. It was a veryyyy cold weekend and the family was craving for some comfort food. And for a North Indian, there is nothing more comforting than Aloo Poori combination, with a side of pickles. It is a complete Bliss.
A cold day can be easily warmed up instantly with Aloo Poori, and that my dear friends, is a hint for the next cold weekend that you might end up with. Don't hesitate, just gather some basic ingredients and fry these delicious Pooris and cook up this basic Potato Curry rich in flavors and wham…you are all set for a comforting meal.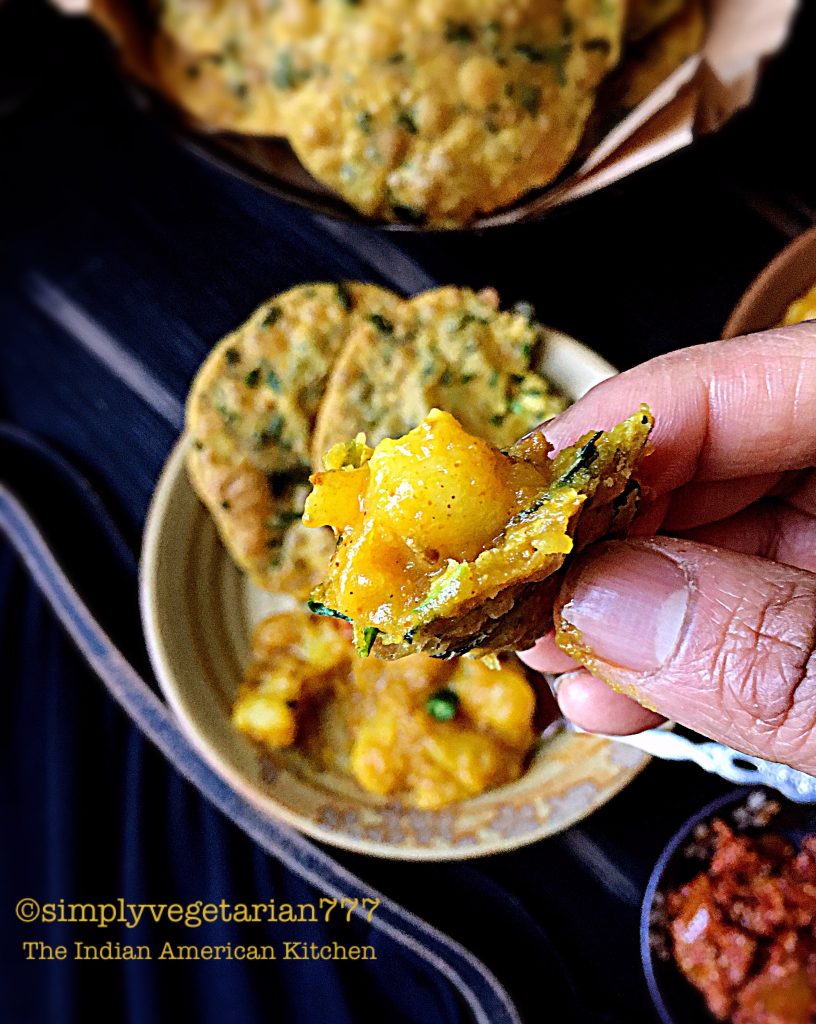 I am sure that you are opening your mouth wide, for that bite above to land in your mouth without a halt. And, and ……probably cursing the technology for not been able to find a source yet to deliver the food through computer screen.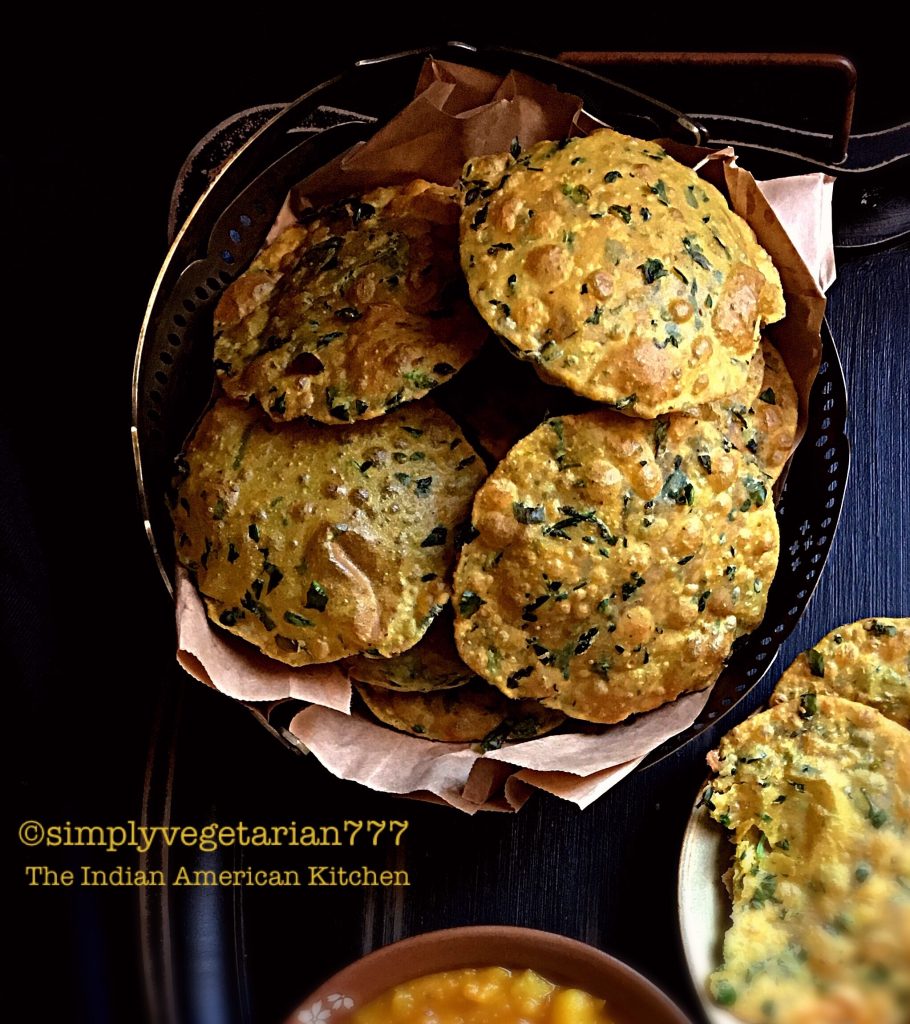 Have I ever whined about being an adult, especially when it comes to food? As a child, I would stuff myself up with so many pooris and still would not complain about the calories and waist line. It just is not fair, not fair at all! Don't you agree with me? Forget eating, even the smell of good comfort food adds inches to your body, just like that and it takes forever to get that off, if you get any lucky. UGH! Why, oh dear GOD, why?
Well, Aloo Poori has lots and tonnes of childhood memories and I bet for many of you. It is like that food, which you prepare for any given reason. You are happy, make Aloo Poori to celebrate. You are sad, make Aloo Poori to soothe. You are cold, make Aloo Poori to warm up. You are bored, make Aloo Poori for no particular reason. You do not know what to make for a meal, make Aloo Poori. Lol.. I am telling you, it is an all time favorite food.
The basic recipe of Poori can be easily modified with the addition of other ingredients, like spinach, or beets, or dals, or peas, or potatoes in a Poori. Even the simple potato curry can be prepared in many ways.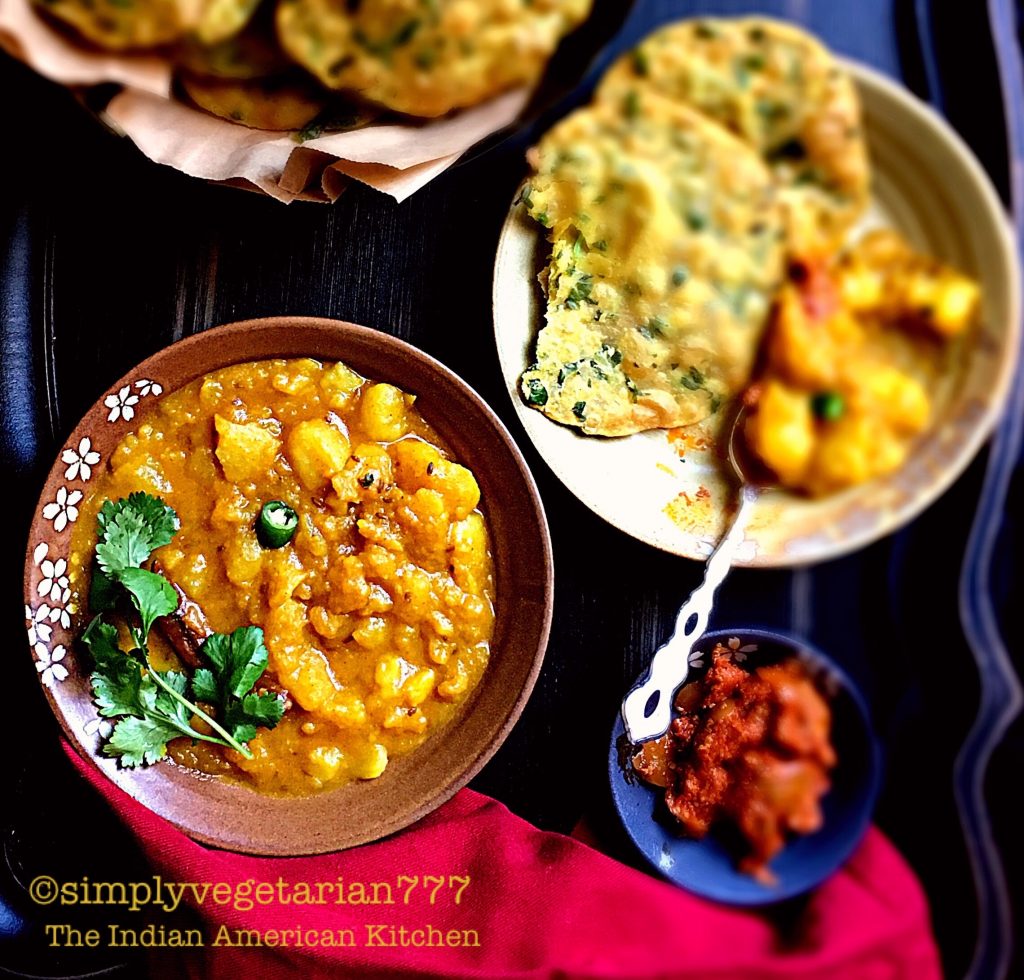 Here are some more similar recipes from my blog – Basic Poori , Bhatura , Dahi wale Aloo , Aloo Kachori , UP style Aloo Tamatar ki sabzi and khasta Parantha , Aloo Gobhi and more.
This is how you make Methi Masala Poori !
Methi Masala Poori & Hing Wale Aloo
A perfect weekend brunch for the whole family from North India
Ingredients
Methi Masala Poori
Methi leaves - 1 cup

picked +washed +Chopped

Wheat Flour - 2 cups

Water - 2/3 cup

approximately
Oil & Spices
Oil - 2 tbsp

Oil - for deep frying

Salt - 1/2 tsp

Turmeric - 1/2 tsp

Coriander powder - 1/2 tsp

Red chili powder - 1/4 tsp

Fennel powder- 1/4 tsp

Garam Masala - 1/4 tsp
Hing Wale Aloo
Potatoes - 6 medium size

boiled +peeled +chopped or mashed into coarse uneven pieces

Green chili - 1

slit into 4s

Ginger - 1 big piece

chopped roughly

Cilantro / Coriander leaves - handful for garnish

Water - 1 to 2 cups
Oil & Spices
Oil - 1 tbsp

Hing / Asafetida - 1/2 tsp

Cumin seeds - 1 tsp

Turmeric - 1/2 tsp

Coriander powder - 1 tbsp

Red chili powder - 1/4 tsp or to taste

Kashmiri Lal Mirch - 1 tsp

optional

Salt - 1 tsp or to taste
Instructions
Making Methi Masala Poori
Preparing the Dough
Take a big and wide bowl. Add flour, methi leaves, 2 tbsp oi and all the spices to the bowl. Mix these well.

Now start adding water to the bowl, slowly. Make a pliable dough that is slightly tight. It needs to be tight since the salt in the dough will wilt the methi leaves, releasing more water. so keep it tight and knead for 2-3 minutes. Oil it and cover. Set aside for 5-7 minutes. Meanwhile work on the Hing wale aloo, as recipe stated below.

Take a frying pan or heavy bottom kadhai. Add oil to it and heat. Meanwhile divide the dough into 18-20 equal portions.

Roll each portion into a tight ball and flatten a bit. keep them covered.
Rolling & Frying + Tips & Tricks
Take your rolling board and rolling pin. Oil the surface of both lightly. Take one ball and apply a little oil on it. Roll it out in to a 3 to 4 inches disc. Make sure that the center of the poori is rolled slightly thinner than the sides. That will make the Poori Puff easily, since the addition of methi increases the weight and volume of the dough ball.

Once the oil is piping hot, slide the poori in the hot oil carefully.

Press it down gently from the center to puff it up.

Once it puffs up, gently turn it over to fry from the other side.

As it turns golden, take it out.

Let it rest on a plate lined with kitchen paper towels.

Finish the rest of the pooris likewise.
VERY IMPORTANT - It is important to regulate the frying temperature. When you are frying pooris single handedly, make sure that you regulate the temperature in between 2 pooris. Once the oil is hot, fry on medium high heat. If the temperature lowers in between, increase the heat. The cooler oil temperature, will soak more oil and won't puff the pooris.
Making Hing Wale Aloo
Heat oil in a heavy bottom pan. Reduce the heat now and add hing and cumin seeds. Once the seeds crackle, add ginger, green chili, turmeric, coriander powder, red chili powder, salt and kashmiri lal mirch.

Saute for few seconds on low heat.

Add coarsely mashed potatoes. Mix well and cook for 2-3 minutes on medium heat.

Add 1-2 cups of water to the pan. The amount of water totally depends upon you. If you like more curry then 2 cups and if you like less curry, then less water. Adjust salt accordingly.

Add coriander leaves and bring it to a boil. Reduce the heat and cook it further for 10 minutes on medium heat.

Take it off the heat.
Serving
Serve the Methi Masala Poori and Hing wale Aloo together with some good pickle on the side.
Do make it this weekend. Methi is also in the season, so it is much easier to make.
Can't make it now? PIN it for LATER!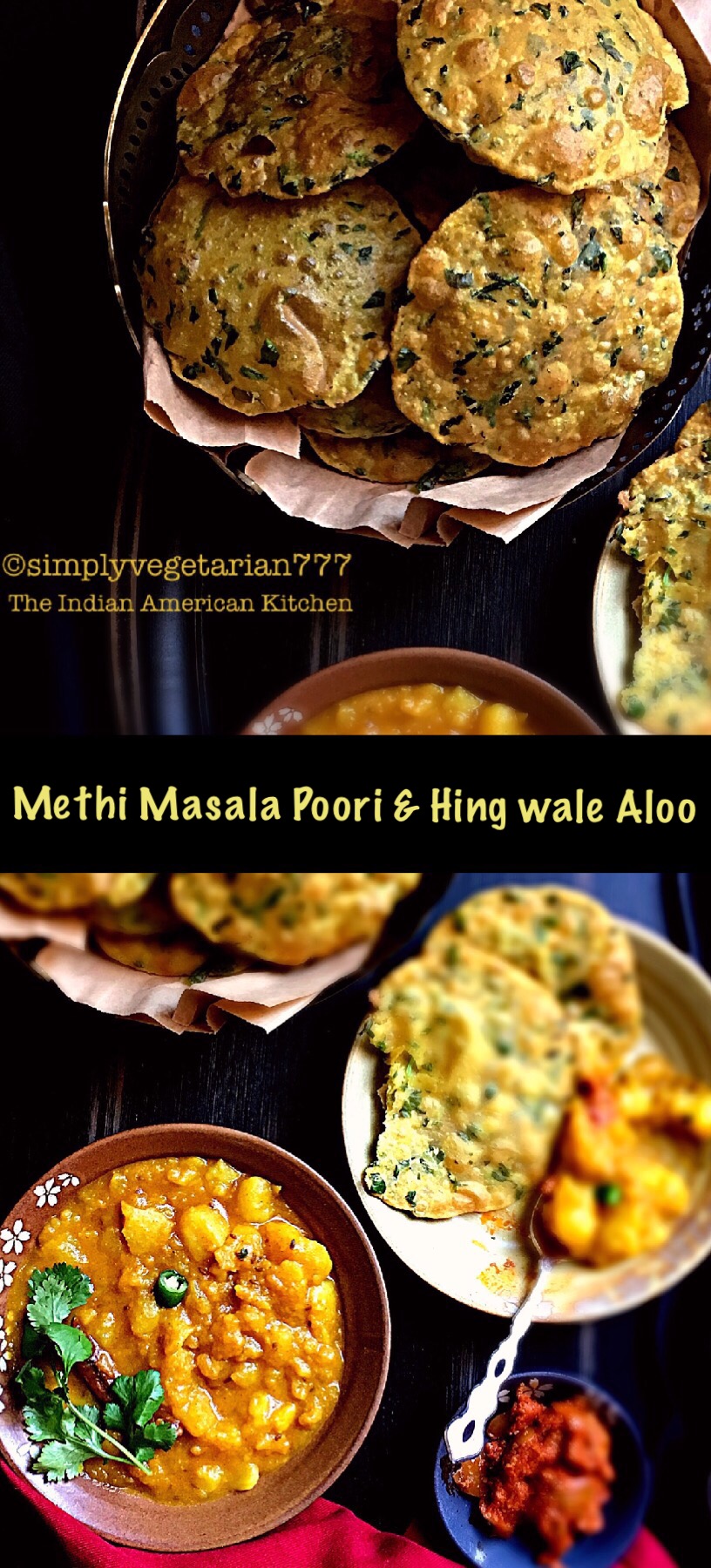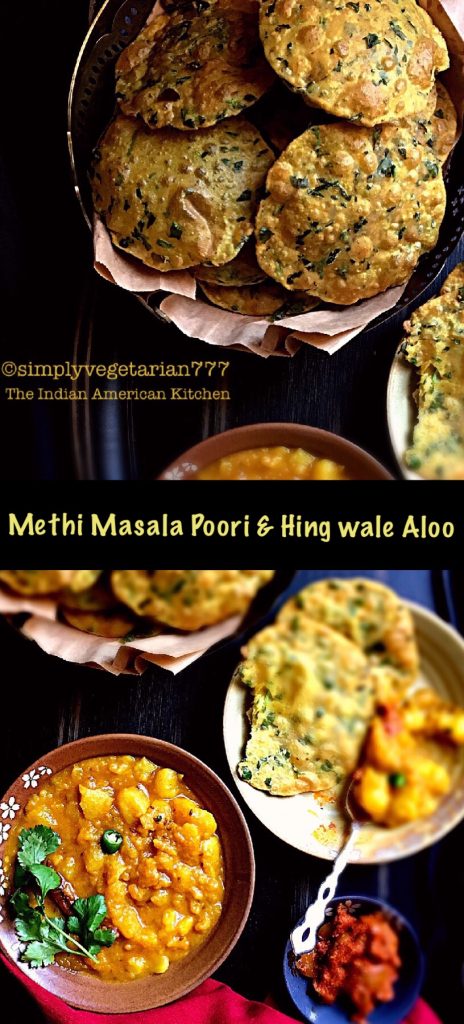 In my kitchen, you will always EAT HAPPY & STAY HAPPY!
Sonal