Kadhai Paneer, Restaurant Style
As an Amazon Associate and member of other affiliate programs, I earn from qualifying purchases.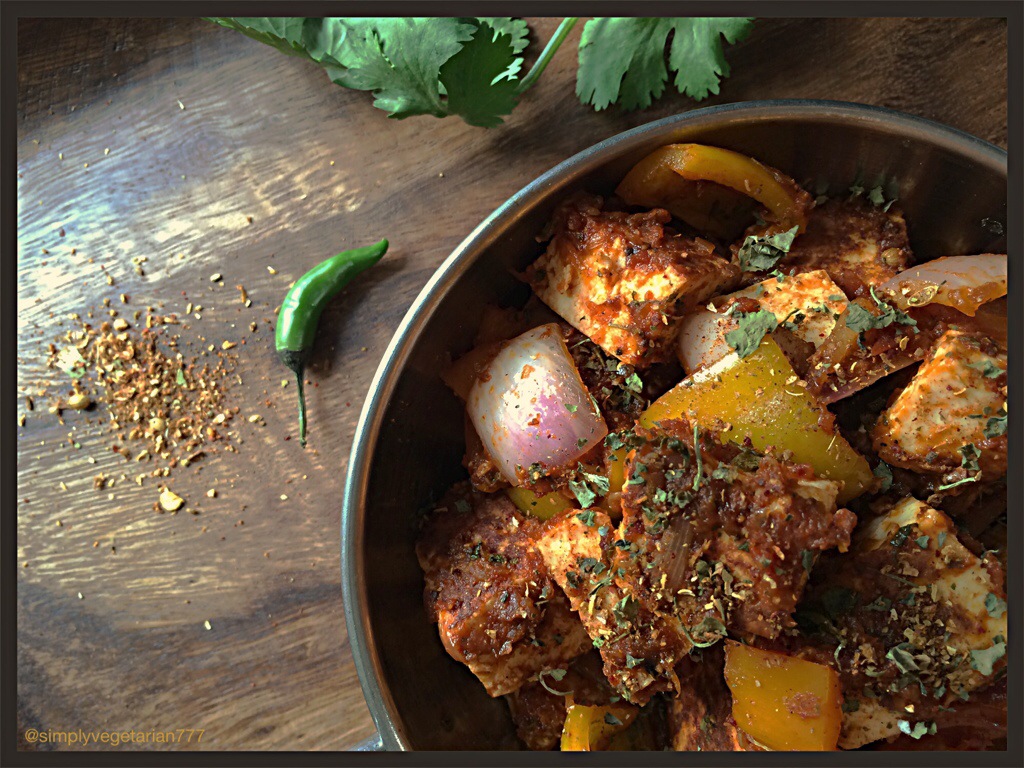 Kadhai Paneer, Restaurant Style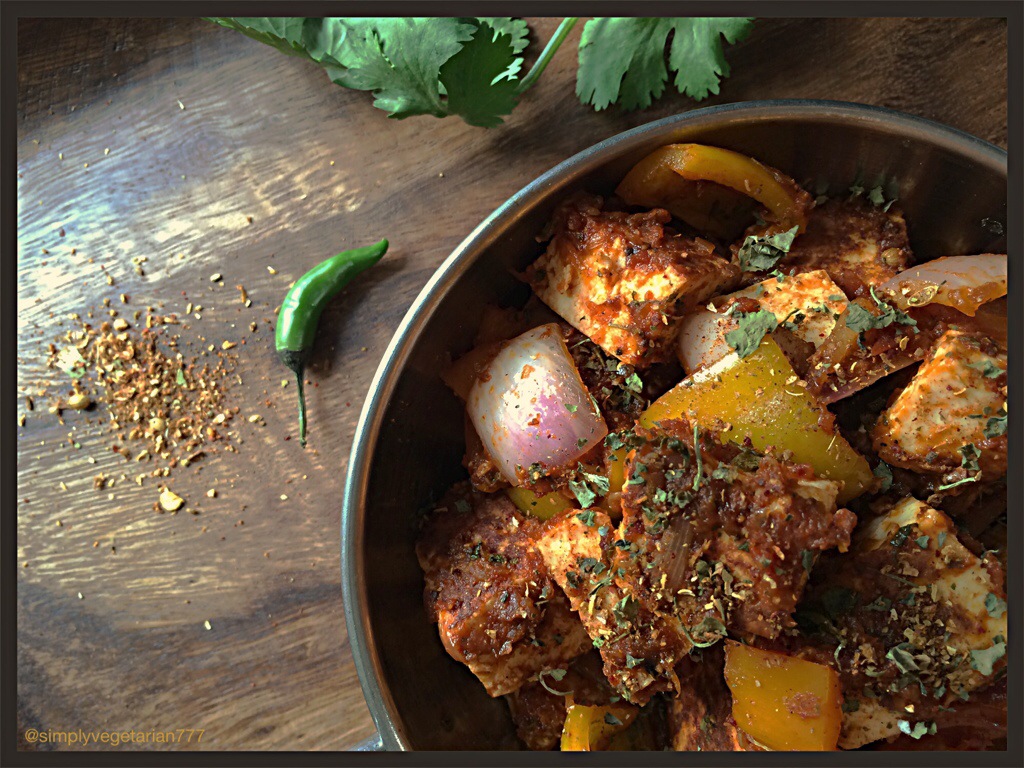 I just love Kadhai Paneer. The robust peppery spices burst in the mouth with every bite. I think this is my favorite paneer dish. I love to eat it with naan, paranthas (shallow fried flat breads) and as a roll in a flat bread.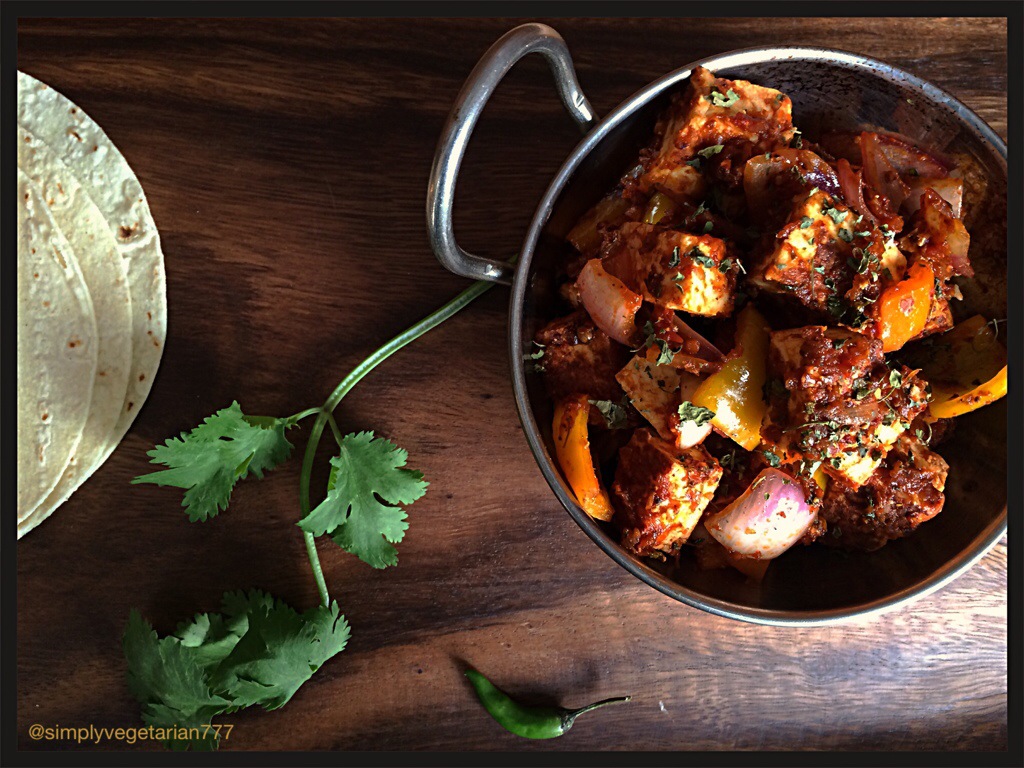 The crunchy pieces of bell pepper and onion along with soft bite-ful
Paneer create a magic in every bite, just magic. The tomato and onion gravy hugs the paneer pieces tightly and adorns itself with coarsely ground Kadhai masala. Pure deliciousness in my mouth. Ah, sounds like a beautiful flute from far away :). Did I say too much? Oh the drama this dish requires to present itself ;).
It is much of a restaurant style but so so so easy that can be cooked even on the busy weekdays without much trouble. But it is weekend and fiesta Friday 27, co hosted by Saucy Gander and Margot. So joining the weekend long party with this fab dish. I hope to have a good time mingling after a long time :).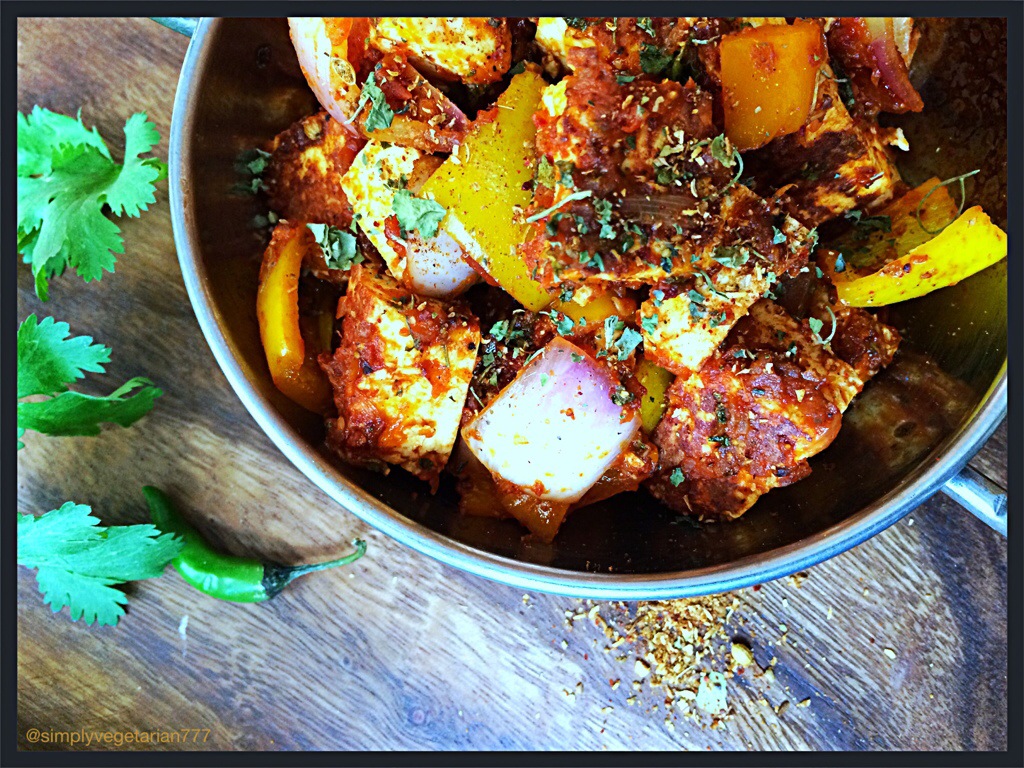 Some other such recipes from blog are – Kadhai Mushroom , shahi paneer , Paneer Butter Masala and more.
This is how you make it.
Serves : 6
Kitchen Equipments Required : heavy bottom pan with lid ( hard anodized or non stick preferred), spatula, chopping board, knife
Ingredients :
Oil : 1tsp + 1tsp
Paneer : 400 gms, cubed
Bell pepper / Capsicum : 1/2 cup cut in 1 inch squares.
Onion : 1/2 cup cut in 1 inch squares.
Sugar : a pinch, optional
Kadhai Masala : 1 to 2 tsp, as per taste
*Tomato Onion Paste : 1/4 cup
Water : 1/2 cup
Kasuri Methi : 1 tsp, optional

Kadhai Masala
Ingredients for Tomato Onion Paste :
Oil : 1/2 tbsp
Onion : 1 small or 1/4 cup chopped fine
Tomato : 2 or 3/4 cup chopped fine
Ginger : 1/2 tsp, freshly grated
Garlic : 1/2 tsp, freshly grated
Green chili : 1 small, optional
Method :
Prepping Paneer, Onion and Bell pepper :
Take the non stock or hard anodized pan and heat 1 tsp oil in it. Grill paneer cubes from both the sides. Take it off and keep aside in a plate.

Now add another 1 tsp oil in the same pan, heat and add onion and bell pepper pieces to it. Sauté them on high for 2-3 minutes till slightly crisp. Don't over cook. Take them off the pan and keep aside.
Preparing tomato onion paste :
Take the same pan, heat 1/2 tbsp oil in it and add finely chopped onion, ginger and garlic to it. Sauté on medium heat till onion becomes slightly golden. Now add finely chopped tomatoes (preferably processed in food processor) and chili if using, to the onions in the pan. Cook on medium low flame till onions and tomatoes come together in a thick paste. It takes about 8-10 minutes. Keep the thick tomato onion paste in the pan.
Putting the Kadhai Paneer together :
You have tomato onion paste in the pan. Add sautéed onion and bell pepper pieces to the paste along with the grilled paneer pieces. Toss them together. Add Kadhai Masala, sugar (if using) and salt to the pan. Mix well. Add water. Mix. Cover with the lid and cook for 5-7 minutes.
The dish is ready to be savored with your family :). Enjoy the weekend with your family with this yummy dish!
Sonal