Mock Chocolate Tiramisu
As an Amazon Associate and member of other affiliate programs, I earn from qualifying purchases.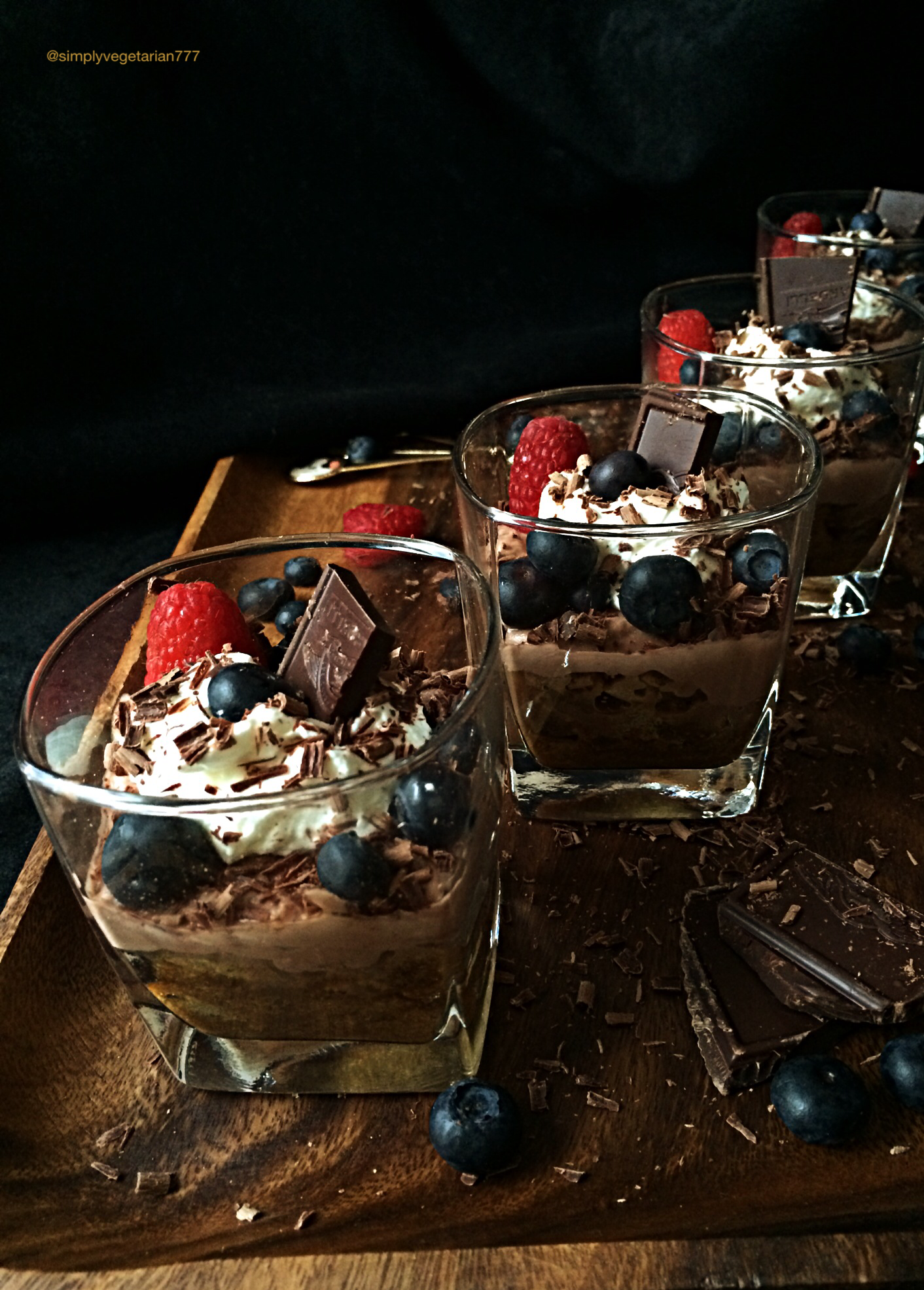 Mock Chocolate Tiramisu is the perfect recipe for all the Tiramisu and Chocolate Lovers. It is a very easy recipe to put together with easily available ingredients.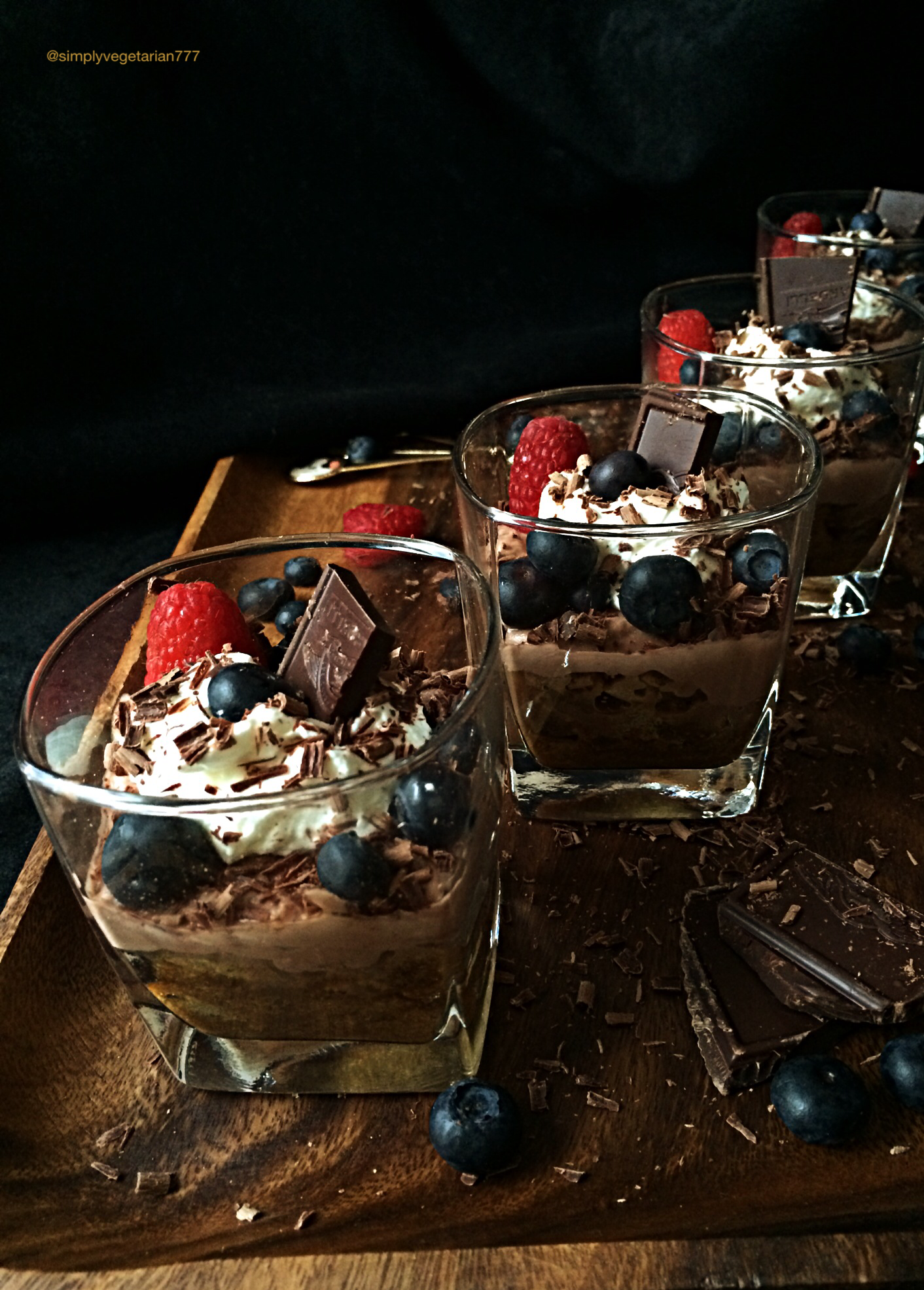 Mock Chocolate Tiramisu, Eggless
Mock Chocolate Tiramisu is the king of all the desserts in my humble opinion. Sometimes I wonder, if there was no chocolate in the world, what would have been the plight be of all the desserts.
Why is it a MOCK CHOCOLATE TIRAMISU?
I am calling it a Mock Tiramisu since originally Tiramisu has no chocolate in it. Tiramisu is an Italian Dessert and the main flavor of the dessert is Coffee.
Another important ingredient of an authentic Tiramisu is raw eggs in it, whereas this recipe does not have any raw eggs in it.
Since Tiramisu is a royal treat in its own means, the combination of Chocolate and Tiramisu is sure a winner.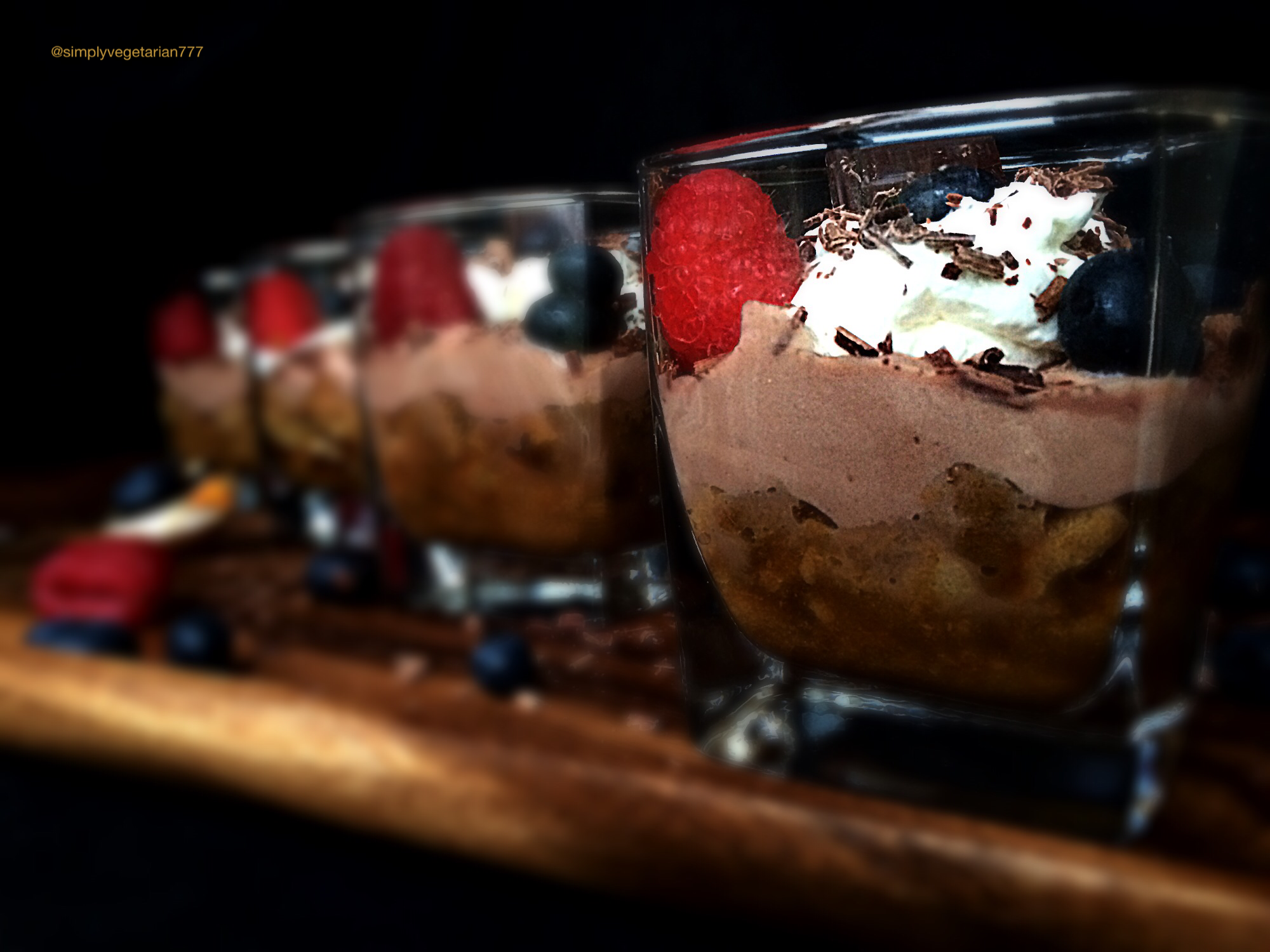 An amazing dessert like this needs a standing ovation. I have made this dessert many times and it has never ever failed me. Every time I have served Mock Chocolate Tiramisu to my guests, I have won accolades every single time. People have asked me for the seconds.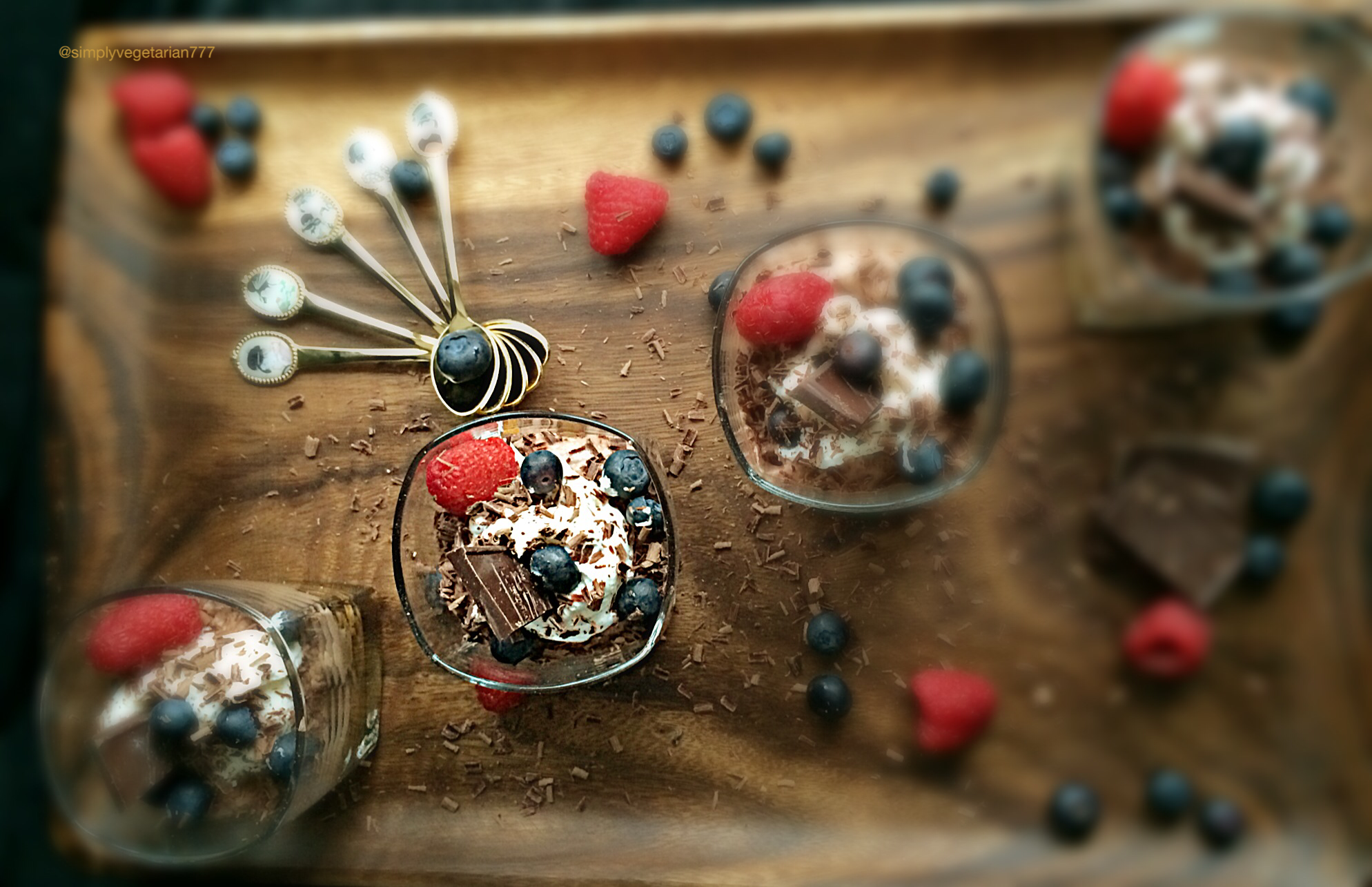 Life is too short, Eat your Dessert first !

Do you agree with it? Especially when the dessert looks like this, the above quote stands 100% true. ;)..
Some other SINGLE SERVE DESSERTS from Blog are –
I love making single serve desserts and have made so many single serve desserts which are always loved by my readers. Some of them are – No Bake Chocolate Cheesecake , Quick Trifle Pudding , No Bake Cheesecake , Mocha Express Pudding , Vanilla & Chocolate Pudding and more.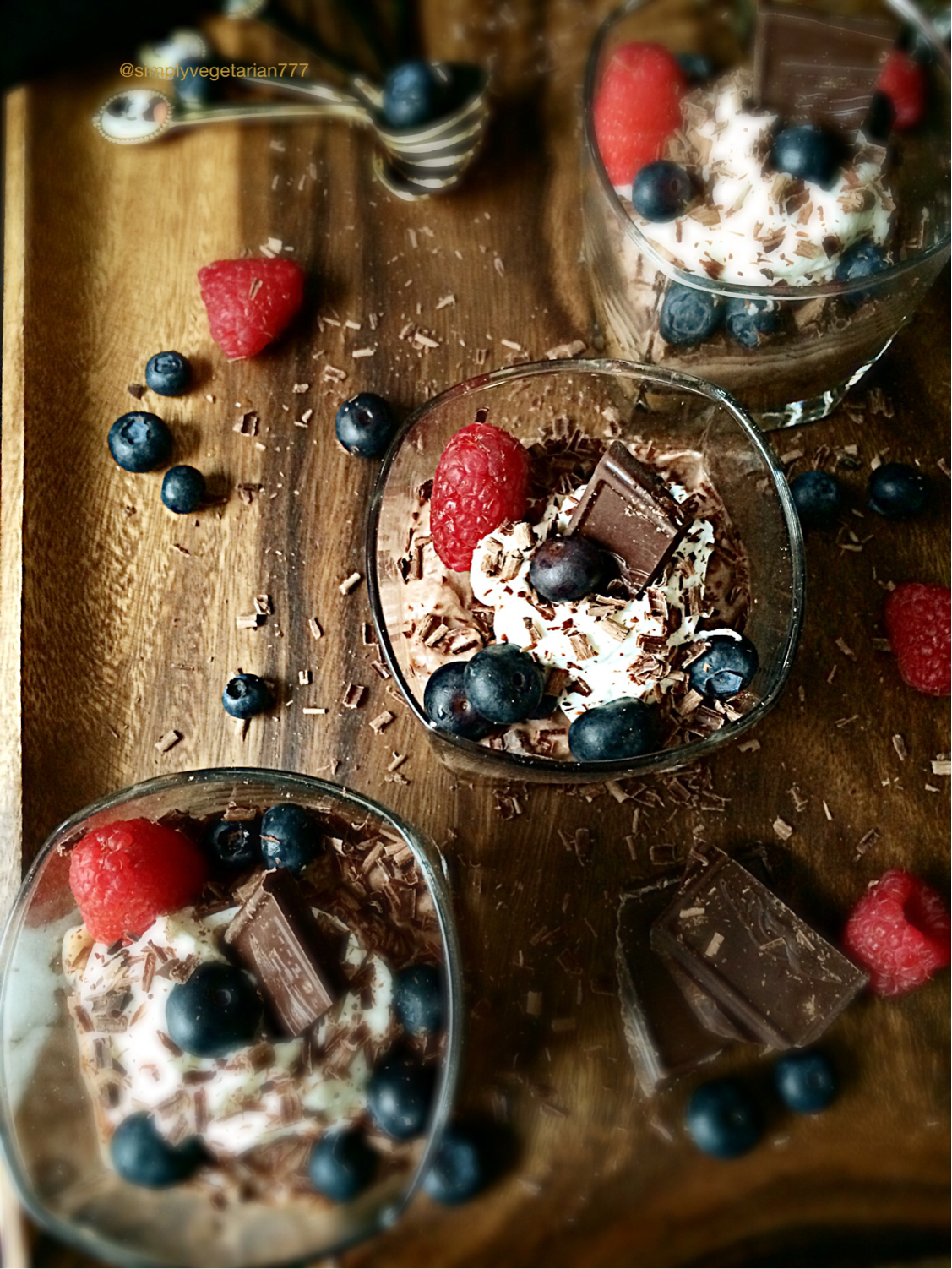 The right way to eat Mock Chocolate Tiramisu is – pick that piece of chocolate off the glass, scoop some cream out, pop some berries in your mouth and wipe off the caffeine ladyfingers with a spoon! You will crave more, I promise. Amit keeps asking me to make it again and again. 😀
This is how Mock Chocolate Tiramisu, Eggless is made.
Kitchen Equipment Required: 4 Dessert bowls/glasses, dessert spoons, electric egg beater, 2 deep bowls (steel or glass), a microwave-safe cup, plastic cling wrap, fruit peeler.
Mock Chocolate Tiramisu, Eggless
A delicious Tiramisu in single serve, made without eggs
Ingredients
Lady fingers : 10-12. You may use vanilla cake as a base too. [Lady Fingers are sponge Italian Cookies]

Water : 1 cup

Instant coffee powder : 1 tbsp

Heavy whipping cream

chilled : 1 cup + 1/4 cup

Nutella : 1&1/2 tbsp. You may use chocolate syrup as well.

Powdered sugar : 1 tbsp + 1/2 tbsp

Cooking Chocolate bar to grate for garnish and some fresh fruits like blueberries and strawberries or raspberries for garnish.
Instructions
Keep the bowl in freezer for 5-10 minutes along with the heavy cream. This reduces the time of whipping the cream and gives good whipped cream.

Meanwhile, break the lady fingers or vanilla cake into coarse smaller pieces.

Layer the bottom of dessert glasses with the crushed lady ginger cookies or vanilla cake.

Heat the water in microwavable cup in microwave for 1 minute. Take it out and dissolve 1 tbsp instant coffee powder in it. Pour 1/4 cup of espresso warm water in each dessert bowl so that all the cookie crumbs are drenched in coffee. Set aside.

Take out the chilled bowl. Add Nutella / chocolate syrup, 1cup of heavy cream and powdered sugar in it. Beat all the ingredients together on medium to high speed for 4-5 minutes, till it gets fluffy and stiff. Make sure not to over beat it or else you will get butter.

Pour 1/4 cup of beaten whipped cream in each dessert glass. Level it out with fork or spoon. Refrigerate it.

Now take another bowl and beat 1/4 cup of heavy cream with 1/2 tbsp of powdered sugar till it gets fluffy and stiff. This step is optional. But it adds gorgeous factor to the dessert.

Take out the dessert bowls. Add a table spoon of heavy whipped cream in the middle of the dessert bowl.

Add the fresh fruits on top.

Take the chocolate bar and peel over the dessert bowls, covering the surface as light or as heavy as desired.

Refrigerate for atleast 2 hrs before serving.
Aren't you tempted to make it soon? If you try it, do give me a feedback under the comments.
Can't make it now? PIN it for Later!


In my kitchen, you will always EAT HAPPY & STAY HAPPY !
Sonal