Pan Grilled Asparagus in Barbecue Sauce
As an Amazon Associate and member of other affiliate programs, I earn from qualifying purchases.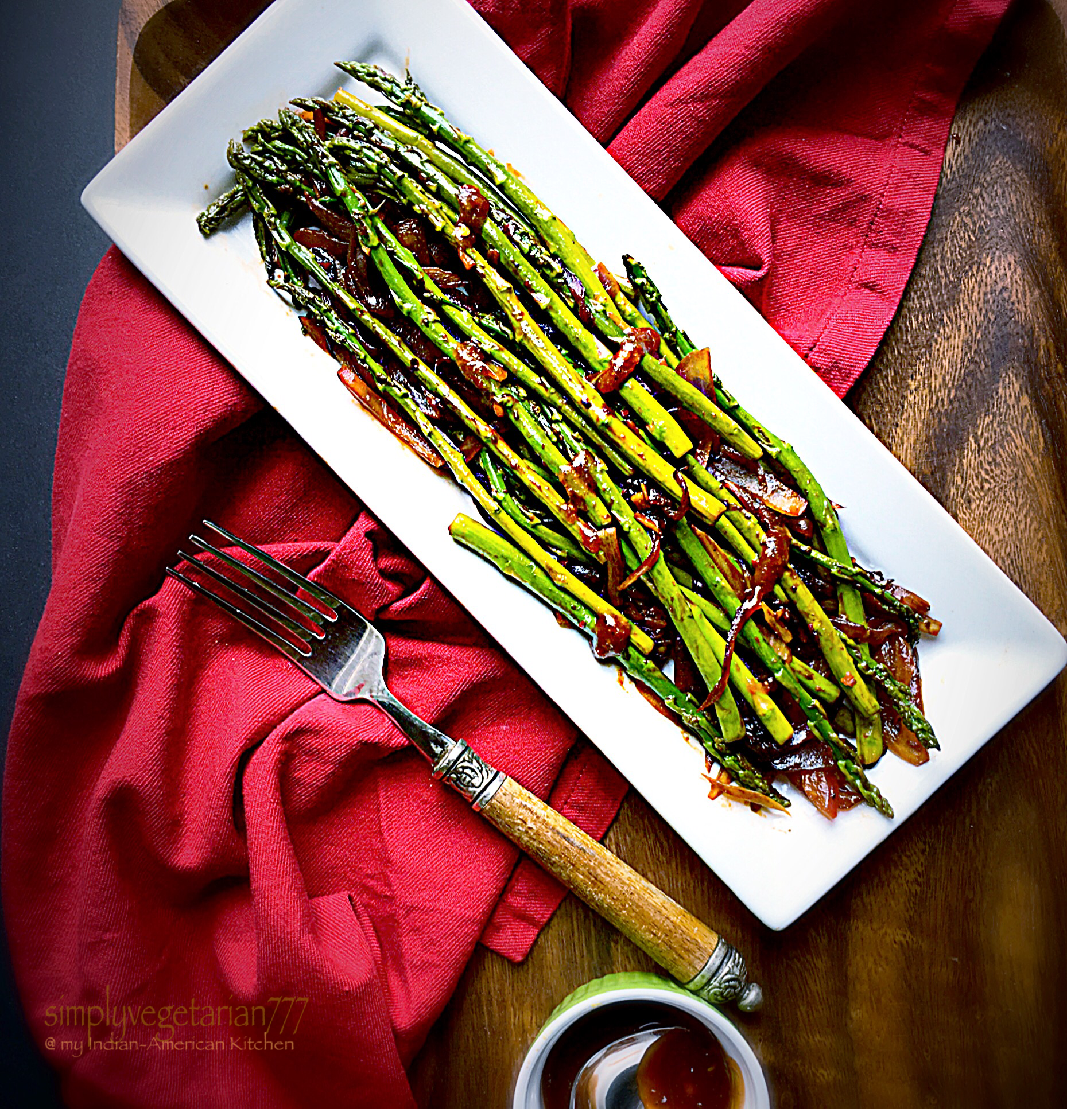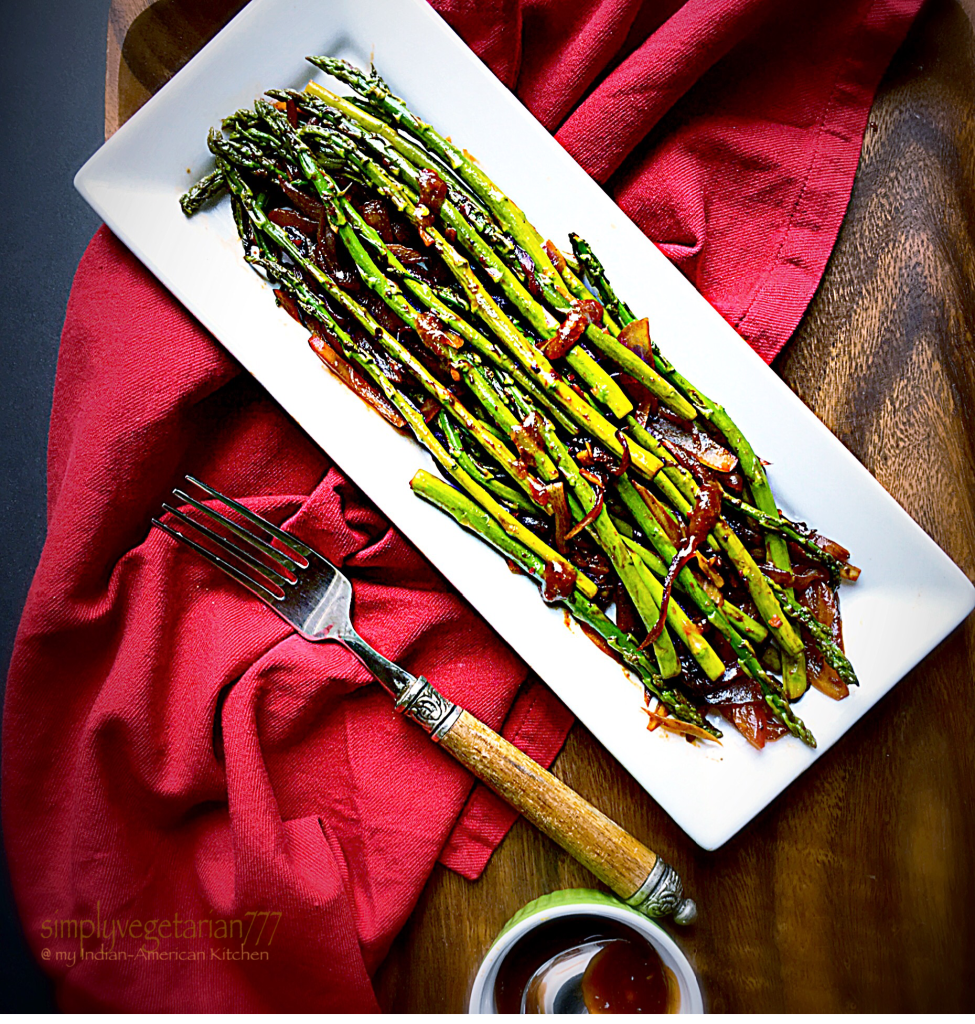 Pan Grilled Asparagus in Barbecue Sauce is a perfect side that can complete any  barbecue meal, grill out or a potlock. Why am I talking about these events? Well the fabulous sun kissed summer is on in full swing and people are eager to meet, mingle, laugh and make memories here in this part of the world. No other country knows how to enjoy the summer, as much as United States of America. The weekend walks are filled with barbecue whiff in the air. Yes, it is so evident that you can actually smell it. Every other house has its back yard grill on and corn, kebabs, proteins etc are on the slow grill with marinades and rubs aroma all over the blue summer sky.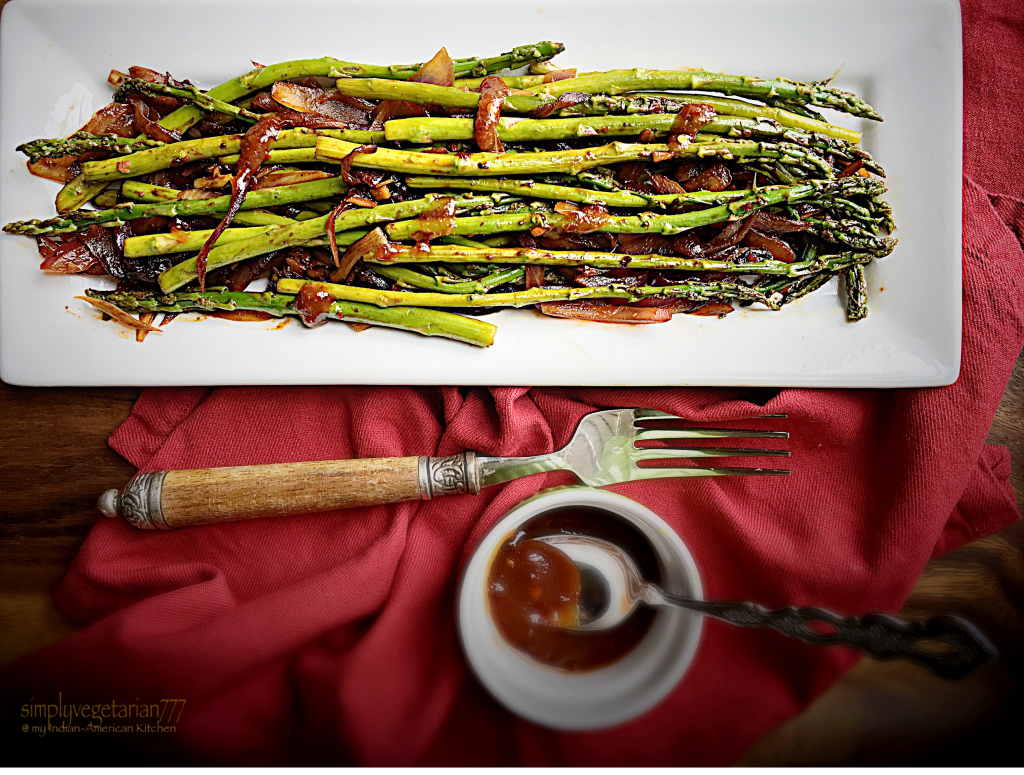 When Amishi of Naive Cook Cooks invited me to contribute to her May Summer Collection, I immediately had Asparagus on my mind. Also, given that the May is the month of  barbecue and grill outs and fresh vegetables, Asparagus had to be grilled in barbecue sauce that too home made. Yes…check out Home Made Vegan Barbecue Sauce from my blog. I had cooked some finger licking easy peasy Barbecue Sauce at home. Check out Amishi's well written and well acclaimed blog here.
My daughters love Asparagus and my oldest is a huge fan of Barbecue Sauce. When I told her that I am making Barbecue Sauce again, she was ecstatic and requested to make more. Aanya has very refined taste for food, where as Myraa, my 5 year old is just like me, would try everything. She often advises her older sister, "remember what mumma says? You do not know how it tastes, unless you try"..LOL.. You have to see the reaction on my oldest face when she gets lectured by the younger sister.
Asparagus is a perfect spring vegetable and can be enjoyed till early summer. It is crisp, tender, juicy and very refreshing. Only young asparagus shoots are commonly eaten, once the buds start to open, the shoots quickly turn woody. Stem thickness indicates the age of the plant, with the thicker stems coming from older plants. Older, thicker stalks can be woody.
Picking and Prepping Asparagus – Asparagus can get tricky to pick and cook. You have to pick the variety which does not have very thick and woody stems. When I go for Asparagus shopping, I pick the thinner variety with tender stalks, these are young and delicate asparagus. Very Important thing to remember is first to wash them thoroughly and secondly even with the young and delicate asparagus, snip off the bottom stalk at least 1 inches from the bottom. The thicker variety needs more trimming from the bottom. The best way is to hold one Asparagus between your 2 hands. Gently bend it. There will be a point on the stem, where it will snap, separating the dry woody part from the fresh tender top. Now you keep it aligned with the rest of the Asparagus Bundle and snip the other Asparagus bottom stalks at the same point. You have ready to cook, tender Asparagus in hand.
Asparagus is an easy and quick vegetable to cook. I will be bringing more recipes using Asparagus as a main ingredient. You can oven roast it, pan grill it, eat it raw (only tender variety), saute it with pasta, use in quiche or with eggs. It makes an elegant and delicious appearance. If you have never tried Asparagus before, then do try it. I am sure that you will love the texture and taste.
Pan Grilled Asparagus in Barbecue Sauce  is a very simple recipe, loaded with flavors and made with very few ingredients. Asparagus is washed and trimmed, sauteed and caramelized with onions and garlic on high heat and then cooked with barbecue sauce for a while to absorb the flavors. I bet you will not eat Asparagus any other way.
Also taking Pan Grilled Asparagus in Barbecue Sauce recipe to my Meatless Monday platform. Do check this chapter out if you are not familiar with it. It encourages you to go meatless every monday, with delicious recipes which are packed with flavors and nutrition. Now that is easy to follow..isn't it?
Some more sides for a Grill Out Get together from my blog are – 4 flavored Boiled Corns, Garlicky Creamy Mashed Potatoes, Green Beans & Caramelized Onions with Cranberry Chutney, Summer Pasta Salad, Refreshing Summer Salad and many more.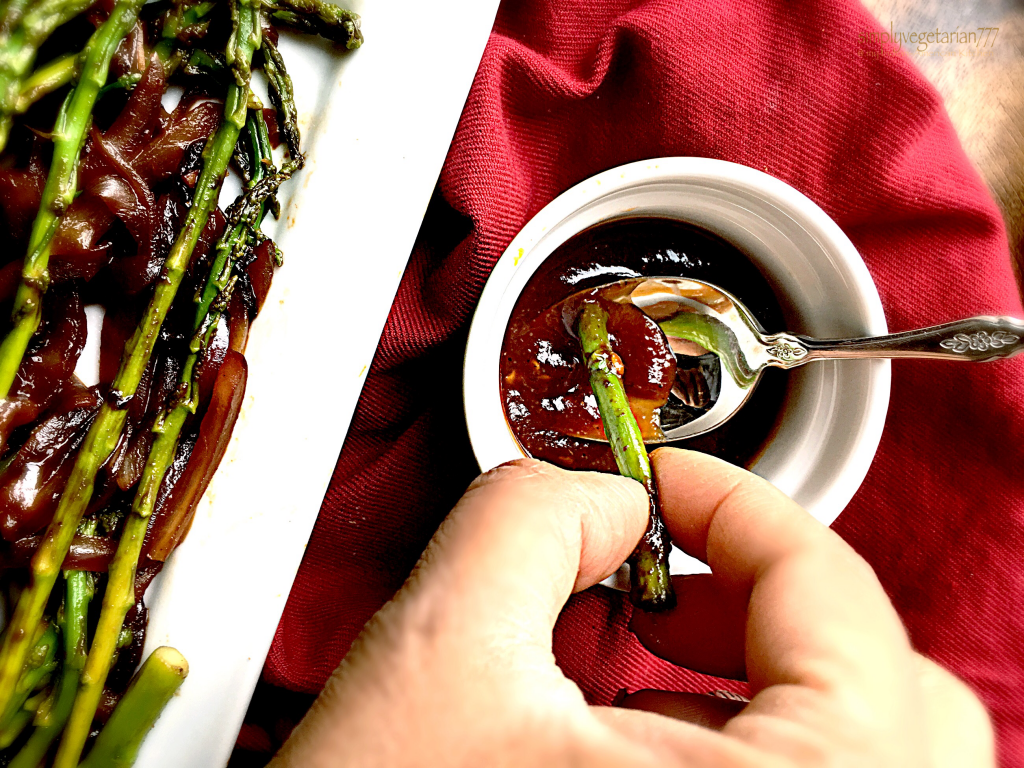 Pan Grilled Asparagus in Barbecue Sauce
Pan Grilled Asparagus in Barbecue Sauce. A perfect side to compliment any Barbecue or Grill Out Get Together.
Ingredients
Asparagus - 1 small bunch

tender & young variety, washed and trimmed

Onion - 1 small

sliced thin

Garlic - 1 pod

chopped fine
Oil & Spices
Olive Oil - 1&1/2 tsp

tea spoon

Barbecue Sauce - 2&1/2 tbsp

table spoon or to taste. Either use store bought or make it at home as per the recipe provided in the link above.
*No Salt or Pepper since we are using barbecue sauce
Instructions
Heat olive oil in a heavy bottom hard anodized pan. Add garlic and onions in the pan and saute on high heat till onions turn golden brown. Stir often while cooking. In 3-4 minutes, onions will caramelize well with garlic enhancing the flavors.

Now add trimmed Asparagus. Saute with onions and garlic on medium high heat for about 2 minutes, till it gets charred a bit.

Add home made or store bought barbecue sauce. Reduce the heat. Cover with lid. Cook on simmer for another 2-3 minutes. This way Onions and Asparagus will absorb the flavors of Barbecue sauce and will be ready to serve.
Notes
In case, you do not find Asparagus, use tender Green Beans.
You should not prepare it before hand. Make it fresh and serve for better flavors. You may prep for the recipe, beforehand. When ready to serve, just toss and bring the ingredients together and enjoy a hearty side along with that burger and coleslaw plus potato salad and macaroni salad.
I had a fabulous time creating this recipe in my Indian American Kitchen, relishing some true American flavors. I am sure you will enjoy it too. Food is to celebrate Life with all the flavors that it might bring.
Eat Happy! Stay Happy!
Sonal