Udupi Style Sambhar
As an Amazon Associate and member of other affiliate programs, I earn from qualifying purchases.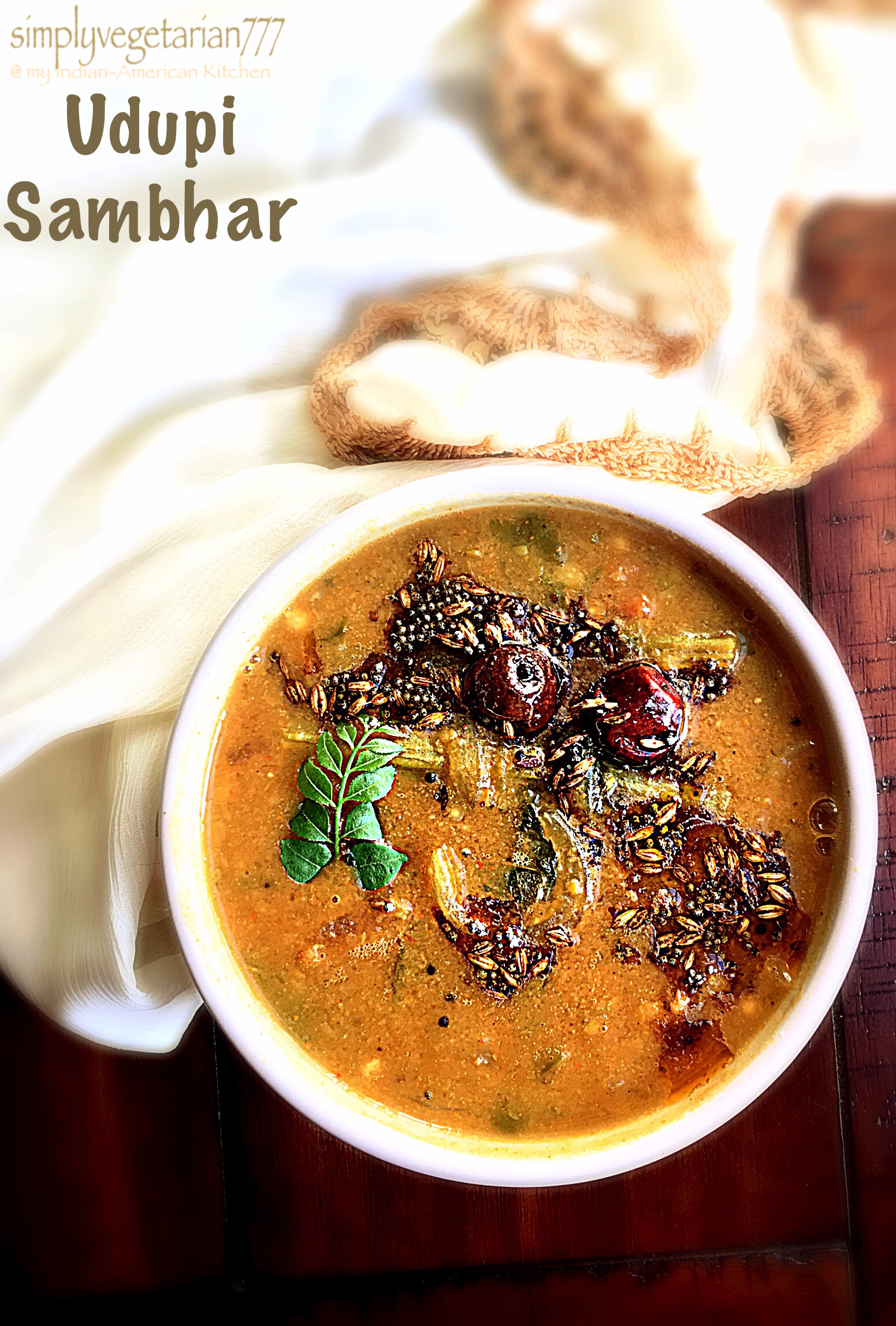 Udupi Style Sambhar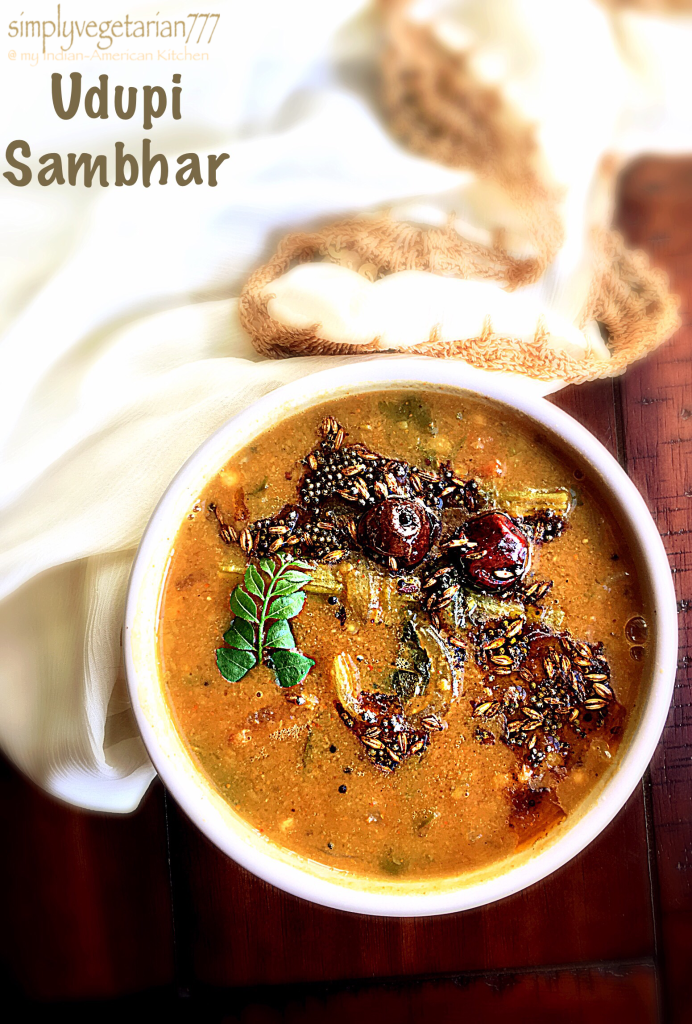 My Udupi Style Sambhar is probably not the most authentic recipe but a very delicious one for sure.
While we lived in Cincinnati, there was this Udupi Cafe, we visited often. We loved eating there. Their dosas, curries and especially the sambhar was out of this world. The flavors were so rightly balanced with spice, the tang, the sweet and the sour.
We always ended up ordering more sambhar. It was that palate pleasing. The perfect finish to the meal was their Filter Coffee.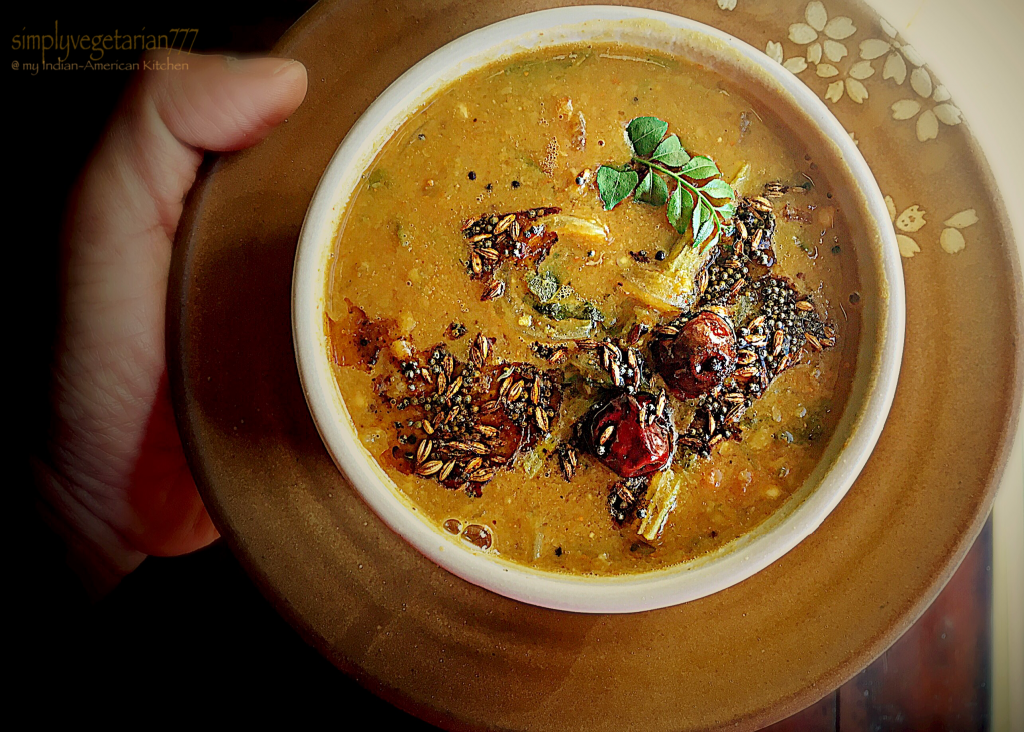 Udupi sambhar is the only kind that I know, that is slightly sweet with rightly balanced spices.
Udupi is also written as Udipi, which is a city in the southern state of Karnataka. It is famous for its Krishna Temple and is a center of pilgrimage. [1]
Udupi cuisine comprises dishes made primarily from grains, beans, vegetables, and fruits. The variety and range of dishes is wide, and a hallmark of the cuisine involves the use of locally available ingredients. [1]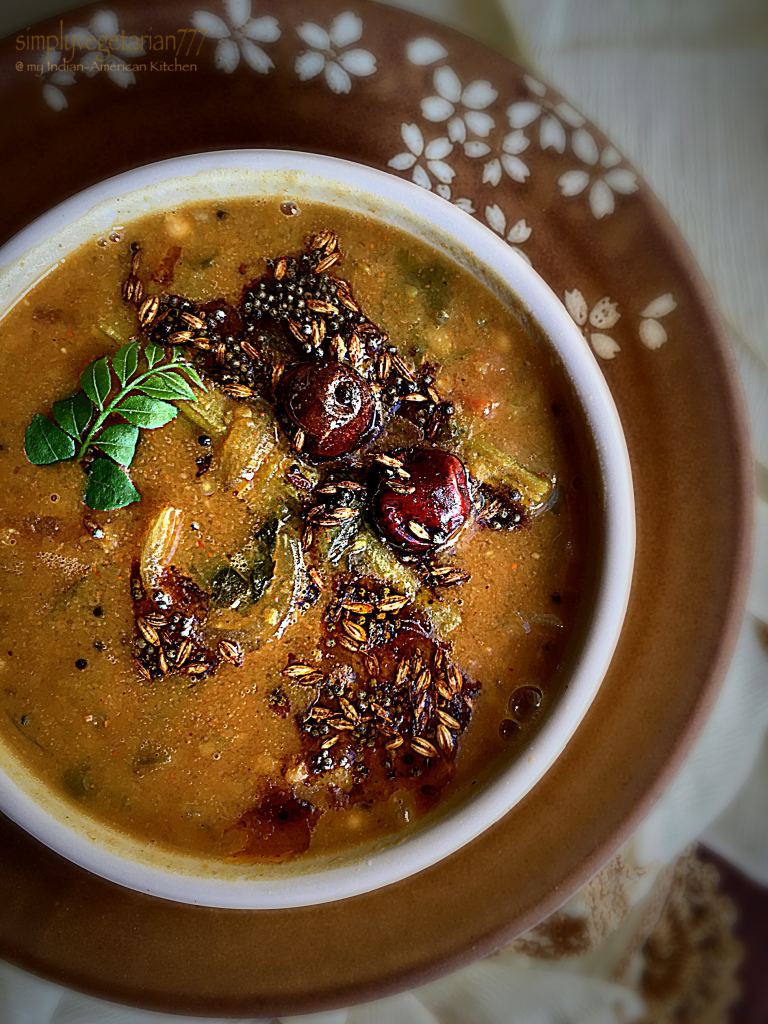 My family is really fond of South Indian cuisine. We go out every week at least once, to treat ourselves on dosa, sambhar, wada, etc.
Amit always orders Masala Dosa, that is a fixed menu for him. My favorite picks are Rawa Masala Dosa and Mysore Masala Dosa. I always pick one from these 2. The variety of chutneys, served along is amazing.
My mother makes amazing sambhar at home, with freshly roasted and ground sambhar masala. I never learnt her trick, besides the fact that I would finish bowls after bowls of the sambhar made by her.
I got married into a family, where everybody adores South Indian food. My mother in law made sambhar with ready made sambhar masala. That is when I was introduced to different brands of Sambhar Masala.
MTR Sambhar Masala tops my list of all time favorites. Their spice mixes are very precise and easy to use. I love their Tamarind Rice mix and Rasam powder mix too and these are constant in my refrigerator.
In the following recipe, I have used MTR Sambhar masala. Please feel free to use any brand masala or your home made sambhar masala for the recipe, adjusted to your taste.
Also, do read the full recipe till the notes. I have given the option for quicker way of making the Udupi style sambhar.
Some South Indian recipes from my blog are – Quinoa Dosa & Uthpam , Lemon Quinoa , Instant South Indian Platter , Multigrain Sambhar Rice , idli , Upma and many more
I have divided the recipe into few steps as given below
Cooking the Dal separately
Cooking the vegetables separately
Mixing dal and vegetables along with spices, tamarind and jaggery
Adding the tempering to the sambhar
Cooking sambhar in Pressure cooker
This is how I made it.
Udupi Style Sambhar
Udupi sambhar from South Indian Cuisine
Ingredients
Ingredients for Dal
Toor / Arhar dal - 1 cup

Water - 3 cups

Turmeric - 1/4 tsp
Ingredients to cook Vegetables
Onions - 1 small

sliced thin

Tomato - 2 small

Baby eggplants - 2

Lady finger - 6 to 8

Drum sticks - 8 to 10

Lauki - 1/2 cup

cubed into 1 inch pieces

Water - 3 cups

Turmeric - 1/2 tsp

Salt - 2 tsp or to taste

Oil - 1 tbsp

Mustard seeds - 1/2 tsp

Asafetida/ Hing - a pinch

Curry leaves - 8 to 10
Sambar powder - 1&1/2 to 2 tbsp
Ingredients for Tadka
Oil - 1 tbsp

Asafetida - a pinch

Mustard seeds - 1/2 tsp

Cumin seeds - 1/2 tsp

Dry red chili whole - 2

Curry leaves - 4 to 5
Instructions
Cooking the Dal
Wash the dal nicely. Soak it in water for about 10 minutes. Drain the water.

Take a pressure cooker and add toor/arhar dal with turmeric and water to it. Pressure cook it for 2 to 3 whistles till the dal is of mushy consistency.

In case you are cooking it in open pan, add more water and cook till dal is soft and mushy.
Preparing vegetables
Meanwhile dal is cooking, wash all the vegetables and dry.

Chop all of them into similar size and shape, approximately of 1 inch cube size.

Take a heavy bottom deep pan and heat 1 tbsp oil in it. Add mustard seeds and asafetida/hing to it. When the seeds start crackling, add curry leaves and lower the heat to medium.

Add slced onions to the pan and saute till slghtly pink. Now add all the other vegetables along with salt and turmeric. Saute for 2 minutes on medium high heat, till slightly soft.

Now add water and bring it to a boil. Lower the heat. Cover and let cook for 12-15 minutes till the vegetables are soft.
Making Sambhar
Make sure that dal is cooked to the mushy consistency and vegetables are cooked till soft.

Remove the lid from the vegetables pot. Add the mushy dal, jaggery, sambhar powder and tamarind paste to the pan.

Take a heavy ladle/spoon and stir the ingredients properly, making sure that there are no lumps of jaggery or sambhar powder.

While stirring, mash the ingredients a little with the ladle.

Bring the sambhar to a boil.

Reduce the heat and cook further for another 8-10 minutes. If you like more runny sambhar, add more water. Adjust the salt or sambhar powder or jaggery or tamarind to your personal taste.

More you cook, better are the flavors. Sambhar is ready.
Tempering the Sambhar
Heat 1/2 tbsp oil in a small pan. Add hing, mustard seeds and cumin seeds to it. Once the seeds start crackling, add the whole dry red chilies and curry leaves. Switch off the heat.

Add this tadka/tempering to the sambhar before serving.
Serving suggestions
Udupi sambhar goes very well with any dosa, uthapam. idli, wada, or rice. I can drink it as is like a soup.
Cooking Sambhar in Pressure Cooker
For a complete pressure cooker udupi sambhar, this is what I do -

Heat oil in a large pressure cooker and add mustard seeds, hing, curry leaves to the oil. Once the seeds crackle, add onions to the pan. Saute onions till pink.

Then add all the vegetables to the cooker along with salt and turmeric. Cook for another 2-3 minutes.

Add soaked dal and 6 cups of water.

Pressure cook for 3 whistles.

Once the pressure releases from cooker, add tamarind paste, jaggery and sambhar powder. Adjust the water if required more. Adjust salt accordingly.

Cook for another 10 minutes.

The complete pressure cooker recipe will be done in half the time as compared to the original recipe.
Notes
You may add a small piece of ginger and 3-4 green chillies with the vegetables. I did not add the green chilies since it becomes too spicy for my family. You may also use any seasonal vegetable available in the market including gourds, pumpkin, potato etc. If you want to make it for the festival like Onam etc, you may leave the onions out.
Isn't the recipe so doable and easy to make, especially the lesser steps pressure cooker one? I am sure you are going to try it soon. I loved it with rice and peanut & coconut chutney . This will go so well with Tomato & Ginger Chutney .
Pin this for later!


In my Kitchen, you are always Eating Happy! Staying Happy!
Sonal
[1] – wikipedia source