Veg Pizza Puffs
As an Amazon Associate and member of other affiliate programs, I earn from qualifying purchases.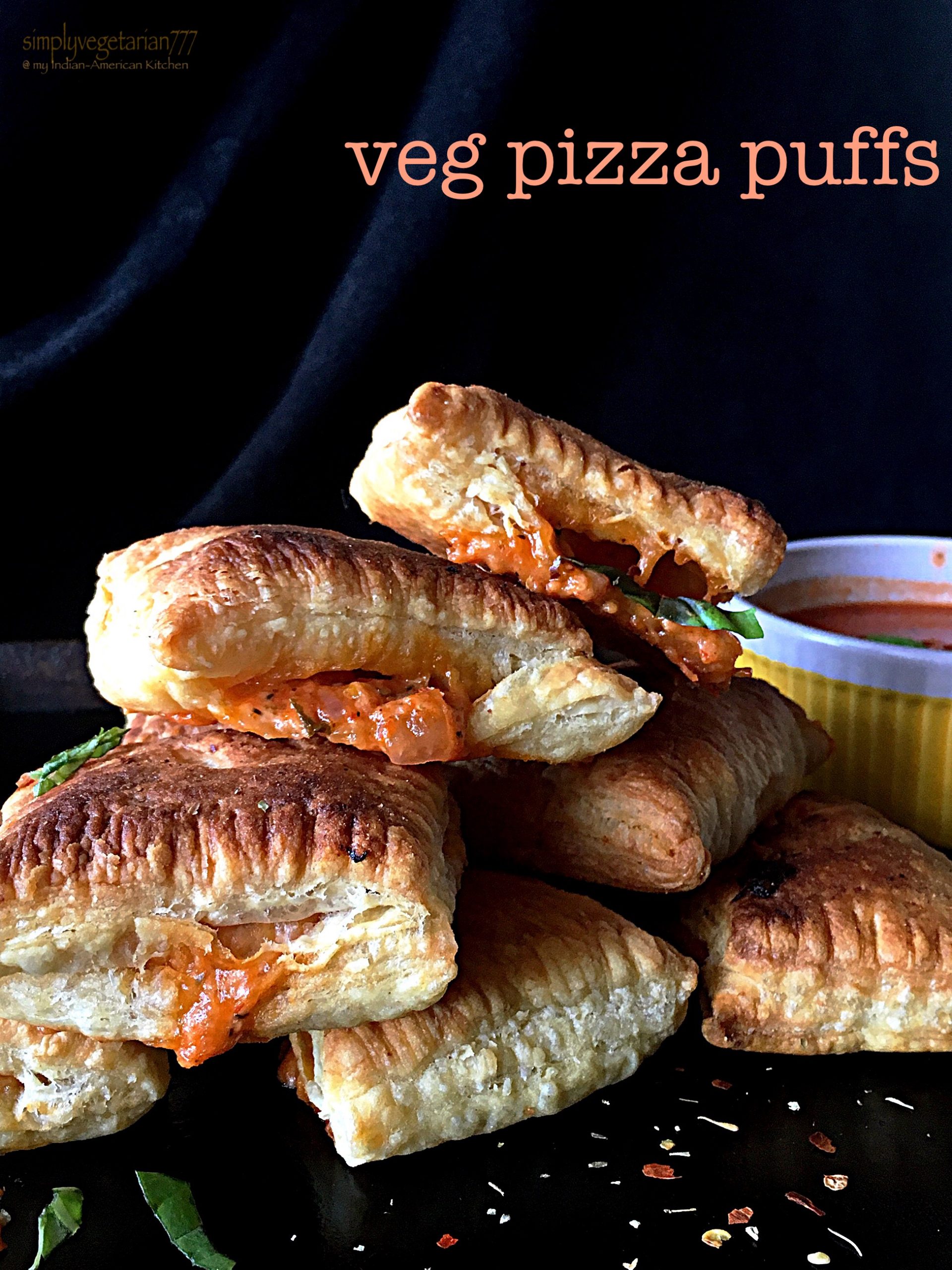 Veg Pizza Puffs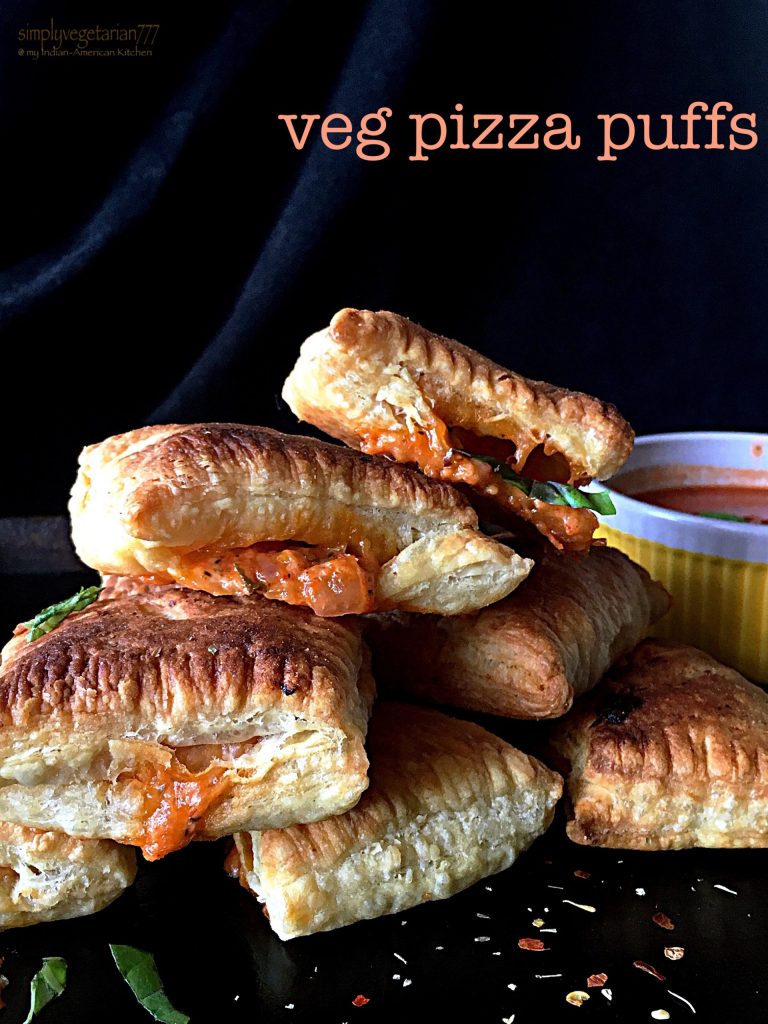 Veg Pizza Puffs are the perfect way to celebrate any Friday evening. And it becomes all the more special, when I am celebrating 3 years of my blogging journey. It's been 3 years already? Wow. I realized it just yesterday that I am hitting the 3 year mark on my blog and before WordPress sends me a notification, congratulating me..here I am tooting my own horn and beating the drums loud.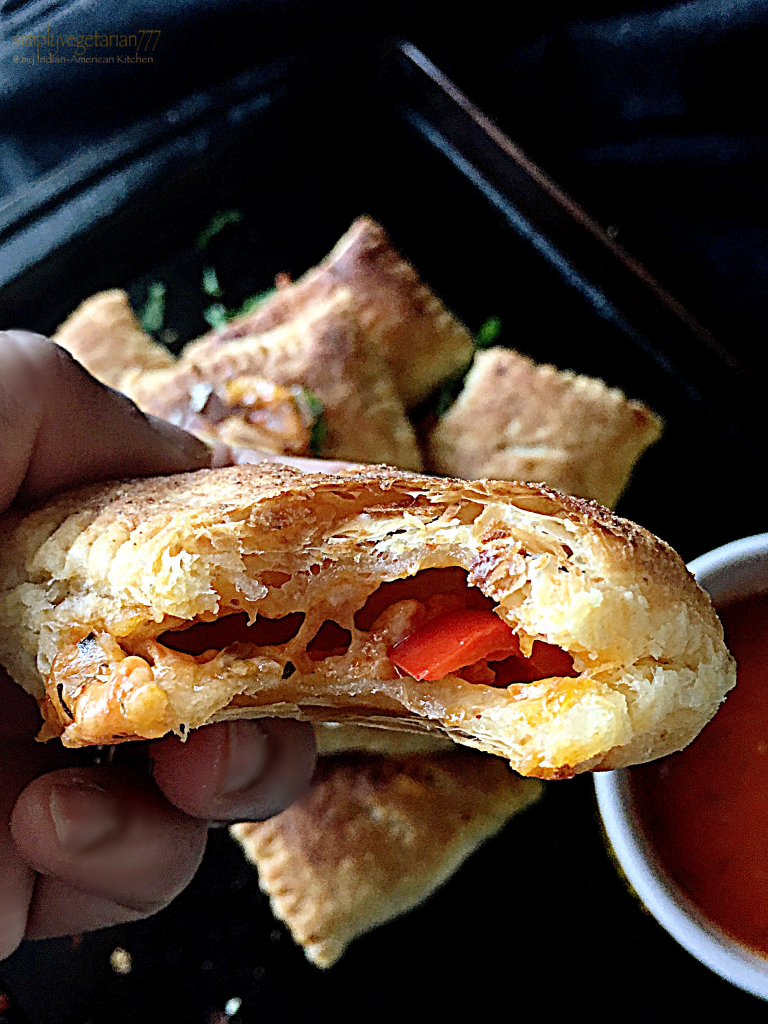 It was such a late realization on my part, that I didn't get much time to prepare any detailed or much of a fancy recipe. But then I thought, sometimes celebrations should be low key, yet equally scrumptious. I don't have to slog on a recipe to make it really "happening". Don't you agree with me? There should be times, when you need to kick your feet up on a settie, sip a chilled beer and enjoy something quick yet fancy & comforting. These Veg Pizza Puffs are a kick ass answer to that comforting evening with no-effort cooking and yet a delicious bite. The puff pastry has such a flaky and delicate texture that every morsel fills you up with a warm feeling of contentment.
I have to mention that Savory Puff Pastry is known as Patties in Northern India and it was one of my favorite snack while growing up. No shopping trip or an outing with friends was complete without Patties and a coffee. Sharing laughter and some gossip over warm patties and a cup of coffee, used to be the highlight many times. Thanks to Pepperidge Farm Puff Pastry Sheets , that I can create the similar magic in my kitchen in USA.
If you can not find frozen pepperidge farm puff pastries, you may use pie dough, crescent dough or pizza dough for making these or refer to Shaheen's recipe for making the crust.
Some other quick & semi home made recipes from my blog are –
Bun Snack Pizza , Chilli & Cheese Rangoons , Caramelized Mushrooms Spicy Flatbread and many more.
This is how I made these under 30 minutes (minus the thawing of the forzen puff pastry).
Veg Pizza Puffs
A quick recipe using Pepperidge farm frozen puff pastry sheets and a quick vegetarian pizza filling. Baked to delightful golden color and finished in no time.
Ingredients
Pepperidge Farm Puff Pastry Sheets Packet - 1. It has 2 sheets. (thawed at the room temperature as per given instructions behind the packet.
Pizza filling
Pasta /Pizza Sauce - 1/4 cup

Cheese - 1/2 cup

shredded, of your choice. I used Cheddar, Havarti & Mozzarella. You may use any.

Bell Peppers / Capsicums - 1 cup

chopped fine. I used colorful bell peppers

Onion - 1/2 cup

chopped fine

Basil - few leaves fresh or 1/4 tsp dry
OIl & Spices
Italian Herb seasoning - 1/2 tsp

Black pepper powder - 1/2 tsp or to taste

Salt - to taste
Instructions
Thawing & Prepping the Puff Pastry Sheets
Read the instructions at the back of the packet and thaw the frozen pastry sheets accordingly. It takes about 40-45 minutes to thaw these at the room temperature.
Making Pizza Filling
Take a bowl and add bell peppers, onions, pizza sauce, cheese, herbs and salt in it. Toss them well with a spoon or fork. The filling is ready. It is that simple. No cook filling.
Making Veg Pizza Puffs
Preheat the oven at 400*F/200*C. Line a large baking sheet with parchment /butter paper and set aside.

Now lightly flour the clean counter surface. Unfold the thawed pastry sheet. Take a rolling pin and flatten it further more. Take a sharp knife or a pizza cutter and cut out 12-16 rectangles out of 2 flattened pastry sheets.

Refer to the small pictogram given below for better understanding.

Take one rectangle. Flatten it further with rolling pin. take 1&1/2 - 2 tbsp Pizza Filling and place it on one side of the rectangle.

Now cover the filling side of the pastry with the plain side, making it a square. Now take a fork and press the pastry square down tight with it, from the 3 open sides.

Finish all the puff pastry rectangles likewise and place on the baking sheet.
Baking the Veg Pizza Puffs
Bake the Pizza puffs on middle rack for about 17 minutes and then broil/grill for few more seconds, for perfect golden color.

When broiling, keep a close watch since it gets burnt soon because of its delicate texture.

The Veg Pizza Puffs are ready. Serve these hot along with warm Marinara sauce.
These Veg Pizza Puffs are perfect to entertain family and friends over the weekend. Make these for a get together, when you are entertaining people. Bake these when you have your kids' friends come over. Sometimes, just make these when you do not want to make the whole meal and go sharp on the dinner. Make the game crazy group go ga-ga over these. It is perfect for any game night.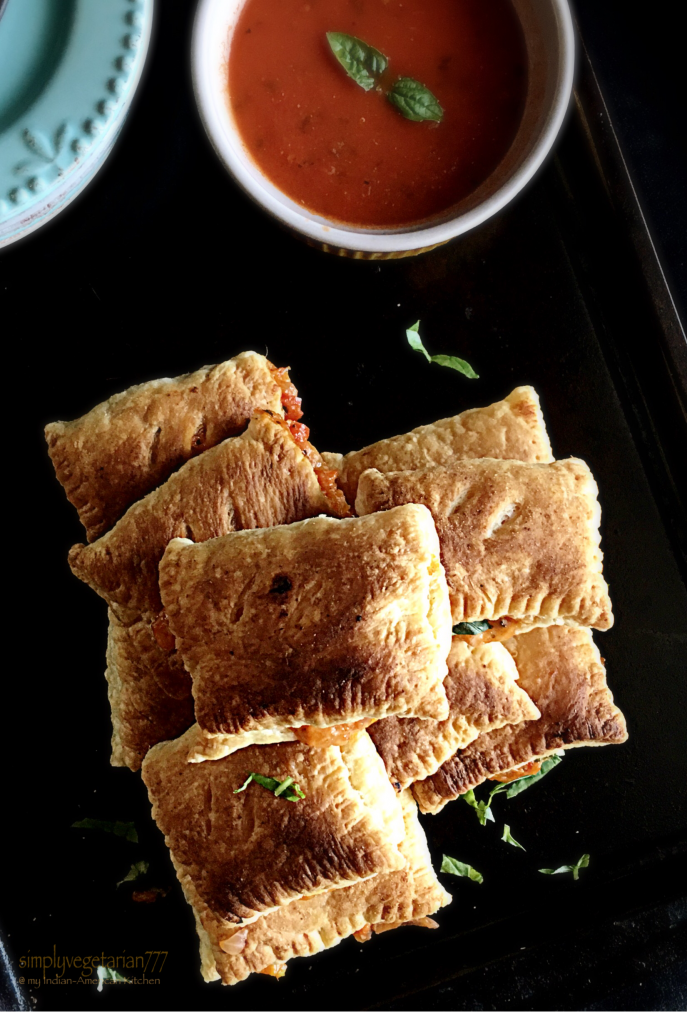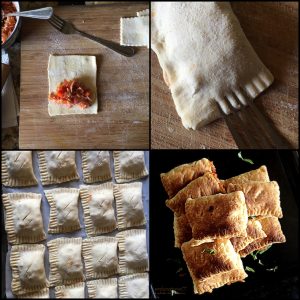 <–This is a small pictogram to explain the filling, closing the edges and te baked product.
I had an awesome time creating these Veg Pizza Puffs in my Indian American Kitchen. I guarantee that these will be a hit in your house as well and your family will ask you to make these again and again.
Eat Happy! Stay Happy!
Sonal