Walnut Dessert Tartlets with Tart Dough Recipe
As an Amazon Associate and member of other affiliate programs, I earn from qualifying purchases.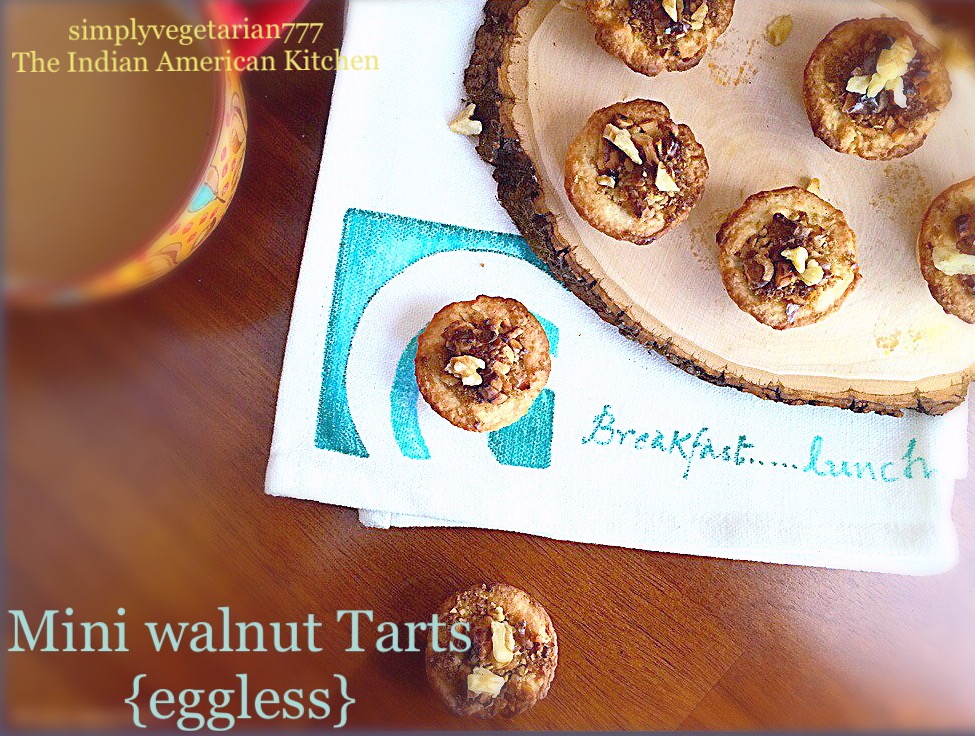 Walnut Dessert Tartlets with Tart Dough Recipe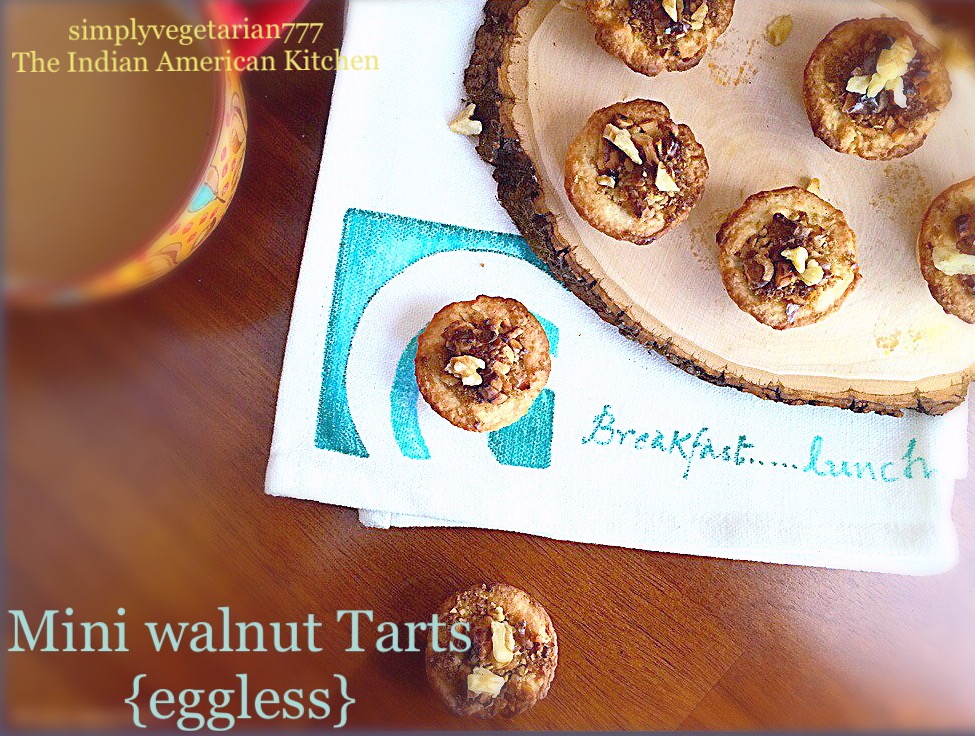 It's been a while that I have been to Angie's Fiesta Friday. Hello Everybody! Today I bring Dessert Tartlets filled with some chopped walnuts, sugar and allspice. Also made some with chocolate filling for my kids. Don't these Walnut Dessert Tartlets with Tart Dough Recipe look delicious already?
With so many festivities approaching at the end of the month like Teej, Eid and Rakshabandhan, these sound like a fresh breeze amongst traditional sweets. Prudy and Jess, I hope you will like my bite or 2 bite sized walnut tartlets. Sorry couldn't get the chocolate ones since my girls finished them all.
This post will have 2 Recipes. One with a basic dessert tart recipe and another with the filling!
Basic Dessert Tart Dough/Shell Recipe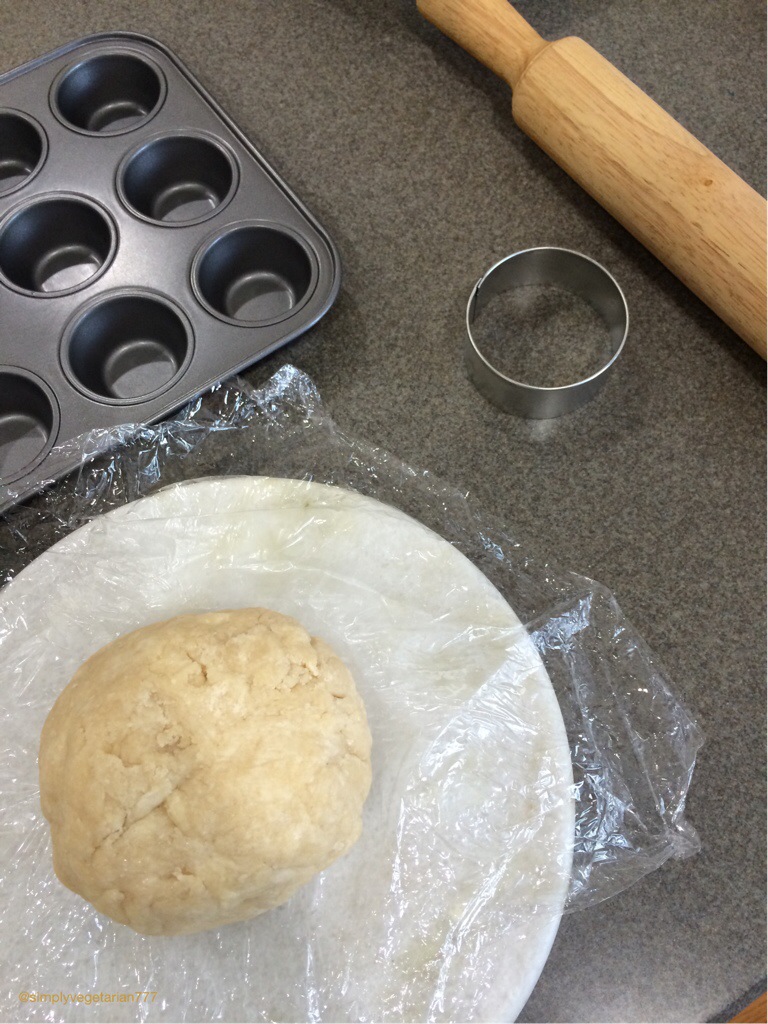 Yields : 12 -16 small tartlet shells or 1 big shell
Kitchen Equipments Required : big bowl, small circular Cookie cutter or a bowl of 3 to 4 inches diameter, fork, small muffin tray, rolling pin, plastic cling wrap.
Ingredients :
Refined flour or All purpose flour : 1&1/4 cups
Sugar : 3 tbsp
Butter : 6 tbsp, cold or chilled, right out of the refrigerator and cut into very small cubes.
Salt : a pinch
Water : 5 tbsp, chilled
Method :
Take a big bowl. Add flour, sugar and salt to it and mix well.

Now add cold butter cubes to the flour and mix into the flour gently. Don't rub too hard since you don't want the butter to melt. The flour and butter would look like bread crumb consistency.

Now add cold water 1 tbsp each at a time. Bring the flour together in a dough. Just gather. Don't knead at all.

Now take the plastic cling wrap. Place the dough in the middle. Wrap it right from all the sides.

Refrigerate the dough for 1/2 to 1 hour atleast.
Making the Tartlet Shells
The best lady about these shells is that they can be prepared in advance and stored in air tight container after cooking them completely to the room temperature. They can then be used as desired :).
Preheat the oven at 400*F and grease the muffin tray lightly. Take the refrigerated dough out. Lay down a big square piece of plastic sheet on a clean counter surface. The plastic sheet makes it easier to roll without sticking.

Place the dough in the middle of plastic sheet. Place another plastic sheet (of the same size as the bottom one), on top of the dough.

Take a rolling pin and roll the dough out to 1/4 inch in thickness or thinner if you like crispier or thicker of you like more of the biteful pastry. Mine were biteful. You have to roll the dough out quickly or else it will become too soft to handle.

Now take the cookie cutter and cut out the circles.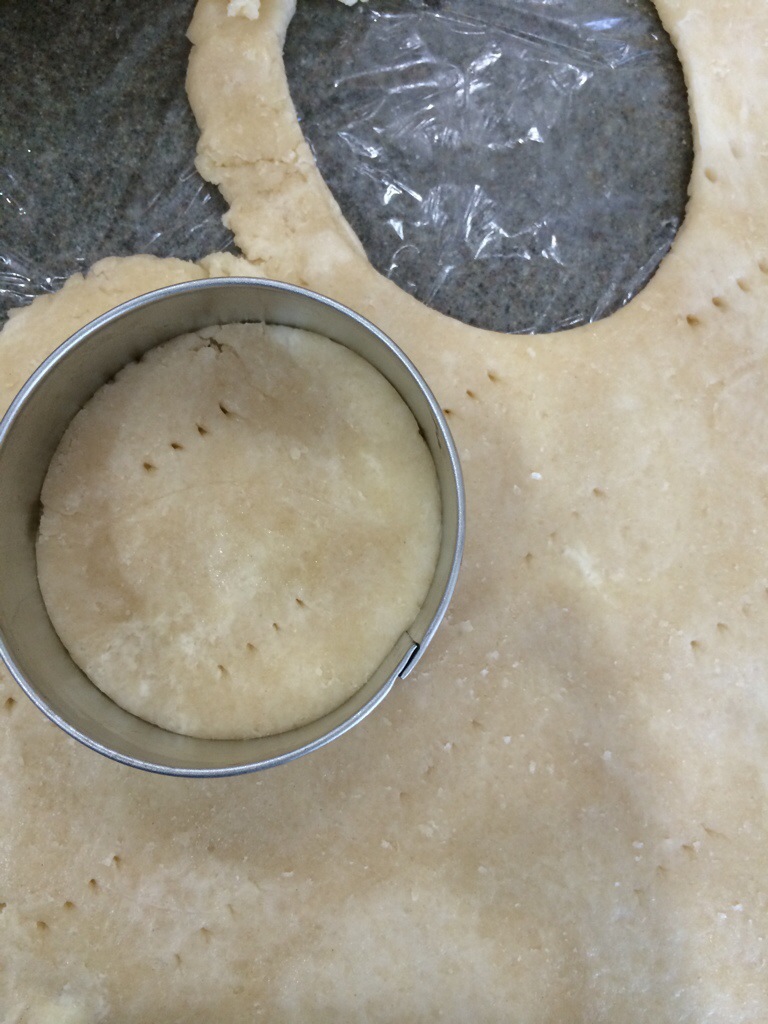 Place these circles inside the muffin tray. Take a fork and pierce them in different angles so it doesn't puff up while baking.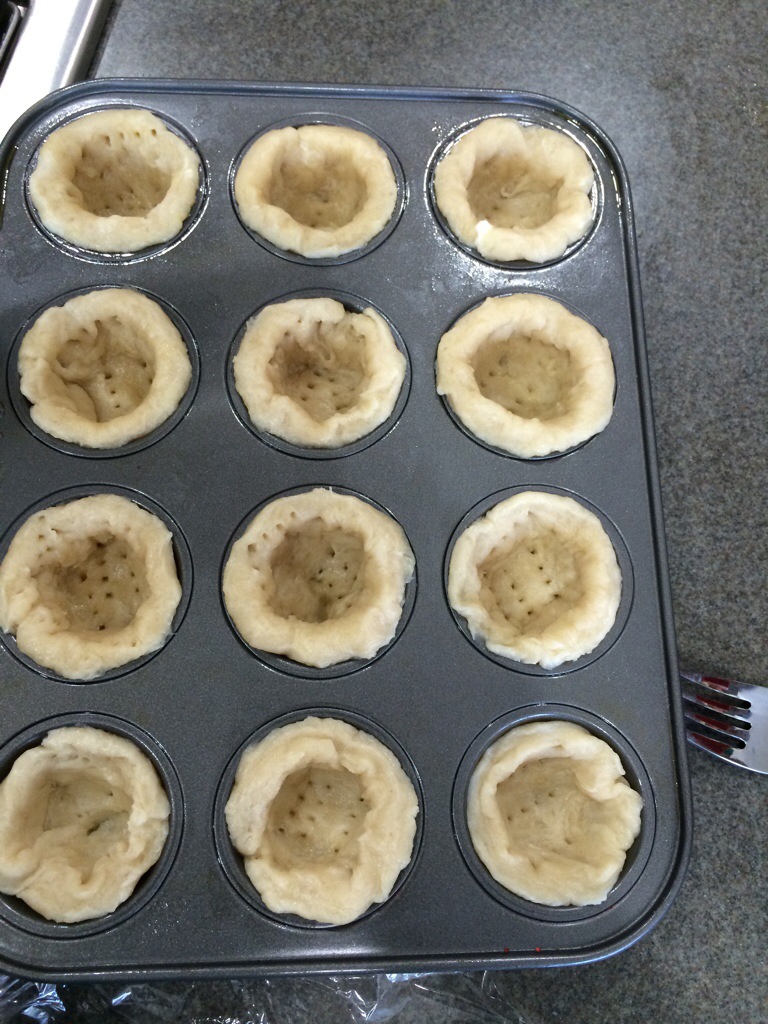 Place the rack towards upper half of
the oven. Bake it for 12-15 minutes, till it gets little golden.

Bring these out and cool them on the cooling racks.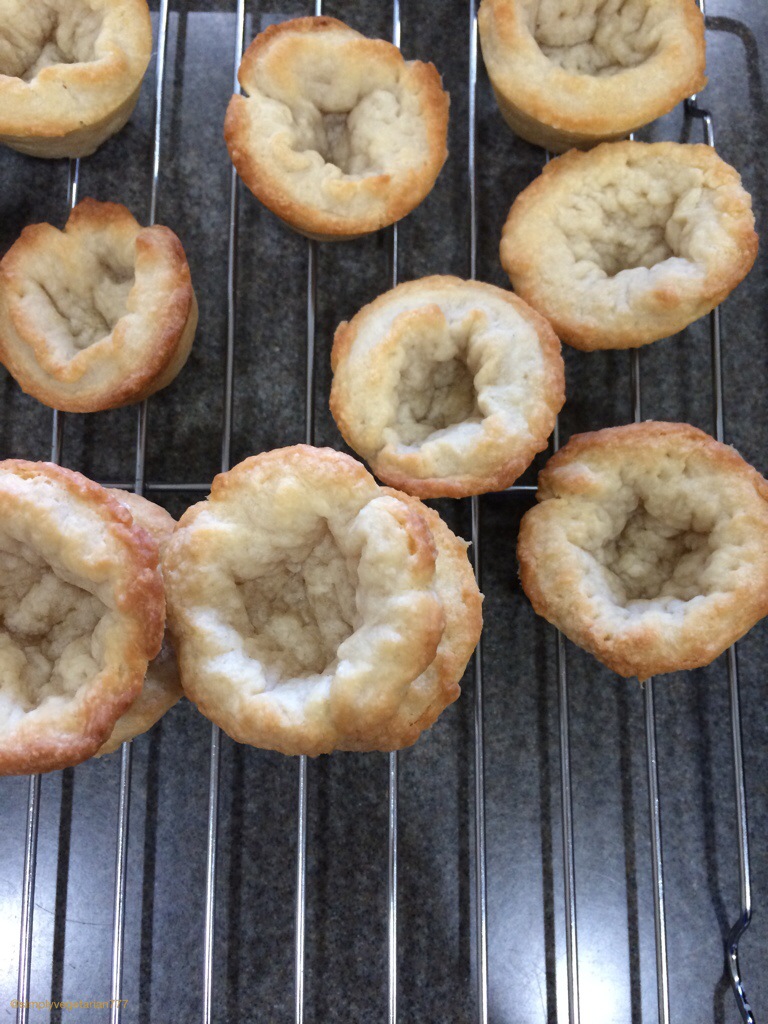 Let us make the Walnut Filling Tartlets now.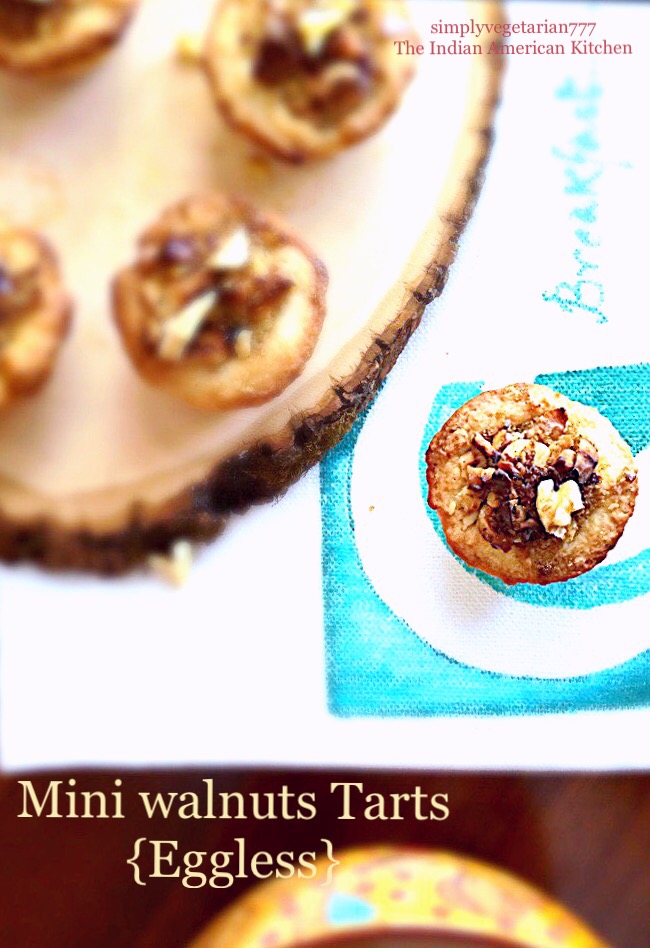 Walnut Filling
Ingredients :
Walnuts : 1/3 cup, finely chopped or ground coarse.
Brown sugar : 2 tbsp. You may use more but dessert tarts are already sweet. Also, I like my desserts less sweet.
Allspice or Cinnamon : 1/2 tsp
Note : You may add 1 tbsp of milk powder too. I didn't. Many recipes use egg for binding but I didn't use any since sugar set up fine.
Method :
Preheat the oven at 425*F.

Mix walnuts, sugar and spice with a fork.

Spoon 2 tsp of walnut mix in each tart shell.

Place these shells on a baking tray and bake for 5-7 minutes till the sugar melts a bit and settles down.
Enjoy these warm or at room temperature! I enjoyed mine with a cup of tea and these were delicious.
Notes :
1. You may make them either cold or hot.
2. Fill them up with nuts and sugar and bake. Almonds and Pistachios go very well too.
3. You may add custard, jams, jellies, lemon curd, any pie filling to these.
4. You may use chocolate in combination with nuts too.
Some other Baked recipes from my blog are – Apple Honey Nuts Galette , Chocolate Nuts + Apple Nuts Mini Hand pies and more.
Can't make these now? PIN IT FOR LATER!


In my kitchen, EAT HAPPY & STAY HAPPY!
Sonal