Besan Toast
As an Amazon Associate and member of other affiliate programs, I earn from qualifying purchases.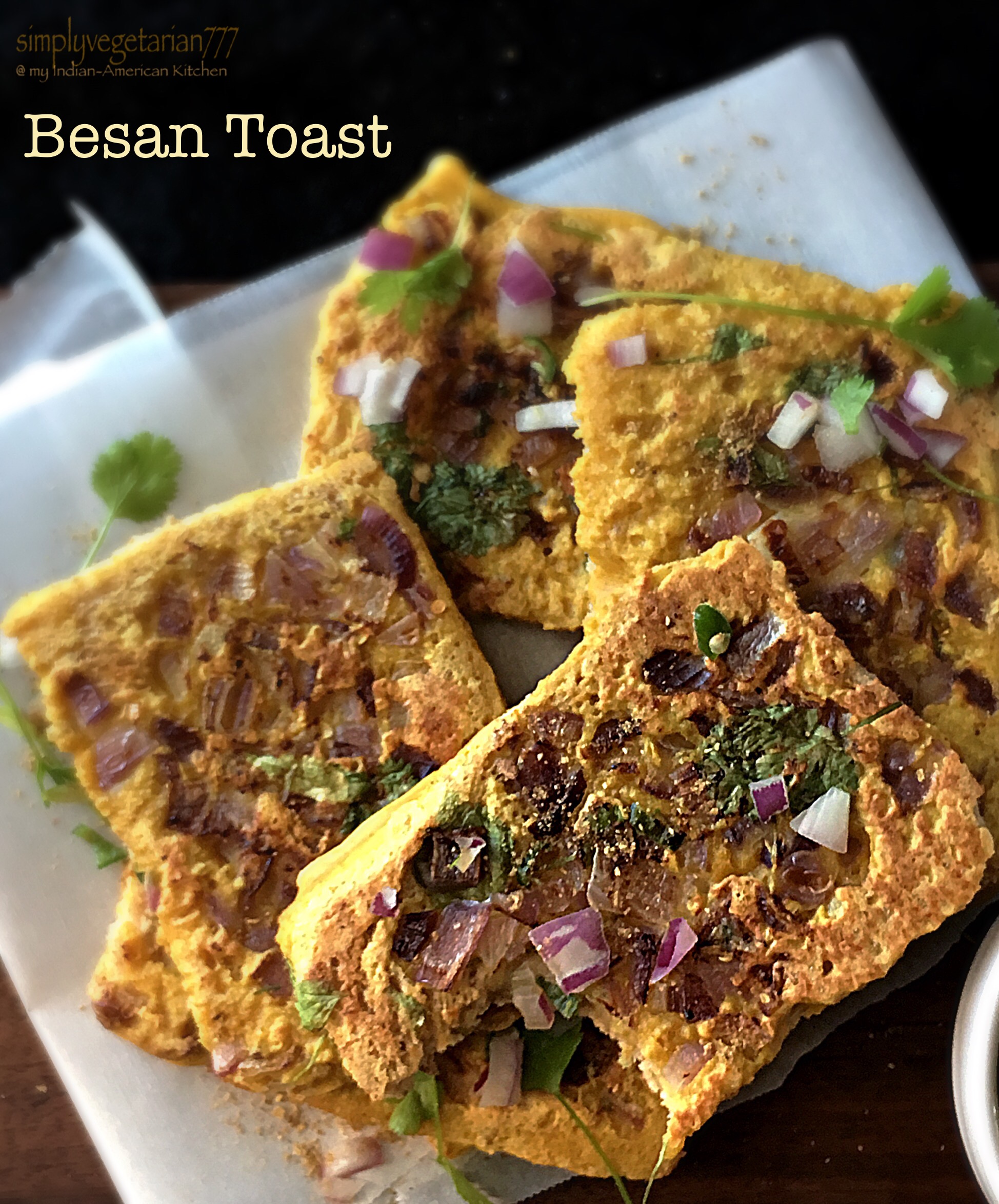 Besan Toast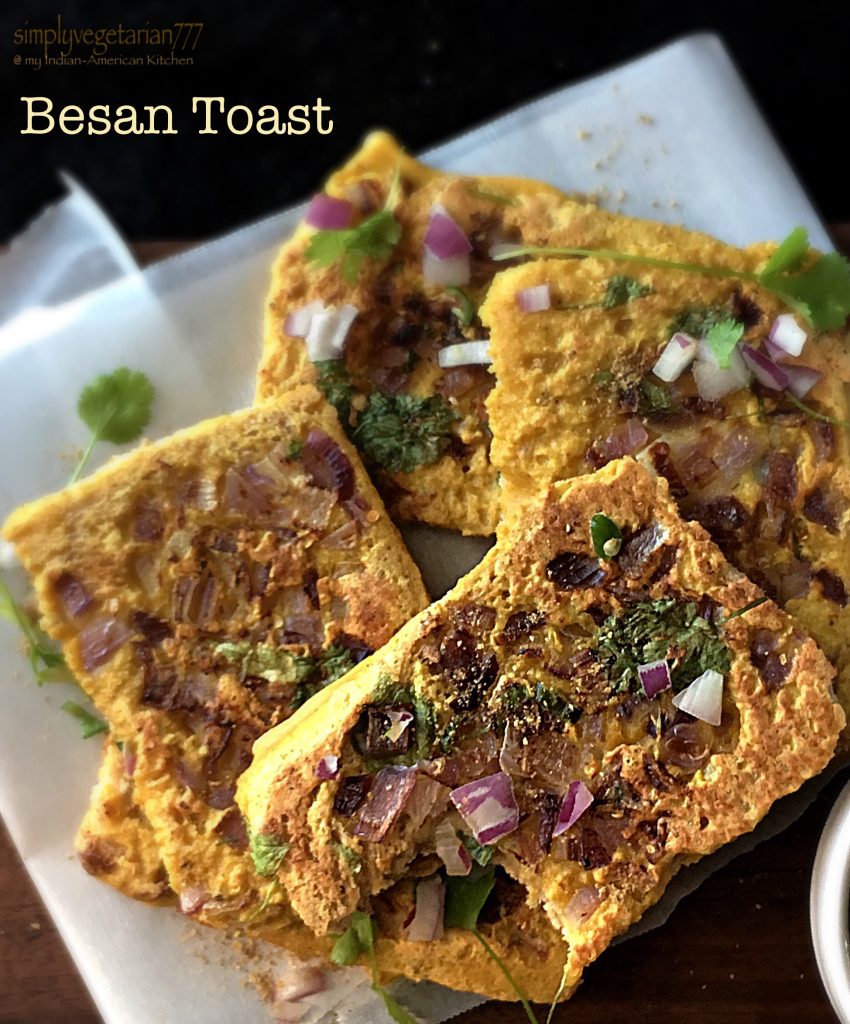 Besan Toast makes the best breakfast or brunch dish. It is satisfying, comforting, healthy and super delicious. If you are a fan of Deep Fried Bread Pakoda, then you are in for a treat my friend. These are close cousins of Bread Pakoda but much healthier since they are pan grilled and almost no oil…well little oil. These came out crunchy abd filled with warm flavors of the deep fried version.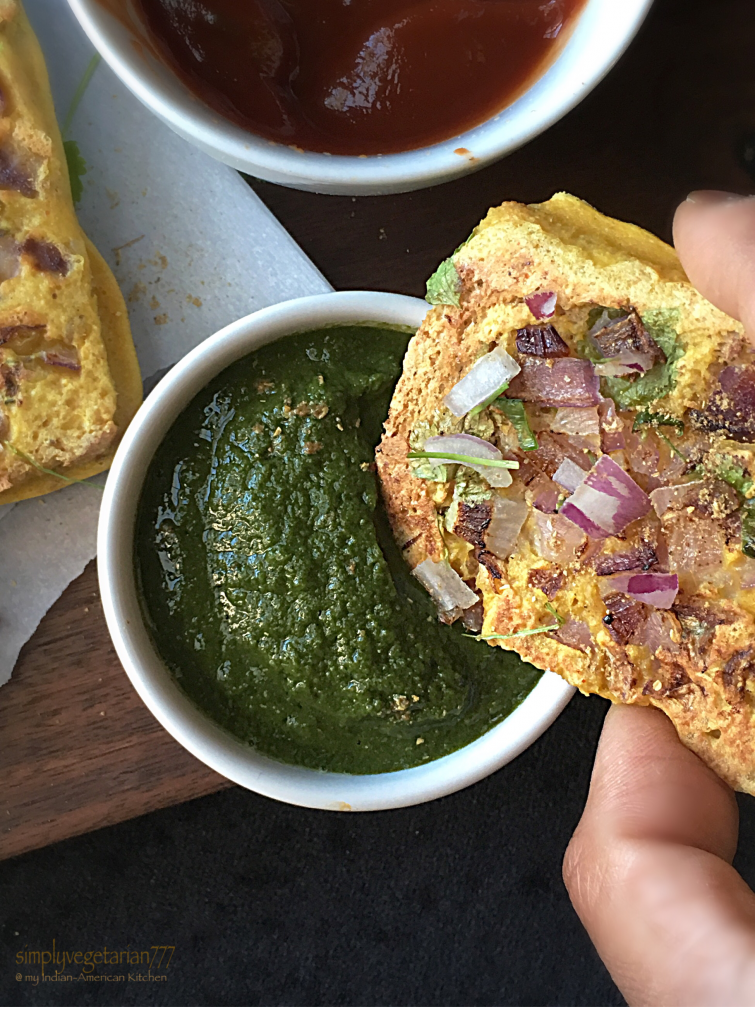 Amit is a huge fan of Bread Pakodas. When I deep fried my first bread pakoda ever, I was amazed at how much oil do these suckers drink up. I think that was my last time of deep frying these and for the longest time I didn't make bread pakodas. I just could not muster the courage to deep fry these. Months went by and turned into years, but my kitchen did not see any bread pakoda until I developed this way of enjoying a bread pakoda, as a Besan Toast. These are as delicious if not more and are fabulously flavored and textured in appearance. The best part is that you can add toppings to it.
The kids' summer break has started in some parts of the world and others are starting soon. Keep this recipe handy for your summer hungry kid, who complains every 2 hrs – Mom, I am hungry. This dish is pleasantly filling and keeps your child full and happy for longer time. Besan Toast is an excellent recipe for entertaining guests or yourself for any meal. I prefer such meals with an iced coffee in summers. Regular routine food is boring and too much to handle.
I often use presto electric griddle when I am making  –  Dosa , Cheela , uthapam , pancakes , kulcha or Naan .
This is how I make Besan Toast.
Besan Toast
Ingredients
Bread slices - 4 large or 6 regular size

Chickpea Flour / Besan - 1/2 cup

Water - 3/4 cup

Onion - 1/4 cup

chopped fine

Green Chilli - 1 small

chopped fine

Coriander / Cialntro leaves - 1 tsp

chopped fine
Oil & Spices
Oil - to grease the Tawa/Griddle

Salt to taste

Red chili powder & Garam Masala - a pinch each.
Instructions
Take a bowl and add chickpea flour/Besan to it. Start adding water little at a time and stir with a whisk so that there are no lumps. Make a smooth batter and add salt, red chili powder & Garam masala. Stir and set aside.

Tend to your bread slices now. Cut the side crust of the slices and then halve the slices. You will end up with 8-12 bread slices now, depending upon the bread you are using.

Heat the Tawa or griddle to high and gently wipe it with a paper towel dipped in oil for greasing evenly. I used electric griddle. You may use over the stove or electric griddle, whatever is handy.

Now take a slice of bread and gently dip in the Besan batter. Place it carefully on hot Tawa. Add the garnish of finely chopped onions, chili and coriander leaves on the top of the slice.

Let the Besan Toast cook from the bottom on medium to high heat for about 1&1/2 to 2 minutes, till it is cooked and slightly golden.

Now carefully flip it with a flat spatula, the garnish side facing down now. Press it down with the spatula and cook for another 1&1/2 to 2 minutes till it is golden and onions are cooked.

Your Besan Toast is ready to be served warm.

If you are using a big Tawa, then you may make 3-4 besan toast at a time.
Serve these Besan Toast with Mint Coriander Chutney and sprinkled with Chaat Masala .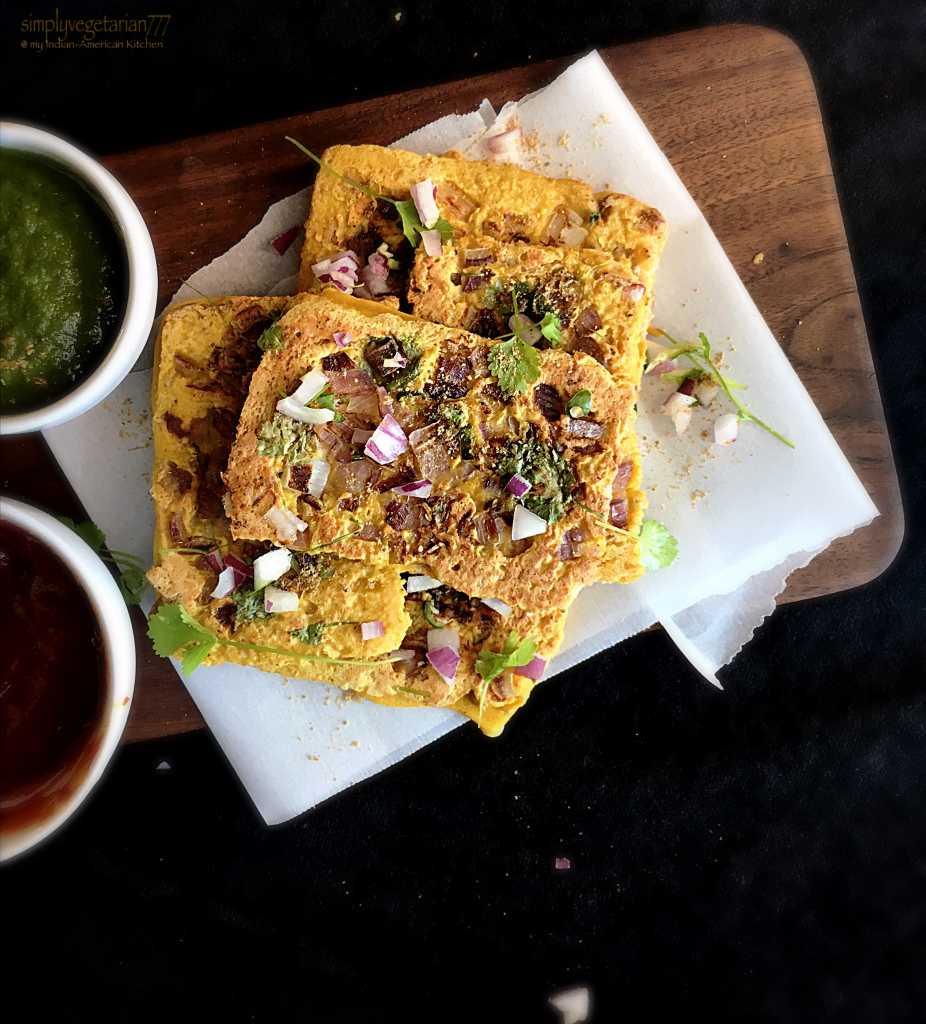 I had a great time creating these Besan Toast in my Indian American Kitchen and feeding my family. Do try these this week and have a fabulous time with your family.
Eat Happy! Stay Happy!
Sonal