Instant Pot Blueberry Lemon Cake Easy Recipe
As an Amazon Associate and member of other affiliate programs, I earn from qualifying purchases.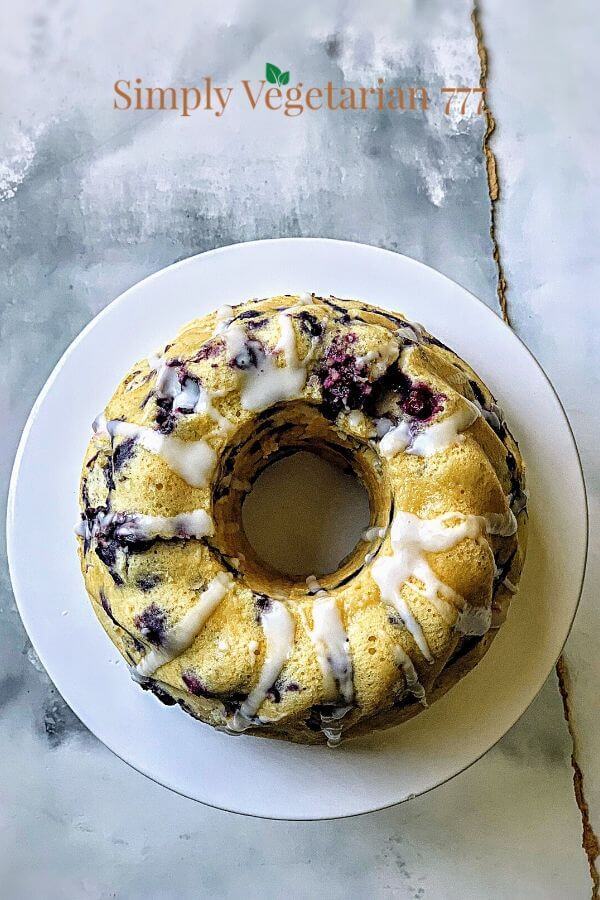 Instant Pot Blueberry Lemon Cake with Lemon Drizzle is super delicious & easy to make. We have been eating it for breakfast and snacking on it too. This cake is more of a Dessert Bread. INSTRUCTIONAL VIDEO ATTACHED.
Since it is a simple recipe that does not require much attention, it is almost like a dump & go. I am sure it will become a regular IP recipe in your kitchen too.
IMPORTANT – Please scroll down to the end of the post to find the COMPLETE RECIPE in a RECIPE CARD. In between, there are tips and other related information included.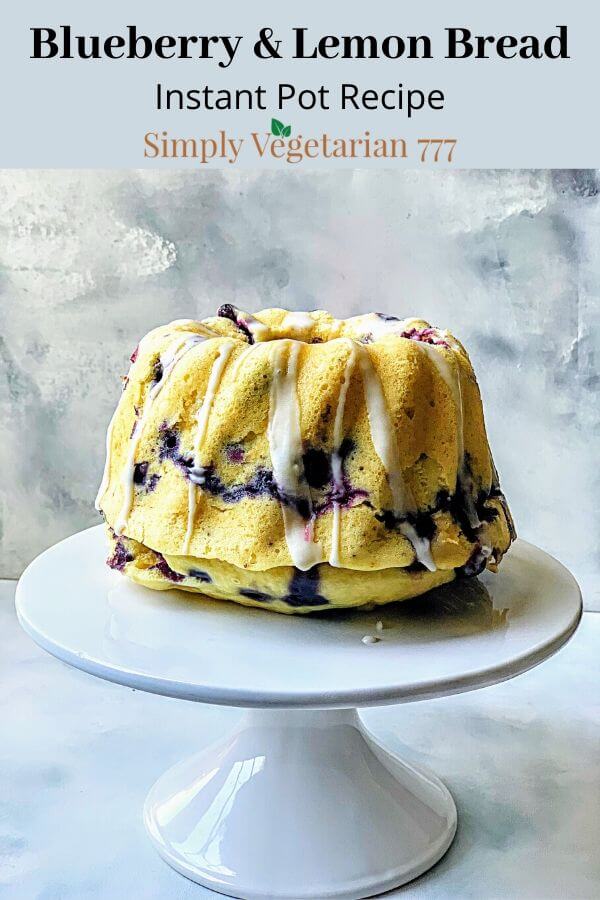 Instant Pot Blueberry Lemon Cake Easy Recipe
I had made this Blueberry & Lemon Loaf a few years ago and it was a hit. Since then I have been baking it every year in summer. Lemon and Blueberry are like the synonym of Summer – the whiff of the lemon zest and warm blueberries in the cake highlight the brightness and playfulness of the summer.
This year I made my beautiful loaf in Instant Pot and turned it into a bundt bread.
Now we have to remember few things when we "bake" a cake/bread in Instant Pot versus oven.
Now the texture is going to be different. IP cakes are slightly more dense than the oven ones.
However, the taste of the bake doesn't alter.
No, it does not taste like a pudding. Rather, it tastes like a cake or a sweet bread. Score!!
The timing of baking on oven and IP is almost same.
"Baking"in IP in summer is extra relief. No pre-heating the oven and it is a bliss to not deal with a hot kitchen because of super hot oven.
Have you checked our other IP cakes & bakes?
Chocolate Mini Jar Cheesecakes
Pumpkin Mini Jar Cheesecakes and more.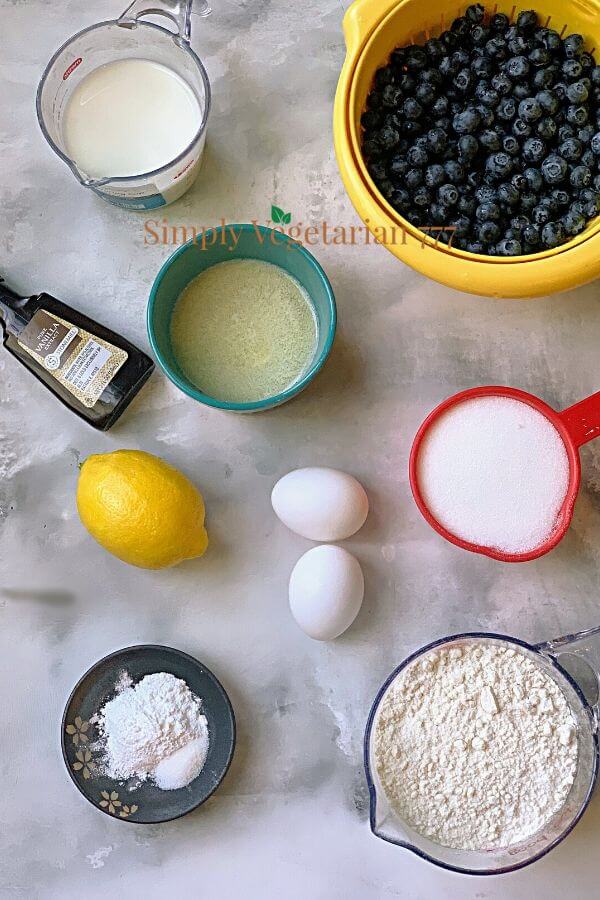 Lemon Blueberry Cake Ingredients
We need only handful ingredients for this recipe that are easily available.
Other Ingredients – Eggs, Butter, Milk, Lemons – zest and juice, Blueberries
Kitchen Gadgets used to make this recipe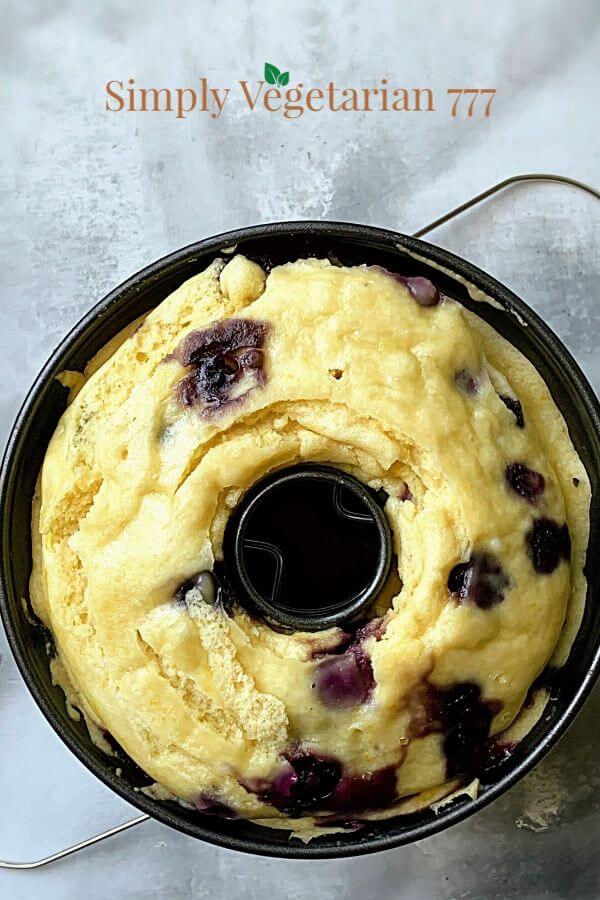 How to make this cake egg-free?
Yes you sure can. Though I have not made an egg-free version in Instant Pot, but here is the OVEN RECIPE for LEMON BLUEBERRY CAKE.
Can I make a Gluten-free version of this cake?
Though I have never made a gluten-free version of this recipe, but here is a good source to follow for the same.
What is the texture of this cake?
The texture of this cake is slightly dense, more like a bread.
What size of pan do I need for this recipe?
You will require 6 inches or 7 inches wide BUNDT CAKE PAN for this recipe.
Can I use any other kind of pan to make this recipe?
Yes you can use a circular pan to make this recipe. You will need 6-7 inches wide pan for this recipe.
What kind of glaze is used in this cake?
I made a simple Lemon Sugar Glaze for this recipe. You can use simple sugar glaze, cream-cheese glaze or even a fruit glaze on top if it.
Can I substitute Blueberries with any other berries?
Yes you can use raspberries or pitted cherries in this recipe and substitute the blueberries.
Also you can make it a simple Lemon Cake without any berries. The measurements of the ingredients would remain the same.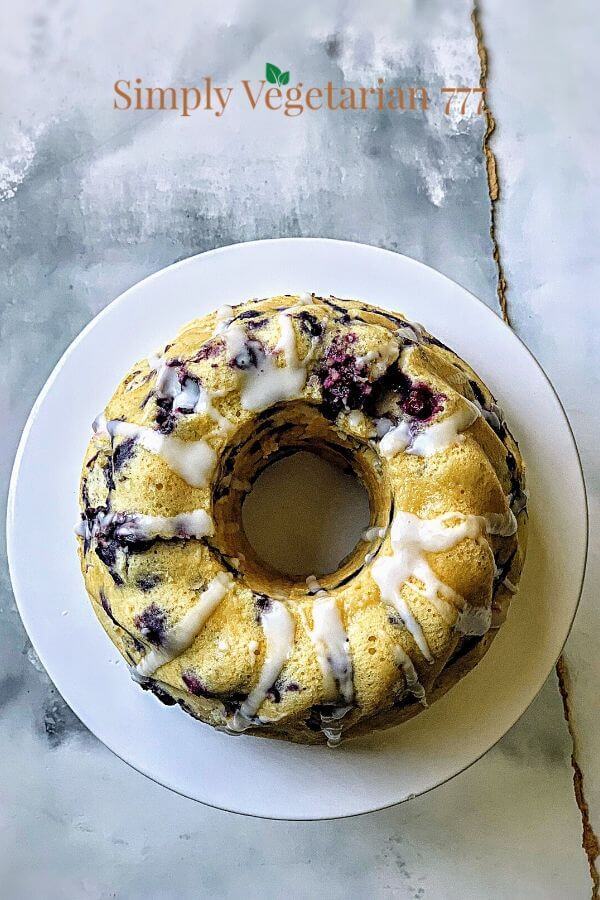 How to make Cake in Instant Pot?
Making cake in an Instant Pot is as easy as making it in the oven.
First place the inner pot inside the IP. Then plug it in. Now add 1.5 cups of water in the inner pot. Then place a lower trivet with handles inside. Set aside.
Mix all the ingredients as mentioned in a recipe. And if you are using a cake box mix, use that recipe.
Now pour in a greased 7-8 inches wide Cake Pan. Cover the pan with a foil. Place the pan inside the inner pot and on the trivet.
Close the lid. Set the valve on SEALING. Press the CAKE BUTTON and bake it for 40 minutes. Follow NPR (natural pressure release).
Now take it out of the IP as the safety valve drops down. Let sit in pan for 10 minutes. Take it out gently.
First cool it and then drizzle with the icing of your choice.
The Instant Pot Cake is ready.
How do I make cake in Instant Pot if I do not have cake button?
You can make any cake in Instant Pot on Manual/ Pressure Cook Button. The timing remains the same.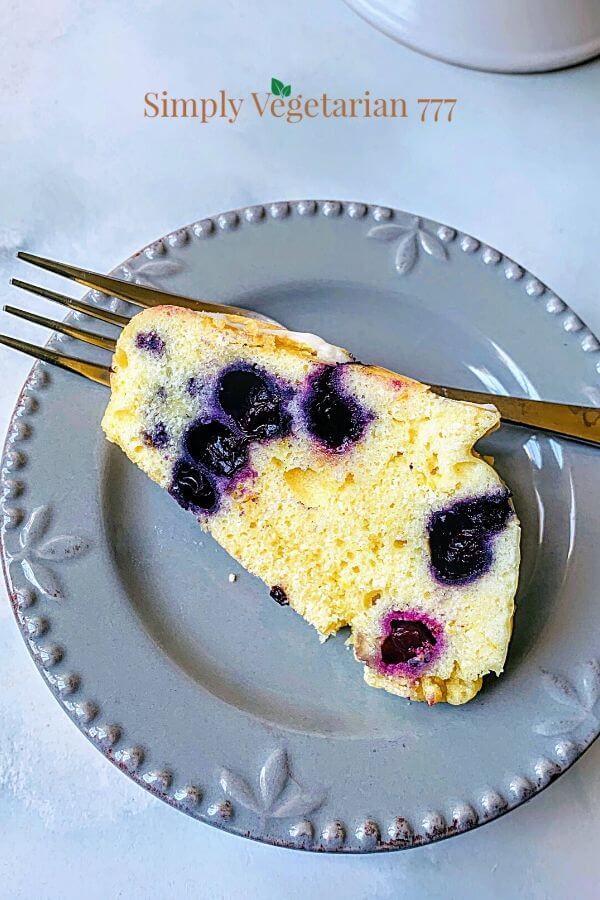 How to make a cake in Instant Pot from Cake Box?
Prepare the cake batter as per the instructions given at the back of the cake box. And follow the same steps as given above for the IP Cake.
Here are some of my Cakes made in Instant Pot from a box –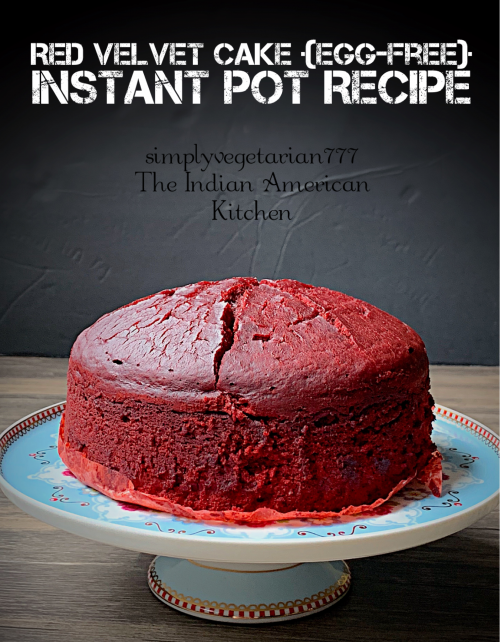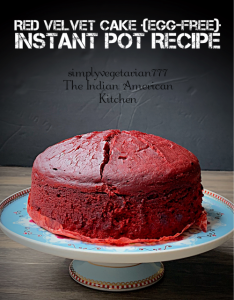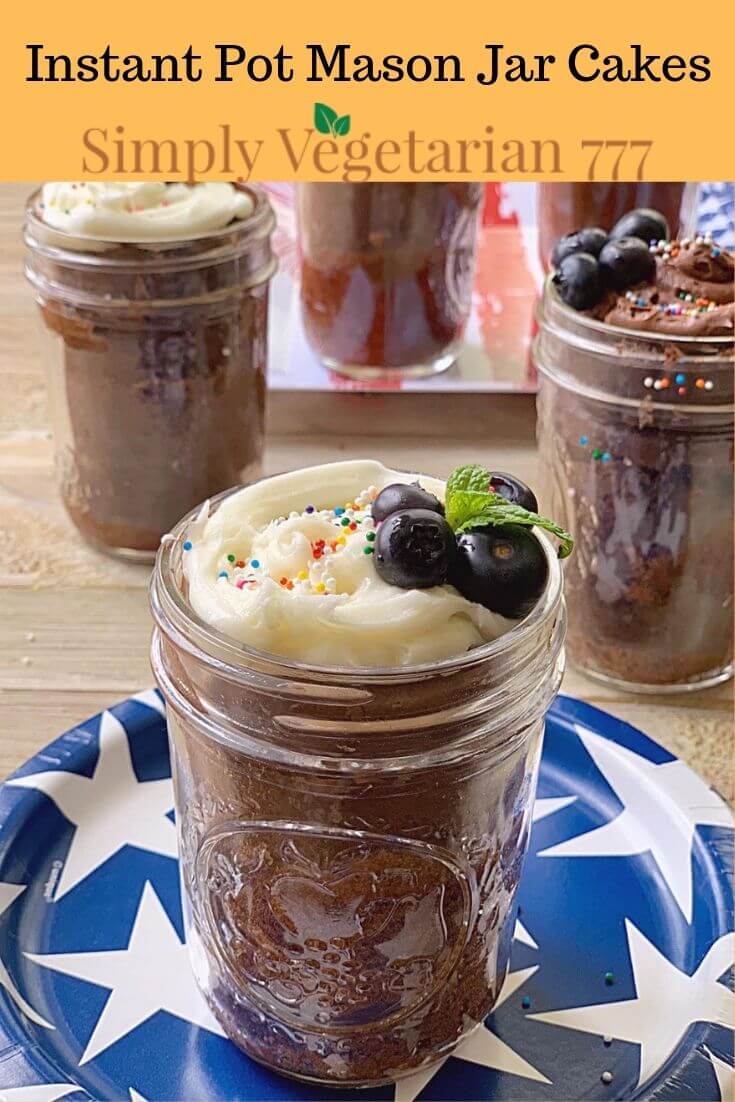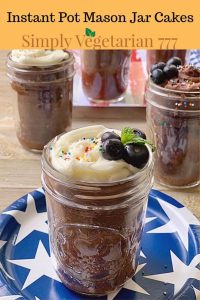 How to make Blueberry Lemon Cake in Instant Pot?
Instructional Video for Instant Pot Lemon Blueberry Cake
Yield: 7 inch Bundt Cake
Instant Pot Blueberry Lemon Cake Easy Recipe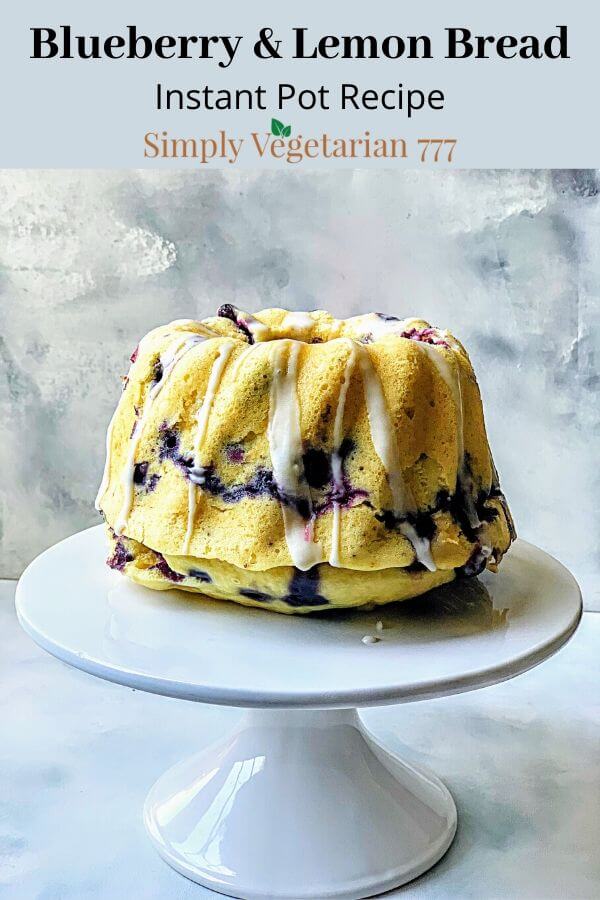 This Blueberry Lemon Cake made in Instant Pot is super delicious and easy to make. Perfect summer dessert for your Tea-Time.
Additional Time:
10 minutes
Ingredients
All Purpose Flour 2 cups, lightly packed
Sugar 1&1/4 cups 
Baking Powder 2&1/2 tsp 
Butter (melted and cooled slghtly) -1/4 cup Butter
Milk, room temperature - 3/4 cup
Eggs, room temperature - 2
1 Large Lemon zest
Lemon Juice - 1 tbsp 
Vanilla Extract 1 tsp
Blueberries, fresh - 1 cup 
Lemon Sugar Drizzle
1/2 tsp Salt
Powdered Sugar - 1/3 cup
Lemon Juice - 3 tsp
Instructions
Preparing Instant Pot for Cake
First insert the Inner pot inside the IP and then plug it in. Add 1&1/2 cups water to the inner pot. Now place a lower trivet with handles inside the IP.
Take a 7 inches wide bundt pan and grease it nicely from all the sides.
Set it aside.
Preparing the Cake Batter
First take a large mixing bowl and then set it on a stable surface so that it does not move while you whisk the cake batter.
Now add melted butter & sugar to the bowl. Whisk to mix. Then add 2 eggs to the mix and whisk for 1 minute till it combines.
Now add lemon zest, lemon juice & vanilla extract to the mix. Then whisk for few seconds till it all combines.
Now add the all purpose flour. I would suggest to add the flour through sieve so that it is airy and does not make lumps. Check the video.
After you add flour, add baking powder and salt. Mix for few seconds. And then add milk to it. Whisk further to mix all the ingredients well. It is going to be a thick batter.
Now add 1 cup fresh blueberries to the batter. Fold them in with a flat spatula or a fork. The batter is ready.

Making the Blueberry Lemon Cake or Dessert Bread in IP
First pour this batter in the prepared bundt cake mold evenly. Spread it out with a flat spatula if needed and then tap it on the counter few times to avoid any air bubbles.
Then cover the pan with a foil from all the sides tightly.
Place it on the trivet carefully inside the IP.
Now close the lid and then set the valve to SEALING.
Press the Cake Button and set it for 40 minutes. If you do not have cake button, make it on Pressure Cook mode for the same time.
Once the timer goes off, follow NPR (natural pressure release). As the safety valve drops down, open the lid and take out the cake mold carefully. Remove the foil immediately. Dab any extra moisture (if any) with a paper towel.
Now thing to remember is - do not un-mold the cake immediately after. Never do that. First let it sit in the pan for about 10 minutes. Then run a thin plastic knife around the edges to make sure it is loose from the edges.
Un-mold the cake by flipping it gently on a plate by tapping it slowly. I would suggest to line the plate with a parchment paper so that it does not stick to the plate.
The Cake is ready.

2 Ingredients Simple Lemon Drizzle
Take powdered sugar in a bowl and start adding lemon juice to it, 1 tsp at a time. Keep whisking it. It will take about 3 tsp lemon juice for a good consistency Drizzle. You can adjust the consistency to your liking.

Glazing the Cake
Since this cake is more of a bread and is sweet "just" enough, I like to dress it with Lemon Sugar Glaze. Now this step is optional but adds so much more fun and flavor to the cake.
Once the cake comes at the room temperature, drizzle it over the cake.
Therefore if you plan to drizzle the cake, mix sugar with lemon juice and whisk. That's your lemon sugar drizzle. Pour it over the cake.
Notes
1. Refrigerate for storing once it cools down to the room temperature.
2. I microwave it to warm for 30 seconds per slice before devouring it.
3. You may use raspberries in it too.
5. Also You can make it plain Lemon Cake.
6. Have included the Gluten-free version of this recipe in the main post. Please Check.
7. Click here for - Oven Baking Instructions
Nutrition Information
Yield

10
Serving Size

1
Amount Per Serving
Calories

803
Total Fat

76g
Saturated Fat

48g
Trans Fat

3g
Unsaturated Fat

23g
Cholesterol

237mg
Sodium

716mg
Carbohydrates

27g
Fiber

1g
Sugar

6g
Protein

5g
The provided nutrition information is an estimate. Please confirm with your doctor or nutritionist before attempting this recipe if you are on a special diet.
I am sure you are going to try this recipe soon. Please leave your feedback in the comments section.
Sonal