Kesar Nariyal Peda Good Recipe
As an Amazon Associate and member of other affiliate programs, I earn from qualifying purchases.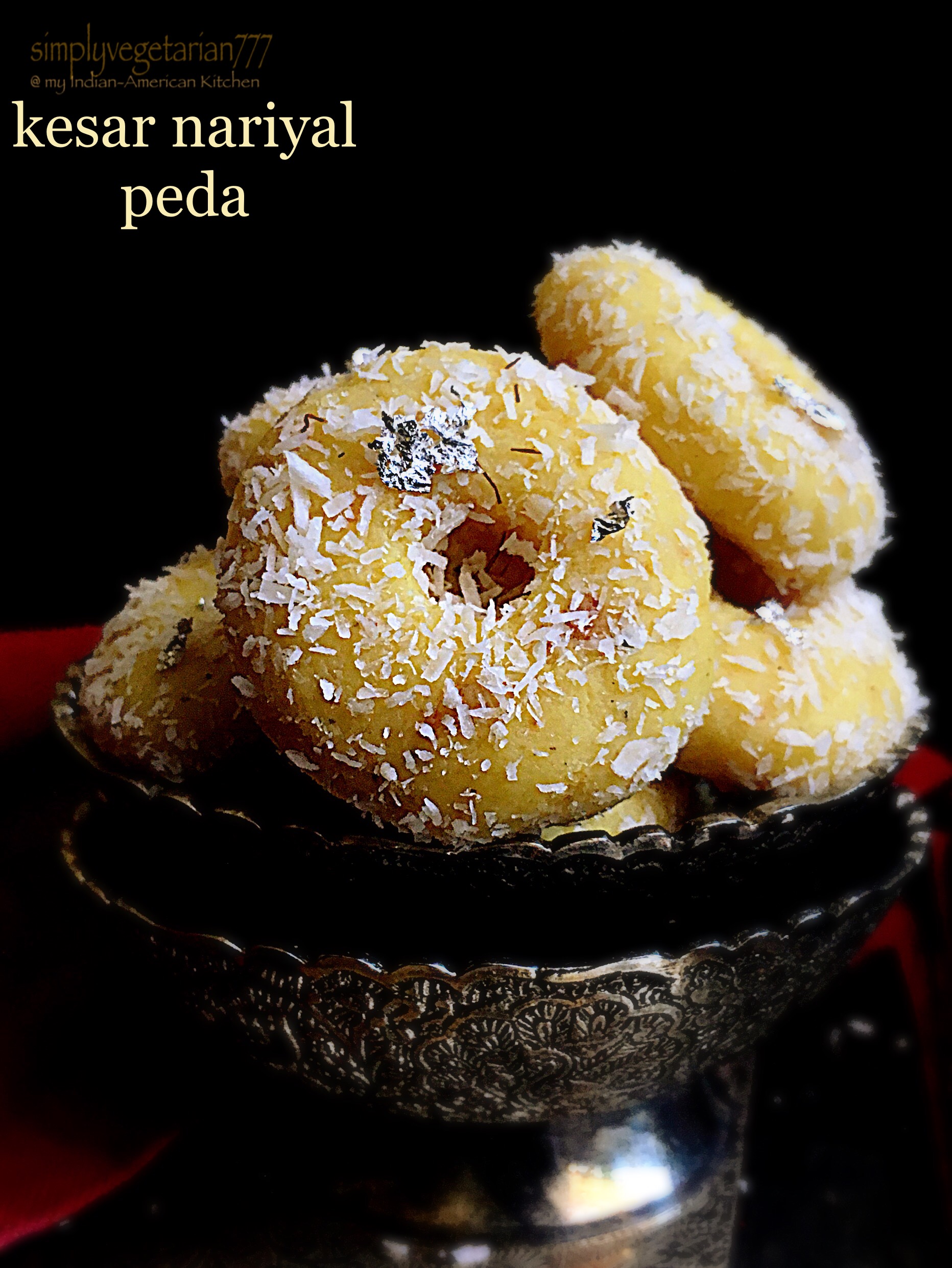 Kesar Nariyal Peda Good Recipe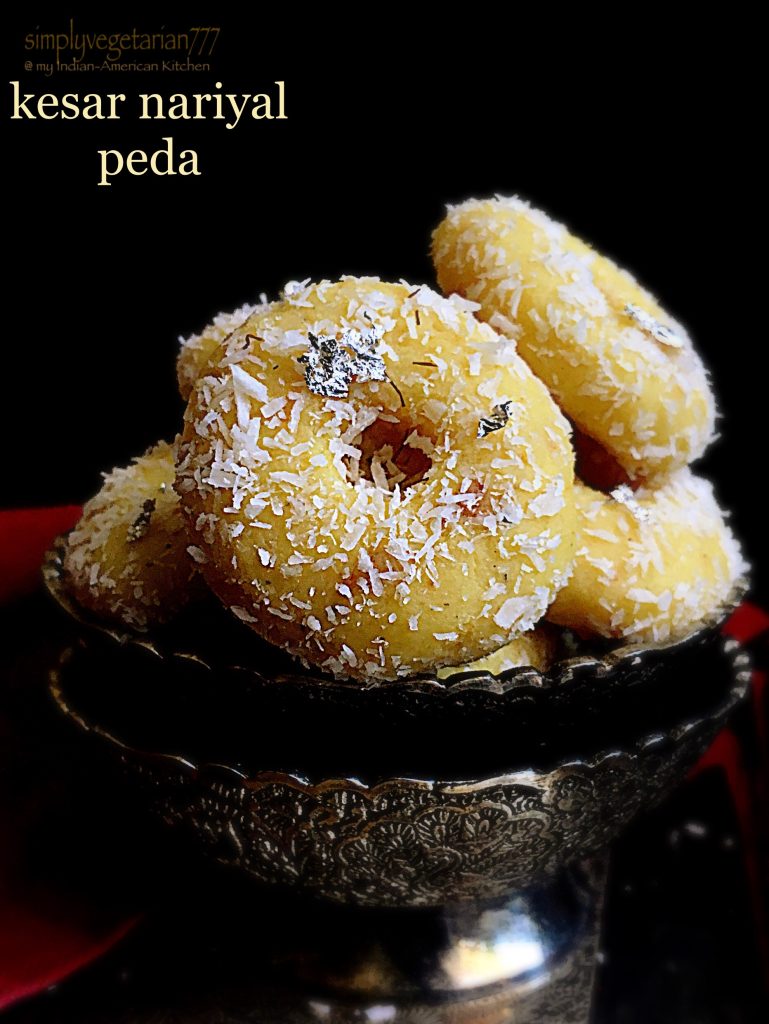 Kesar Nariyal Peda Good Recipe is made with saffron, dry coconut and mawa. Mawa is dry milk solid. This Peda is a perfect sweet to treat your family for festivals or just to celebrate life.
Month of August marks the begining of festival season in India. Rakshabandhan, Janmashatami, Navratri, Dussehera, Eid, Guru Purab, Diwali and last not the least, Christmas sums up the festivals in Indian community.
Kesar Nariyal Peda Good Recipe is an easy recipe that can be prepared in under 30 minutes. It tastes divine and elegant. Presence of Kesar can elevate the look and flavor of any simple sweet or dessert. Saffron is another name for Kesar, in English.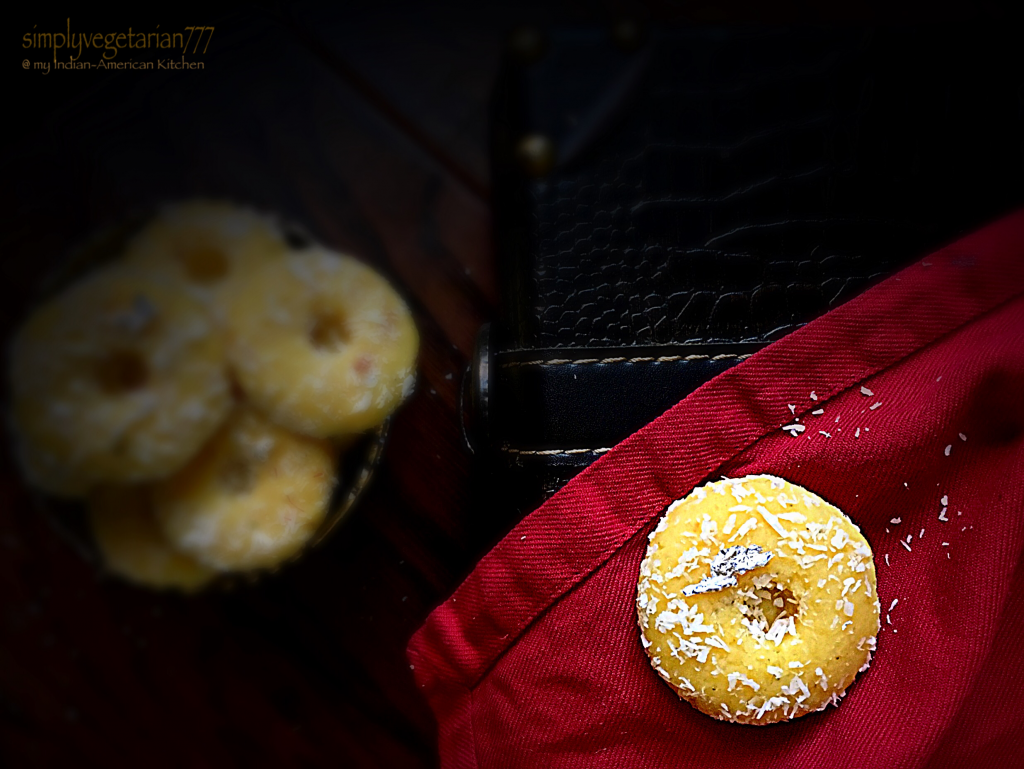 We are celebrating Janmashtami tomorrow. Janmashtami commences the Birth of Lord Krishna. I had created a post last year on the occasion of the festival, and blogged Gole/Nariyal ki Panjiri. Gole ki Panjiri is a heirloom recipe that my mom creates every year for this particular festival. It is a kind of fudge made with sugar syrup and dry coconut.
India celebrates Janmashtami for 2 continous days. It is believed that Mathura, the birth town of Shri Krishna and Barsana, the town of his beloved Radha Rani, celebrate his birth on 2 different days.
I have good childhood memories of Janmashtami, celebrating with family. We would make jhaanki (mini replica) of krishna's house, his village etc. In the evevning, my dadi (grandmother) would get us together to offer prayers and Aarti. Good Old Times.
Kesar Nariyal Peda Good Recipe is a step up on the rustic panjiri. I had planned to make Kesar Peda in the morning today. When I told my daughter about it, she muttered – "mom, is this same as Coconut Laddoo ?" When I said – "no", she seemed slightly disappointed and left for school.
I heard my child. That is what mothers do. Right? Hear their kids, even when they are not saying anything.
Aanya loves coconut and I knew how to make her a happy girl when she gets back from school. You guessed it right. I made Kesar Nariyal Peda, instead. :).
Aanya came back home and exclaimed with happiness. That sparkle in her eyes and the giggle in her laughter made my day. She grabbed one and then another one and then another one. 😀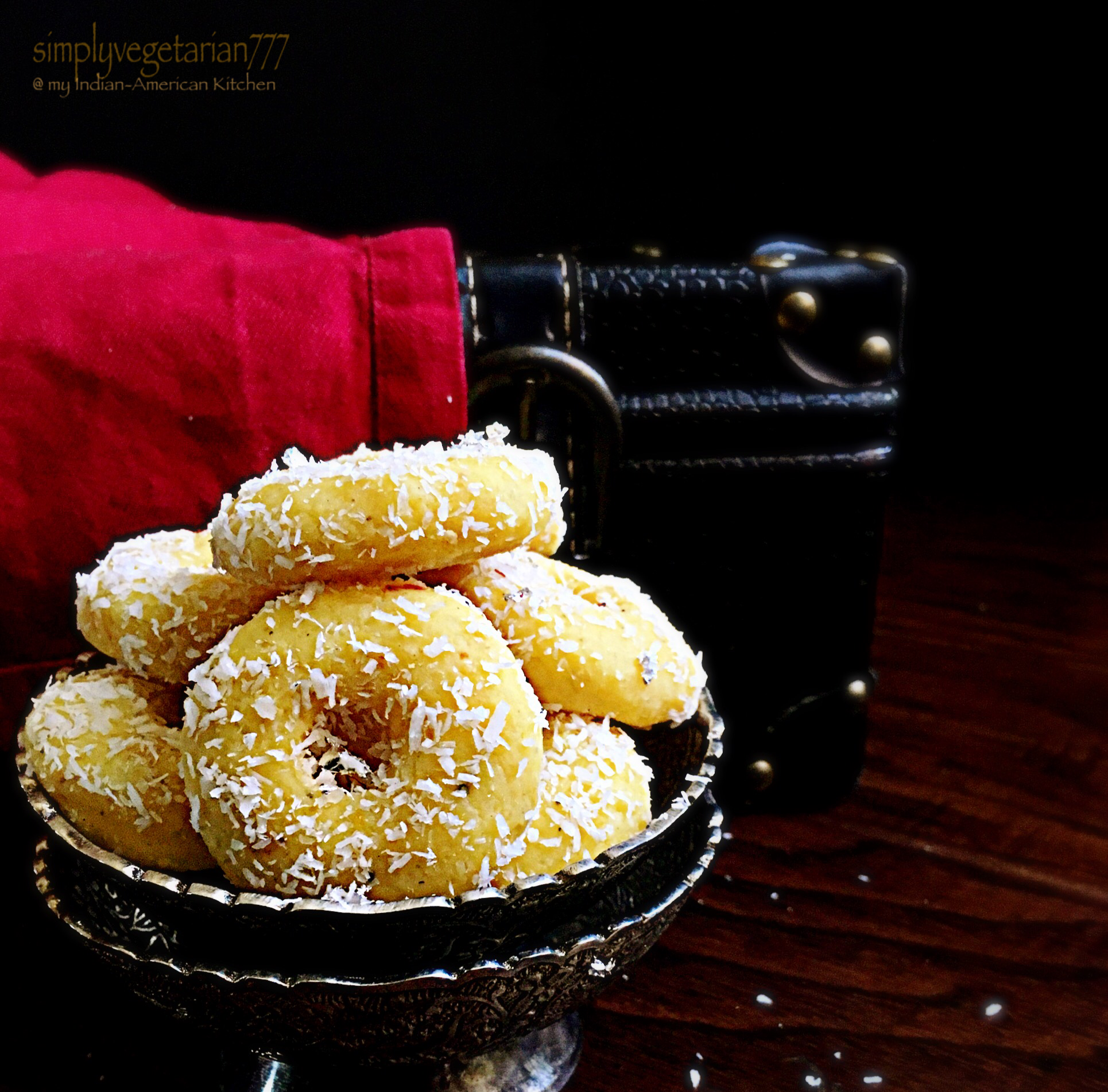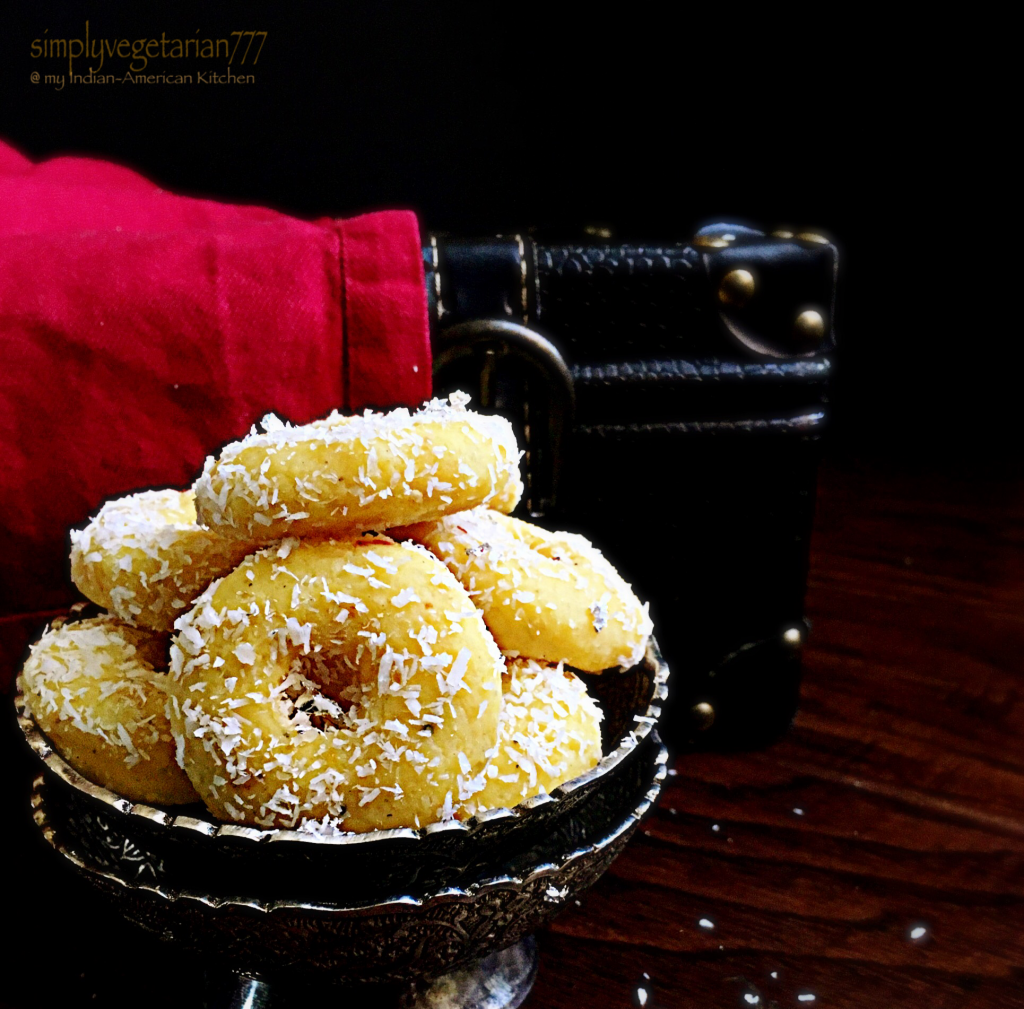 If you are wondering about the process and the list of ingredients, then you must know that you are here, at my place, where the food is simple and recipes are easy !
5 main ingredients and literally 20 minutes of your time, this mithai or sweet is ready to be savored. I promise that this mithai will be staple at your home for all the festivals and celebrations, still your family will want more.
Some other Indian sweets and desserts from my blog are – Nariyal Ladoo , sewayi ki kheer , Pista Kalakand , Kaju Chocolate Barfi , Magaj Makhane ki Kheer and many more.
To make Khoya at home, refer to Ruchi Dua's detailed recipe here !
This is how I made it.
Kesar Nariyal Peda Good Recipe
Indian Mithai or sweet made with dry milk solids, saffron and coconut. Easy and Good recipe, made quick.
Ingredients
Ghee - 1 tbsp + more for greasing your hands.

Khoya / Mawa / Dry Milk Solids - 340 gms / 12 oz at room temperature. I used Nanak brand refrigerated khoya. You may use fresh khoya.

Milk

luke warm - 1/2 cup

Saffron / Kesar - 1 fat pinch or 1/4 tsp. Use good quality kesar.

Coconut

dry and unsweetened - 1 cup, use the finely shredded one + more for rolling.

Cardamom / elaichi powder - 1/4 tsp

Sugar

powdered - 6 tbsp
Instructions
If you are using refrigerated khoya, then bring it to the room temperature first. Then grate it fine in a bowl.

Meanwhile, soak saffron in luke warm milk for about 5 minutes.

Take a heavy bottom pan or a non stick pan. Heat 1 tbsp ghee in it and reduce the flame.

Add grated khoya and saffron soaked milk, elaichi powder to the pan.

Stir continually on the medium heat till the khoya leaves the sides and gathers in the middle. It takes about 5-7 minutes. Do not brown the khoya. Continous stirring is must.

Switch off the flame. Transfer the saffron infused khoya to a big bowl. Let it rest for about 5 minutes.

Add dry coconut and powdered sugar to it. Mix well with hands or a fork or spoon. Bring it together like a dough.

Let sit for 2 minutes. Grease your hands with ghee.

Divide the dough into 20-22 equal portions.

Take one portion. Roll between your palms to make a smooth disc. If you want, then make a small dent in the middle of the peda. It looks cute. Doesn't it?

Spread some dry coconut in a small plate. Roll the Peda Disc into dry coconut from the sides and the top. Set aside to cool.

Work fast to make pedas, before the dough cools down completely, otherwise it will leaves cracks on the surface while rolling.

Set aside to cool down completely.
Storage - Store in air tight container for about 2-3 days. For better shelf life, refrigerate in a closed container after cooling.
If you are celebrating Janmashtami today or tomorrow, make this mithai to please the Kanha and enjoy with family with full zeal and zest.
Even if you are not celebrating any festival, you can make this mithai any time of the year. This makes a perfect Hostess Gift. You may take it to a get together or make it just because you want to eat something sweet. One must bookmark this recipe and save it on the smart phone or laptop. Pin it for sure for your reference, later. Tweet it or share on your facebook, if you liked what you just read and saw.
Pin this for later.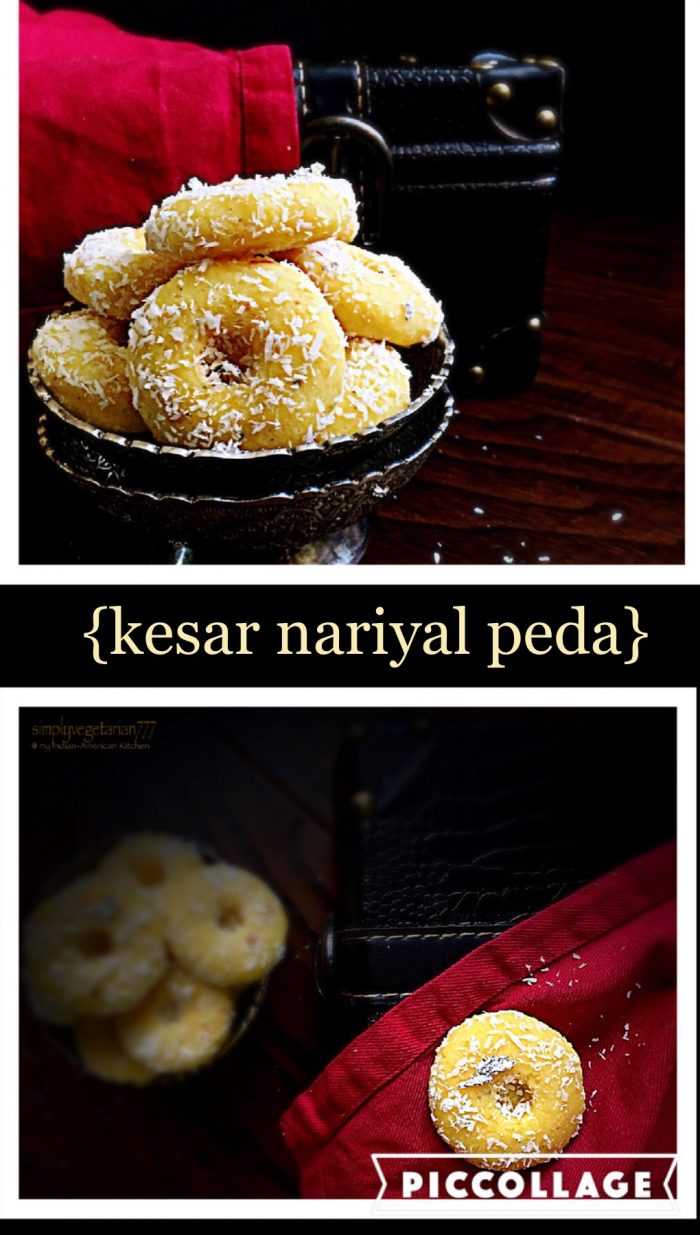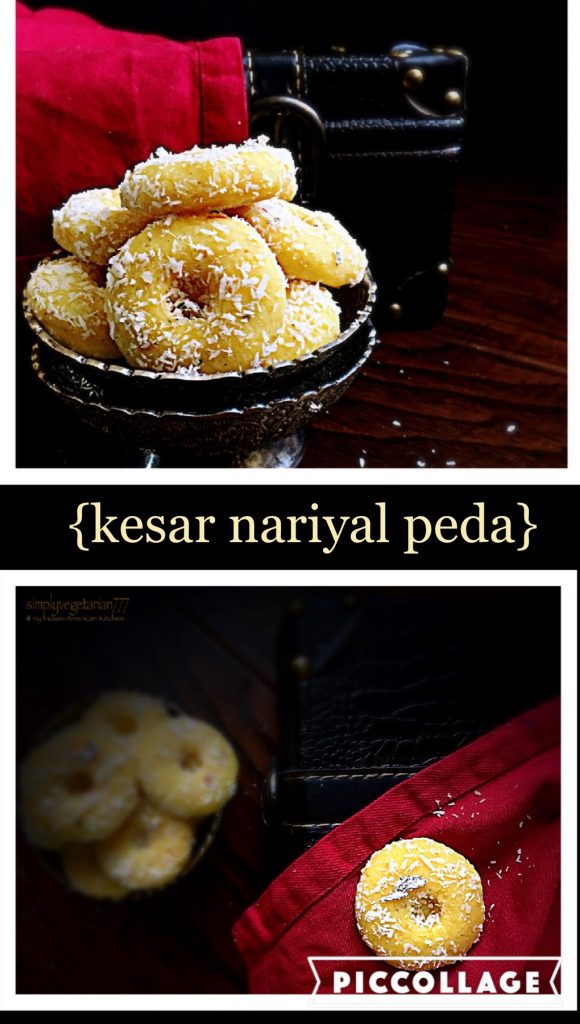 As I always say – Eat Happy! Stay Happy!
Sonal