Mozzarella Jalapeño Croquettes
As an Amazon Associate and member of other affiliate programs, I earn from qualifying purchases.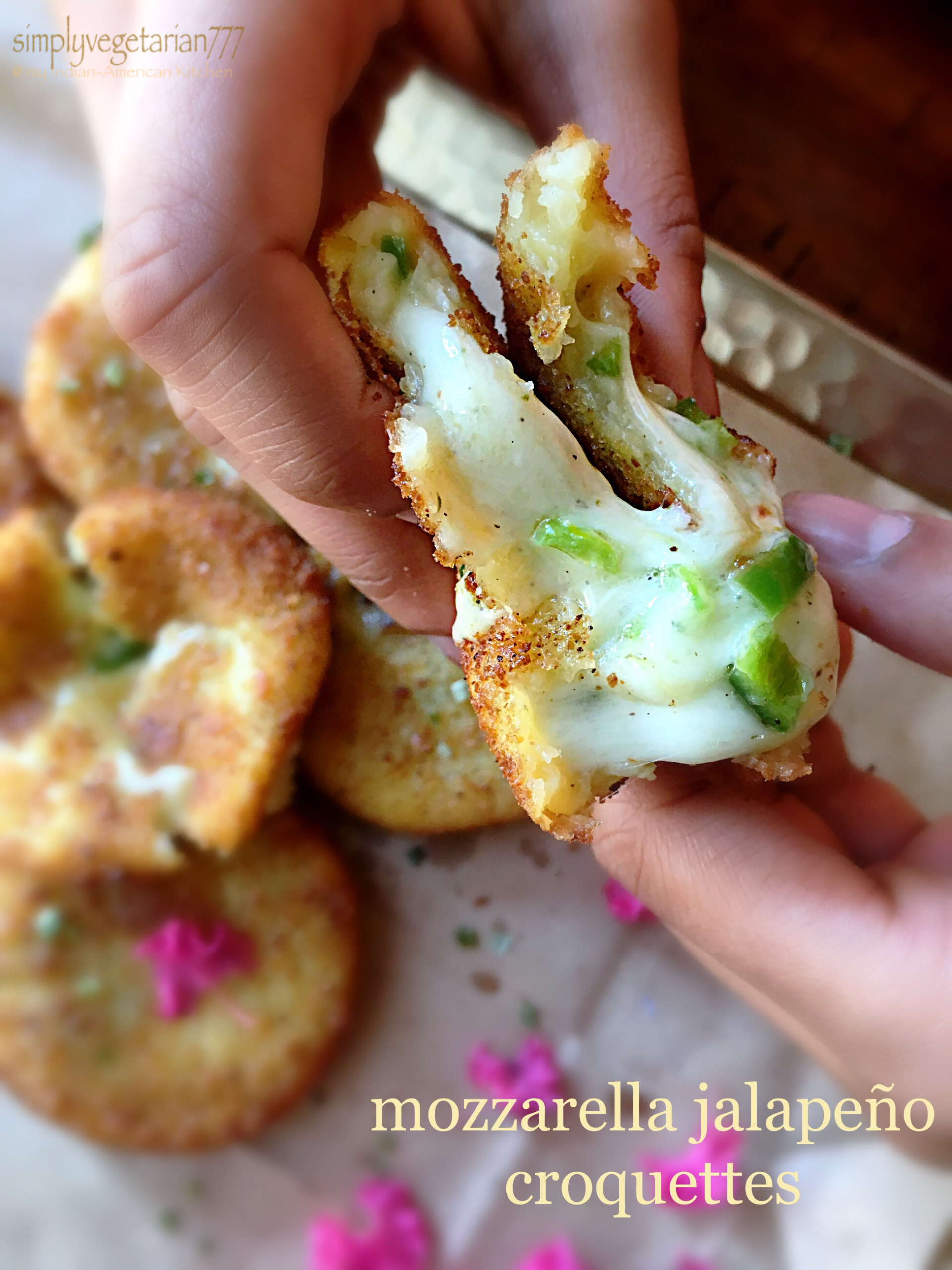 Mozzarella Jalapeño Croquettes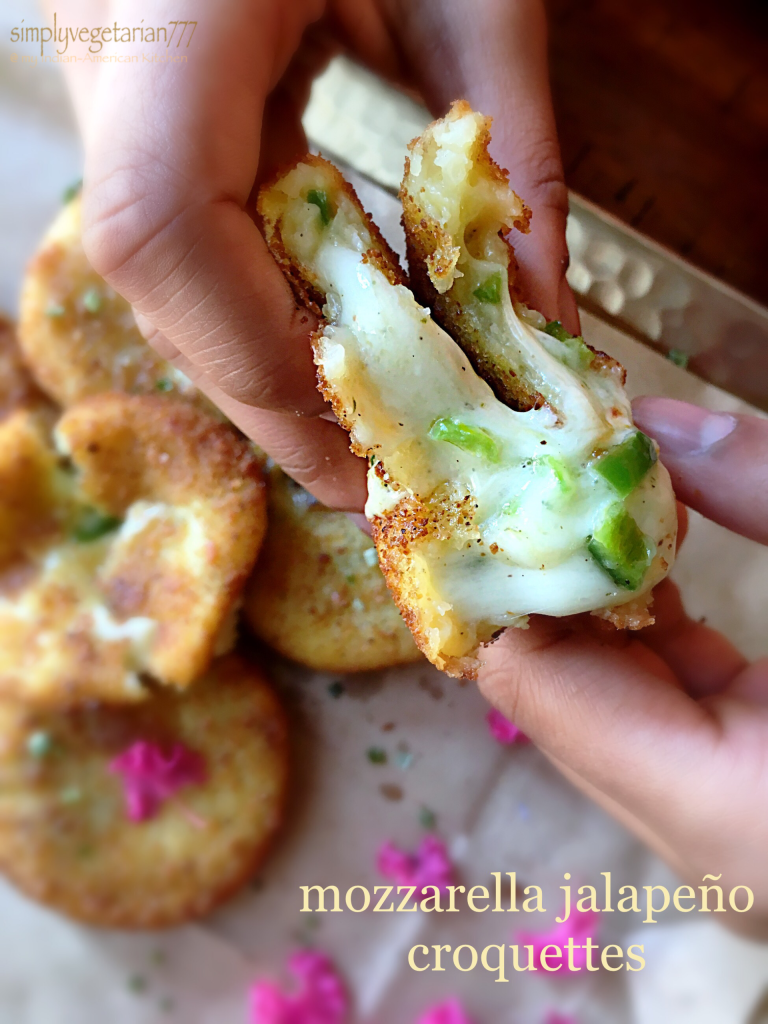 Mozzarella Jalapeño Croquettes are toothsome-ly cheesy and jalapeno-ey hottt !
Have these Mozzarella Jalapeño Croquettes got your attention yet? I bet they have. If they haven't then you sir need an eye check up. Seriously!
I am telling you that if you can't see these Mozzarella Jalapeño Croquettes, then smell these. No Kidding!
The aroma rising from these super cheesy, ooyey – gooey croquettes will drive you crazy. I mean dangerously crazy.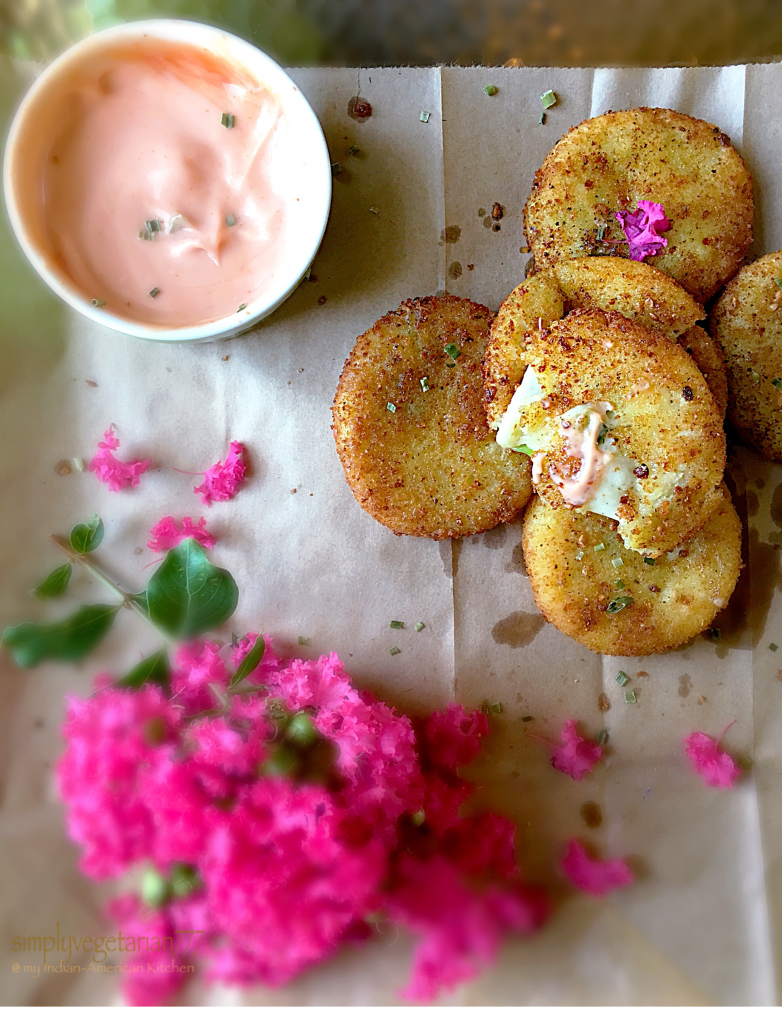 If you are wondering, that why I am calling these kick-ass delectable snackies – Croquettes, then my dear friends, Croquettes is a fancy French Name for cutlets filled with "something" inside.
A croquette is a deep fried roll containing potatoes or minced meat as the main ingredient + vegetables or other proteins, mixed with bechamel or brown sauce, some herbs and some bread etc.
It is typically shaped in cylinder, oval and disk shape. I shaped Mozzarella Jalapeño Croquettes into discs. They will be perfect shaped as tiny cylinders, too.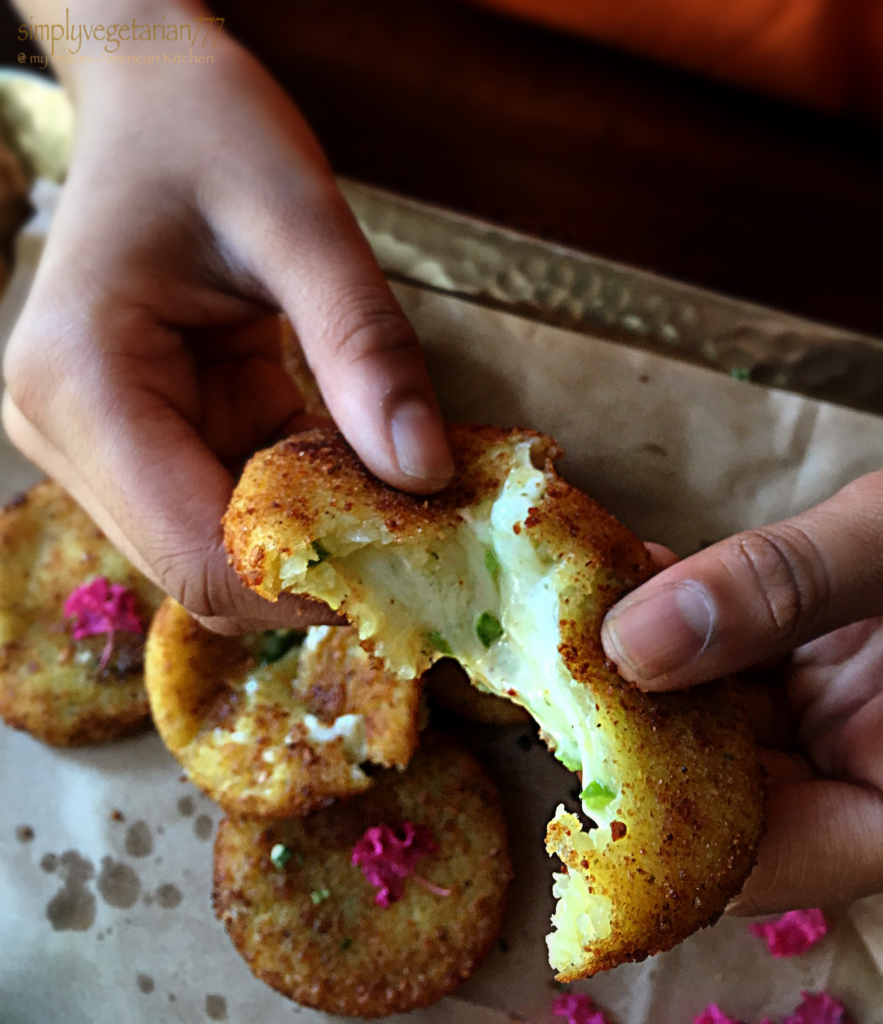 I made these for Sunday Brunch, this past weekend. The girls and Amit were totally smitten by these Mozzarella Jalapeño Croquettes. Do I need any other confirmation? I was super duper elated.
The story behind how and why I made these croquettes is simple and short.
I had some boiled potatoes, jalapeno and mozzarella cheese sticks sitting in my refrigerator and 3 very hungry tummies with a large appetite for weekend brunch.
When I suggested bagels and milk for the girls and tea and bagels for both of us, 3 of my house mates nodded their heads unwillingly in consent.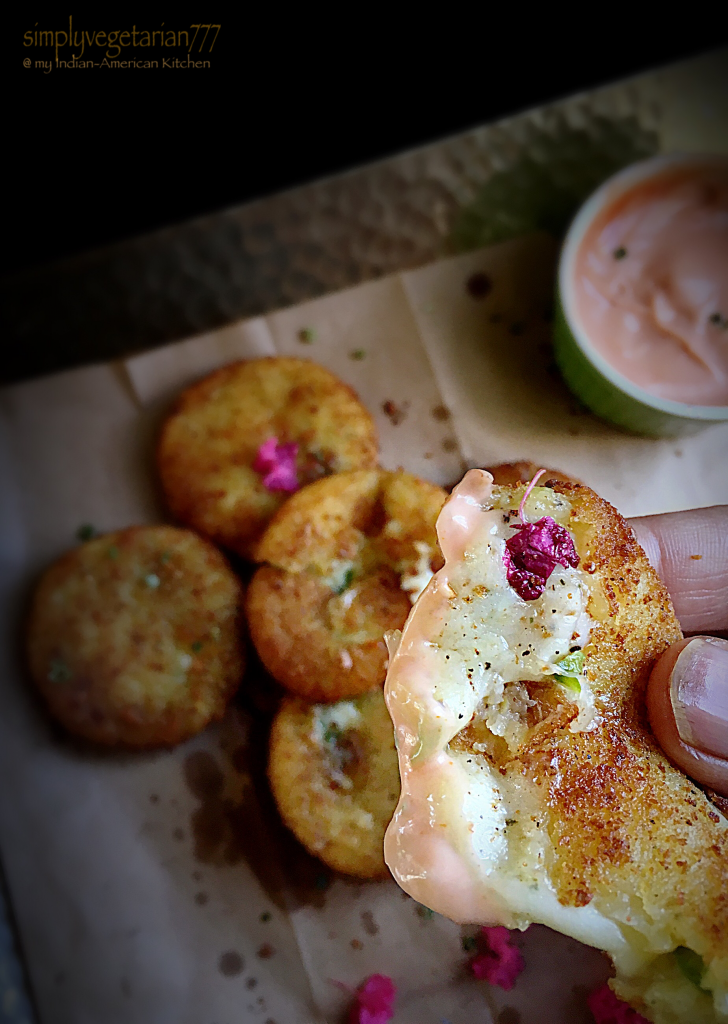 I noticed that hesitant nod from the corner of my eye and waited. A girl like me, absolutely dislikes frying in the morning.
While still thinking what to do, Little M declared – I want pakodas and I want cheese. (Pakodas = savory fritters). That gave me the required push and the next minute I knew, I was working on these brunchies.
Little M helped me peel the boiled (cold) potatoes. Aanya was following my instructions as to what all to bring out from the refrigerator and the kitchen pantry. And in next 30 minutes, Mozzarella Jalapeño Croquettes were on the breakfast table to be devoured with Spicy Mayonnaise Dip.
If you are wondering how did Amit chip in? Then my dear friends, he was my main taste tester. It is hard to please him with just anything. He was a happy man while chewing on these.
A combined Family Effort always brings out the best of the things from the crux.
You are in luck today since you are getting 2 recipes in 1 post – Mozzarella Jalapeno Croquette recipe + Spicy Mayo DIp (a super simple recipe).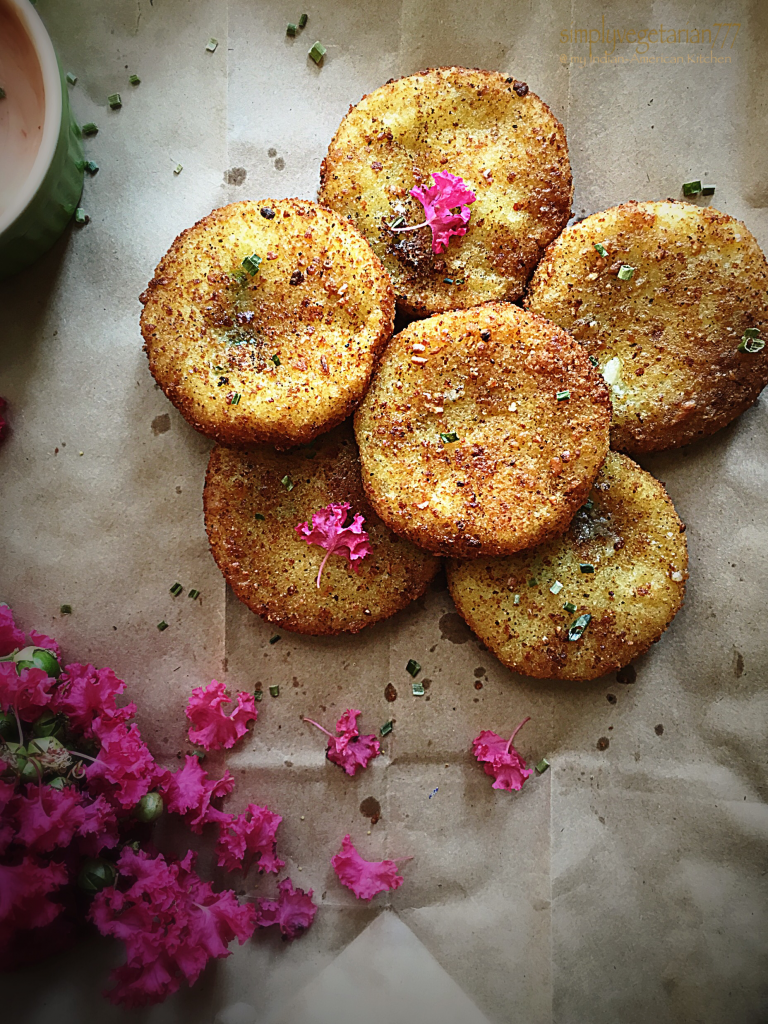 The hot melting mozzarella flowing like a lava along with the bits of jalapeno, melts your heart and puts you in food coma instantly. The delightful potatoes and the jalapeno cheese filling is the ultimate gastronomia.
Frying these Mozzarella Jalapeño Croquettes is pretty easy. How to fill the cheese and jalapeno stuffing is slightly tricky.
The cheese stuffing has to be artfully covered by potato shell from all the sides in such a way that the stuffing does not show at the surface at all. It should remain in the center. Otherwise, the cheese will melt and flow out as soon as the croquettes touch the hot oil.
This recipe has 4 components.
Outer Potato Shell
Inner filling of mozzarella & jalapeno
A slurry/paste made with corn starch/flour & water which will seal the edges of the croquette and act as a glue to the bread crumbs
Bread crumbs for rolling croquettes and crispnesss
Refer to this pictogram as given below, for the stuffing.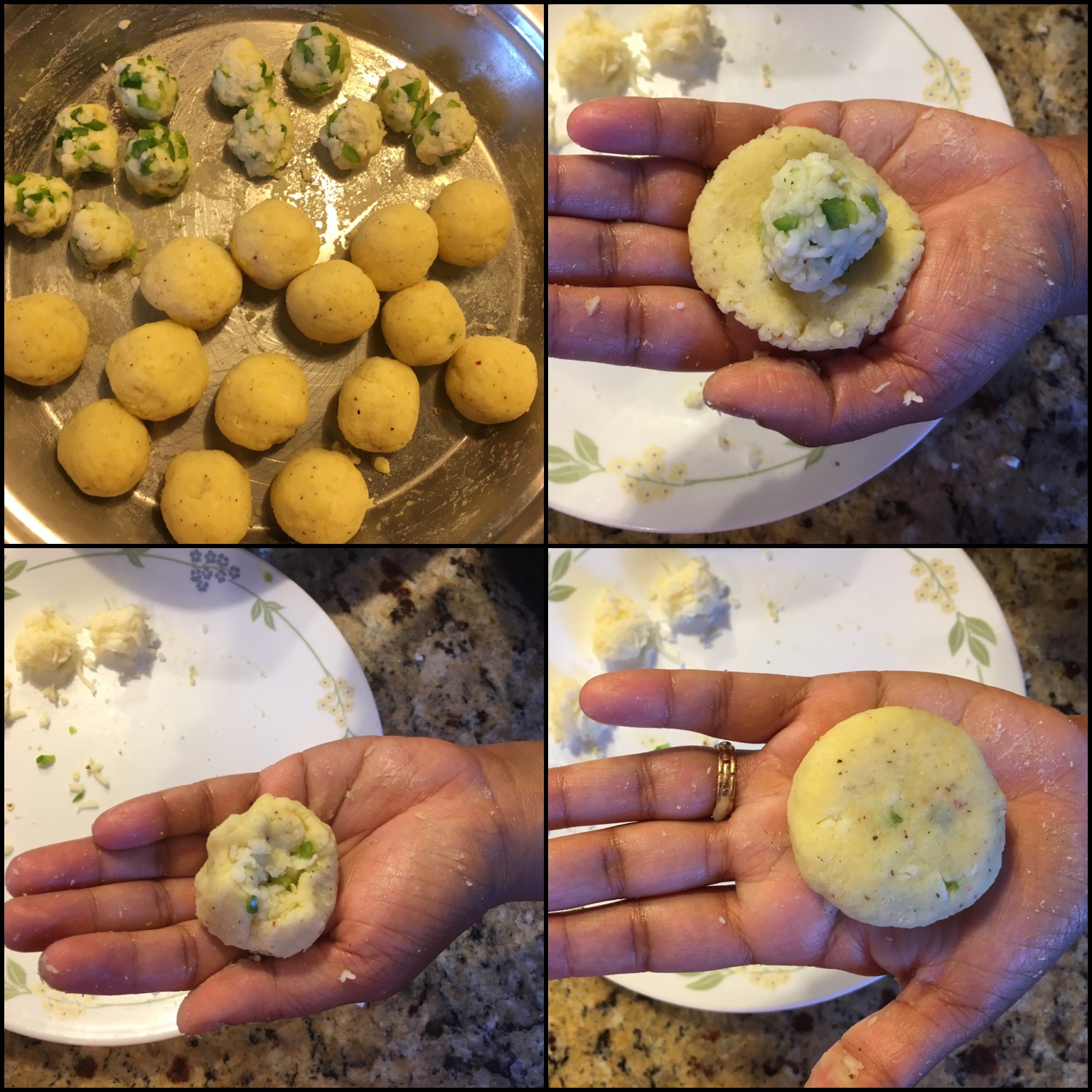 Some other delicious pakodas, fritters, taters and cutlets from my blog are – Aloo Poha Tater Tots , Pyaaz ke Pakode , Aloo Bread Tikki , Raw Banana & Peanut Cultets , Vegetable Cocktail Cutlets and many more.
Here is the detailed recipe.
Mozzarella Jalapeño Croquettes
Mozzarella Jalapeño Croquettes are the perfect way to feed the hungry family with large appetite. They are cheesy and they are spicy and they are delicious.
Ingredients
Oil - for deep frying [Refer Notes]
Ingredients for Outer Potato Shell
Potatoes

medium - 5 to 6 or 2 cups, boiled & mashed [Refer Notes]

Italian seasoning - 1/2 tsp

Salt - 1/2 tsp

Black pepper - 1/4 tsp

Paprika / Red chili powder - a fat pinch

Corn starch/flour - 2 tbsp
Ingredients for Mozzarella Jalapeño filling
Mozzarella

shredded - 1 cup

Jalapeño - 1

chopped fine

Italian seasoning - a fat pinch

Salt - a pinch

Black pepper - a pinch
Ingredients for Slurry
Corn starch/flour - 2 tbsp

Water - 1 tsp
Ingredients for crispy cover
Ingredients for Dipping Spicy Mayonnaise
Mayonnaise - 1/4 cup

Tobasco Hot sauce - 1/4 tsp. You may use any other hot sauce

Ketchup - 1 tbsp
Instructions
Method to make Outer Potato Shell
Take a big bowl and add boiled & mashed/grated potatoes to it. Add the spices and corn starch. Mix and bring it together as a tight dough.

Divide the dough into 14 medium equal portions or 20 small equal portions.

Set aside.
Method to make Mozzarella Jalapeño Filling
Take a small bowl and add mozzarella, diced jalapeño and spices to it. Mash and mix. Bring it together. Divide the mixture into 14 or 20 equal portions. Set aside.
Filling & Shaping the croquettes [Refer to the pictogram as shown above]
Take one potato ball. Flatten it between your palms.

Place a mozzarella jalapeño filling ball in the center of it. Cover the cheese filling with potato shell from all the sides.

Flatten these balls into discs and even out the edges with no cracks. Make sure that these croquettes are smooth from all the sides.

Finish all the croquettes shaping and filling like wise and set aside.
You may shape these croquettes as balls or cylinders as well.
Heat the oil in a deep pan.
Ready for dipping - rolling - frying
Make the corn starch/flour slurry ready in a small bowl by adding corn starch and water. Spread the bread crumbs in a small plate.

Place the ready croquettes, slurry & breadcrumbs side by side in a line.

Once the oil is hot, reduce the flame to medium high.

Pick one croquette disc, dip it in the corn starch slurry, roll it in the bread crumbs from all the sides.

Place it in hot oil and deep fry till golden brown. It takes about 3 minutes in total to fry these.
Notes on frying
Do not place more than 2-3 croquettes in the pan to be fried. These are thick in shape so need more heat. More croquettes in a pan willpower the oil temperature and spoil them.

Do not touch these croquettes continuously while frying. Handle them with care. Flip only once.

Over frying can result in the cheese filling leaking out. Once you see the cutlets slightly puffing, they are done. This indicates that now cheese is getting the heat.

Keep a tea strainer with you. While frying, bread crumbs might get loose and burn in oil along with some cheese leakage. Keep straining this out after each lot for perfect looking croquettes. This is optional!
Making Dipping Spicy Mayonnaise
Take a small bowl and add mayo, Tobasco and ketchup to it. Mix well. It is ready to be served along with croquettes or any cutlets.
Notes
I recommend the use of Peanut oil for deep frying since it has the property of sustaining the high temperatures without turning toxic. Vegetable oil or Canola oil should be avoided.
Now promise me that you will try these Mozzarella Jalapeño Croquettes this week and have a good family time.
Actually they are perfect for game nights, entertaining guests and kitty parties. No body can resist these sinfully delicious packs of happiness.
Pin this for later!


Believe me when I say – Eat Happy! Stay Happy! It works. 🙂
Sonal