Nariyal Ladoo / Coconut Fudge – 2 Ingredients Recipe!
As an Amazon Associate and member of other affiliate programs, I earn from qualifying purchases.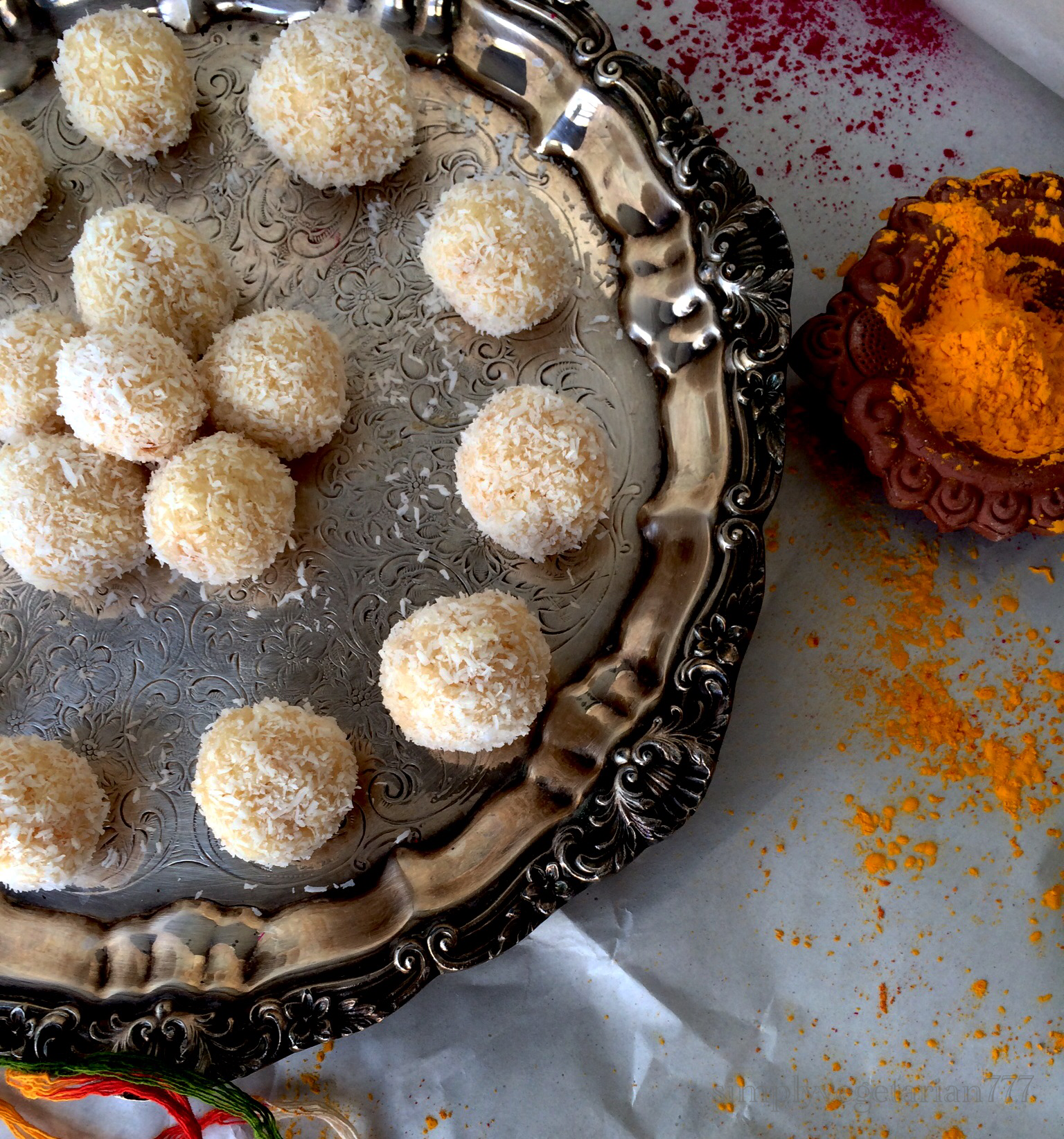 Nariyal Ladoo / Coconut Fudge – 2 Ingredients Recipe!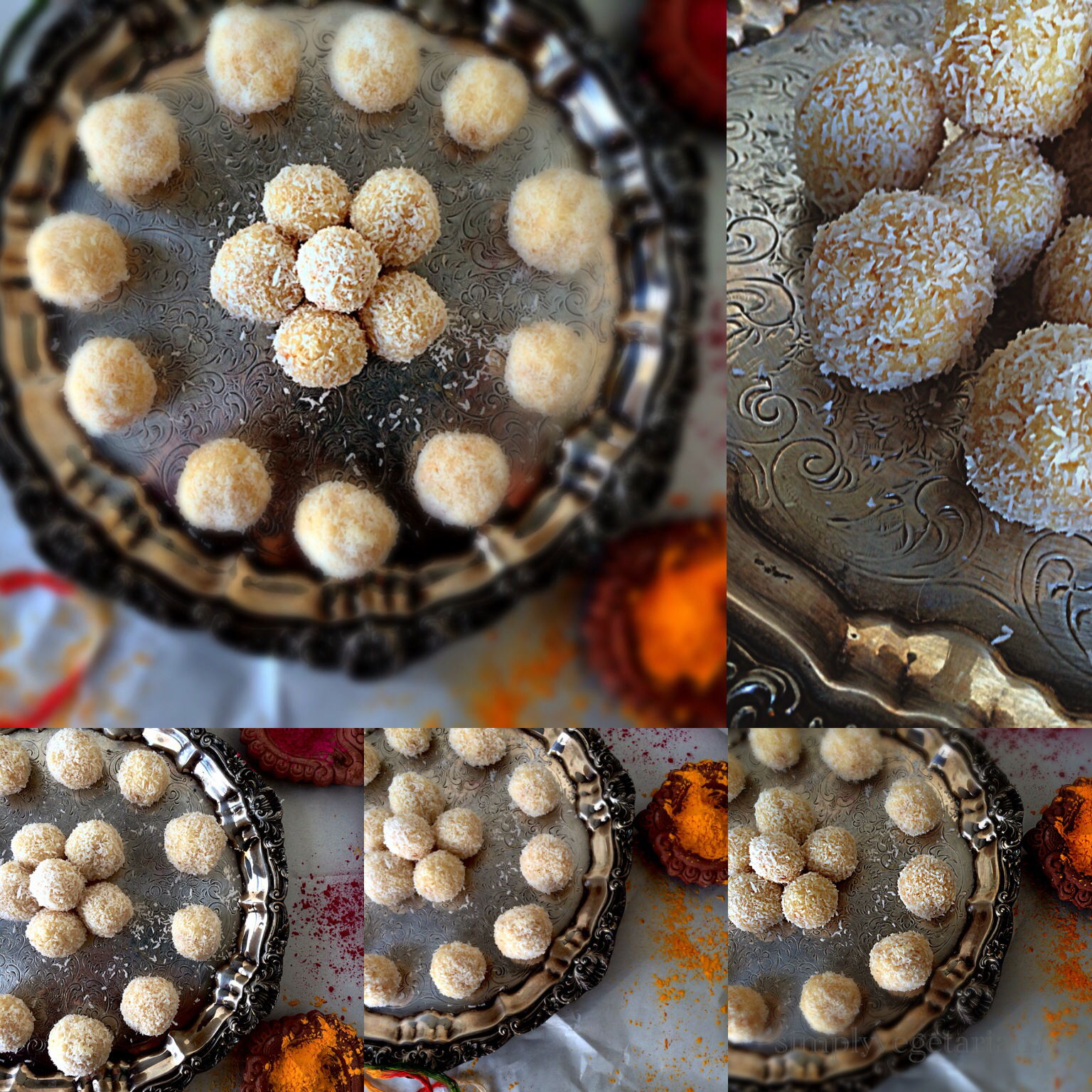 Nariyal Ladoo / Coconut Fudge – 2 Ingredients Recipe is the best dessert option for your sweet cravings. It is 2 ingredients and done under 10 minutes. Can it better than that? You must believe me when I say that it is your dessert for that midnight dessert cravings.
Nariyal is called Coconut in English. Ladoo is kind of Fudge, made with either of these components – milk solids which is mawa/khoya or condensed milk.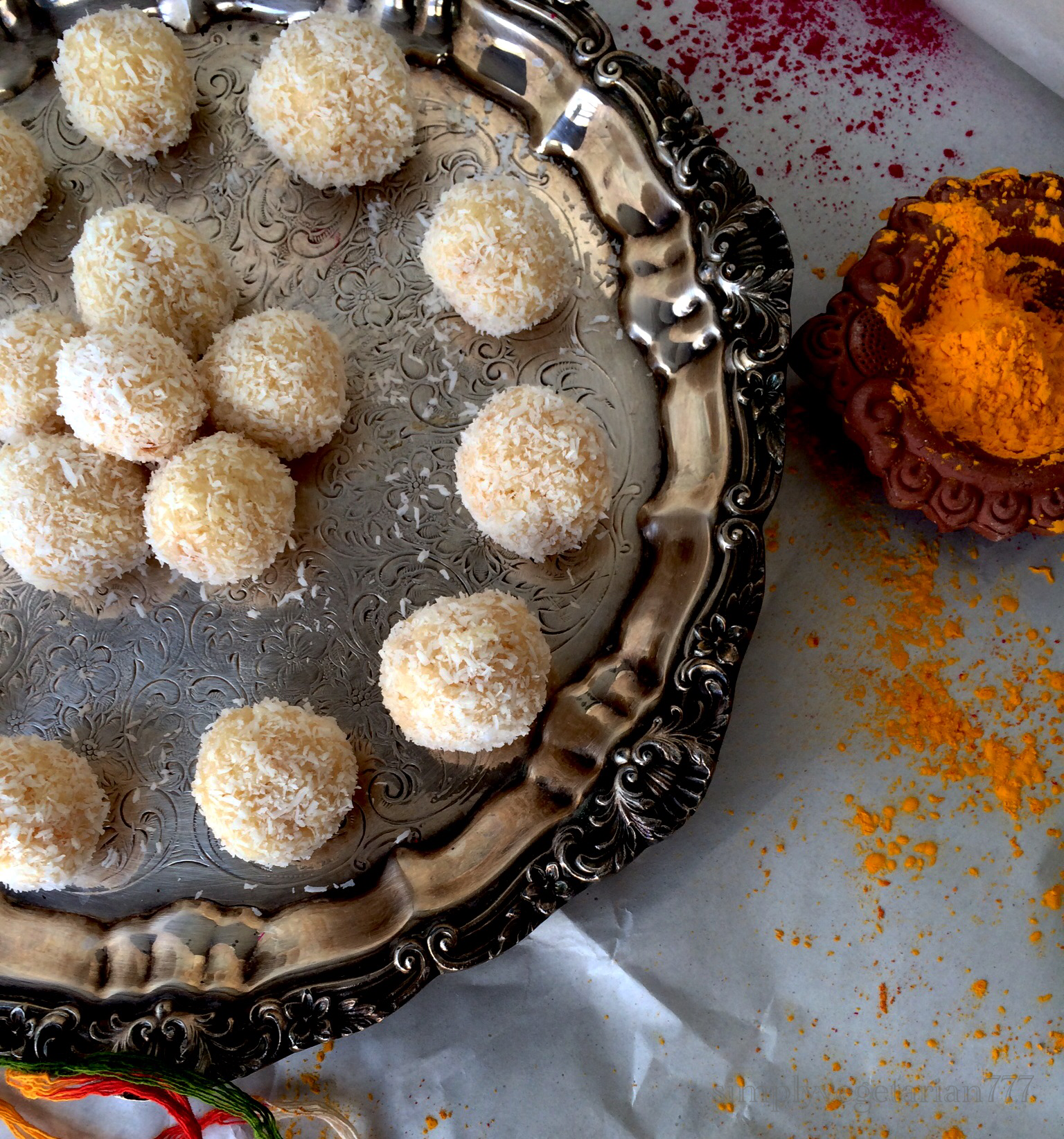 My kids had been asking for some dessert with coconut for a while now. I had been procrastinating the idea of making any more mithai. But then the season of festivals breaks all the barges of controlled and limited eating.
Festivals ring in the zest and celebration of life, bringing us closer to our roots and family traditions.
I grew up in Uttar Pradesh, Northern India and now I live in USA. I miss home when it is festival time. It is so ironic that I call USA my home now, but when I actually talk about home, it is still my mom and dad's home.
Festivals were larger than life in my home, a joint family of 13 family members and pets. 7 cousins = 5 sisters + 2 brothers – we called ourselves the 7 colors of the Rainbow and often sang that popular song from Amitabh's movie – Hum woh saat rang hain, jo jahan rangeen banayenge… :D.. such good innocent old days…
Then life happened and now we do not get to meet each other for all the festivals either. Especially, me being so far..almost Saat samundar paar… sigh 🙁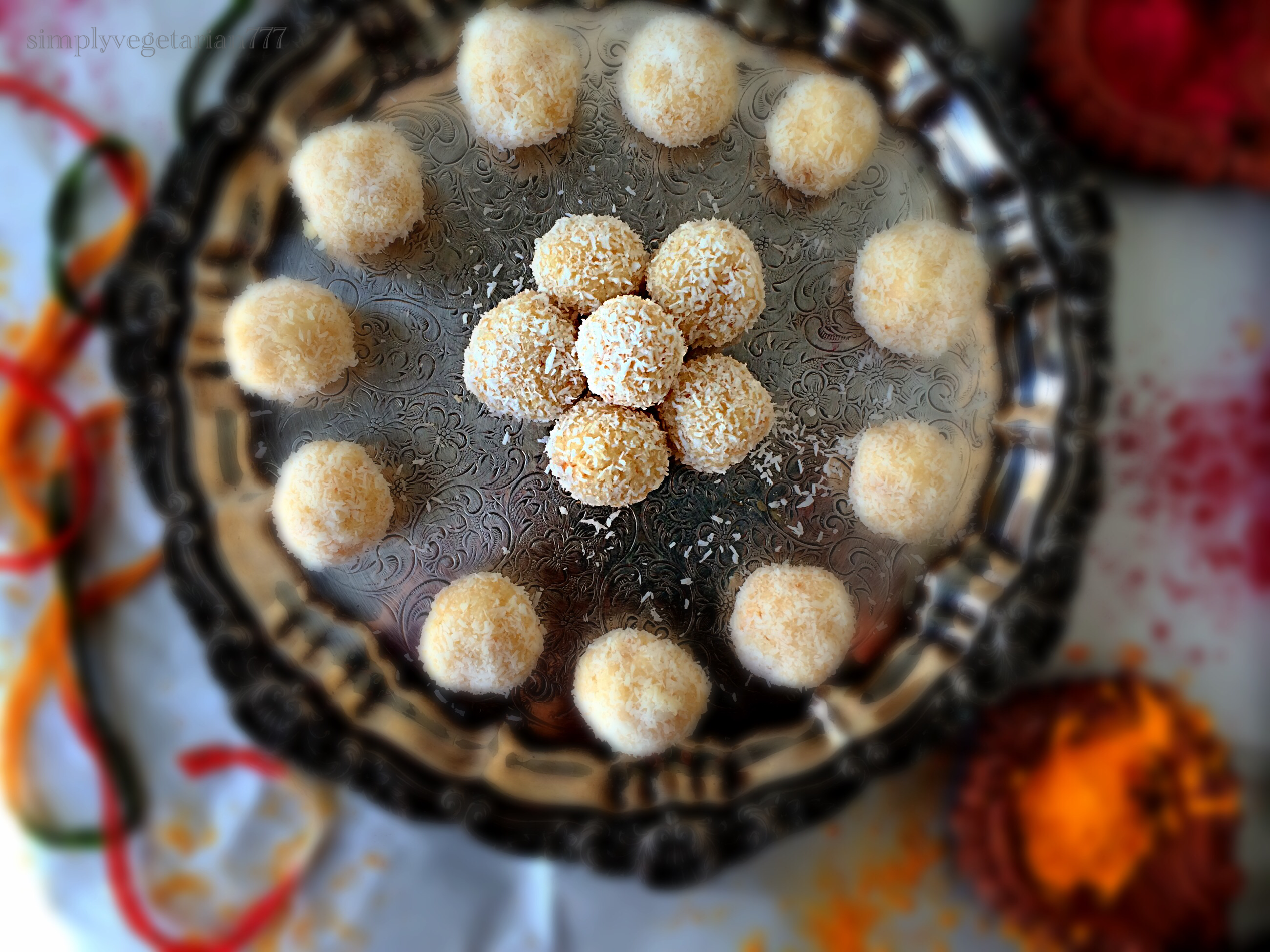 But you know what? Festivals are meant to cheer us up, fill us up with the joy and brighten up our spirits. Isn't that true? Life happens but we can definitely steer our life to the right path if we want to…
Live Life with a smile on your face, no matter what it throws at you….
These coconut ladoos definitely cheer me and the girls, up. So quick and easy to make. Faster to finish. The best part is that it is totally a no brainer and you want to keep this recipe handy for those last minute guests, or get togethers or take these as hostess gift or make these to celebrate life – just like that.
Some other Mithai Recipes from my blog are – Besan ka Halwa , Sewayi ki Kheer , Kaju Chocolate Barfi , Pista Kalakand and more.
This is how I made it!
NARIYAL BARFI VIDEO –
You can use the same recipe to make either barfi or laddoo.
Kitchen Equipments Required
heavy bottom pan, stirring spoon, a plate with dry coconut shreds, another plate to keep the finished balls.
Nariyal Ladoo / Coconut Fudge - 2 Ingredients Recipe!
2 ingredients Coconut Ladoo Recipe. An easy recipe to make.
Ingredients
Condensed milk - 200 gms or 1/2 a can or 7 oz.

Coconut shredded

dry, fine and unsweetened - 1&1/2 cup + 1/4 cup more to roll.

Ghee or vegetable oil to grease your hands for rolling:
Instructions
Pour the condensed milk in heavy bottom pan. Add 1&1/2 cups of dry coconut to it and mix.

Cook the condensed milk and coconut mixture in the heavy bottom pan, on medium low flame. Stir the mixture continuously to avoid burning.

Within 3-4 minutes, the mixture will start leaving the sides and come together as kind of sticky dough.

Switch off the gas and let rest for 3-4 minutes.

Grease your palms with ghee or vegetable oil.

Pinch a small portion of the mixture and roll between your hands into balls.

Roll them in dry coconut now.

That's it! It's ready! Can you beat that? So easy and so efficiently done!
Make it for any festival, be it diwali or holi.
In my Indian American Kitchen – you will always Eat Happy & Stay Happy!
Have a great festival season you all!
Sonal