Zucchini Kofta Curry
As an Amazon Associate and member of other affiliate programs, I earn from qualifying purchases.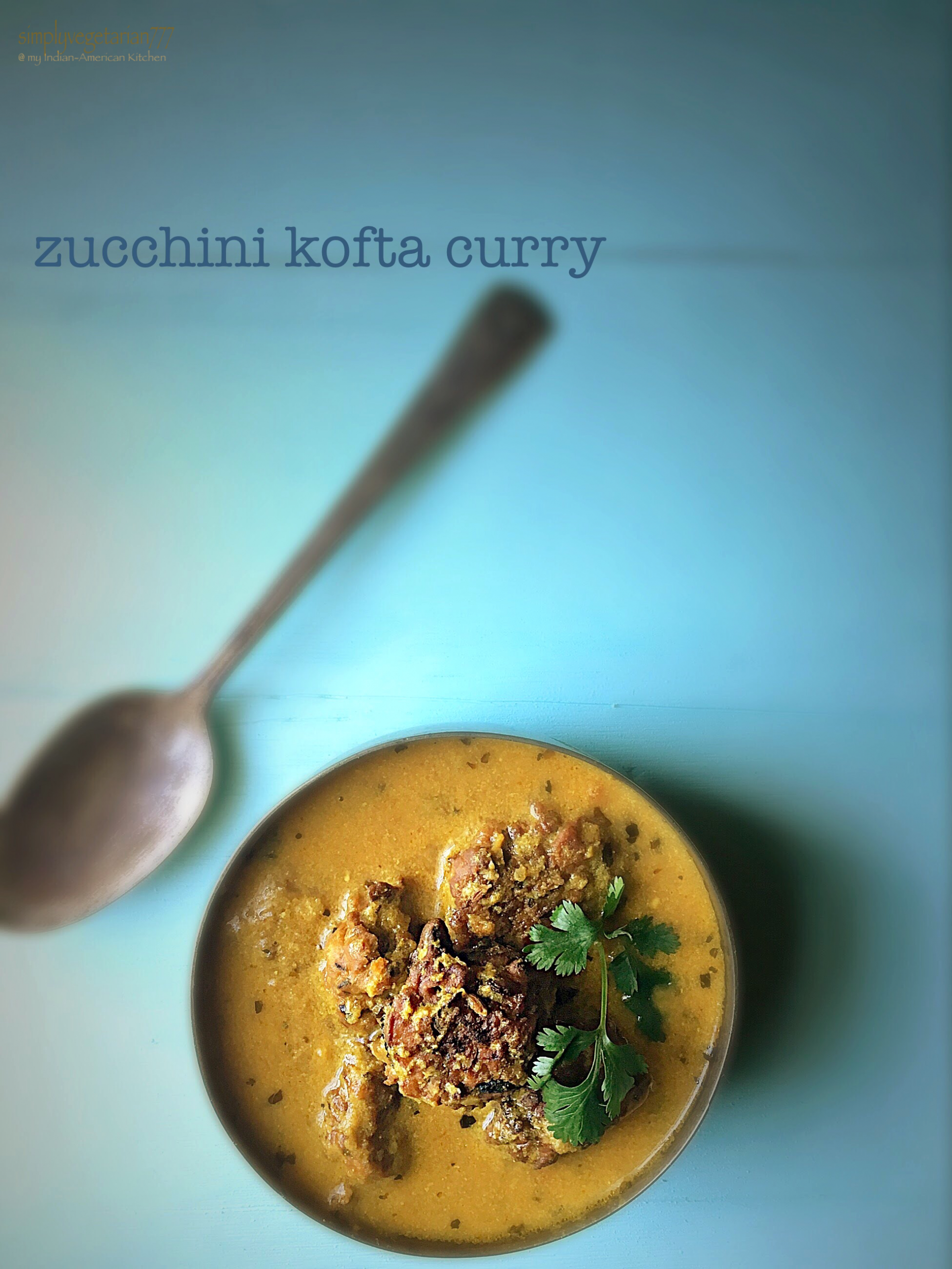 Zucchini Kofta Curry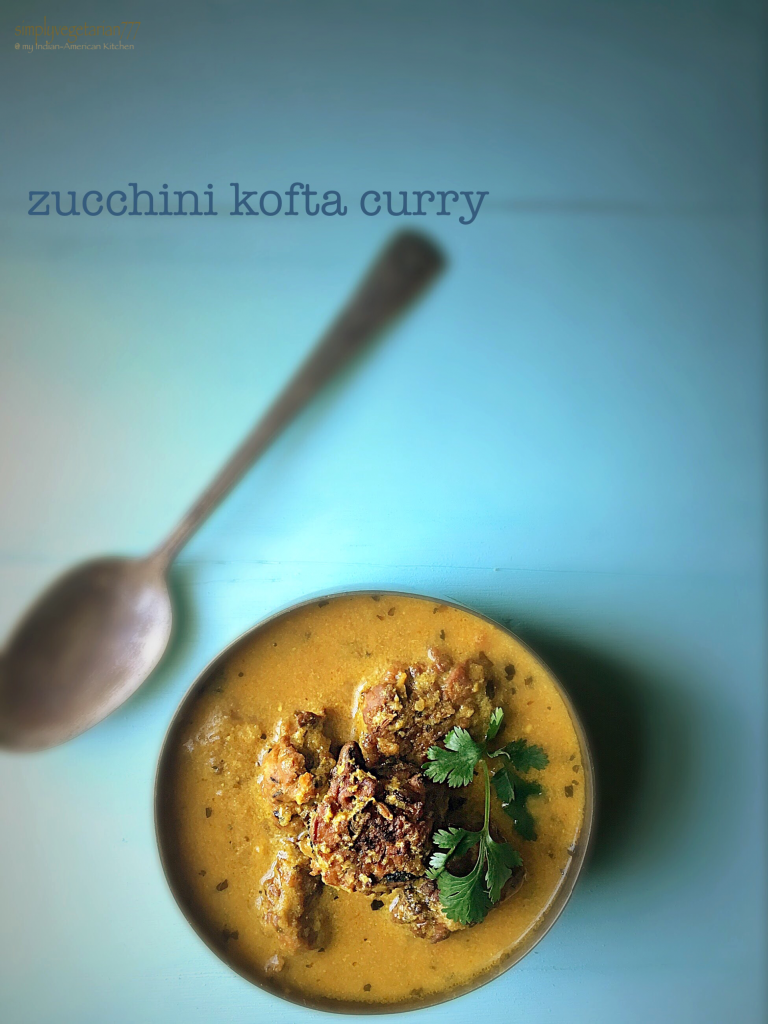 Zucchini Kofta Curry is the perfect curry to consume all that extra bounty of Zucchini in the season. Zucchini is a summer squash. It belongs to the family of Pumpkin. You will be surprised to know that though Zucchini is treated as a vegetable, it is actually a fruit.
Koftas are deep fried balls, made with vegetables or meat and seasoned with spices. In India, koftas are mostly served in a curry. The kind of curry can vary from creamy rich to spicy and sour.
The most common vegetarian varieties of Koftas are Lauki Kofta Curry and Malai Kofta. You can make koftas with practically any ingredient available.
You need 4 things to make a good kofta.  
The vegetable of your choice like lauki/ghiya or zucchini, carrot, potatoes, peas, corn, spinach or a combination of any 2-3 vegetables. Many times dairy products like paneer, khoya (dry milk solid) and cheese is also used.
The Binding agent like Besan/ Chickpea flour, or Maida/Refined flour, or Corn starch / Corn flour etc is used.
The spices like salt, red chili powder, coriander powder, garam masala are used. I tend to use them lightly since the curry also has good amount of spice.
Oil for deep frying. I normally use Mustard oil or Peanut oil for Deep Frying. These 2 oils do not change their properties at high temperatures and are safe to fry.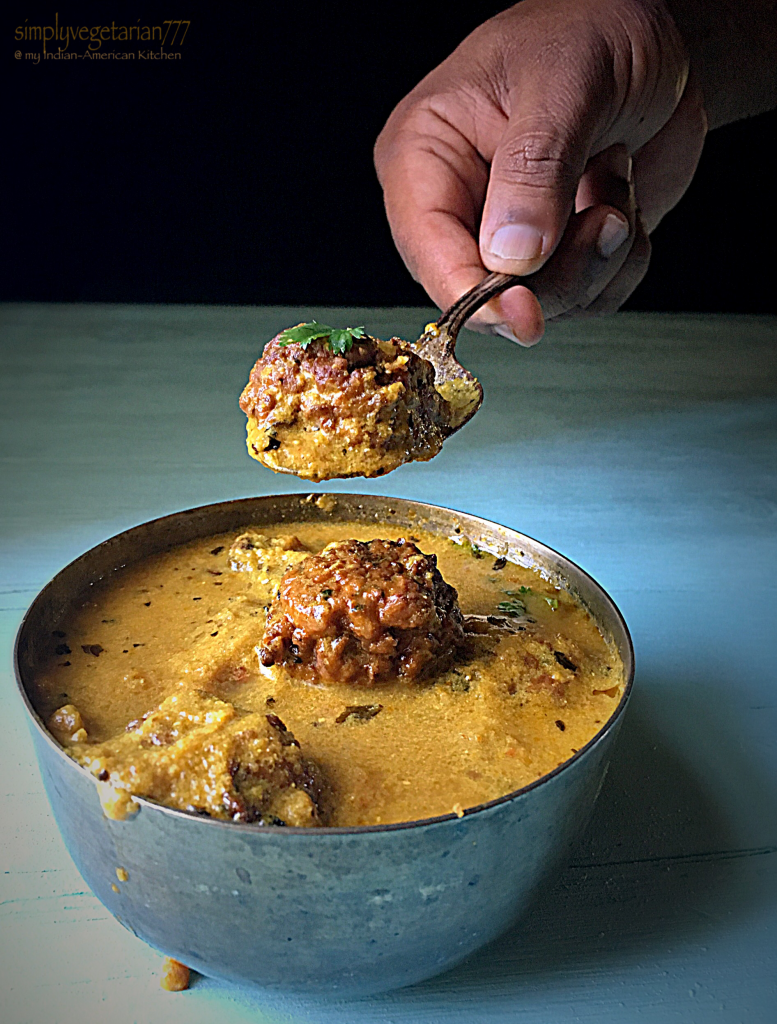 Give me kofta and a khasta parantha or a Tawa Naan and I am in food heaven. I seriously do not need anything after that. Stomach full of good food, happy heart and a long siesta is the goal.
You may pair these koftas with this easy and light yogurt based curry like the recipe given below, or pair them with the Makhani Curry or a typical Punjabi curry .
Whichever kind of curry you pair these koftas with, these will always shine bright and delectable.
This yogurt curry is the simplest curry ever and you may use it to pair with any vegetable or protein.
Sometimes, the best of the food is enjoyed in the simplest flavors. You do not have to make the food with complicated and long recipes to make it palatable and swooning. You need few ingredients, a happy heart and a song in the background. There…you have delicious food ready in no time. Do you agree with me?
Some other curries from the blog to try are – Lauki Kofta Curry ,  Methi Mushroom Curry , Jimikand Curry and many more.
This is how I made Zucchini Kofta Curry.
Zucchini Kofta Curry
Zucchini Kofta Curry is a delicious way to eat koftas made with zucchini and dunked in super simple Curry made with yogurt.
Ingredients
Ingredients for Zucchini Koftas
Zucchini - 3 small or 2 cups grated

Chickpea flour / Besan - 3/4 cup

Salt - 1/2 tsp

Red chili powder / Lal Mirch- 1/4 tsp

Turmeric / Haldi - 1/4 tsp

Coriander powder / Dhaniya powder - 1/4 tsp

OIl for deep frying

preferably mustard oil or peanut oil*
Ingredients for Curry
Onion - 1 small or 1/2 cup chopped fine

Tomato - 1 small

chopped fine

Green chili - 1 small

Ginger - 1 small piece

Garlic - 2 small pods

Yogurt - 1/2 cup

thick and whipped

Kasuri Methi - 1/4 tsp

optional

Coriander / CIlantro leaves - 1 tsp

chopped fine
Oils & Spices
Oil - 1 tbsp

Cumin seeds / Jeera - 1/2 tsp

Coriander powder / Dhaniya powder - 1 tbsp

Turmeric / Haldi- 1/4 tsp

Red chili powder / Lal mirch - 1/4 tsp or to taste

Salt - to taste

Garam Masala - 1/4 tsp
Instructions
Making Zucchini Koftas
Heat the oil in a wok or kadhai for deep frying.

Meanwhile take a bowl. Add grated zucchini, spices and besan / chickpea flour to the bowl. Mix and stir all of it well. It will make a thick batter. Add more besan if the batter is still loose. Sometimes it varies depending upon the water content in zucchini.

When the oil is hot, reduce the heat to medium high. Now spoon in 1/2 tbsp of batter and release slowly in the hot oil. If you are an expert at using your hands for dropping the koftas, then work accordingly.

Depending upon the size of the wok/lkadhai, you may fry 6-10 koftas at a time. Fry on both the sides till they are golden brown.

Take them out in a plate lined with paper towel.
Making the Curry for Koftas
Take a grinder and add tomato, onion, green chili, ginger and garlic to it. Grind and make a fine paste out of it.

Heat oil in a sauce pan and add cumin seeds.

Once the cumin seeds splutter, add the onion tomato paste to the pan. Add all the other spices as mentioned above. Stir everything well. Lower the heat to medium and let cook till it thickens. Stir in between to avoid burning.

Now whip the yogurt and make it smooth. Add it to the thick onion tomato paste in the sauce pan along with 1&1/2 cups of water. Stir well with a ladle or spoon.

Heat it up and let it simmer for 5 minutes.

The curry is ready.
Putting the Zucchini Kofta Curry together
Take a serving tray. Arrange the koftas. Pour the hot curry on top. Garnish with kasuri methi and coriander/cilantro leaves. Serve it hot.

Remember - Always pour the curry over the koftas, 20-30 minutes before serving. Do not keeo the koftas soaked in curry or it will soak all the curry.
Notes
To have perfect shape of the koftas, you may squeeze the water out of the grated zucchini. In that case, decrease the amount of Besan/Chickpea flour. We need it enough to bind the koftas. Do not discard the water. Add this water to the curry while cooking. The thick yogurt should not separate. If it does separate, do not worry. It will thicken as it cooks. If the curry is too sour for your taste, add little sugar to balance it.
Isn't the recipe super easy to execute? Few easily available ingredients and the dish is ready. This is one of the best ways to use the zucchini in Indian cooking. You may make the koftas and serve them as is as snack or appetizer. You may use these koftas in place of meatballs in a sandwich. So many uses of one humble kofta. Now you may call me a Genius ;)..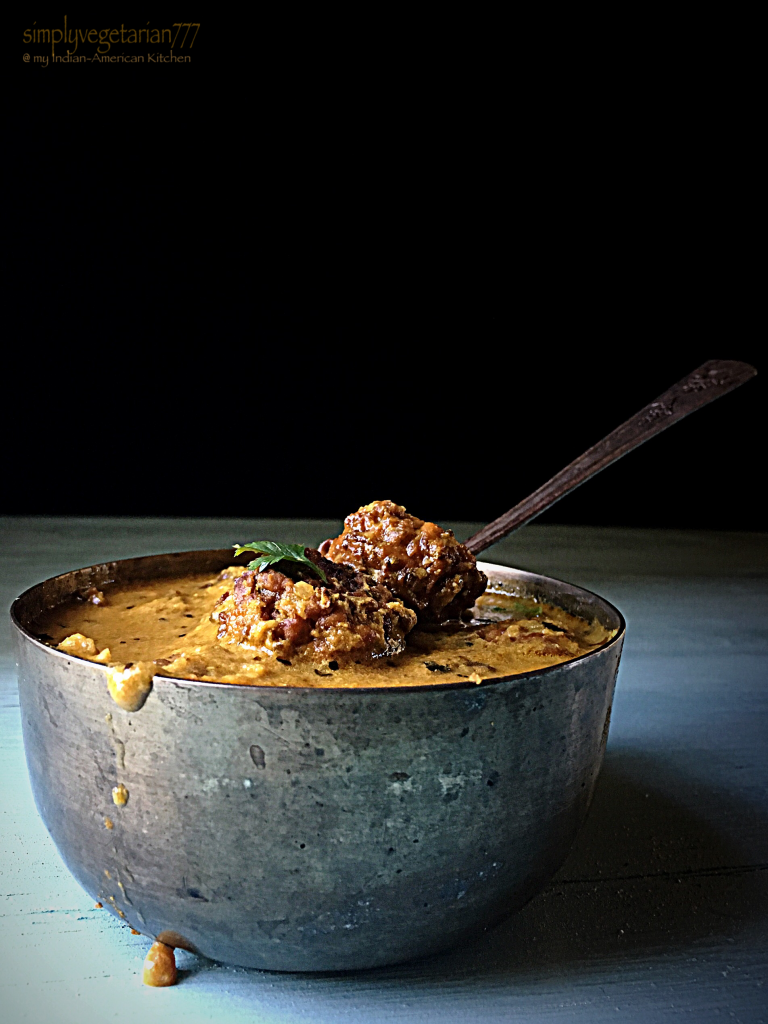 As I always say – Eat Happy! Stay Happy!
Sonal